Two of the scariest words in financial markets these days are "commodities" and "debt." Saying them in the same breath is virtually a profanity. Looking at the high-yield bond market, though, the first word on your lips may well be NSFW.
Third Avenue Management's decision to throw up the gates on a high yield mutual fund is the latest sign of distress spreading through credit markets. 
One of the bigger trouble spots concerns energy and mining companies that loaded up on debt to dig and drill at ever-increasing levels ahead of a commodities crash for the ages. Of the $1.35 trillion face value of debt in the BofA Merrill Lynch U.S. High Yield Index, the two biggest sectors, energy and basic industries, account for 28 percent. Apart from their sheer size, though, there is another thing that sets these two sectors apart and should worry anyone holding them: They are incredibly diffuse.
Consider the larger of the two, energy, with 180 issuers. There are plenty of large, recognizable companies in there. The biggest, for example, is Sabine Pass Liquefaction, a unit of Cheniere Energy. As an aside, it is more than a coincidence that Cheniere happens to be at the top of the sector's junk-debt pile and has also just ditched its chief executive under pressure from Carl Icahn. With so much debt already, and gas prices suffering even more than oil, Cheniere's dreams of further expansion were bound to irk the activist, who would rather see cash diverted to shareholders. 
Far below well-known companies in the ranking are such names as ION Geophysical, an oilfield services firm whose shares trade at about 43 cents apiece, and Canbriam Energy, a privately held Canadian exploration and production company. Indeed, about three quarters of energy-sector names have issued either just one or two series of bonds tracked by the index. Altogether, these smaller issuers account for $83.5 billion of debt at face value -- which is higher than the entire face value of many other sectors in the index, such as retail, capital goods, and services. This is an energy-fueled junk army.
One way of measuring concentration, or lack of it, is to use the Herfindahl-Hirschman Index. This mouthful is used by antitrust regulators to assess whether or not a merger will leave an industry with too few competitors by calculating a score based on the market shares of the different participants. The higher it is, the more concentrated the industry and vice-versa.
The same principle can be used to look at the weights of the issuers in each of the high yield index's sectors to see if they are dominated by a few big borrowers or spread across many smaller ones. The chart below plots each sector's HHI score and its weighted average yield. The bubble size shows how much debt is outstanding.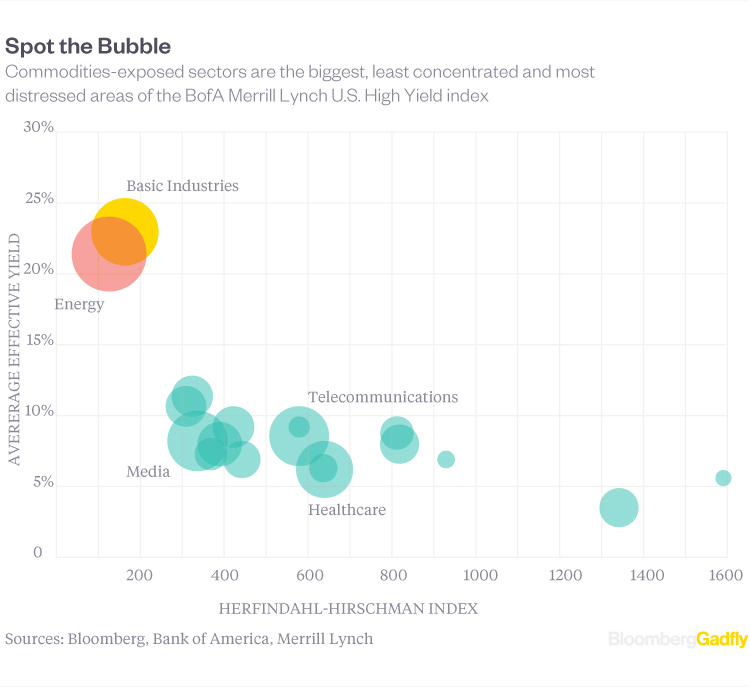 You'll notice a couple of sectors stand out somewhat. In theory, diversity offers investors some protection. That may hold true to some degree in the basic industries sector, which encompasses everything from construction to chemicals alongside metals and mining companies. Yet metals feature prominently in that sector, with the top five issuers by amount being ArcelorMittal, Alcoa, Peabody Energy, Teck Resources and Fortescue Metals Group. All are exposed to the bear market in commodities tied largely to fears of a slowdown in Chinese demand. Similarly, energy issuers may be legion, but they are all tied to the oil price, which sank to a new multi-year low on Monday.

In this environment, diffusion can simply stoke confusion. Brian Gibbons of CreditSights says the litter of small issuers in the energy sector makes it "a real challenge for investors to fully wrap their arms around what is going on throughout the entire energy high-yield credit landscape." Focusing in on the issuers with just one or two bond series in the index, he adds:
That volume of issuers is the equivalent of several entire sectors combined, that are covered by multiple teams of analysts.  In energy, it's like herding cats, there are so many issuers with so many different issues facing them.  The breadth of issuers is simply staggering and emblematic of the go-go financing days of 2010-14 when oil was stable at $100 a barrel for such a long stretch of time.
With a reckoning in high-yield credit now seemingly getting underway, it may pay to start boning up on a few dozen companies you've never heard of.
This column does not necessarily reflect the opinion of Bloomberg LP and its owners.
To contact the author of this story:
Liam Denning in San Francisco at ldenning1@bloomberg.net
To contact the editor responsible for this story:
Mark Gongloff at mgongloff1@bloomberg.net