While the Northeast is experiencing an unseasonably warm winter, natural gas companies are praying for cold.
Cold weather, of course, means more demand and higher prices for the 50 percent of Americans who heat their homes with gas. It also offers producers a chance to syphon off some of their ample inventories.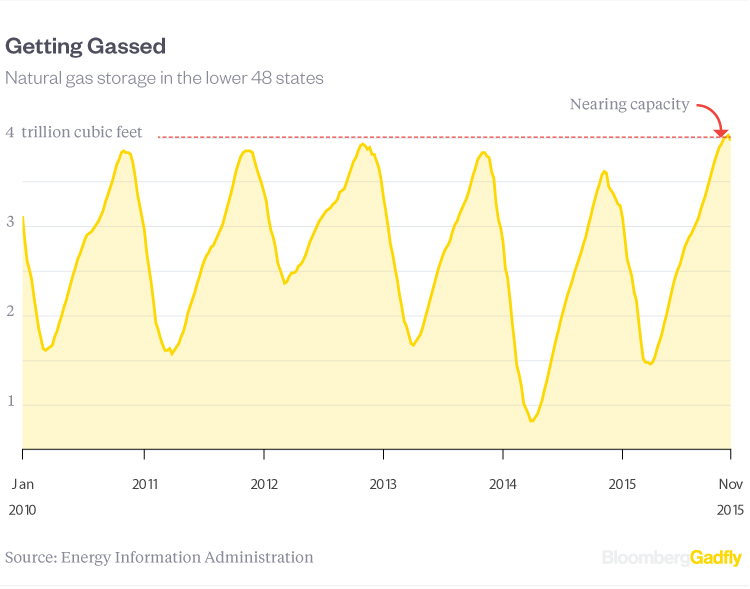 Gas output was particularly high this year despite already low prices. As you can see from the chart above, gas storage for the lower 48 states recently passed 4 trillion cubic feet -- a psychologically important level because it signals that storage is almost at capacity. If inventories top out, producers would likely dump product on the market at even lower prices.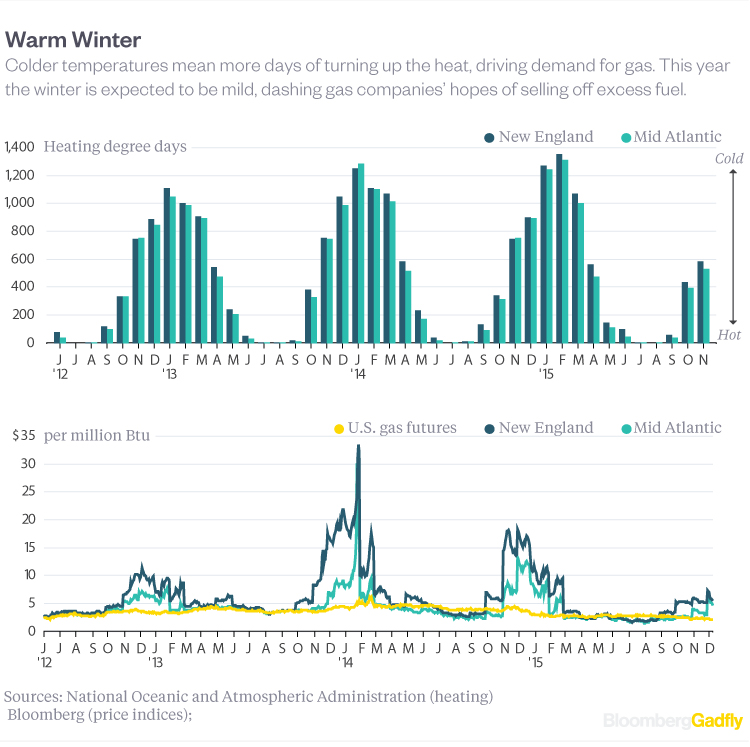 Thanks to El Niño, this year has been rather warm and January is expected to be mild, deferring producers' dreams of a huge seasonal upswing in gas demand. The situation in the Northeast is particularly troubling.
The chart above shows how prices for gas in the Northeast can vary so much more than in other regions, especially in winter. A harsh winter -- like the last two -- is a good winter for producers, because there are more days when the temperature drops low enough for consumers to crank up the heat. The National Oceanic and Atmospheric Administration measures the need for gas heat by using the "heating degree days" index: the higher the number of such days, the colder the winter.
Another reason gas producers hate warm weather: Some of them are saddled with a lot of debt, and mounting inventories doesn't make it any easier to pay that down.
Warm weather will have its most pronounced effect on producers struggling with high leverage, like Ultra Petroleum and Chesapeake Energy. They're most in need of a cold winter to pay off what they owe. Until things cool down, they and their competitors will all be feeling the heat. 
This column does not necessarily reflect the opinion of Bloomberg LP and its owners.
To contact the author of this story:
Rani Molla in New York at rmolla2@bloomberg.net
To contact the editor responsible for this story:
Timothy L. O'Brien at tobrien46@bloomberg.net