Retail is in the doldrums. Grocery chains are filing for bankruptcy. Former industry darlings like Whole Foods are struggling to boost sales. Amazon is making a big bet on online grocery delivery. Drugstore chains are selling boatloads of food. And for the first time ever, more people are eating out at restaurants than making food at home. 
Sound like a recipe for disaster? Not for Kroger, the grocery chain that has been quietly growing its empire to become the second-largest U.S. retailer by sales after almighty Walmart, which derives 56 percent of its sales from groceries. 
The Cincinnati-based grocer on Thursday raised its earnings forecast for the year, while reporting its 48th consecutive quarter of increasing sales at established stores, excluding fuel, and its seventh consecutive quarter of adjusted EPS growth. That kind of consistency is important in an industry known for jumping on a fashion or food trend to ramp up growth, only to fall out of favor with consumers as preferences shift. 
Shares of Kroger rose nearly 5 percent Thursday morning. They were already up 28 percent over the past year and 250 percent since 2010. There's no telling how far they could surge as investors snatch up one of the only companies in the retail sector that seems to have figured it all out. 
Kroger was one of the first traditional grocers to dive into customer buying habits and customized shopper communications through a recently ended 12-year partnership with data analytics firm Dunnhumby. It was also an early mover into natural and organic foods, eating directly into Whole Foods' customer base. Kroger stores are now peppered with signs proclaiming "locally grown," "organic," and "natural foods," pitching fare such as homemade tortillas and handcrafted, small-batch beef jerky.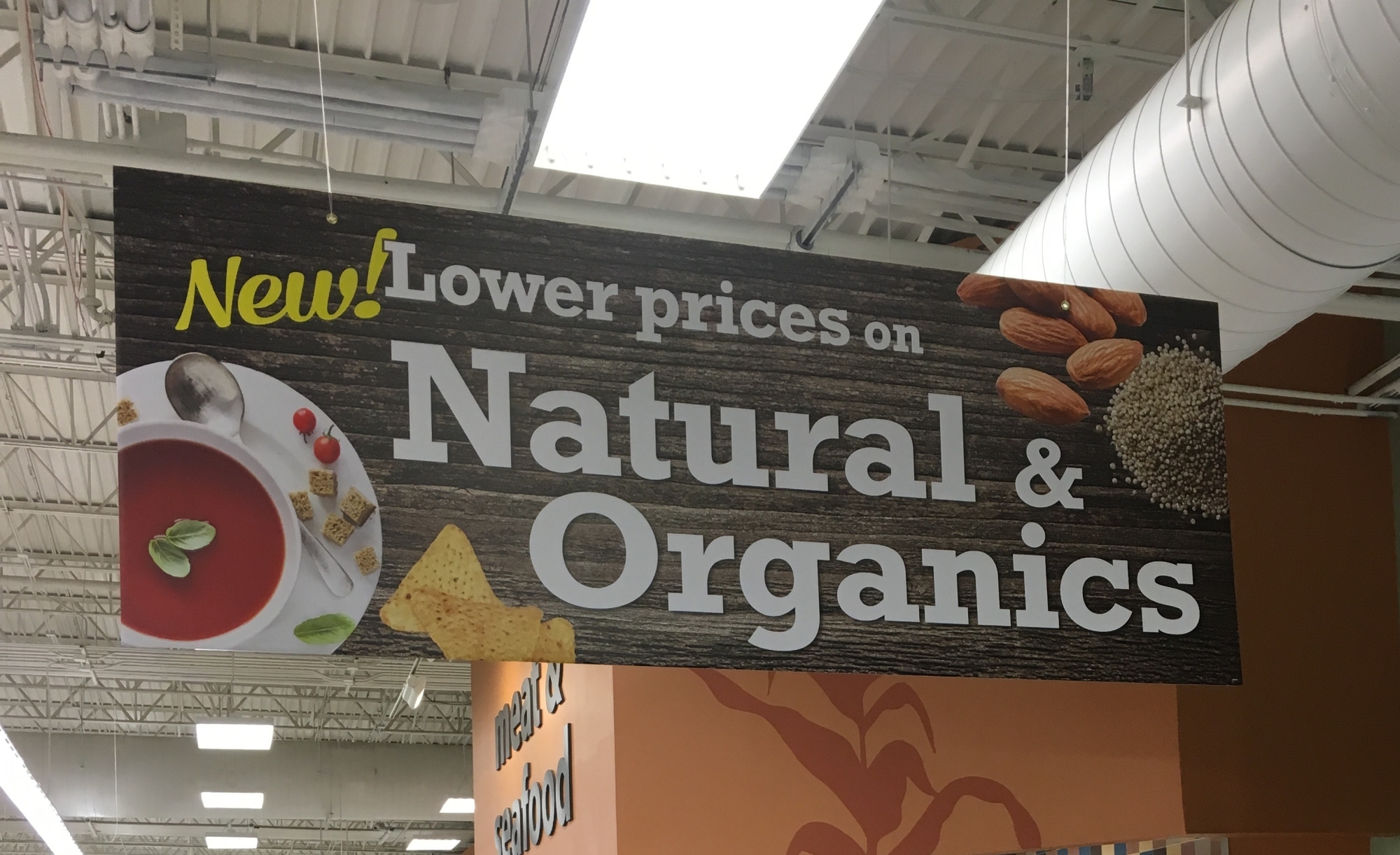 In a move that directly mimics Walmart's supercenter model, Kroger added aisles of high-margin general merchandise such as $84 portable fireplaces. It built health clinics and in-store pharmacies, which now make up about 8 percent of revenue. It mixes private-label brands, which comprise about a quarter of sales, with higher-end products like craft beers, Boar's Head ham, and $10.79 Brie cheese. It strategically locates cheaper goods near the pricier stuff to create a sense that customers have simultaneous access to a full range of products. 
The company, which only operates in 34 states, is now on the hunt for deals to expand its presence online and across the country. It already runs 2,620 supermarkets, 786 convenience stores, 326 fine jewelry stores, 1,360 gas stations, and 37 food processing plants. Just last month, it snapped up Milwaukee-based supermarket chain Roundy's for $800 million, on the heels of a $280 million acquisition of Vitacost.com and $2.5 billion purchase of Harris Teeter. 
Kroger has proven it has the foresight to jump on rapidly-shifting changes in consumer behavior long before its competitors -- a model for preserving the old-fashioned grocery store. For investors, Kroger's stock is priced at 17.6 times forward earnings, making it less expensive than Whole Foods and Costco (which currently trade at 19.1 and 28 times forward earnings, respectively). Despite its growth and big ambitions, it has kept a relatively healthy balance sheet and protected profits. Expect the growth, and earnings gains, to continue. 
This column does not necessarily reflect the opinion of Bloomberg LP and its owners.
To contact the author of this story:
Shelly Banjo in New York at sbanjo@bloomberg.net
To contact the editor responsible for this story:
Mark Gongloff at mgongloff1@bloomberg.net