Marriage counseling
When Ghosn Gets Tough
A push in Paris for more say is drawing attention to the unequal nature of the Renault partnership.
By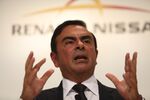 NISSAN MOTOR CO LTD
+8.50
At Closing, January 19th
RENAULT SA
+1.08
At Closing, January 19th
It's always satisfying to get a good deal on a used car, and they don't come much better than Renault's 1999 alliance with Nissan.

The 400 yen per share Renault spent buying a 44.4 percent stake in the company is now worth 2.5 trillion yen ($21 billion), more than three times the purchase price. At the same time, joint Chairman and Chief Executive Officer Carlos Ghosn gained control of a carmaker that now sells almost twice as many automobiles as Renault and contributes almost two-thirds of group profits. 
So it's not hard to understand the sore feelings in Japan about a French government move to increase its control over Renault, and by extension Nissan. France's actions are ``unacceptable" and risk destabilizing the alliance, Nissan's usually silent union said Wednesday, according to Bloomberg News.

The impasse has played out so far with the tact of marriage negotiations between medieval royal courts. But make no mistake: The Elysee Palace is playing with fire.

Right now, Renault -- a company which was only privatized in 1996, and has often behaved like a department of the French government -- is very lucky to have Nissan as such a cooperative partner. While the French company's own annual sales volumes have stalled at about 2.7 million cars, Nissan's have jumped 58 percent since their post-financial crisis low point in 2009, and hit 5.3 million last year:
Nissan has leading positions in China, the U.S., Mexico, and Japan, where its alliance partner is more or less absent. Meanwhile, a look at the major markets where Renault dominates -- Russia, Brazil, Italy, er, France -- reads like a list of the also-rans of the current global economy. 

The main tactic being examined to counter the growing French influence would be a move to reduce Renault's holding in Nissan below 40 percent, from the current 43.4 percent, according to Bloomberg's Mathieu Rosemain and Helene Fouquet. That would cancel Nissan's current status as a controlled entity of Renault and grant votes to its 15 percent cross-shareholding in the French company. Thanks to the same law that the French government is using to increase the influence of its own shares, that would instantly take Nissan's voting rights in Renault from zero to around 20 percent or more (the exact amount is hard to calculate, since all shares held for more than two years get double voting rights under the law). 
An alternative, according to the Wall Street Journal, would see Nissan take its Renault stake to 25 percent or more, which would nullify the French company's voting rights under Japanese regulations. 

After 16 years of silence, what might a more assertive Nissan have to say about the set-up of the alliance? It might question the strategy of a Renault operation that has brought in a spare 118 million euros ($125 million) of net income over the past three years, at the same time as it's received 4.3 billion euros from Nissan. Since shareholder payouts were resumed after the financial crisis in 2011, Nissan has contributed more dividends to Renault than the French company has passed on to its own investors. Perhaps that money could be better used. After all, Nissan's debt pile, which prompted the original rescue back in 1999, has now been turned into more net cash than Renault can lay claim to.
It's a tribute to Ghosn's diplomatic skills that he's managed to hold this unequal marriage together as long as he has. But many Japanese would like to have more of a say in one of their best-known companies. It's worth noting that Yoshihide Suga, Prime Minister Shinzo Abe's influential cabinet secretary, represents Nissan's hometown of Yokohama in Japan's parliament.

If the French government is really prepared to take this fight to the wire, it may be able to lift its voting stake in Renault to perhaps 20 or 25 percent. At the same time, it risks losing the trust of Ghosn and of Renault's institutional shareholders, and alienating Nissan, the cash cow that's keeping the whole show going. Should it come down to a brawl, investors are unlikely to back the plans of a government minority shareholder over one of the world's most successful auto executives and the most profitable bit of his business.
To contact the author of this story:
David Fickling in Sydney at dfickling@bloomberg.net
To contact the editor responsible for this story:
Paul Sillitoe at psillitoe@bloomberg.net
Before it's here, it's on the Bloomberg Terminal.
LEARN MORE