Yahoo Weighs Options
Web Surfers for Sale
SoftBank, Verizon or a buyout firm may see potential in its Internet business.
By and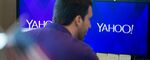 VERIZON COMMUNICATIONS INC
+0.36
At Closing, January 19th
If Yahoo decides to sell its ailing web portal, it should have no problem finding a buyer willing to nurse it back to health.
The $34 billion company's board will weigh strategic options for the technology giant at a series of meetings this week, including a possible sale of its core U.S. Internet advertising and search business, the Wall Street Journal reported. 
Earlier plans to spin off Yahoo's valuable stake in Alibaba have been muddled by uncertainty over the tax implications. Selling the core business would involve a lower tax bill -- $3.2 billion at most versus as much as $22 billion for the Alibaba spinoff, according to SunTrust's Bob Peck.  And it may be a better way to unlock value  -- or at least that's what activist investor Starboard Value thinks.
Pulling off a sale would require identifying a buyer who sees the potential in a company that arguably isn't performing up to its potential. Yahoo's revenue keeps sliding, despite Marissa Mayer's best efforts to turn things around.
What the company does have is web traffic. About 210 million people surfed Yahoo's websites on desktops and mobile phones in the month of September, according to ComScore, making it the third most-visited Web property in the country. Yahoo is having a hard time making money from those users but in the right hands, those eyeballs are very valuable.
SoftBank  would make sense as an acquirer. Adding Yahoo's web-portal services would help CEO Masayoshi Son further expand his technology empire and augment his wireless operations in the U.S. and abroad with mobile Internet services and content.  Yahoo Sports could live-stream games exclusively to Sprint customers, for example, and a platform that melding e-mail, phone and gaming could keep users hooked.  SoftBank could also potentially be interested in buying all of Yahoo -- including the stakes in Yahoo Japan and Alibaba -- because it, too, has sizable holdings in those businesses.  
Starboard first floated the idea of a Yahoo and AOL merger in September 2014, before the digital advertiser agreed to sell itself to Verizon this past May. Even with AOL now a part of Verizon, the deal still makes sense. Starboard estimated as much as $1.5 billion in cost-saving opportunities were possible. Greater scale could help Verizon and AOL capture a bigger slice of the mobile-advertising and content market and invest in new technologies. AOL has already been in growth mode, striking a deal in June with Microsoft to take over the tech giant's responsibility for sales of display, mobile and video ads on properties in the U.S. and other key markets like the U.K. 
A third option is a cable company such as Comcast. Providers have been struggling to hold onto customers as more and more of them cut the cord and shift toward online-streaming services such as Netflix and Hulu. Buying Yahoo would give Comcast more online and mobile options for distributing content, creating a stronger media portfolio  to preset to advertisers, said Mizuho's Neil Doshi. While Yahoo isn't as far along as AOL in developing next-generation tools,  it does have some valuable assets there.
Yahoo stock was down about 9 percent in the last two years through Tuesday, but the slump would have been a lot worse without the support of the company's more valuable stakes in Alibaba and Yahoo Japan. According to some estimates, investors are giving Yahoo virtually no credit for the core business in its current market value. So what is it worth? 
Maybe in the range of $6 billion to $8 billion, based on a multiple of 7 times the company's projected Ebitda for 2016, plus $1 billion ascribed to intellectual property and real estate, according to SunTrust's Peck. Verizon paid about 7 times AOL's projected 2016 Ebitda. 

Starboard pegs the value of Yahoo's core business at more like $2 billion; Cowen Group says its worth about $3.84 billion.
At those lower valuations, private-equity firms would be extremely interested, especially because Yahoo's strong free cash flow would allow them to finance a deal almost entirely with debt. Financial buyers have made a fortune investing in digital advertising and media businesses: notably, Hellman & Friedman made more than eight times its money on the sale of DoubleClick to Google in 2008.
A leveraged buyout may be a good fit for Yahoo's core business as it may better able to execute its turnaround strategy without the confines of quarterly reporting and constant shareholder scrutiny.

Anything is probably better than the status quo. 
To contact the authors of this story:
Brooke Sutherland in New York at bsutherland7@bloomberg.net
Gillian Tan in New York at gtan129@bloomberg.net
To contact the editor responsible for this story:
Beth Williams at bewilliams@bloomberg.net
Before it's here, it's on the Bloomberg Terminal.
LEARN MORE