China's metal producers are finally starting to cauterize the wounds inflicted by the commodity bust.

Copper producers will trim output by 350,000 metric tons next year, equivalent to about 4.4 percent of the country's 2014 levels. Nickel smelters will slash production by 20 percent, and zinc furnaces will remove the equivalent of 4 percent of global output.

Will this be enough to reverse the slide in metal prices? It depends a lot on what sort of country China is becoming.
For all the differences between major economies, their consumption of raw materials can be oddly uniform. Between 1965 and 1995, you could make a pretty accurate forecast of global copper demand by just going through census data. Copper usage per head fluctuated in a narrow band between about 1.75 kilograms and 2.25 kilograms per person throughout the period.

Mining companies have been issuing their own versions of these analyses ever since China's booming demand started sending executives to investors in search of capital to help boost their output. Here's a typical example Rio Tinto put out in 2012, when the metals trade was booming: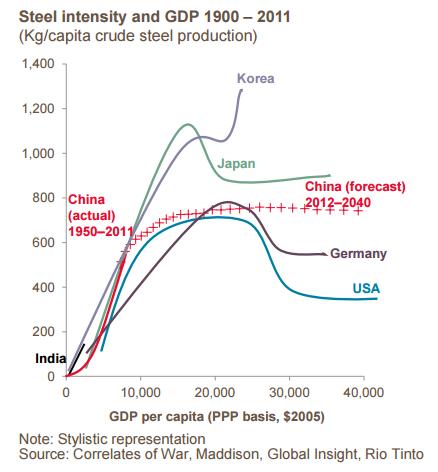 The chart posits China's steel demand on the foothills of a range that would see it ultimately consume more steel per head than the U.S. and Germany, if less than Japan or South Korea.

The problem with this sort of analysis is that raw numbers often fail to capture the way commodities are traded once they've been produced. If a Japanese steel mill turns out 500,000 tons of hot-rolled coil and sells it to a Korean shipyard, that shows up as Japanese steel consumption. If it instead sells it to a Japanese shipyard which turns it into oil tankers for a Malaysian shipping line, that also shows up as Japanese steel consumption. Korea and Japan's export-oriented manufacturing sectors help explain their grossly oversized steel consumption in Rio Tinto's analysis.
The World Steel Association crunched some numbers to neutralize this effect. Here's what you get when you strip out the export sector from measures of steel consumption per head:
As with copper from the 1960s to the 1990s, it's a remarkably consistent picture. Big economies with lots of manufacturing, such as the U.S., Japan, Russia, Germany, and Turkey, consume an average 370 kilograms per head of steel. More services-oriented European economies, such as the U.K., Italy, France, and Spain, come in at about 220 kilograms per head. And then there's China, Korea, and Canada. 

An initial look at those three countries suggests reasons for optimism. While China consumes about 500 kilograms a head, Canada uses up 620 kilograms and South Korea more than 700 kilograms. That would imply considerable upside for the industry.

You'd be brave to bet on it, though. Both Canada and Korea are smallish economies heavily dependent on exports to much larger trading partners, the U.S. and China. That suggests reasons for skepticism that the World Steel Association's analysis is really stripping every ton of metal flowing across the border. If it is accurate, Canadians and Koreans are using twice as much steel every year as Japanese and Americans, which you'd expect to be more noticeable.

Compare China to the big-manufacturers group, and the picture is grimmer. The nation is using about one-third more steel now than it would if it were consuming it in the manner of the U.S., Japan, Russia, Turkey or Germany. That's not far off the estimate of Xu Lejiang, chairman of China's second-biggest steelmaker, Baosteel, that the country is about 20 percent over capacity.

Iron ore miners aren't moving in the same direction. Vale, the world's biggest producer, still plans to increase its output 32 percent to 450 million tons in 2019. Rio Tinto, number two, believes China's demand for the steelmaking metal will rise about 36 percent by 2030. BHP Billiton is working on raising output 17 percent to 290 million tons.
What does this mean for the other raw materials? The data that are out there aren't as detailed, but they don't present an optimistic picture. China's apparent demand for copper, zinc, and stainless steel, the biggest use of nickel, is at least double the global average. It looks like those metals have a long way to fall.


This column does not necessarily reflect the opinion of Bloomberg LP and its owners.
To contact the author of this story:
David Fickling in Sydney at dfickling@bloomberg.net
To contact the editor responsible for this story:
Paul Sillitoe at psillitoe@bloomberg.net