With the UN Conference on Climate Change underway in Paris, the European Union could take some automotive guidance from one of the planet's biggest polluters: the United States. The Volkswagen scandal has brought auto emissions into the headlines this year, and U.S. manufacturers look pretty good when compared to EU peers such as Volkswagen.
The chart above shows that light vehicles manufactured in the U.S. generally perform better on real-world emissions tests than cars built in the EU. But automakers from both regions overstate their emissions performance -- largely because manufacturers design their vehicles to pass regulatory tests.

In the real world, where motorists all have different driving habits and conditions, the emissions performance is starkly different (and regulators have yet to create tests that take real-world circumstances fully into consideration). 
There's a 40 percent difference, on average, between how cars manufactured in the EU perform on regulatory tests and in the actual, day-to-day use of the vehicles. In the U.S., real-world gas mileage metrics are measured in tandem with CO2 emissions because the figures move together (as fuel consumption goes up, so do CO2 emissions). There is a 23 percent difference, on average, between test results and real-world performance in the U.S. 
Why are U.S. automakers out-performing their EU peers? In short, it's all about the nature of the testing regimes.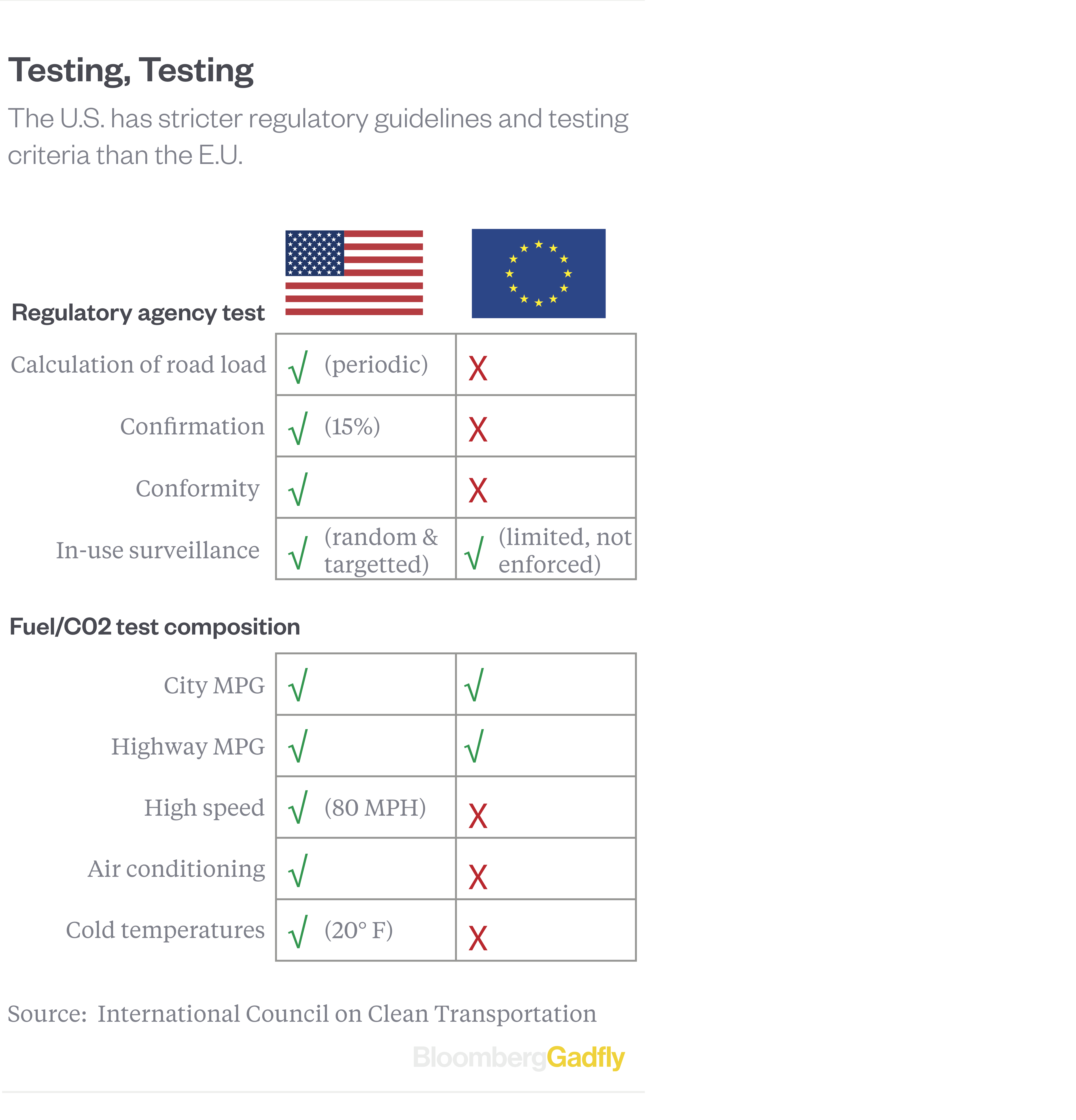 As the chart above illustrates, the U.S. has stricter vehicle emissions and fuel standards than the EU. Regulators enforce those rules more strictly in the U.S. as well. 
The International Council on Clean Transportation is a non-profit research organization largely funded by ClimateWorks, a group chiefly funded by the William and Flora Hewlett Foundation, the KR Foundation, the MacArthur Foundation, the Oak Foundation, and the David and Lucile Packard Foundation, among others. 

The ICCT uncovered Volkswagen's emissions cheating. According to a recent report from the group, the difference between how automakers perform on emissions tests and in the real world is also getting bigger -- a result of manufacturers' ability to exploit testing conditions and new technologies. None of this appears to approach the violations that VW engineered, but it does signal that emissions testing isn't keeping up with changing times.
The rest of the major auto players in the world, including those based in China, India and Australia, follow the EU's testing guidelines -- so the disparities in test results and real-world performance are likely to continue. 
This column does not necessarily reflect the opinion of Bloomberg LP and its owners.
To contact the author of this story:
Rani Molla in New York at rmolla2@bloomberg.net
To contact the editor responsible for this story:
Timothy L. O'Brien at tobrien46@bloomberg.net