German steelmaker ThyssenKrupp is developing a Willy Wonka-style magnetic elevator that can travel sideways as well as vertically.
After a period of rapid lift-off under new management, when key earnings and balance sheet metrics improved dramatically, progress is now also set to level off.
First, the good news. In the long term, taking in more money than you are obliged to pay out is pretty fundamental for a company's survival. So it was a triumph of sorts that ThyssenKrupp was finally able to report positive free cash flow (pre-divestments) for its 2014/2015 fiscal year -- the first time in nine years.
CEO Heinrich Hiesinger has done much to repair the damage caused by a pair of disastrous steel plant investments in the Americas that contributed to more than 8 billion euros ($8.5 billion) in net losses in the three years to 2013. Net debt is down to 3.4 billion euros, a reduction of 263 million euros compared to a year ago.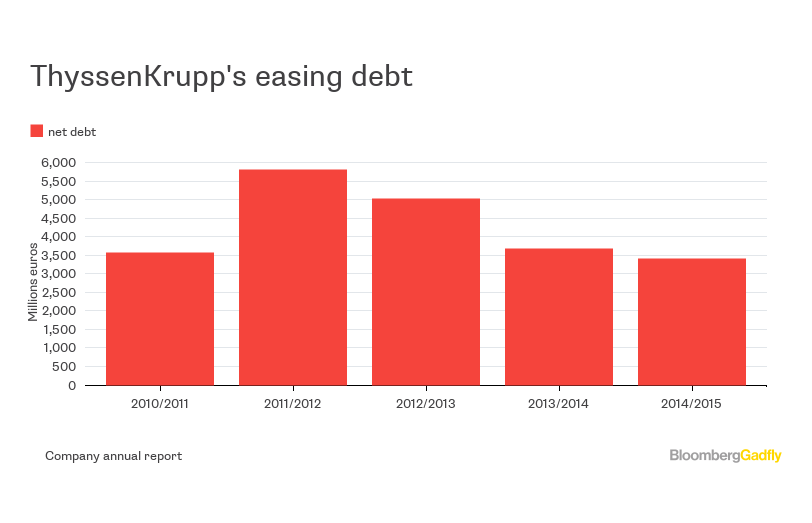 The trouble is, having cut costs and sold assets to pull ThyssenKrupp back to the black, further improvements will be much harder to come by. The macroeconomic environment for steelmakers is awful. Cheap Chinese steel exports have forced rival ArcelorMittal to suspend its dividend and Tata Steel to slash jobs. ThyssenKrupp has warned about "import pressure" on the materials markets from Asia.
To its credit, management has reduced ThyssenKrupp's reliance on steel, which now makes up only 30 per cent of employed capital compared to 65 per cent four years ago. Elevators have helped earnings rise. 
Yet the customers of ThyssenKrupp's industrial solutions division, a builder of large plants, are reluctant to make expensive purchases in the present environment. Meanwhile, price pressure in automotive components will probably increase because key customer Volkswagen is slashing procurement costs and grappling with a sales slowdown in China. Free cash flow, excluding mergers and acquisitions, is therefore expected to plateau in the new fiscal year at about 115 million euros.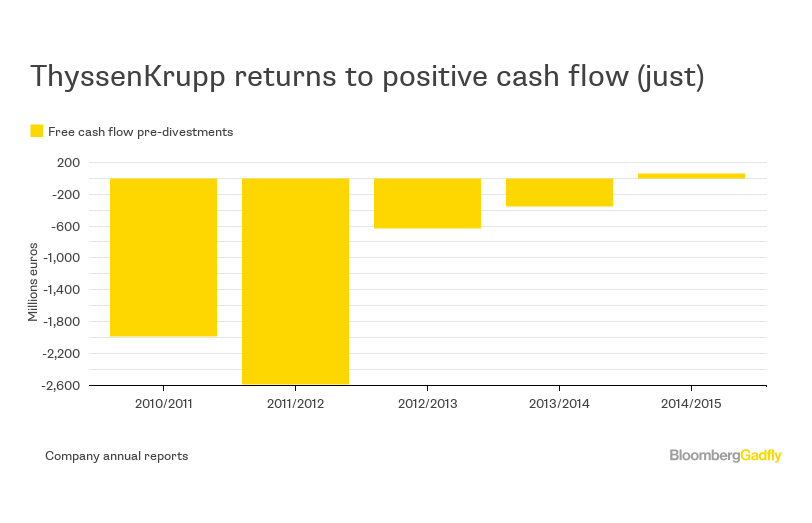 Caution about the company's cash generation potential and a still highly leveraged balance sheet was reflected in the proposed dividend payout. At 15 euro cents it is only four cents higher than the token dividend payout offered last year. Analysts hoped for more.  
Management has said ThyssenKrupp needs to generate about 2 billion euros in operating profit to meet all obligations, which include paying down debt, improving the dividend and dealing with a more than 7 billion-euro deficit in its defined benefit pension plan. But having reached 1.7 billion euros in adjusted operating profit for fiscal 2014/2015, a maximum of 1.9 billion euros is anticipated for the new fiscal year.
Given the negative newsflow from other steelmakers, ThyssenKrupp's outlook is still relatively reassuring. But after a period of vertical recovery, the future looks a little more horizontal.
This column does not necessarily reflect the opinion of Bloomberg LP and its owners.
To contact the author of this story:
Chris Bryant in Frankfurt at cbryant32@bloomberg.net
To contact the editor responsible for this story:
James Boxell at jboxell@bloomberg.net