Warren Buffett cut his Wal-Mart stake by 7 percent, or about $289 million, in the third quarter, according to a filing released on Nov. 16. He said it was because he needed cash handy to go shopping. It had nothing to do, Buffett said, with the big-box retailer's plunging stock price.
Really?
A reminder to the universe: Berkshire Hathaway, the legendary creation and corporate domicile of the world's third-richest man, already sits atop $66 billion in cash and cash equivalents. It has socked away another $180 billion in short term investments, much of which could be readily turned into cash. 
Take a look below at a ranking of the most cash-rich members of the S&P 500. And look at occupant number four. Right, Berkshire.
Of course, a chart like this is destined to have lots of insurers and financial services firms in it (as well as two well-known corporate ATMs, Apple and Google). Insurers and banks have to keep more cash on their balance sheets than other companies (because insurers have to pay out policies in sometimes unpredictable ways and banks have regulators requiring them to plump up their coffers). 

So should we take old Warren at his word? Did he really dump a chunk of Wal-Mart stock (as well as shares in Goldman Sachs worth about $328 million) because he wants more cash lying around? That's the kind of question that gets Gadfly jumping.
Buffett agreed to buy Precision Castparts in August for more than $37 billion. He said he sold off the Wal-Mart and Goldman stakes to pad his balance sheet ahead of the upcoming completion of that deal.
Okay. But as noted above, the world's most formidable individual investor has $66 billion in cash, and $180 billion in short-term stuff at Berkshire.  About $56 billion of that $66 billion is directly under Buffett's control and sits inside Berkshire's insurance operation.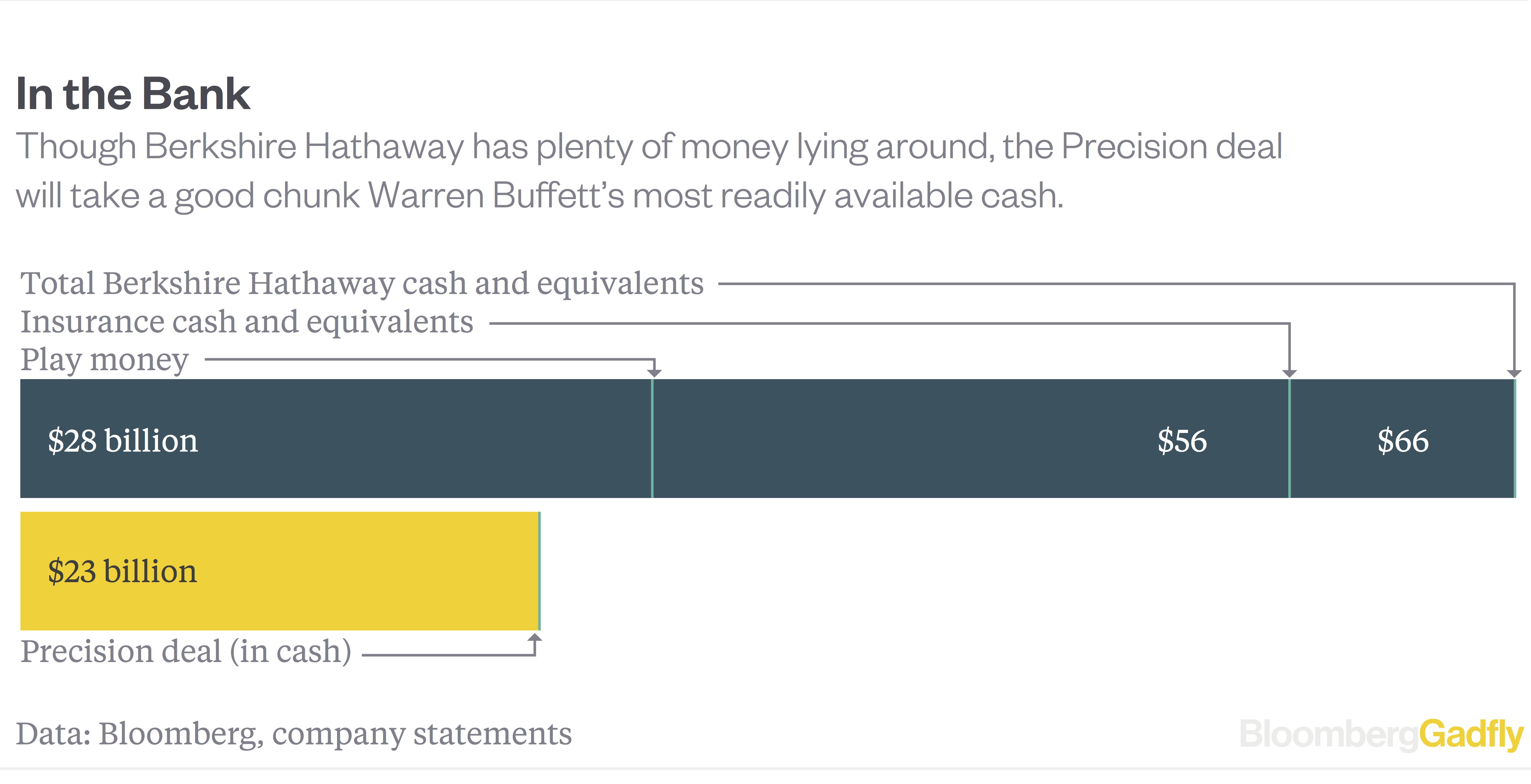 Let's be even more conservative and presume Buffett may be free to play with about half of that amount (while leaving the $180 billion in short-term holdings alone). That gives him about $28 billion. And he's committing $23 billion of Berkshire's cash to the Precision takeover (while financing the remainder of  that $37 billion-deal). So maybe Buffett needs to tighten his belt after all.
Maybe.
This column does not necessarily reflect the opinion of Bloomberg LP and its owners.
To contact the author of this story:
Rani Molla in New York at rmolla2@bloomberg.net
To contact the editor responsible for this story:
Timothy L. O'Brien at tobrien46@bloomberg.net