Ford says SUVs will make up 40 percent of the U.S. auto market by 2020. With increased demand from millennials and boomers, that estimate seems reasonable. Low gas prices coupled with higher fuel efficiency in small trucks also will boost sales over time. 
All of this suits Ford quite well; it says 30 percent of its total sales are from SUVs --up from the low 20s in 2000.
How well equipped are other automakers to compete in the SUV market further down the road? It depends on their current market share and the type of SUVs they make. Have a look at car and light-truck share in the U.S. in the chart below. It shows that compact and mid-sized crossover SUVs have seen the greatest increase in unit sales.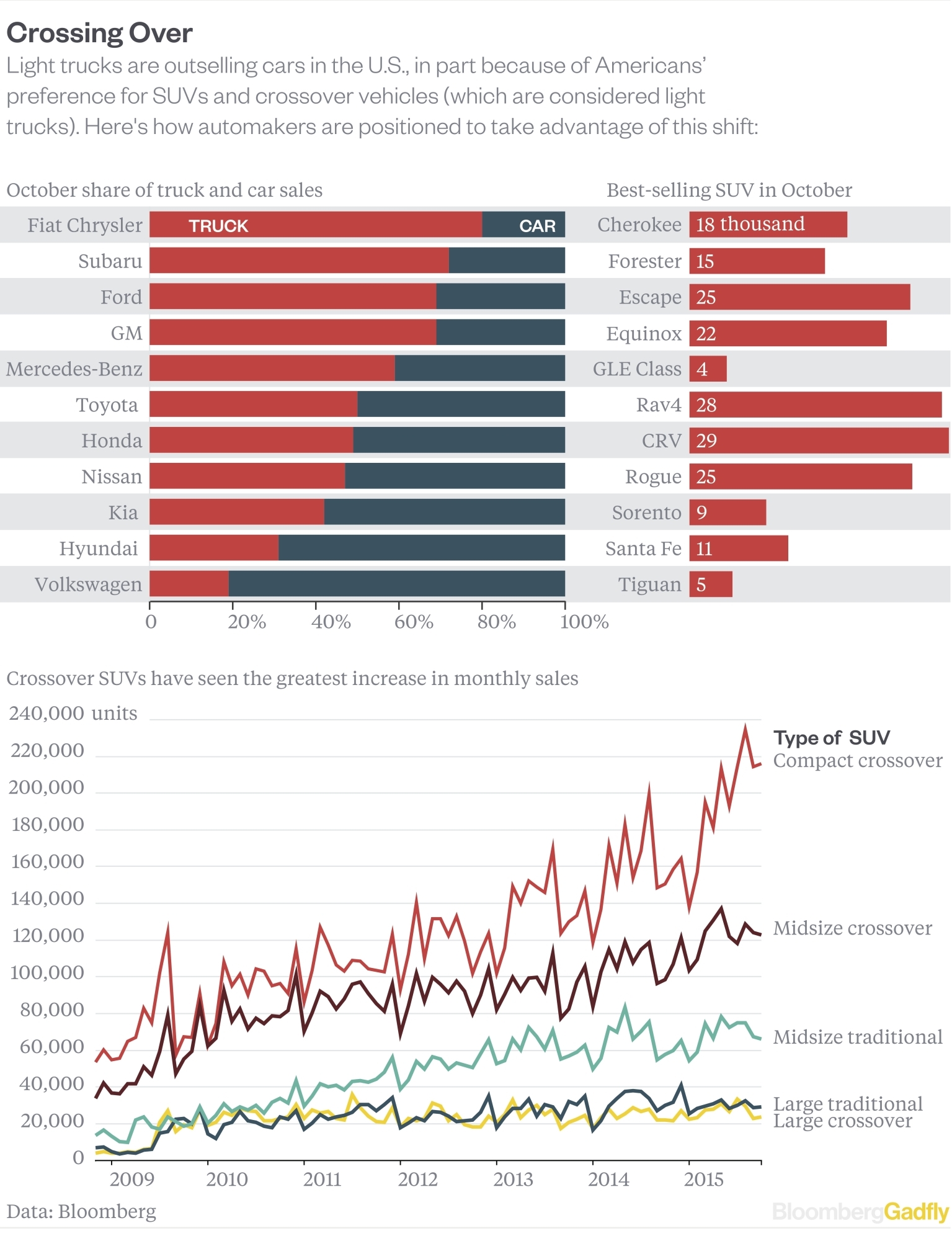 According to Bloomberg Intelligence, sales of compact crossover SUVs surpassed compact cars for the first time in August. While U.S. car companies are increasing their overall truck sales at a faster rate than their overseas competitors, Asia-based brands still represent about 75 percent of all compact crossover sales.
Methodology: Because some irregularities in categories makes it difficult to definitively and directly compare brands, we opted instead to compare car versus light truck sales. SUVs and crossover cars like the Subaru Forester are considered small trucks in this database, and they make up a substantial portion of light truck sales.
This column does not necessarily reflect the opinion of Bloomberg LP and its owners.
To contact the author of this story:
Rani Molla in New York at rmolla2@bloomberg.net
To contact the editor responsible for this story:
Timothy L. O'Brien at tobrien46@bloomberg.net