Everybody's worried about a tech bubble. Unicorns prance everywhere, and, well, bubble. But however lofty the valuations of privately-held start-ups may be, the track record of tech firms gone public isn't so troubling -- at least not when you compare them to IPO alumni in other sectors.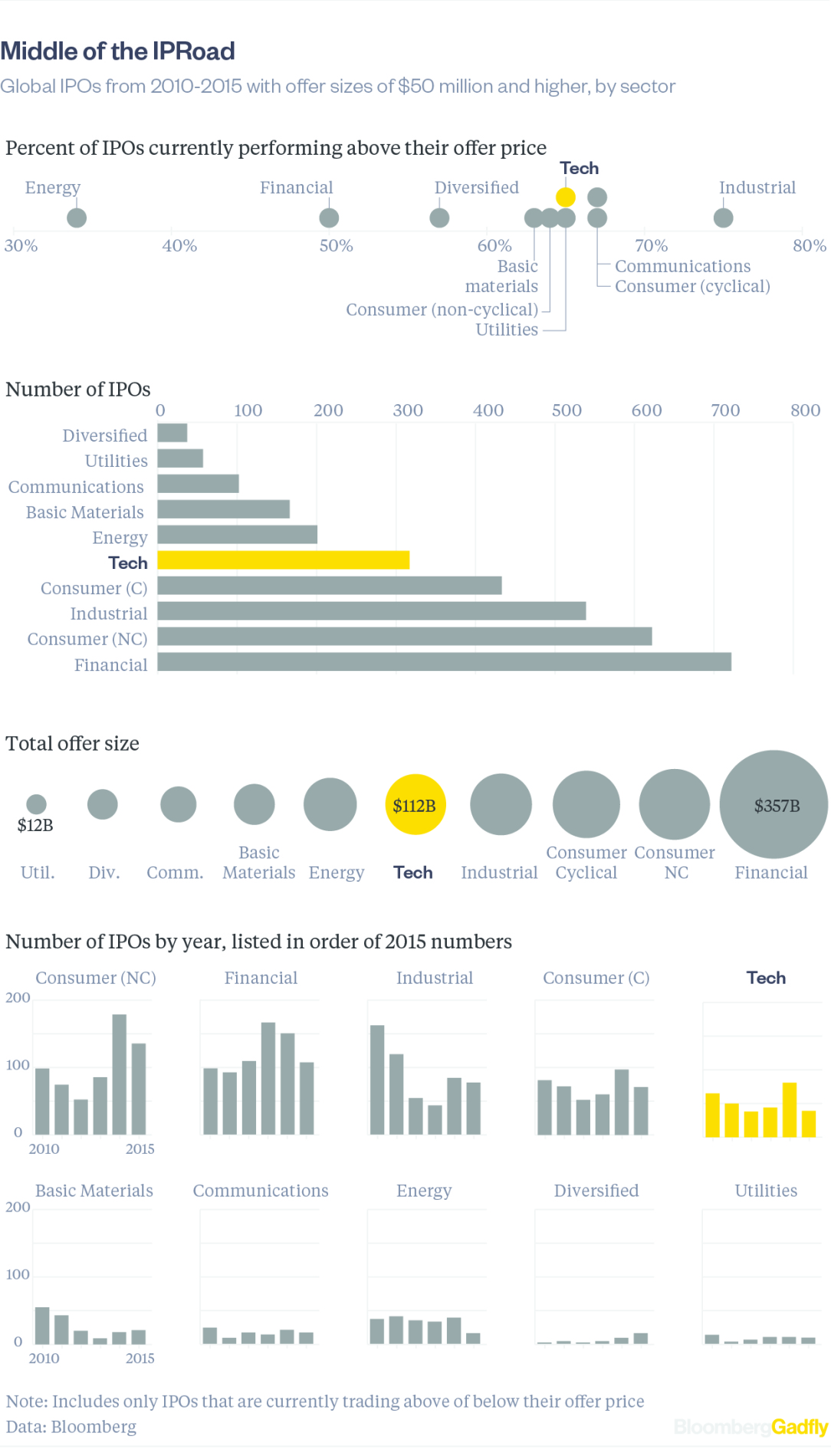 Look at Bloomberg data on companies globally that have priced since the beginning of 2010 at $50 million or more: The performance of tech IPOs is middle-of-the-pack. Energy companies have performed the worst in the same time period, while industrial companies have performed the best. The financial sector, which includes REITs, saw the highest number of IPOs in that time and the largest offer size overall. 
So tech IPOs appear to be correcting apparent overvaluations in the private market. Notably, Facebook priced at a record high for a tech offering when it went public in 2012, near its final funding round valuation. Though Facebook's stock price initially fell the first year after it went public, it has soared since then. Recently Square said it's seeking a market valuation nearly $2 billion below its last private funding round. While that could be bad news for late-stage investors, the public valuation may come closer to being reasonable.
So far this year, only 8 percent of global IPOs were tech, down from 12 percent the year before. Tech companies are staying private longer -- but maybe that's good for those that eventually do go public.
And it looks like Mr. Market understands how to corral a herd of wild unicorns.
Methodology: Data includes global IPOs that priced from from January 1, 2010 until the market closed on Nov. 10, 2015. Only IPOs that are currently trading and had an offer price over $50 million were included in this survey. Internet companies are included in "technology" rather than in "communications." All sectors were treated equally. Selecting only those IPOs that priced in 2010 yields similar performance to date for those IPOs that have been around now for five years, with tech again roundly the middle. 
This column does not necessarily reflect the opinion of Bloomberg LP and its owners.
To contact the author of this story:
Rani Molla in New York at rmolla2@bloomberg.net
To contact the editor responsible for this story:
Timothy L. O'Brien at tobrien46@bloomberg.net