Welcome to the era of technology users as de facto lobbyists.
Nearly the minute that New York Attorney General Eric Schneiderman made news Tuesday night with an effort to shut down two fantasy sports companies, DraftKings and FanDuel, DraftKings e-mailed to its users and urged them to contact Schneiderman to "protect your right to keep playing daily fantasy sports," according to an article in the New York Times.
The tactic underscores how common it has become for startup technology companies to enlist their users as political advocates. It's clever, to a point. It's almost a knee-jerk reaction at this point for young tech firms: Government tries to restrict us. We tap our users to help stop The Man.
Uber is the current king of this approach. When New York Mayor Bill de Blasio was seeking to limit on-demand car services earlier this year, Uber built into its app a "de Blasio" tab, which purported to show the car-free wasteland the city would become if the mayor had his way. The app also linked Uber users to a petition to quash City Hall's temporary limits on on-demand car services. The city backed down for now. Uber has undertaken similar rider advocacy efforts in Washington, D.C., Florida and other areas where the company has faced regulatory limits.
In Airbnb's effort to defeat a San Francisco ballot measure this month, the company plucked people who rented their homes on Airbnb to become the face of the "vote no" campaign. Airbnb also sent e-mail to people who have stayed in Airbnb properties to urge them how and why to vote against the measure. When the proposition was defeated, Airbnb told its users they were the reason: "This is your victory. You made it happen," Airbnb wrote in an e-mail.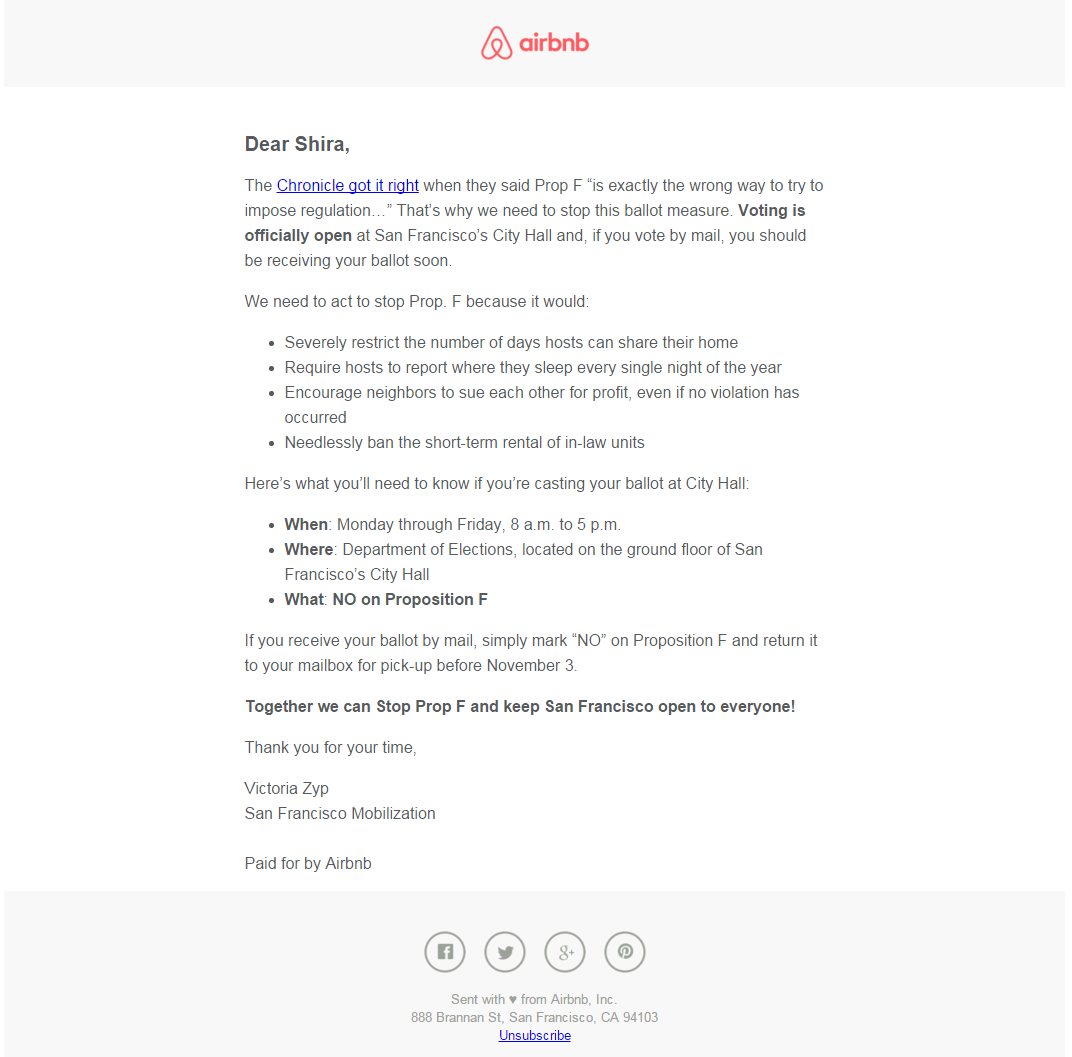 Likewise, when TV-streaming service Aereo lost a legal challenge over copyright issues last year, the company urged its customers to tell lawmakers to "take action to protect your right" to use technology like those provided by Aereo. (The letter writing campaign was for naught. Aereo appears dead for good.)
Enlisting consumers as company advocates is not a new tactic, of course, and not confined to the technology industry. When cable TV companies and owners of television channels get into financial disputes, TV screens are littered with ominous crawls that urge couch potatoes to stop the bad, rich TV company from letting their favorite channel go dark. In this case, each side casts the other as the villain.
What does seem unique thus far to technology startups is the frequency of such tactics and their apparent rate of success. The same "network effects" that make these services tick also give them a huge pool of users, or drivers/Airbnb hosts, that they can tap for political efforts.
Users of many of these services also feel passionate about them in ways that are hard to imagine for most industries. Tumbleweeds would bounce by the barren scene if an airline tried to rally fliers in support of more gates at Newark Liberty International Airport.
Bradley Tusk, an adviser to Uber and other tech companies on regulatory issues, recently circulated a compelling idea that takes user advocacy one step further: What if backers of technology companies could bring voters to the polls on election day, just like labor unions and other established interest groups do? And what if companies like Uber or delivery startup Instacart recommended to their users political candidates who supported issues that were important to the company?
(Tusk worked on a mayoral campaign of Michael Bloomberg, founder and majority owner of Bloomberg L.P. The company also is an investor in Andreessen Horowitz, which is a significant stockholder in Airbnb. A family member works for a labor organization that advocates for legislation of short-term rentals, like those provided by Airbnb.) 
It's hard to know where the limits are to employing technology consumers in this way. Could Amazon put "Our Tax Strategies Are the Best!" slogans on its shipping boxes, with a link to contact members of the European Parliament's tax committee? Probably not. Most likely the bigger and more powerful a tech company gets, the more consumers will tend to see ulterior motives behind the political efforts.
It's a smart tactic in small doses for tech companies to ask their users to back political causes or business issues important to them, and to consumers. But technology companies do need to be careful how often they ask their users to back them in political advocacy. There should be a limit to free lobbying. 
This column does not necessarily reflect the opinion of Bloomberg LP and its owners.
To contact the author of this story:
Shira Ovide in New York at sovide@bloomberg.net
To contact the editor responsible for this story:
Daniel Niemi at dniemi1@bloomberg.net