If you imagine the commodity markets as a giant control panel, all the big dials would be pointing down right now. That is unusual -- so unusual, investors of all stripes should be paying attention.
On the face of it, the Bloomberg Commodity Index has had meaner bear markets than this one; just look at the cliff-drop in late 2008 below.
Even with bears, though, size isn't everything.
The index is made up of 33 different underlying commodity futures that can be put together into different subgroups. Three important ones are Brent crude oil (which in turn represents other liquid fuels like West Texas Intermediate crude and gasoline), crops and industrial metals. Altogether, they represent 70 percent of the index and offer a rough barometer of economic and industrial health: how much people are burning, eating and hammering.
All three are down in price so far this month compared to October, as is the index overall. That is rare: Looked at monthly since the start of 1991, it has only happened 15 percent of the time, clustered mostly around three periods: the Asian crisis of the late 1990s, the global financial crisis, and the past year or so.
You can see this effect if you look at the chart below, showing in red the months where all three plus the index fell on a year-over-year basis (this smooths out some of the month-to-month noise).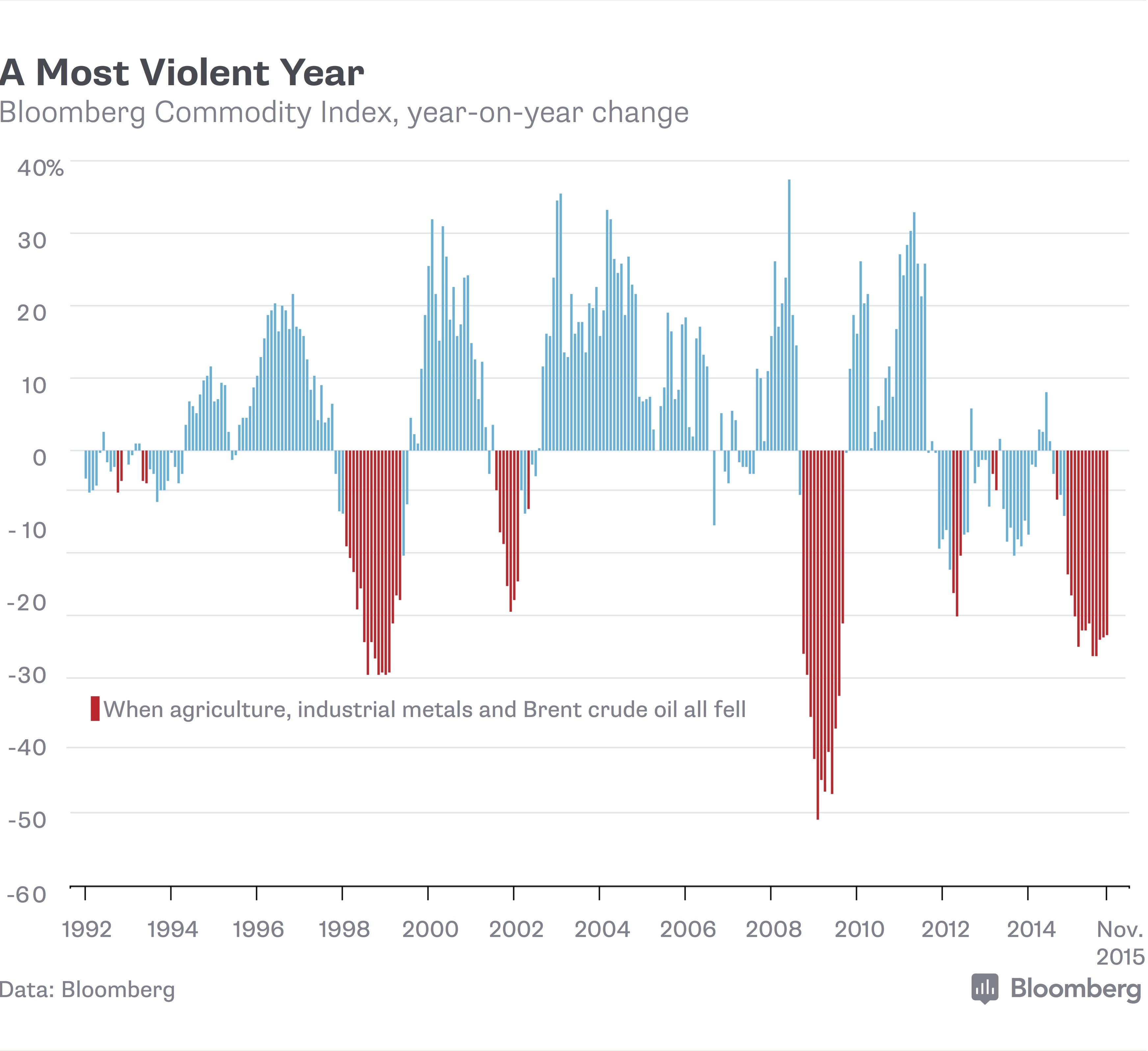 The clusters around the Asian crisis and the financial crisis are pretty easy to explain; the clue is the word "crisis." So is that smaller cluster seen in several months of a tumultuous and recessionary 2001.
The cause of the current pattern of sustained drops across the board in commodities isn't so obvious. There is no apparent crisis. U.S. stocks are close to record highs, and the economy is growing, with the unemployment rate at its lowest level since April 2008. Europe is sluggish, but no more than usual. And while China's growth has eased, official numbers don't suggest a sharp slowdown.
So why are the dials all pointing down? Consider that, if they end November lower than October, then six out of the past 12 months will have had across-the-board declines. The last time that happened was February 2009, just before the stock market bottomed out and 14 months into a U.S. recession.
The year-on-year trend looks even worse. Barring a miracle, the index and the three groups will end this month well below where they stood at the end of November 2014.
The same goes for December. To turn positive next month, year on year, the index needs to rise 24 percent in the next seven weeks or so, crops by 18 percent, the metals by a third, and Brent crude by almost 40 percent. Assuming that won't happen, December would mark the 13th consecutive month of year-on-year declines across the major commodity groups. And that hasn't been seen since the Asian crisis, when many of today's thirtysomething traders would have been freshmen. 
A debacle across the raw materials markets in the apparent absence of one elsewhere likely reflects two things. 
First, the commodity supercycle has entered that nefarious stage when all the investment in new capacity spurred by high prices becomes a burden. Supply cuts are needed to rebalance markets, but getting them to stick is easier said than done. In oil, OPEC is locked in tussles with rivals from Texas to Siberia. Glencore has just watched the support it gave to zinc prices by announcing supply cuts evaporate in a matter of weeks. Meanwhile, forecasts from the U.S. Department of Agriculture released on Tuesday suggest soybean and corn output will likely beat expectations in the year through next August.
That's not great if you invest in commodities, but it is pretty nice for the rest of us just driving cars, scarfing down bread or wrapping turkeys with aluminum foil.
The second reading is more troublesome for everyone, though. Maybe commodity prices are telling us something that official numbers and stock-market valuations aren't.
For example, two weeks ago, Bloomberg Intelligence economists Tom Orlik and Fielding Chen published an article examining different estimates of China's GDP growth, where official numbers are treated with a healthy degree of skepticism by many. They surveyed six proxies calculated by analysts -- including Bloomberg's own -- and found that all suggest growth is running lower this year than Beijing's own numbers say. The range, from 2.8 percent to 6.4 percent, is very wide. 
The exact number isn't the issue. Rather, it adds to fears that China's economy, the linchpin of the commodity supercycle, is struggling with bad debts built up in the boom, excess capacity in markets like steel and aluminum, and the challenge of shifting toward a consumer economy.
There is no one smoking gun; rather, occasional jolts to any complacency. For example, while China's crude oil imports rose by almost 9 percent, year over year, in the first nine months of 2015, the country also turned from an importer of refined products to a net exporter in the same period. Meanwhile, the two domestic oil majors, PetroChina and Sinopec, both just reported weak retail fuel sales for the third quarter.
While commodity watchers are more than a little obsessed with the supply side right now, it is worth remembering that excess capacity is also determined by the level of demand. It is just possible that, even if the red lights aren't flashing, the broad-based pain in commodity markets is sending us a warning nonetheless.
This column does not necessarily reflect the opinion of Bloomberg LP and its owners.
To contact the author of this story:
Liam Denning in San Francisco at ldenning1@bloomberg.net
To contact the editor responsible for this story:
Mark Gongloff at mgongloff1@bloomberg.net