Oil M&A hasn't so much kicked off with a bang as with a put-down.
Outed as the potential bidder for Apache, Anadarko Petroleum on Wednesday couldn't help throwing a little shade at the end of its press release announcing its approach had been rebuffed:
We are unwilling to pursue the transaction without access to detailed non-public information, and based on our analysis, which shows that Apache appears to trade at or near full value currently, the offer was withdrawn.
Hear that, Apache? You appear "to trade at or near full value." Houston brawls have started over less.
In fairness, Apache has long traded at a discount to the exploration and production sector -- one reason its relatively new management is working hard to refocus the company.
Still, dissing is dissing. And in this case, it could actually make Anadarko more vulnerable to a bid itself.
That comment about Apache's value is unlikely to be merely gratuitous. Rather, it could be read as a dog whistle to the company's shareholders that perhaps they ought to sideline the aforementioned relatively new management and listen directly to a potential buyer. After all, if your stock price is already as good as it gets, maybe a takeover is your best option. In other words, it appears to leave the vague option of a hostile bid on the table.
That would not be a wise move on Anadarko's part. Recall that at one point on Tuesday, the notion that it might be interested in making an agreed offer was enough to wipe almost $2.5 billion off its own market value. The stock was not exactly bouncing back early Wednesday.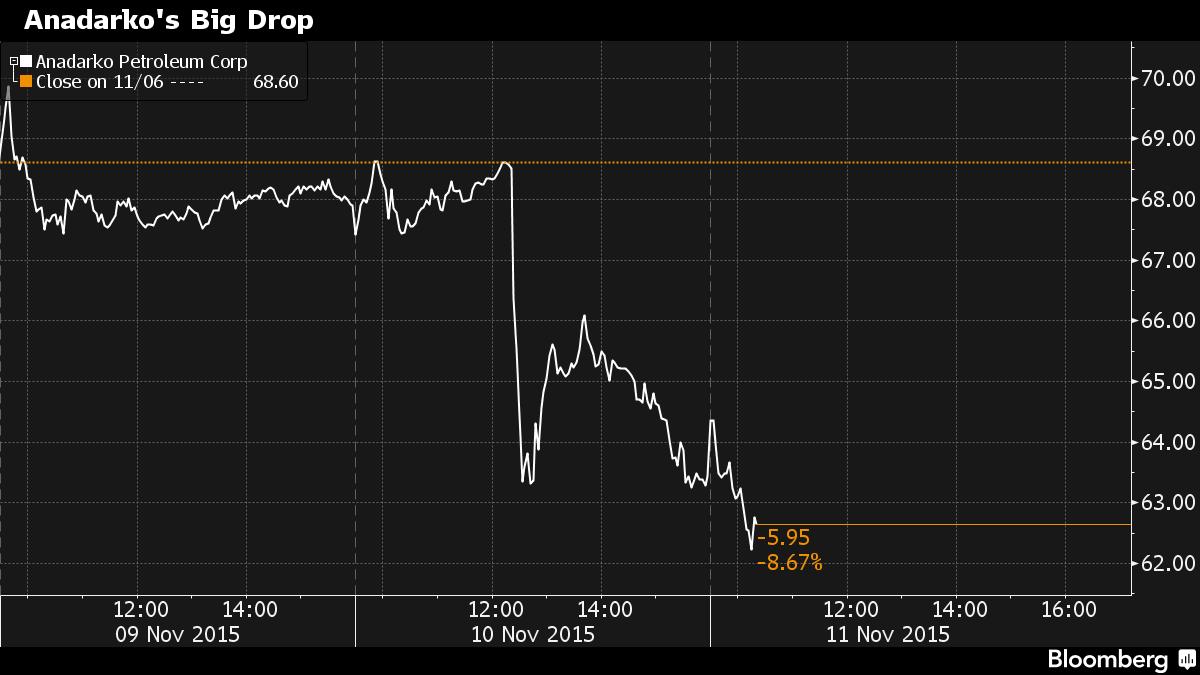 There are good reasons for shareholders to be wary. Anadarko's premium valuation -- it trades at around twice the sector average on cash flow multiples -- rests on two things. One is a reputation for operating excellence in some prime real estate, notably its U.S. onshore shale assets. The other is a long-standing expectation that a behemoth such as ExxonMobil will someday swoop in to buy all of the company, to get its hands on that prime real estate. 
Buying Apache would muddy the water on both counts. Apache does have Permian shale resources of its own that Anadarko would most likely want. But Apache also comes with a hodgepodge of other assets, largely in Egypt and the North Sea, and the combined company would be much more diffuse.
It's not like Anadarko needs reserves, either. It is already outspending its cash flow on what it already has, with analysts forecasting negative free cash flow across this year and next of around $3.6 billion, according to figures compiled by Bloomberg. Given that, it is hard to see how Apache's assets, especially its sizable foreign ones, would be developed better or faster as they compete for scarce investment dollars inside an enlarged Anadarko. This is why the majors tend to buy E&P companies, as they can bring bigger balance sheets to bear on reserves.
The fact that Anadarko felt able to propose only a "modest premium" despite Apache's low relative valuation kind of undercuts the idea that this deal would reap huge rewards. And without a big premium, it is hard to see why Apache's shareholders would sell now. 
Yes, the stock looks pretty cheap, oil prices are down, and the company is in the middle of strategic change. Equally, though, its shareholders could point to lower leverage than at Anadarko and the fact that Apache would be contributing roughly 40 percent of production and, based on the consensus estimate, about 45 percent of 2016 Ebitda. To reflect that in ownership of a combined company under an all-stock deal, Anadarko would need to offer a premium to Apache's closing price last Friday of at least around 30 percent.
Given all this, there is a whiff of defensiveness in Anadarko's approach to Apache, a desire to get bigger to head off the perennial possibility of a bid for itself by the likes of Exxon.
Yet, as Tuesday's share price drop indicated, in raising the possibility of its seeking a target of its own, Anadarko may have actually increased its vulnerability. A hostile bid would exacerbate that. They do say the best form of defense is offense, but "they" rarely add that leaping from the trenches can also get you taken out.
This column does not necessarily reflect the opinion of Bloomberg LP and its owners.
To contact the author of this story:
Liam Denning in San Francisco at ldenning1@bloomberg.net
To contact the editor responsible for this story:
Mark Gongloff at mgongloff1@bloomberg.net