How far will $1,000 take you? Maybe not far enough if you want to recoup the potential loss in value of your Volkswagen due to the emissions scandal engulfing the automaker. 
Volkswagen has a new goodwill package for owners of models affected by the scandal, and the deal includes a $500 debit card as well as $500 toward purchases at Volkswagen. It also includes three years of free, 24-hour roadside assistance.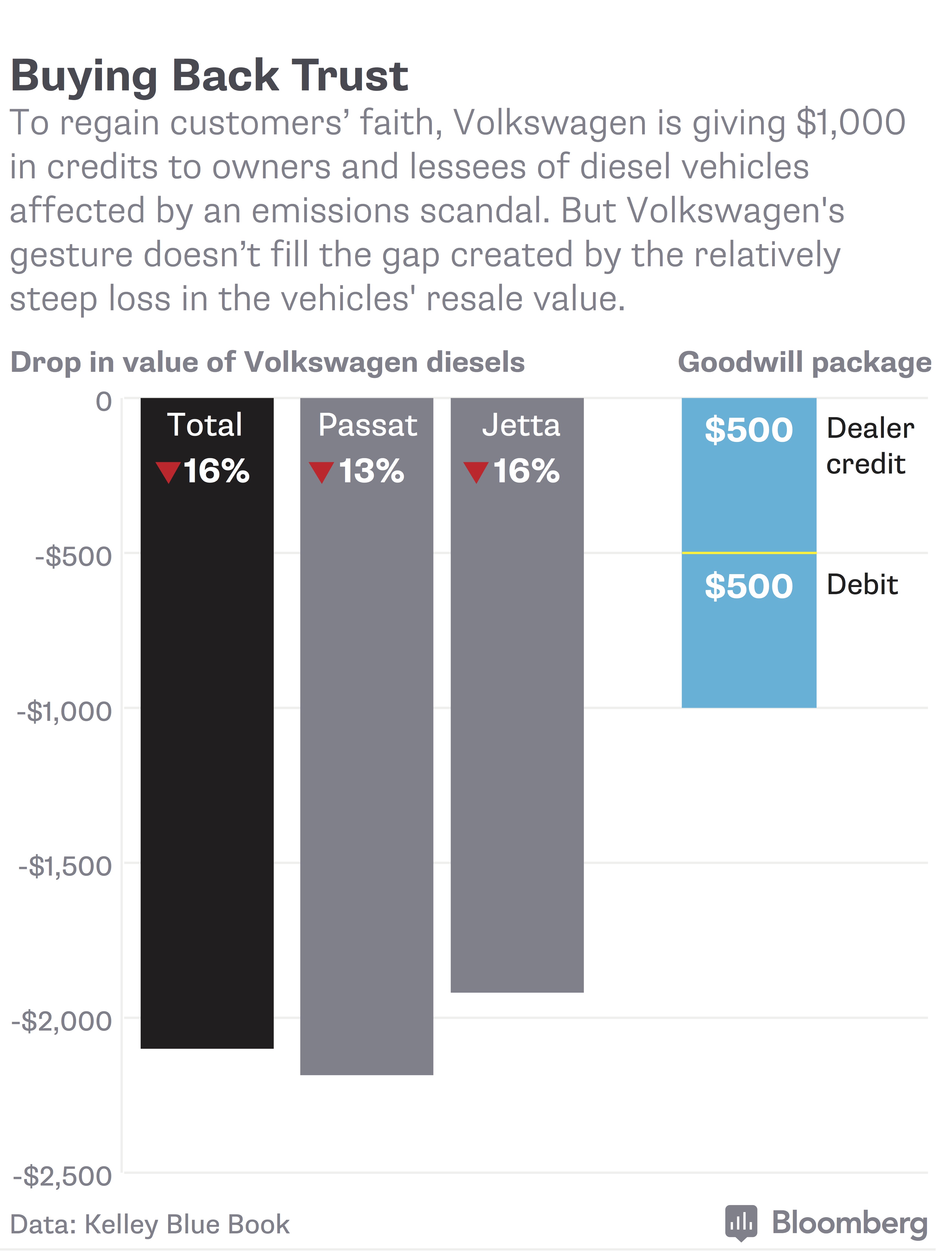 According to Kelley Blue Book data, Volkswagens are depreciating faster than models from other carmakers since the scandal erupted on Sept. 18. Volkswagen's diesels have lost 16 percent of their average value during that period. The value of the popular diesel Jetta has dropped $1,900 in that time (16 percent) while the value of the diesel Passat dropped $2,200 (13 percent).
The value of Volkswagen's gasoline models hasn't suffered nearly as much, apparently because consumers still think the emissions scandal only involves diesel models (and even though gas models are, indeed, part of the probe). The gas models have lost 4.4 percent of their value since mid-September, consistent with industry-wide depreciation rates, according to Kelley Blue Book. 
Volkswagen's goodwill package is only valid for about 482,000 vehicles it has sold in the U.S. Volkswagen has said it anticipates recalling about 11 million vehicles worldwide due to the emissions scandal.

If Volkswagen is trying to appease disgruntled buyers and regain their trust, it might have to offer more sweeteners than $1,000 - and that may mean larger payouts are in store for the company.
This column does not necessarily reflect the opinion of Bloomberg LP and its owners.
To contact the author of this story:
Rani Molla in New York at rmolla2@bloomberg.net
To contact the editor responsible for this story:
Timothy L. O'Brien at tobrien46@bloomberg.net