Long before it became a global company by acquiring Corus of the U.K. in 2007, India's Tata Steel ran a publicity campaign whose tagline was "We also make steel." Were Tata to update that message today, it might want to add, "And we hope we can go on."
If the 108-year-old group fails to make it out of the current steel downturn, it won't be for lack of trying. Tata is closing mills in Scotland, cutting jobs at its steelworks in England, repaying debt and heating up the ovens at a new factory in eastern India.
Yet the challenge is grave for the world's sixth-biggest producer, as its September quarter results made clear Thursday. Excluding one-time items and gains from selling shares in group companies, Ebitda shrank by half from a year earlier to 19.85 billion rupees ($302 million). More worryingly, for the first time in almost three years, Tata Steel Europe's operating earnings swung to a loss.
This year's 45 percent rout in Tata Steel's shares looked far from done on Friday morning in Mumbai.
If investors could ask for three fixes to stem the rot, the first would obviously be for an end to the carnage in global steel. Hot-rolled coil prices have tumbled by more than 40 percent since May last year. To see how critical a price recovery may be, do the math: At current prices, the 1.5 million tons forecast to be produced by Tata's new factory in its first full year of production would net $192 million. If margins improve to early 2012 levels, that more than doubles to $434 million.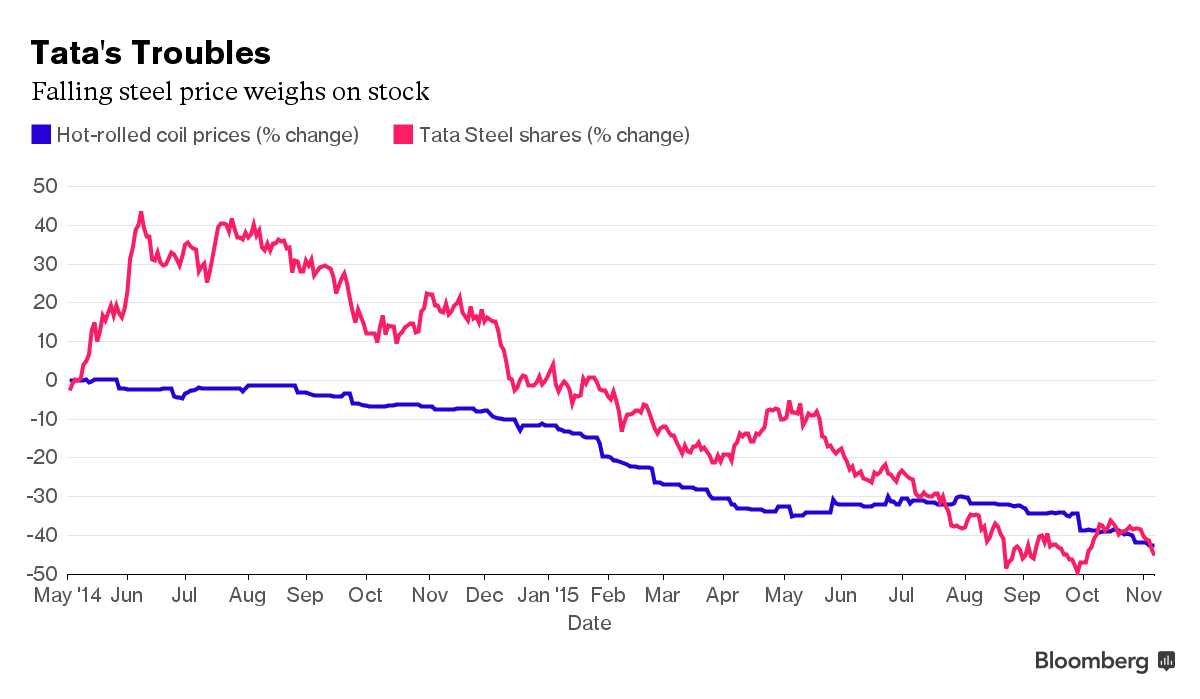 That won't happen in a hurry. Of China's 89 publicly traded steelmakers, as many as 12 have less than a quarter of their revenue coming from the alloy, according to data compiled by Bloomberg. As long as minor producers keep undercutting the majors, it's hard to see how margins can improve.
Assuming the Chinese oversupply persists, Tata shareholders could at least hope for a revival in demand, especially in the domestic market. So far, though, Prime Minister Narendra Modi's "Make in India" campaign hasn't done much to stoke consumption.
Investors' third and final wish would be for a weaker British pound, which over the past six months has remained broadly flat against a strengthening dollar. That had the twin effect of making Tata's U.K.-made steel less competitive, as well as rendering already cheap imports from China even more attractive.
Then there's refinancing. Tata Steel has $7.9 billion of bonds and loans it must repay between now and the end of 2021. If investors could ask for a bonus, it would be for interest rates to remain low. That might be one wish too far.
This column does not necessarily reflect the opinion of Bloomberg LP and its owners.
To contact the author of this story:
Andy Mukherjee in Singapore at amukherjee@bloomberg.net
To contact the editor responsible for this story:
Katrina Nicholas at knicholas2@bloomberg.net