Singapore Airlines has made a hash of its foray into discount aviation. Whereas the likes of Southwest, Ryanair and EasyJet grew by building consistent brands with finely honed networks, it's often given the impression of throwing ideas against the wall to see what sticks. 

Tiger Airways, the low-cost carrier established in 2004, has lost an aggregate S$639 million ($454 million) over the past nine and a half years, according to data compiled by Bloomberg. Today, Singapore Air announced a S$453 million deal to take back full ownership of the carrier. Scoot, the wholly owned long-haul budget carrier it established in 2012, has never reported a profit. Both airlines are in competition with the parent's full-service SilkAir and mainline brands: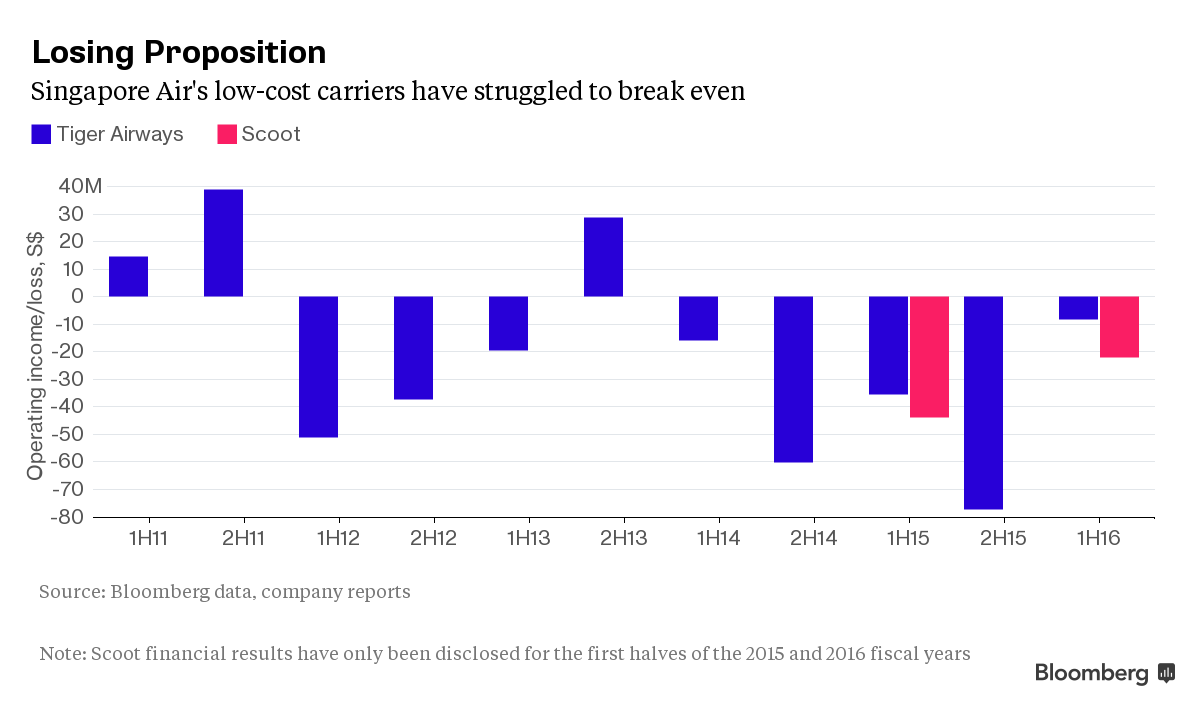 The disjointed nature of the group doesn't just extend to branding. Say you want to fly from Perth to Phuket on the last Friday in November -- a pretty standard tourist route that a discount airline network should be able to get right. On a combined fare with Tiger Air and Scoot, you'll have to hang around in Singapore for either nine or 17 hours waiting for a connection. AirAsia has four different fares via Kuala Lumpur that get there quicker, while Qantas-owned Jetstar has two that manage to get through Singapore Air's own hub faster. Full integration of such basic back-end work as pricing, marketing, scheduling and booking systems between Tiger and Scoot has been going on for not much more than a year and clearly has some way to go. 
Singapore Air's Chief Executive Officer Goh Choon Phong is running out of time to get this proposition right. Southeast Asia's discount
aviation market has been a bloodbath in recent years as carriers including Tiger, Scoot, AirAsia and Jetstar added too many flights and drove down ticket prices. But capacity can be taken away as quickly as it's added, and the aviation industry has a habit of turning on a dime.

AirAsia isn't exactly denying local media reports that co-founder Tony Fernandes is considering taking the carrier private and turning it around away from market scrutiny. Qantas has had its share of troubles in recent years but is now resurgent and looking at how to use its free cash after returning A$505.2 million ($361 million) to shareholders. Meanwhile, Malaysian Air's new boss Christoph Mueller, who revived Irish flag-carrier Aer Lingus in the face of an onslaught from Ryanair, plans to cut costs to make that national carrier competitive with the discounters.
With the Association of Southeast Asian Nations finally implementing a long-awaited open-skies agreement, Singapore Air's backyard is about to go through the same sort of deregulation that was crucial to the rise of Southwest, Ryanair and EasyJet in the U.S. and Europe. Singapore Air has an enviable track record of achievement as a full-service carrier, as well as the industry's equal-biggest cash pile to invest. It has every reason to be a leader in the low-cost market, but it needs to act fast.
This column does not necessarily reflect the opinion of Bloomberg LP and its owners.
To contact the author of this story:
David Fickling in Sydney at dfickling@bloomberg.net
To contact the editor responsible for this story:
Katrina Nicholas at knicholas2@bloomberg.net