SocGen Shows Humble Retail is European Banking's Saving Grace
By
Societe Generale, one of France's biggest banks, is benefiting from an unexpectedly favorable wind from the most old-fashioned part of its business: retail banking.
SocGen today posted a 17 percent rise in third-quarter profit at its French consumer arm, which also delivered the highest return on equity of all its businesses: 17 percent compared with 9 percent for the whole company. Both net interest income -- the money it makes from lending -- and fee income increased as the company attracted more wealthy customers at the same time as costs reduced. Revenue at the unit climbed 4.2 percent, much better than the 3 percent retail decline at bigger rival BNP Paribas during the same period.
Contrast that with SocGen's investment-banking arm, where trading revenue slumped as the bank was caught out by the volatility that followed China's devaluation of the yuan. The performance of the branch network more than made up for that, with the company delivering an overall 28 percent increase in third-quarter profit.
The results show how European banks with strong retail operations are looking in better shape than those that don't (the British banks are an exception but that's because they're having to shell out billions in compensation for mis-selling payment protection insurance). A revival in ING's Dutch retail operation helped propel the lender to a 14 percent gain in third-quarter profit. Deutsche Bank, which relied on investment banking to supercharge earnings, is suffering from its lack of a decent retail branch network to fall back on.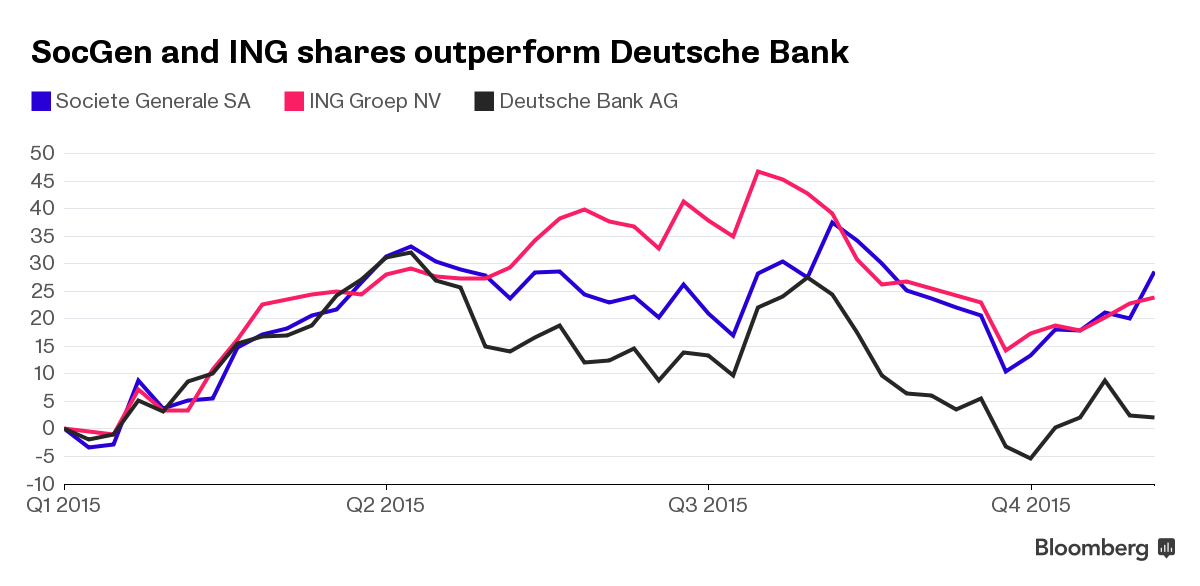 SocGen is so confident that the performance of its French consumer business wasn't a quarterly aberration that it's raised the operation's ROE target to more than 15 percent by 2020. It was 14 percent previously. That it didn't also raise its ROE target for the whole bank implies that the investment banking business will remain a significant laggard for some time.
That it didn't make the target more ambitious suggests there's a limit to the rebound in retail banking. Much will depend on whether management will be able to guillotine costs. The bank plans to eliminate one in five branches -- something that's bound to generate howls of protest from the unions. Shareholders will need CEO Frederic Oudea to deliver.
To contact the author of this story:
Edward Evans inLondon at eevans3@bloomberg.net
To contact the editor responsible for this story:
James Boxell at jboxell@bloomberg.net
Before it's here, it's on the Bloomberg Terminal.
LEARN MORE