It's said that in relationships, there's always one partner who cares more than the other. In the case of the marriage between Rite Aid and Walgreens Boots Alliance, it looks like that partner is Rite Aid. Or at least that's how it appears if you dig into the details of the drugstore chains' merger pact.  
At first glance, the agreement appears pretty run-of-the-mill. As with many such documents, it has built-in contingencies in case the deal falls apart for one reason or another.

For instance, should Rite Aid attract another suitor, it'll have to pay a "break" fee to Walgreens -- in this case, $325 million, or a little less than 2 percent of the deal's announced transaction value of $17.2 billion including debt. That's pretty typical. If the deal doesn't earn the green light from antitrust regulators, Walgreens must pay Rite Aid $325 million. And, if the deal isn't consummated within a maximum of 15 months, both companies can walk away without penalty. All standard stuff.
Here's where things get unusual: The agreement also stipulates that if the merger gets quashed by regulators, and then Walgreens goes out and strikes a deal with another target within eight to 12 months, it must pay another $325 million to Rite Aid. That would put Walgreens on the hook for $650 million in total. 
This unusual clause shows how important the deal is to Rite Aid -- and also how the smaller chain has more to lose if the merger doesn't go through and it's left on its own facing an even bigger competitor. No wonder Rite Aid wants to make it less appealing for Walgreens to seek other partners.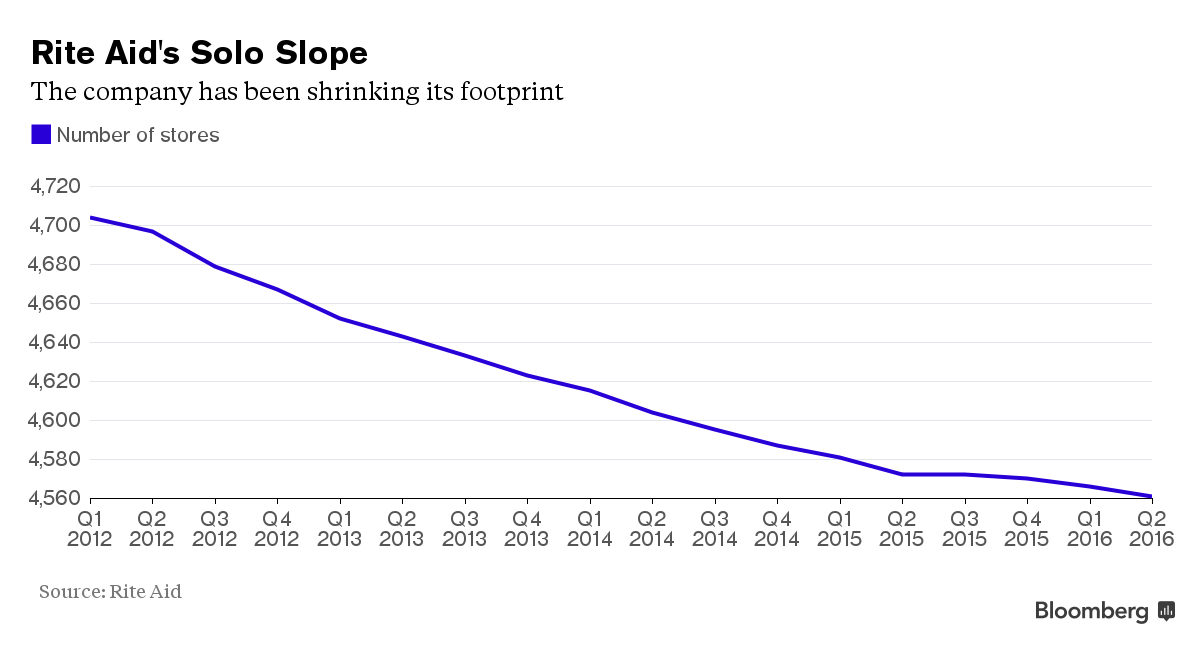 The company most likely to bring Rite Aid's fear to bear is pharmacy-benefit manager Express Scripts, which has long been speculated as a potential target for Walgreens. Express Scripts has risen almost 4 percent since the Walgreens-Rite Aid merger news first broke on Oct. 27. And although it'd be a much bigger bite than Rite Aid (its market value is about $60 billion, compared with $8 billion for the drug retailer), and a deal that would draw even more intense regulatory scrutiny, it would in turn deliver Walgreens with more dramatic cost savings.
For Walgreens, the heftier break fee makes an alternate deal unpalatable, but not impossible. In fact, the clause allows for negotiations, discussions and even public acknowledgements of potential alternate talks -- it just can't get to the stage where it's fully baked or announced within that particular timeframe.
It should be noted that even if Walgreens ended up in the situation where it had to pay the double break fee, it still wouldn't be overly costly, based on industry standards. The $650 million amounts to about 3.8 percent of the deal's value, which is less than the 4.4 percent average break fee for other large, pending North American deals. It's also well below, for example, the 9.5 percent that Dell must pay if it doesn't cough up the financing for its EMC deal.
At least for now, both companies appear firmly committed to their combination: Walgreens has offered to part with a maximum of 1,000 retail stores, more than double what it believes will satisfy antitrust authorities.
But with Rite Aid's stock trading at a 12 percent discount to Walgreens' offer, nothing is for sure.
This column does not necessarily reflect the opinion of Bloomberg LP and its owners.
To contact the author of this story:
Gillian Tan in New York at gtan129@bloomberg.net
To contact the editor responsible for this story:
Beth Williams at bewilliams@bloomberg.net