Had your fill of Dim Sum and Kimchi bonds? It might be time to try Masala debt.
NTPC, India's biggest power producer, has mandated banks to help it raise as much as $750 million through overseas bonds by March. The state-owned company hasn't decided yet, but the fundraising could earn it the distinction of being the first Indian issuer of Masala notes, or rupee-denominated debentures sold offshore. Only the Asian Development Bank and the World Bank's International Finance Corp. have sold such securities, in small quantities, and arguably they don't count because they're not Indian.
Encouraging Indian companies to borrow in rupees is part of central bank Governor Raghuram Rajan's sensible plan to wean them off foreign-currency debt, which threatens to blow up into a balance-of-payments crisis every time the rupee faces depreciation pressure.
That has happened often enough. In Oscar Wilde's 1895 play `The Importance of Being Earnest,' Miss Prism counseled the young Cecily Cardew to steer clear of the vicissitudes of the rupee, which are "somewhat too sensational" to comprehend. The warning rang true again in mid-2013, when the U.S. Federal Reserve gave emerging markets a scare by hinting at an end to quantitative easing.
Since then, though, Rajan's pursuit of inflation control has been a steadying influence. Traders' expectations of volatility have tumbled, and global investors now want to buy rupee assets, Rajan told Bloomberg in an interview in Mumbai this week.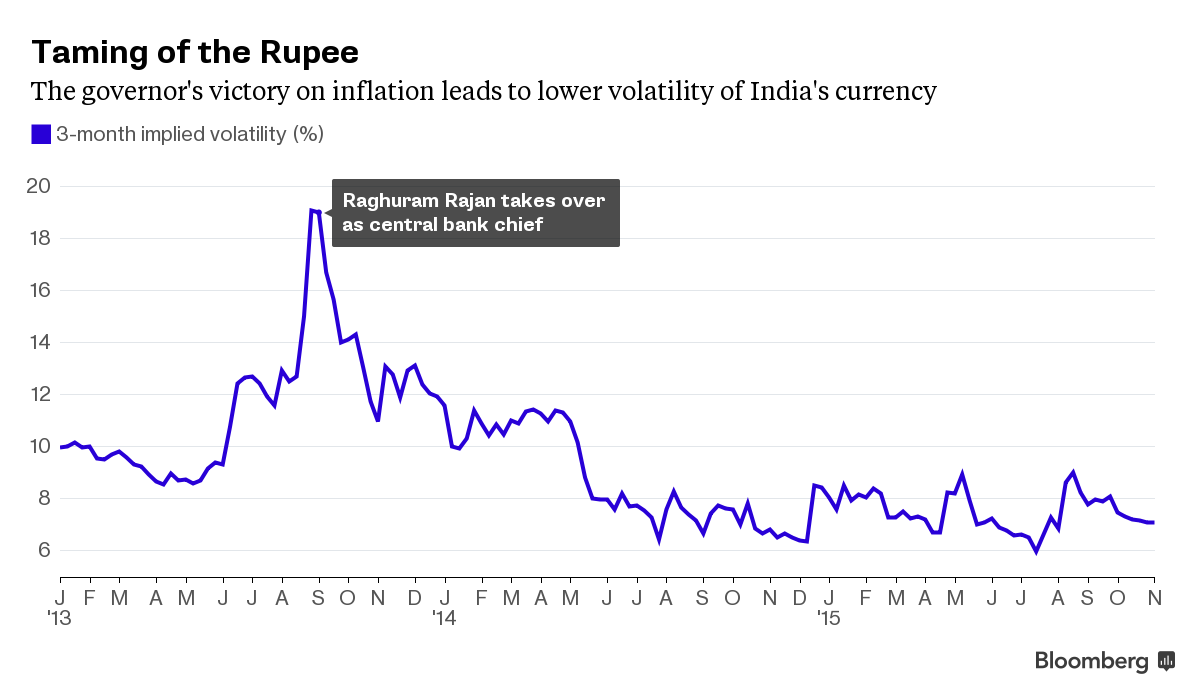 Issuers, and investors, should still be only cautiously optimistic. Indian companies will pay more to raise rupee debt in London, New York or Tokyo than at home, because foreign investors will demand more compensation for the currency risk. Besides, to begin with, the offshore market probably will cater to companies with higher credit scores, like state-owned NTPC, which falls into the investment grade basket at Moody's.
However, if Dim Sum bonds -- yuan-denominated notes issued offshore, primarily in Hong Kong -- are any guide, the Masala market can start slow and shallow and become large and efficient over time. In 2009, companies raised the equivalent of just $2.3 billion selling offshore yuan securities. Last year, issuance topped $75 billion.
Indian bonds denominated in rupees also pay almost double what those denominated in dollars do -- an average 8.19 percent versus 4.73 percent. The Reserve Bank of India, in its most recent Masala bond guidelines, said that the notes' all-in cost should be commensurate with prevailing market conditions.
There is a crucial difference, though, between India today and China six years ago. Back then, the yuan was undervalued and investors wanted to profit from its inevitable appreciation. That kind of confidence still eludes the rupee, which means the growth of the Masala bond market may be slower than for Dim Sum.
Still, from Indian companies' perspective, one of the most important goals right now is to break free of an undercapitalized, state-dominated domestic banking system that's struggling with mounting soured debt on the one side, and a fledgling local bond market on the other.
Masala means spice, and for some global investors, rupee-denominated offshore bonds may prove too hot. But for those seeking rich yields, Wilde's admonition might finally become terribly outdated.
This column does not necessarily reflect the opinion of Bloomberg LP and its owners.
To contact the author of this story:
Andy Mukherjee inSingapore at amukherjee@bloomberg.net
To contact the editor responsible for this story:
Katrina Nicholas at knicholas2@bloomberg.net