Imagine if Qantas Chief Executive Officer Alan Joyce or Delta Air Lines' Ed Bastian was hauled off in handcuffs, and you have a measure of the disquiet investors in the U.S. must have felt overnight on the news that Si Xianmin, chairman of Asia's biggest airline, was being investigated by Chinese anti-corruption officials.

When shares of China Southern Airlines started trading in New York about three hours after the news broke, they slumped the most in a month. Investors in Hong Kong today have been more phlegmatic, driving the stock up more than 2 percent: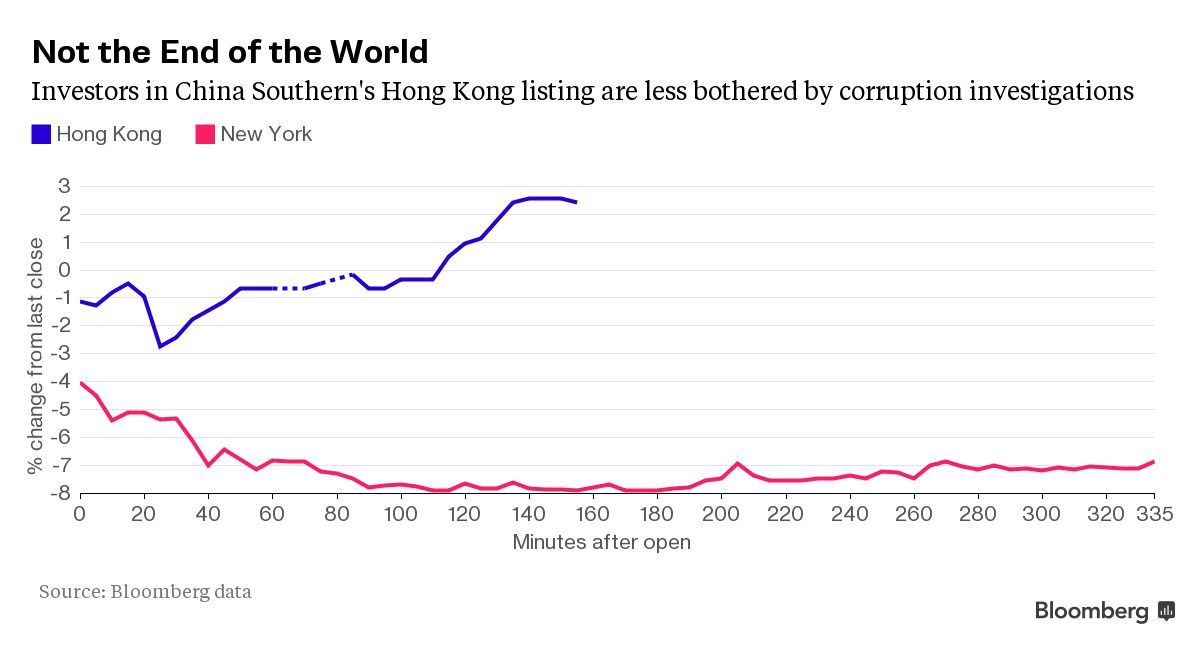 The airline's Shanghai-traded shares jumped as much as 9.7 percent.
In the U.S., where the merest hint of impropriety is enough to crater a stock, alarm is understandable. Drugmaker Valeant has lost about 48 percent of its value since Oct. 19, when the Southern Investigative Reporting Foundation revealed undisclosed links with the Philidor pharmacy chain. Volkswagen has dropped 38 percent since it admitted cheating on air pollution tests Sept. 19.
Things are a little different in China, where official investigations into listed companies aren't always even reported to the stock exchange.

Take Sinopec, Asia's biggest refiner and as good a candidate for a Chinese blue chip as you'll find. Former Chairman Chen Tonghai resigned for "personal reasons" in June 2007.  Chen's troubles turned out to include a corruption investigation for which he was sentenced to death two years hence (he was later reprieved). When his replacement Su Shulin quit in 2011 to be governor of Fujian province, the company's No. 2 Wang Tianpu acted as caretaker. Both Su and Wang  have since been hauled in by graft investigators.
An unscientific sample of 14 Chinese companies named in corruption probes in the past few years suggests that it's pretty much an each-way bet whether the stock will rise or fall in the one month following: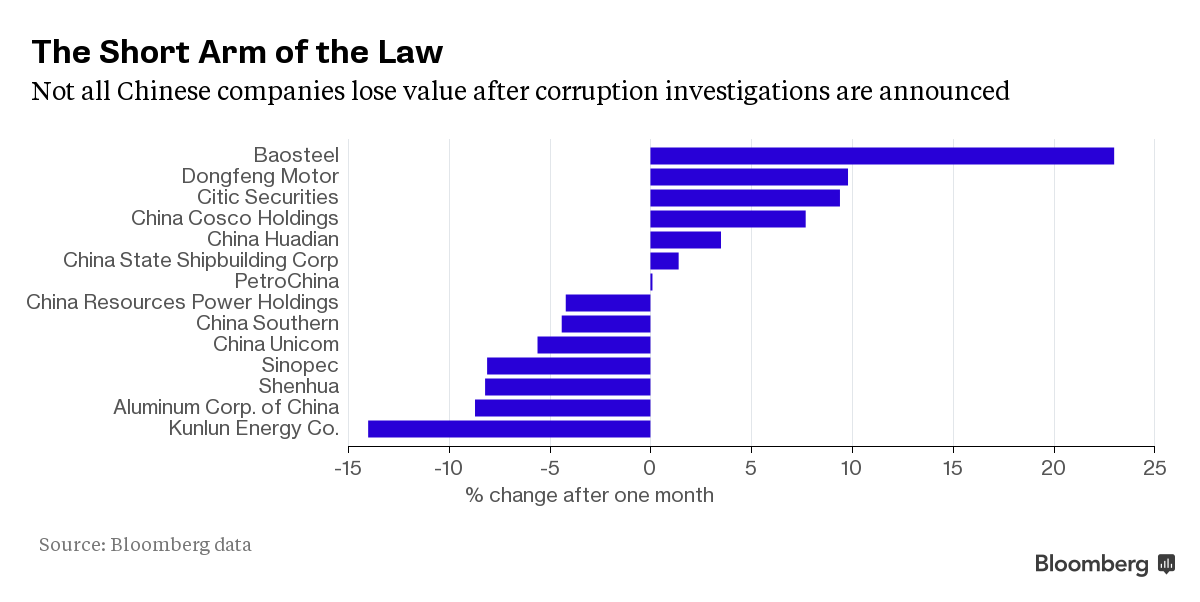 Baosteel jumped 27 percent in the month after Vice President Cui Jian was named in an investigation in March. Dongfeng Motor, China State Shipbuilding and power utility China Huadian all gained ground after the Chinese Communist Party's Central Commission for Discipline Inspection announced in February that officials of the companies had been involved in corrupt activity including bribery, bid-rigging, nepotism and embezzlement. The president of Citic Securities, China's biggest brokerage, was named by the state-run Xinhua News Agency as under investigation for insider trading in September. Its Hong Kong-traded shares have since gained 23 percent.

In a country where most of the biggest companies are state-controlled and senior executives are rotated between business and political roles like Soviet commissars, the sudden loss of a corporate leader is less likely to throw the business into disarray.
As a result, corruption investigations in China aren't usually early warnings of corporate collapse, the way they can be in the West. That's the good news for China Southern shareholders. The bad news is that this very fact is a reminder of the way that Chinese companies -- even ones that fly spanking-new Boeing 787 Dreamliners to London-- are still mostly governed by an opaque bureaucracy whose interests are rarely aligned with those of investors.
This column does not necessarily reflect the opinion of Bloomberg LP and its owners.
To contact the author of this story:
David Fickling in Sydney at dfickling@bloomberg.net
To contact the editor responsible for this story:
Matthew Brooker at mbrooker1@bloomberg.net