GlaxoSmithKline is the sick man of Big Pharma, and it seems to be reaching for the wrong medicine.
The drugmaker's market cap has plunged $25 billion since this time in 2014. Its blockbuster respiratory drug Advair is facing serious competition and a nasty and prolonged tumble off the patent cliff, the drug meant to succeed it is struggling, and it's had a number of major pipeline failures. 
Now GSK is touting a far-reaching -- and mostly very far-from-market -- R&D portfolio to convince investors of its long term growth potential. This seems at odds with its previous public shift away from expensive and high-risk drug development toward lower-margin but more stable businesses.
The company held an R&D presentation for investors this week featuring ambitious predictions and novel drug candidates. CEO Sir Andrew Witty had promised investors the presentation would be a "key moment" for the company. It was certainly unusual; GSK has typically forgone this sort of elaborate and detailed pipeline update. It was not a key moment for the stock, however, which has lagged the industry for years. Shares are basically unchanged since the presentation.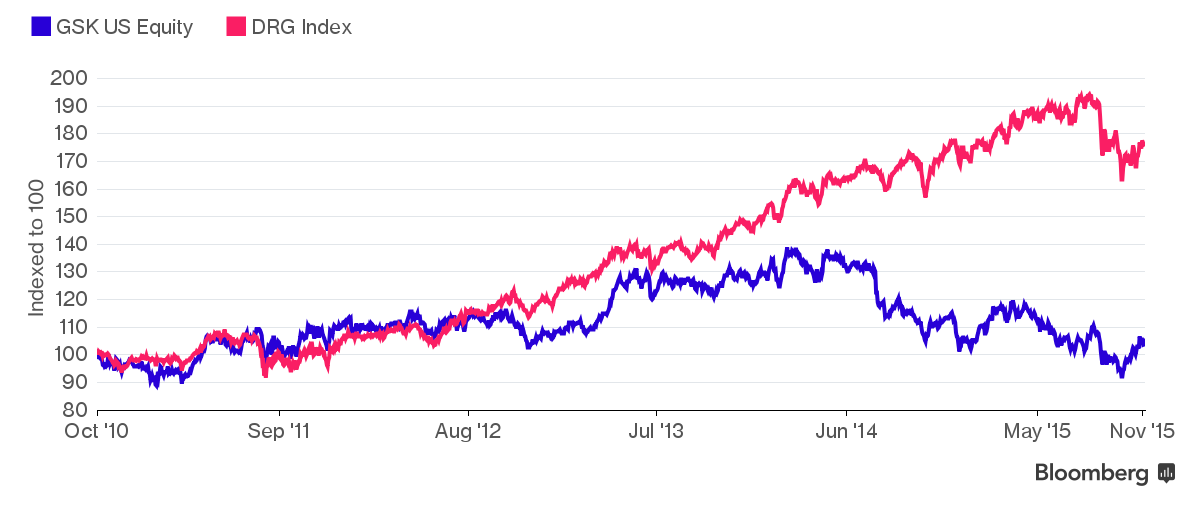 The pipeline is broad and has interesting long-term potential, particularly for a once-a-month injected HIV drug that could change how the disease is treated. But of the 20 drugs for which GSK plans to seek approval over the next five years, most are in phase one or two of clinical trials. That means they're still the kind of early-stage candidates that have a high failure rate. And many of the treatment areas where GSK is aiming its pipeline, like arthritis and anemia, are highly competitive.
GSK has a thin roster of near-term assets, including its severe asthma drug Nucala, which got FDA approval on Wednesday, and shingles vaccine Shingrix. Both are promising, but are old news to investors. Only those two drugs were included in Glaxo's projection that new products will add $9 billion to sales by 2020. The company declined to make specific sales forecasts for other drugs in its pipeline. 
There won't be all that much in the way of new or pivotal clinical data for most of the pipeline until 2017 or later, which makes the portfolio tough to value. Analysts saw nothing in GSK's presentation to prompt them to upgrade earnings estimates, and the company stuck to its earnings forecasts through 2020. 
Emphasizing distant candidates is confusing in light of the strategy Witty has articulated in the past. He has argued that pricing pressure will make branded drugs a less appealing business. The road map revealed this week seems to be a long-term commitment to large and potentially risky R&D expenditures designed to produce exactly the sort of drugs that depend on pricing power.
GSK's asset swap with Novartis -- trading marketed cancer drugs for $16 billion in cash and the Swiss firm's vaccine business -- had seemed designed to reduce GSK's dependence on spiky revenue from patent-cliff-prone branded drugs. But lately the swap is being cast simply as a sale of medicines that were "yesterday's technology," as Witty put it in a recent call with reporters, freeing the company to pursue a new portfolio of early stage, next-generation drugs. 
GSK seems to want it both ways, for investors to value lower-margin but steadier revenue from its vaccine and consumer businesses, and to trust it as a possible source of the next high-margin blockbuster drug. But big spending on long-term R&D doesn't jibe with a lower margin strategy, particularly for a company with a high dividend and net debt.
GSK's dividend yield was 5.81 percent in 2014, compared to an average of 3.31 percent for its European peers, and its net debt to EBITDA ratio of 1.46 is the highest in Big Pharma, outside of Bayer and AbbVie. Unless the company shows significant progress, its commitment to the pipeline is likely to be a drag.

Correction: An earlier version of this story incorrectly said that hemophilia was one of the competitive treatment areas for GSK drugs in development. The treatment area is anemia, and the story has been updated to reflect that.
This column does not necessarily reflect the opinion of Bloomberg LP and its owners.
To contact the author of this story:
Max Nisen in New York at mnisen@bloomberg.net
To contact the editor responsible for this story:
Mark Gongloff at mgongloff1@bloomberg.net