MarkWest's merger with MPLX isn't ideal, but it's still better than the alternative.
John Fox, the former head of MarkWest's general partner, says he will vote his 1.4 million MarkWest units -- a stake of less than 1 percent -- against the deal with MPLX and urged others to do the same. A vote is scheduled for December 1.
One of Fox's biggest complaints is that combining with MPLX comes with an obligation to make payouts to that company's general partner, Marathon Petroleum. Marathon has so-called "incentive distribution rights," meaning it takes a disproportionate slug of MPLX's cash flow, leaving less for regular shareholders. MarkWest doesn't pay distributions to a general partner, and if MPLX buys it, Marathon will get nearly $2 billion in cash between 2016 and 2019 that could have otherwise gone to MarkWest shareholders, Fox says.
Fox's criticism of incentive distribution rights is the mainstream view in MLP-land. Kinder Morgan and several other MLPs abandoned these rights as they went from being a growth accelerator to a drag on the cost of capital. MarkWest shareholders didn't sign up for that structure when they bought units in the company.
The problem is, they also didn't sign up for a world in which oil and gas prices collapsed, pressuring pipeline volumes. Looming higher interest rates also threaten to raise the cost of capital.
In other words, it's not exactly fun to be an MLP right now, and it's less fun to be an MLP without a strong backer. So having the support of one of the biggest refiners in the country, with a pipeline of potential growth projects, is a powerful advantage for MPLX.
MarkWest reported third-quarter earnings that were just so-so on Wednesday. Crucially, it also cut its own guidance in a way that went directly against one of Fox's arguments.
Before Wednesday, MarkWest had projected dividends to grow by 7 percent in 2016 and 10 percent in each of the three years after that. By Fox's calculation, that added up to $18.27 per share, $4.51 higher than the pro forma payout implied by MPLX's projection for the combined company. That is more than a dollar higher than the cash component of the bid, which was meant to help MarkWest's shareholders get over the pain of missing out on that extra dividend.
Now, MarkWest says it expects dividend growth of just 4.3 percent in 2016, and between eight and 10 percent in the years following. At the low end of that range, the standalone premium implied by Fox's math drops to just 27 cents, using the latest unit count. That is still higher than the projected payout under MPLX ownership, but a pretty thin cushion in a market as uncertain as this.
While MarkWest's stock fell slightly on Wednesday, MPLX climbed 4 percent. It's worth noting that units in MPLX have jumped more than a fifth in the past week. It reported weak earnings of its own several days ago, but, importantly, maintained high growth guidance and jacked up dividends, likely catching out a sizable contingent of short sellers. 
But the spread between the offer price and MarkWest's units has now blown out to about $6, suggesting some concern that the deal will fall apart and MarkWest's units could fall even further.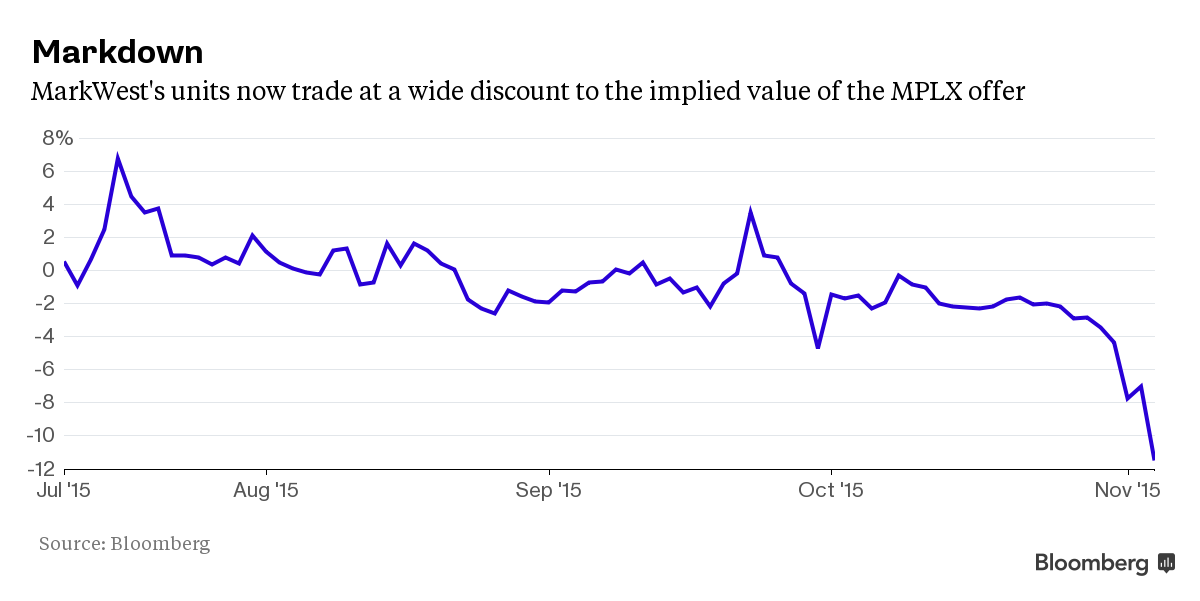 MPLX's offer is a bird in the hand at a time when the entire MLP sector is under pressure and few dare to call a recovery. The price has come down as shares of MPLX have dropped, but it's not that bad. The offer is now valued at about $52 per common unit, or roughly $10.3 billion. That's about a $5.5 billion drop from the announced value -- which, yeah, is a lot, but it's not the $10 billion haircut that Williams shareholders got on their deal with Energy Transfer. Williams rebuffed Energy Transfer's all-stock $48 billion offer in June as too low, held an auction to draw other suitors, and then agreed to a $38 billion deal with Energy Transfer.
Even at the new price, MPLX's offer values MarkWest at around 19 times its Ebitda in the past 12 months. That's still a premium to the median multiple paid in big pipeline deals over the past five years.
Meanwhile, a counterbid looks unlikely with the most logical suitors, Energy Transfer and Kinder Morgan. Both are out of contention for a while: Energy Transfer is in the middle of buying Williams, and Kinder Morgan's cost of equity is now so high that it has resorted to issuing convertible preferred stock.
There's always the chance that MarkWest could be acquired a few years later at a more attractive price. It just depends on how strong investors' stomachs are for the volatility ahead and how long they're willing to wait. Judging by the stock's dividend yield of about 8 percent, patience, and nerves, look frayed.
This column does not necessarily reflect the opinion of Bloomberg LP and its owners.
To contact the authors of this story:
Brooke Sutherland in New York at bsutherland7@bloomberg.net
Liam Denning in San Francisco at ldenning1@bloomberg.net
To contact the editor responsible for this story:
Mark Gongloff at mgongloff1@bloomberg.net