"Come, make in India." It's been almost 15 months since India's selfie-taking, globetrotting new prime minister issued his open invitation to global manufacturers from the Red Fort in New Delhi. A rough-and-ready gauge of how ardently investors have responded to Narendra Modi's appeal is cement sales, which are still pointing down.
Without cement and concrete there can be no new factories, or roads and highways linking them to warehouses, storefronts and ports.  Still, even with sluggish sales, the profitability of Indian cement makers -- and of much of India's corporate sector -- is on the mend. Before Team Modi jumps to claim credit, it appears this might have more to do with China's President Xi Jinping.   
Take India Cements, which dominates the nation's more industrialized south. On Monday, the Chennai-based company reported an 8 percent drop in sales volumes for the September quarter from a year earlier. Ultratech, India's largest cement manufacturer, is having only slightly better luck. Yet the companies garnered a 9 to 39 percent higher operating profit from each bag of cement versus 12 months ago.
Lower costs are behind the improvement. Ultratech is saving 11 percent on its per-ton fuel bill while India Cements is paying almost 10 percent less per ton on transportation. For that, Modi can thank Xi. If the Chinese leadership had tried to cling to unsustainably high GDP growth, energy and other globally traded commodities wouldn't be in a deep funk.
India Cements and Ultratech are illustrative of an emerging broader pattern. Faster sales growth for Indian companies is still in the realm of hope: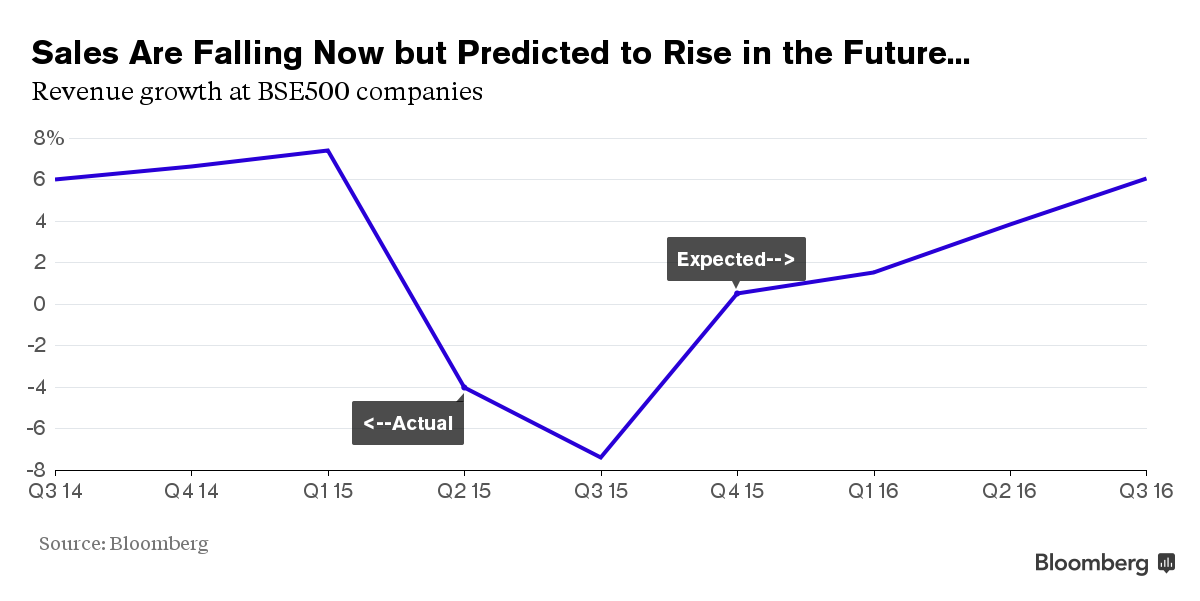 Meanwhile, a revival in earnings is already under way: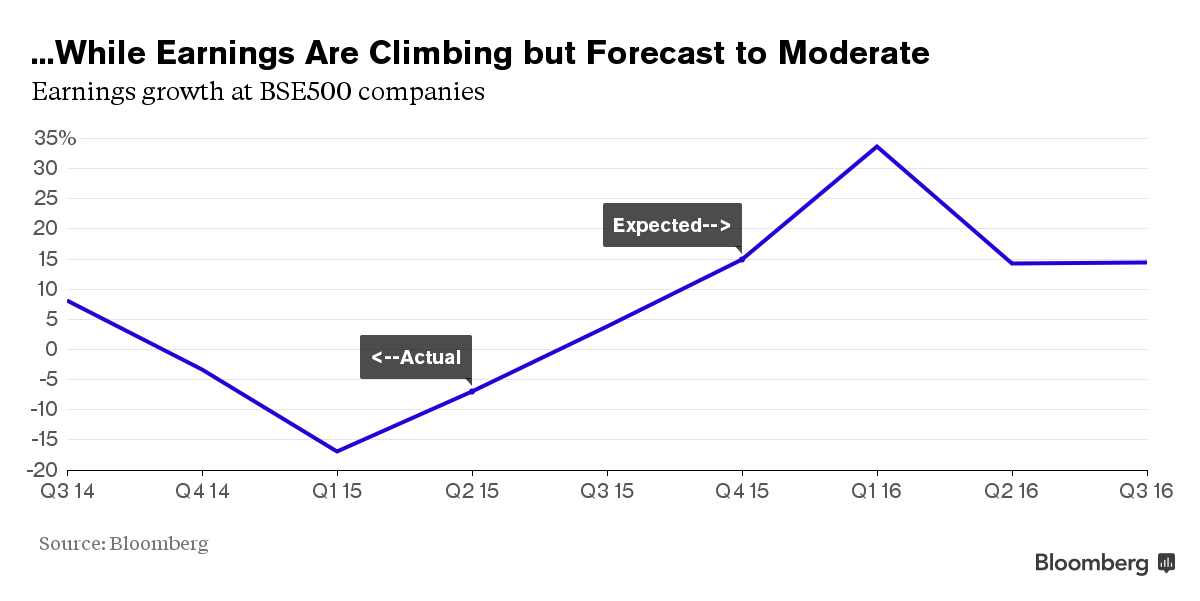 Profit sans revenue growth doesn't inspire investor confidence. India's benchmark Sensex index has risen 2 percent over the past month in dollar terms, while the Jakarta Composite Index has surged by almost 19 percent and the Shanghai Composite 12 percent.  
Investors are waiting for a more sustainable driver of Indian corporate earnings. One good opportunity is a proposed nationwide goods and services tax. If pegged at a reasonable rate, the GST would subsume a plethora of very high subnational levies. If Make in India is to succeed, Modi needs to overcome the political roadblocks that are delaying this efficiency-enhancing legislation.
This column does not necessarily reflect the opinion of Bloomberg LP and its owners.
To contact the author of this story:
Andy Mukherjee in Singapore at amukherjee@bloomberg.net
To contact the editor responsible for this story:
Matthew Brooker at mbrooker1@bloomberg.net