Technology companies love to brag about their total addressable markets -- the theoretical size of their business opportunity. As in, if we only capture 5 percent of the $1 trillion TAM that our number crunchers insist is out there, we will be huge. Did we mention huge?
Here are some not fictitious numbers: 1.55 billion, 900 million, 700 million, 400 million. Those are the numbers of people who at least once a month use, respectively, the Facebook social network, mobile messaging service WhatsApp (bought by Facebook), Messenger (created by Facebook) and Instagram (bought by Facebook). The company's mobile apps nab three of the top 12 spots in the iPhone and Google Play U.S. stores, according to tracking service App Annie.
That's a huge addressable market, and not just in the imagination of someone with a spreadsheet and a dream.
Stock investors understandably nibble their fingernails over Facebook's pricey valuation, rising costs and increasing competition. It is hard to quibble with Facebook's recent track record, though. The company continues to show, including in its quarterly earnings on Wednesday, that it can mint more money from its social network while it queues up younger products for potential -- but real -- money-making opportunities down the road.
Yes, plenty of the business plans at Facebook are still just sketches. Facebook is trying like mad to make more money from all the videos posted and swapped on its site every day, but there's a little thing called YouTube standing in its way. The company is just starting to tiptoe into the same type of sophisticated (some might say annoying and creepy) ads on Instagram that Facebook sells on its main social network.
Facebook doesn't yet try to make money from WhatsApp, which it bought last year for $17 billion, but the kinds of digital payments and e-commerce happening on messaging services like WeChat are an intriguing blueprint. Oculus, the virtual-reality technology startup that Facebook also acquired last year, really isn't there yet. The company's current revenue, up 41 percent in the most recent three months, to $4.5 billion, buys Facebook time to figure it out.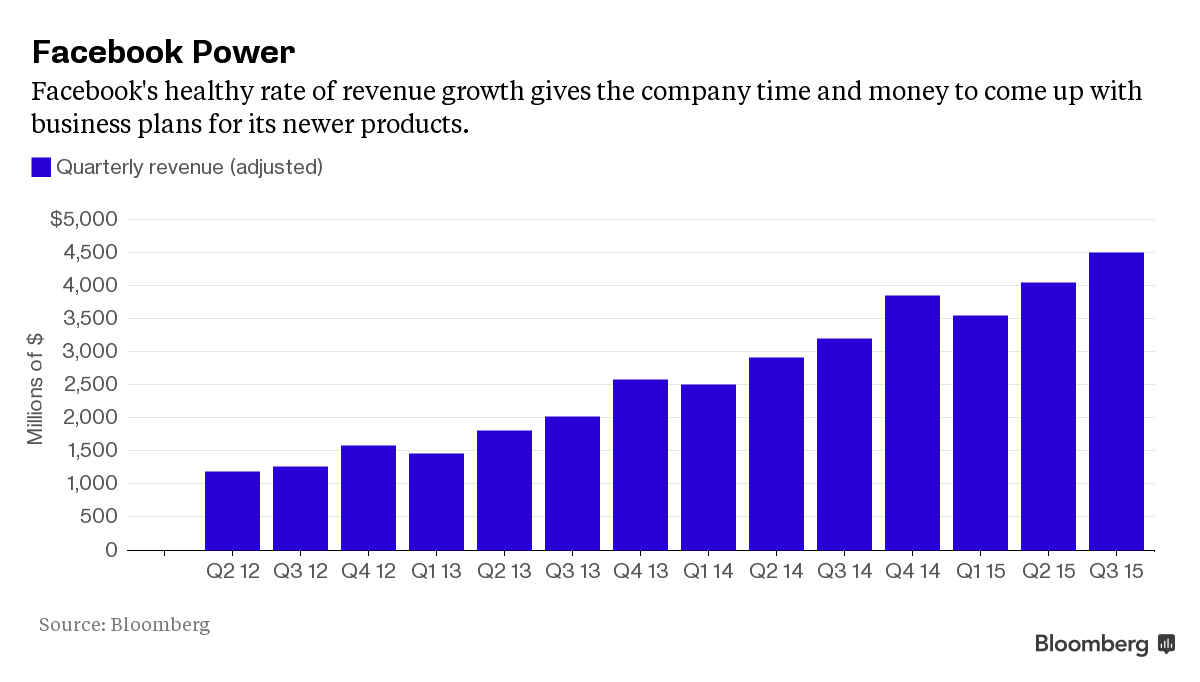 Of course, a lot could go wrong as Facebook expands efforts to make money from the legions of users outside its main app. But a lot has gone right already. In the few years since its wobbly IPO, Facebook has essentially answered the two biggest questions swirling around at the time. The first was whether it could make money as users shifted from the Web to apps. Now more than three-quarters of the company's advertising revenue comes from ads shown on mobile devices.
The other question was whether Facebook had run out of potential new users once one-fifth of the world was already friending and liking. So the company broke out its checkbook for Instagram and WhatsApp. Those moves helped quickly change the company's DNA from a single "Big Blue" social network to a "family of apps," as Mark Zuckerberg calls his corporate brood. The price of less than $1 billion that Facebook paid for Instagram seemed wildly expensive in 2012 and now looks like a steal. It's not hard to imagine that Instagram might one day be regarded as among the best consumer technology acquisitions in recent memory. 
A few notes of caution. It is harder for Facebook and other advertising-dependent companies to make money in many countries outside the U.S. That's also where WhatsApp and Instagram have the lion's share of their users and user growth. Facebook's average revenue per user is $10.49 in the U.S. and Canada, and $1.39 in Asia, for example.
That may explain why the growth pace of this closely watched metric peaked 18 months ago. The trend isn't great but not yet time for the rending of garments as Facebook still continues to pile up users.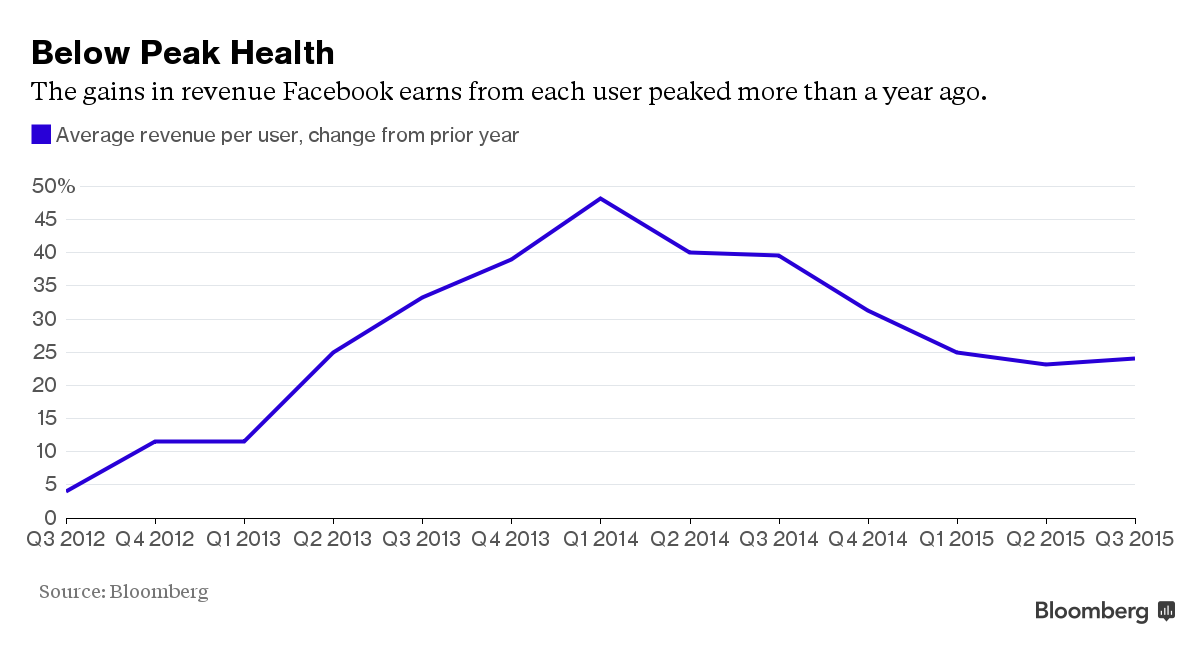 Stock investors have also started to fret about whether stock market enthusiasm for Facebook has gotten out of hand. On the basis of enterprise value to estimated 2016 adjusted Ebitda, Facebook's shares carry a multiple of about 19 -- actually less rich than Twitter (which is a mess), Yahoo (ditto) and Amazon (which only occasionally flirts with profits). On a multiple of sales, however, Facebook's stock traded before Wednesday at nearly 12 times estimated revenue for next year, a fatter multiple than other giant technology companies. 
So sure, Facebook's stock valuation implies the company will hit on just the right formulas to turn its app family into piggy banks. That's an expensive bet, but it's worth it. More than any other tech giant right now, Facebook has struck the right balance between current growth and future potential. 
This column does not necessarily reflect the opinion of Bloomberg LP and its owners.
To contact the author of this story:
Shira Ovide in New York at sovide@bloomberg.net
To contact the editor responsible for this story:
Daniel Niemi at dniemi1@bloomberg.net