Bill Winters should have raised capital sooner. Now he's finally been moved to do so, Standard Chartered investors will be left wondering if it's enough.
The British bank said today it will raise 3.3 billion pounds ($5.1 billion) in a rights offering after posting a surprise loss. It will offer shareholders two new shares for every seven they already own for 465 pence each, 35 percent less than yesterday's closing price.
Winters should have moved sooner and inflicted less pain on shareholders. The stock has dropped 39 percent since June, when he took over as CEO, erasing more than 10 billion pounds of market value. Any offering today dilutes shareholders more than it would have done four months ago.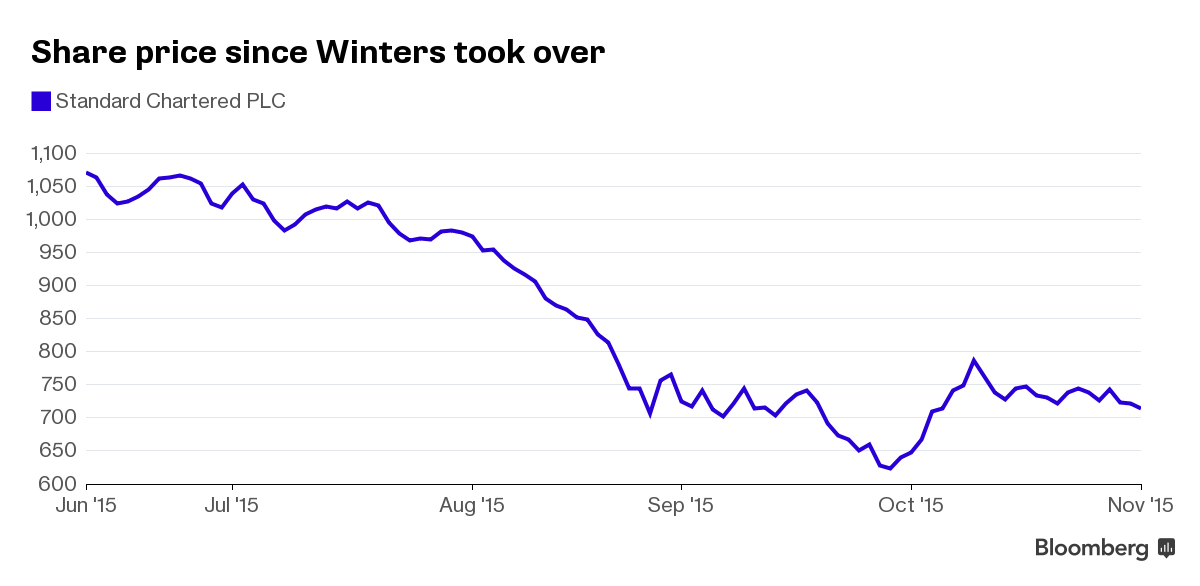 Standard Chartered needs the money because the loans its made, particularly in India, are increasingly unlikely to be repaid, a legacy of former CEO Peter Sands's exuberant expansion in emerging markets and commodities. Impairments for bad loans jumped to $1.2 billion in the third quarter, up from $536 million in the year-earlier period, and may go higher. Revenue fell to $3.7 billion from $4.5 billion.
Winters says he will cut 15,000 jobs and shift the bank's focus to less capital-intensive businesses such as consumer banking and transaction banking. He also increased his cost-cutting goal to $2.9 billion over four years, up from $1.8 billion over three.
Standard Chartered still expects to make at least a 10 percent return on equity in the medium term. But struggling Deutsche Bank is also targeting a 10 percent return on tangible equity -- only without the added emerging market risk. It's hard to see how Standard Chartered will appeal to investors.
Winters needs to take more drastic action, and that means asset sales. Does it need really need to own stakes in Chinese lenders? Does it really need its Indian business in its current form?
This column does not necessarily reflect the opinion of Bloomberg LP and its owners.
To contact the author of this story:
Edward Evans in London at eevans3@bloomberg.net
To contact the editor responsible for this story:
James Boxell at jboxell@bloomberg.net