Just Eat, the British-based online takeaway provider, has confounded the skeptics again by lifting expectations for sales this year to more than 240 million pounds ($370 million). It's the second time CEO David Buttress has bumped up forecasts in a few months.
He's certainly proved adept at stoking investor excitement in a company that's become a test case for the viability of Europe's small band of "unicorns" -- young dotcoms valued at more than $1 billion. Just Eat's shares have climbed 35 percent this year, valuing it at 2.8 billion pounds.
In fairness, Just Eat has so far delivered on its "hyper-growth" plans with the alacrity of a moped rider speeding through London with a hot order of Chinese food. It said today that like-for-like order growth rose 48 percent in the third quarter. Sales for 2015 are now expected to rise more than 50 percent year-on-year, while earnings before interest, tax, depreciation and amortization will almost double. The ebitda margin is expected to be a healthy 23 percent, according to data compiled by Bloomberg.
But a quick look at Just Eat's only publicly traded peer, GrubHub of the U.S., shows that growth can be a fragile thing in an industry with no barriers to new entrants and a constant hunger for investment. GrubHub last week reported its third straight quarter of declining revenue, helping push its shares down by 24 percent in one day's trading.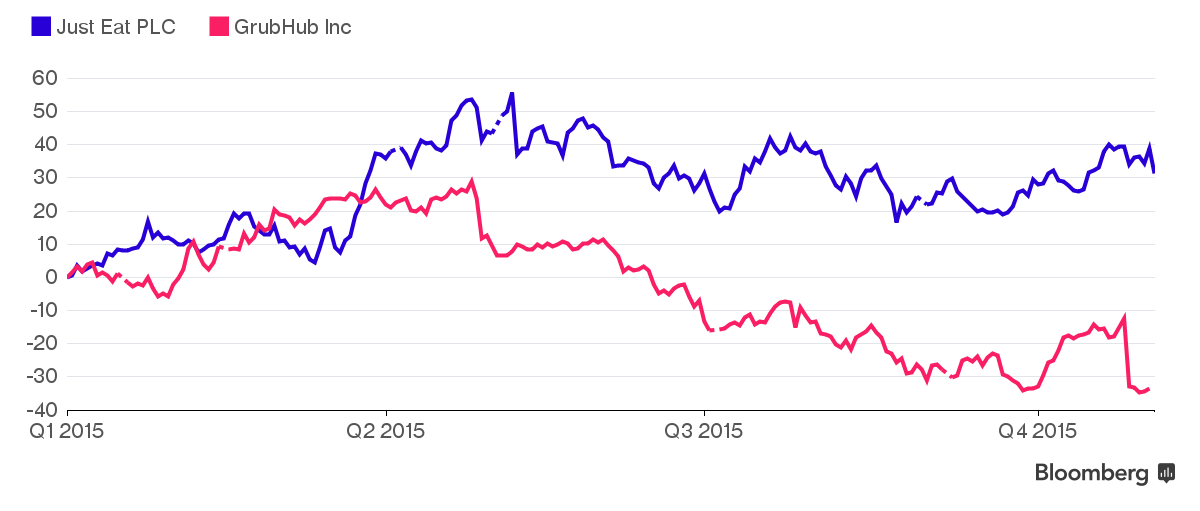 Fans of Just Eat (six out of 10 analysts have a buy recommendation on its stock) argue that the two companies operate in very different marketplaces. They say GrubHub's U.S. home is tougher to crack because of the country's deeply entrenched branded takeout chains. 
Yet GrubHub's need to reinvest heavily to maintain its market lead -- another big factor in last week's share plunge -- is a problem shared by Just Eat. Indeed, the British company's shares dropped 6 percent on Tuesday, despite the upbeat statement, because Buttress' said he he will plow revenue back into the business. While sales forecasts were raised, he left the ebitda outlook unchanged.
Just Eat has made much of the virtue of its low capital spending, which is why it's shied away from building the delivery driver networks that some rivals offer. But its marketing budget is high -- 24 percent of sales in the first half -- because it has to splurge on ads to maintain its lead over rivals such as Hungry House and the more upmarket Deliveroo.
And while splashing out on marketing is easy when sales are soaring, it becomes less so when they show signs of stagnating as they have at GrubHub. To keep increasing ad spend then would mean cutting back on the profit margins that are so appealing to investors.
Just Eat sales don't show any sign yet of flat-lining, but they are expected to slow over the next couple of years and GrubHub shows how quickly things can move against you in a tech-driven business. As well as domestic rivals, Buttress will be keeping a close eye on Amazon, which is already rolling out deliveries from restaurants in Seattle, and Uber, with its ready-made network of drivers. He has shrewdly hired Henri Moissinac, who runs mobile partnerships for Uber in Europe, as a non-executive director at Just Eat.
Valuations on fast-growing tech businesses like Just Eat are tricky because of the vagaries of guessing future revenues. But Just Eat shares are trading on 46 times estimated earnings for 2016, with GrubHub at 33 times. While some of that premium may be justified by a stronger recent performance, the vulnerability of the business model to competition makes such giddy valuations hard to swallow. 
This column does not necessarily reflect the opinion of Bloomberg LP and its owners.
To contact the author of this story:
James Boxell in London at jboxell@bloomberg.net
To contact the editor responsible for this story:
Edward Evans at eevans3@bloomberg.net