Perhaps it's fitting that the maker of a mobile game about bursting bubbles is getting bought at a price that's anything but inflated.  
King Digital, the creator of Candy Crush and Bubble Witch 2 Saga, is selling itself to Activision Blizzard for about $5 billion after subtracting net cash.  The price tag works out to less than 7 times the game developer's Ebitda in the past year. That's not just cheap -- it's the cheapest ever takeover valuation for a public software target of a decent size. 

So why were Activision's investors so appalled by the news, at least at first? The acquirer's stock slumped more than 6 percent in early trading, before reversing course and rising by about that same amount as of midday Tuesday.

One could argue that even at a bargain price, paying billions for a game maker with declining revenue and no obvious follow-up to the blockbuster success of Candy Crush is a questionable strategy. Could it be that Activision is shelling out for a company that, in the lingo of gamers, is OOP (out of power)?  

Activision deserves a little more credit, though, and the rebound in the shares suggests investors are coming around.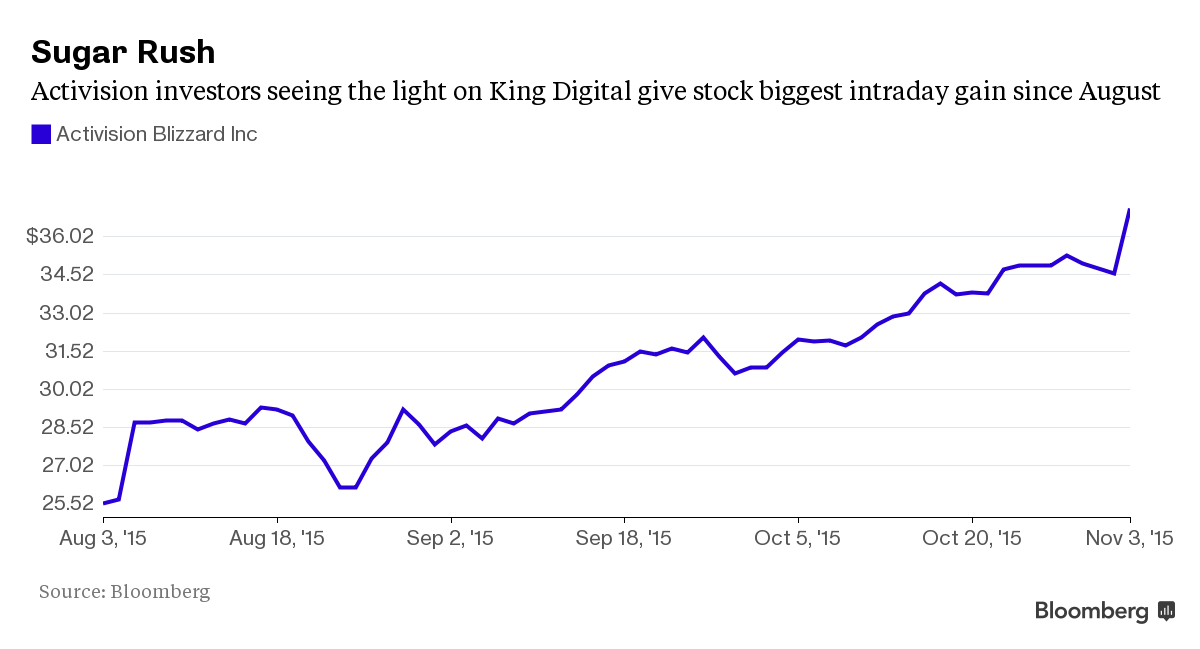 There are legitimate concerns about King Digital's ability to reverse its slumping revenue and bookings. But Activision isn't buying King Digital because it thinks the next Candy Crush is already in its pipeline. It's buying access to mobile-gaming eyeballs -- about 500 million of them in fact. As a bigger, better-funded and more established company, Activision is in a stronger position to capitalize on that audience with new games.
The deal is also tax efficient, with Activision using more than $3 billion in offshore cash to help fund the purchase of Dublin-based King. And it should be accretive, adding about 20 percent to next year's earnings per share even before accounting for any synergies, according to data compiled by Bloomberg.

If you still think the price is expensive, recall Facebook's purchase of WhatsApp. That was another deal that was all about gaining more mobile users. Facebook paid $19 billion for the text-messaging service, or about $42 per WhatsApp's more than 450 million users at the time the deal was announced. Activision is paying around $10.50 per user, based on the  reported enterprise value of the King Digital takeover and its 474 million monthly active users in the third quarter.  
The companies said Tuesday that smartphone-based play is the biggest category for the gaming industry and may yield more than $50 billion in revenue by 2019. That sounds like an opportunity that Activision -- the biggest U.S. video-game maker -- should be tapping into. And if it can do so for a bargain price, game on.
This column does not necessarily reflect the opinion of Bloomberg LP and its owners.
To contact the author of this story:
Brooke Sutherland in New York at bsutherland7@bloomberg.net
To contact the editor responsible for this story:
Beth Williams at bewilliams@bloomberg.net