Playing defense is expensive, and Shire should remember this.
The Dublin-based drugmaker agreed on Monday to pay as much as $6.5 billion to acquire Dyax and its promising DX-2930 drug for hereditary angioedema, a rare disease that causes severe swelling. Strategically, the deal makes sense. Early studies suggested DX-2930  may work better than Shire's Cinryze at preventing HAE attacks. DX-2930 also costs less to produce and will have a higher gross margin. Standing pat would mean risking a sales dropoff for one of Shire's fastest-growing drugs.   
But  the acquisition is its largest yet, and a steep price to pay to protect a drug for which Shire already shelled out a lot of money. Cinryze was the main reason it paid $4.2 billion to buy ViroPharma in 2014.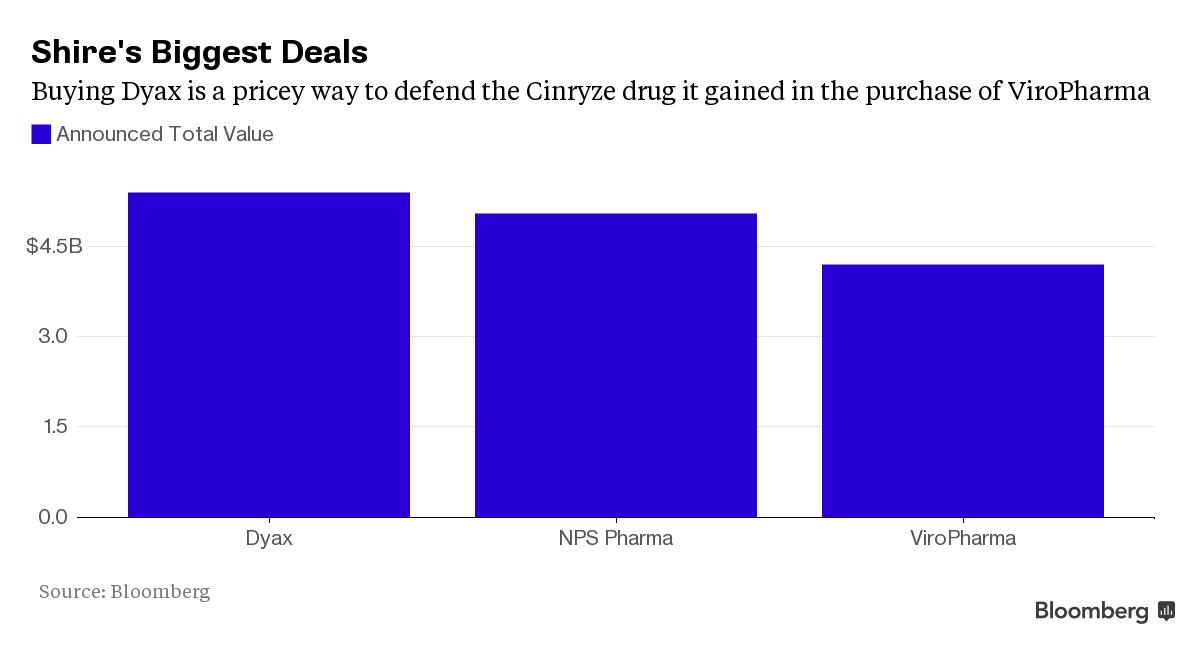 Biotechnology is a fast-moving market. New drugs emerge that are more effective and easier to use, rendering once-hot treatments aging relics. That's just the way it goes, and Shire can be forgiven to some extent for needing to rejigger and expand its HAE franchise. Cowen analyst Ken Cacciatore, for one, argues that it's hard to care about the "costly `protection' of Cinryze" when Shire is now on track to add as much as $5 billion in revenue through this deal and other new products.
At the same time, Shire could learn a few things from this experience as it eyes a much bigger takeover of Baxalta, the drug business spun off this year from Baxter International. Shire disclosed in August that it made an all-stock bid for Baxalta valued at $30 billion, which the company rebuffed as too low. Shire hasn't announced any changes to its offer, even after the slide in its own stock knocked down the proposed price. Yet Shire has vowed to continue pursuing a deal, saying Monday that it still has plenty of firepower after the Dyax purchase.  
One of the biggest arguments against a takeover is the prospect of increasing competition for Baxalta's hemophilia drugs, which make up about half of its sales. Biogen has some new products that are gaining traction, while Roche is also developing an experimental antibody treatment for the disorder. Other drugmakers such as BioMarin are exploring  gene therapies that could provide a longer-lasting fix.
Shire said in August that it's aware of the competitive threats in hemophilia and is confident it can manage them. Baxalta is working on its own gene therapies and stands to get a revenue boost from its longer-acting hemophilia drug Adynovate, which is on track for approval by the end of the year.
But Shire runs the risk of one of these rival hemophilia treatments turning into a DX-2930-style headache. Which is another way of saying, shareholders may be able to come around to the defensive takeover of Dyax, but they're not going to be too pleased if a $30 billion-plus takeover of Baxalta ends up needing some protection as well.
This column does not necessarily reflect the opinion of Bloomberg LP and its owners.
To contact the author of this story:
Brooke Sutherland in New York at bsutherland7@bloomberg.net
To contact the editor responsible for this story:
Beth Williams at bewilliams@bloomberg.net