The spotlight on Valeant Pharmaceuticals has sparked a debate about divergent growth methods being employed by the industry: Is a strategy like Valeant's -- heavily dependent on acquisitions -- superior to a more traditional one centered on developing new drugs? Or vice versa?
Those focused on stock performance would probably argue that a merger-focused strategy is preferable because drugmakers involved in big deals are outperforming -- or at least they have been the past few years. Investors more interested in longer-term growth may contend that an R&D-heavy approach makes a company better positioned for the future.
Which group of companies is truly making the best use of its money? Neither, if you go by one of Wall Street's favorite metrics: the ratio of return on invested capital to the weighted average cost of capital. 
In essence, the gauge measures the after-tax profit earned from operations relative to the minimum acceptable return for shareholders and bondholders. When value is being created, the ratio should show that the return is in excess of the cost of capital.
So how does it look for the drug industry? Turns out, many of the world's largest pharmaceutical companies -- from Valeant and Allergan to Pfizer and Merck -- aren't creating value through their growth efforts, however they spend their money. Whether they focus predominantly on deals, development of new medicines or a mixture of both, the returns aren't there: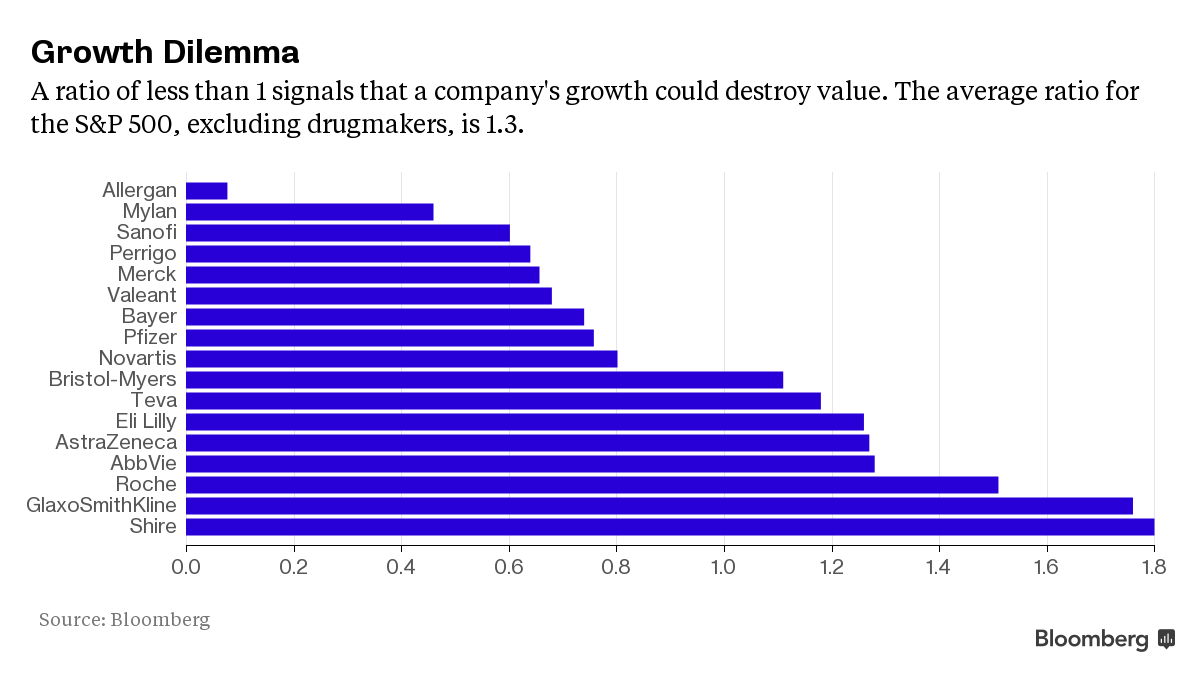 Why are so many of the big drugmakers missing the mark when they're spending so much money? Well, for starters, many of the ones following the growth-by-M&A strategy (e.g. Valeant) would say that they're not.
Their argument goes like this: Pharmaceutical companies report their R&D as an expense on the income statement each quarter. When one company acquires another, such costs are instead amortized, which is a non-cash charge that reduces earnings. The Valeants would say that this amortization cost should be added back in when calculating a metric such as return on invested capital, and doing this paints a different picture. But you can see why this is questionable.
It's also interesting that some drugmakers that put less of an emphasis on takeovers and more on R&D don't seem to be creating value either. It shows just how difficult growth is to come by, which is what's fueling so much of this year's record dealmaking in the industry. And this is why the ROIC/WACC ratio can only go so far. A company can't not invest in growth, so investors just have to hope it chooses the optimal means.
Pharma is an industry you want to root for. The drugmakers' research labs are hard at work to find cures for deadly and debilitating illnesses, so it would be unsavory to criticize them for these investments. Plus, all it takes is one blockbuster pill to really drive earnings during a few years of exclusivity.
And at some point down the line, the less indebted businesses that actually have some promising products in the pipeline will be better off than the ones saddled with more debt than their acquisitions can keep up with.
As the argument of M&A versus R&D intensifies, just remember that for many of these companies, returns are disappointing regardless of the strategy. But what's less risky: Investing in potentially new medicines that could have a long life, or gambling on huge acquisitions?
This column does not necessarily reflect the opinion of Bloomberg LP and its owners.
To contact the author of this story:
Tara Lachapelle in New York at tlachapelle@bloomberg.net
To contact the editor responsible for this story:
Beth Williams at bewilliams@bloomberg.net