After a wave of e-mails told us that processed meat could cause cancer -- or was it just spam? -- comes news that raw fish isn't good either. At least not for Crown Resorts' largest shareholder, James Packer.
The Australian billionaire has missed a few breaks. Brad Pitt didn't turn up to the much-feted opening of Packer's latest Macau casino venture, Studio City. Hollywood Reporter described the $70 million short film Martin Scorsese made to advertise the property as "keenly self aware" (more on that here.) And now, Packer's investment in Nobu, the Japanese cuisine empire of celebrity chef Nobuyuki Matsuhisa, has been panned.
Moody's said that while the $100 million splurge won't have any immediate impact on Crown Resorts' rating, the 20 percent interest the publicly traded company bought in Nobu is credit negative. And bad timing. There's a 500-room Perth hotel in the works, money to be spent on Alon Las Vegas, and an apartment complex in Melbourne that needs finishing. The substantial project pipeline also "coincides with lower expectations for increasing dividends from Crown's investment in Melco Crown Entertainment," the ratings company noted.
Melco Crown  is the joint venture that runs Studio City, which opened last week. Crown Resorts, whose properties span casinos and hotels from Melbourne to Manila, has a 34 percent interest in Melco Crown, with the rest held by Macau businessman Lawrence Ho's Melco International Development. 
Macau's government has authorized Studio City to operate 250 gaming tables; that's a problem, because a condition of its $1.4 billion in secured loans is 400 tables by October 2016. Creditors will probably consent to a change in borrowing terms, but any meaningful increase in dividend income from Melco Crown will also depend on the strip's gaming revenue, which has been plunging: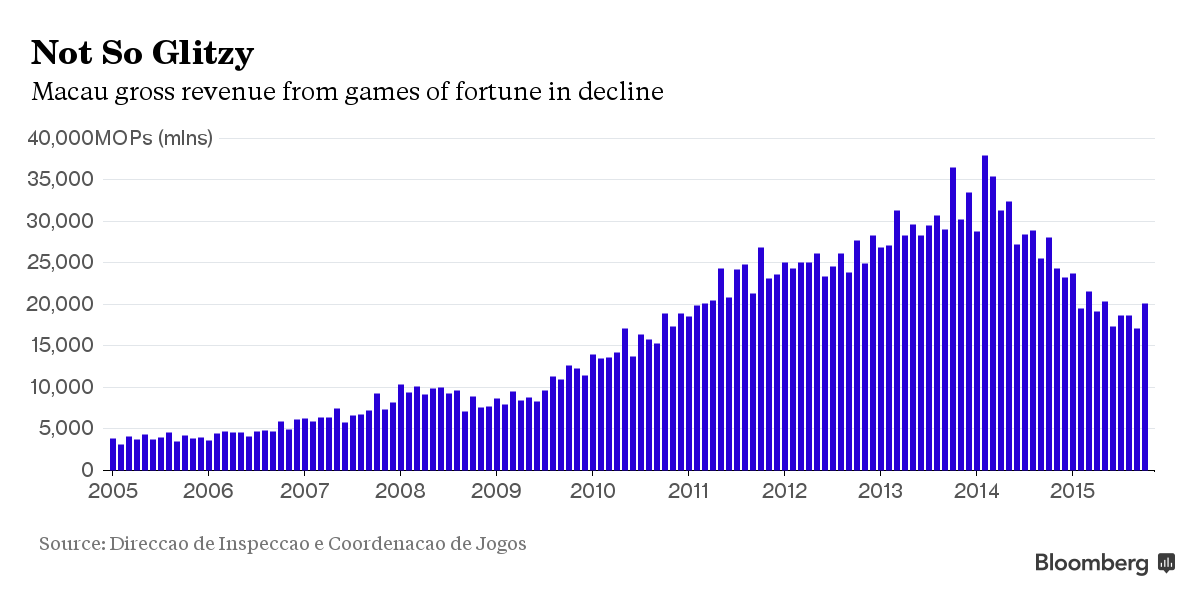 So this is not a great time for Crown Resorts to be dining out. The cost of protecting the company's debt against nonpayment using credit-default swaps soared to 225.4 basis points on Oct. 2, the highest since July 2012. At 199.2 basis points currently, that's still more expensive than fellow Australian gaming company Tabcorp, whose credit score of BBB- at Standard & Poor's is one level lower. Crown's leverage is already around 2.5 times, based on adjusted debt to Ebitda. That's within a whisker of the 3 times tolerance level Moody's allows for its rating.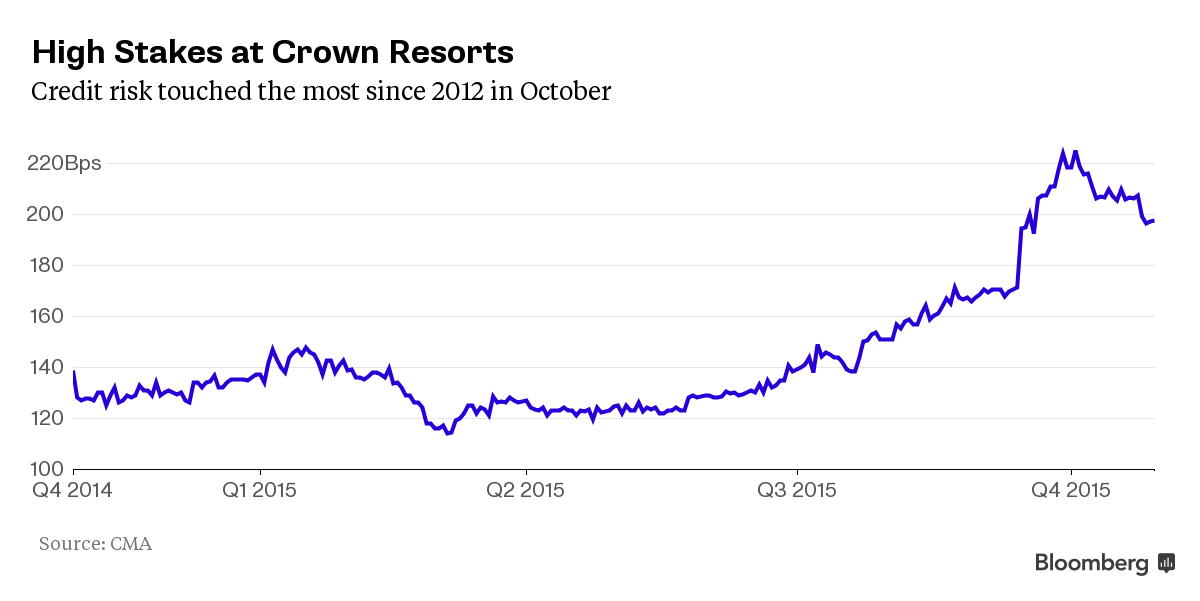 And Crown's A$450 million ($321 million) of 4.5 percent bonds are looking a bit ho-hum, trading at 101.1 percent of par, compared with a record-high 103.2 percent in April. Equity holders have an 8.1 percent loss so far this year, against a 4.2 percent decline in Australia's benchmark stock index.
Nobu may yet prove a winner. As Crown Chairman Rob Rankin said, its brand is complementary to the company's global luxury-entertainment thrust, and new restaurant openings are planned. There's an increasing propensity to spend silly on fine dining: At 1,650 euros ($1,820) a head, 2016 reservations for SubliMotion in Ibiza are going fast.
Lucky then that James, son of the late legendary casino whale Kerry Packer, has gambling in his blood.  He should have an appetite for high stakes.
This column does not necessarily reflect the opinion of Bloomberg LP and its owners.
To contact the author of this story:
Katrina Nicholas in Singapore at knicholas2@bloomberg.net
To contact the editor responsible for this story:
Paul Sillitoe at psillitoe@bloomberg.net