The cartoon character who runs off the edge of the cliff never falls until he looks down and sees only air beneath him.
Comic strip physics are an apt metaphor for financial-market booms, social phenomena driven by subjective factors that are ultimately subject to the force of gravity.
Hong Kong home prices floated off the edge of the cliff some time ago. Long ranked the world's most expensive housing market, the cost of apartments in the city has been sustained by perceptions of a safe haven in a world of excess liquidity, a dearth of local supply and the belief that what goes up will keep on going.
A confluence of factors suggests gravity may finally be making itself felt. Exhibit one: Retail rents are falling. These have been tightly correlated with home prices in the past. The government's retail index still showed a rising trend as of August, the latest data available, but Jones Lang LaSalle says street rents in the prime Central district have fallen as much as 30 percent this year and predicts more declines.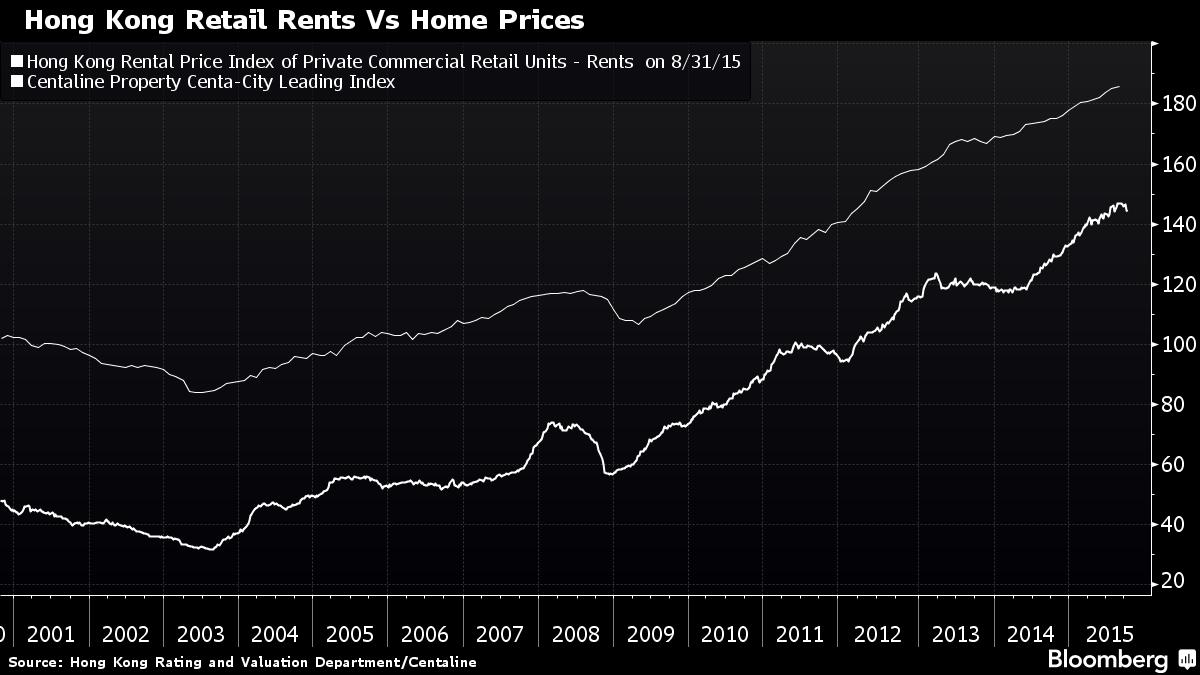 Exhibit two: There are fewer deals. Ricacorp Properties reckons second-hand home transactions declined to the lowest level in almost 20 years in October. The gap between transactions and prices, which moved in rough lockstep until 2010, is wider than it's ever been.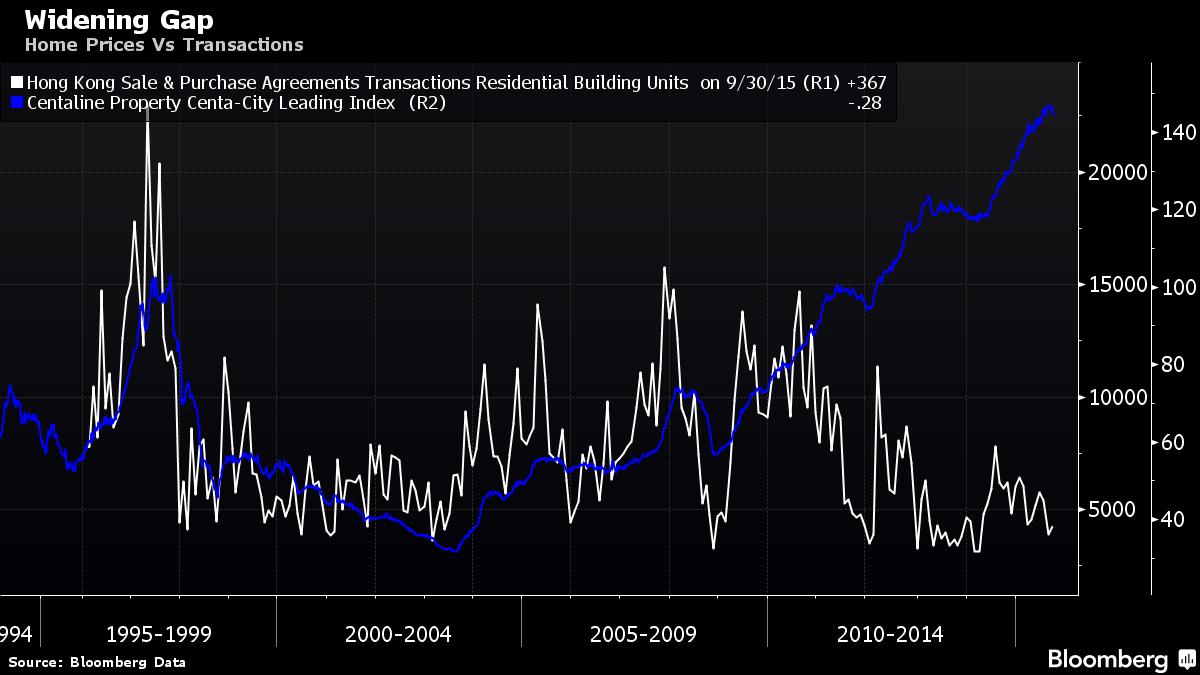 Exhibit three: U.S. interest rates are going up. Whether the Fed moves in December, early 2016 or later, the era of ultra-low rates is approaching its end. Hong Kong will have to follow the Fed because of its peg to the dollar. That means higher mortgage costs.
Exhibit four: Supply is going up. The government has said it plans to increase total housing stock by 480,000 homes, or 18 percent, in the next decade. That's a far cry from the 85,000-a-year pledge that helped (along with the Asian crisis) to crash the market in 1997, though a step away from the Looney Tunes policy of the most recent decade.
To judge the impact of supply constraints on Hong Kong property prices, look no further than the words of real estate tycoon Ronnie Chan, Hang Lung Properties' chairman. In the company's annual report, Chan luxuriated in the government's failure to sell more land once Hong Kong's economy recovered from the SARS epidemic in 2003, calling it ``a most amazing thing.'' Hang Lung withheld completed apartments at its HarbourSide project from the market, waiting for the inevitably higher prices. Chan said it was ``unlikely that I will in my career witness a more lucrative project.''
When the beneficiaries of government policy missteps feel safe enough to crow about their windfalls, it's a reasonably sure sign the game is closer to its end than its beginning.
True, the demise of Hong Kong property has been predicted plenty of times before. Barclays forecast in November 2011 that prices would drop 25 percent to 30 percent over two years, and as much as 45 percent in a hard landing. They fell less than 3 percent, based on the Centaline property agency's index, and have climbed by half since then.
Perhaps mainland Chinese investors will continue to see Hong Kong, with its rule of law and semi-autonomous status, as an attractive parking spot for their wealth. Or perhaps the U.S. economy will weaken again, extending the era of cheap money indefinitely.
Yet the signs of excess are everywhere. Housing affordability is at its worst ever, with the price-to-income ratio reaching a record 15.9 in the second quarter, Hong Kong Monetary Authority data show. Average rental yields range from 2.2 percent to 2.9 percent, depending on a property's size. Take away expenses such as depreciation, maintenance and vacancy periods, and returns are wafer thin. Investors are relying on capital gains, in a market that has already climbed more than fourfold in 12 years.
As the HKMA notes, with the po-faced understatement of a central banker, ``the highly stretched valuation of the property market is not quite in line with economic fundamentals, and the risk of downward adjustment has picked up steadily.''
Even Wile E. Coyote looks down in the end. How much longer before believers in the Hong Kong real estate story decide: That's all folks!
This column does not necessarily reflect the opinion of Bloomberg LP and its owners.
To contact the author of this story:
Matthew Brooker in Hong Kong at mbrooker1@bloomberg.net
To contact the editor responsible for this story:
Paul Sillitoe at psillitoe@bloomberg.net