A fundraising party is getting under way in India. But commercial banks aren't invited.  
That's unusual. The nation's lenders traditionally have been the first to benefit from a revival in animal spirits. This time around, they don't have the capital to play. Investors seeking to profit from a new corporate investment cycle must look beyond the country's struggling financial institutions.
The IPO market is a good alternative. Share sales by Indian companies already total $15 billion in 2015, the highest level in five years. That includes a very well-received offering last week by IndiGo, the nation's leading airline. At the same time, bank credit is growing at its slowest pace in almost a quarter-century: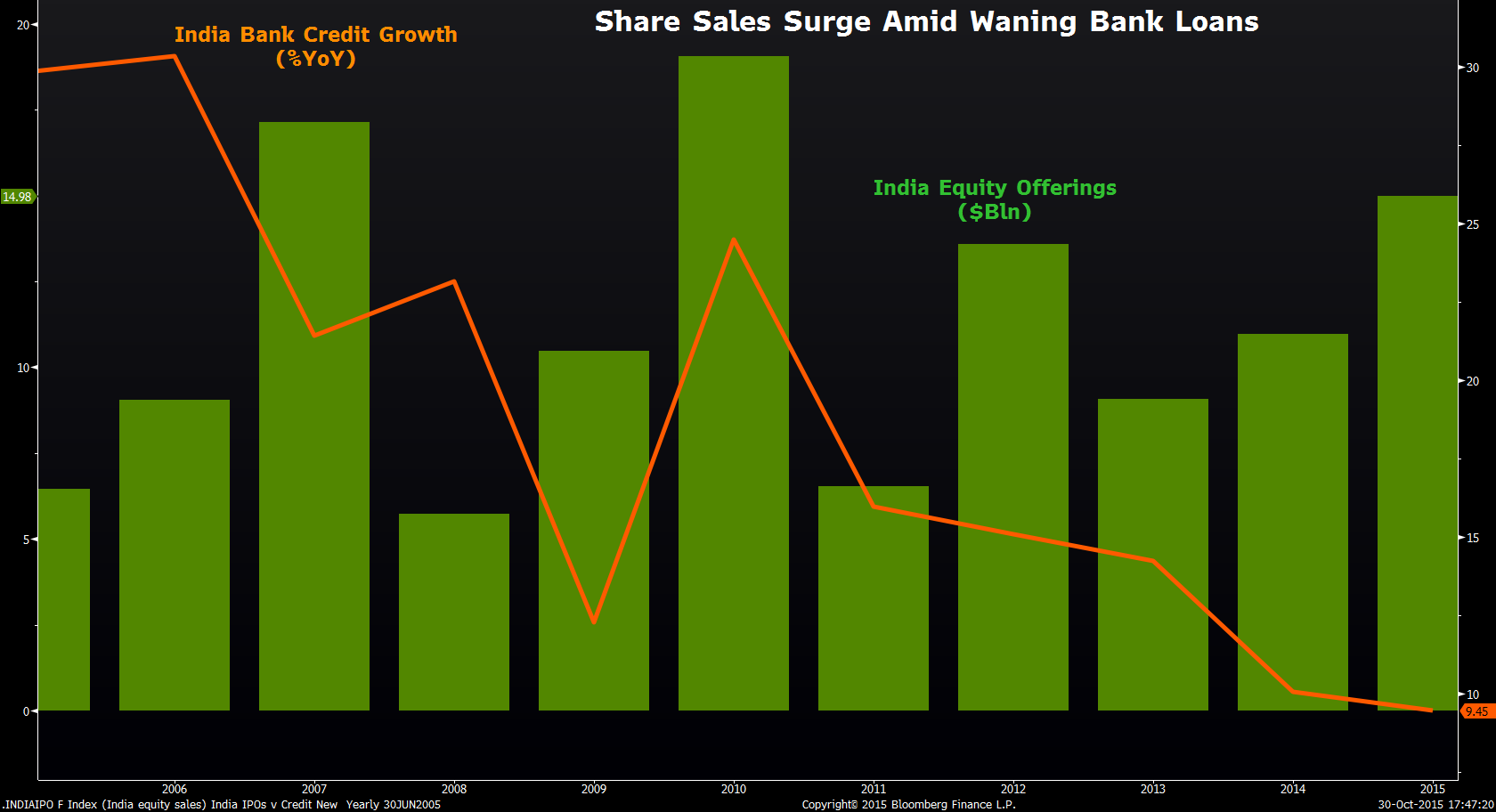 A recovery in bank loans isn't on the horizon. According to Standard & Poor's, state-run lenders, which control 70 percent of the banking system's assets, may have to taper their growth expectations unless they can raise $35 billion in additional capital between 2016 and 2019. So far, the government has agreed to inject just $11 billion.
In theory, it should be possible for banks to raise the remainder from what is quickly emerging as a red-hot market for equity issuance. In practice, that's going to be tough. Take Axis Bank. It's among the better-capitalized private-sector lenders, but still managed to spook investors last week by announcing a surprise 45 percent jump in bad loans year-on-year. Its stock lost one-tenth of its value over two days.
As long as their bad-loan problem persists, expect India's banks to be squeamish. Rather than chase fresh big-ticket corporate lending business, they'll be more inclined to squirrel away profits from retail loans and bond trading to provide for losses on past advances.
Investors have options beyond the banks: From a match-making website to one of the country's biggest suppliers of temp workers, there are plenty of IPOs to go around.
Then there are bonds. Already, Indian companies have raised about $62 billion this year by selling debt. That's more than the $48 billion increase in bank lending so far in 2015. Encouragingly, approximately 85 percent of that issuance has been rupee-denominated, compared with 78 percent last year. Whisper it, but this might be the start of a real local-currency corporate bond market in India, which will greatly reduce the risk of widespread defaults if the rupee depreciates sharply against a surging dollar.
Eventually, banks will join the financing party. Right now, they're not being particularly missed. If anything, enthusiastic participation by equity and bond investors might be making India's fundraising boom more enduring.          
This column does not necessarily reflect the opinion of Bloomberg LP and its owners.
To contact the author of this story:
Andy Mukherjee in Singapore at amukherjee@bloomberg.net
To contact the editor responsible for this story:
Katrina Nicholas at knicholas2@bloomberg.net