50 Company Stocks to Watch in 2022
From Airbnb to Volkswagen, keep an eye on these global stocks this year.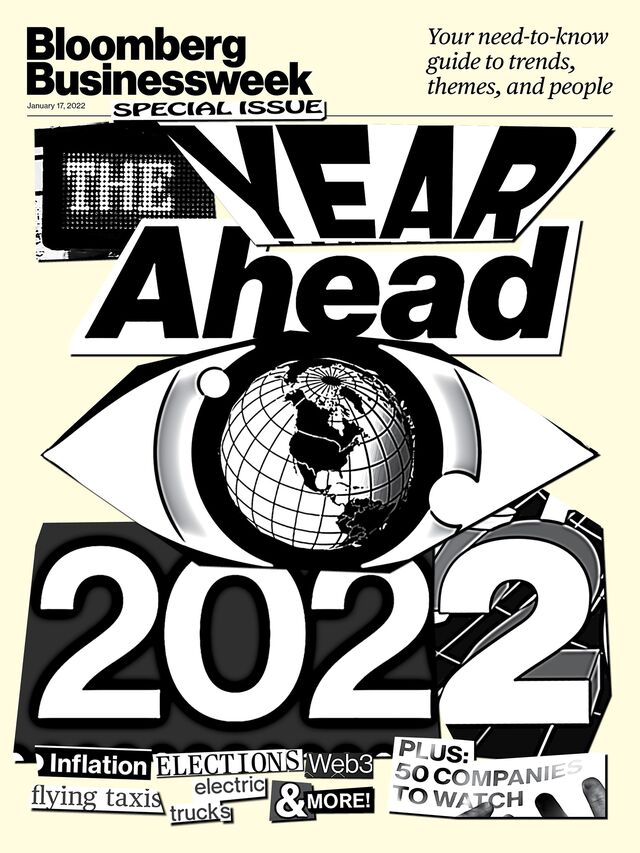 The analysts at Bloomberg Intelligence—who track some 2,000 companies in finance, retail, energy, technology, and more—have identified 50 worth watching carefully in the year ahead. When building the list, they considered factors such as growth prospects, management changes, and planned releases of noteworthy products and services. The impact of the Covid-19 pandemic was important, of course, as were growing sales of electric vehicles, the transition to clean energy, China's increasing regulatory scrutiny, power shortages, and opportunities in the metaverse.
Financials
Abrdn
2020 sales growth (%)
-9.6
3-year annualized total return (%)
6.6
12-month sales ($M)
4,490.60
Female board membership (%)
45.5
With a new name, image, and CEO, the U.K. investment company is at a turning point years after the fruitless 2017 merger of Standard Life Plc and Aberdeen Asset Management Plc. Pretax profit may double in 2022 from a restated £240 million ($324 million) for 2020, according to Bloomberg Intelligence estimates, as a revenue-driven consensus for growth over that period does not reflect the potential for savings. Strategies focused on wealth management and Asia expansion brighten Abrdn Plc's outlook. —Sarah Jane Mahmud
Financials
Aegon
2020 sales growth (%)
-27.6
3-year annualized total return (%)
8
Female board membership (%)
42.9
After years of weak profit, the Dutch insurer is in need of a transformation. It will likely have to either sell or reinsure much of its Transamerica unit's U.S. variable-annuity business. That would reduce Aegon NV's exposure to the risks of rising interest rates and falling stock prices and give it cash to prop up the balance sheet. A decision could come by June. —Charles Graham
TMT
Airbnb
2020 sales growth (%)
-29.7
3-year annualized total return (%)
N/A
12-month sales ($M)
5,318.80
Female board membership (%)
N/A
The market continues to underestimate the online travel-service company's brand advantage and the strength of its long-term-stay business—20% of nights booked, its fastest-growing reservation category. Bookings could exceed analysts' expectations by $2 billion to $4 billion (3% to 7%) in 2022, and Airbnb Inc.'s unmatched direct site traffic and repeat customers will allow it to boost profits by cutting back marketing outlays. —Matthew Martino
TMT
Alphabet
Market value ($B)
1,921.10
2020 sales growth (%)
12.8
3-year annualized total return (%)
41.3
12-month sales ($M)
239,210.00
Female board membership (%)
27.3
YouTube ad sales are on track to top $35 billion in 2022, and parent Alphabet Inc.'s cloud revenue is headed toward $25 billion as the company continues to diversify its sales exposure. Sure, data privacy regulations remain a risk to Google's core search business, but connected TV augurs well for further YouTube upside. —Mandeep Singh
Materials
Aluminum Corp. of China
2020 sales growth (%)
-2.2
3-year annualized total return (%)
22.3
12-month sales ($M)
38,099.30
Female board membership (%)
16.7
With power shortages cutting into supplies, earnings in 2022 for China's largest state-owned aluminum maker will depend on higher pricing. Production limits and a carbon neutral push are expected to slow annual output growth to 1.3%, from 5.1% in 2021, and Aluminum Corp. of China Ltd.—or Chalco—is at a disadvantage compared with privately owned rivals that have fewer social burdens. —Yi Zhu
Energy/Utilities
Amplify Energy
2020 sales growth (%)
-26.6
3-year annualized total return (%)
-20.2
Female board membership (%)
16.7
Analysts have estimated that the oil and gas producer will face as much as $115 million in liabilities, fines, and cleanup expenses for a mid-October subsea pipeline spill off California that led investors to cut the stock's value in half. But Bloomberg Intelligence's assessment of a rival's 2015 spill at the same spot that was six times larger suggests Amplify Energy Corp. may face less than $40 million in costs over the next five years. —Brandon Barnes
Consumer Staples
Associated British Foods
2020 sales growth (%)
-0.4
3-year annualized total return (%)
-0.2
12-month sales ($M)
18,973.30
Female board membership (%)
25
Associated British Foods Plc, the owner of clothing retailer Primark, appears set to resume growth after being badly affected by the pandemic. Primark's discount fashions have the potential to raise the retailer's profile in the U.S., where it's profitable, as more stores open. Being one of the rare European retailers to post organic growth in the U.S. could change the perception of the entire company. —Charles Allen
Financials
Barclays
CEO
C.S. "Venkat" Venkatakrishnan
2020 sales growth (%)
-8.1
3-year annualized total return (%)
9.8
12-month sales ($M)
29,737.10
Female board membership (%)
25
The bank's new CEO has the opportunity to repair Barclays Plc's standing after predecessor Jes Staley's turbulent tenure, marked by probes into his ties with sex offender Jeffrey Epstein and a whistleblower debacle. Above-consensus banking fees and trading, as well as dividends and share buybacks, all might lift earnings per share and would augur well for Barclays this year. —Jonathan Tyce
Energy/Utilities
BP
2020 sales growth (%)
-35.2
3-year annualized total return (%)
-7.8
12-month sales ($M)
132,899.00
Female board membership (%)
45.5
The oil giant can continue to strengthen its balance sheet this year as crude prices remain well above the $40 a barrel needed to cover the dividend, and cash flow generated at current price levels will be split between stock buybacks and debt reduction. This could lead BP Plc's debt securities to outperform higher-rated oil majors that didn't cut their dividend and have no restrictions on share repurchases. —Paul Vickars
Consumer Staples
British American Tobacco
2020 sales growth (%)
-0.4
3-year annualized total return (%)
11.1
12-month sales ($M)
34,599.30
Female board membership (%)
33.3
British American Tobacco Plc's shares trade as if the Food and Drug Administration will force an immediate end to sales of menthol cigarette brands (about a third of U.S. revenue) such as Newport, Dunhill, and Camel, leading to a cut in the dividend payments that many investors cherish. Yet the company is likely to be given plenty of time to switch smokers to other products; it kept 99% of its Canadian customers when the government there banned menthol in 2017. Also, BAT's Vuse provides a first-mover advantage in the vaping market, even with bans on flavored additives, and new high-end noncombustible products stand to win approval soon. The company says it's on target to more than double sales of such offerings to £5 billion ($6.6 billion) by 2025, from £2 billion forecast for 2021. Flush with cash generated by continued robust cigarette pricing, BAT has the firepower to boost its dividend this year, and share buybacks are also a possibility. —Duncan Fox
Consumer Staples
Coca-Cola
2020 sales growth (%)
-11.4
3-year annualized total return (%)
11.4
12-month sales ($M)
37,802.00
Female board membership (%)
41.7
A U.S. tax court ruling expected this year threatens to leave Coca-Cola Co. on the hook for at least $11 billion more than the soft-drink giant set aside to cover an IRS suit over accounting discrepancies from 2007. Although Coke expects to win, a defeat could hurt shareholders by taking the fizz out of its lofty dividend payout ($7 billion in 2020) and weakening its debt structure. —Kenneth Shea
TMT
Cognizant Technology Solutions
2020 sales growth (%)
-0.8
3-year annualized total return (%)
14.9
12-month sales ($M)
17,914.00
Female board membership (%)
36.4
The technology-services provider's sales are poised to accelerate over the next 12 months on faster cloud adoption. Brisk order growth from health-care and technology clients signals a vibrant deal pipeline for Cognizant Technology Solutions Corp. through fiscal 2022. The broad industry shift to digital will provide growth opportunities for both software and services providers for the next several years. —Anurag Rana
Industrials
Emerson Electric
2020 sales growth (%)
8.6
3-year annualized total return (%)
19.6
12-month sales ($M)
18,236.00
Female board membership (%)
27.3
With a new CEO and a market clamoring for the breakup of conglomerates, the maker of automation equipment and heating and cooling systems could see significant change in 2022. Although this change could include acquisitions, the time may be right to separate Emerson Electric Co.'s highly profitable climate-control unit. —Karen Ubelhart
Financials
Evergrande
2020 sales growth (%)
6.2
3-year annualized total return (%)
-56.3
12-month sales ($M)
69,996.60
Female board membership (%)
11.1
The troubled developer has plans to scale back real estate operations and stop buying land for 10 years, but its massive debt load means it will likely need to restructure this year. China Evergrande Group may be forced to raise cash by selling stakes in listed subsidiaries to repay loans and fund construction. —Patrick Wong
Industrials
FedEx
CEO
Frederick "Fred" Wallace Smith
2020 sales growth (%)
21.3
3-year annualized total return (%)
19.8
12-month sales ($M)
89,552.00
Female board membership (%)
33.3
This might finally be the year for FedEx Corp., which has significantly underperformed United Parcel Service Inc. and Deutsche Post AG over the past half-decade. Network changes, technology integration, and—finally—benefits from its 2016 acquisition of Dutch courier TNT Express stand to boost its shares. —Lee Klaskow
Energy/Utilities
First Solar
2020 sales growth (%)
-11.5
3-year annualized total return (%)
26.7
12-month sales ($M)
2,625.30
Female board membership (%)
33
The days of expensive solar energy are a distant memory, with the technology now the most cost-competitive for electric power. A double-digit demand-growth outlook for solar in 2022-23 bodes well for the largest U.S. panel maker, First Solar Inc., which is investing aggressively at home and in India to more than double manufacturing capacity. As the company ramps up production from new facilities, revenue could surge by more than $1 billion in the next two years to a consensus-topping $4.2 billion in 2023. First Solar's distinct technology shields it from the soaring polysilicon costs that are hitting most of its competitors. It's also one of the few solar equipment providers that doesn't rely on manufacturing in China, which helps protect the company from potential tariff risks. First Solar recently disclosed its biggest order ever, from BP and Lightsource BP—which is partly owned by the oil major—equivalent to more than 1.5 years of output from its new factory in Ohio. —Rob Barnett
Materials
Fortescue Metals Group
CEO
Elizabeth Anne Gaines
2020 sales growth (%)
73.8
3-year annualized total return (%)
93
12-month sales ($M)
22,284.00
Female board membership (%)
44.4
Among global metals miners, Australia's third-largest iron ore exporter is a leading advocate of zero-carbon emissions, but profit pressure threatens its green project designs. Rivals have flooded the market, costs have soared, and investors are likely to hold Fortescue Metals Group Ltd. more accountable for hydroelectric dams and renewable energy projects proposed in tropical forests. —Craig Campbell
Consumer Staples
Freshpet
2020 sales growth (%)
29.7
3-year annualized total return (%)
43.7
12-month sales ($M)
394.1
Female board membership (%)
30
With as much as $550 million of added manufacturing capacity due to come online this year, Freshpet Inc. is in the catbird seat to take a bigger share of the $7.3 billion market for natural pet foods. The maker of refrigerated chow for cats and dogs has the potential to reach 11 million customers—almost quadrupling its U.S. share to 19%—and beat a $1.25 billion sales goal by 2023, two years ahead of plan. —Diana Rosero-Pena
Consumer Discretionary
General Motors
2020 sales growth (%)
-10.7
3-year annualized total return (%)
25.8
12-month sales ($M)
130,938.00
Female board membership (%)
54.5
The U.S. carmaker may see a $16 billion revenue boost in 2022, with the expected easing of an automotive semiconductor shortage allowing General Motors Co. to top up vehicle inventory at North American dealers. The replenishing of lots, along with relentless cost-cutting and the potential IPO of its self-driving unit, Cruise, could position GM's debt securities better than its peers' this year. —Joel Levington
TMT
Grab Holdings
2020 sales growth (%)
N/A
3-year annualized total return (%)
N/A
Female board membership (%)
N/A
After Covid-19 obliterated two years of exponential growth, Southeast Asia's ride-hailing giant—with 70% market share—is on the road to a full recovery as vaccination rates rise. Money from a U.S. IPO could give Grab Holdings Ltd. the pole position against rivals GoTo Group and Sea. Each one is racing to diversify revenue and become a "super app" offering food and grocery delivery and financial services. —Nathan Naidu
TMT
Helios Towers
2020 sales growth (%)
6.8
3-year annualized total return (%)
N/A
12-month sales ($M)
432.9
Female board membership (%)
27.2
After cutting debt costs, the telecom tower operator has the flexibility to expand outside its seven-country footprint in Africa and the Middle East. That could include tower acquisitions in Ethiopia, where Safaricom Plc plans a major network rollout in 2022. Helios Towers Plc is benefiting from the rapid infrastructure expansions planned by phone carriers across the region as they work to meet surging demand for mobile data. —John Davies
Financials
Hong Kong Exchanges & Clearing
2020 sales growth (%)
24.1
3-year annualized total return (%)
30
12-month sales ($M)
2,502.80
Female board membership (%)
23.1
Earnings for Hong Kong Exchanges & Clearing Ltd., the city's only securities and derivatives exchange, are highly dependent on IPOs and could miss expectations after China tightened rules on overseas stock listings. A regulatory crackdown and slowing economic growth may continue to delay new listings in Hong Kong, and tech unicorns—startups with a value greater than $1 billion—face the prospect of lengthy cybersecurity reviews by Chinese officials. —Sharnie Wong
Consumer Discretionary
Huazhu
2020 sales growth (%)
-9.1
3-year annualized total return (%)
11.2
12-month sales ($M)
1,923.30
Female board membership (%)
33.3
The Chinese hotelier took advantage of the pandemic to increase its room supply by a quarter, positioning it for a swift rebound as the travel sector recovers. Operating profit is on track to jump 70% in 2022 from 2019 as Huazhu Group Ltd. expands its property holdings by 60%, to 9,000, by yearend. —Angela Hanlee
Financials
ING
2020 sales growth (%)
-17.7
3-year annualized total return (%)
14.4
12-month sales ($M)
20,621.80
Female board membership (%)
33.3
The Dutch financial institution's earnings per share are poised to jump as much as 20% by 2023, aided by an annual share-buyback program of about €3 billion ($3.4 billion). Lending is also on track to rise 4% by next year, along with a 7% increase in fees, and expenses remain stable following cutbacks in ING Bank NV's noncore markets. —Philip Richards
TMT
Keyence
2020 sales growth (%)
-2.5
3-year annualized total return (%)
37.7
12-month sales ($M)
6,101.30
Female board membership (%)
12.5
This maker of 3D vision sensors, industrial computers, and microscopes stands to benefit as the global market for factory automation equipment recovers. Keyence Corp. gets 44% of its revenue from Japan today, but an increased focus on overseas sales could deliver above-market growth. —Takeshi Kitaura
Consumer Discretionary
Lululemon
2020 sales growth (%)
10.6
3-year annualized total return (%)
45.9
12-month sales ($M)
5,857.10
Female board membership (%)
54.5
There's nothing "leisurely" about the athleisure pioneer's growth, as it reaches 2023 revenue goals two years ahead of schedule. Lululemon Athletica Inc.'s clothing and immersive in-store events remain a big hit. The Mirror home gym as well as shoes and self-care lines open avenues to leave analysts' targets in the dust. —Poonam Goyal
TMT
Netflix
3-year annualized total return (%)
30.2
12-month sales ($M)
28,633.00
Female board membership (%)
30.8
The streaming pioneer's bonds are likely rising stars for 2022, as Netflix Inc. could be raised to investment grade on subscriber gains and stronger finances, better reflecting its increasing share price and market value. Lower borrowing costs would help the company battle the likes of Amazon.com Inc. and Walt Disney Co. for new customers. —Stephen Flynn
TMT
Nidec
2020 sales growth (%)
5.4
3-year annualized total return (%)
30.1
12-month sales ($M)
16,537.50
Female board membership (%)
22.2
A cutting-edge traction motor system for electric vehicles gives Nidec Corp., the Japanese creator of the E-Axle, a lead over rivals for orders from Chinese, European, and U.S. carmakers, as EVs threaten to make combustion engine cars extinct by 2040. An extended chip shortage may be its only speed bump, though supply chain bottlenecks are easing. Nidec may also increase shipments of advanced motors for mini-EVs and electric motorcycles, both of which are expected to spread rapidly in China, India, and Japan, boosting its revenue and operating profit. Environmental regulations will be tightened globally, and Nidec's ultrahigh-efficiency motors outside the consumer EV space could greatly contribute to reducing the power consumption of commercial systems, home appliances, and industrial equipment. Nidec may achieve strong double-digit sales growth in the next few years. Strategic acquisitions will partly help it reach its sales target of 4 trillion yen ($35 billion) by its fiscal 2026, ending in March of that year. Its operating profit margin could expand to 15%, from 9.9% in the fiscal year ended in March 2021. —Masahiro Wakasugi
Consumer Discretionary
NIO
2020 sales growth (%)
107.8
3-year annualized total return (%)
75.2
12-month sales ($M)
5,055.40
Female board membership (%)
16.7
The Chinese maker of luxury electric vehicles is on track to deliver its first quarterly profit even as it lowers its prices via an innovative battery-leasing program. NIO Inc. will likely benefit as the semiconductor supply crunch eases and China accelerates its green push. —Steve Man
Consumer Discretionary
Penn National Gaming
2020 sales growth (%)
-32.5
3-year annualized total return (%)
38.4
12-month sales ($M)
5,359.90
Female board membership (%)
37.5
The market is underappreciating opportunities in 2022 for Penn National Gaming Inc., which runs wagering facilities in 20 states and made a big splash in Canada by acquiring Score Media & Gaming Inc. The company could benefit from new sportsbooks, Pennsylvania casino debuts, and margin gains. Penn's 36% stake in Barstool Sports might move the needle as promotions ebb. —Brian Egger
Health Care
Pfizer
2020 sales growth (%)
1.8
3-year annualized total return (%)
17.4
12-month sales ($M)
69,337.00
Female board membership (%)
33.3
More shots are likely to be needed for sustained protection against Covid-19 beyond the current third dose as new variants emerge. Pfizer Inc. is well placed to capitalize on this and, along with its antiviral pill, stands to see $40 billion to $80 billion in added sales this year. —Sam Fazeli
TMT
Prosus
2020 sales growth (%)
53.6
3-year annualized total return (%)
N/A
12-month sales ($M)
6,008.00
Female board membership (%)
31.3
The industrial holding company, which counts a 29% stake in China's social media giant Tencent as its largest asset, is diversifying its portfolio. Proceeds of a partial sale of Tencent shares last year have been reinvested in e-commerce platforms offering services in areas such as food delivery and financial technology. With Prosus NV's net debt close to zero, its bonds are well positioned in 2022. —Aidan Cheslin
Financials
Robinhood
2020 sales growth (%)
245.5
3-year annualized total return (%)
N/A
12-month sales ($M)
958.8
Female board membership (%)
N/A
Calling a direction on the commission-free broker is tough, given its many moving parts, but a lawsuit in Massachusetts could decide whether states can impose stricter investor-protection rules than the feds do. A loss, along with possible Securities and Exchange Commission rules, could force Robinhood Financial LLC to rethink its business model and further curtail practices that encourage novices to trade as often as they did during the meme stock frenzy that roiled markets in early 2021. —Elliott Stein and Julie Chariell
TMT
Roblox
2020 sales growth (%)
81.7
3-year annualized total return (%)
N/A
12-month sales ($M)
1,660.40
Female board membership (%)
N/A
With 50 million users and extensive tools for its millions of developers to create immersive 3D worlds, the game maker has a jump on rivals in the next big tech domain: the metaverse. With the virtual world predicted to grow to an $800 billion market by 2024, from about $500 billion in 2020, Roblox Corp. stands to at least double its bookings as it adds branded content, concerts, corporate collaborations, and education. —Amine Bensaid
TMT
Roku
2020 sales growth (%)
57.5
3-year annualized total return (%)
97.7
12-month sales ($M)
2,549.10
Female board membership (%)
22.2
As a leading content publisher and provider of connected-TV products and ad software, Roku Inc. can top projections and approach 50% annual sales expansion through 2023. The company has access to troves of user data that advertisers covet, and it's immune to changes on the sharing of consumer information that Google will introduce next year. —Amine Bensaid
Industrials
S.F. Holding
2020 sales growth (%)
37.3
3-year annualized total return (%)
28.9
12-month sales ($M)
27,717.50
Female board membership (%)
8.3
A 46% investment in Ezhou Airport, China's first cargo-focused facility, will help the country's top express-delivery provider extend its lead. When it opens in 2022, the purpose-built superhub will become the heart of S.F. Holding Co.'s network, putting it within a 90-minute flight radius of 80% of the population. But government-backed rival JD Logistics Inc. looms large, aiming to buy 100 cargo planes within a decade to challenge S.F.'s 40%-plus market share. —James Teo
Consumer Discretionary
Samsonite
CEO
Kyle Francis Gendreau
2020 sales growth (%)
-57.8
3-year annualized total return (%)
-9
12-month sales ($M)
1,764.30
Female board membership (%)
12.5
A resumption of international travel isn't yet in the bag, but when things pick up again, Samsonite International SA would likely benefit as the luggage maker trades at only a quarter of what its earnings were worth before Covid-19. If medical breakthroughs allay lingering pandemic concerns—and the omicron variant is kept in check—Samsonite could beat internal projections that sales this year will reach 85% of 2019 levels. —Catherine Lim
TMT
Sea
2020 sales growth (%)
101.1
3-year annualized total return (%)
174.5
12-month sales ($M)
8,299.60
Female board membership (%)
-
The connection may not seem obvious, but Southeast Asia's No. 1 online gaming and e-commerce company aims to make a big splash in online food and grocery delivery and financial technology. The Singapore-based company's Free Fire has been the world's most downloaded mobile game three years in a row. Cash flows from the title, and opportunities to cross-sell other products to the game's 700 million active players globally, should help Sea Ltd. replicate its success via a single mobile interface. That would help it win customers in Europe, India, Latin America, and other new markets. Although the expansion comes with risk, Sea's track record in gaming suggests the latecomer to this region's online shopping business can overtake more-established rivals, including one backed by China's Alibaba Group Holding Ltd. —Nathan Naidu
Energy/Utilities
Sinopec
2020 sales growth (%)
-27.4
3-year annualized total return (%)
-4.9
12-month sales ($M)
388,447.30
Female board membership (%)
-
China's reining in of oil-product price inflation puts the country's biggest refiner at risk of missing analysts' profit projections for a second straight year. A national energy shortage has sent crude costs soaring, and increased global demand could eat into what China Petroleum & Chemical Corp., or Sinopec, makes from refining and marketing oil, jet fuel, fertilizer, and other goods. —Henik Fung
Energy/Utilities
SK Innovation
2020 sales growth (%)
-30.7
3-year annualized total return (%)
14.9
12-month sales ($M)
35,496.80
Female board membership (%)
12.5
Aggressive global expansion and tieups with Ford Motor Co. and Hyundai Motor Co. could transform SK Innovation Co. from an old-economy company with roots in petroleum and petrochemicals into the world's third-largest supplier of batteries for electric vehicles in 2022. Pre-IPO funding for the segment—a plan the company is considering—or taking it public could enhance SK's value. —Horace Chan
Financials
SoFi
2020 sales growth (%)
N/A
3-year annualized total return (%)
N/A
12-month sales ($M)
751.1
Female board membership (%)
N/A
As the first U.S. online-only bank—or neobank—to go public, SoFi Technologies Inc. distinguishes itself from bigger rivals with an app that combines banking, investing, budgeting, rewards, cards, and loan management in one place. With 3 million users, SoFi isn't the largest of its kind, but it has the most comprehensive offerings, generating a diverse revenue stream that's growing almost 50% a year. Its lending business appears undervalued amid greater demand for personal loans as economic stimulus funds run out, a broadened focus on home loans, and the anticipated return of student loan refinancing by the second half of 2022 after a more than two-year payment freeze. Most competitors are still in the planning phase for a loan business, but SoFi's is a key reason the company is profitable despite its continued spending on growth. And with regulatory approval of its banking license, earnings this year could significantly top the company's forecast. —Julie Chariell
TMT
T-Mobile US
3-year annualized total return (%)
21.1
12-month sales ($M)
79,674.00
Female board membership (%)
28.6
An abundance of radio spectrum and an early lead in rolling out 5G could propel T-Mobile US Inc. to the head of the pack in new mobile technology, boosting sales in the coming years. Services growth for the American wireless carrier is likely to top 3% in 2022, while benefits from the integration of the 2020 Sprint acquisition should lead to higher services growth in later years and fuel profit gains ahead of analysts' projections. —John Butler
TMT
Tencent
2020 sales growth (%)
27.8
3-year annualized total return (%)
14.5
12-month sales ($M)
84,511.50
Female board membership (%)
11.1
Increasing regulation in China shouldn't create further headwinds for the Chinese tech giant this year. Tencent Holdings Ltd.'s online game business can overcome weak ad sales and reach high double-digit growth on successful releases and promising new titles. And its investments in Epic Games Inc. and Roblox give it a leg up in the burgeoning shared virtual world, or metaverse, worth $800 billion by 2024. —Matthew Kanterman
Consumer Discretionary
TUI
CEO
Friedrich "Fritz" Joussen
2020 sales growth (%)
-40.4
3-year annualized total return (%)
-24.1
12-month sales ($M)
5,656.00
Female board membership (%)
30
The European tour operator's dire fortunes since the pandemic began could reverse by midyear as vaccinated travelers ditch staycations. Investors await signs that TUI AG isn't following Thomas Cook's failure and that new equity is sufficient to cover elevated debt. Turnaround hopes hinge on a restructuring meant to save €400 million ($454 million) a year, as well as technology upgrades, and a focus on flexibility for travelers and premium resorts. —Conroy Gaynor
Energy/Utilities
Tupras
2020 sales growth (%)
-29.4
3-year annualized total return (%)
17.5
12-month sales ($M)
14,269.90
Female board membership (%)
18.2
A strong 2022 rebound may be in the cards for the Turkish refiner, reflecting a return to full utilization of refining capacity and increasing fuel demand. The lira's continued weakness against the dollar can also help Tupras (short for Turkiye Petrol Rafinerileri AS), whose main business—oil products—is quoted in greenbacks, while some of its expenses are in the faltering Turkish currency. —Salih Yilmaz
Consumer Discretionary
Victoria's Secret
2020 sales growth (%)
-27.9
3-year annualized total return (%)
N/A
12-month sales ($M)
5,412.80
Female board membership (%)
85.7
Victoria's Secret & Co. is recapturing market share as the underwear pioneer seeks to make its tarnished brand appear more inclusive and appeal to a wider range of customers. New management and initiatives such as a core lingerie focus and reintroduction of swimwear could aid profitability and propel sales beyond management's guidance of mid-single-digit growth. —Hoai Ngo
TMT
Vivendi
CEO
Arnaud Roy de Puyfontaine
2020 sales growth (%)
1.2
3-year annualized total return (%)
28.1
12-month sales ($M)
19,963.90
Female board membership (%)
53.8
After spinning off Universal Music Group NV in September 2021, Vivendi SE has the potential to evolve into a TV, print, and digital media powerhouse with its plan to assume control of media conglomerate Lagardère SA through a public takeover bid in the first quarter of 2022. Acquiring the Paris-based owner of publisher Hachette Book Group would boost Vivendi's pro forma profit from its core operations by more than 40%, to about €1.8 billion ($2 billion), helped by magazine and book publishing synergies with its existing Editis and Prisma Media units. There could also be sales growth opportunities from collaboration with Vivendi's other businesses spanning pay TV, radio, advertising, electronic games, and live events. The company's shareholders could benefit from a multibillion-euro boost to their returns—probably via an extension to the existing share-buyback program—should Vivendi take advantage of the potential for asset sales, including stakes in MFE-MediaForEurope NV and Telecom Italia SpA, as well as a residual holding in Universal Music. Asset sales could also help Vivendi fund purchases to tap into the growth potential from media consumption trends in Spanish-speaking markets. It's seeking regulatory approval to increase its holding in Madrid-based Prisa—owner of the leading Spanish newspaper El País—to as much as 29.9% from 9.9%. —Matthew Bloxham
Consumer Discretionary
Volkswagen
2020 sales growth (%)
-11.8
3-year annualized total return (%)
28.5
12-month sales ($M)
303,612.20
Female board membership (%)
30
Since Tesla Inc.'s arrival, the German auto veteran has looked like a jalopy. But Volkswagen AG's tech credentials are rapidly improving, and it will likely overtake the California arriviste in electric vehicle production by 2023, a view the market is only now recognizing. A potential $90 billion initial public offering of Porsche would offer another big plus. —Michael Dean
Financials
Westpac Banking
2020 sales growth (%)
-12.6
3-year annualized total return (%)
-1
12-month sales ($M)
20,215.80
Female board membership (%)
33.3
Among Australia's biggest banks, No. 2 Westpac Banking Corp. is the likeliest to miss profit forecasts. Low interest rates, intense competition, and a return to normal loan losses after lenders built reserves to defend against Covid-19 threaten to constrain revenue and credit quality. It's also unrealistic to expect big cost cuts to fuel Westpac, based on the experience of rivals that restructured. —Matt Ingram
Financials
Willis Towers Watson
2020 sales growth (%)

3.5

3-year annualized total return (%)

19

12-month sales ($M)

9,613.00

Female board membership (%)

33.3

Following a failed takeover bid from insurance consultants Aon Plc, Willis Towers Watson Plc's new management aims to reinvigorate subpar growth and profitability by revamping the company's global insurance brokerage. Several activist investors have taken positions in the stock, turning up the pressure on incoming CEO Carl Hess. Earnings may dip in 2022 on the way to attainable 2024 goals. —Matthew Palazola

') } /*-->*/