The World's

Largest 3D-Printed Neighborhood Is Here
If it can scale, the 3D-printing process promises to deliver energy-efficient and climate-resilient homes that can be built faster, in novel designs and with minimal construction waste.
Amid the tech boom-fueled sprawl in Austin, Texas, Wolf Ranch at first appears to be another colorfully named but architecturally unimaginative suburban subdivision. Until, that is, you turn a corner and stumble across giant robots building homes resembling waves frozen in concrete.

This 100-house addition to the 2,500 homes planned for Wolf Ranch is called "the Genesis Collection," and as the world's largest 3D-printed community, it is indeed sui generis. A collaboration between Lennar Corp., the US's second-biggest home builder, and 3D-printing startup Icon, Genesis represents perhaps the most significant innovation in residential construction in decades. If it can scale, 3D-printed construction promises to deliver energy-efficient homes that can be built faster and more affordably, in novel designs and with minimal waste. The concrete structures are also more resilient to increasingly intense climate-driven hurricanes, wildfires and heat waves.
"I think we'll look back and say this was a pretty pivotal moment in the history of construction," says Jason Ballard, Icon's cowboy hat-wearing co-founder and chief executive officer. "I do think 3D printing and robotic construction are necessary to end the global housing crisis."
Labor shortages, rising material costs and pressure to reduce housing's carbon footprint are driving a tradition-bound industry to innovate, according to Lennar Executive Chairman Stuart Miller. "We've been building homes basically the same way for centuries," he says. "We recognize that limitations around materials and labor are constraining factors relative to building the homes that the country needs, so we have been very focused on looking at techniques and solutions to build more effectively, more efficiently and more affordably."
Those shifts led Lennar in 2021 to invest in Austin-based Icon, which has raised $451 million since it was founded in 2017. Miller says Wolf Ranch will produce data on 3D printing's potential to save time and money at construction sites.
Icon built its first permitted home, a 350-square-foot residence, in 2018 to demonstrate the abilities of its first-generation Vulcan printer. The machine extrudes a proprietary concrete mixture called Lavacrete, which it lays down layer upon layer to form the exterior and interior walls of a building.
The latest iteration of the Vulcan is house-sized itself. The 46.5-foot-wide robot consists of a crossbar that moves up and down between two 15.5-foot-tall towers that sit astride a foundation. Attached to the cross bar is a nozzle that shuttles from side to side.
On a January afternoon at Wolf Ranch, seven of the robots can be seen layering Lavacrete on foundations that overlook the limestone hills of Georgetown, a rapidly growing bedroom community 30 miles north of downtown Austin. In the construction office, big screens display the Vulcans' progress down to the number of layers laid down at each building site. A billboard advertises the arrival of a Jetsons-promised future: "3D-Printed Homes Coming Soon."
In contrast to the din of a typical construction site swarmed by laborers hammering wood frames and hanging drywall, quiet pervades Wolf Ranch — the silence punctuated by the ambient hum of printers attended to by four workers apiece. Instead of a foreperson directing a construction crew from a blueprint, an Icon employee holds a tablet loaded with software for the eight different Genesis Collection homes that the Vulcan is programmed to construct. The building site is clean, too; there's virtually no construction debris to be hauled off to a landfill.
On Lot 53, a Vulcan is building the Rune, a three-bedroom, 2,010-square-foot model. Nearby sits a portable trailer called the Magma, where the Lavacrete is mixed and pumped through a hose to the printer. As the Vulcan rolls forward, the nozzle adds a 3/4-inch-high ribbon of the thick, dark gray material to an interior wall, much like a pastry chef icing a tiered wedding cake. The layer will dry in about 15 minutes, eventually fading to a light gray color. It currently takes about three weeks to complete the walls of a home, according to Conner Jenkins, Icon's director of project operations.
As the walls rise, the Vulcan leaves spaces for windows and doors, while workers carve cutouts in the Lavacrete for electric outlets and light switches. The structure will be reinforced with rebar and insulation will be pumped into the wall cavities. Not required are brick, stucco or siding to cover a wood frame, or drywall for the interior (except for a small patch in the utility room). "You no longer need five or six different trades coming in to build the walls," Jenkins says.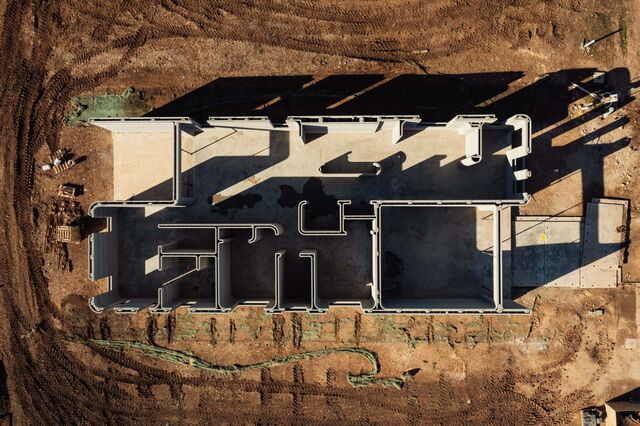 Ballard says Icon focused first on automating construction of walls as they're "the most laborious, most expensive and slow part of the home to build. It's also the part of the home that sets the overall form and feeling."
Avant-garde architects Bjarke Ingels Group, which is an investor in Icon, designed the Genesis Collection. The Danish firm, known as BIG, has exploited 3D-printing's liberation of construction from the geometric constraints of the right angle. Lavacrete's pliability and the Vulcan's maneuverability allow for the printing of walls that swoop, fold and form half shells. (At a model home called House Zero that Icon built last year in Austin, curves replace corners and walls billow.)
Two blocks away from the Rune stands a fully printed Cato, a curvaceous 1,781-square-foot, three-bedroom model ready for Lennar to install a pitched metal roof. (Lennar crews also build foundations and apply interior finishes.) The Cato's 10-foot-high interior walls undulate, flowing from room to room, the layers of Lavacrete rippling like geological striations.
Charlie Coleman, Lennar's Austin division president, points to the Cato's 3D-printed oblong-shaped kitchen island. "In traditional construction, it would be very difficult and expensive to build an island like this," he says.
"In the case of 3D-printing, the possibility of infinite variation, infinite custom detail and the abundance of curvilinear language will give us an entirely new architectural language," says Bjarke Ingels. "We're just at the earliest stage of this tectonic shift.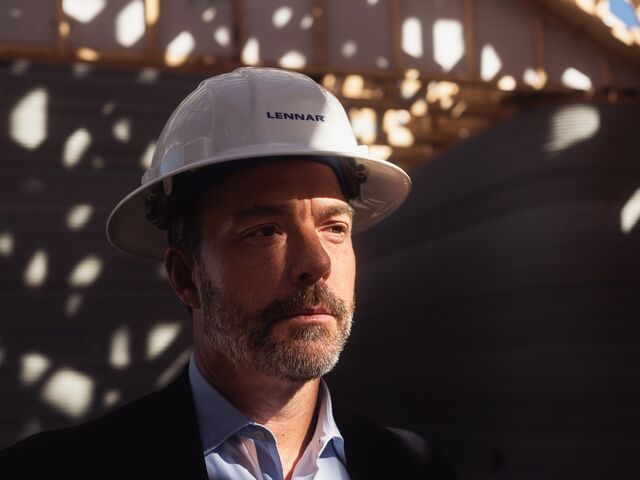 Ballard estimates that 3D-printed homes cost 10 to 30% less to build than conventional construction, depending on the design, while Coleman expects construction time to be cut 30% at Wolf Ranch. "I've been doing this 20 years and construction times have just gotten so long with all the labor and supply chain challenges," Coleman says. Pricing has not been set but he expects Genesis homes to start in the mid $400,000-range, which is competitive with other new homes at Wolf Ranch.
Gaurav Sant, director of the Institute for Carbon Management at the University of California at Los Angeles, says it's too early to tell if 3D printing will upend construction, though he says the industry is ripe for disruption thanks to its substantial carbon footprint. "But the fact that major companies are setting foot in the space and saying, 'Let's pressure-test this and really understand the value proposition and environmental impact' is clearly a step in that direction," says Sant, a professor of civil and environmental engineering at UCLA's Samueli School of Engineering.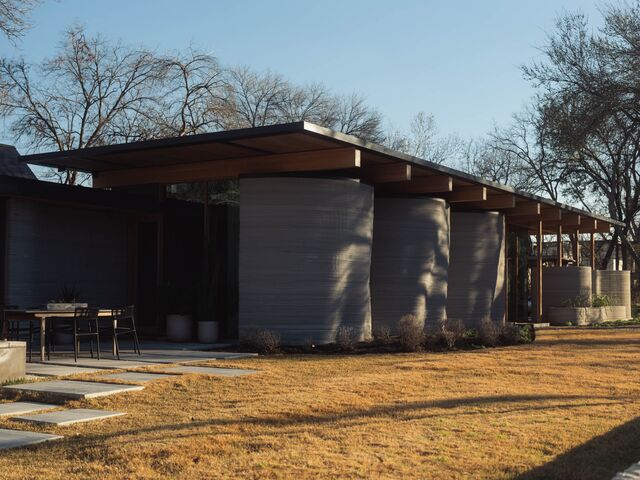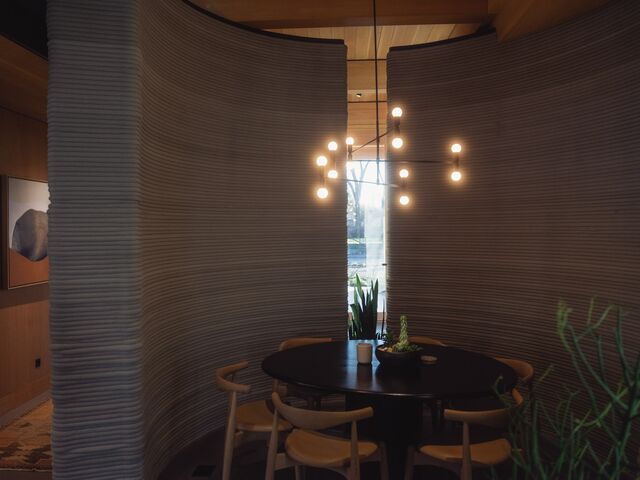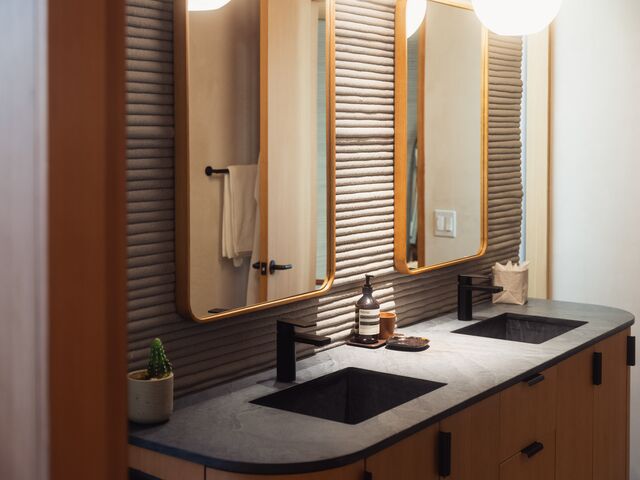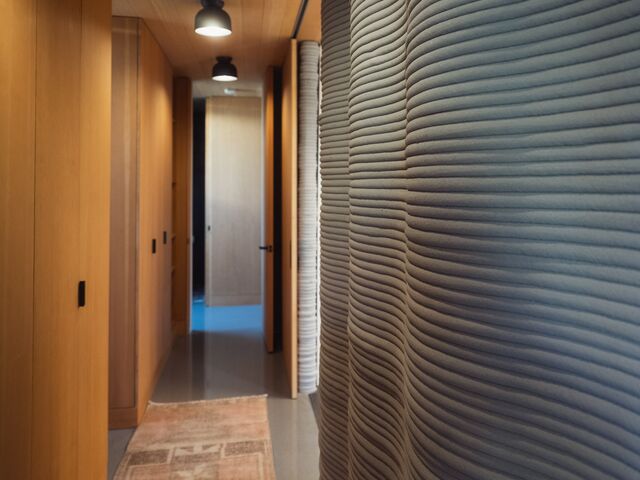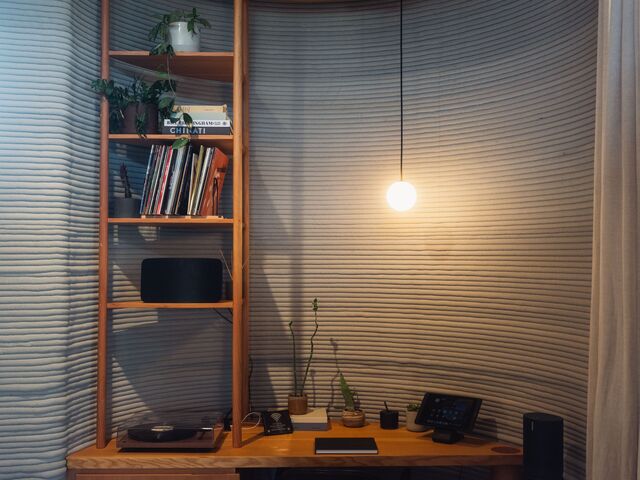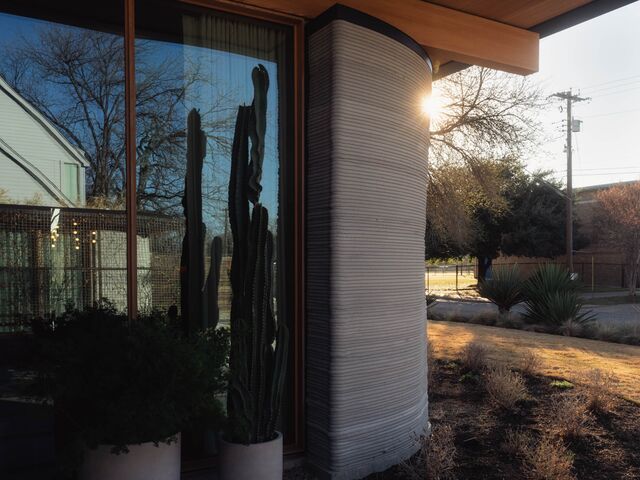 Sustainability and savings are also likely to be selling points when the homes go on the market this year. Concrete is carbon-intensive, but Ballard says the material's use at Wolf Ranch creates nearly airtight buildings that will reduce homeowners' heating and cooling costs, while the solar panels installed on each residence will supply carbon-free electricity. Icon's 3D-printed walls have exceeded building code strength requirements by 350%, according to the company, which allows them to better withstand hurricanes and wildfires. An initiative is also underway to reduce Lavacrete's carbon intensity.

Ballard says Icon has "several hundred" more homes under contract with builders, but can't disclose the details yet. Longer-term, the company has more ambitious plans. It is currently developing technology for NASA to construct buildings on the moon, and has 3D-printed a prototype of a Mars structure that BIG designed for the space agency. But when it comes to re-engineering suburbia, Ballard has more down-to-Earth concerns, like getting governments to extend the hours his robots are allowed to operate.

"Most municipalities have start and stop times because conventional construction methods are very, very loud," he says. "We are trying to make the case that not only do our robots not need smoke breaks or anything like that, they also are very quiet and should be allowed to work around the clock."

(Updates with comment from Bjarke Ingels.)

') } /*-->*/