Chefs From Around America Share Their Juneteenth Cookout Menus
Food traditions to honor the country's new old holiday.
Tommie Boudreaux grew up knowing about Juneteenth. For almost eight decades, she's lived in Galveston, Texas—where, on June 19, 1865, General Order No. 3 announced that one of the last groups of enslaved Black people in the US were free.
But it wasn't until last year that Boudreaux, who's chair of the African American Heritage Committee at the Galveston Historical Foundation, saw something that truly surprised her. "On the early Houston news that morning, the anchor announced, 'Happy Juneteenth!' " says Boudreaux. On the national news an hour later, another anchor repeated the greeting. "And then I saw Juneteenth on the calendar."
Watching awareness of the holiday grow, especially during the past 20 years, she's seen people become more comfortable having uncomfortable conversations about Black enslavement. But the television greeting marked a new chapter.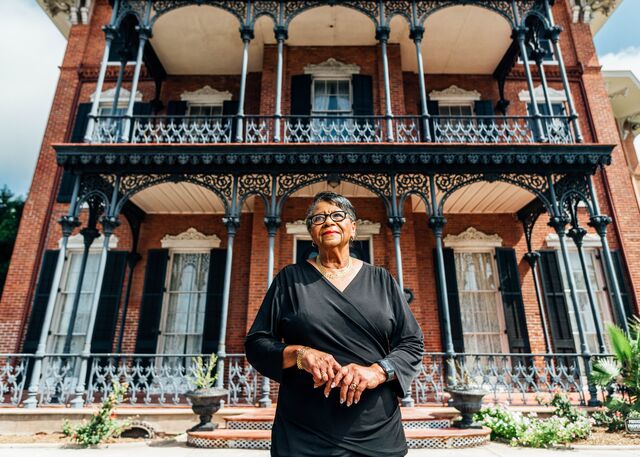 Awareness will be even higher now; Americans officially have the day off this year (on June 20, because June 19 falls on a Sunday) after President Joe Biden made Juneteenth a federal holiday in 2021. For many, it's the chance to come together over a meal and share stories.
"We can't talk to anyone who was there when the news came out," says Freddie Williams, a private chef in the Galveston area, about the 1865 announcement. "But you can connect to people who can tell the story of hearing the story from people who heard the news themselves."
One of the most moving details of those stories, he says, are the dishes people prepared to celebrate their freedom. "What you hear is the amount of food people made. Grandma lit up the grill, and someone got a hog, and then there was smoked ham from the hocks to the butt."
Williams says people still smoke hogs and cook skillets of black-eyed peas and hot water cornbread. "So many of these families were enslaved, they didn't have massive homes, so they had backyard celebrations. That's what we still do," he says. He's among the Black chefs we spoke to from across the country who have their own singular ways to celebrate Juneteenth, highlighting traditions both old and brand-new.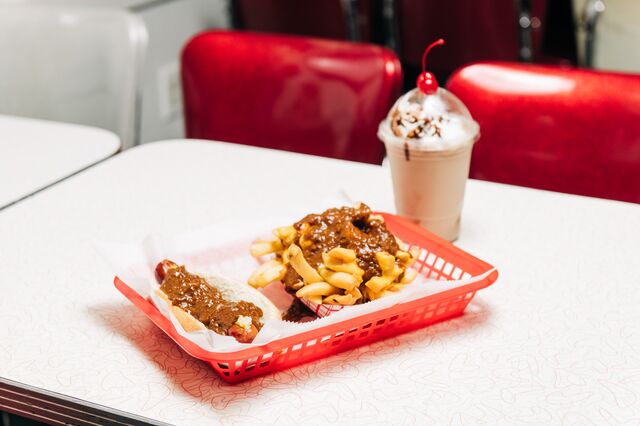 Virginia Ali, founder, Ben's Chili Bowl, Washington
Dishes: Half smoke, chili cheese fries, and a milkshake
"Growing up, many of us celebrated Juneteenth, but not in large capacities. People had to go to work," says Ali, who started the seminal Ben's Chili Bowl with her husband, Ben, in 1958. "We didn't have many holidays that recognized African Americans in my younger days. But we celebrated it around food."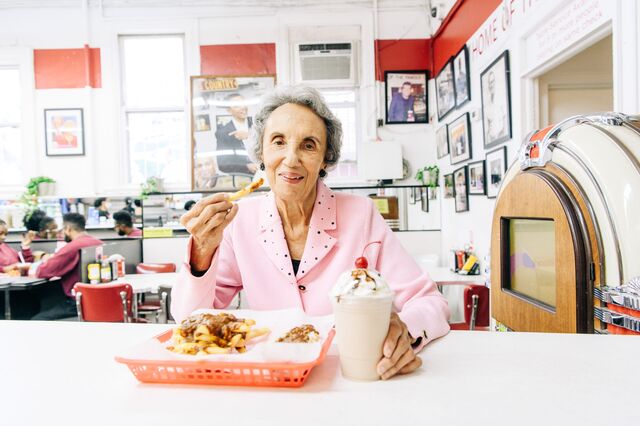 Ali, who was born in Virginia at a time when schools were still segregated, says she and her family and friends used the holiday to talk about how things "had gotten better than the old days and how we were going to keep doing better."
At Ben's, a focal point for the Black community, Ali recalls: "Dr. Martin Luther King Jr. had offices nearby; when he was planning his march on Washington, he would pop into the Chili Bowl, and I had a chance to listen to him, talk to him about his dream." His go-to order: a chili cheeseburger. (During the riots after his assassination, Ben's was a meeting place for civil rights organizers; it was given special dispensation to stay open until 3 a.m. during citywide curfews.)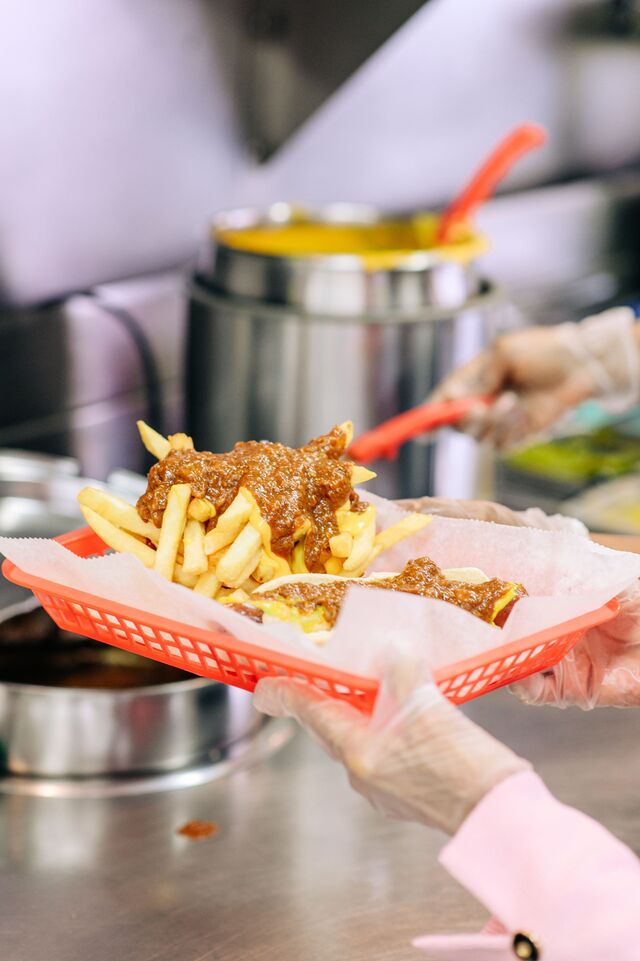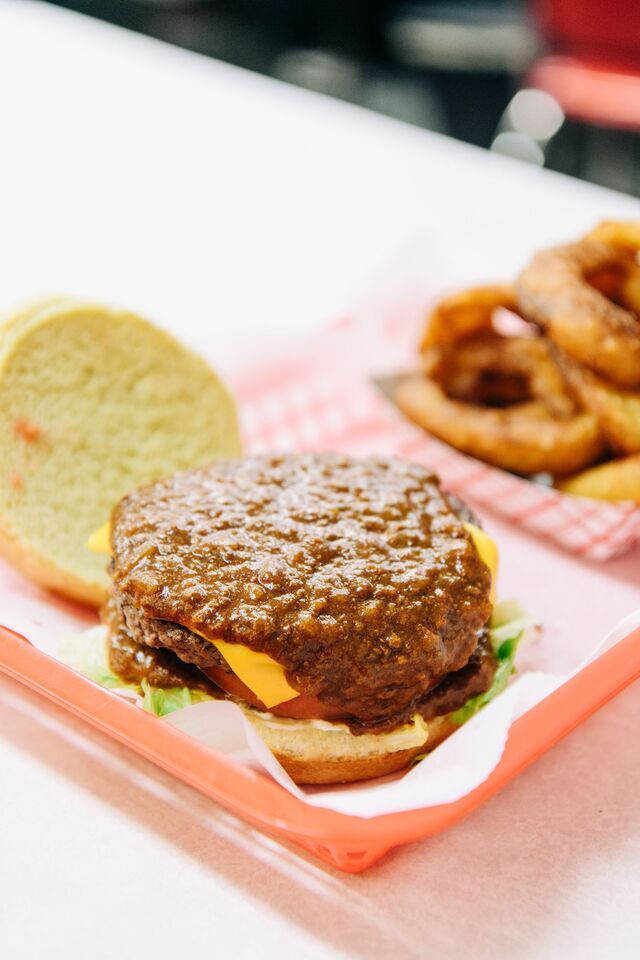 Ben's was also a place where people got together to discuss the importance of Juneteenth over a half smoke, a spiced-up beef-and-pork sausage, topped with chili. "I would say 'Happy Juneteenth,' like saying 'Merry Christmas,' and give everyone a free milkshake," Ali says.
To commemorate Juneteenth in the first year it's a federal holiday, Ali will start the restaurant's celebrations on June 13, setting up a stage in front for performances and panel discussions, with such topics as how to support kids in the community. The Chili Bowl is also participating in the weekend's music festival Something in the Water, headlined by Pharrell, where it'll serve half smokes.
"It's the first time we've started celebrating Juneteenth early," Ali says. "It's a big year, a whole new level of people talking about it, people recognizing those who paid the price for us to have freedom."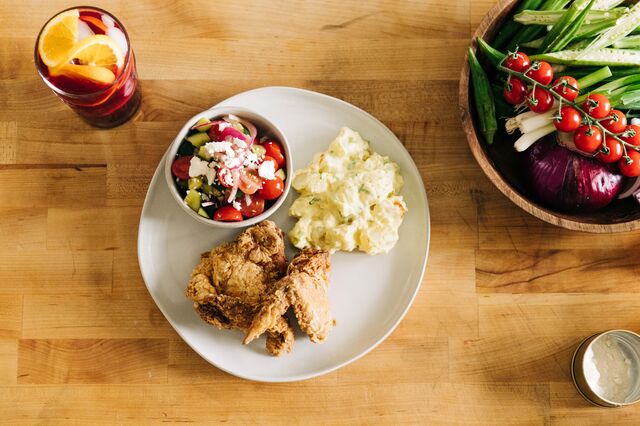 Rock Harper, chef-owner of Queen Mother's, Arlington, Va.
Dishes: Fried chicken, potato salad, and hibiscus punch
Before Rock Harper knew about Juneteenth he knew about April 3. As a child in Virginia, his family marked the day when African Americans in Richmond were freed in 1865. "The third of April was something my mom would celebrate. When I started embracing Black food and Southern culture, after culinary school, in the early '90s, I started hearing about Juneteenth," recalls Harper, who's garnered a following as the Season 3 winner of Gordon Ramsay's Hell's Kitchen cooking reality show.
He more fully appreciated the holiday when he worked for B. Smith, the late Black food and lifestyle expert. "She was the first professional restaurateur talking about Juneteenth," he says. "We would do specials in her restaurant."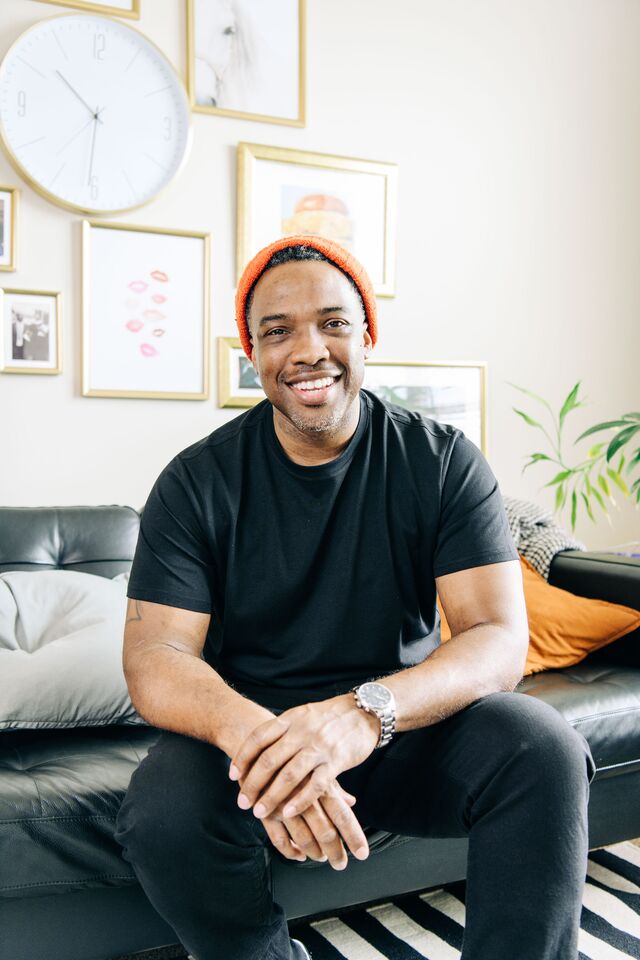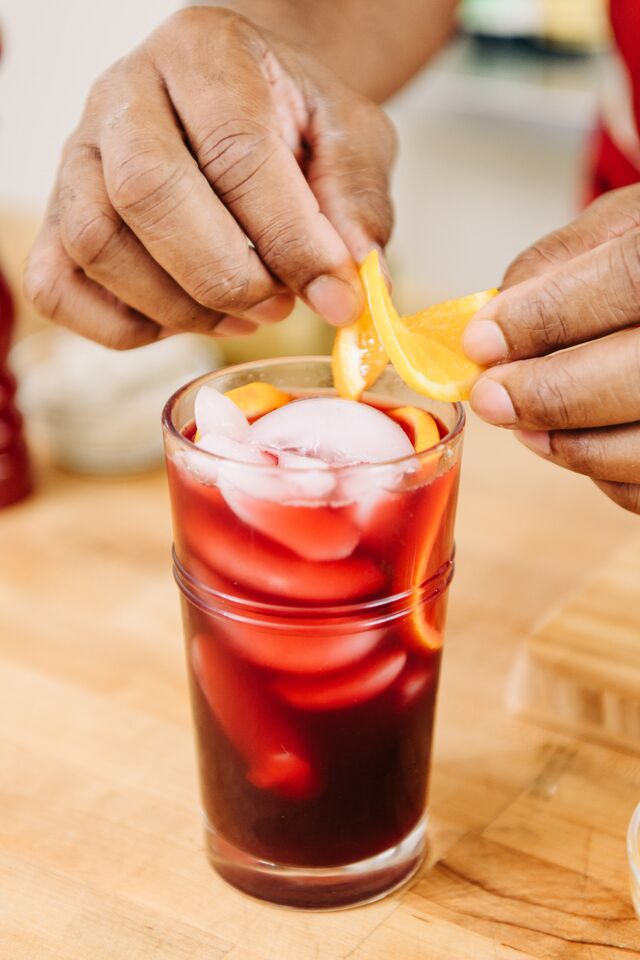 For the holiday, Harper always serves fried chicken, which he features in sandwiches at Queen Mother's, a counter in an incubator cafe in Arlington. (He will soon announce his first official brick-and-mortar location and is starting virtual classes digging deep into Black and Southern food.)
"Fried chicken can be polarizing for a number of people, especially for African Americans," he says. "I embrace it. It's an incredible, wonderful dish. Enslaved Blacks helped create it and make it popular." Another holiday dish, also on the menu at Queen Mother's, is potato salad, made with hard-boiled eggs and a little bit of mustard. "I've been told that mine is cookout approved," he says.
A scarlet-colored punch washes it all down. "Red is culturally significant in the African diaspora. It marks spiritual power," Harper says. It also carries significance for Juneteenth, representing blood that was shed. "We all have our own version, whether it's Kool-Aid or something homemade. I make one with a local hibiscus tea and add a bit of orange peel and ginger." It is, he says, a red drink with some fruit and a bit of heat.
But, he says, everyone should celebrate the holiday their own way. "Juneteenth isn't about 'You have to have this.' It's specific to your town, to your family." The most important thing, Harper says, is that you ask questions: "How am I working towards liberation? That's the question I'm asking. How am I honoring my ancestors, how am I helping my children? You can serve a peanut butter and jelly sandwich, as long as you're talking."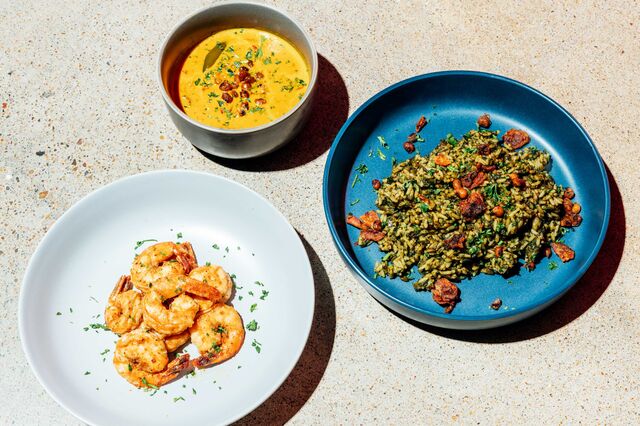 Ope Amosu, chef-owner, ChopnBlok, Houston
Dishes: Ikoyi shrimp, motherland curry, and Liberian rice and greens
Amosu used to be a corporate accounts director at General Electric Co. in Houston. But he saw a gap in access to food, music, and culture from Nigeria, where his family is from, and he wanted to fill it. So he started cooking his family's cuisine. "In 2017, I had the idea to showcase the West African diaspora through good food and a good beat. It was disproportionately hard for me to reach my community," he says.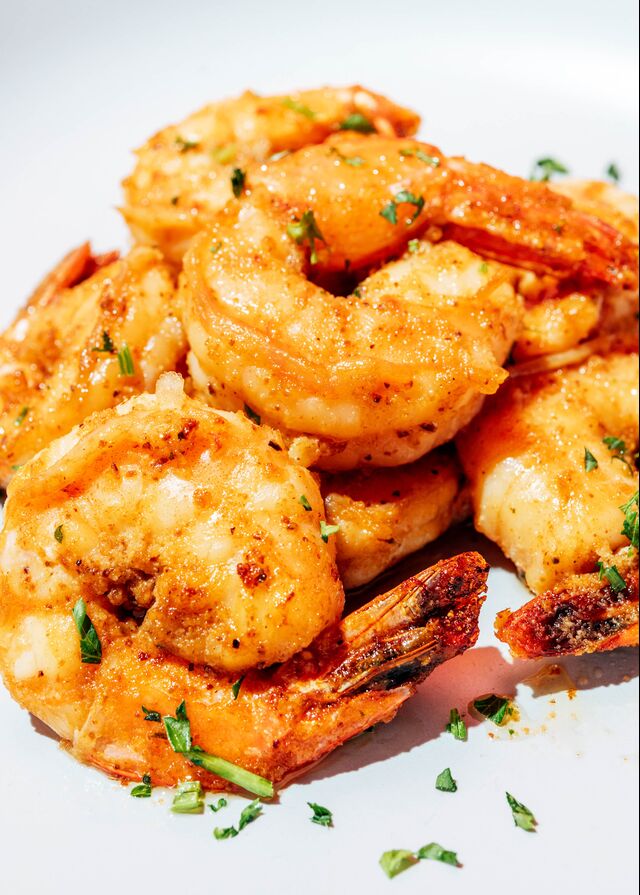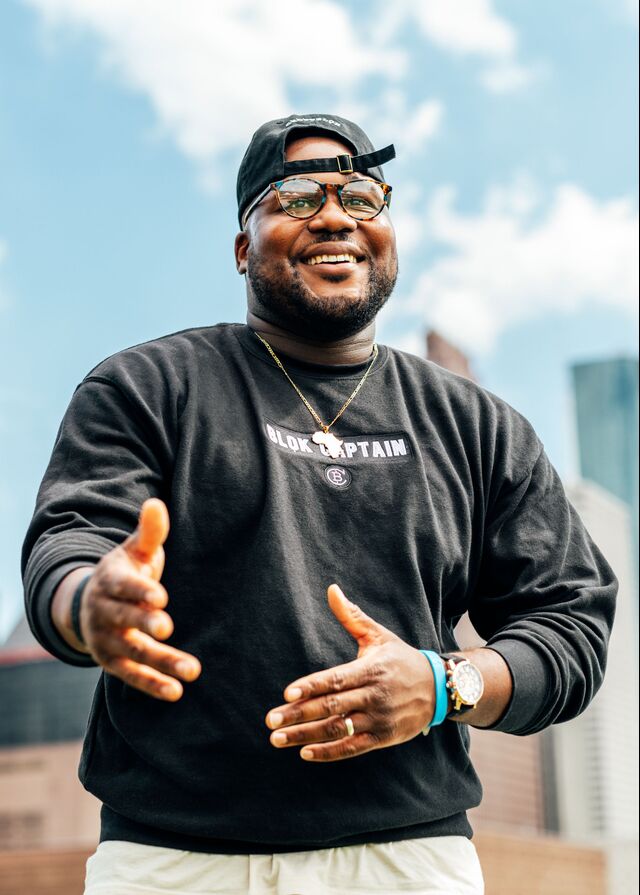 In November 2021, he launched his brick-and-mortar restaurant ChopnBlok featuring dishes like the Trad, made with jollof rice, chicken, and plantains, all stewed with tomatoes, and the Motherland, a vegetable-based coconut curry with black-eyed peas. "I want to give people access to something they don't know they're missing," Amosu says. The food is served against a playlist of artists like Burna Boy and Adekunle Gold.
This will be the inaugural Juneteenth celebration at ChopnBlok, but Amosu grew up in Texas in the late '90s hearing about the holiday from friends. "It was something I was aware of, even when broader society wasn't," he says. "I went to private school in central Houston. I was one of the only Black kids in the class." He and his friends would skip school: "It was an act of solidarity to celebrate with people who looked like me." He in turn told his family about Juneteenth.
Amosu is commemorating the holiday, and the fact it falls on Father's Day this year, by hosting a remembrance dinner. The menu will be a curation of what the chef sees as the cultural crossroads between West African traditions and the local community. Key to the meal will be Liberian-style collard greens and kale.
"Liberia was the first country in West Africa to get their independence. Once African Americans here were considered free, they would be sent back there," he says. He'll also make honey bean coconut curry, with black-eyed peas and prawns, an ingredient popular in Texas and West Africa, with Cameroon peppers. For his Juneteenth meal, he's partnering with the local nonprofit Cool Dad, which encourages fathers to be active in their family's life. "It's a day to shine a light on Black fatherhood and on Juneteenth," Amosu says.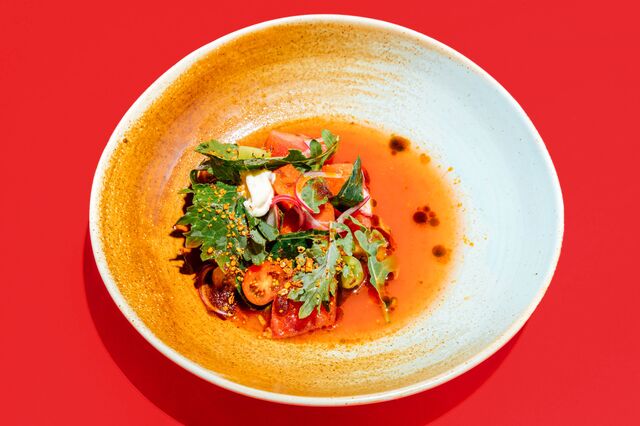 Dawn Burrell, chef and partner, Late August, Houston
Dish: Grilled collards and watermelon salad with shito vinaigrette
Burrell knows that Juneteenth celebrations often feature time-honored foods, but this year she's got plans for a brand-new dish: grilled collard greens mixed with fresh watermelon, tossed with a dressing spiked with shito pepper sauce, a spicy Ghanaian condiment made with dried shrimp along with aromatics such as ginger, onion, garlic, and a generous amount of chili. "It's a perfect expression of ingredients that are either utilized in native African culture and/or Southern culture, so I want to combine all these ingredients in a lovely way," she says. Burrell's dish features lightly grilled greens with juicy cherry tomatoes and sweet melon chunks with the pungent dressing.
Burrell is originally from Philadelphia and didn't learn about Juneteenth until she started at the University of Houston in the early '90s. "Juneteenth is a holiday I celebrate, newly so, in the second half of my life," says the chef, who competed in the women's long jump at the 2000 Sydney Olympics and won a gold medal at the IAAF World Indoor Championships in Lisbon in 2001, before she began cooking.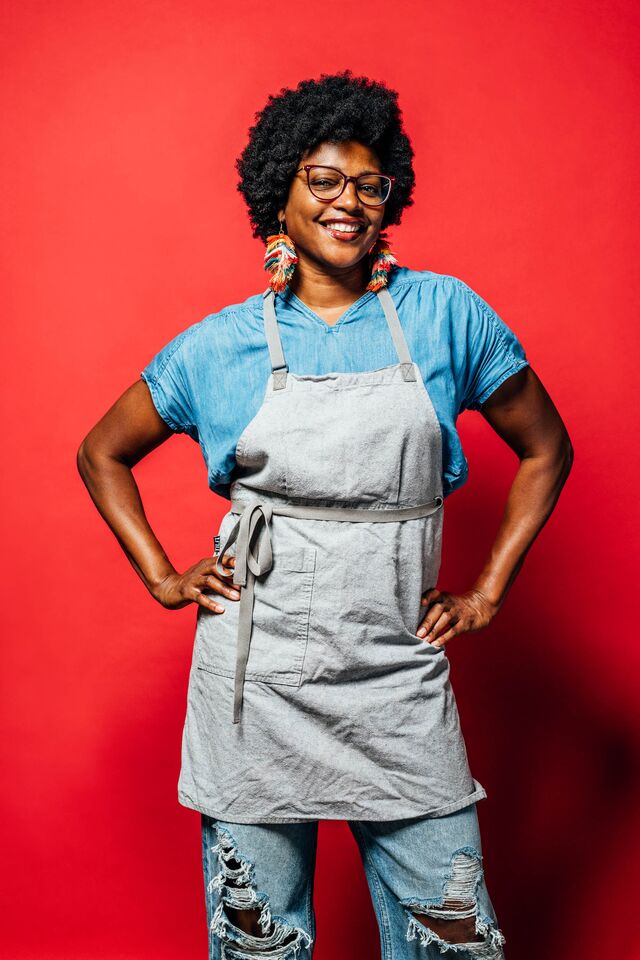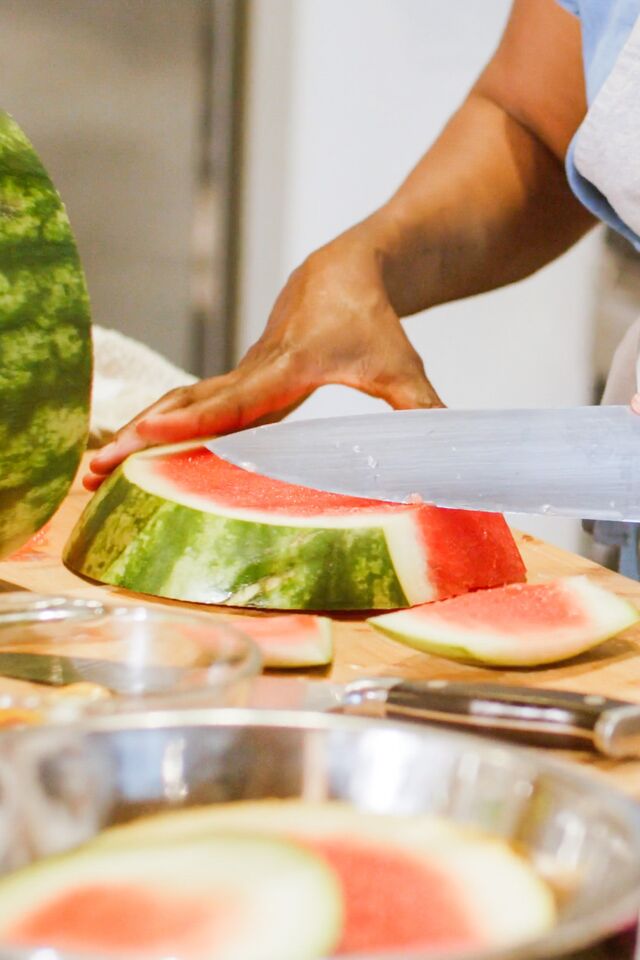 She's had Juneteenth celebrations at her home and at restaurants, including Kulture, the Southern-focused Houston restaurant where she was executive chef until the start of the pandemic. "We do a lot of backyard cookouts where things are read to reflect the blood that was shed. And we prepare dishes that memorialize the time period when people didn't know they were free," she says.
There's always some form of pork, whether it's a collar or smoked butt, and potato salad and hibiscus tea. "I'm creative and like to expand the scope of what a Juneteenth celebratory meal can be," Burrell says. Another favored ingredient for the holiday is black-eyed peas, even though they're traditionally associated with New Year's Day. "They symbolize prosperity, which is a good expression for Juneteenth."
This year, in advance of her upcoming restaurant Late August, which she's opening with noted local restaurateur Chris Williams, Burrell will host her second annual Jubilee celebration for Juneteenth.
She'll be cooking with Mariya Russell, the first Black woman chef to win a Michelin star, in 2019 at Kumiko in Chicago. "It will be a different expression of a Juneteenth celebration: a traditional five-course dinner that's meant to elevate and put focus on our cuisine," Burrell says. "Because it can be elevated to be five courses, and I prove it time and again."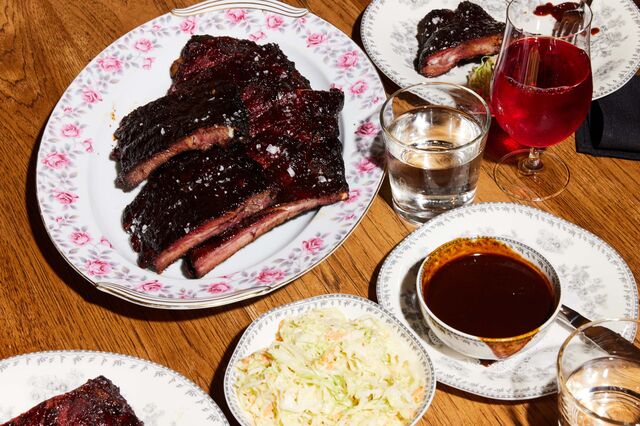 Erick Williams, chef-owner, and Damarr Brown, chef de cuisine, Virtue, Chicago
Dishes: Smoked ribs, coleslaw, and red punch cocktail
This will be the third year that Erick Williams and Damarr Brown have presented a special Juneteenth meal at Virtue, the Southern-food-focused restaurant in Chicago's Hyde Park that opened in 2018. For the week leading up to the holiday, they'll offer spare ribs, based on a Williams family recipe; coleslaw; and a red punch spiked with vodka and rum.
It's the only time ribs are on the menu at Virtue. "That's the whole vibe," says Williams, who was just named Best Chef Great Lakes by the James Beard Foundation. "It gives us an opportunity, via food, to celebrate barbecue. And red punch is one of those fun, nostalgic experiences that people of color share from childhood."
"Racks of ribs, punch in a punch bowl: It represents community," Brown adds.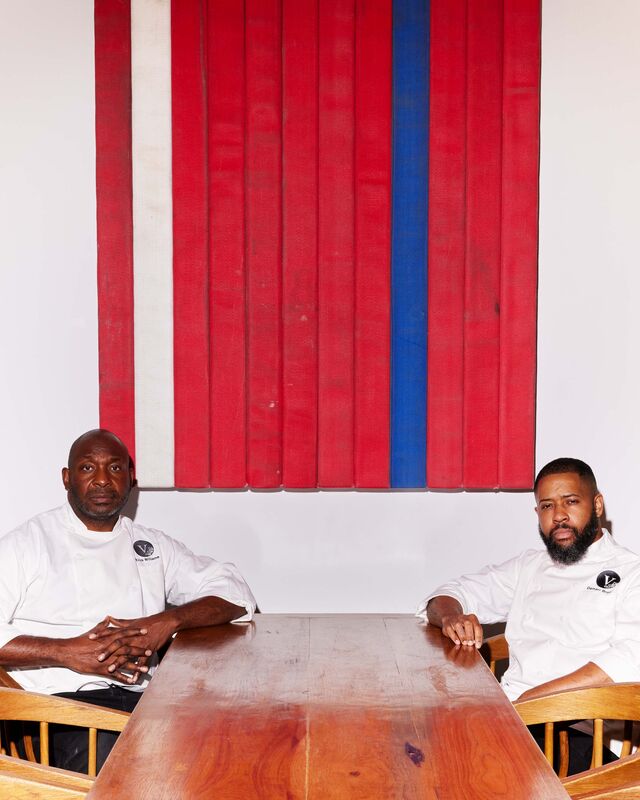 Williams has known about Juneteenth for as long as he can remember and values the role meals play in spreading the word about it. "One of the beautiful things about food is that it gives us a neutral platform to talk. At Virtue, we're able to have open discussion about what happened on Juneteenth, a law passed that affected Black people, specifically." It is, he says, a time to be as equitable and inclusive as you can be. "It's not just a Black and brown conversation anymore."
Brown, who also hails from Chicago, heard about Juneteenth at home and in school. "It was really important to my grandmother that we celebrate Black holidays," he says. "We'd celebrate with barbecue with people in the 'hood, and my grandmother would quiz me on Black history. She would make a game out of it."
Now, he says, the conversations around it are broader as other cultures have become engaged in it and Juneteenth is more widely recognized. "When I think about the strength people who looked like me must have had, it's sobering."
"It's started some necessary conversations, about what we need to do to get to the future goals we have," he continues. And although Brown appreciates that the day is now a federal holiday, he says: "Juneteenth was always a holiday. Whether the government was involved in it or not."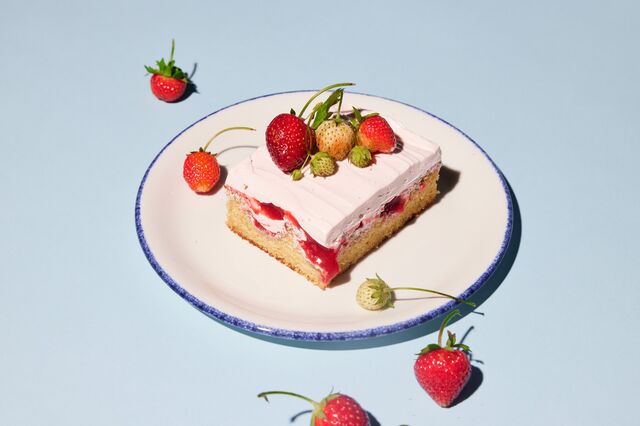 Felicia Mayden, executive pastry chef, Emily Hotel, Chicago
Dish: Strawberry poke cake
As a child in Chicago, Mayden knew that sweet 7UP cake with soda in the batter meant a party. "I think it's a Southern cookout thing," says Mayden, a professional baker. "My grandmother is from Mississippi, she moved to Chicago in the '70s. We always had a 7UP cake at celebrations. If you have something flavored, you had a little more extra money to pay for it."
To make it, the baker pokes holes in the cake, then pours in syrup or jam to seep into the layers. Mayden will use strawberry puree to infuse her dessert, to create waves of yellow cake mixed with bright red pockets. It's topped with a simple buttercream that's mixed with more strawberries, which are sourced from the urban garden on the roof of the hotel. "Most African-American families didn't have access to fresh strawberries. This cake connects a lot of pieces for me," she says.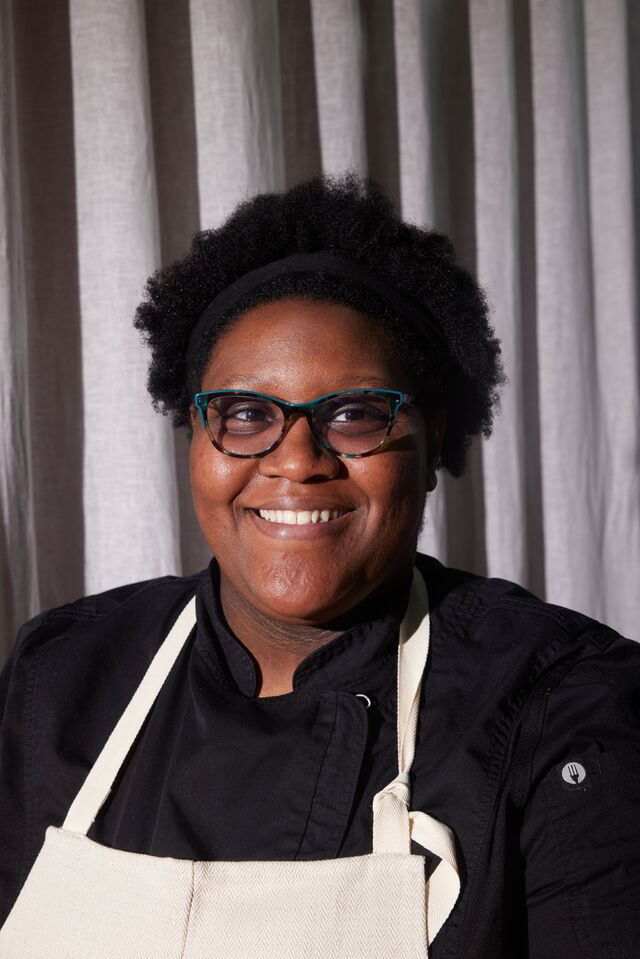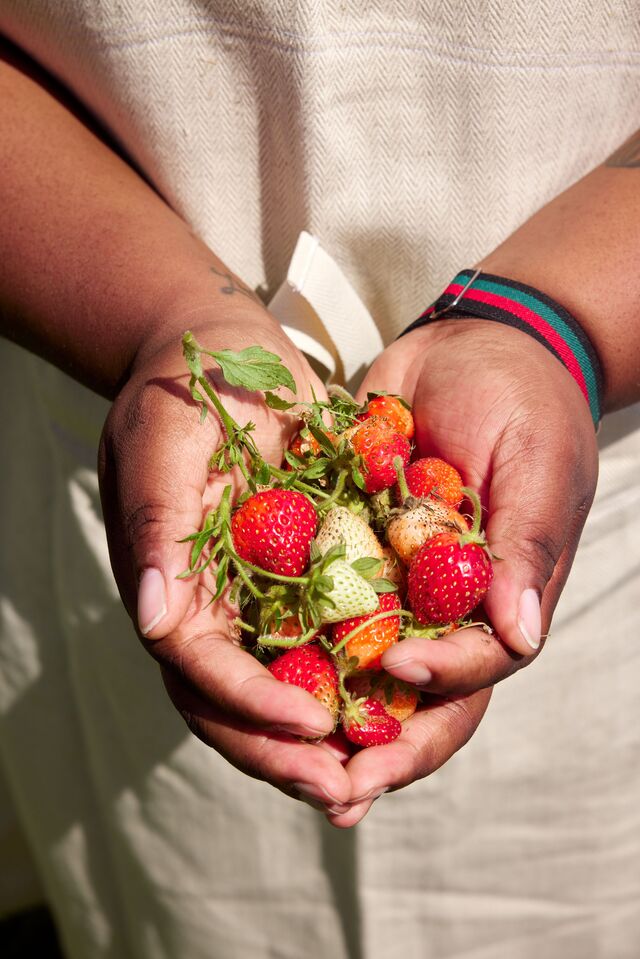 Mayden wasn't familiar with Juneteenth as a kid; it wasn't celebrated by her family and friends in the Midwest, she says. But in the last five years, she started to hear more about it from her friends, and after the murder of George Floyd, they prioritized it.

"We knew what it meant to us for our freedom, but in conversations with friends we would say, 'Why aren't we celebrating it?'" Now, she says, "me and my friends decided we have to have conversation about what the day means. If we don't, no one will. The more we talk about it, the more we know."

This year, Mayden is taking Juneteenth off and going to a cookout. "I have a 5 ½-year-old child. I want to make sure he knows, that our future knows, that it's important to us. Not just African Americans, but what the date means for all of us."

He will, she believes, see the strength in the community—especially as he's eating her strawberry poke cake.

Editors: Chris Rovzar, James Gaddy, Justin Ocean.
Photo Editor: Evan Ortiz

') } /*-->*/