Hot Stuff
The Way Things
Feel
Look
Smell
Sound
Taste
in a Warmer World
The Suburban Lawn Will Never Be the Same
Homeowners from Las Vegas to Sydney are swapping real grass for artificial turf as climate change forever alters what a normal yard looks and smells like.
By Brian Eckhouse and Siobhan Wagner
July 8, 2022
Judy Dunn moved to her home in the Las Vegas suburbs from Washington state in late 1998, when there was little concern about water levels at nearby lakes. Dunn could nurture the verdant lawn of her dreams in a valley of cacti and sand that developers had recast as an oasis. But then a drought arrived and never left, and now local agencies are fining more residents for wasting water.
For Dunn, the final straw arrived last summer. Lake Mead, historically America's largest reservoir, plunged to its lowest level since 1937 and the first-ever water cuts were ordered on a Colorado River system that benefits about 40 million people including Dunn. "If we don't start saving water, we're not going to have any," says the 76-year-old.
So, Dunn opted to install an artificial lawn, a choice being made by more and more residents of Southern Nevada—one of the many places that's getting drier as the planet warms. For some, it's the cash-for-grass rebates being offered by local water agencies. For others, it's the realization that the classic lawn is increasingly unsustainable in a time of megadrought. And then there are the residents coaxed into the shift by the water notices or fines.
Bloomberg Green's
Hot Stuff
series examines how the things we take for granted in our everyday life are changing due to climate change.
Subscribe to our newsletter
to get the next story in your inbox.
For water suppliers worldwide, climate change is raising the stakes. Italy in July declared a state of emergency as water levels in its largest river dropped to the lowest in 70 years. The US Southwest is suffering through the worst drought in over a century. Within the next 30 years, droughts may impact three quarters of the world's population. While plastic turf poses its own climate challenges, it's increasingly seen as a viable alternative to real green yards that devour precious water.
The lawn—or what we traditionally view as one—is dying. It's one of the ugly realities that homeowners in Las Vegas and even gardeners in England are facing as global warming hits suburbia. For those already living at the extremes, the hum of a lawnmower on a Saturday morning or the smell of freshly cut grass are on the way to becoming a distant memory. And it's not just lawns—everything we touch, taste, see, hear and smell is getting a little stranger because of climate change.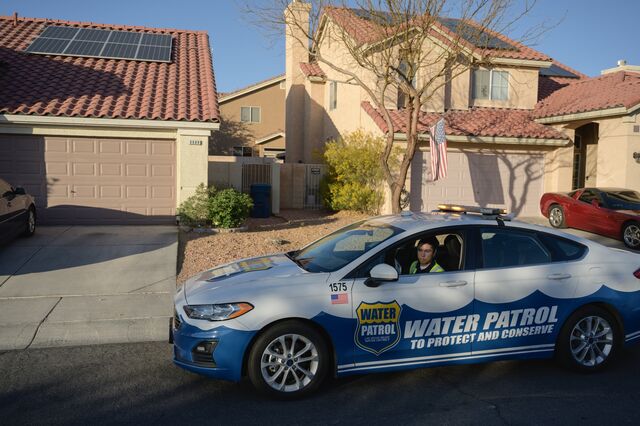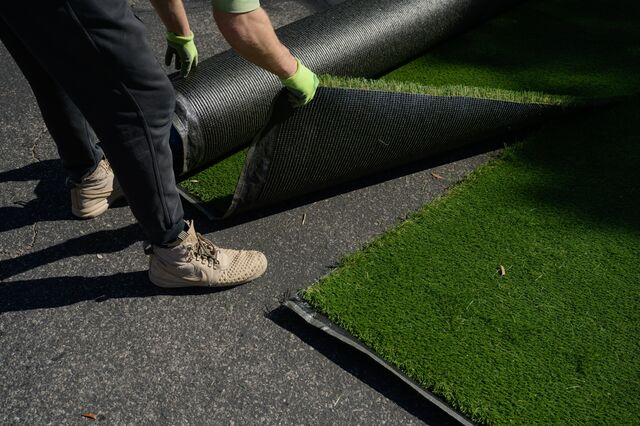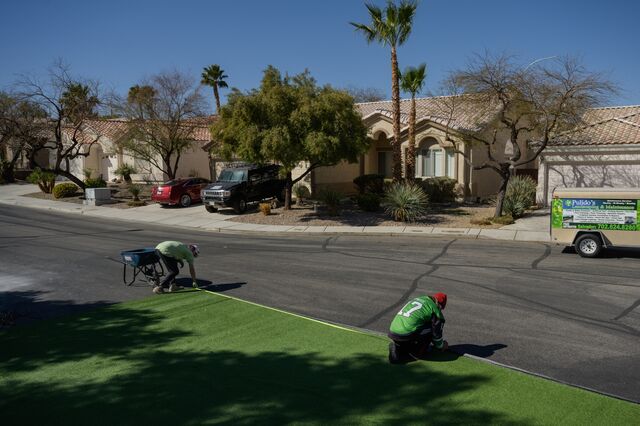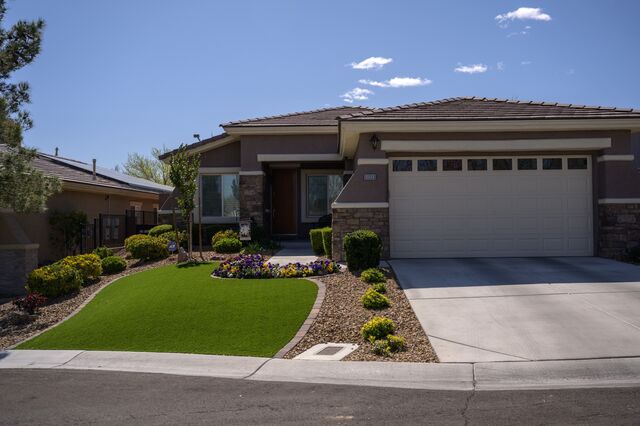 A couple of decades ago, artificial turf was often a thin carpet atop a hard surface—rough on the knees as well as the eyes. Athletes playing on it complained that it wore their legs out. But as the product improved, so did homeowners' interest. From the US to the UK, artificial grass retailers have seen sales tick up during pandemic lockdowns, when housebound property owners put their money toward home improvements. Indeed, Google Trends shows a worldwide surge in searches for "artificial grass" during the middle of 2020.
Even the most famous grass enthusiasts like the All England Lawn Tennis & Croquet Club are open to the idea. The organization behind the Wimbledon championship is trialing hybrid court surfaces—real grass weaved with plastic fibers—to promote lawn tennis in climates worldwide and extend the season in the UK.
Still, all of this fake grass sprouting across the planet has sparked backlash. Some of the biggest protests have been in Australia, where synthetic turf installations became more common in home gardens and playing fields during the Millennium Drought—a roughly 12-year dry spell that ended in 2009. Many cities and regions faced extreme water restrictions that included a total ban on lawn watering in some areas.
In Sydney's southern suburb Banksia, a community activist group brought the local council to court for installing artificial turf in heritage-listed Gardiner Park. "Synthetic surfacing is the 'Big Tobacco' of the 21st Century," campaign spokesperson Garnet Brownbill said in an interview in March, weeks before the New South Wales' Land and Environment Court ruled against the group. Ironically, one of the activists' biggest concerns partially stems from a well-intentioned recycling program that has been promoting the use of shredded waste car tires as infill for artificial turf. Campaigners have tweeted photos of rain-soaked turf fields, suggesting rubber crumb, and its associated chemicals, are leaching into waterways. One study found that rubber crumb from children's playgrounds travels as far as four meters on average. The authors recommended these infilled play areas should not be fitted near waterways.
Other research has raised the question of whether Australia is too hot for artificial grass, especially in unshaded areas. Sebastian Pfautsch, an urban heat expert, found an old turf surface in a children's playground in northwest Sydney reached 93.7°C (201°F) during one sweltering summer day in 2020. "That's a clear burn hazard for kids," says Pfautsch, an associate professor at Western Sydney University.
The most obvious environmental problem with artificial grass is it's rooted in the biggest climate nemesis of all: fossil fuel. Synthetic turf is made from a stew of petroleum-based components, making it nearly impossible to recycle. At the end of an artificial lawn's useful life, which is about 15 years, it will likely go to a landfill or be incinerated.
Stefan Diderich, director general of the EMEA Synthetic Turf Council, an artificial grass industry group, says companies are trying to develop a more widely recyclable turf made from a single material like polyester. "We're in the same situation as where you see the plastic bottles industry nowadays," he says.
Yet, even if artificial turf becomes easy to recycle, real grass will still in some ways be greener. Grass naturally absorbs carbon dioxide. Its soil supports wildlife from worms to birds. There are varieties for almost any kind of climate. Unless, of course, that climate doesn't have enough water.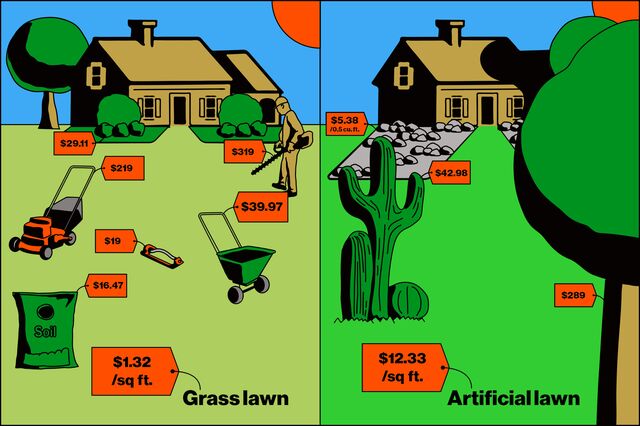 Back in the Las Vegas Valley, there is no mistaking that you're in the desert. The metropolitan area stretches 600-square miles—the size of Guadeloupe—across an area of Southern Nevada surrounded by mountains. Land on the edges of the valley features dirt and sand, save for the occasional cactus or tumbleweed.
Some neighborhoods in the valley embrace the climate. In Mountain's Edge, a community in the southwest, home after home features rocks and desert plants in the lawn—known as "rockscapes"—in lieu of grass. A central park has a soft spongy surface for some kids' activities, and familiar desert-type terrain elsewhere in it.
But in the northwest part of the valley, there are communities with an abundance of grass in medians and roundabouts. And, oddly, in a libertarian state known for abandon, these innocuous looking sprouts will soon be law breakers.
Last year Nevada passed legislation requiring that decorative grass be removed across the state, with some exceptions—after 2026. It's the latest step in Nevada's dramatic crackdown on crimes against water. Districts in Southern Nevada already staff investigators who fine violators for running sprinklers on the wrong days or not confining water to their yards.
Drought will push people to choose between what they value, according to Daniel Swain, a climate scientist with the University of California at Los Angeles' Institute of the Environment & Sustainability. "Some people think it is an existential crisis to get rid of a front lawn," he says.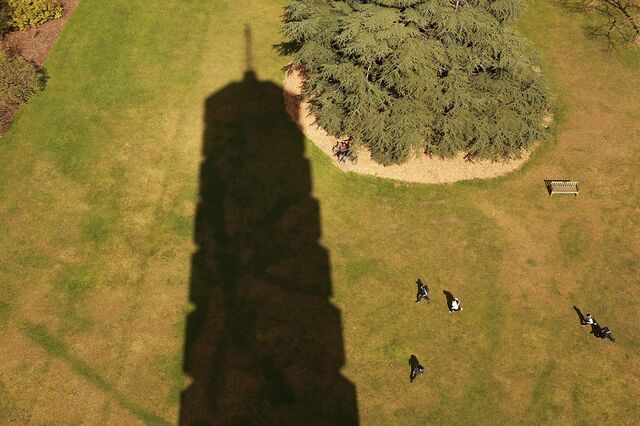 The future for lawns is in question everywhere. Even in the UK—a country synonymous with rain—lawn owners are accepting shades of yellow and brown amid green. This is surprisingly true for the Royal Botanic Gardens at Kew, home to the largest living plants collection on Earth. The gardens, which attracted more than a million visitors last year, meander over a mile-wide corner of southwest London. "At Kew, obviously we have vast areas of lawn we can't possibly irrigate," says Suzie Jewell, a garden designer at the Royal Botanic Gardens. "Essentially in the summer they turn brown," she said. "We do actually get complaints when we have brown grass."

Jewell was lead designer of the RBG Kew's Children's Garden, a jungle of slides and climbing walls snaked around more than 100 mature trees and over 18,000 plants. The area, which opened in 2019, teaches kids about nature's bounty and its limitations. There's some discreet use of artificial grass in certain play areas, for example. Jewell says this was less about conserving water and more about keeping up with the constant pitter patter of little feet. "We knew if we used lawn it would just turn to mud," she said. As a nod to the changing climate, the garden also features drought resistant plants such as rosemary and bamboo.

In the coming decades, the children who are now pounding the playground will be adults discovering new ways to live on a harsher planet—one that will increasingly only be green artificially in extreme climates like Las Vegas. Jewell hopes the kids exploring the shoots and leaves of the Children's Garden today won't take these early experiences with nature for granted.

"I hope the variety inspires children to think about plants and what it is they actually need," she says. "All plants need water."

— With assistance by Keira Wright, Zahra Hirji, Brian K. Sullivan, and David Stringer

') } /*-->*/