LISTEN: Sneakerheads Are Flipping Yeezys, Jordans, and Other Shoes
✕
Last July 30, Joe Hebert woke up early and drove to a small warehouse he'd leased in Eugene, Ore., the track-obsessed college town where Nike Inc. was born. He was expecting an important delivery: 600 pairs of Yeezy Boost 350 Zyon sneakers. Released by Adidas 12 days earlier, they'd sold out within hours and now commanded more than $100 above retail on the secondary market. Many sneakerheads would have felt lucky to snag a single pair of one of the world's most sought-after styles. Adidas AG produces just 40,000 pairs of each Yeezy release, which are priced at $220 retail and sold through its Yeezy Supply website using a digital lottery.
When his shoes arrived, the 19-year-old, who's known to his customers as West Coast Joe, stacked the hundreds of boxes like poker chips on the sun-drenched pavement outside the warehouse. "It's easy to get a lot of this style, and they pretty much always sell," he said, in one of a series of conversations we had last year about his business.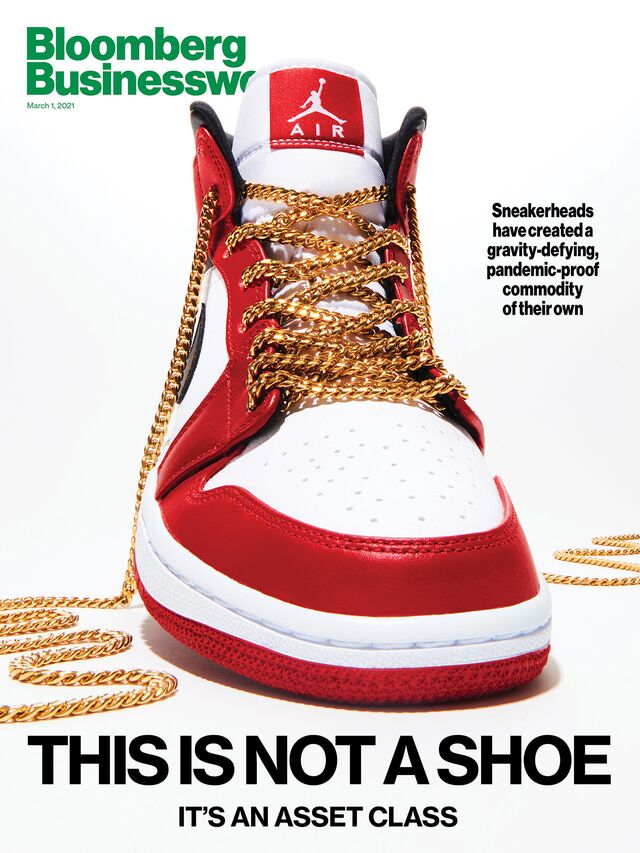 What Hebert meant by "easy" was this: The day these Yeezys were released, he'd awoken at 3 a.m., signed on to the messaging platform Discord, and rousted 15 members of his "cook group," a term sneaker resellers use to describe their allies in arbitrage. When the shoes went on sale an hour later, Hebert's team swarmed the Yeezy Supply website using specialized computer programs such as Cybersole, Kodai, and GaneshBot, each prepped with Hebert's credit card information and capable of gaming a system meant to limit purchases to one pair per customer. By 6 a.m. the shoes were sold out, and Hebert's bots had rung up $132,000 on his American Express. His company, West Coast Streetwear, resold the shoes in almost as little time as it had taken to buy them, clearing $20,000 in profit. "Anything that's releasing that I know I can make a guaranteed buck on, I'm gonna go full into," Hebert said. "That's just my style."
Flipping sneakers has been a viable business proposition for decades. The demand side emerged as far back as 1985, when Nike dropped the Air Jordan 1, a culture-shifting sneaker that sold faster than the company could manufacture it. The supply side followed soon after, when some retailers began selling the few pairs they could get for more than Nike's $64.95 suggested retail price. A year later, the company doubled down, limiting the initial release of the Air Jordan 2 to just 30 stores in 19 cities and adding $40 to the price. The Air Jordan 3, which marked the debut of Tinker Hatfield's iconic "Jumpman" logo, was so popular that Nike has reissued it countless times without ever really satisfying demand. The advent of EBay in the mid-1990s brought nonretail sellers into the game, and the market only grew from there. EBay's annual sneaker trade reached $388 million in 2014, and analysts pegged the broader resale market at $1 billion. Last July, Cowen Inc. estimated the latter figure had grown to $2 billion in North America alone.
The sneaker boom has created opportunities for a new generation of speculator. Hebert and other young resellers are the first to treat footwear as a bona fide asset class, products as worthy of informed valuation and investment as any other commodity. The sneaker market, for them, is a lot like playing the market. In the hours after siphoning up stock from retailers, they essentially sell short-term futures based on street sentiment. By the time prices plateau, ultra-rare shoes such as the Air Jordan 1 OG Dior—a collaboration between Nike and the Parisian fashion house that was limited to 8,500 pairs—have become "grails" worth $10,000 or more, while more attainable stock has been bundled into tranches and sold on to other resellers at a bulk discount. Like their new fellow travelers, the day traders of Reddit, sneaker resellers have used community and technology to exploit a system that wasn't quite ready for them. But unlike the GameStop crowd, they aren't really making a point along the way; they're just making a profit.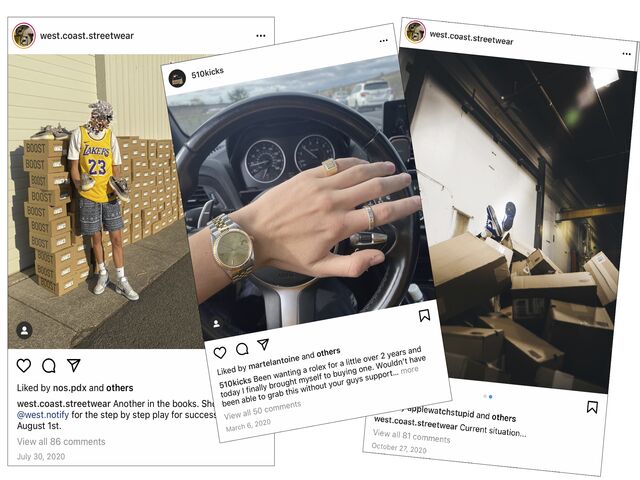 For these traders, the pandemic offered yet another opportunity. Cowen's report pointed out that some of the fastest growth in the secondary market came in the months after the Covid-19 crisis began, driven in part by steep discounts from shoe companies that faced double-digit sales declines. "Foot Locker was panicking, and a lot of smaller boutiques were panicking, doing like 50%-off sales," Hebert said. "Just trying to dump all that stuff."
Shoppers were avoiding stores and flocking instead to e-commerce platforms such as StockX, where young entrepreneurs like him were offering "deadstock." The term, once used by retailers to describe unsold, discontinued items gathering dust on store shelves, has been adopted by resellers, who emphasize that the styles are no longer made and the items are still in their original packaging. Jesse Einhorn, senior economist at StockX, says that May and June were the platform's two biggest months since its February 2016 launch. It likely got a bump, too, he notes, from ESPN and Netflix's airing, starting in mid-April, of The Last Dance, a 10-part chronicle of Michael Jordan's final season with the Chicago Bulls, which drew many older buyers into the market for the first time.
That was also a breakout time for West Coast Streetwear. "I remember the night the stimulus checks hit. My sales tripled," Hebert said. "In May we did $600,000." This would have vaulted him into the upper echelons of sneaker resellers at StockX, according to a company spokesperson, who says those are the numbers of "a top-tier power seller." An opportunity was clearly presenting itself. The teenager had a problem, though: Supply chain issues were starting to translate into fewer shipments to wholesalers. The shoes he needed were still out there in stores, their prices slashed, but if he wanted to buy the dip, he'd have to get creative.
Hebert's reselling career started in high school, when he noticed that some Supreme T-shirts he owned were going online for two or three times what he'd paid. The margin traced at least partly to the 2016 launch of StockX, where limited-edition releases from Supreme, Off-White, Palace, and other streetwear brands were finding new life. The resale site was giving Hebert's generation its own EBay—a "stock market of things" where transactions were public and items could be valued accordingly. "If you throw out everything else, StockX is a price guide," says co-founder Josh Luber. "It's a price guide that moves in real time, looking at supply and demand to understand the value of any particular shoe."
When Hebert began selling shoes there in 2017, StockX had gone from processing hundreds of transactions per day to tens of thousands. Demand was surging for deadstock sneakers, in part due to the rising popularity of the streetwear brands, which supplemented a booming trade in T-shirts and hoodies with limited-edition shoe collaborations with traditional footwear makers. But it was also thanks to an industry-shifting move by Nike. The shoe giant's "Consumer Direct Offense," announced that year, was focused on driving sales away from brick-and-mortar partners such as Foot Locker Inc. and toward its own stores, mobile apps, and websites. By the end of the fiscal year ended May 31, 2019, it was clear the move was paying off: Digital sales were up more than a third, and direct-to-consumer sales had climbed to $11.8 billion, almost double what they'd been four years before. (This shift has lately helped insulate Nike from the effects of pandemic-related store closures, according to spokesperson Sandra Carreon-John. "The pandemic has been sort of a stress test that proves our strategy is working," she says.)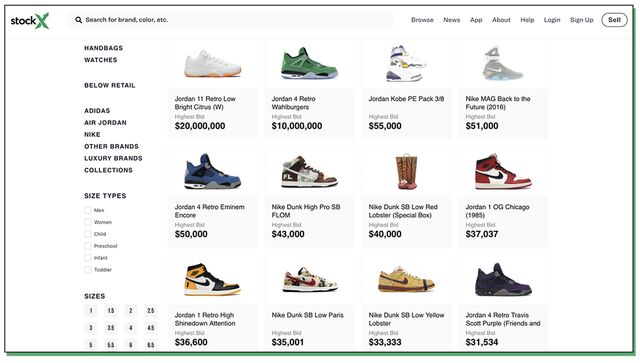 The move toward online sales was a boon for resellers like Hebert, who could use bots to target the most sought-after sneakers and acquire them in far greater quantities than customers could in the days of lining up outside stores. He and his peers operated instead in digital spaces such as Nike's SNKRS app, which the company made the first place—and sometimes the only place—people could get certain limited-edition shoes. The app effectively gamified Nike's engineered-scarcity model, making the experience of buying shoes like spinning a digital roulette wheel. It also turned its most avid customers into digital advertisers for the brand: After a big drop, winners and losers of the app lottery for the latest Jordan or Nike SB Dunk reissue would celebrate or complain on social media, fueling the hype cycle.
The potential to get rich quickly, in an informal setting with little oversight, drew a new breed of extremely online Gen Z trader. Most were White men, according to Adena Jones, chief executive officer and one of two Black co-­founders of Another Lane, which launched its own digital marketplace for kicks last April. Jones and her husband, Chad, raised $160,000 to start their business by selling off shoes from their own collection. "Part of the reason," she says, "was to have a voice in this culture that we started." She'd seen sneaker reselling become highly ­transactional—"like buying wheat or oil," in contrast with the approach of her husband, "who has been to the weddings of people he's sold sneakers to."
Chad marvels at how quickly things changed: "For 30 years I was boots on the ground, camping out in front of shoe stores. Then all of the ­sudden this middleman emerged."
The ultimate middleman was StockX, which came about in part as a stabilizing force. In 2014, when Luber was still an IBM consultant with a sneaker blog, he told the Financial Times that the secondary market for sneakers was "more similar to the illegal drug trade" than a stock exchange. Two years later he launched StockX with an eye to changing that. He's succeeded well enough that Einhorn, the senior economist, created a hypothetical index fund of 500 sneakers that he found outperformed the S&P 500 by a few percentage points. "The index of the top 500 increased about 30% since 2018, and about 75% of the sneakers in that portfolio gained resale value," he says.
As with most assets, some vetting is required. Sellers ship items to a StockX processing center, where they're authenticated before being shipped on to the buyer. Items are returned to the seller if they're damaged or used or have missing or substandard packaging. A rigorous inspection helps weed out counterfeits. Other potential provenance issues aren't accounted for—StockX doesn't track how sneakers end up on its platform, for example.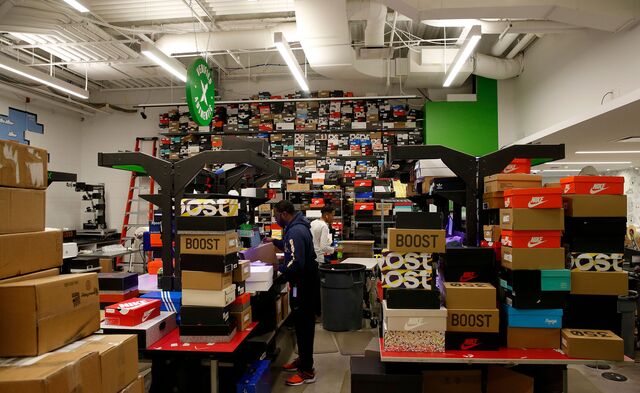 Hebert's biggest score as a young shoe speculator came in January 2020. He'd just dropped out of the University of Oregon midway through his second term and moved back to Portland. There, he said, he tracked down a man he'd heard about who'd stumbled across an exceptional find in an abandoned storage unit: four pairs of Nike Mags, the futuristic self-lacing shoes worn by Michael J. Fox in 1989's Back to the Future Part II. Hebert described finding the man and paying $22,000 for the collection, then flipping it for $42,000.
The proceeds went toward a play for a bigger and potentially more lucrative slice of the market: bricks. These shoes, whose nickname evokes both a badly missed shot in basketball and the way they cling, as if weighed down, to store shelves, tend to be less loved than Mags, but they're much easier to get hold of. In today's $60 billion global sneaker market, some releases inevitably fail to sell as projected. Whether the cause is overmanufacturing, underpromotion, or a failure to anticipate trends, the result tends to be the same: a markdown. When that happens, resellers have their bots snap them up in bulk, often before ordinary consumers notice they're on sale. In many cases, they'll use discount codes bought via social media, earning an additional 10% to 40% off orders worth tens or even hundreds of thousands of dollars. On the secondary market, the shoes can reliably earn from 10% to 30% more than the sale price—leading some bricks, paradoxically, to end up reselling for their full retail price or more.
"I'll give you an example," Hebert told me. "The Nike VaporMax is considered a brick shoe, because it's not a hyped Jordan that resells for 50 or a hundred bucks over retail. It usually gets discounted." But someone, somewhere always seems to want a pair, he said. And since resellers don't need to worry about clearing out seasonal stock or meeting quarterly sales targets, they can sell the shoe whenever it's profitable to do so.
Before the pandemic-era sneaker surge, Hebert was selling enough bricks to clear $200,000 in revenue most months. They're a volume business, though, so he'd had to start renting the warehouse in Eugene, which is big enough to accommodate two fire engines. The space became both a hangout spot and the setting for an endless well of Instagram posts designed to make sneakerheads drool.
Eventually, Hebert realized that his growing Instagram following included hundreds of entrepreneurial teens hoping to emulate his success, which led him to a new revenue stream. For $250 per month, they could subscribe to a Discord group, West Bricks, where he shared information on upcoming online releases, such as what sneakers would be discounted, when and where the sale would begin, and how many the retailer would have. As of late 2020, Hebert counted about 450 subscribers. One of the first to sign up was a 17-year-old Californian, who told me West Bricks had made him more than six figures. He described his primary market as middlemen who would resell the shoes in China—where customers offered top dollar to avoid buying counterfeits—and who would sometimes pay him in rubber-banded stacks of cash that he'd later flaunt on Instagram.
Hebert's competitors have access to the same bot software and StockX-borne real-time market research as he does. What they don't have, according to some of his subscribers, is consistent, sound analysis of what shoes to buy, how to get them, and, crucially, how long resellers might expect demand to persist. Hebert declined to talk about his sources of information, but he did say he was lucky to have grown up in Portland, where both Nike and Adidas base their U.S. operations. "If you know the right people here, this is the city to sell shoes," he said. The right people "can give you access to stuff that, like, a normal person would not have access to."
When the Covid boom got under way last year, Hebert found himself confronting the unexpected problem of having more customers than ever but no way of getting his hands on more kicks. For inspiration, he looked to Nike co-founder Phil Knight, who got his start selling another company's shoes out of the trunk of his car. Like Knight, Hebert would hit the road.
The stock he needed was out there, he knew, languishing in backrooms at the retail outlets fearful American shoppers were avoiding. So he grabbed a pal, bought a 17-foot Ford E-350 box truck at auction, and embarked on a 25-day, 10,000-mile brick hunt. Hebert's traveling companion was Justin Taliaferro, a friend from high school. The trip "seemed like exactly what we needed to get out of the house during quarantine," Taliaferro said when I spoke with him months later.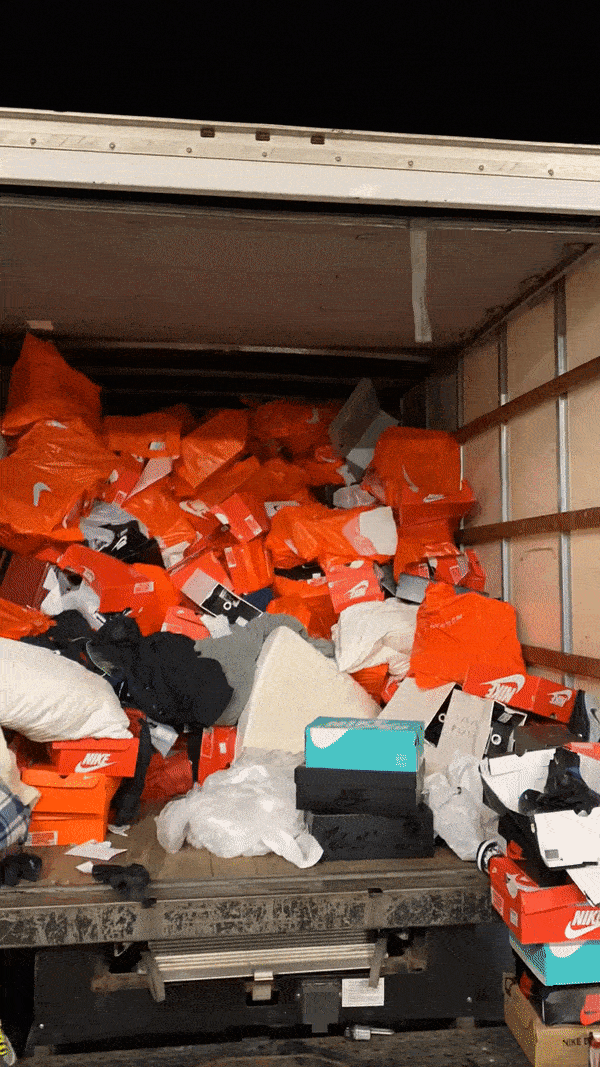 With a map of Nike outlets to guide them, the 19-year-olds headed east from Portland, traveling through Idaho, Utah, and Colorado, focusing on hot spots such as Salt Lake City and Denver, where Nike factory stores are more densely packed than in other metropolitan areas. "We know that Nikes have the most variety in styles and the best discounts on their more select shoes," Taliaferro said. Along the way, they dropped in on every Foot Locker, DTLR Villa, and Champs Sports outlet they came across, stopping occasionally at Adidas outlets as well.
Some of the best scores, according to Hebert, came from mom and pop stores, which didn't have the kinds of restrictive purchase limits that outlet stores for larger brands sometimes place on certain shoes. "There's kind of a stigma against resellers," he said. "They even went at us harder now, because these Nike outlets weren't getting any new inventory." The mom and pops were more than happy to make dozens of sales at a time.
For the first two weeks, the pair saved money by stopping overnight at truck stops and Walmart parking lots, crashing in their vehicle's cargo box on two thin sleeping pads and some pillows and blankets. When they reached Louisiana, the bugs and the heat forced them to seek out cheap motel rooms. By the time they escaped the U.S. humidity belt, they barely had enough room in the truck for shoes, let alone sleeping pads. Back home in Portland, they lifted the steel door and a wall of orange Nike boxes spilled onto the pavement. Hebert had spent more than $200,000 on about 2,000 pairs of shoes, which he hoped would return a profit of around $50,000. "I'm not dealing with 100%, double-my-money margins usually," he told me. "It's just a pretty calm 10 to 20 and then moving product as fast as I can."
After the trip, as supply chains grew less strained, Hebert started diversifying his approach, wholesaling some of his summer brick stock, along with some Jordans and Yeezys, to smaller retailers. He said he thought the West Coast Streetwear brand might be getting big enough to launch its own direct-to-consumer offensive, starting with its own web store. Bypassing StockX would mean fewer fees and fewer returns. "If I ship them a shoe and the box has a damaged corner or something, they'll go ahead and charge me 15% of the sale, and then they'll charge me $14 to ship it back, which is like a double whammy," Hebert said. "When I'm not working on a high margin it really hurts me, but they don't do it for every sale, which is kinda weird. I still don't know the formula, and I've been asking for it for a while." (A spokesperson for StockX says that if the company receives a damaged or defective product, it charges only the shipping fee. "In certain cases—typically when a product is determined to be inauthentic," she adds, "we do then charge the seller a minimum of $15 or up to 15% of the transaction amount.")
He was also taking steps to go beyond selling shoes—which I'd learned, quite by accident, ran in his blood. At one point in late June, after his trip, he'd phoned me, and the number was identified as belonging to Ann Hebert. I looked the name up and discovered there was an Ann Hebert who'd worked at Nike for 25 years and had recently been made its vice president and general manager for North America. The press release announcing her promotion noted that she would be "instrumental in accelerating our Consumer Direct Offense"—the Nike initiative that had helped fuel the sneaker-resale boom. Hebert later sent me a statement for an American Express corporate card for WCS LLC, to demonstrate West Coast Streetwear's revenue, and it was in Ann's name.
When I asked Hebert about the connection later that year, he acknowledged that Ann was his mother and said that, while she'd inspired him as a businessperson, she was so high up at Nike as to be removed from what he does, and that he'd never received inside information such as discount codes from her. He insisted, though, that she not be mentioned in the article and cut off contact not long after our conversation. (Ann Hebert didn't reply to emailed questions; Carreon-John, the Nike spokesperson, says Ann disclosed relevant information about WCS LLC to Nike in 2018. "There was no violation of company policy, privileged information or conflicts of interest, nor is there any commercial affiliation between WCS LLC and Nike, including the direct buying or selling of Nike products," she writes.)
Nike's marketing and corporate culture are strong enough in Portland that most anyone there can steep in it; the children of company executives, no doubt even more so. But whatever the advantages to growing up with a silver swoosh in one's mouth, Hebert's hustle couldn't be denied. Not to mention, as he pointed out during our last phone call, that he'd started out selling Supreme T-shirts. He also moved plenty of Adidas stock.
In the fall, he'd struck out for even less familiar terrain. When Sony launched its PlayStation 5 console in November, Hebert sensed a looming shortage of stock. "We botted Walmart and Target pretty hard," he told me. "I ended up with 24 of them and made between $300 and $500 on each one."
There'd been growing pains outside the family business, though. His bots had initially gobbled up hundreds of PS5 systems, but because he was working in unfamiliar territory he'd made mistakes that resulted in most of his orders getting canceled, leaving him with just the two dozen consoles. "Wish I had prepared more," he said.