From Roast Duck to Ceviche, These July 4th Feasts Are a Delicious Break from Tradition
For 10 New Yorkers, Independence Day means freedom from the usual fare.
Ever since he moved to New York as a teenager, Roni Mazumdar has been combining influences from his native Kolkata with American supermarket products. Growing up, Independence Day was no different.
His family didn't eat beef, so hot dogs were replaced with chicken sausages and chutneys made from family recipes. Mazumdar, whose New York restaurant empire includes the Indian street food restaurant Dhamaka in Manhattan, found that the combination of cultures made the celebration even richer. "It's liberating to be new to the country, without preconceived ideas about what the holiday is," he says. "As first-generation immigrants, we decided to make a version that spoke to both of our homes. We could make it our own."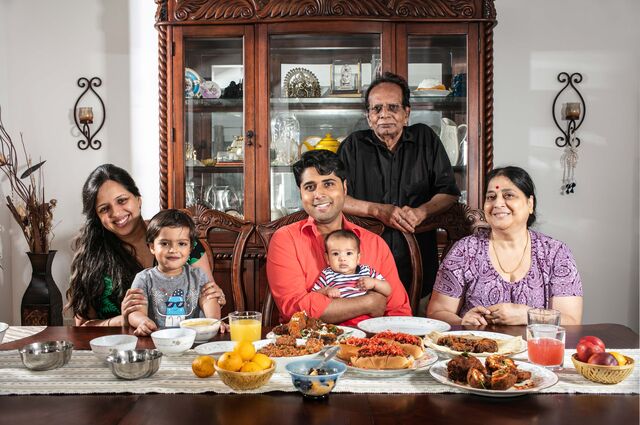 Now the reality of being an Indian in the U.S. has inspired the name of Mazumdar's restaurant group, Unapologetic Foods. "Certain attributes that Americans take for granted—like being loud, being an individual—that was not the reality in India. That is July 4th and the spectacle it brings. That's what it means to a kid from India."
In this #summerofshortage, one thing is for certain: It's going to be an incredible Fourth of July. The sense of revolutionary momentum is running particularly high in New York. Its millions of residents are getting ready to light up the streets and skies for the country's annual birthday party. It's also one of the world's most diverse cities. You can hear more than 800 languages, if you're counting.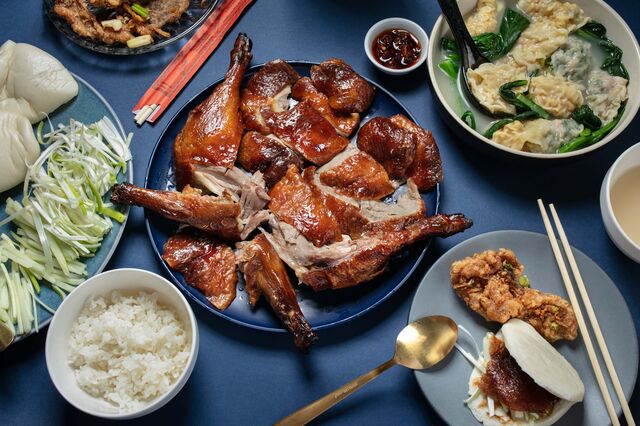 Ignacio Jiminez is a Mexico-born drinks specialist who consults for brands such as Campari and manages the bar at the sunny neighborhood hangout Sweetwater in Brooklyn. "I've never been the fanatic who waves flags and sings anthems," he says. "When I first came to the U.S., I saw 4th of July as just another big celebration that didn't hold much meaning."
Over the past 20 years, however, his view has changed. "I like to think that as a nation we now celebrate our rich cultural diversity. It's here, in a country foreign to mine, where I have the opportunity to create a family out of friends and celebrate a place that gives me a true sense of belonging."
Moonlynn Tsai, former co-owner of beloved Chinatown restaurant Kopitiam, has introduced thousands of New Yorkers to Malaysia's national dish, nasi lemak (coconut rice with fried anchovies), also has a special connection to the holiday. When she was growing up in San Diego, she would use the Fourth of July as a chance to blend in with American classmates. "I heard that they celebrated with hot dogs and burgers, so I would make them," says Tsai. "July 4th ended up being a hodgepodge of foods my parents knew how to make—and what I wanted to eat to be able to fit in."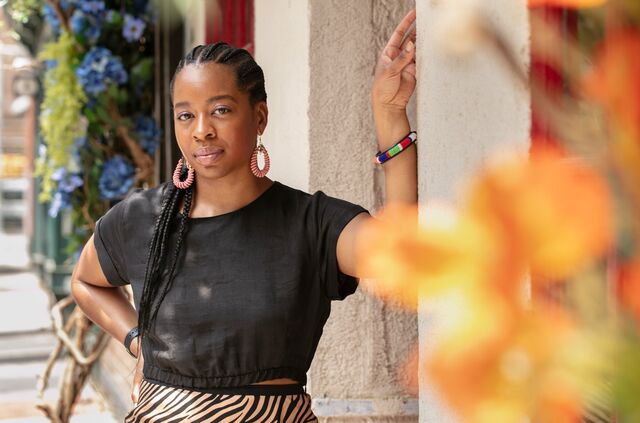 This year, she and partner Yin Chang are using the holiday as an opportunity for homebound elderly Asians in New York to feel connected to their homelands. Tsai and Chang's nonprofit Heart of Dinner project has provided more than 75,000 meals and groceries—plus notes written in Chinese and Korean—for the community over the past year. For this Independence Day, the couple will pack char siu, or barbecued meat, for their elders, a meal that will be familiar as well as celebratory.
Below, we checked with 10 New Yorkers in the food and drink world and asked them to detail how they will commemorate July 4th through one of the most powerful ways to tell a story—by cooking.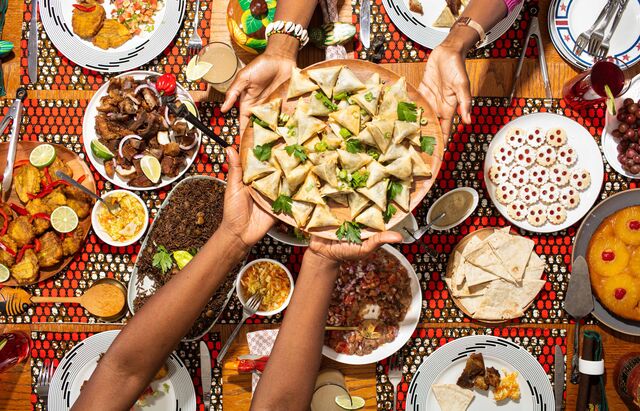 Gladys Shahtou, founder Sambuxa NYC, Queens
Menu: Beef sambuxos; Haitian griot (fried pork), riz ak djon djon (black rice), and pineapple upside-down cake
Before she started Sambuxa NYC, which operates at the Queens Night Market, Sudan-born Shahtou worked in politics at the Swiss mission to the United Nations. In the fall, she will start catering dinners, specializing in Sudanese food. "I moved to Queens when I was about 5," she says, "then to Switzerland. But I almost always did 4th of July here with my grandmother's family, who is Haitian, so it was always a big mix. My grandmother would make the griot, pineapple upside-down cake, and black rice, which is really special."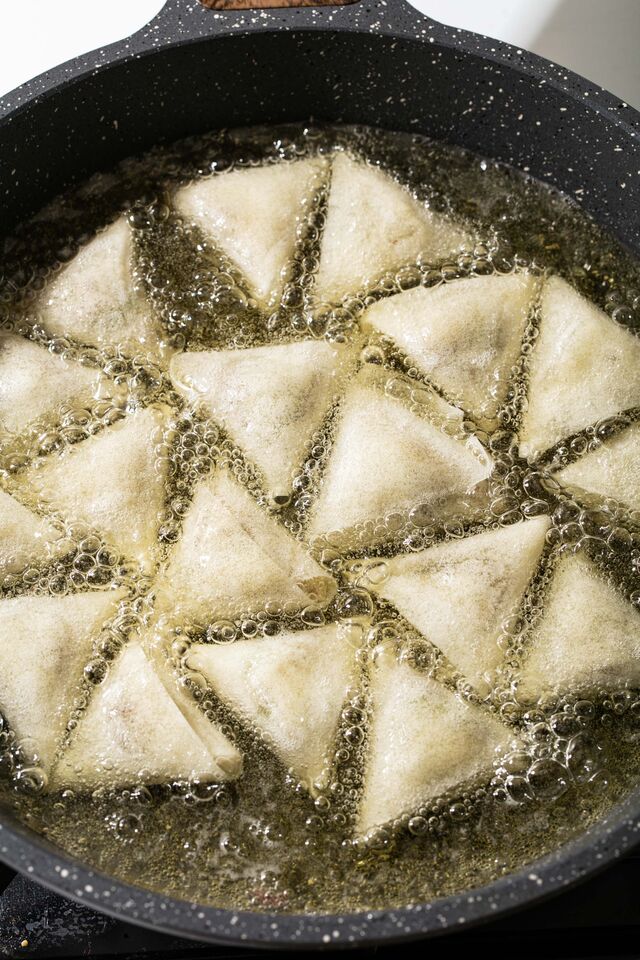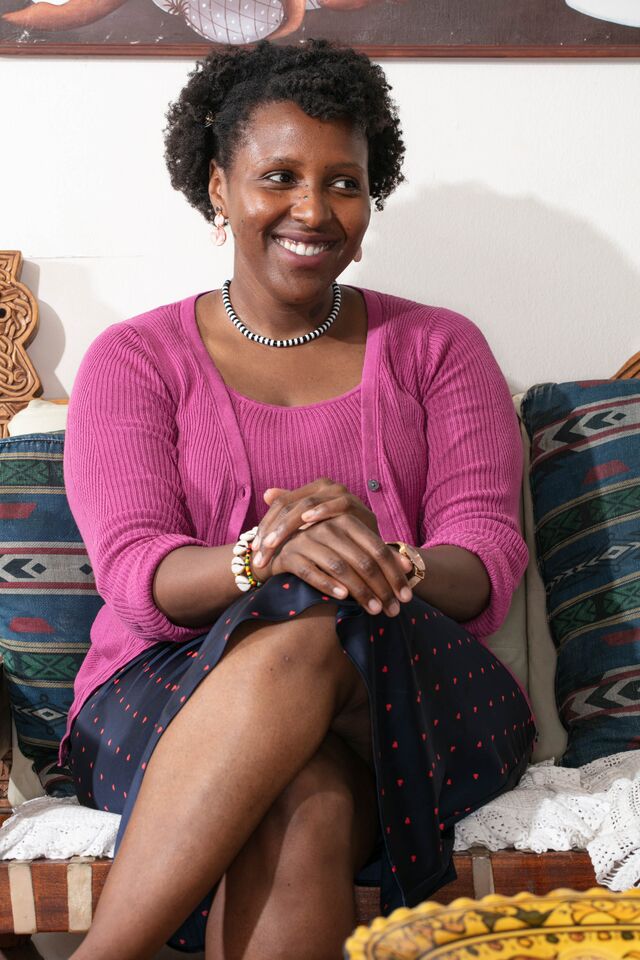 Pigs are an important symbol in Haitian independence. "If we went to my uncle's place in Westchester, we would have a whole hog. My Mom made the sambuxas, which is like a samosa, a stuffed pastry. If you've ever been to a Haitian party, it's all-night-long, aunts and uncles are dancing, playing music like Zouk, and the kids have all fallen asleep on the couch. We had family members coming from Chicago, from Florida, from Quebec. We had 80 people once."
She calls it one of her family's biggest holidays, after Thanksgiving. "But this is a hot summer celebration, more of a party. Kids are out of school, the whole nation is off. We have taken the holiday and made it our own."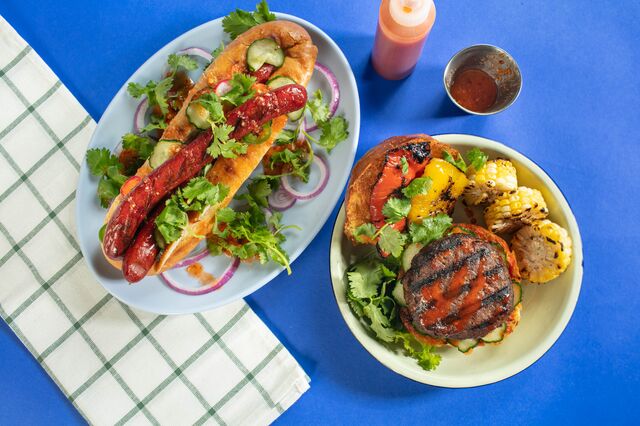 Simpson Wong, chef and owner of the former Cafe Asean, Manhattan
Menu: Curried hamburgers and hot dogs with Hainanese chicken rice chili sauce
The acclaimed chef has helmed such notable restaurants as Chomp Chomp and Wong, where he specialized in foods that evoked his native Malaysia and Singaporean hawker stalls. His upcoming project is Thunder Greens, a plant-based fast-casual Asian spot. "In 1991, my parents came to visit me in New York," Wong says. "I was working as a waiter in a Japanese restaurant. It was July 4th weekend, and my mom asked me a ton of questions about how Americans celebrate, especially what they eat. Of course, I said barbecue with burgers and hot dogs and lots of beer. She was intrigued. She had never eaten a burger or a hot dog, having come from a tiny village in the rainforests of Malaysia."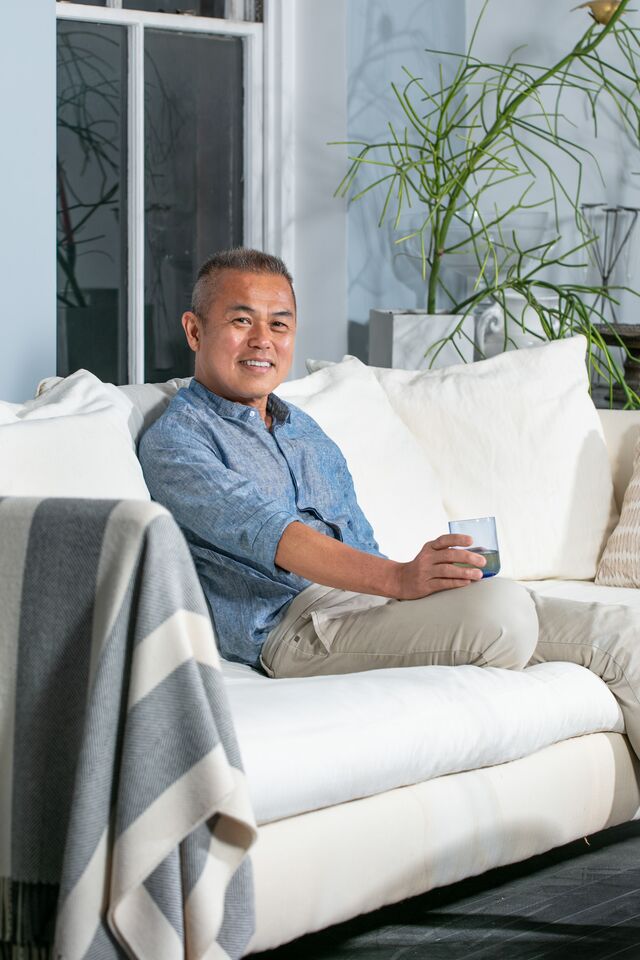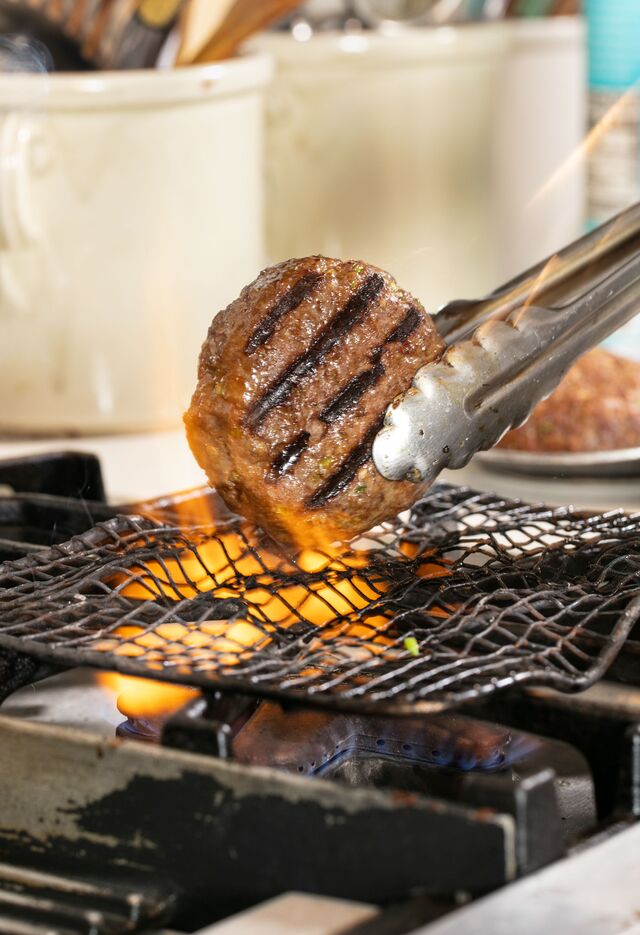 After watching the fireworks in Brooklyn, Wong stopped at a diner and grabbed a burger and a hot dog for them to try. "My Mom commented that the flavor could be improved if curry powder was added to the patty and Hainanese chicken rice chilli sauce was used instead of ketchup for the hot dog. I said it wouldn't be very American, but she said it would be perfect because, like a Malaysian flourishing in New York, it would be a true East meets West celebration. For the first time, my Dad put his hand on my shoulder and nodded in approval."
Since then, for the past 30 years, every July 4th barbecue has included marinated burger patties with curry powder. "And make sure I have chicken rice chili sauce for the hot dogs. I like to bring that kampung style—the Malay word for village—and memories of my parents to the table."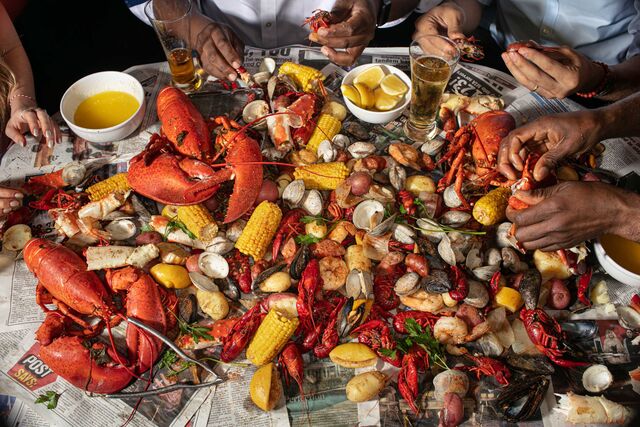 Preston Clark, chef, Lure Fishbar, Manhattan
Menu: Seafood boil
A veteran of notable kitchens, including Charlie Trotter's in Chicago, Clark grew up in the restaurant business. His father was the James Beard award-winning chef Patrick Clark, who worked at the Odeon and Tavern on the Green in New York.
He sees the holiday as a way to appreciate how the country has evolved through a culinary lens. "America was in the background with food," he says. "Then in the '90s we started coming into our own. All the heritage behind it is something we celebrate more every July 4th. Stories like the ones from High on the Hog, that are being put right in front of people. It's something to be celebrated."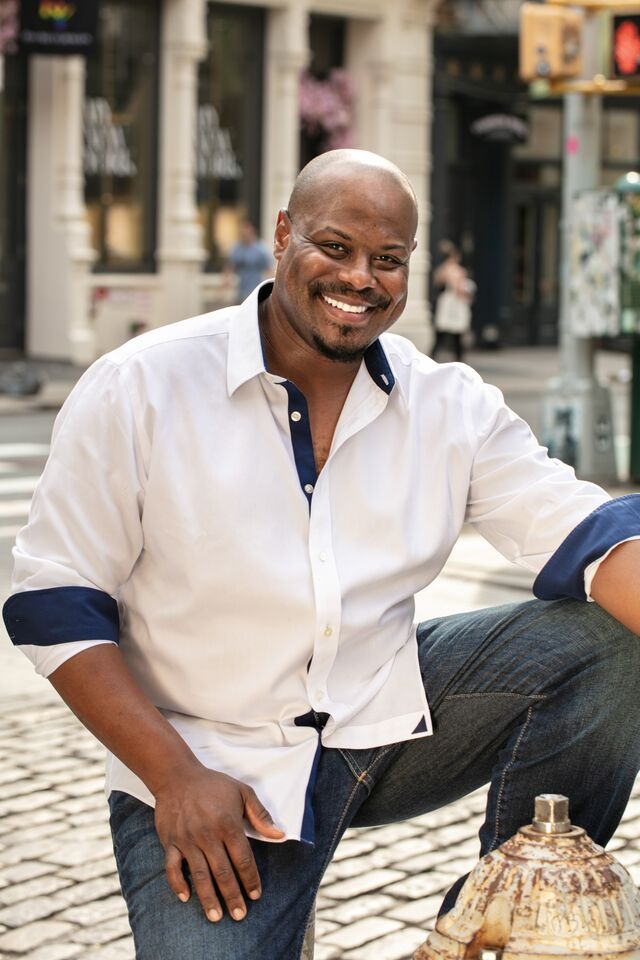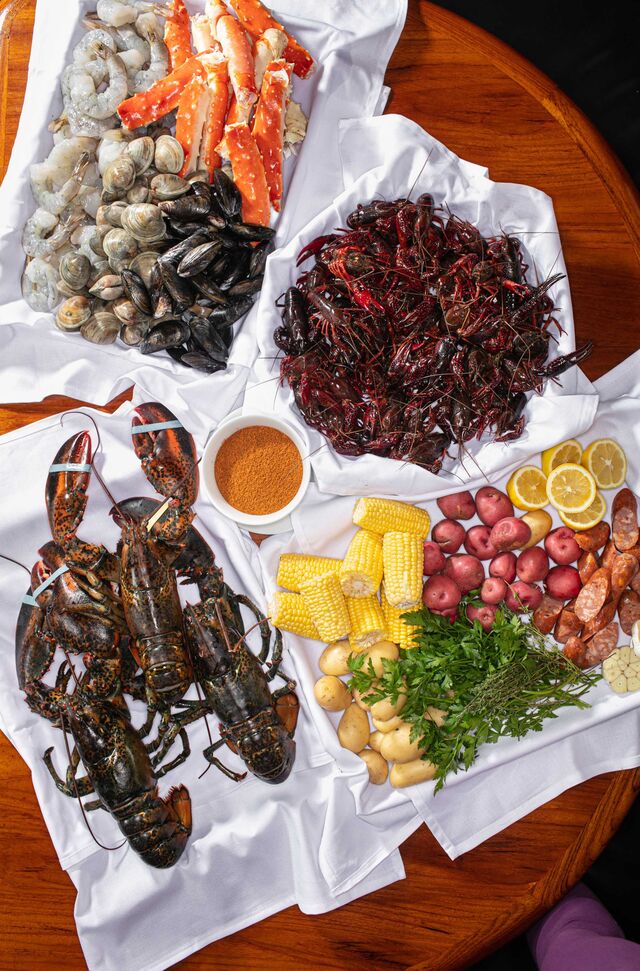 "We are a big-time 4th of July family and change up the menu almost every year," Clark says. "There's almost always something on the grill. When I was in middle school, my father had the biggest Weber grill ever made. My Mom, who also went to culinary school, would do the prep, then my Dad would come home from the restaurant and finish cooking."
This year, he's doing a seafood boil. "It will have Maine lobsters, littleneck clams, mussels from Prince Edward Island, Alaskan king crab legs, shrimp, and corn on the cob. It's one-pot boil style: Season the water, put everything in, starting with the lobster; the shrimp and crab are last. That was a big thing in my family when we lived in the D.C. area, using Maryland blue crabs—my mother could eat, like, 25 of them. It will be at my sister's house. Our 4th of July has always been mainly about the food. We'd go watch the fireworks wherever they were, but it was really about the food and the gathering and the family. Especially this year, when we haven't been able to do it for so long."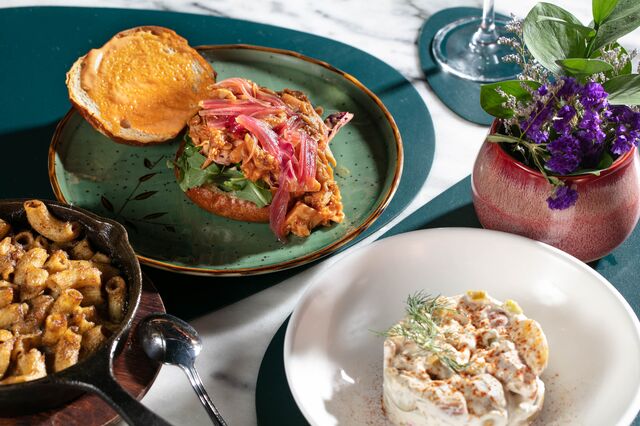 Shenarri Freeman, chef, Cadence, Manhattan
Menu: Potato salad, jerk mac and cheese, and barbecued jackfruit
Freeman is the chef at the intimate, Southern-focused, vegan restaurant Cadence in Manhattan's East Village. "Growing up in Richmond, Va., our 4th of July celebrations consisted of family cookouts, boat rides, watching the fireworks, and jamming to family favorites like Luther Vandross and Michael Jackson."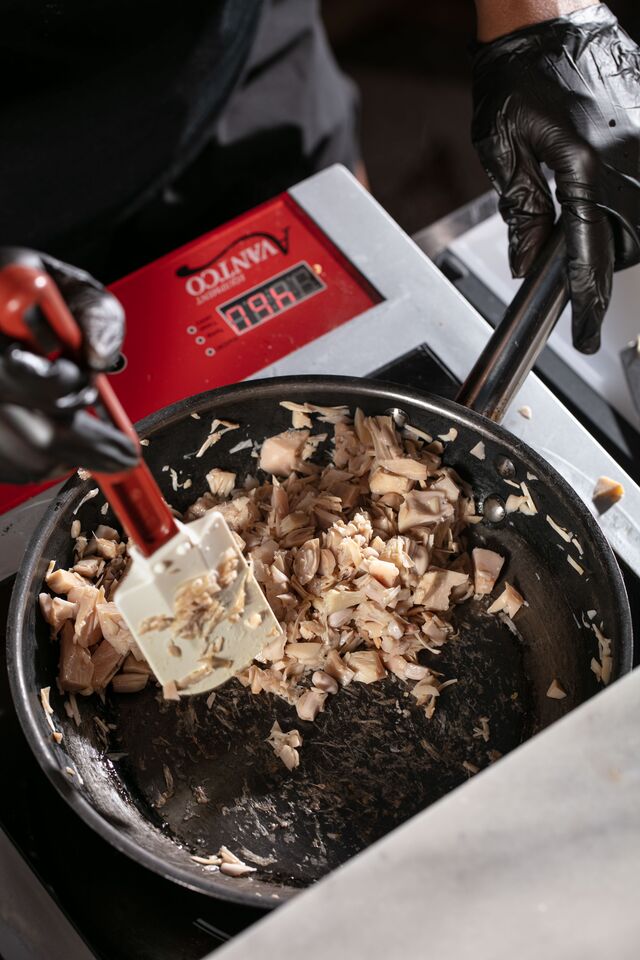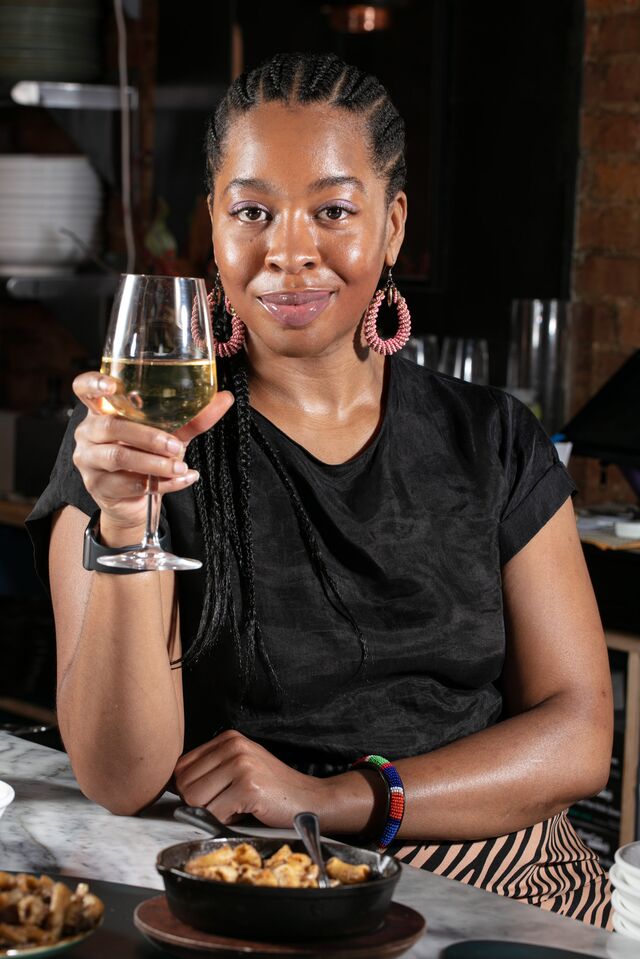 These days, though, she chooses to celebrate a different day of independence: Juneteenth. "I've educated myself on the history of both holidays," she says. "Juneteenth is the oldest nationally celebrated commemoration of the ending of slavery in the United States. I start by taking time out to give thanks to my ancestors. After, I usually join friends and family with traditional Southern foods, similar to the foods we eat for New Year's, like black eyed peas, mac and cheese. Potato salad is a major Juneteenth dish for me because I'm vegan. I serve it at Cadence, where it's highlighted with Dijon mustard and pickles. We also do a lot of vegetable grilling, and I barbecue jackfruit—it's got a good meaty texture."
This year, July 4 comes on Sunday, so Cadence will be open. "Potato salad is a bestseller," Freeman says.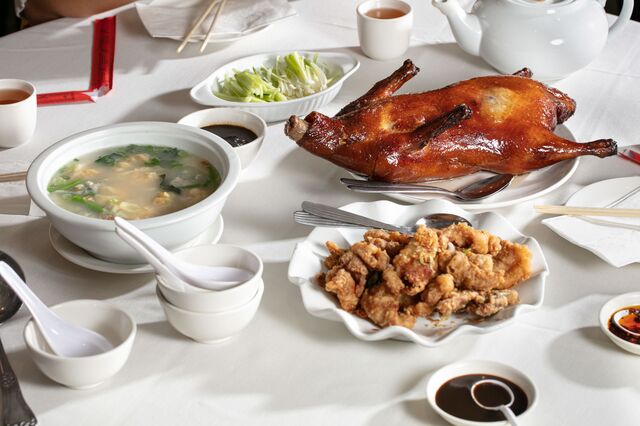 Moonlynn Tsai, investor and former co-owner of Kopitiam, Manhattan, and co-founder, Heart of Dinner. Yin Chang, actor and founder of 88 Cups of Tea, co-founder, Heart of Dinner
Menu: Whole roast duck
Before deciding to focus her time on Heart of Dinner, Tsai introduced New Yorkers to Malaysian cooking—specifically the national dish of nasi lemak, or coconut rice with fried anchovies—at Kopitiam restaurant in Chinatown. Her partner Chang started the podcast 88 Cups of Tea.
Tsai says July 4 was not familiar to her parents, but they wanted their children to feel included. "My parents owned Chinese-American restaurants and would bring trays of beef and broccoli, chow mein, General Tso's chicken," she says. "As I got older, it became an overall celebration of getting together in potluck form, whether it was traditional American fare or dishes we really enjoyed eating."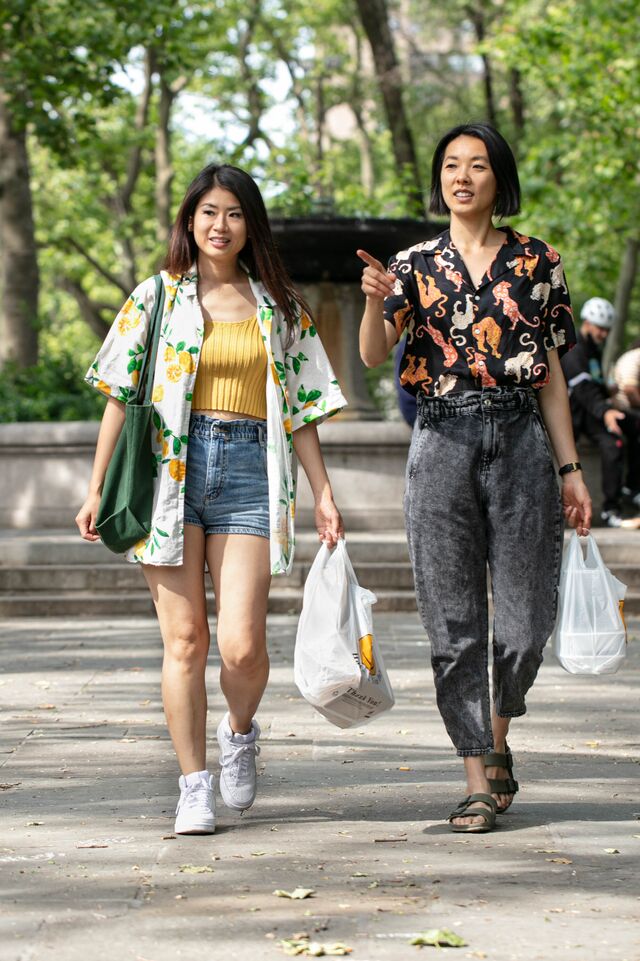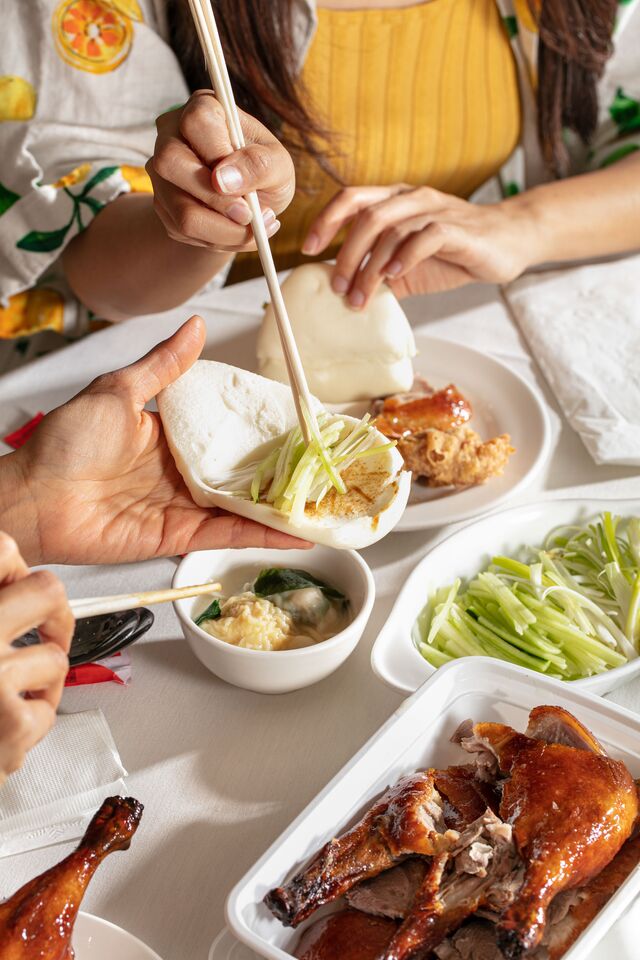 For Chang, it was more about American classics, "my favorite being a burger topped with portobello mushroom and blue cheese," he says. "One of my aunts would make my other favorite: homemade pasta. We'd also order sushi rolls, because they're basically an American classic that doesn't get enough credit, and they're the most perfect food for any holiday gathering."
This year, however, Tsai says that after they've finished delivering the Heart of Dinner char sui meals to the elders, they'll order a whole roast duck from Wu's Wonton. "It's a definite crowd favorite that pleases almost all palates but also encourages communal gathering."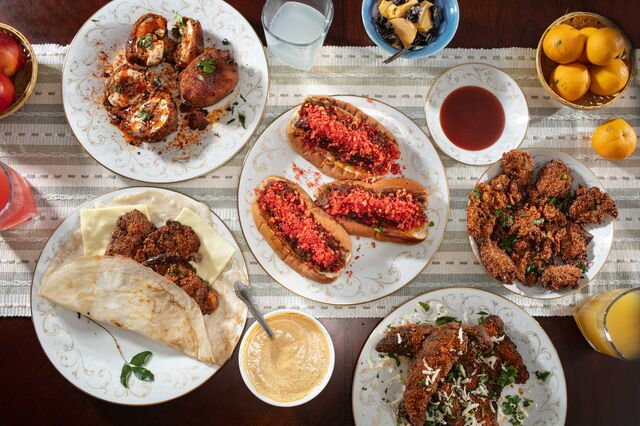 Roni Mazumdar, owner of Adda Indian Canteen, Queens, and Rahi and Dhamaka, both Manhattan
Menu: Lamb sausages with homemade chutneys, onion pakora, "Scotch eggs," gunpowder fried chicken
Mazumdar owns a growing empire of restaurants in New York that has garnered attention for authentic, unapologetically bold flavors. "The Fourth of July is a day when my two cultures truly collide," he says. "I was born in Kolkata, India, and came to the U.S. when I was around 13, and we ended up in the Bronx."
"We didn't have a grill, so frying became one of the components of the meal. We made pakora, our version of onion rings. We also made Scotch eggs, but not the version you know. You mash the hard-boiled yolk with potatoes and spices, then use it as a crust for the egg and fry it like a Scotch egg, but one without the meat. We use Maggi sauce [the soy sauce-like, umami-rich condiment] instead of ketchup.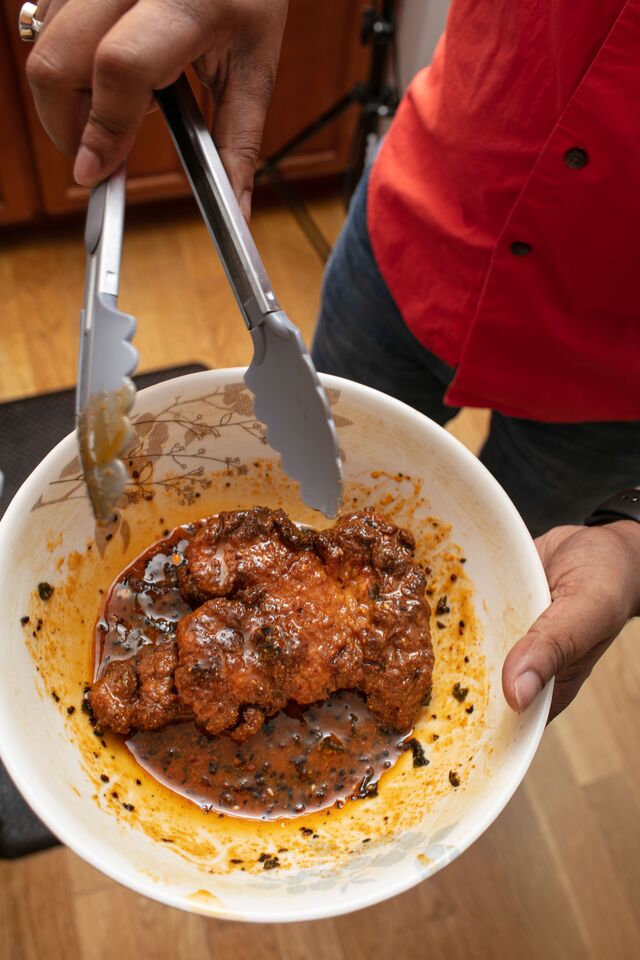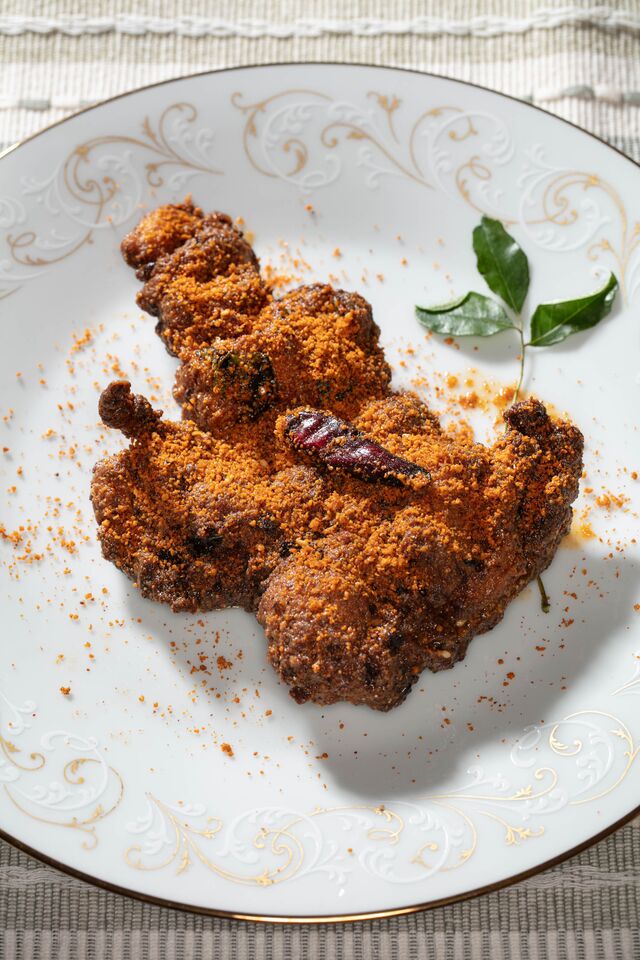 He also will have lamb and chicken sausages with buns that can be found at the supermarket. "We serve it with kasundi, a mustard concoction that's a quintessential Bengali condiment for anything fried. The dogs will be garnished with onions sautéed in garam masala, like a relish, and mint and tamarind chutney."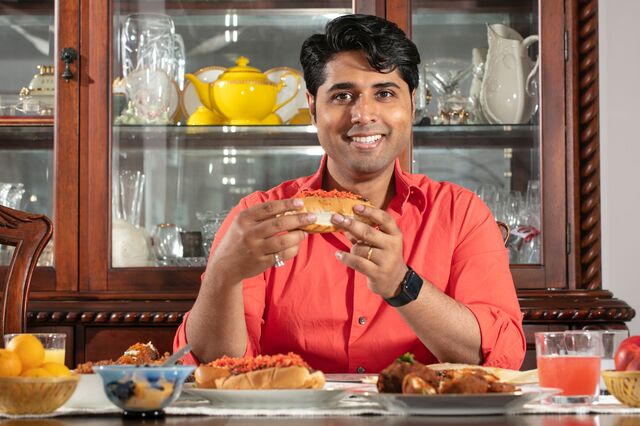 Then it's topped with crushed Cheetos. "It's evolved since then. Now we have the flaming ones," Mazumdar says. "Whenever there's a spicier version of a chip, we take it." Last, there's the gunpowder fried chicken. "Its crust is flavored with podi, or gunpowder—McCormick is trying to launch it now, it's glorious. The fried chicken has a glaze with ghee, mustard seed, curry leaves, and gunpowder, and we serve it with dosa, with gunpowder on top. Everything has an American connection, but we make it Indian, too."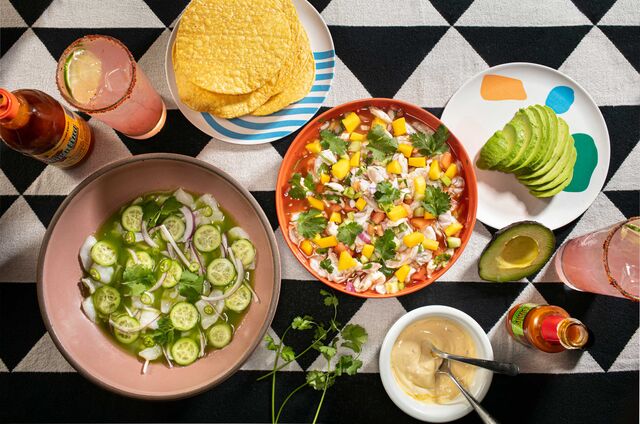 Ignacio Jimenez, hospitality-bar consultant and manager at Sweetwater, Brooklyn
Menu: Ceviches, tostadas; mezcal margaritas
Jimenez adds the flavors of his native Mexico to the cocktail program at the Williamsburg hangout Sweetwater, and he moonlights as a DJ at places like the Broken Shaker in Miami. "In New York, the bar and hospitality industry is synonymous with diversity, I've worked alongside people from Latin America, Europe, Africa, etc. So, on the 4th, it's typically just a few American friends among a bunch of immigrants like me. They rely on me to create Mexican specialties. I love this, as it's an excuse to visit some of my favorite shops in Brooklyn, like For All Things Good and Tulcingo Deli to buy ingredients like fresh corn tortillas, totopos [tortilla-like chips], and chiles."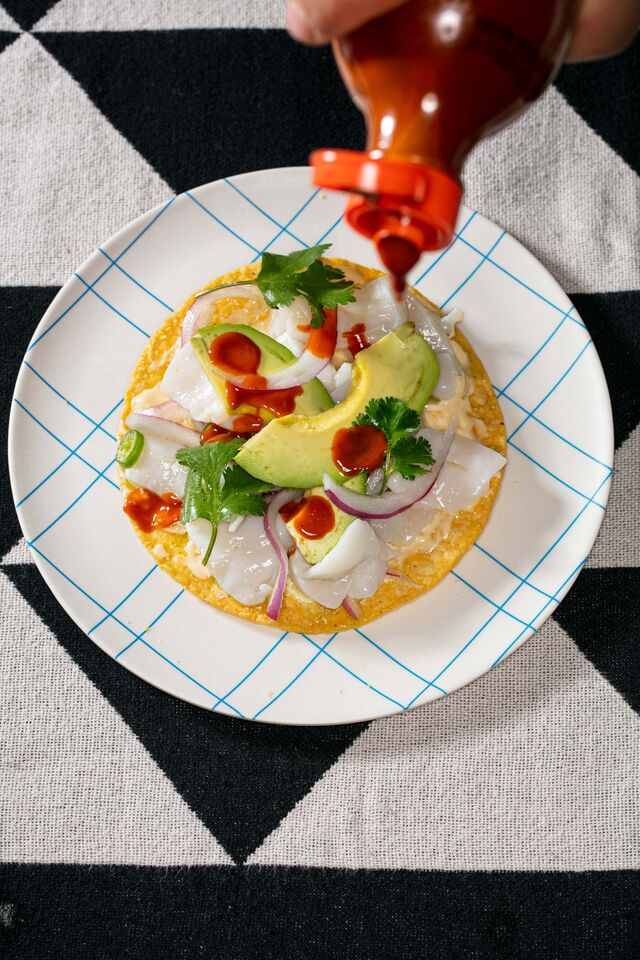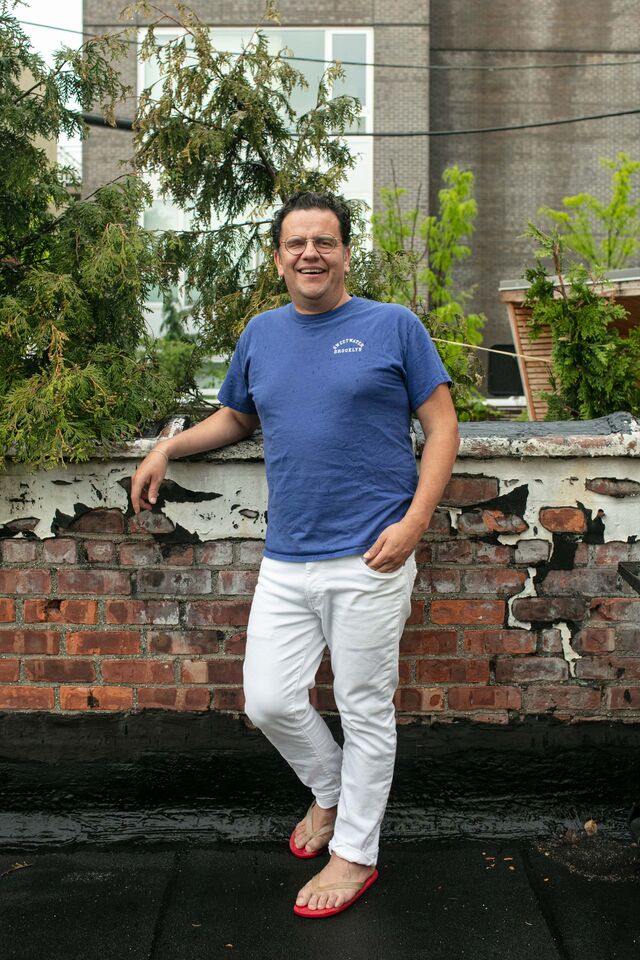 But his real love is ceviche. "I typically make aguachile with scallops cured with salt, and a sauce of cucumber, cilantro, serrano, garlic (of course), lime juice, and—if you want to go crazy—tropical fruit. I'm also a big fan of Coctel de Camarones with cured shrimp and V-8 juice, a '90s throwback. Last but not least, some Valentina hot sauce. I serve them with tostadas that have a layer of habanero mayo." (The habanero salsa is from Trader Joe's, mixed with mayo, he says. "I can't make everything!")
"Instead of burgers, we grill onions, poblanos, corn, chorizo, and my favorite, adobo pork chops marinated overnight in orange juice, achiote paste, and spices. All of these are perfect for a big taquiza, a taco party with some salsas I make, too, including my aunt's recipe with chile morita and roasted tomatillos. Since we're mostly bartenders, we'll make pitchers of mezcal margaritas and lots of cold beer. If the group is lucky, I'll break out my vinyl records and get a dance party started."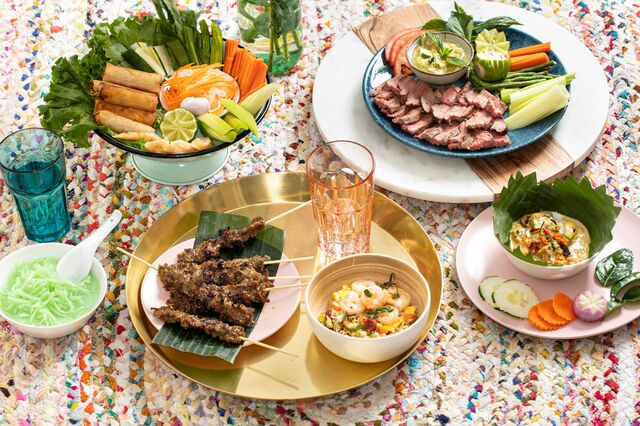 Sokhita Sok, Cambodian Now, Queens
Menu: Cambodian beef skewers with lemongrass; fried rice with sweet sausage; egg rolls
In 2019, Sok started Cambodia Now and has served dishes such as grilled beef with fish paste at Citi Field. "I moved here when I was around 15 and went to high school in the Bronx," she says. "I'm the .5 generation."
She started celebrating the 4th of July in 2009, after she arrived. "My uncle wanted to familiarize us with American culture," she remembers. "We had a barbecue but with Cambodian food and beef skewers. Of course. there were hot dogs, but the majority of the food was Cambodian—and his friends, the Cambodian community. Most of the us were servers at Cambodian restaurants during school, and those restaurants were open on the 4th. But when we got off, we would find a party going on."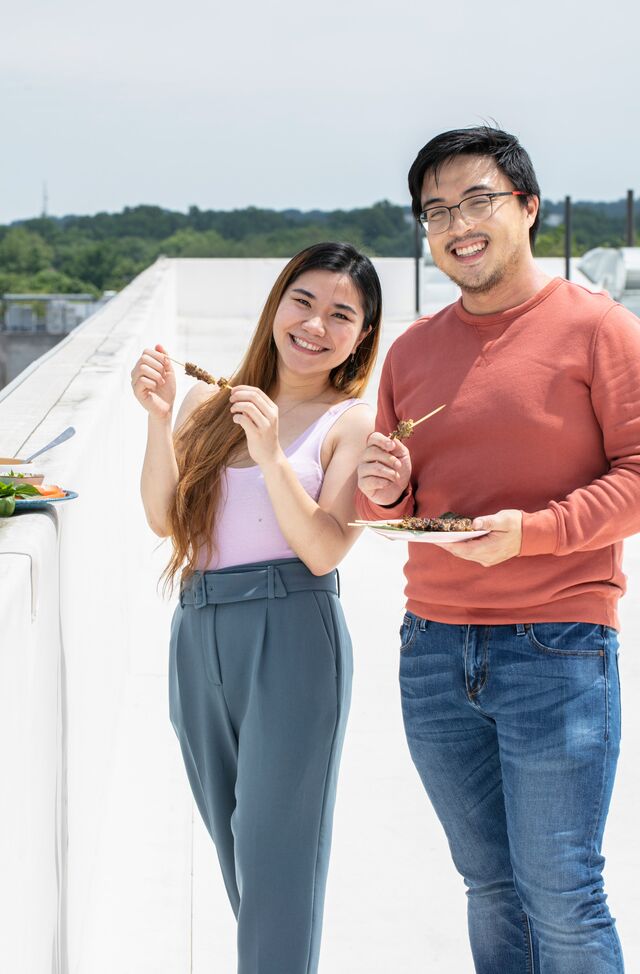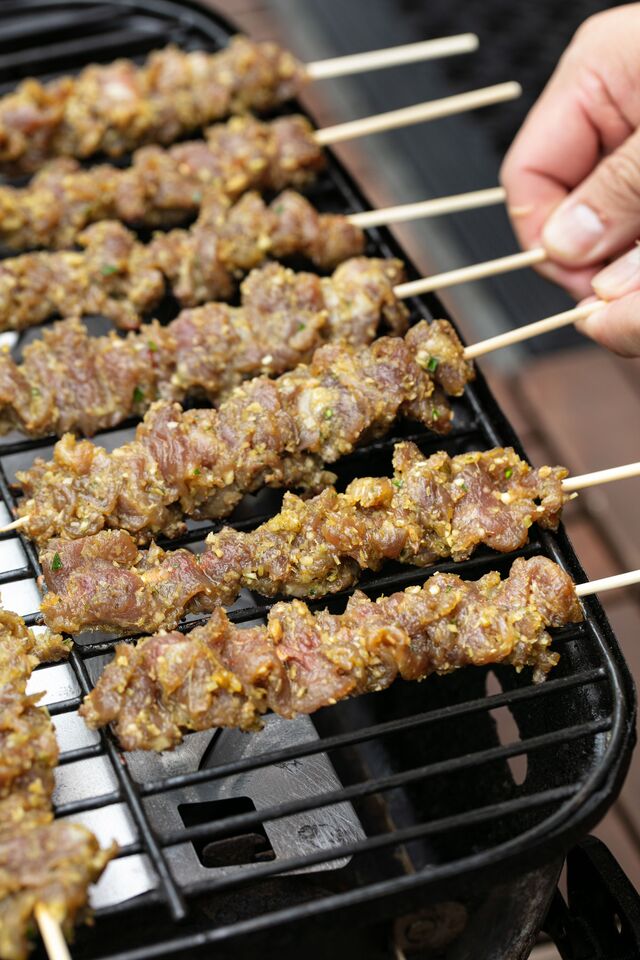 Now she makes the food that her mom made growing up. "It's not necessarily spicy," she says, "but there's a lot of lemongrass, kaffir leaves in my cooking. There's not much meat. Most Cambodian households would know how to make those dishes, but my Mom had her own touch." Her egg rolls, for instance, were filled with taro, instead of glass noodles. "It has a nice, soft texture," Sok says. "They aren't as dry. Some ingredients I have to buy, like fish paste—it has to be sun-dried and fermented—that wouldn't be friendly to the neighbors.
She also says it's one of the biggest holidays of the year. "Cambodian Independence Day is Nov. 9, but we don't celebrate it. There's no cookouts or anything," she says. "My 4th of July hasn't changed much in terms of the menu, the setting, the food. Everything is pretty much the same. But this year, the night before, Saturday the 3rd, I will be serving food at Queens Night Market, so I'll bring leftovers to the 4th. I'll bring egg rolls and beef skewers. I'll also bring fish amok, the national dish of Cambodia. It's not usually something we'd have at 4th of July, but it will be a good change. Cambodian is the only food I really eat on the 4th."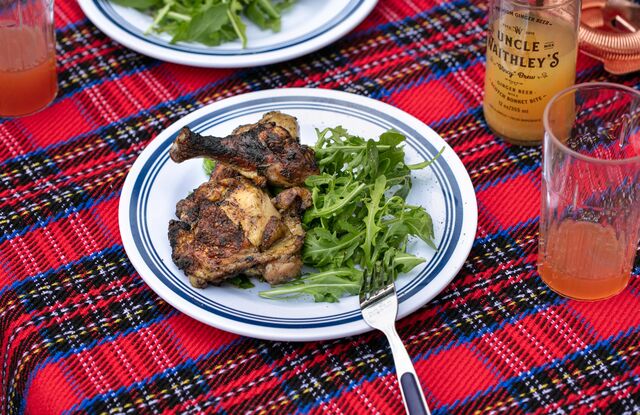 Karl Franz Williams, owner and head bar man, 67 Orange Street, Manhattan
Menu: Jerk chicken and rum punch
Williams has a history of opening spots that highlight Caribbean history and culture, including 67 Orange Street, which is located on the site of Almacs, one of the city's first Black-owned bars, in Harlem. "The 4th of July, for my friends and me, is all about being together, having fun outdoors," he says. "That usually means a barbecue on the beach or in a park somewhere. I am usually one of—if not the main—grill master. I make jerk chicken and prawns, roasted corn, roasted peppers, and grilled snapper. Even if the majority of the menu has been more American at times, there has always been some items that are Caribbean-influenced." His fiancé Valarie Wong also makes Jamaican-style rice and peas.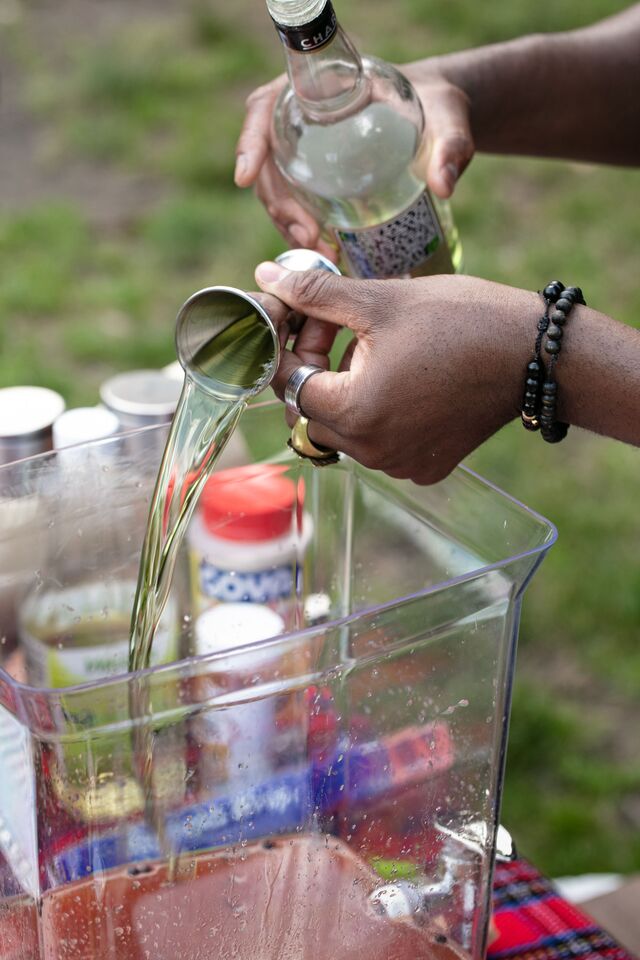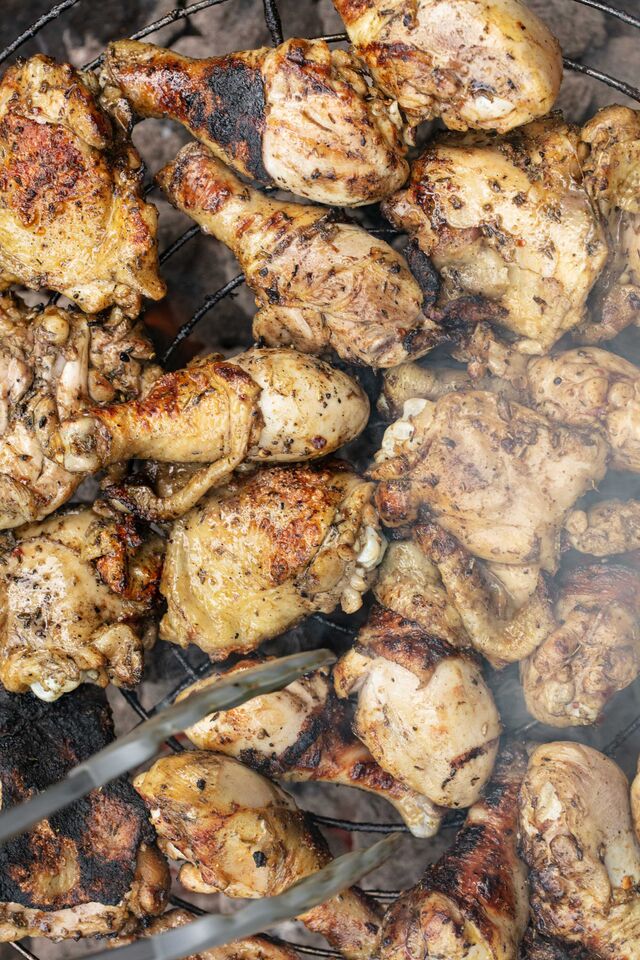 "But I also am responsible for drinks," he says. "To me, this means punch. I always make a great rum punch; that's non-negotiable. We are Caribbean folk, after all—my family is from Saint Vincent, and my lady from Jamaica."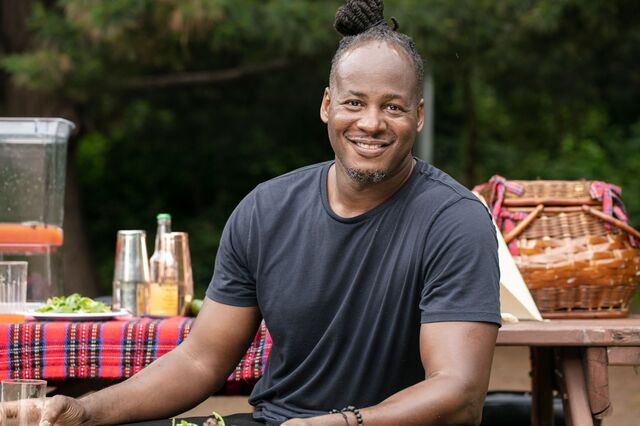 Music is a priority as well. "We always have an awesome playlist: Caribbean-heavy, but with Afrobeat, hip hop, funk, soul, house, and alternative making their way into the rotation."

(Updates with quote from Clarkin 17th paragraph; corrects 7th paragraph to reflect Tsai's new role as former co-owner of Kopitiam.)

') } /*-->*/