LISTEN: Covid Pandemic: How South Korea Contained the Coronavirus Without Lockdowns
✕
There's Still Time to Beat Covid Without Lockdowns
South Korea's successful approach of regimented masking, aggressive testing, and high-tech contact tracing is a blueprint for the U.S. and other democracies.
Park Young Joon was worried that South Korea could lose control. As director for epidemiological investigations at the Korea Disease Control and Prevention Agency, he'd been dispatched to Daegu, a city of 2.5 million in the south, to deal with an urgent situation. A rash of novel coronavirus cases had just emerged among members of the Shincheonji Church of Jesus, an obscure and secretive religious group whose services involve close physical contact. The first congregant tested positive on Feb. 17, becoming South Korea's 31st Covid-19 patient. Soon the number of new daily cases was in double digits, then triple—evidence that an exponential outbreak was in progress. "I remember seeing the triple-digit cases," Park says, speaking through a translator, "and thinking to myself that this must be what people mean when they use the word 'surge.' "
In the early days of the outbreak, public-health officials treated each case more or less individually, with contact tracers compiling detailed histories of a patient's recent whereabouts and screening others accordingly. But many of the churchgoers and family members who were testing positive had no obvious link with earlier cases. The virus was spreading along paths Park and his team at the KDCA couldn't see.
The only way to stop it, he thought, was something drastic: quarantining everyone who'd set foot in the nine-story building that housed Shincheonji's Daegu operations. The measure would be mandatory, covering about 9,000 people, regardless of where they'd been in the building or whether they'd interacted with a known carrier. Anyone who subsequently tested positive would have their contacts screened; then those people would have their own contacts screened, and so on until the chain stopped.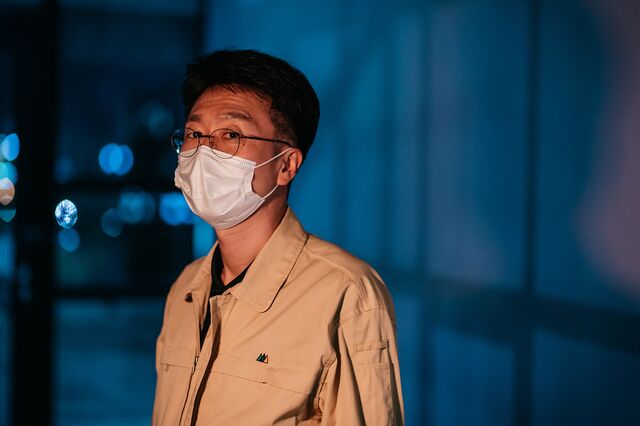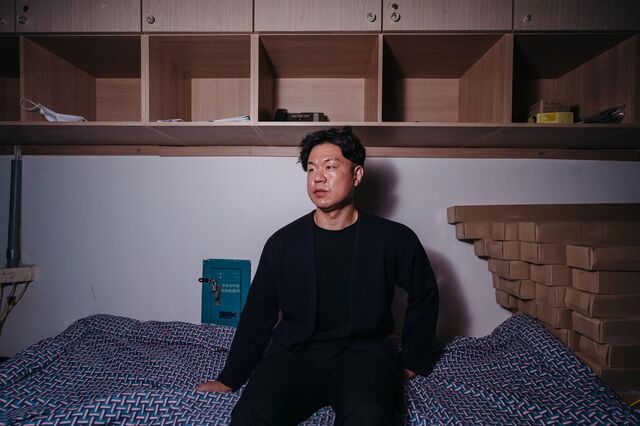 Photographer: Jun Michael Park for Bloomberg Businessweek
It was a sharp, costly escalation in strategy—and, it turned out, a highly effective one. The quarantine effort was under way within four days of the first Shincheonji diagnosis, and by mid-March the Daegu outbreak was under control. The response established the template for one of the world's most impressive efforts to contain Covid-19. For most of the past 10 months, South Korea has managed to keep infections within a manageable band of several hundred or fewer new cases a day, never quite vanquishing the virus but never allowing it to thrive beyond the authorities' ability to cope.
On at least three occasions, the country has contained dangerously fast-moving outbreaks by deploying aggressive testing, high-tech contact tracing, and mandatory isolation. It's done so without a single day of lockdown, a strategy its government, led by President Moon Jae-in, rejected early on as too costly to citizens' livelihoods and social bonds. Indeed, in September the Organization for Economic Cooperation and Development projected that the Korean economy will contract by only 1% in 2020, compared with an average decline of 4.1% across the Group of 20 nations. Unemployment is about 4%, higher than before the virus but far below the levels in other major economies.
Much of Asia has performed well during the pandemic. Yet it's arguably South Korea that provides the most compelling example for nations struggling to limit death and disablement in the months before widespread vaccination—a period that U.S. President-elect Joe Biden warned could see more than 250,000 American fatalities. South Korea isn't small: It has a population of 52 million, a little less than the U.K., and Seoul is both larger and denser than London. It isn't authoritarian, featuring arguably the most vibrant democracy in Asia and a diverse political landscape that includes religious groups that resist public-health measures. And unlike China, New Zealand, and other members of the pandemic premier league, it hasn't pursued a strategy of outright viral elimination, a goal that would now be impracticable in most of the world.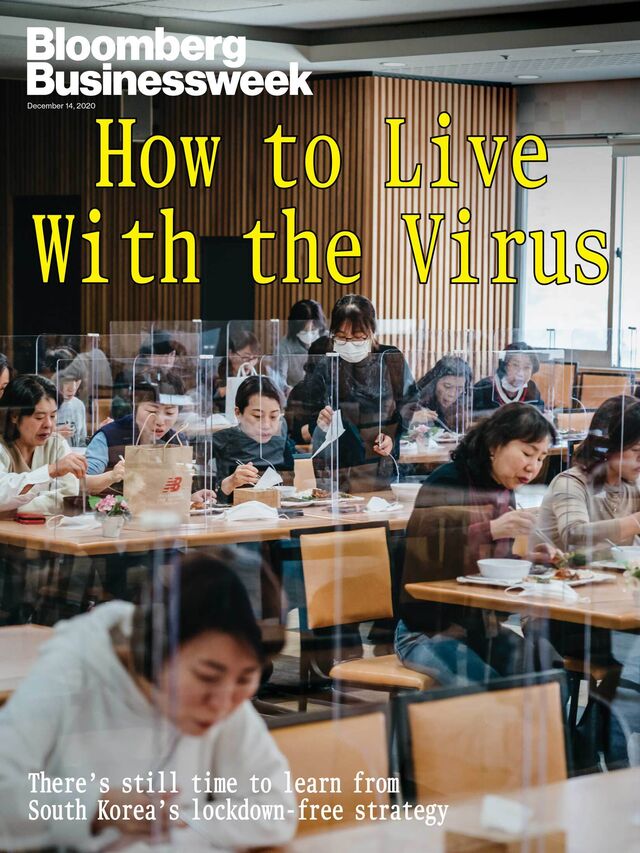 South Korea's response hasn't been perfect. The country has lost more than 500 people to Covid-19, representing a relatively high fatality rate by Asian standards. New outbreaks, even if relatively small, remain a constant threat. The authorities are currently battling a tenacious new wave of infections centered in Seoul, the worst flare-up since February. And daily life isn't normal: Social distancing measures of varying intensity are in place throughout the country, and masks are required in virtually every public space. Restaurants, cafes, and even nightclubs and gyms have stayed mostly open, but capacity is often limited, and patrons must scan a QR code linked to a national contact-tracing system before entering. Schools have gone partially digital to give students room to space out, imposing an additional burden on mothers in what's already a deeply unequal society for working women.
It's hard not to be impressed, all the same, by the way Korea's government and people confronted a choice the citizens of Western countries were frequently told was unavoidable—between economy-shattering lockdowns and appalling viral casualties—and resolved to accept neither option. The country decided instead to deploy all the resources it could in the service of a simple goal: to keep society functioning. And for the most part, it's worked.
The strategy has depended upon a degree of vigilance that can seem excessive until you consider the horrific costs of, say, the American approach. For most of this year, Park has been sleeping in a dormitory at the KDCA's headquarters, some 60 miles south of Seoul. He works about 16 hours a day, six days a week, slipping into the capital to see his family only on the occasional Sunday. His life has been anything but balanced, but he says it's been worth it. He and his colleagues have helped Korea find an equilibrium, one Park argues it can sustain until the pandemic ends. "We call it long-term suppression—maintaining our society while suppressing the virus," he says. "The basic concept we are working with is living with Covid-19."
Five years ago, South Korea learned the hard way that it wasn't ready for a novel viral outbreak. In May 2015 a 68-year-old Korean man who ran a greenhouse business in Bahrain became ill after returning to Seoul. When his symptoms didn't improve, he was admitted to a hospital outside the city, where doctors found he had pneumonia. Five days later, after he'd been transferred to a more sophisticated medical center, a test confirmed that he was Korea's first carrier of Middle East respiratory syndrome, an often-fatal viral disease that's related to both severe acute respiratory syndrome and Covid-19.
By then the MERS virus, which first emerged in Saudi Arabia in 2012, was on the move. Dozens of people had been exposed at the first hospital where the returning traveler was treated. The pathogen then took hold at the second hospital, after a man exposed in the earlier outbreak visited its emergency room, coughing severely. Eighty-two people were infected as a result. Such nosocomial infections—spread in medical facilities—are one of the worst-case scenarios in public health, not least because hospitals are by definition full of people who are already sick and therefore vulnerable. Testing delays also gave the virus more time to spread, and officials inflamed public anxieties by declining to disclose where MERS patients were being treated. Thirty-eight people ultimately died.
The government, led at the time by conservative President Park Geun-hye, was determined not to repeat the experience, and initiated a series of public-health reforms. The KDCA, historically a health ministry department with little real autonomy, became the coordinating body for outbreak response—a "control tower" for other agencies and local administrations. An emergency process for approving new diagnostic tests was also created, shortening the time required from a year to a week or less. And the country's main public-health law was amended to allow contact tracers to scrape data from cellphones, credit card and public-transit records, and other sources "if necessary to prevent infectious diseases and block the spread of infection." The law required that the information be used only for public-health purposes and that it be destroyed when the danger passed.
The earliest phase of the Covid-19 pandemic seemed to validate the new policies. Korea reported its first case on Jan. 20, the same day as the United States. A week later the KDCA interrupted the Lunar New Year holiday to summon executives from a range of health-care companies to Seoul, where the agency shared a testing method it had developed for the new coronavirus and urged them to start producing kits based on the same protocol. The first was approved for use on Feb. 4.
By mid-February, only a handful of Korean cases had been discovered, a number small enough that all could be housed in ultrasecure negative pressure rooms. Then the surge began in Daegu, where the virus had been quietly spreading through the community. The first Shincheonji member to be diagnosed, a 61-year-old woman, had been admitted to a hospital on Feb. 7, following a car accident, and had developed flulike symptoms a couple of days later. It's not uncommon for hospitalized patients in Korea to come and go during a stay, and no one prevented the woman from leaving on Feb. 9 to go to church. She went again on Feb. 16, right before doctors decided to administer a coronavirus test.
Shincheonji adherents, who revere sect founder Lee Man-hee as a saintlike figure, are encouraged to attend services even when they're feeling ill, according to former members. Each of the sessions the woman attended saw more than 1,000 people sit elbow to elbow on the floor for as long as two hours, reciting prayers and loudly shouting "amen"—almost-ideal conditions for viral transmission. As public-health officials learned, the church is also so secretive that some members hide their affiliation even from their immediate families. And they were now circulating around the country, potentially infected.
The government was desperate to get the identities of the church's followers. Officials threatened Lee with criminal investigation before obtaining the list, which included roughly 200,000 names. (In a statement, Shincheonji said that it was concerned its followers could be harmed if their information was disclosed and that those who conceal their membership do so to avoid prejudice. It also called claims it tells members to attend services when sick "groundless.")
As the Daegu quarantine got under way, case counts throughout the country were surging, reaching 500 or more per day in late February and early March. Public panic rose in tandem with the number of infections, and demand for masks—which were already familiar to many Koreans because of worries about air pollution—grew so intense that weekly purchases were limited to two, verified by a national ID card. Governments around the world introduced bans on Korean arrivals.
Policymakers in Seoul, however, were determined to avoid a lockdown, the approach that had arrested the virus in China and would soon be employed in Europe. "The basic principle we have is to keep a balance between preventive measures and economic growth," Minister of Health and Welfare Park Neunghoo said in an interview in November at a government office in central Seoul. "This was the belief we had from very early on." A shutdown would have harmed the economy, at least in the short term, and it also might have provoked a level of frustration that "would make it hard for us to implement and enforce our preventive and quarantine measures." It was late afternoon, and as Park spoke the streets outside retained much of their pre-pandemic vitality. Thick crowds of office workers were streaming toward the subway, while others headed for the bars and barbecue joints that fan out in countless alleys from the city's skyscrapers.
Officials knew that containing a drastic surge in infections without putting society on pause wouldn't be straightforward. "We needed to approach this in a very scientific way," Park said. The most important prerequisite would be an enormous increase in testing. Thanks to the rapid approval of commercial tests, Korea was well ahead of most countries, but front-line medical staff were still overwhelmed.
Among them was Ahn Yeo-hyun, a 40-year-old anesthesiologist at a public-health center in the port city of Busan, not far from Daegu, who'd been assigned to help screen patients. Demand in her area was high, but "we didn't have enough equipment" to conduct tests safely, she recalls. Protective gear was in short supply, and cross-infection from patients to clinicians was a constant concern. Worried she might infect her child or her husband, a doctor who treats the elderly, Ahn started wearing a mask at home and eating dinner alone on the balcony. "No one knew what the coronavirus was, how dangerous it was, or whether it was treatable," she says. "I was extremely frightened."
Ahn figured there had to be a better way to administer tests. Eventually she had an idea: a sort of modified phone booth that a health-care worker could stand inside, using a pair of gloves embedded in one of its glass walls to swab a patient standing opposite. Instead of bulky, scarce full-body protection, the booth's operator would need to wear only a mask. Ahn persuaded her boss to allocate some money for prototypes, and by March she had a working model. Hundreds of booths were soon being set up across the country, along with another local innovation, drive-thru testing sites. By midmonth, Korea had performed more than a quarter-million tests, compared with fewer than 35,000 in the U.S. Around the same time, the daily count of new infections fell below 100, where it largely remained for months.
The second main component of Korea's virus strategy has been a robust approach to contact tracing. It's one of the oldest public-health interventions, in wide use for the better part of a century. It's also one of the most important, particularly for pathogens as infectious as the novel coronavirus. When tracing is inadequate, as it's often been in the U.S. and Europe, small outbreaks become big ones, and big ones become national crises that may require lockdowns to stop.
In Korea much of the day-to-day work of tracing occurs in city halls such as the one in Incheon, an industrial hub of about 3 million people just west of Seoul. All seemed relatively normal on the ground floor of the complex during a recent visit: A photography exhibition was set up in the central atrium, next to a cafe doing energetic business. In Jang Hanaram's windowless office upstairs, however, the pandemic had never let up. A military doctor seconded earlier this year to lead Incheon's contact-tracing operations, Jang has a muscular frame, and he was dressed civilian-casual in a black T-shirt under a blue sweater. His job is to lead a group of six tracers who work full-time to track down everyone a confirmed Covid-19 patient has been in contact with.
Full-time is, for them, an expansive concept. There was a cot on the floor next to a battered fridge; in the first weeks of the crisis, Jang slept in the office. "I was the only person handling tracing work for all of Incheon," he said. "I felt like I couldn't go on." Eventually he persuaded his superiors to send more military doctors to help, but the conditions remain punishing: A recent survey of tracers, conducted by a professor at Seoul National University, found that 80% of those interviewed were experiencing "high levels of burnout," with some logging more than 100 hours of overtime each month.
Jang's team gets involved immediately once someone tests positive. Public-health workers interview patients in a hospital or clinic, asking them to list where they've been, when, and with whom. That information is fed back to Jang and his staff, who are given access to GPS and transaction records as well as information from the QR code system in use in restaurants and other high-traffic locations. That information allows tracers to verify a person's movements and to find connections between cases.
Opposite the cot in Jang's office were two whiteboards covered in names. Solid arrows between them denoted the likeliest path of transmission; dashed lines indicated suspected movement of the virus. One name, belonging to a possible superspreader, was circled in red, with more arrows pointing outward. The goal is to have all contacts identified within a few hours, or a day at most, and ideally to trace infections back to their source. One outbreak Jang responded to originated in a "casino pub," where investigators found viral particles on chairs and poker chips, and—disconcertingly, given how the virus spreads—in an air conditioner.
Despite the high-tech tools, patients lying about their movements remains an issue. In May a 24-year-old Incheon man who taught at a hagwon—an after-school academy where Korean students study late into the night—tested positive. But in his interview he omitted significant details about where he'd been and when, leading tracers to assume he'd been at home when in fact he was out meeting with students, among other engagements. "There's a widespread fear among people in Korea about being stigmatized" for spreading the virus, Jang said. "It's one of the things that make it harder to do our investigations." The teacher "was scared and decided to tell us only the parts that he thought we could find out." It took a detailed reconstruction of GPS data to locate all his contacts, a delay that allowed the virus to spread widely in Incheon.
The contact tracers rely on a legal and cultural framework that's hard to imagine in the West, especially in the U.S., with its government-distrusting, conspiracy-minded citizens. Data on patients' movements are even made public on official websites, a legislative requirement born of criticism that authorities concealed too much information during the MERS outbreak. (Names are left out, though there can be enough detail that identification isn't difficult.) Predictably, private-sector services have emerged to collate the information. One of the most popular, a website called Corona Map, provides the precise location of every Korean shop, restaurant, and even plastic surgery clinic that carriers have recently visited, to the considerable displeasure of some business owners.
Notwithstanding those complaints, Jang said, his compatriots seem more willing to accept such intrusions than people of other nations. He argued that the public interest weighs heavily toward them. Although Koreans "are also keen to protect their private information," he said, "they understand that by giving up some of their privacy they can protect their loved ones." Contact tracing also helps avoid lockdowns, which are arguably a greater encroachment on liberty than tracing could ever be. And it bolsters Koreans' confidence as they keep eating in restaurants, working out in gyms, and generally doing the everyday activities that many Americans avoid even where they're permitted.
Korea's tracing systems evolved as the pandemic went along. Their first comprehensive trial came in August, well after the Shincheonji drama, when religious and conservative groups defied bans on public gatherings to hold a large protest in Seoul. Demonstrators had arrived from all over the country, and public-health officials feared they could ignite a nationwide outbreak as they returned to their hometowns. Depending on your priors, the government's response was impressive, draconian, or both. GPS records showed that about 35,000 people had attended or were in the immediate area. All of them were contacted and told to get tested. Municipal governments followed up with those who didn't quickly present themselves and got to work tracing the contacts of the more than 600 people who ultimately tested positive.
The authorities' victory wasn't quite as convincing as in March. The number of daily new cases surged to a high of 441 in late August before reverting closer to 100 a day in September. But disaster had, once again, been avoided.
The headquarters of Osang Healthcare Co. occupy a modest office building on the outskirts of Seoul, across the street from a waterside jogging track. To enter, visitors first pass through a futuristic air blower intended to push away stray contaminants, then look into an overhead temperature scanner for an all-clear. In the lobby a guard with a handheld thermometer performs another check before directing new arrivals to fill out a contact-tracing form. Last, a squeeze of hand sanitizer.
There's an element of theater to the protocol. For one thing, indiscriminate temperature reads are of limited use in stopping a disease that often doesn't cause symptoms. But the show also serves as a statement of intent for a company whose facilities are among the country's most critical right now. A medical diagnostics manufacturer founded in 1996, Osang is a major producer of tests for identifying the coronavirus.
The assembly lines are located upstairs, through stainless-steel airlocks that blast another jet of high-pressure air. There, workers in shiny blue jumpsuits, white shoes, white masks, and blue caps oversee the production of rapid antigen tests that detect proteins expressed by the virus that causes Covid-19. Cheap to produce and delivering results in minutes, such tests are a key component of some proposals for controlling infections until vaccines arrive.
The production process begins with paper. In one room, a machine the length of a pickup truck unrolls a huge white spool of it, dipping the sheet into a bath of reagent chemicals and then feeding it into a drying oven. After being divided into narrow bands, it's spliced with paper from several other reels, treated with different reagent mixtures, into short pieces that drop with a mechanical hiss into a collection tray before being cut into individual test strips. In another space, robotic arms place each test strip into a plastic housing, then seal it in a black-and-white wrapper to be packed for shipment.
The facility can produce 2.5 million rapid tests per week. They sell for only about $5 each and are destined exclusively for export; with relatively few coronavirus cases and plenty of domestic manufacturing capacity, Korea has more than enough tests for its needs. Getting enough of these kinds of kits into the world, says Osang Chairman Lee Donghyun, should allow "people to quickly get tested at home, or before going to a movie or concert, or even to get a result after spending about an hour in an airport lounge."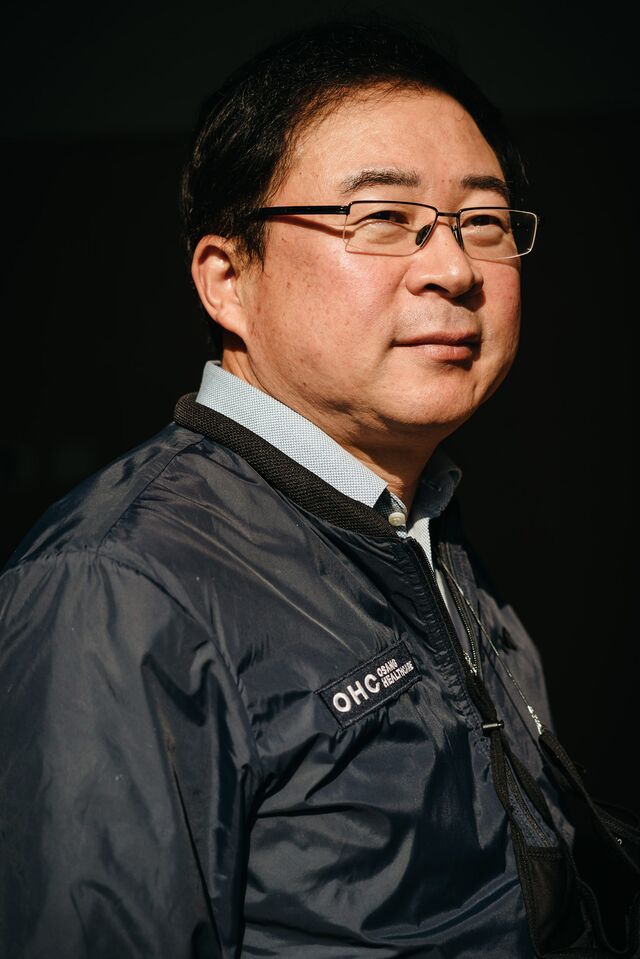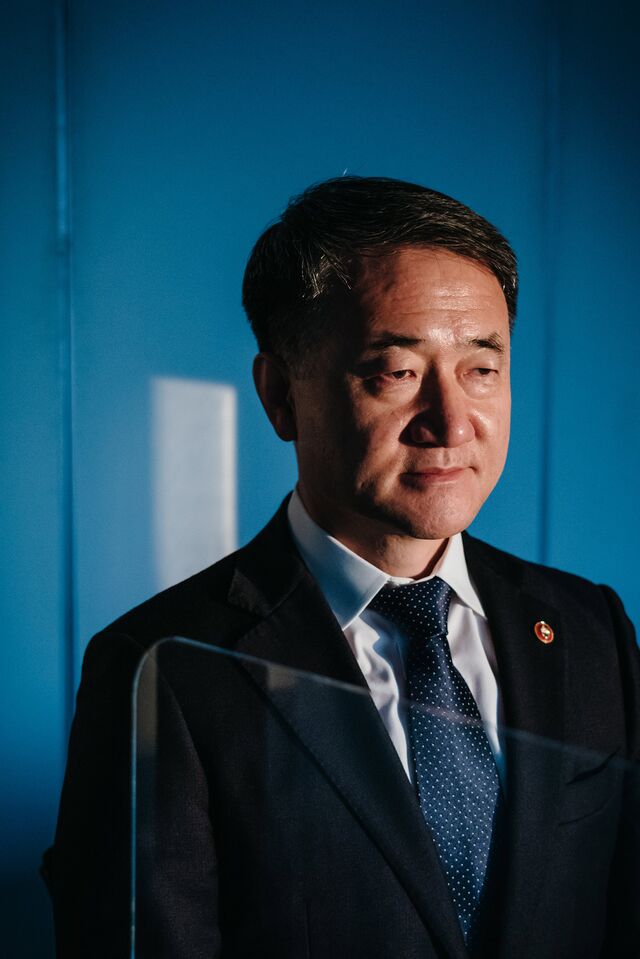 Photographer: Jun Michael Park for Bloomberg Businessweek
Korean regulators approved their first rapid antigen test in November, adding another weapon to the national strategy of holding the middle ground between severe isolation and unchecked virus transmission. Even so, outbreaks remain a risk. A sharp runup of cases in and around Seoul began in mid-November, pushing the total number of new infections for the month to about 8,000, roughly triple the figure in October. The rise was the steepest since March, and a reminder that the country's public-health experts face a difficult winter regardless of past successes.
They still believe that, with the benefit of almost a year of trial and error, Korea has arrived at a set of policies that can be sustained for as long as necessary, dialed up and down as circumstances dictate. The recent outbreak saw the first test of a five-level scale for social distancing measures, with more intense rules triggered as the number of infections rises. On Nov. 24 the capital moved from Level 1.5 to Level 2—two notches below the maximum, Level 3—requiring restaurants and gyms to close at 9 p.m. and shuttering nightclubs, while keeping offices open. Two weeks later the restrictions were raised to Level 2.5, banning gatherings of 50 or more people and imposing curfews on retailers, among other measures. The increase was an example of what Park, the health minister, calls a strategy of "precise prevention." Rather than halting parts of the economy wholesale, the goal is to focus narrowly on the practices and people who pose the most risk.
Inbound travel is another example. Like many countries in Asia, Korea has instituted strict border controls, though it's never barred foreign visitors outright—essentially the current policy in Australia, for example. For most inbound travelers, entry involves a mandatory 14-day quarantine, either in a hotel or under scrupulous monitoring at home. But those who have urgent business and are willing to stick to a preapproved itinerary can apply for an exemption. If it's granted, they're tested immediately on arrival, held in a quarantine facility until the result comes back negative, and then allowed to go about their activities, albeit masked and subject to regular phone calls from the KDCA. Similar principles inform the rules for venues such as museums and cinemas. They're largely open, with clear, no-exceptions rules on crowd capacity and masking, enforced by fines.
Korean officials' confidence that they can continue normal life and still contain the virus has pushed policy in some surprising directions. While the U.S., the U.K., and Japan, among others, made huge advance-purchase commitments to ensure that they receive the earliest shipments of new vaccines, South Korea remained on the sidelines for most of the year. In mid-November, Minister Park told a parliamentary hearing that although the country was in negotiations with several manufacturers, it was in no rush to make a deal.
Korea's achievements containing the virus might emerge from a unique cultural and political landscape, but that doesn't mean its techniques can't be emulated, both over the next several months and the next time a novel pathogen menaces humanity. It's not impossible to imagine the U.S., at least after Jan. 20, finding the resources for a hard, final push for more effective testing and consistent rules on masks, either of which might make a significant difference in reducing the toll of Covid-19 deaths. So might a serious investment in contact tracing, even of a low-tech kind that doesn't rely on digital surveillance. All of that would require sustained focus, commitments of time and resources, and the active support of the population—the asset that, in some countries, has been most difficult to secure. But the payoff, in terms of a faster return to some version of the normal life we all crave, could be massive.
On a chilly evening in November, thousands of people in warm jackets, scarves, and masks streamed toward the Jamsil sports complex on the edge of Seoul's upmarket Gangnam district. They were headed for a playoff game between two of the most popular teams in Korean baseball, the Doosan Bears and LG Twins. It would be played, like other matchups since July, in front of a live crowd. The game was essentially a home outing for both—the Bears and Twins share the Jamsil stadium—and many fans were wearing club jerseys or carrying their flags, grouping into little knots of friends as they neared the field. It was possible for it all to look, with a bit of a squint, almost prelapsarian, an autumn ritual somehow unchanged by the events of the past year.
That wasn't quite the case. The stadium's capacity had been cut in half, and near the entrances everyone had to wait in snaking lines to scan their QR codes and have their temperatures taken. Food—fried chicken, pork belly, and dumplings are all Korean game-day favorites—had been banned during the first stage of reopening. Now it was restricted to the concession areas, with masks mandatory everywhere else. In the stands, every second seat had been blocked off with blue tape, and ushers walked back and forth with signs bearing the three cardinal rules for watching the game: Keep your mask on, don't eat in the stands, and stay in your assigned seat.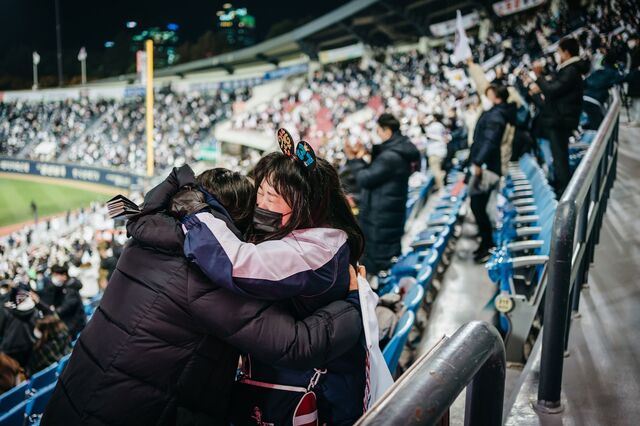 No significant outbreaks had been traced to Korea Baseball Organization stadiums since they reopened to the public—evidence, league Secretary-General Ryu Dae Hwan said in an interview before the game, that its procedures were effective. Yet the best way to keep the virus out of baseball, he noted, is to diminish its circulation in society at large. "What matters the most is the national virus situation," Ryu said. "The more patients we have in the country, the higher the chances."
The government agreed: A little more than a month later, after the baseball season concluded, spectators would again be barred from sporting events in Seoul to contain rising infections. But for the moment, the fans at Jamsil were getting into the spirit as best they could. The high-volume chants typical of Korean baseball games weren't permitted—too many droplets—but when the Bears' designated hitter, José Fernandez, drilled a two-run homer in the bottom of the first, the stadium exploded with something approaching the fanfare of the Before Times. That included a high-kicking dance number from the team's cheerleaders, who were outfitted in blue Bears sweatshirts, matching short shorts, and white masks. A symbolic face covering had been incorporated into the mascot's bear costume.
Hwang Se-bin, a 22-year-old fan, was seated nearby, wearing a Bears jersey over a puffy winter coat. It was his first game of the year. Despite the continued presence of the virus in Korea, he hadn't hesitated to come. "I'm totally confident and satisfied," Hwang said. "I feel totally safe."