It turns out self-driving cars aren't dissimilar from self-driving humans: It takes about 16 years for them to be ready for the road.
Today, a generation removed from the seminal 2004 Darpa challenge in which the U.S. military launched a fleet of fledgling robot cars across the Mojave Desert, these machines are still trying to get their licenses. It's taking much longer than initially promised, but analysts expect autonomous vehicles to mature quickly over the next decade.
"The hype got ahead of the reality, but honestly, it's gone way faster than I would have ever believed," says Gary Silberg, a partner at KPMG. "I mean, it's literally like putting somebody on the moon. It's that complex."
Meanwhile, the coronavirus has both strengthened the use case for robot drivers and shuttered labs and factories where the technology was being refined. There's never been a better time for groceries or medicines delivered by an algorithm on wheels, though near-term milestones will likely be delayed, and the economic fallout from the pandemic will undoubtedly force some companies to scrap their autonomous skunkworks.
Larry Burns, a former General Motors executive and co-author of Autonomy: The Quest to Build the Driverless Car, likens the race to a marathon, with the industry roughly at mile 15—and the pandemic just put a massive hill in front of the field. "A cliff may be a better analogy," he said. "The strongest runners are still going to get over it. It will take them longer, but there's a chance they may be able to accelerate on the other side."
Even before social distancing, self-driving engineers were quietly recalibrating expectations and pushing promised timelines back. In early 2018, General Motors Co. pledged to have a fleet of self-driving taxis in San Francisco by 2020. While it unveiled a new people-moving machine (sans steering wheel) in January, GM's launch date for taking on passengers has been open-ended since summer 2019. Meanwhile, Daimler backed away from its pledge to put 10,000 sentient taxis on the streets by 2021. Similarly, Tesla promised to have 1 million autonomous "robotaxis" on the road by the end of last year. The automaker still hopes to fulfill that vision by 2021.
Several of the groups developing self-driving technology set their sights on 2021 for initial deployment, according to a recent report from Bloomberg New Energy Finance—and that was before the Covid-19 pandemic sidelined engineers. To date, the only platform taking passengers in fully driverless vehicles is Waymo, a Google spinoff. It is the sector's presumed front-runner.
Weather has proved tricky, as have so-called edge cases, when someone else on the road—be it a driver, cyclist or electric scooter pilot—does something unexpected, as humans often do. The halting nature of development has delivered a large dose of humility to the world's whip-smart mobility experts, who are showing an increased willingness to form posses and work together. The treasure hunt for self-driving riches is now dominated by joint ventures. In some cases, a technology company's effort with an automaker is bankrolled by an institutional investor.
"Everyone had this vision of grandeur," Silberg said. "But there's very much a consensus that going it alone is not a smart strategy. For some of these companies, you can think of the investment as a kind of put option on the self-driving future."
It will likely be years before a hedge fund titan can load the dogs into a sentient SUV and command it to drive to her ski house. But self-driving cars are already charging fees in places such as: sunny Phoenix, where Lyft customers order up Waymo minivans; Texas, where Kroger groceries are ferried around by windowless, driverless pods from Nuro; and Florida, where Voyage zips octogenarians around one of the country's largest retirement communities.
Silberg calls these "islands of autonomy," relatively static areas that have been thoroughly scanned, mapped and stress-tested by artificial intelligence algorithms. In the next two years, they'll start popping up all over the place, he reckons.
As would-be autonomous forces have aligned, it has become easier for investors to place bets. Since 2009, the companies working on robocars have disclosed at least $14 billion worth of investment. What was essentially risky venture capital slung scattershot across dozens of startups has condensed into something more akin to private equity: market-making mountains of money getting behind a few select efforts.
Nuro, which rounded up $1 billion from SoftBank, said the cash being deposited in the self-driving landscape has provided a critical slug of optimism. "It doesn't change our plan or our mission, but it gives partners a lot of confidence that we're going to be around," co-founder Dave Ferguson said. "It gives us the opportunity to really take a stab at this."
The novel coronavirus, however, is likely to decimate the field. The most likely dropouts are smaller, less-capitalized startups, as well as large companies for which self-driving technology is secondary to, say, making cars. As companies switch into survival mode, noncritical expenses will be cut ruthlessly, according to Gartner analyst Mike Ramsey. "A lot of these efforts may just cease to exist without so much as a Medium post to flag it," he said. "I anticipate we're going to see a pretty big winnowing."
Still, the economic case for cheaper shipping costs has improved drastically in the past month, as a huge chunk of the retail market—from groceries to gourmet dining—shifted online. "The virus has both broadened and accelerated the use case," Silberg explained.
Burns, the former General Motors executive, figures that safe, ubiquitous self-driving vehicles are likely to cut at least half of the costs from trucking freight. This is the market-warping potential that SoftBank, Kleiner Perkins and others are betting on—the microeconomics that automakers can no longer afford to ignore.
"Even the best of the best are going to be feeling a lot of pressure right now," he said. "But if I was sitting on a big pile of money, and I believed autonomous was inevitable—which I do—this would be a good play." —Kyle Stock
Vehicles
600 (and deals to buy 82,000 more)
Wild card
Waymo makes its own sensors in-house.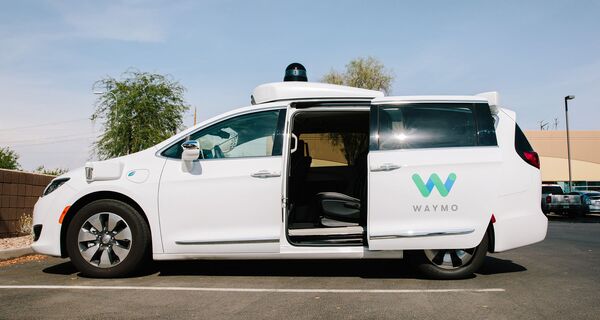 If a driverless car is ever to become more than a novelty, it will require an abundance of experience or money. Waymo, the self-driving car unit of Alphabet Inc., has had scads of both since it emerged as a Google skunkworks project 11 years ago. Today, if you want to pay to ride in a truly driverless car, there is only one place in the country to do it: suburban Phoenix, where Waymo carries fares with no safety drivers in a handful of the Chrysler Pacifica vehicles.
The general consensus in the industry is that Waymo remains ahead of the competition by a year or more, based on several milestones. In early March, the company announced that it had raised its first capital from outside investors—$2.3 billion from a smattering of institutions, including venture capital giant Andreessen Horowitz and AutoNation, the country's largest car dealer. The cash delivery came shortly after the company said it had driven more than 20 million miles on public roads—half in just over a year. On May 12, it announced another $750 million in funding. "COVID-19 has underscored how fully self-driving technology can provide safe and hygienic personal mobility and delivery services," CEO John Krafcik wrote in a post announcing the deal.
Benchmarks have been plentiful: In early December, Waymo's autonomous taxi service topped 100,000 rides in the first year of its Waymo One pilot program in Arizona; in July 2019, those robo-taxis plugged into Lyft's metro Phoenix network, expanding ridership well beyond Waymo's base of 1,000 or so beta subjects; and in October 2018, Waymo secured a permit from the state of California allowing it to operate its cars without a human safety driver aboard, the first such certification.
Simulation has been a Waymo priority from the start. Initially, the goal was to build a lifelike simulator, dubbed Carcraft, wherein its algorithms could churn through potentially dangerous situations incessantly and without risk to pedestrians or travelers. In November, Waymo announced it had acquired Latent Logic, a U.K. company that develops simulations of the behavior of motorists, cyclists and pedestrians. Latent, which spun out of Oxford University's computer science department, uses what's known as imitation learning to replicate behavior that will help autonomous vehicles interact more safely with human beings.
The company isn't tying itself to any single supplier of vehicles. Waymo retooled an old factory in Detroit, where it has been installing its self-driving nerve system into thousands of Fiat Chrysler minivans and Jaguar SUVs. Nor is it committed to just one business model. CEO John Krafcik, discussing the company's self-driving system for big rigs with reporters in the fall of 2019, has suggested that driverless trucks could arrive faster than robot ride-hailing. In Atlanta, Waymo is testing commercial applications of 18-wheelers made by Peterbilt, a unit of Paccar Inc., outfitted with its self-driving technology. Trucks also have been tested on public roads in California and in the Southwest, as well as on closed courses in Michigan.
For now, Waymo seems to have the wherewithal to stick to Krafcik's motto: "We're not building cars, we're building drivers." —Kyle Stock with Ira Boudway
Wild card
A new vehicle has been developed with Honda—a unit purpose-built for autonomous ride-sharing.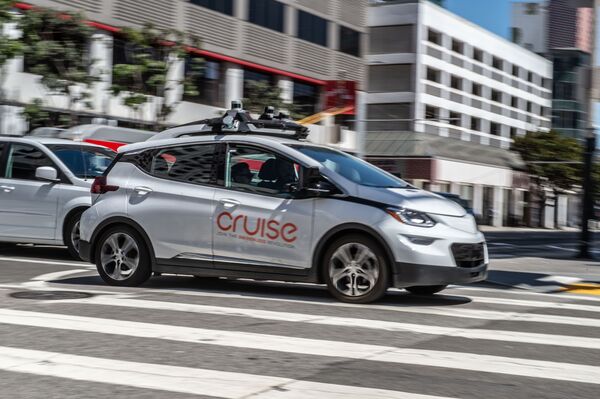 General Motors went from laggard to being one of the leaders when it bought the company formerly known as Cruise Automation in 2016. The automaker's own engineers were trying to figure out how to get a self-driving car to make complicated turns when they discovered that Cruise had made more progress retrofitting founder Kyle Vogt's Audi A4 with an autonomous system. GM paid more than $1 billion for Cruise and started developing self-driving electric cars.
Today, with more than $9 billion in capital raised from parent GM and partners Honda Motor Co., SoftBank Vision Fund and T. Rowe Price, Cruise LLC is trying to launch an autonomous ride-hailing service in San Francisco. GM, the majority owner of Cruise, has remained mum on when the service will launch since the company missed its target in December 2019, but executives say they hope it will happen soon.
In preparation, Cruise has hundreds of its cars being tested in San Francisco. Vogt, now the company's chief technical officer, has said that if a car can navigate San Francisco, it can handle any kind of driving. Cruise is using modified versions of GM's Chevrolet Bolt electric car.
That will be the vehicle that GM deploys when it starts moving people around with a ride-hailing service. GM and Honda have developed Origin, a vehicle purpose-built for autonomy. It is more like a shuttle than a five-passenger car like the Bolt. GM is developing the vehicle with Honda, which has expertise maximizing space and developing vehicles for the dense, urban streets of Tokyo.
For Cruise, the biggest challenge is simply getting the technology to master all the difficult nuances of real-world driving. Cruise CEO Dan Ammann, who used to be president of GM, has called autonomy this generation's "moon shot." GM has already had to back away from a deadline once. The longer it takes, the more competition Cruise may have when it starts running services. Eventually, the company will need to generate revenue. In May, Cruise cut almost 8% of its staff. —David Welch
Investment
$2.6 billion (VW); $1 billion (Ford)
Wild card
Deep pockets and wide reach from a pairing of two of the world's largest automakers.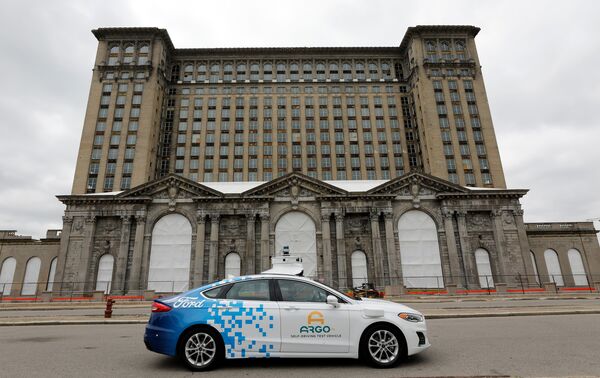 Volkswagen AG and Ford Motor Co. vaulted into the pantheon of self-driving leaders by joining forces in July 2019 to jointly develop autonomous and electric vehicles. VW agreed to contribute $2.6 billion to Argo AI, Ford's self-driving partner. That boosted the autonomous startup's valuation to $7 billion. The pairing of VW, the world's largest automaker, with Ford, the sixth-largest, has created a global goliath.
Volkswagen could have gone with any number of autonomous players, according to Sam Abuelsamid, principal analyst with Navigant Research. "The fact that they're willing to put their money behind Argo is a vote of confidence that they think Argo is on the right track," he said.
VW is contributing more than just money. In addition to $1 billion in cash, the German automaker is folding its Autonomous Intelligent Driving unit into Argo's operations. That gives Argo an additional 200 engineers, bringing its staff total to more than 900. It also adds a European headquarters in Munich. Argo is run by CEO Bryan Salesky, once a leading figure in Google's self-driving car project—now known as Waymo—and Pete Rander, previously a founder of Uber's self-driving program. Salesky has said he intends to begin testing autonomous vehicles in Europe as early as this year. In the U.S., Argo already has robo-taxi and driverless delivery pilot programs in Miami, Washington, Detroit, Pittsburgh, Austin, Texas and Palo Alto, Calif.
Ford just delayed plans for a multi-city commercial rollout of robo-taxis and driverless delivery pods in the U.S. by one year, to 2022. The company said it needed more time to assess the impact of the coronavirus pandemic on consumer attitudes toward self-driving and shared vehicles.
"To get both the cash infusion from Volkswagen and the added resources from the AID team in Munich gives Argo more runway to get the business off the ground," Abuelsamid said. "As we look at the autonomous business, it's going to take a lot longer to get to scale than everybody was thinking two years ago. That means you've got to have enough cash in the bank to keep the operation going until you can start to generate enough revenue to make it a self-sustaining business." —Keith Naughton
Wild card
Aurora's brain trust—its co-founders previously led automated driving development for Alphabet, Tesla and Uber.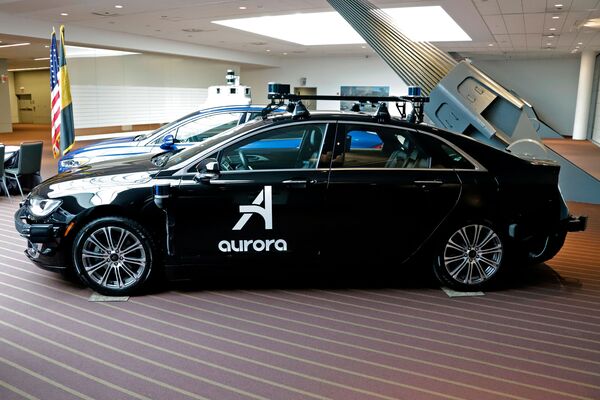 Aurora Innovation's biggest claim to fame may be its rock star cast of automated driving nerds. CEO Chris Urmson started Alphabet Inc.'s self-driving project. Co-founder Sterling Anderson led the team that developed Autopilot for Tesla Inc. And Chief Technology Officer Drew Bagnell is a robotics professor at Carnegie Mellon University who helped found Uber Technologies Inc.'s self-driving center in Pittsburgh. The three-year-old startup also has some big name investors, including Hyundai Motor Group, Amazon.com Inc. and Sequoia Capital.
Aurora is testing its self-driving software on vehicles from several automakers, including Hyundai and Fiat Chrysler Automobiles NV. But it doesn't share its intellectual property with them, and it has insisted on remaining a neutral player in the race to autonomy. It rebuffed an acquisition overture from Volkswagen, the world's largest automaker, in 2018 and later broke off its partnership with the company to maintain its ability to work with multiple carmakers.
Aurora's founders believe robo-taxis will be a viable business model for autonomous vehicles, but they're hedging that bet by focusing on logistics and the transportation of goods; hence the investment from Amazon. Aurora's partnership with Fiat Chrysler is also focused on commercial vehicles.
Unlike competitors that broadcast how many test miles their vehicles have driven, Aurora's founders pooh-pooh real-world mileage as a measure of progress. They focus on data pulled from human drivers' habits, which they use to simulate edge cases and tricky situations.
Aurora's business model is based on an agnostic tech platform (software, hardware and data services) that can be licensed to go into any vehicle, rather than designing bespoke tech for individual brands, the company says. That will allow it to move quickly and gain scale by working with multiple partners, from auto to logistics companies. —Gabrielle Coppola
Wild card
Bringing together a supplier and a consumer-facing company could be a formidable combination.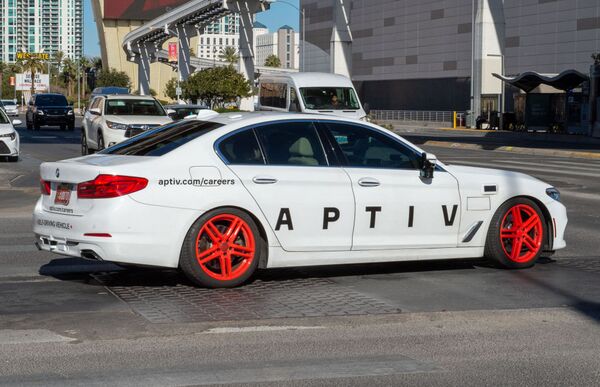 No one would have imagined a decade ago that a vestige of bankrupt GM would be a player in the self-driving revolution. But Aptiv Plc, the former Delphi Automotive parts unit that split out its powertrain business, is the rare auto supplier that seems to have successfully transformed itself into a serious autonomous vehicle (AV) player.
It did so with a string of tech acquisitions to piece together a self-driving system it's developing with Intel Corp. The largest was self-driving startup Nutonomy, which had been running tests of driverless cars in Boston and Singapore at city speeds. Since buying the company in late 2017, the team has grown from about 120 people to more than 700 in Boston, Singapore, Pittsburgh, Las Vegas and Shanghai, according to Chief Technology Officer Glen De Vos.
In late 2019, Aptiv put all those assets into a 50-50 joint venture with South Korea's Hyundai Motor Group. Together, the companies say they expect to have a production-ready autonomous driving platform by 2022. One target for that is a fleet of robo-taxis: Aptiv has been studying how to commercialize its technology by plugging test vehicles into Lyft's network in Las Vegas. —Gabrielle Coppola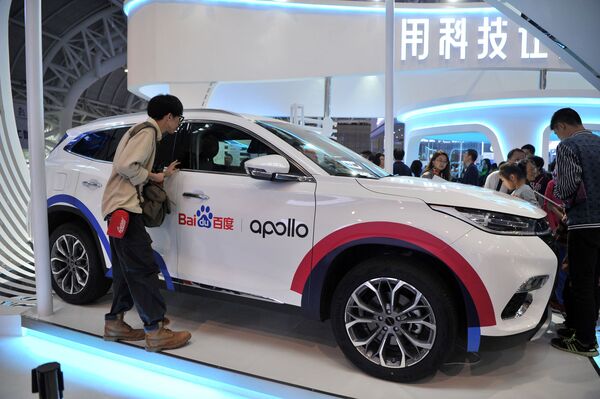 China's largest search engine company started developing its self-driving software system six years ago. Today, it has struck what it calls "eco-partnerships" with 156 automakers and suppliers, including Ford, Daimler, Bayerische Motoren Werke AG, BAIC GROUP and BYD Auto. The company has also invested in several companies, including sensor manufacturer Velodyne LiDAR, Hesai Technology, and China's EV startup, WM Automobile.
With a fleet of more than 300 Level 4 test vehicles across 23 cities, the company has recently surpassed 3 million kilometers in urban road testing, putting it first among China's AV developers. Baidu was first to secure government permission for road testing; across China, it holds the most testing permits. It also has received China's highest level of licenses issued for self-driving testing, which permits its autonomous vehicles to operate in complex conditions, including urban roads, tunnels, school zones and others.
Baidu also has deployed its Apollo robo-taxis, developed with China's First Automotive Works (FAW), in Changsha, Hunan province. Local residents can hail a free ride from one of 45 autonomous vehicles by requesting one via Baidu Maps or Baidu App's Smart Mini Program Dutaxi. The robo-taxis operate in a 130-square-kilometer area in the city, covering both residential and industrial/commercials areas.
The company has never revealed its actual investment in developing self-driving cars, but the next step will be centered on "industrialization," a spokesperson said, which will include development of its OS system. Li Zhenyu, vice president and general manager of Baidu's intelligent Driving Group, said at the 2019 Consumer Electronics Show that 2020 would be the first year of Apollo's commercialization. —Chunying Zhang and Ying Tian
Wild card
BMW can build on long-standing development work in the self-driving space, which could entice others to join in its push and add to its scale.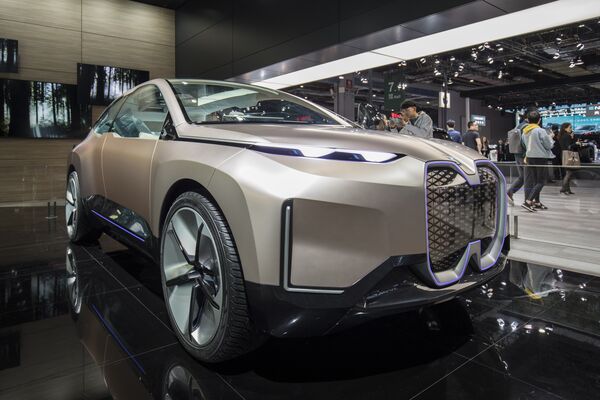 BMW AG is all-in on cooperation for self-driving cars. Since 2017, the Munich-based carmaker has been working with Fiat Chrysler Automobiles NV, Intel Corp. and Mobileye NV on Level 3 cars, the first of which should roll onto streets in 2021 in the form of the company's iNEXT flagship SUV.
Beyond this, BMW is also cooperating with archrival Daimler AG on more advanced Level 4 cars capable of fully autonomous driving without driver attention. The companies announced the partnership in July 2019 and said it would be "long-term" and "strategic."
Deeper ties with Daimler are possible. Both companies already merged their car-sharing and digital offerings, which will eventually morph into self-driving robo-taxis, though both companies have declined to speculate what that would look like. Currently, BMW's self-driving fleet consists entirely of 7 Series test cars that drive around the U.S. West Coast, Germany, Israel and China. —Oliver Sachgau
Wild card
Daimler's luxury customers can afford the higher price tag of its sophisticated technology.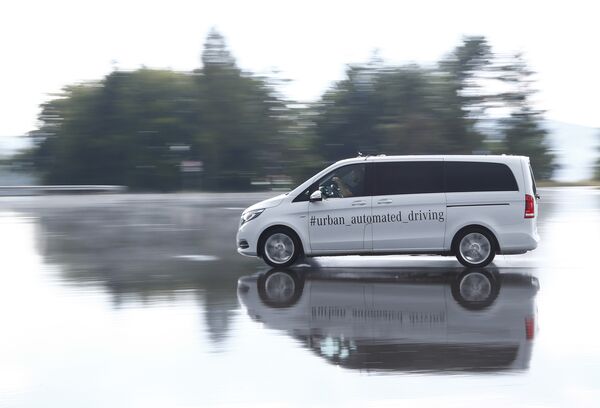 Daimler AG's main Mercedes-Benz unit deepened its cooperation projects with German archrival BMW last year by adding a joint effort to develop self-driving vehicles, adding to an already existing venture with the world's largest car-parts maker, Robert Bosch GmbH. Together with BMW, it will work on driver assistance systems, automated parking and Level 4 self-driving technology for highways. Both manufacturers have described the effort as "long-term, strategic cooperation" that's aimed at providing state-of-the-art technology for its customers by the middle of this decade.
Daimler and BMW are considering widening the collaboration to include automated driving for urban areas—the ultimate, technically most-challenging goal, given more complex traffic patterns that are nearly impossible to predict or calculate. Both Daimler and BMW have said the partnership is open for other manufacturers or tech companies to join in.
Daimler's collaboration with crosstown neighbor Bosch is targeting automated Level 4 and Level 5 driving on urban roads. Development efforts include a pilot test project in San Jose, California, for an automated ride-hailing service. —Christoph Rauwald
Wild card
A revenue stream—Nuro is already delivering goods for paying clients.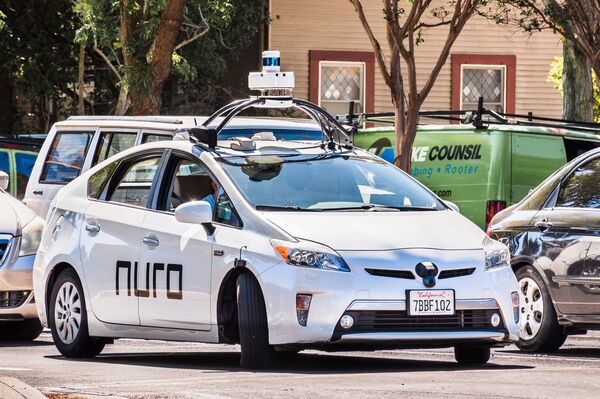 Launching just four years ago, Nuro was late to the self-driving race and its ambitions were minimal. It didn't want to carry people, just pizza and groceries. Almost half of personal car trips are spent on simple errands; it figured if its machines could disrupt a chunk of that busywork sans humans, there would be plenty of demand. Plus, a toaster-shaped robot that didn't have to compute for human cargo could more elegantly prioritize safety over speed—going slower and taking longer routes.
The thesis, born from cofounders and Waymo refugees Dave Ferguson and Jiajun Zhu, quickly won a deal with Kroger, delivering groceries in Phoenix and shuttling Domino's pizzas in Houston.
"Basically, we built a local teleportation service," Ferguson said.
With a viable business model and a spacey looking vehicle, Nuro swung by SoftBank early last year and loaded up a cool $1 billion in capital.
The SoftBank money doesn't change the company's tech or its timeline much, Ferguson said, but its gives potential partners the confidence Nuro will be on the road for a while. And it helps with recruiting and retention.
"Our hiring bar is astronomically high," Ferguson said. "Don't tell SoftBank this, but if we fail, we'll feel less upset that we burned through a billion dollars, but that we assembled one of the most high-quality teams in the space and effectively squandered that talent." —Kyle Stock
Wild card
One more year to fine tune its e-Palette electric autonomous vehicle, which was to debut at the now-postponed 2020 Summer Olympics.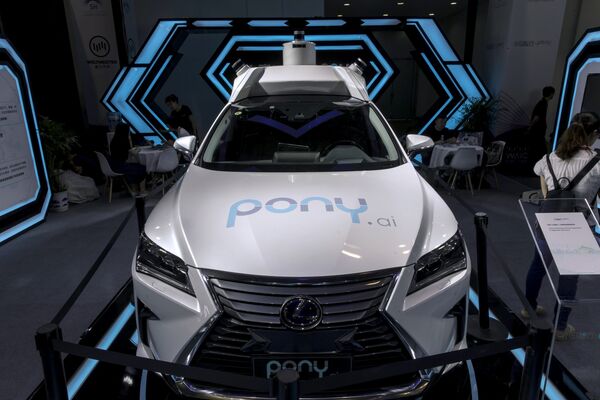 Toyota Motor Corp.'s recent $400 million investment in Pony.ai Inc. will help the China-based autonomous-vehicle driving platform accelerate its development of robo-taxis.
Pony.ai currently operates a few dozen autonomous vehicles for its employees in Nansha District, Guangzhou, and a limited public robo-taxi service with Hyundai Motor Co. and Via Transportation Inc. in Irvine, California. Some of the company's competitors, such as Baidu-backed WeRide, are already offering public robo-taxi rides in China.
Toyota, which first entered into a partnership with Pony.ai in August 2019, is establishing itself as one of the lead automotive investors in autonomous-vehicle developers and shared mobility services. The company's total investment in such companies as Uber Technologies Inc., Monet Technologies and Didi Chuxing Inc. is more than $4 billion.
The investment should help Pony.ai ramp up its AV testing in China and better position Toyota in China's future AV market. —BloombergNEF
Company
Uber Advanced Technologies Group
Miles
N/A (Uber got its permit to test on California's public roads only in February)
Wild card
The best business model for immediate ROI on a plug-and-play robot driver.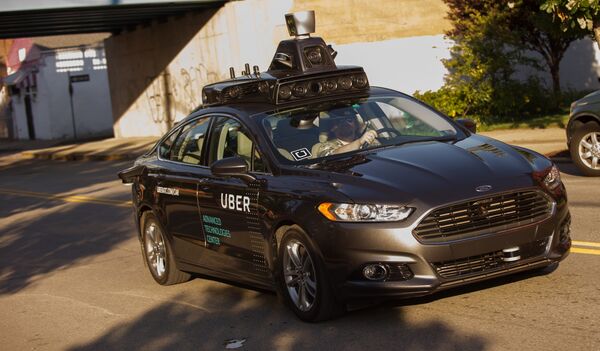 In a driverless future, ride-hailing companies such as Uber Technologies arguably stand to benefit the most. After all, almost three in four of Uber fare dollars go to (human) drivers, including 10% of revenue used to guarantee certain income thresholds and goad them into taking more trips. Now that Uber delivers burritos and freight in addition to passengers, the use case is even stronger.
Not surprisingly, Uber has been all-in on building robot pilots since it launched its Advanced Technologies Group about five years ago. At the time, it went straight to the source, plucking 40 engineers straight from Carnegie Mellon University, whose brains are perennially at or near the top of the leaderboard in the Darpa driving challenge.
At one time, the Uber skunkworks had roughly 1,000 workers and hundreds of cars zipping around Arizona, Colorado and Pittsburgh. After a fatal crash in March 2018 involved one of its test vehicles, Uber considered shutting down its sentient lab. The company ultimately doubled down, drawing a $500 million investment from Toyota just a month later, as well as a plan to wire its autonomous technology into the carmaker's Sienna minivan. Last year, just weeks before its initial public offering, Uber rounded up another $1 billion in capital for its ATG unit from Toyota, Denso and SoftBank Vision Fund.
Uber isn't putting out timelines. It envisions a long period of "hybrid autonomy" in which robot cars slowly take over the safest, sunniest routes. As with Waymo, many of Uber's test miles these days are being logged on simulators or private tracks. "The hope is that we'd certainly move faster," said ATG Chief of Staff Noah Zych. "But the reality is, it's a really hard problem."
When Uber filed its IPO prospectus, the word "accident" appeared nine times; the word "autonomous" popped up in 117 places. —Kyle Stock
Investment
About $1.2 billion annually (Volvo's 2019 R&D spend)
Wild card
Despite its relatively small size, Volvo has a deep-pocketed patron in Zhejiang Geely Holding Group Co., controlled by Chinese billionaire Li Shu Fu.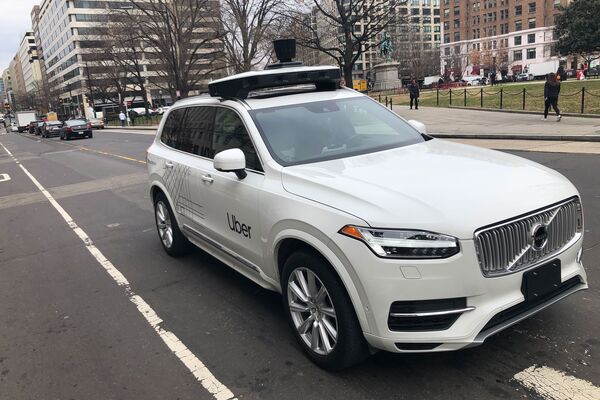 Volvo Car AB built its consumer brand around safety, and it talks about its own self-driving research as a natural extension of that. As with other automakers, its approach has evolved as the difficulty and cost of solving the problem became clearer.
The Swedish carmaker spun its automated driving efforts into Zenuity in 2017, a joint venture with supplier Autoliv Inc., in the hopes of selling the software to other automakers as well. In April of 2020, it unwound that partnership, with Volvo bringing full self-driving efforts in-house as a standalone company, and Veoneer, a spinoff of Autoliv, selling more limited safety features.
In 2022, Volvo will start producing cars with its next-generation tech, Highway Pilot, which allows drivers to take their hands and eyes off the wheel without needing to supervise the car. If the human doesn't respond to signals to retake control, the car will pull over. The Swedish carmaker originally planned a 2021 introduction, but pushed it back in order to add more tech to its new vehicle architecture for automated driving, dubbed SPA 2.
Volvo isn't too bullish on robo-taxis as a way to monetize self-driving tech.
"We are aiming the effort for our main users, the private car owners," says Chief Technology Officer Henrik Green. "With the Highway Pilot function we can really improve the value for the daily commute for regular private car owners, which is a massive change in how you use your car for a massive amount of people."
It's hedging that bet with partnerships—its highest-profile AV partner is Uber, which has the unfortunate distinction of causing the first pedestrian death by autonomous test vehicle in the U.S. back in 2018; Volvo's safety system was turned off when the accident occurred. As part of its agreement with Uber, Volvo is to provide vehicles optimized for Uber's automated driving software. In June 2019, it delivered the first mass-produced optimized XC90 SUV to Uber. —Gabrielle Coppola
Investment
$440 million over three years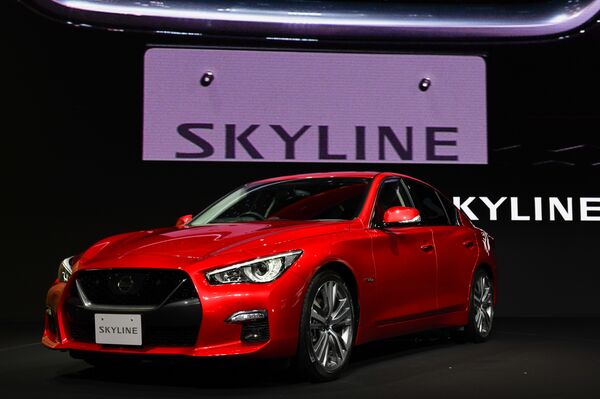 Nissan unveiled a new version of its Skyline sports sedan last July, featuring the carmaker's most advanced autonomous driving technology, as well as design elements shared with such models as the GT-R sports coupe. (This is not a fully autonomous vehicle, but, according to SAE Autonomous Driving classification, somewhere between levels 2 and 3.)
The vehicle allows drivers to take their hands off the wheel on highways while offering connected services. A previous iteration of the model, released in 2013, was sold in the Japanese market with the Infiniti emblem, but some fans missed the classic Nissan hood ornament. That's been restored on the new model.
The automaker reported 1,760 orders by September 2019. The models are priced from $41,000 to $58,000 (4.35 million yen to 6.2 million yen). Outside Japan, the Skyline is sold as the Infiniti Q50 and competes with sedans from Mercedes-Benz and BMW. —Ying Tian and Shiho Takezawa
Wild card
Its diverse testing locations—robo-taxi pilots in both California and cities in China, where traffic systems and road conditions are seen as more complex.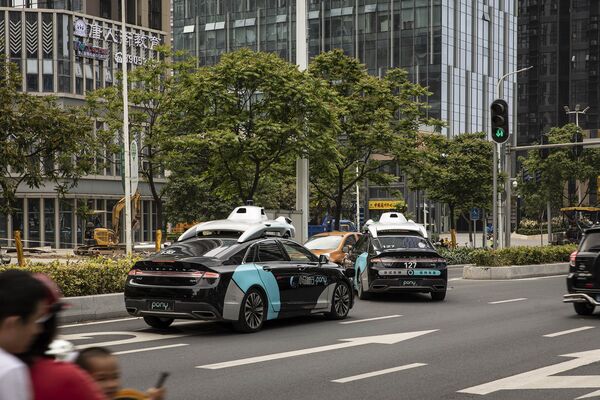 Co-founded in 2016 by James Peng, Baidu's former chief architect and autonomous driving leader, and Lou Tiancheng, a TopCoder China Champion and two-time Google Code Jam Champion, Pony.ai has achieved good results in California DMV road tests. These are annual self-reports that autonomous driving testers submit to the state on the average disengagement range during test drives; they are meant to measure how long the car can run autonomously until a human driver has to take control. The Fremont, Calif.-based startup achieved 6,476 miles per disengagement in 2019, a big jump from the 205.3 miles it achieved in 2018. The company also dramatically increased its miles tested last year, driving 174,845 autonomous miles on California public roads. Only Waymo and Cruise drove more.
Major investors include Toyota, Sequoia Capital China, IDG Capital and Fidelity's Eight Roads. The company had raised almost $800 million to date, with a $3 billion valuation. This includes a $400 million investment from Toyota, announced in February, extending a partnership formed last year.
CEO Peng, who is based in California, said in an open letter dated November 2019 that the company's test driving range had surpassed 1 million kilometers (621K miles). As of April 2020, Pony.ai has driven 2 million kilometers.
Pony.ai has two testing sites in California and it runs a pilot service in Irvine that provides robo-taxi rides to the public. In response to the Covid-19 pandemic, in March Pony.ai teamed up with Los Angeles-based e-commerce site Yamibuy to deliver packages and groceries, also in Irvine.
In China, the company was the first to launch a robo-taxi fleet and service in Guangzhou, in December 2018. Pony.ai says it completed over 100,000 robo-taxi drives globally over the course of the following year. —Chunying Zhang and Ed Ludlow
Investment
When asked by an analyst in April 2019 how much the autonomous endeavor is costing Tesla, CEO Elon Musk replied, "It's basically our entire expense structure."
Miles
1 billion (with Autopilot engaged; as of November 2018)
Vehicles
Current Tesla owners are training the system constantly, both when Autopilot is engaged and when it is in "shadow mode."
Wild card
Can Tesla achieve full self-driving without lidar, the technology that most rivals use?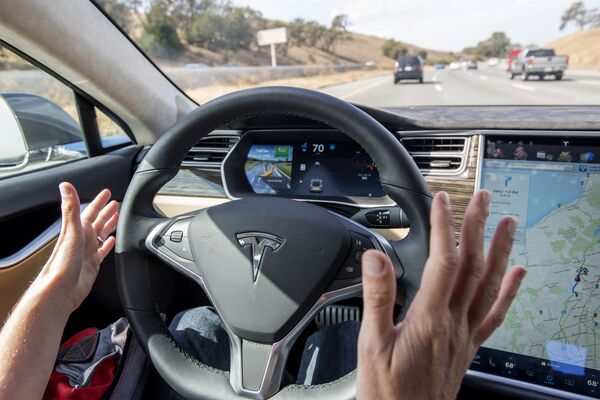 Combining cameras, ultrasonic sensors and radar, Tesla launched Autopilot, its driver-assistance feature, in October 2015.
"While truly driverless cars are still a few years away, Tesla Autopilot functions like the systems that airplane pilots use when conditions are clear," the company said in a blog post at the time. "The driver is still responsible for, and ultimately in control of, the car."
Four and a half years later, Tesla customers across the U.S. and around the world use Autopilot every day, and many swear by the technology. So far, customers have driven more than 1 billion miles with Autopilot engaged, providing the company with a trove of data to help it better understand accidents. During Tesla's most recent earnings call in October, CEO Elon Musk spoke of the value of having a "massive fleet." If regulators approve, the next step is Full Self Driving, on which the company is still working.
Musk initially promised to demonstrate an autonomous cross-country drive by the end of 2017, a date that—like so many in this sector—has passed. In August 2018, he said that the company could do a cross-country trip on a specific route but that this would be "kind of gaming the system."
At least three fatal accidents involving Autopilot have drawn attention to the technology amid investigations by the U.S. National Transportation Safety Board. The victims were Josh Brown in a Model S in Florida in May 2016, Walter Huang in a Model X in California in March 2018 and Jeremy Banner in a Model 3 in Florida in March 2019. Huang and Banner's families have each sued Tesla, and results of the NTSB's probes of the crashes are pending.
In May 2019, Musk, in a call with investors, described autonomous driving technology as "transformative" to Tesla. It's a fundamental driver, he said, the key to becoming a "half-trillion-dollar market cap company." Meanwhile, the National Highway Traffic Safety Administration has opened probes of more than a dozen crashes in which Autopilot was believed to have been in use. The agency is also reviewing several other crashes involving vehicles from other carmakers with partially automated driving systems. —Dana Hull
Miles
67K miles on average before a human safety driver took control of the vehicle*
Wild card
Its plan to build an AV from the ground up, instead of retrofitting existing cars, as Waymo has done.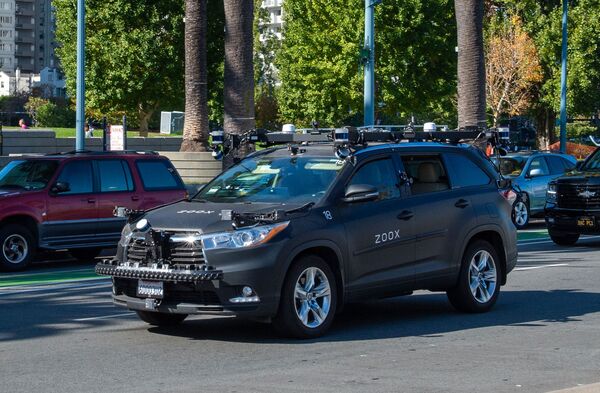 The staggering amount of investment required to develop self-driving cars has pushed most companies to find allies that can bring cash, technology or factories to a joint venture. No so with Zoox. The five-year-old company has raised $1 billion and is testing its software with 30 retrofitted Toyota Highlander SUVs.
Zoox spent the past year getting its management team in order. Co-founder Tim Kentley-Klay left Zoox in a huff in 2018. The company hired former Intel Inc. executive Aicha Evans in January 2019 to run the business, together with co-founder and CTO Jesse Levinson. With management stabilized, Zoox raised $200 million in October.
That's a good start, but the company will need more in the long run. Zoox is building its own ground-up, purpose-built autonomous vehicle. It plans to demonstrate autonomous vehicles in San Francisco and Nevada this year, with commercialization to follow soon. Together, Levinson, who was on Stanford University's winning team at the 2007 Darpa Urban Challenge, and Evans, an experienced manager, give the company a pedigree. A need for funding could ultimately drive Zoox to seek partners. It may even need a buyer. In May, The Information reported that the company was shopping itself. —David Welch
(Updates list of Argo testing cities. An earlier version corrected WeRide backer in Toyota entry and updated vehicle/testing/mileage figures for Baidu.)