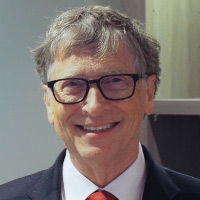 Bill Gates
Philanthropist; founder, Microsoft Inc.
Philanthropy
In recent years, Gates has become increasingly vocal about the dangers global warming will pose to the world's poor. Unsurprisingly, he says technology offers the best alternative path forward, and he's dived into a variety of projects. TerraPower LLC, a company he founded to build next-generation nuclear power, faces daunting regulatory and political hurdles, but he continues to advocate for the fuel. In 2019, Heliogen Inc., another startup he backs, announced that its solar furnace could achieve temperatures high enough to replace fossil fuels for industrial purposes such as steel production. In the spring he'll publish How to a Avoid Climate Disaster, a book that promises to be a Silicon Valley-style action plan for achieving net-zero emissions through targeted investments. —Leslie Kaufman
Green Fact
In October the Bill & Melinda Gates Foundation pledged $310 million through the World Bank to help small farmers across the globe adapt to warming temperatures.