If you've ever used a home DNA kit, opened wide and said "ahh," or measured the depth of a knife wound in a stabbing victim, chances are you've used a device made by Puritan Medical Products Co. And if you're tested for Covid-19, the disease caused by the new coronavirus, it's quite likely that the swab used to collect a sample from inside your nose will have been made by Puritan, too.
Located in Guilford, Maine (population 1,521), Puritan is one of two companies that make essentially all of the swabs used for coronavirus testing. (The other, Copan Diagnostics Inc., is in Italy, an epicenter of the deadly virus.) If swabs are necessary for testing, and if testing is crucial to slowing the virus's spread, then it wouldn't be an overstatement to say that the world's future depends, at least in part, on Puritan.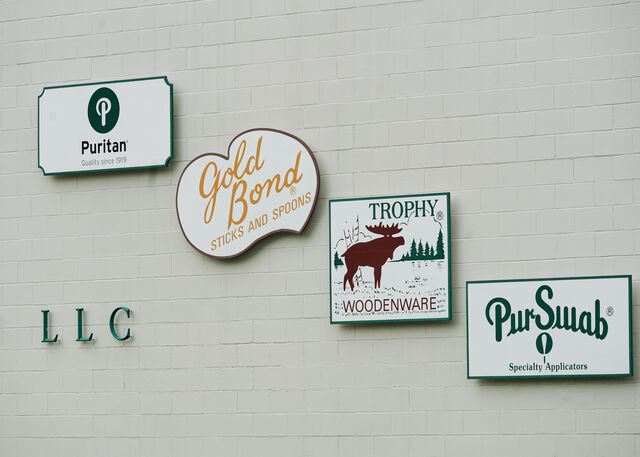 "Swabs could be a weak link in broadening testing," former U.S. Food and Drug Administration Commissioner Scott Gottlieb tweeted on March 16. That was four days after Puritan first started getting calls from the U.S. government, according to Timothy Templet, executive vice president for global sales, who entered the conversations himself shortly thereafter. "I've been on the phone since Saturday with many government organizations—Health and Human Services, FDA, working groups—just trying to provide accurate information regarding the ability to produce as many swabs for the country as we possibly can," he says. The federal government, however, doesn't buy directly from Puritan. Instead it helps coordinate with Puritan and other medical suppliers and distributors to get the swabs where they need to go.
"We are ramping up to produce and wrap a million swabs a week that we need to put into the supply chain across the U.S.," Templet says.
Video by Gabe Souza
I visited Puritan last September, on a very different reporting trip. I was there to learn about Puritan's sister business, Hardwood Products Co., located just across the street, to do a lighthearted article about American-made popsicle sticks. The two companies, which, since a restructuring in 2002, are separate but still affiliated, were nearing the end of a hundred-year anniversary and had a compelling, all-American story to tell. Here was a bustling and successful manufacturer making nearly all its own machinery to create innovative products that keep it ahead of Chinese copycats. Templet and other executives voiced frustration with China's lax enforcement of intellectual property law, and support for the Trump administration's willingness to confront it for the transgressions. Yet, Puritan managed to thrive long before the trade war and is positioned to do so afterward, too.
Founded in 1919 as Minto Toothpick Co. in Saginaw, Mich., Hardwood Products moved to Guilford shortly thereafter and soon made an assortment of wooden sticks, like cocktail forks and ice cream spoons. The company entered the medical business in 1928 with the introduction of its disposable wooden tongue depressor and trademarked the name Puritan about 20 years later. Today, Puritan sells more than 1,200 products, including 65 different kinds of swabs, ranging from a simple, "all-purpose" cotton swab to a pre-moistened, sterile macrofoam swab and collection tube used to detect human norovirus on surfaces. All told, Puritan pulls in more than $45 million a year in sales.
Video by Gabe Souza
And then came the coronavirus. Suddenly this charming small-town company was at the center of a global health disaster.
The coronavirus test uses a swab made with short fibers called "flock" (think: tiny polyester cilia, like nose hairs) that get placed on the end of a plastic applicator—wood can interfere with test results—creating a soft tip that will eventually (and gently, one hopes) get shoved up a patient's nose. Unlike cotton-tipped swabs you find at the drugstore, these flocked swabs are designed specifically for picking up microscopic organisms.
Early tests used two swabs—one for up the nose and another for the back of the throat—but with the shortage, guidelines from the Centers for Disease Control and Prevention now call for just one. Puritan has two patented flocked swabs ("We're making and shipping both," Templet says), produced in a room whose intellectual property is so important the photographer and I aren't allowed in. But it isn't as simple as making them and sending them out. First, they have to be shipped to another company in Northborough, Mass., for sterilization, then back to Puritan, and then sent off for distribution.
"That takes a little bit of time. Hopefully we'll be firing on all cylinders and getting as many wrapped as we possibly can," Templet says. In one weekend alone, he says, the company would be "wrapping"—meaning preparing for sterilization—and sending off more than 2 million swabs. At the same time, it can't simply stop making other medical devices that its regular customers are depending on. The coronavirus swabs have to be additional, they can't be instead of.
Puritan is extending its five-days-a-week schedule to six, running "at least" 20 hours a day, Templet says. (Copan is also scaling up, says spokesperson Irene Acerbi, to 24/7 production and exporting "everywhere in the world," including shipping the maximum possible to the U.S.)
The biggest challenge for Puritan, though, is a constant shortage of workers. The problem comes up for companies of all sizes, and it's been exacerbated by Trump's ever stricter immigration policies. Executives complained about the lack of job applicants in September—the town is tiny, older employees are retiring, and new people aren't exactly moving to Guilford in droves—and Templet repeats it to me on the phone. The company has 535 employees total. It's continually looking for more machine operators and mechanics and is hoping it can get some extra hands from college-age workers returning home early and recently laid-off workers from nearby employers. The medical side will also borrow from the Hardwood side to the extent possible, Templet says.
"The whole labor shortage has created difficulties to have enough machines and build equipment," he says. "I could use 60 people tomorrow."
The company makes an average of 19 million swabs of all kinds each month, a number that could go up "if we had more people."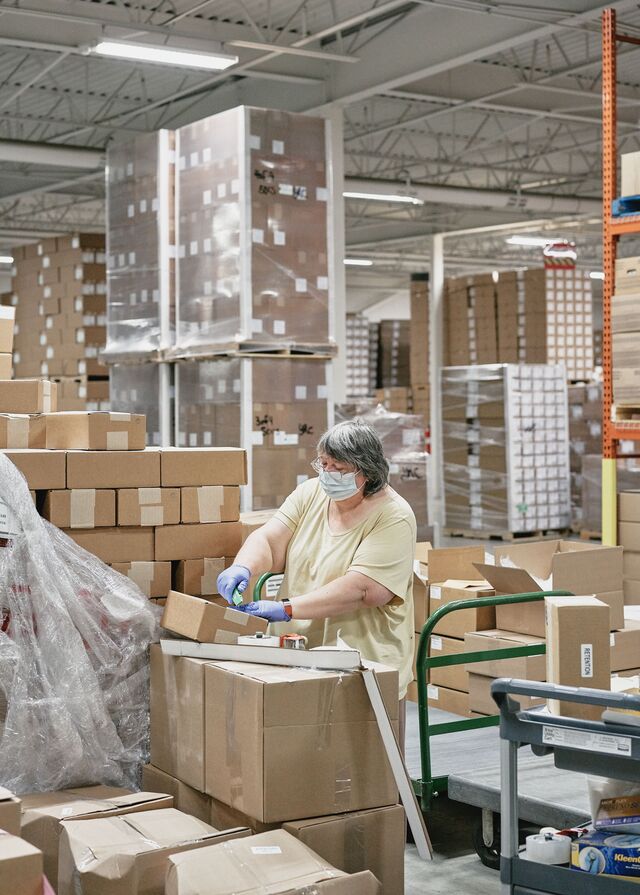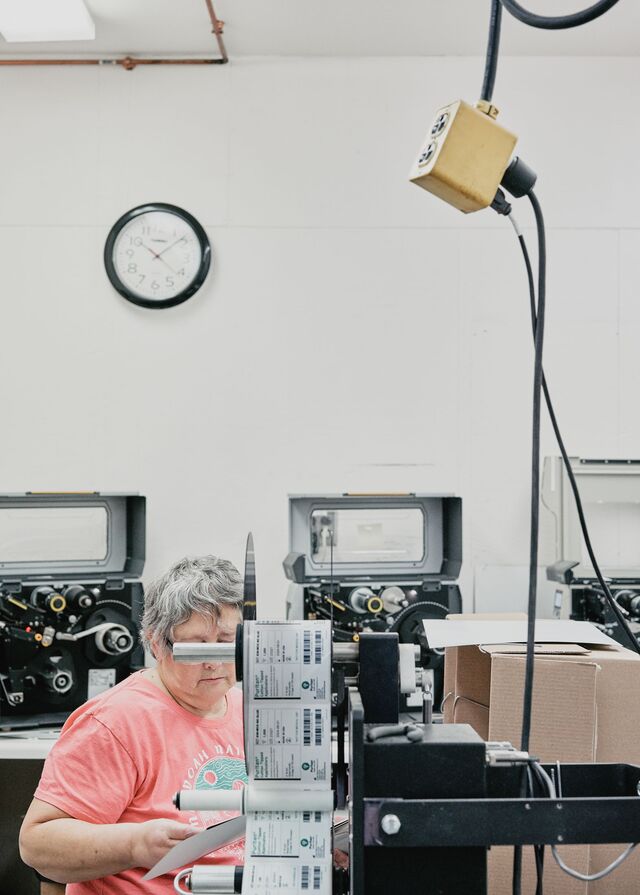 Social distancing in the factory is practiced to the extent possible, and employees are also taking all the other precautions they can: sanitizing constantly, covering up with protective clothing—including face masks as available—getting rest when they aren't working, and staying home if they feel sick. (The company does have paid sick leave.) Temperatures are taken daily, and every employee has been given personal hand sanitizer.
"They are proud to be part of this. They are doing as much as they can, as fast they can, and being as safe as they can to provide products," he says. "Management, including myself, are available to run machines if need be."