Maps are used to explore the world, but they also offer exploration within their own boundaries. The writer Rebecca Solnit once said in an interview: "Maps invite us to locate ourselves in relation to whatever they show, to enter the labyrinth that is each map and to find our way out by grasping what is mapped."
Making maps of your own world can amplify that experience, because it asks you to sort out what you think, feel, see, hear, and even desire in a place. In April, CityLab asked readers to share homemade maps of their lives during the coronavirus pandemic. The more than 400 maps we received are so many windows into what people around the globe have experienced through this extraordinary crisis, as well as its sprawling social consequences.
Diverse in style and content, yet deeply connected in their themes, the maps collectively show how coronavirus has transformed the places we live. Beloved people, places, and activities were suddenly out of reach. Food, shelter, and other basics were vested with elevated importance; so were access to nature, creative outlets, and a sense of social connection. Under pressure and confinement, relationships and perspectives turned hyperlocal — and, in many cases, were widened by a sense of injustice about who was dying, and who was not.
By late May, economies began to reopen and communities re-revised their sense of normal. Rage over the systemic racism that also played into the pandemic's unequal death toll reached a boiling point in the U.S. and erupted into global demonstrations. With protesters filling streets that were empty and quiet mere weeks before, neighborhoods are transforming once more — and hold promise for further transformation.
We invite you to explore this published selection of reader-made maps, organized into six thematic sections that reflect some of the pandemic's effects. "Domestic rearrangements" examines shifting home lives. "Psychic landscapes" probes the emotional toll. "Redefined boundaries" surveys changed perceptions of wider surroundings. "Virtual connections" looks at the dominance of digital time. "Natural callings" taps into the lure of greenery and wildlife.
Each map is accompanied by the words of the mapmaker, edited for clarity and flow. Our goal was to present a selection of maps based on a diversity of geographies, experiences, and artistic style. This video below presents this project and brings the maps to life. Share the video on Facebook and Twitter.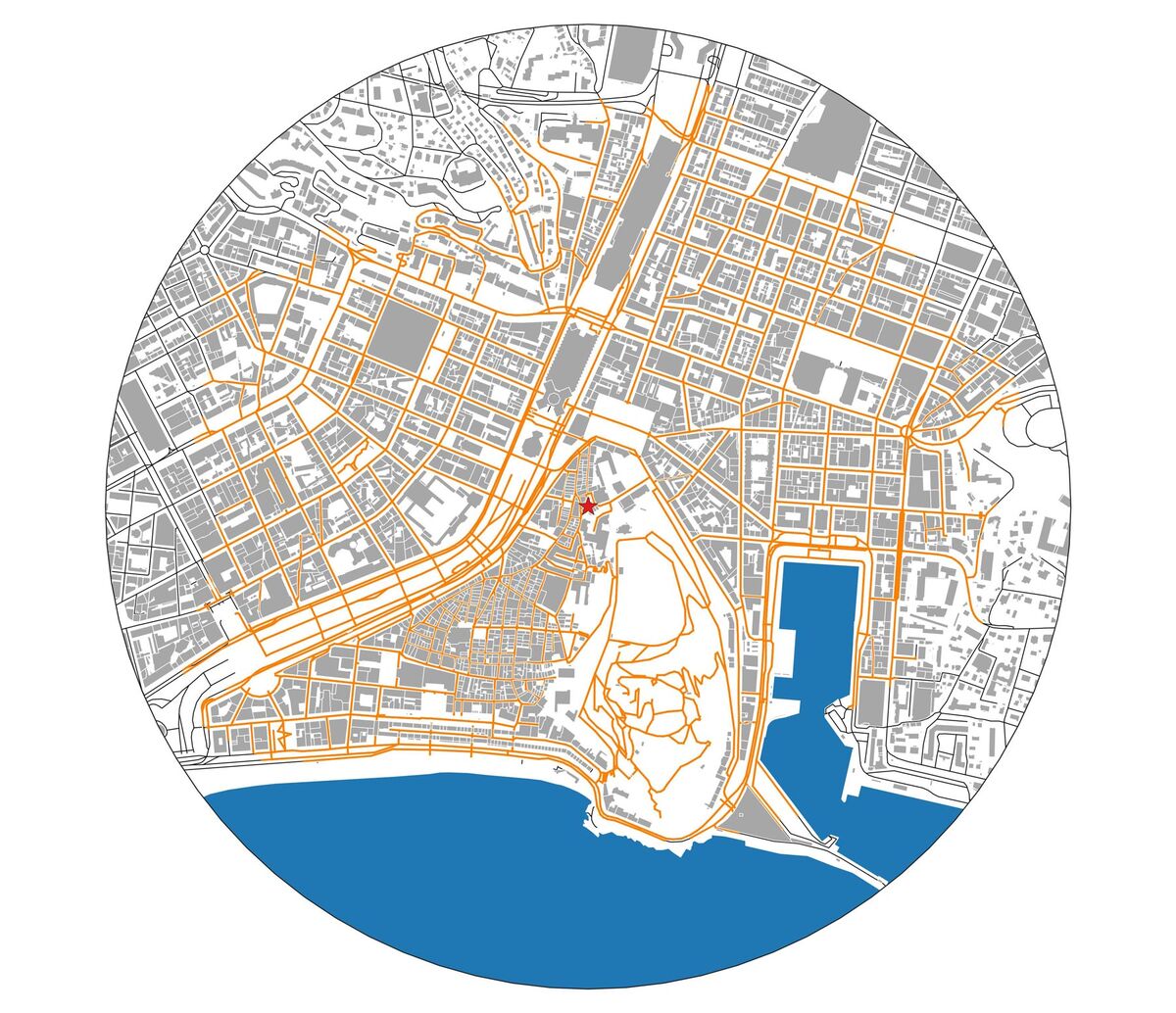 Alessandro Venerandi
Nice, France
Category:
Redefined boundaries
6/19/2020 12:25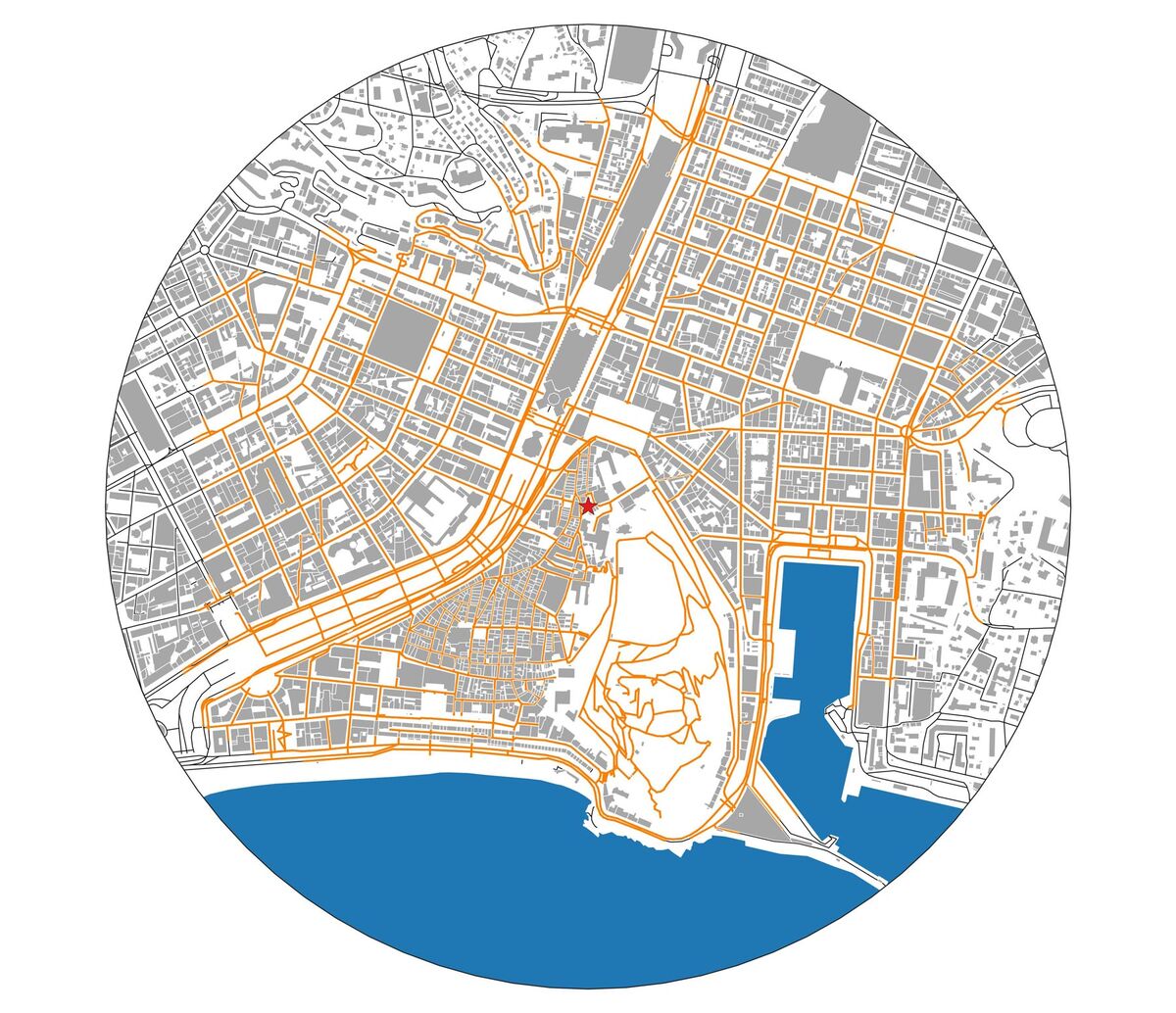 In the lockdown, the French government decided to restrict the movement of people to a one-kilometer radius, a measure that is easier to say than to imagine in the real world. Since I did not exactly know what places I could reach one kilometer from my flat, I produced this map to help. It shows where I live (red star) and the places that I could reach along the street network (in orange) or as the crows fly (black circle). Since I live in a touristy area of the French Riviera, the lockdown was actually not that bad of an experience as I could explore and observe my neighborhood without being pressured by the constant flow of people that populate its streets.
Amit Krishn Gulati
Gurugram, Delhi-NCR, India
Category:
Psychic landscapes
6/15/2020 10:57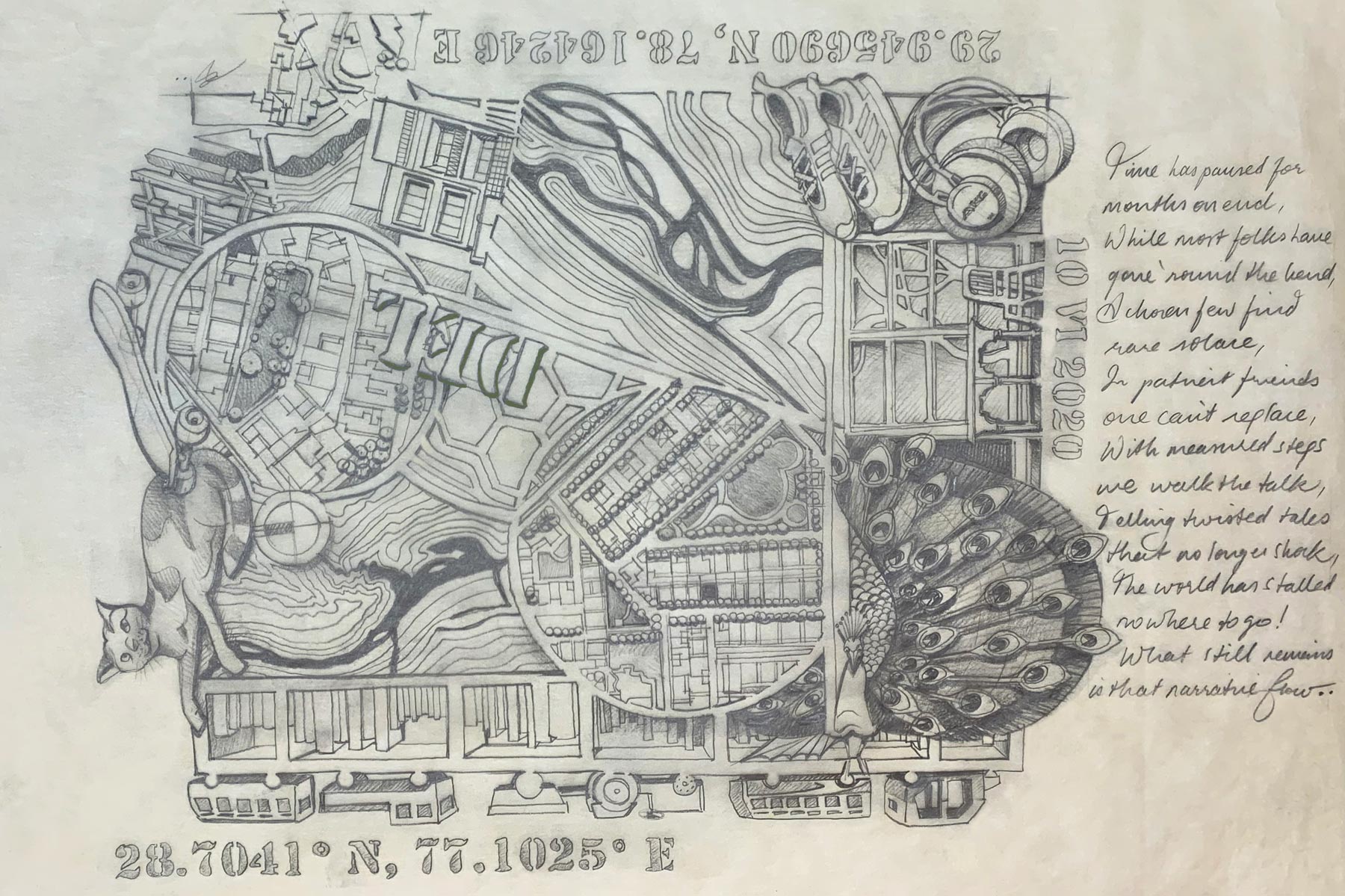 Doodling maps of my neighborhood has been a passion since childhood, a way to locate oneself and also record memories. My quarantine map extends the sights and sounds of my immediate surroundings: the studio at home, the little garden outside, my night-time walking paths, as well as the places I've physically and virtually transported myself to during the lockdown. These appear in the form of a montage of objects, creatures, poetic meanderings, aerial topographies and plans viewed through binocular frames. My map is a metaphor for time and space twisted by the imposition of a new and constrained frame of reference, bringing together far-flung places that now exist together. The north Indian rivers, the Ganges and the Yamuna, also feature, binding the physical, the temporal, and the spiritual with their fluid, shape-shifting forms and transporting us through our new, permanently distorted reality. Going from a fast-paced life on the road to being grounded at home for several months has been a shock, yet welcome in many ways: It has slowed down time and made us more alert to the sounds of birds, the much clearer skies, new walking trails and stories to explore, and certainly has given us the opportunity to look inwards.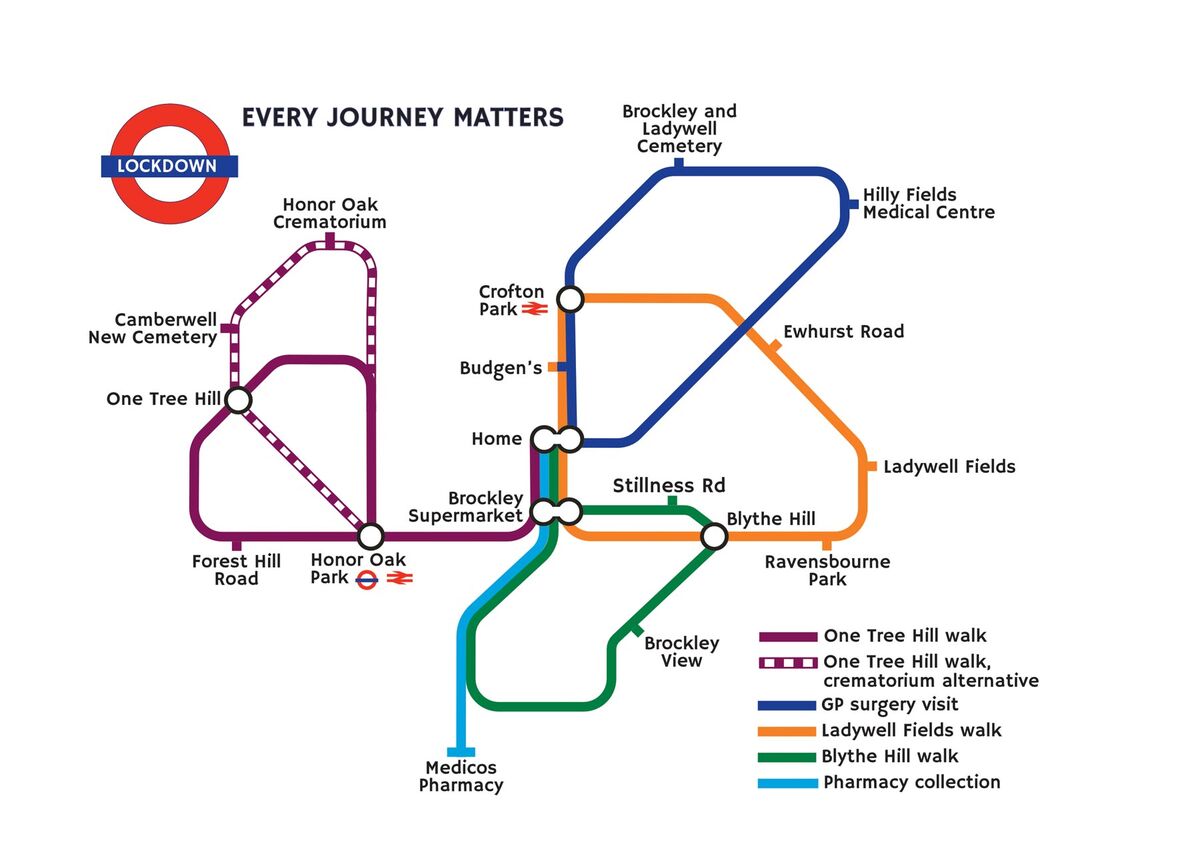 Andrew McIlwraith
London, United Kingdom
Category:
Redefined boundaries
6/10/2020 15:14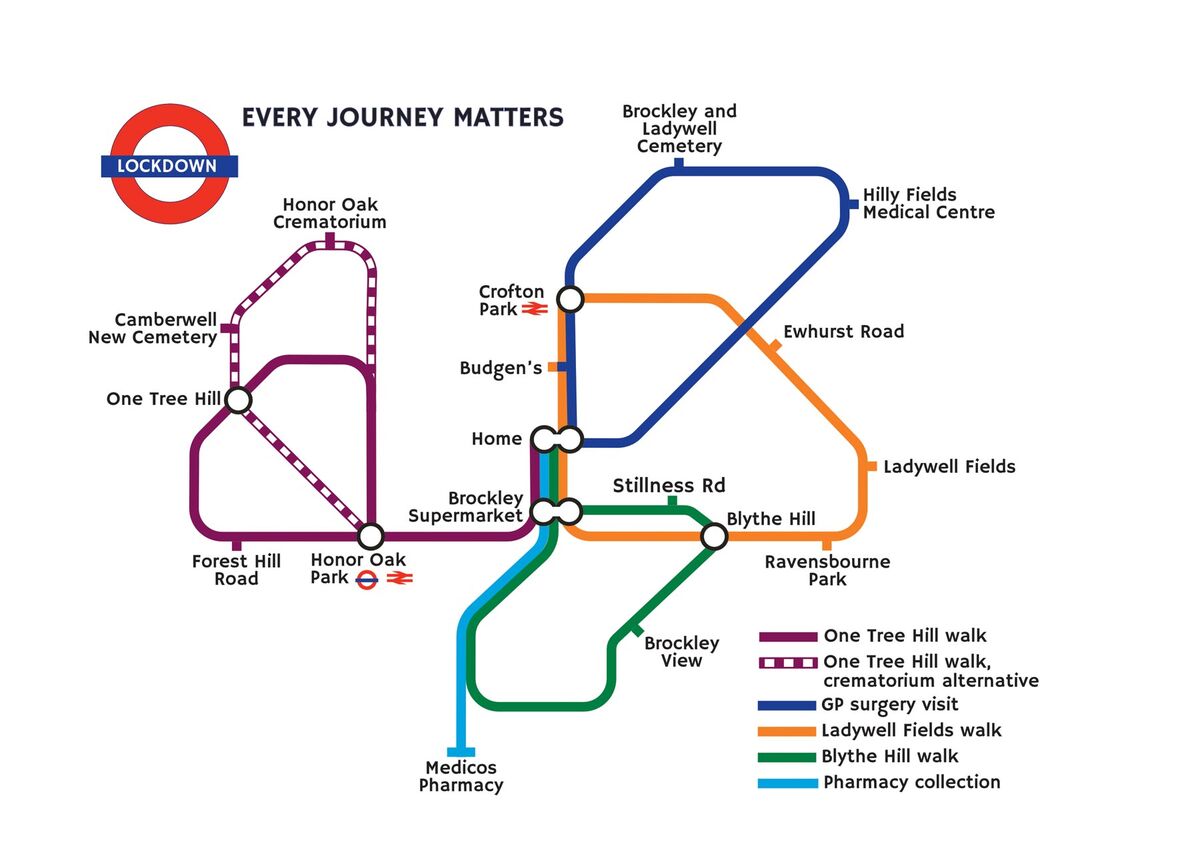 The London tube map is a focal point and navigational anchor for most people who live in the city. When lockdown came, my world shrank, as it did for everyone. My regular journeys changed, from those on public transport for work and recreation to those by foot for exercise, to buy groceries and to collect medication for a self-isolating neighbor. So my map shows my regular walking routes in the style of a tube map. I have always walked around the neighbourhood, but walking more, I have realised how much natural beauty there is in my urban neighborhood: foxes who are mostly invisible by day, but appear at night; the many green spaces there are, large and small; the trees; and the gardens that many houses; and the vibrant birdlife, now so evident through birdsong, now that there is less road traffic noise, and virtually no aircraft noise.
Ashwin Tahiliani
Mumbai, India
Category:
Neighborhood bonds
6/21/2020 18:07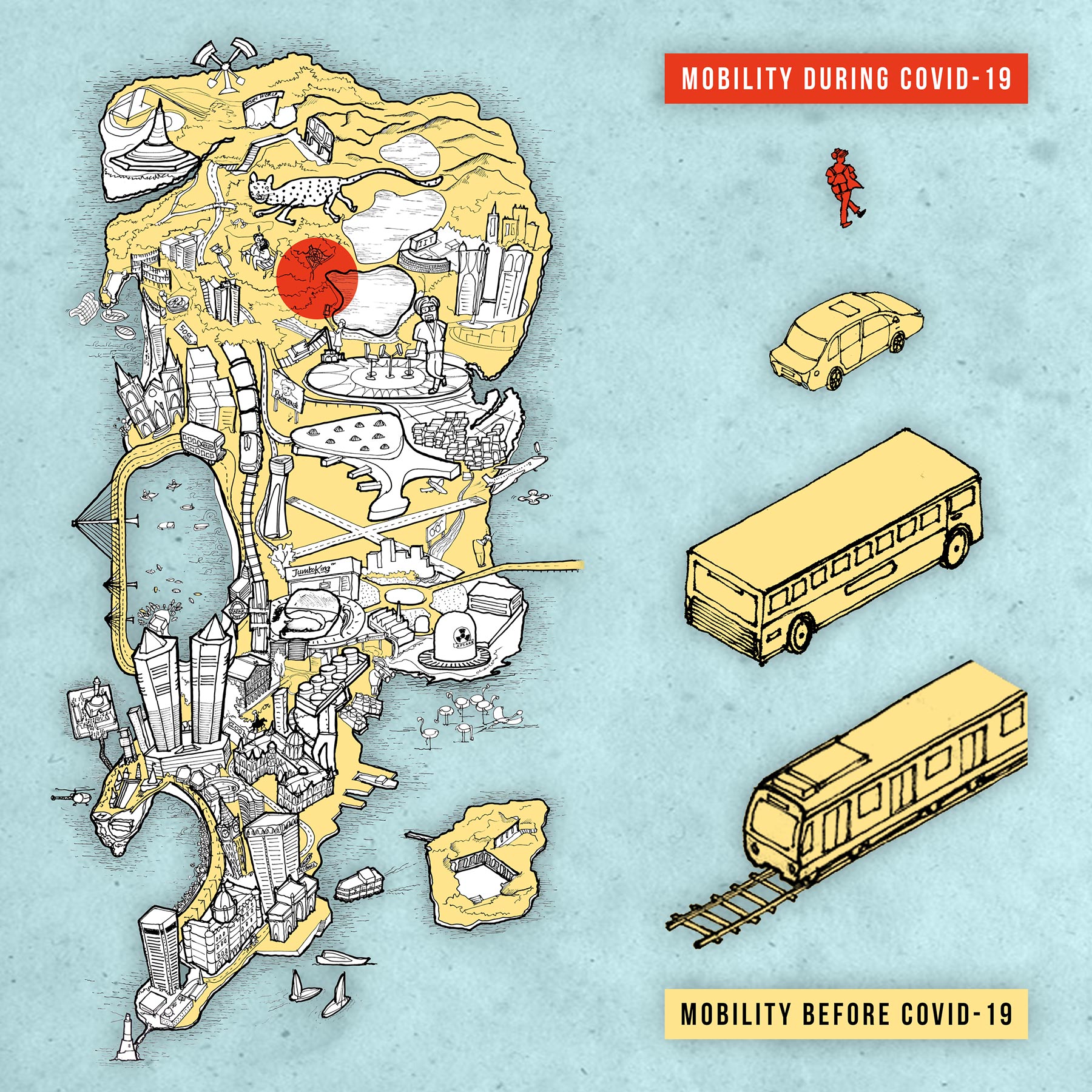 As a suburban resident of the coastal megacity of Mumbai, I am an avid map, travel, and illustration enthusiast. My relationship with my surroundings has evolved and expanded over the years, primarily because I also conduct heritage tours in Mumbai. That requires me to research and travel the length and breadth of my city regularly, often with tourists coming into Mumbai. I would use all possible modes of transport and visit many nooks and crannies of the city on a daily basis. I began to feel that the entire city was my neighborhood. So when the pandemic and subsequent lockdown hit India, it brought all of my wandering to a complete standstill. Now I only walk in the area around my home. But that means I have finally begun to relate to my actual vicinity as a neighborhood. The light yellow in my map depicts all the places I would normally go in a month before the pandemic, using the color-matched modes of transport. The orange shows my journeys for the last three months.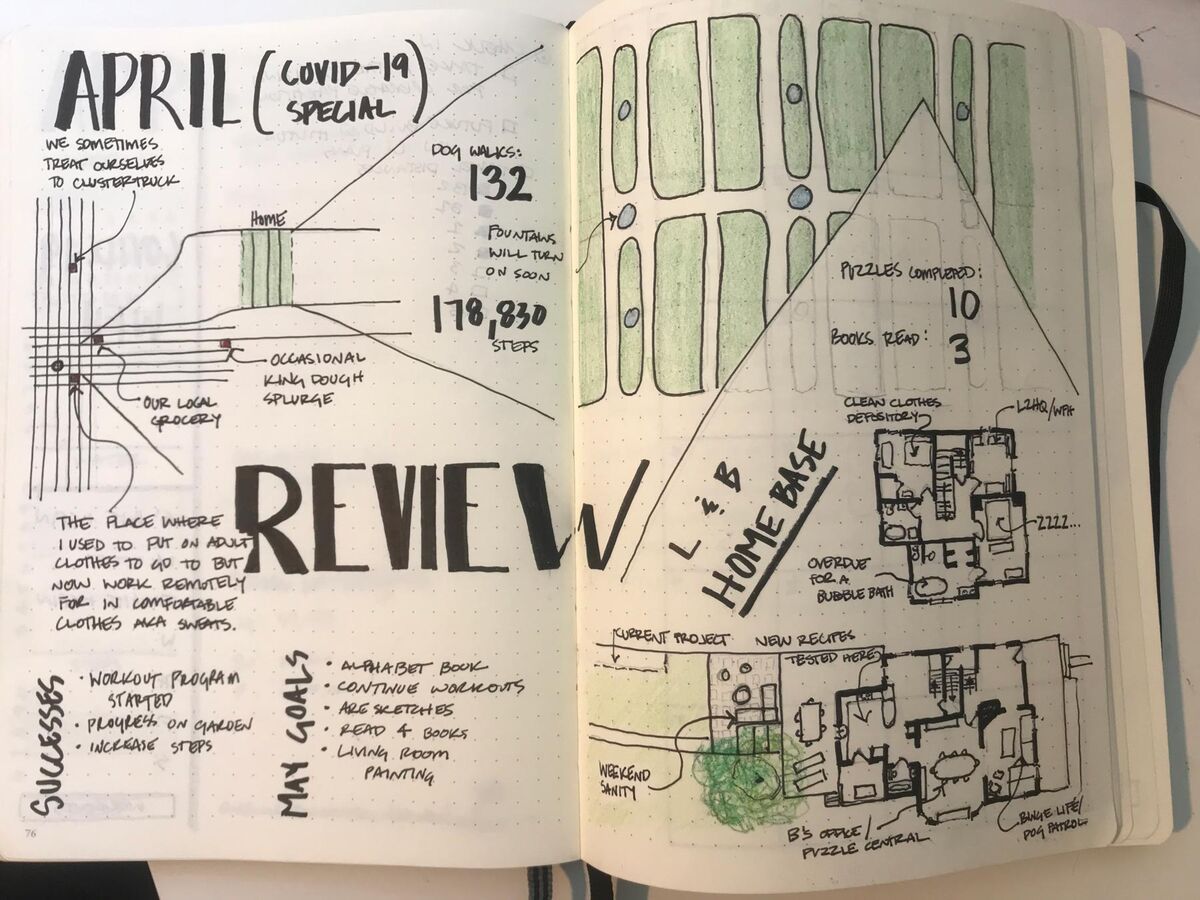 Lora Teagarden
Indianapolis, Indiana
Category:
Domestic rearrangements
6/18/2020 18:26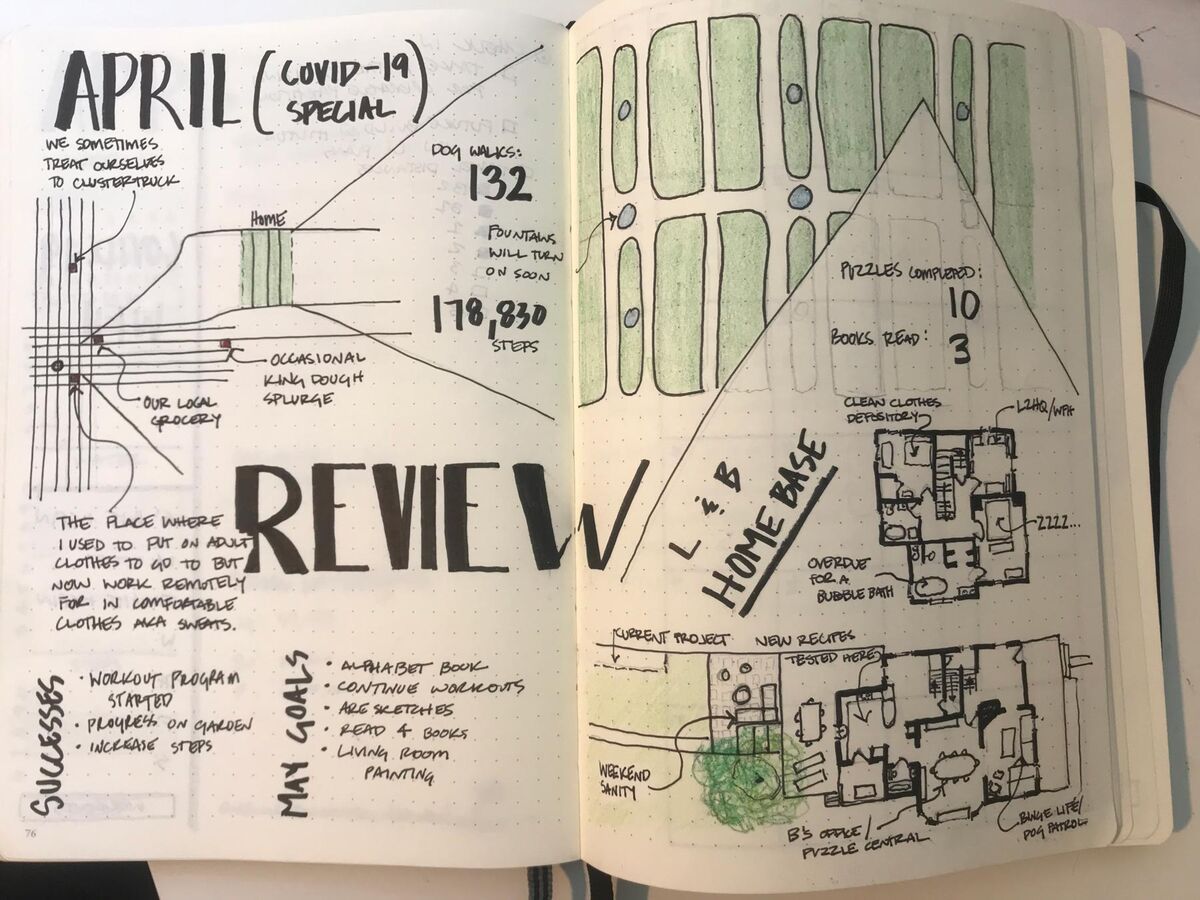 My average monthly geography went from work, favorite hang-out locations with friends, jaunts to Columbus, Indiana, to visit my girlfriend, and national business trips to a neighborhood space the size of a three-by-two-block rectangle. The girlfriend and I quarantined together, and our three dogs have given us the ability to get to know our small, historic neighborhood on a much deeper level. Spaces in the house have also taken on new purposes, with the dining room being used more for puzzles than eating!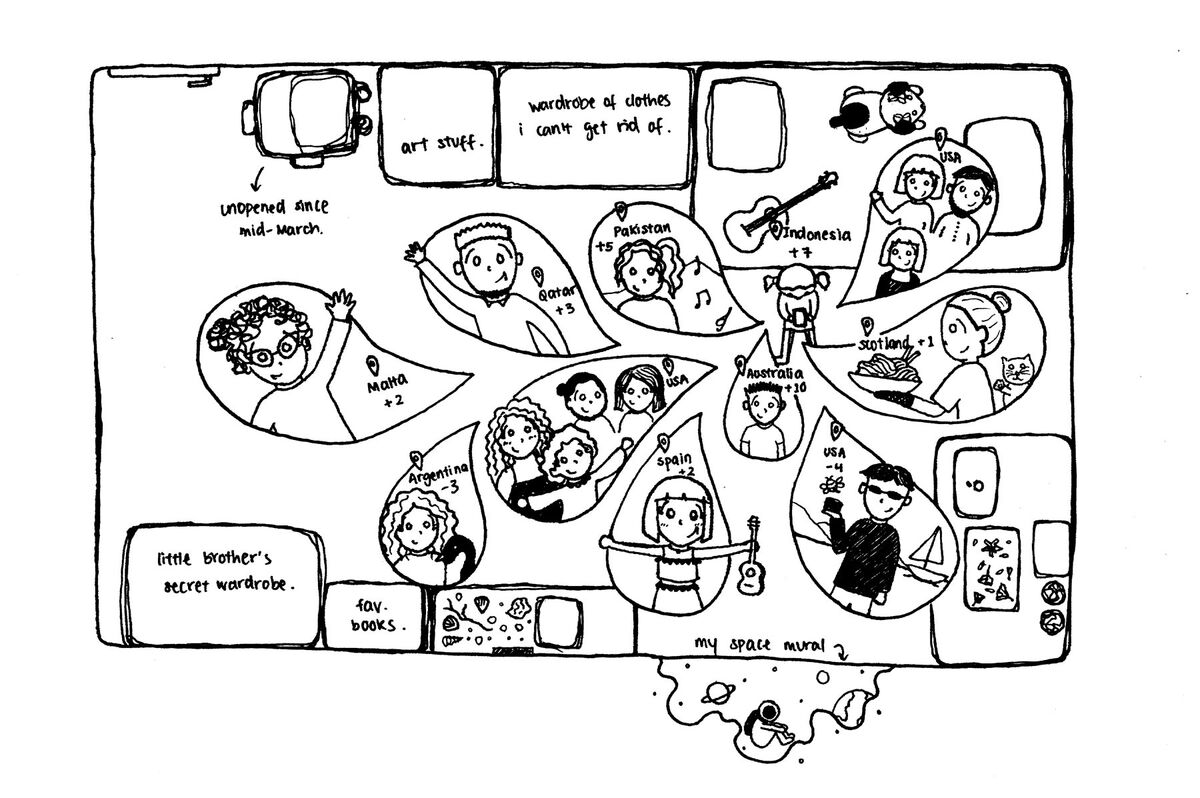 Maria Matilda Salim
Bogor, Indonesia
Category:
Domestic rearrangements
6/20/2020 19:02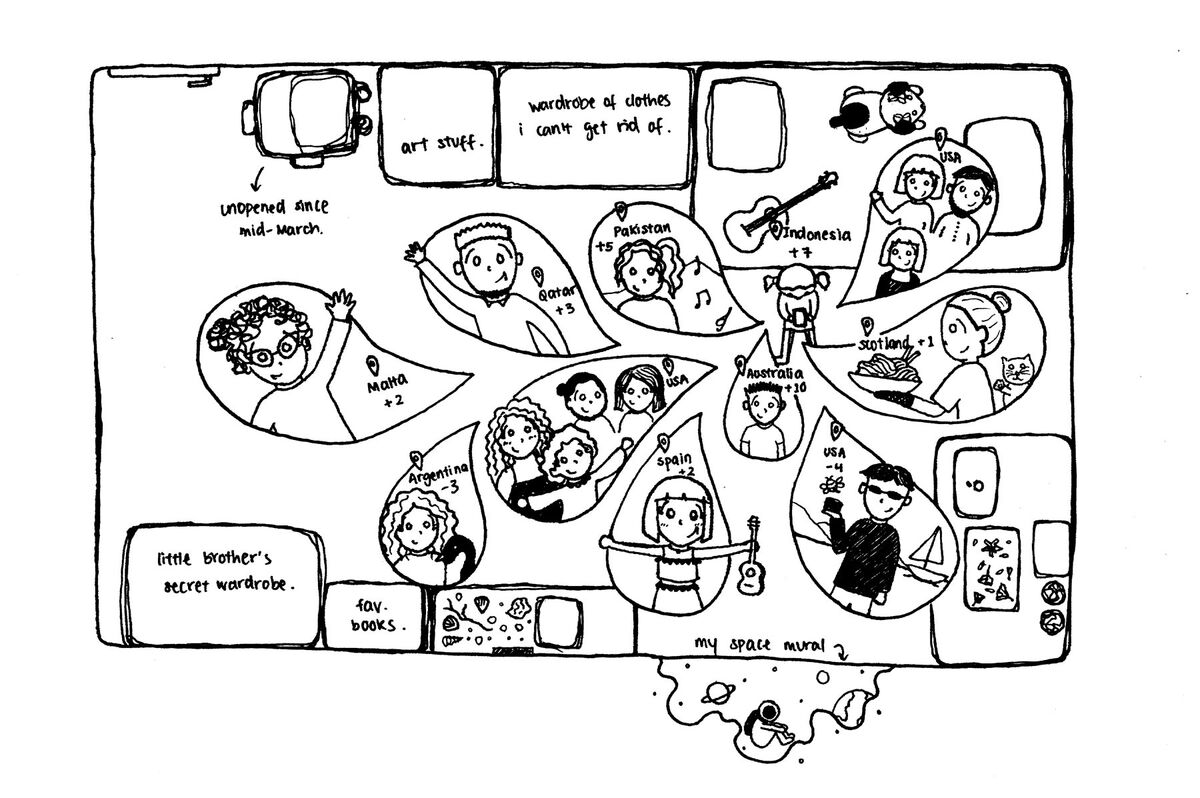 I've been in my family's house since I returned to Indonesia in mid-March. Since then the world feels like it's been getting bigger and bigger, I'm very lucky to stay inside. But after almost five years of living away, it's challenging to adjust to life with my family again, without the option of going out. There are only "wide-scale social distancing" rules in Indonesia, which are poorly followed. So we haven't really left our house because it's too risky, as we have a history of asthma. This is a virtual map of some friends who have helped me feel more grounded and safe during this period, even though we are stuck in completely different countries. Occasionally, it feels like my sense of time is anchored in multiple time zones. I'm still trying to find a balance between being present and escaping digitally to those places and people where I feel at home. They just give me a little bit more hope. So sometimes when I miss people and the time zones don't match, I find myself recounting memories by the foot of my bed, across from my little "space portal."
Simone Viegas
Vancouver, BC, Canada
Category:
Neighborhood bonds
6/11/2020 6:50

Art is part of my life so I decided to paint some watercolor moments of my routine these last few months at home. I'm always trying to be positive and creative: singing with my husband, baking and painting are part of my relaxing moments. But some moments are very stressful, like when the grocery box is delivered at my doorstep. Video calls with friends and family are very helpful. I have a call with my mom every day; since she is alone at home, this is the way we can stay close! But we also can't forget the frontline care workers, so at 7 p.m. we are ready to clap at our balconies every day. At the end of the day, Netflix is our best friend.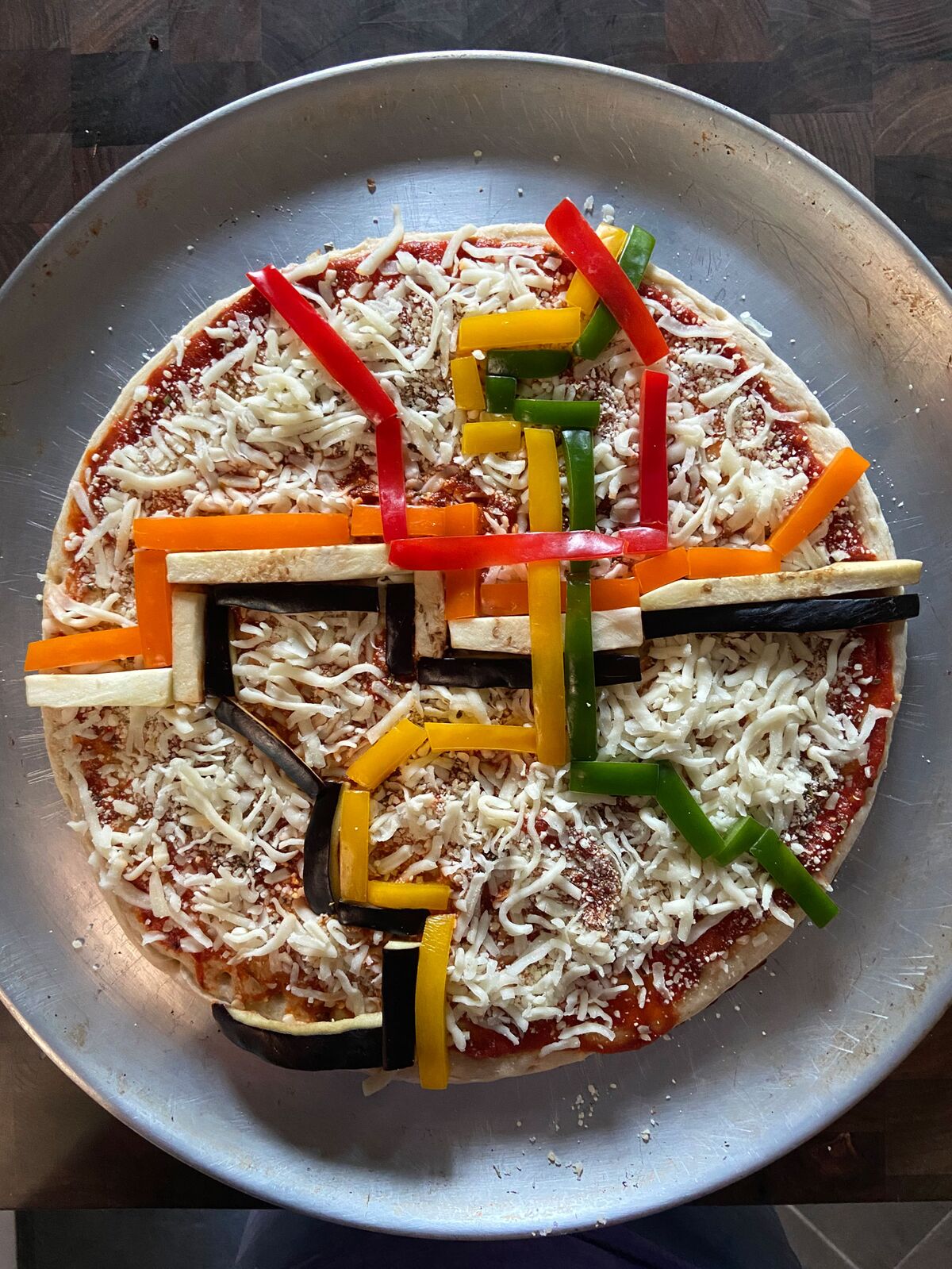 Stephen Ander
Washington, D.C.
Category:
Psychic landscapes
6/15/2020 17:15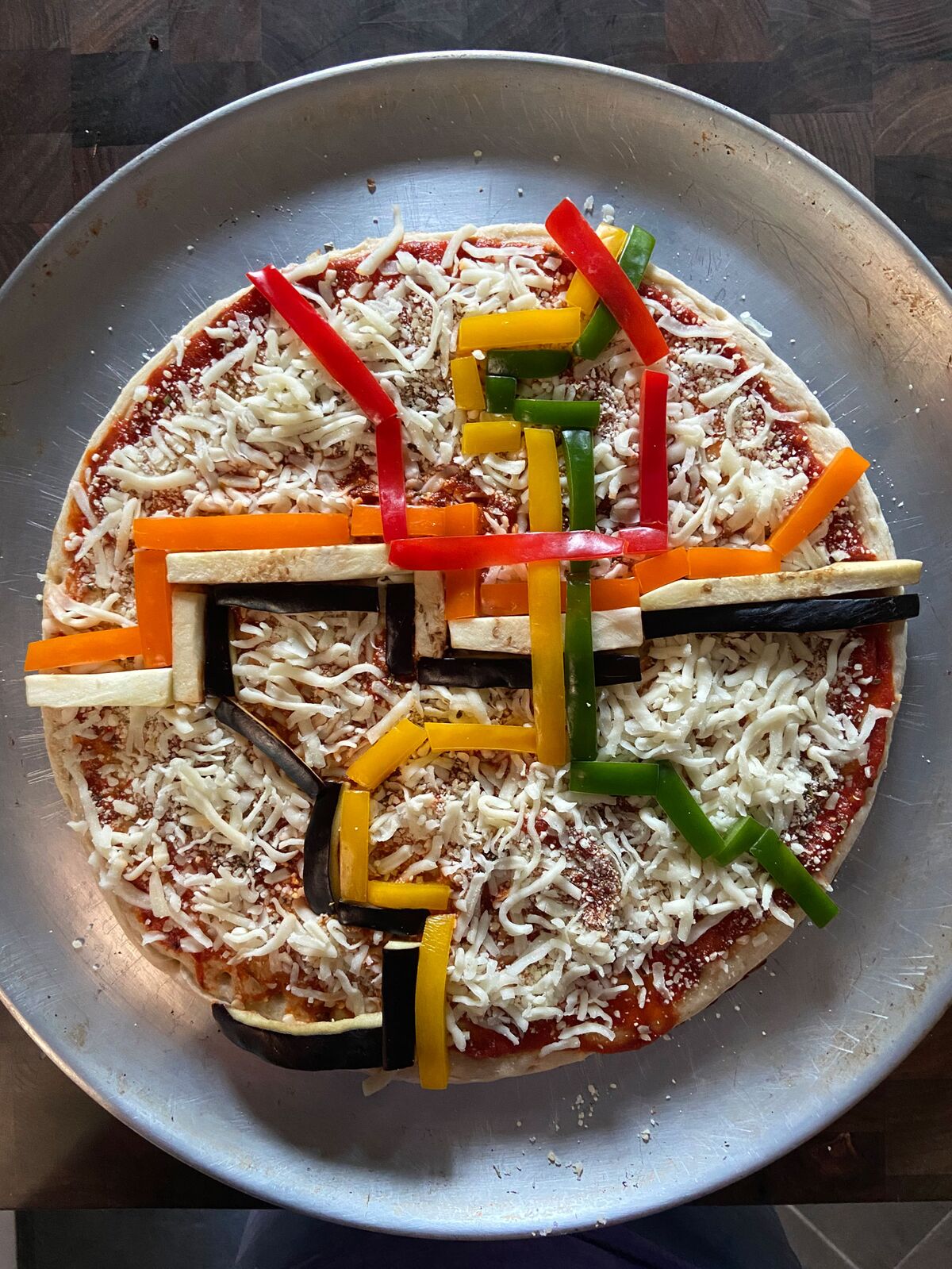 Stay-at-home orders and social distancing are tectonic shifts in both how I get to work (formerly by metro; now by going ten steps to the basement) and how I eat (pretty much only cooking from home). I may be one of the few to say it, but I do miss the D.C. metro trips. I decided to memorialize the metro in one such instance of cooking from home in the best way I knew how: a pizza topping metro-map. Having a two-year old, I can say that it is sad to rein in the innocence of youth. It is a taboo to joyfully play on playgrounds or sporadically talk to people on the street or at the park.
Aditi Shah
Berkeley, California
Category:
Neighborhood bonds
4/7/2020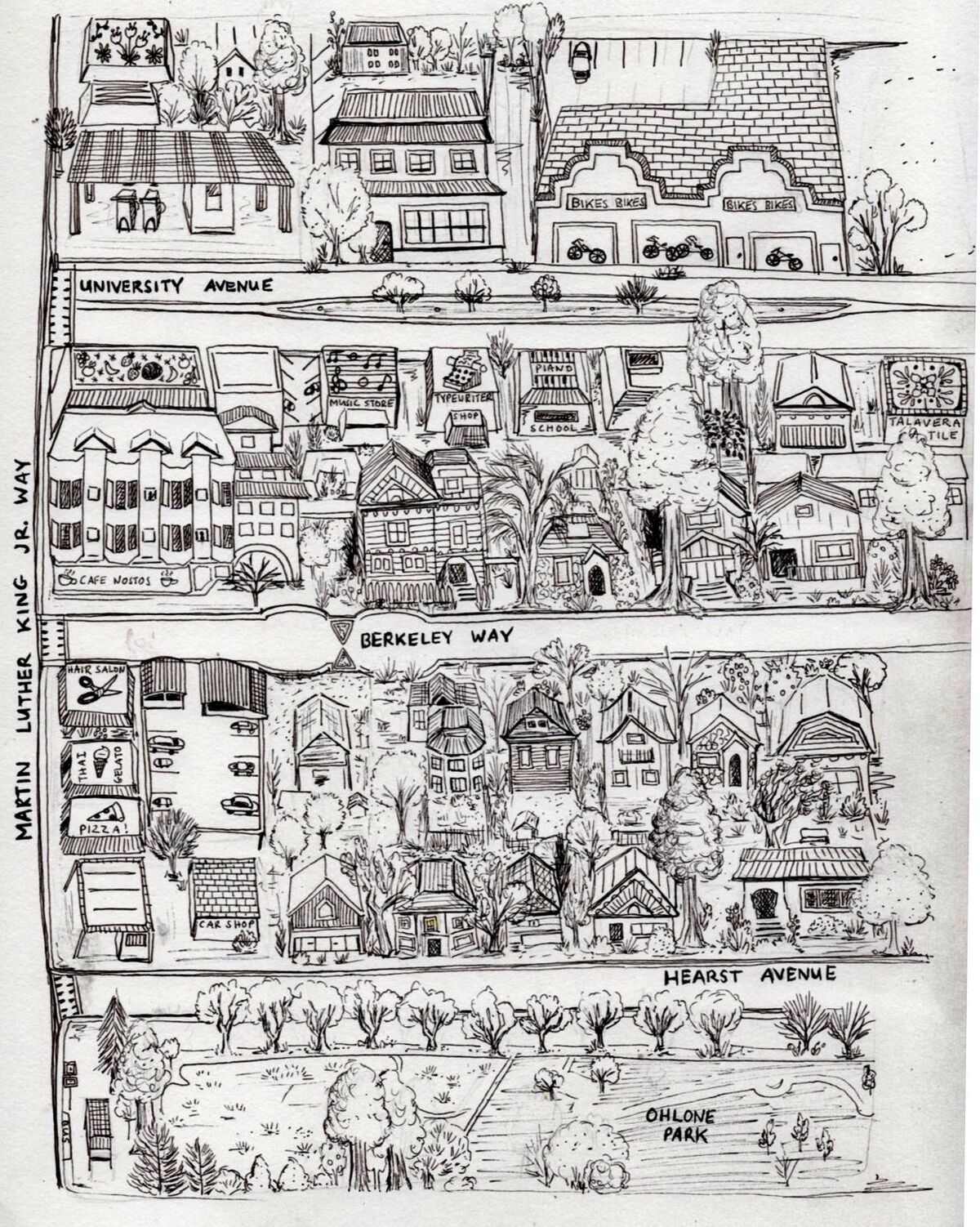 While drawing this map, I felt increasingly curious about how my neighborhood evolved. I particularly loved drawing the looming redwoods and clashing architecture. While drawing my favorite businesses in the area, I took some artistic liberty with their roofs for fun. To be honest, I took artistic liberty with the whole map because I couldn't remember the exact details of the buildings and their foliage. Even though this map isn't accurate, looking at it makes me deeply appreciate the privilege of where I live during these strange times.
Agustina Martire
Buenos Aires, Argentina
Category:
Redefined boundaries
4/18/2020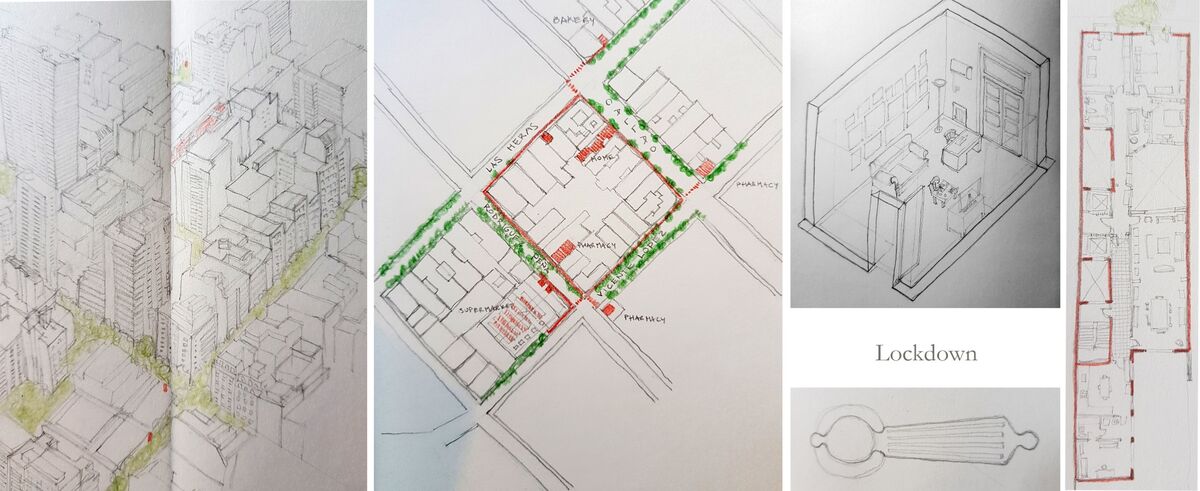 The map is a collage of the lockdown in Buenos Aires, where we are only allowed to go out for groceries and pharmacies. The red line is my walk, every other day, to buy the basics. The room I drew is where my five-year-old daughter and I spend most of the day, working remotely and homeschooling. I normally live in Belfast, but visit Buenos Aires every year. Normally I would spend most of the day here outside the house, meeting people for breakfast, lunch and dinner. Now all the socializing happens by phone. The neighborhood is still quite lively, as this is a very dense area of the city, but facemasks are compulsory so there is an unusual sense of mistrust. A woman in the queue at the butcher said: "I am smiling behind the mask," which made us both laugh.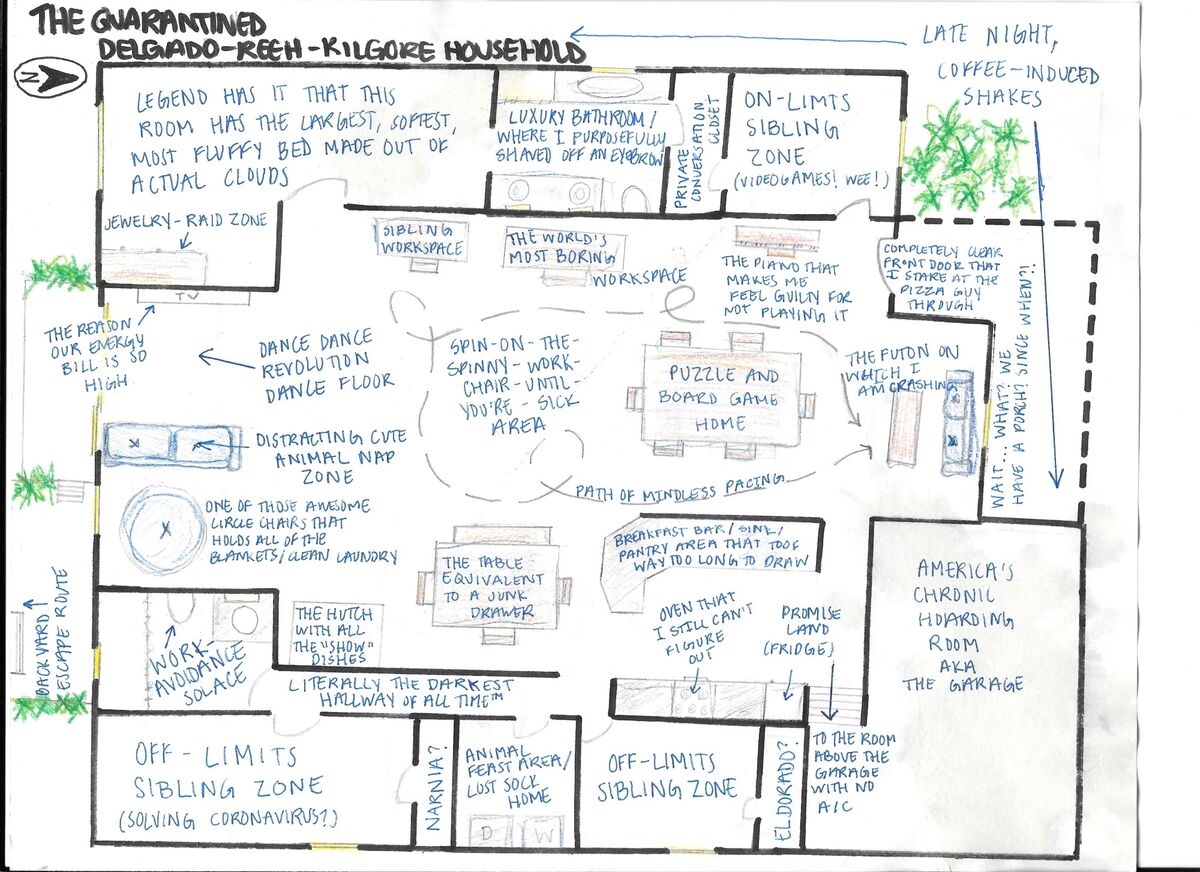 Alayna Delgado
Tampa, Florida
Category:
Domestic rearrangements
4/7/2020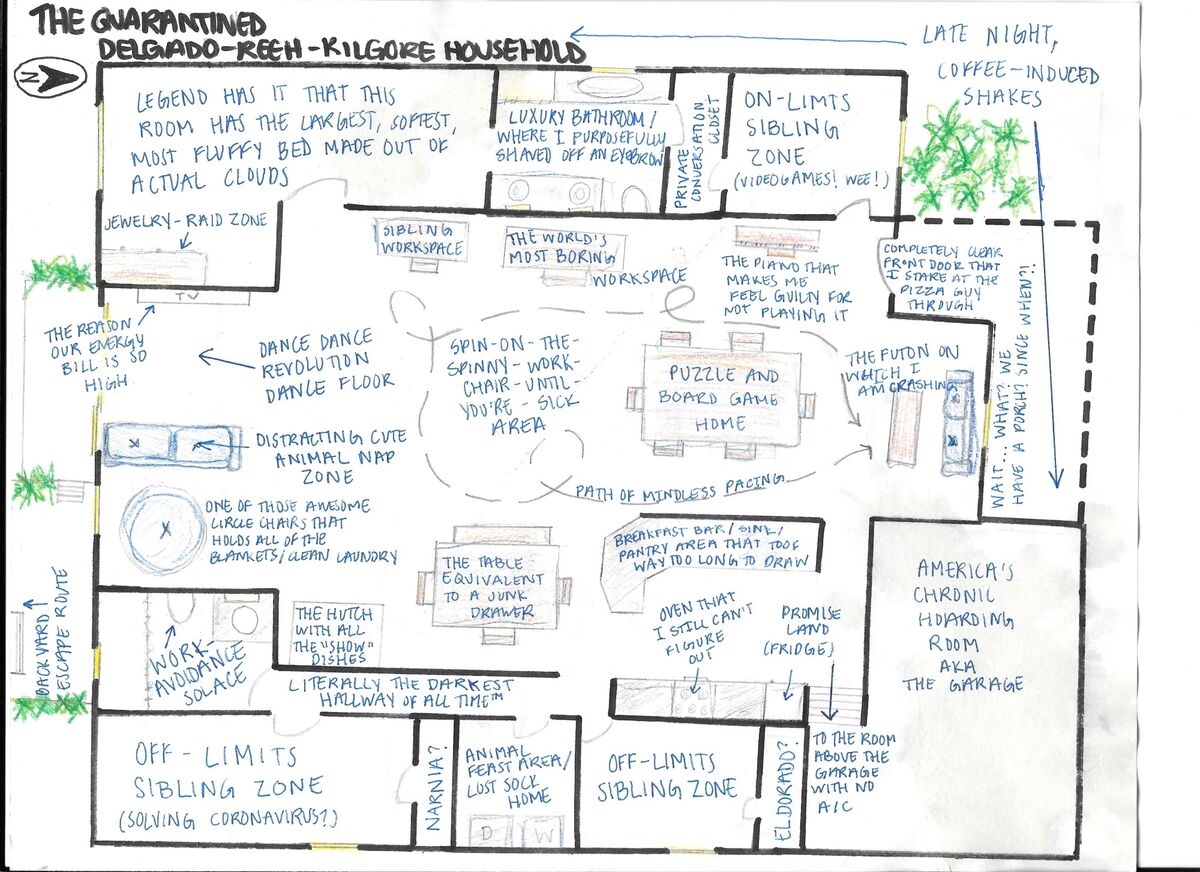 I'm in graduate school and I'm staying with my mom, dad, and four younger siblings until I can move out in early May. It's hectic, to say the least! Things have changed: So much leisurely strolling and biking! Saving money by only going out for necessities! I've also really fallen in love with how cute Tampa bungalows are. I forgot!
Alex Chung
New York, New York
Category:
Redefined boundaries
4/17/2020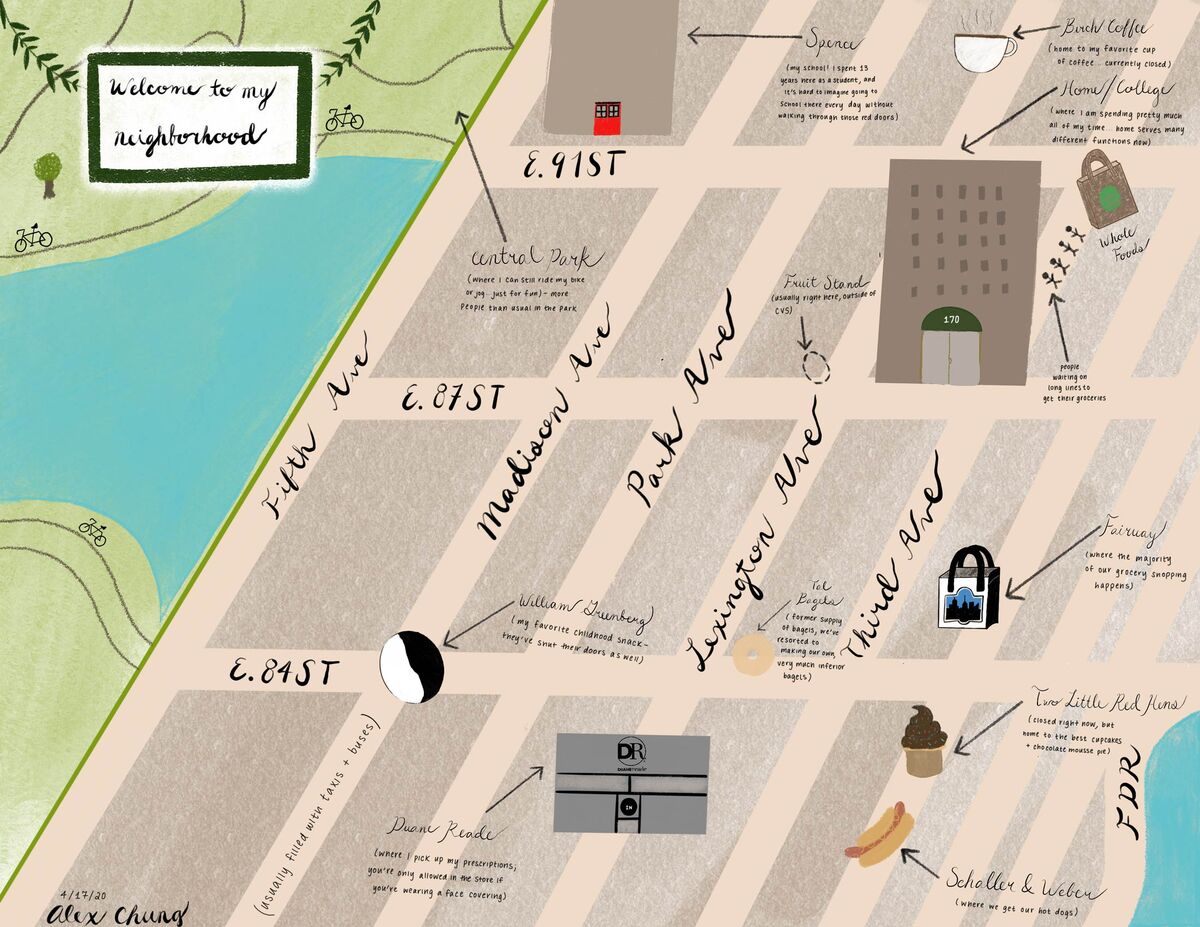 My neighborhood map shows the roughly four-to-five-block radius that I considered to be my neighborhood prior to Covid-19. I have shown my home, which now serves a function as a school, as well as a home gym. I've shown key landmarks, which, after drawing the map, I realized were primarily locations to purchase food and other necessities. From my map, I've realized that I am only leaving my home to gather these essential items, and as such, I am no longer able to enjoy the more casual, unique elements of my neighborhood that make it what it is. One of my favorite parts of my neighborhood is being close to everything. Now, I have become attuned to the fact that even with all of these places nearby, I find myself with nowhere to go.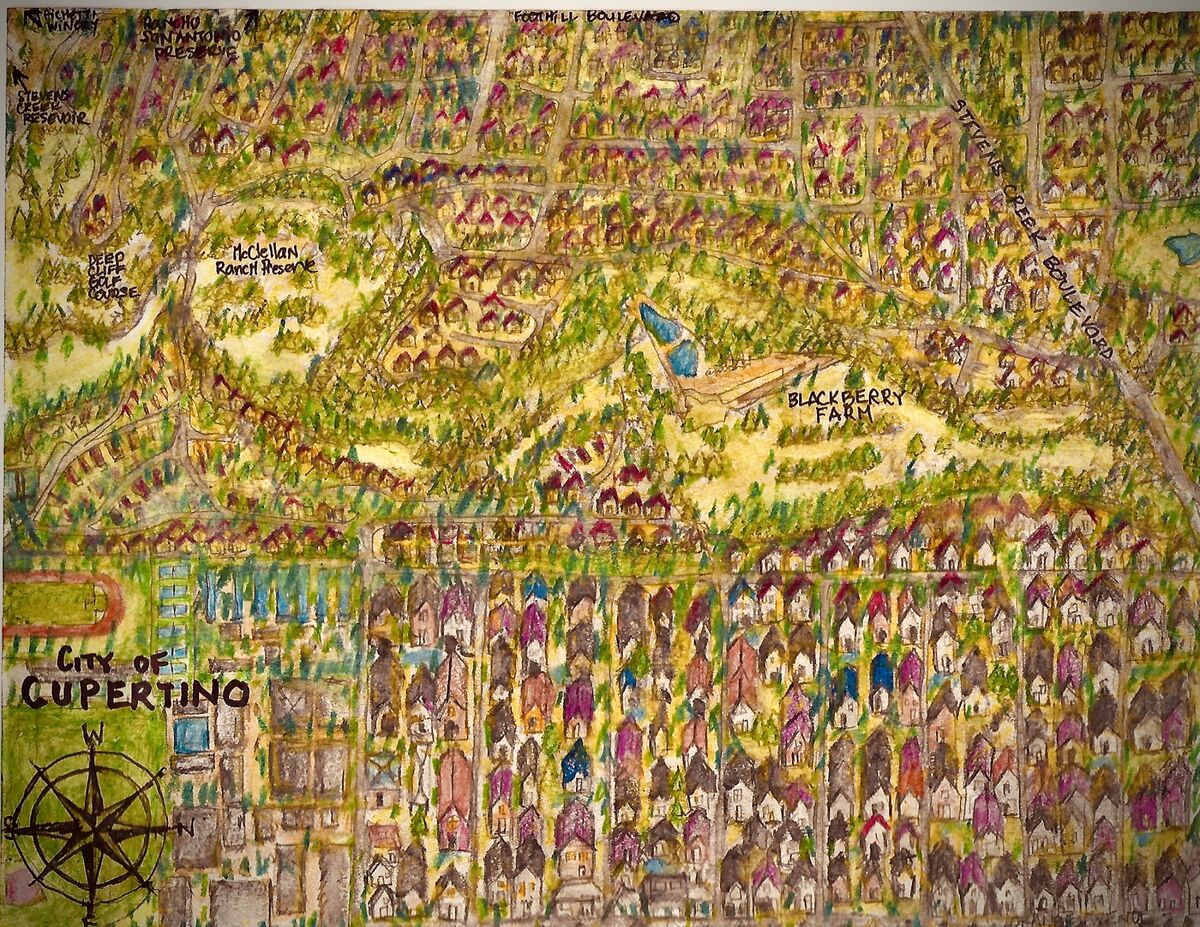 Alex Wang
Cupertino, California
Category:
Neighborhood bonds
5/16/2020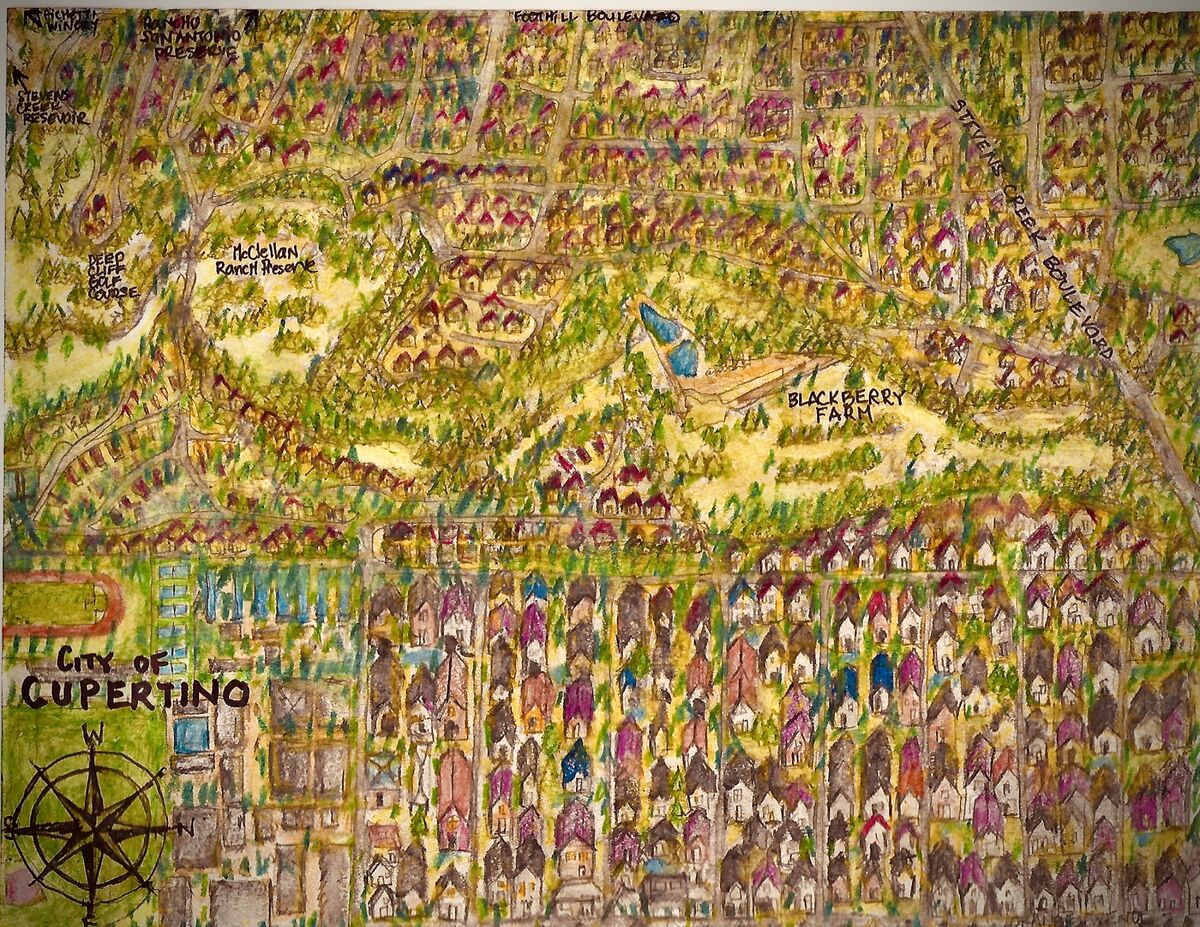 For many Cupertino residents, Blackberry Farm park has become the natural place to stroll to help relieve the tension from the challenges that this pandemic has brought. Silicon Valley professionals who are often too caught up in the hustle and bustle of the dynamic tech industry now have time to say hi to neighbors and to really stop and smell the roses. This is a good opportunity to use the break from routine, to re-evaluate what really matters to us. Folks are now also tapping into dormant networks to reconnect with meaningful friendships, and also being forced to acknowledge who we would've liked to be quarantined with, and the reverse, for that matter.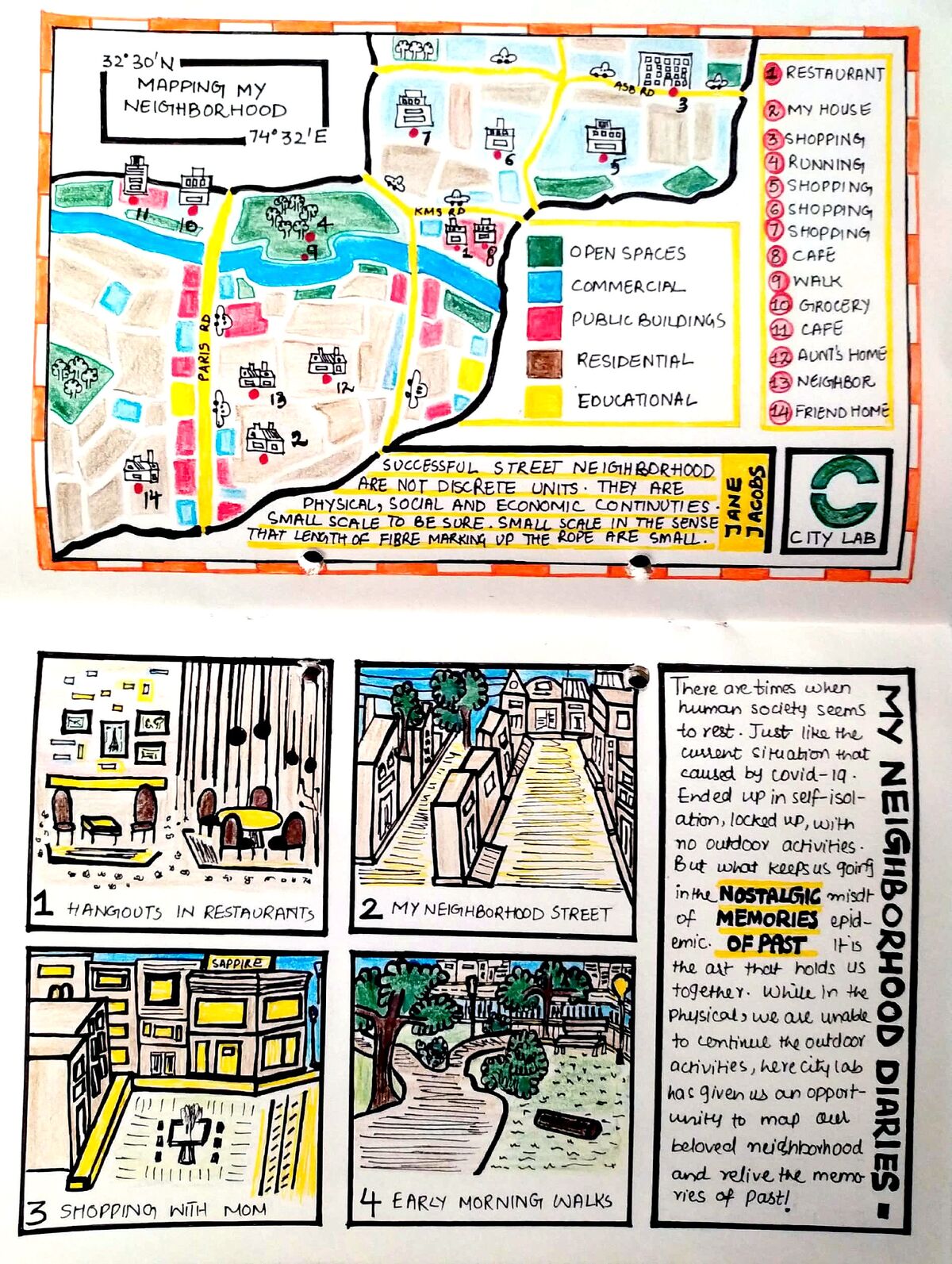 Amna Azeem
Sialkot, Pakistan
Category:
Redefined boundaries
4/11/2020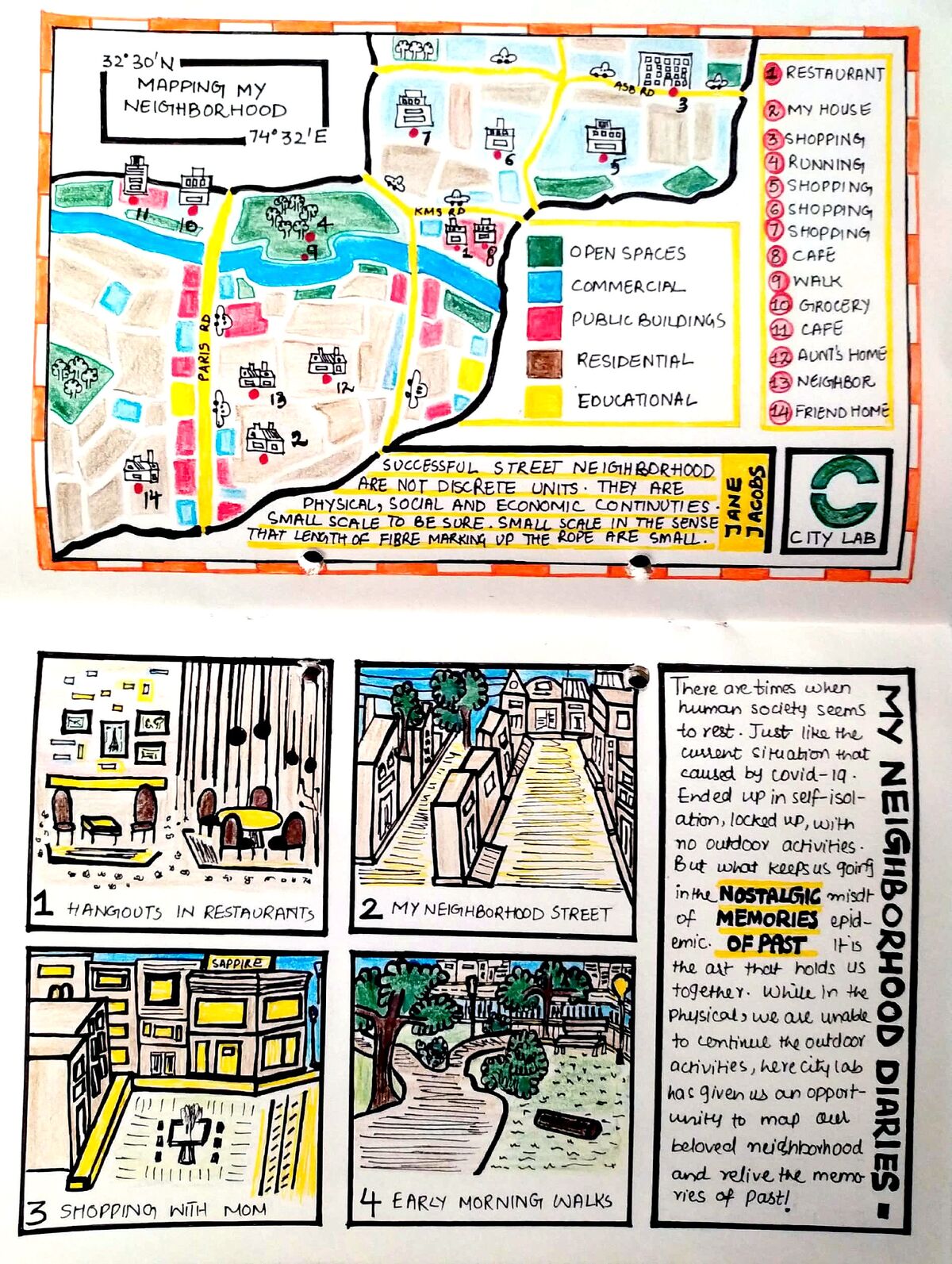 I have mapped the places that are etched in my memories. Being raised in a neighborhood that is socially very active and is located in the heart of downtown with all the necessary facilities available nearby has enabled me to make unforgettable memories, a glimpse of which I have shown in the map. This sudden epidemic has made us realize the little things we took for granted. Coronavirus has no doubt changed our lives by making us stay indoors. I feel very nostalgic when I think about the activities that I used to do. For now, my relationship with the neighborhood is limited.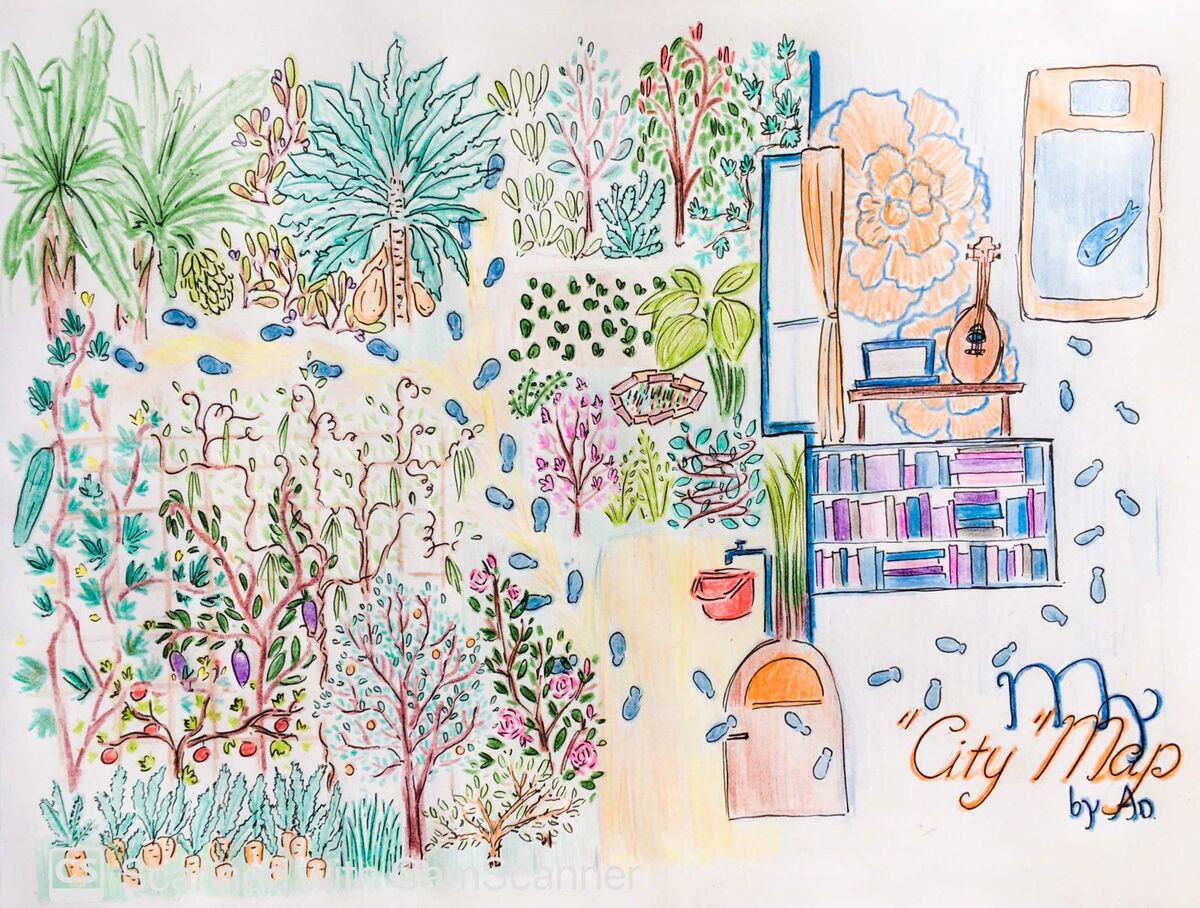 An Trinh
Haiphong, Vietnam
Category:
Domestic rearrangements
4/17/2020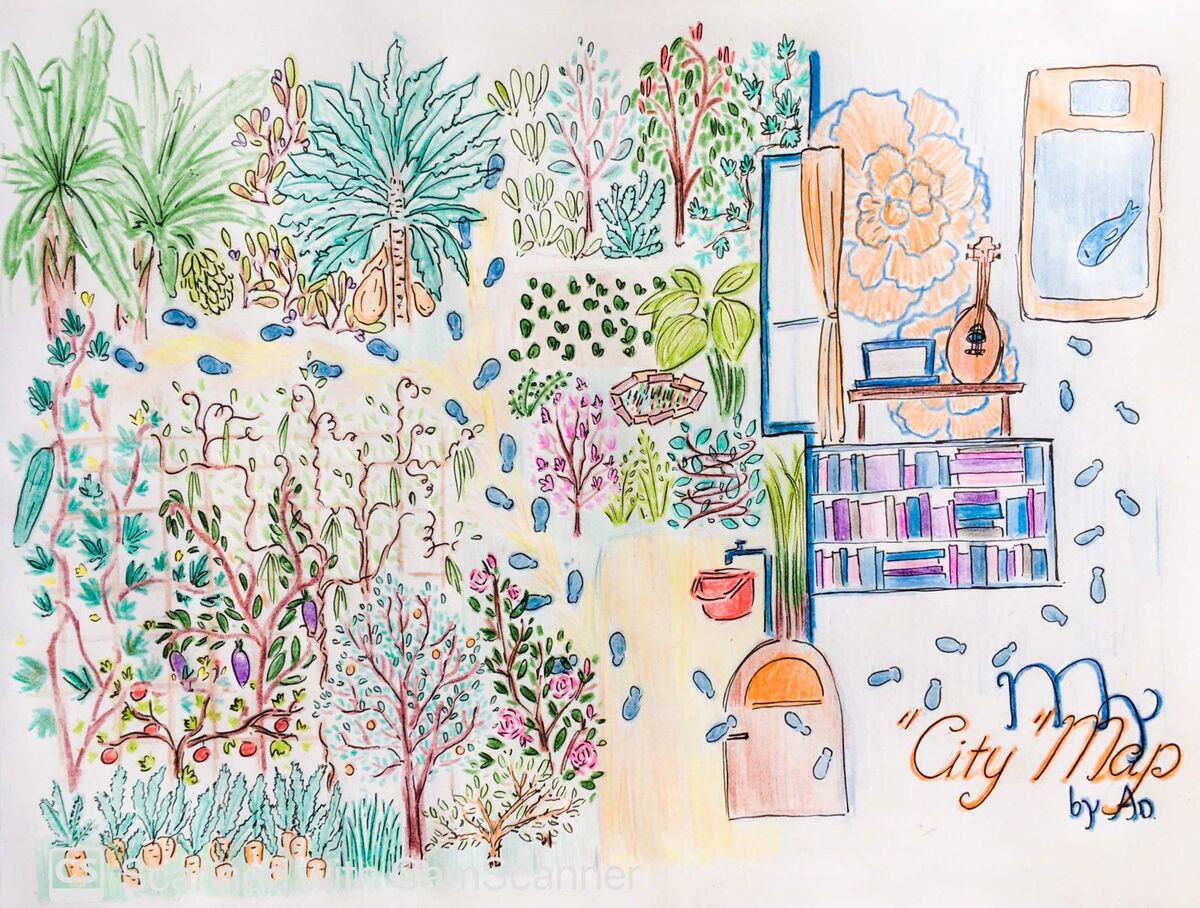 I have been in quarantine ever since I got back home from college. I got out of an ambulance in front of my door, and for weeks now, the only two places I can go are my room or my garden. I grew up in this neighborhood and can draw it in my sleep, but during this period, I cannot even have a walk outside. Hence, I decided to draw my new "neighborhood." I can name all the vegetables and plants in my garden, know exactly where they are, how big they are, how many fruits and flowers on a tree, etc. It has changed vastly, as I cannot go out at all. I know that the market is still open and my mother still goes there once in a while, but many things are closed. I can imagine things, but I don't actually know how they are right now.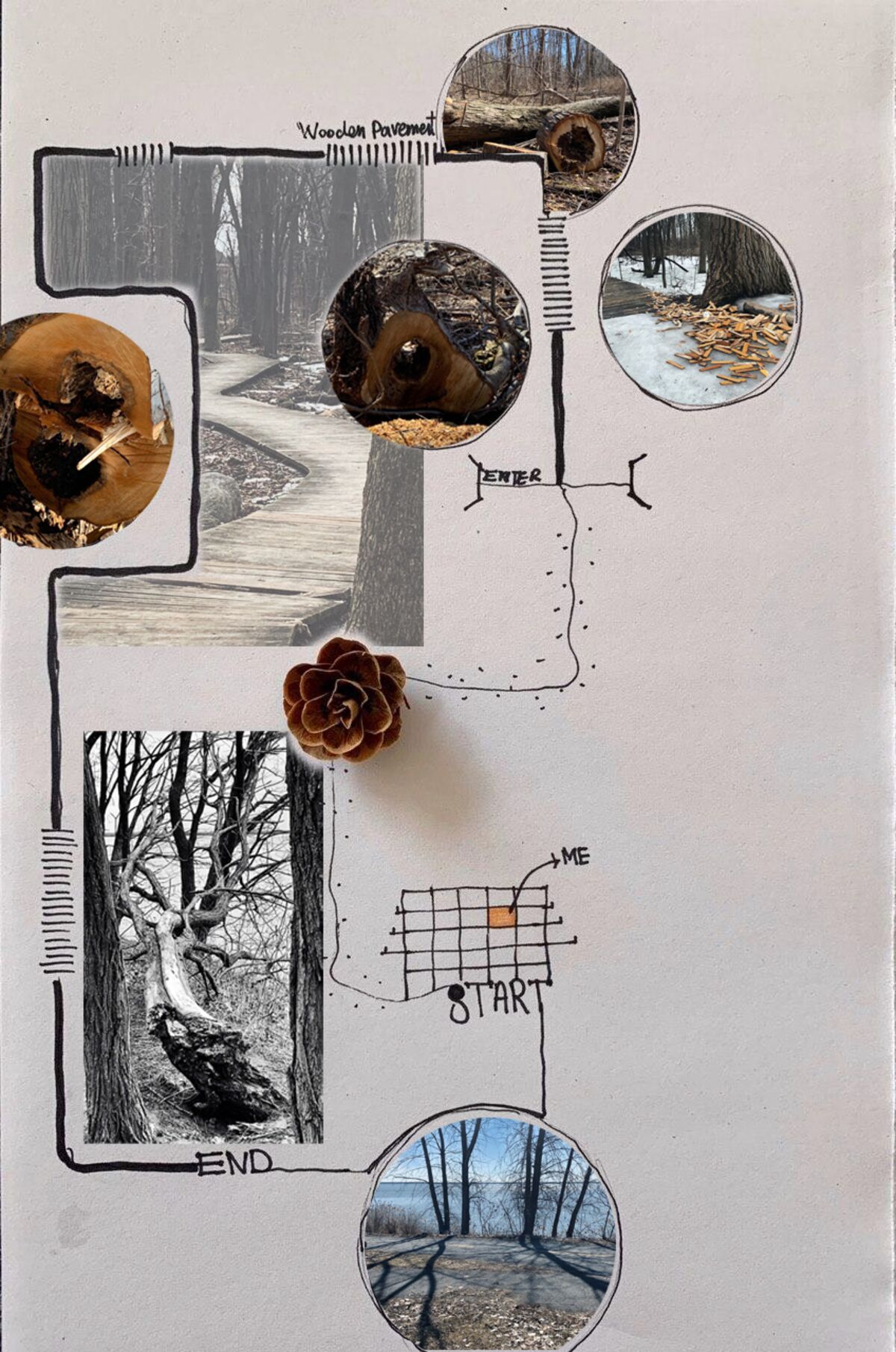 Annita Parish
Montreal, Canada
Category:
Natural callings
5/7/2020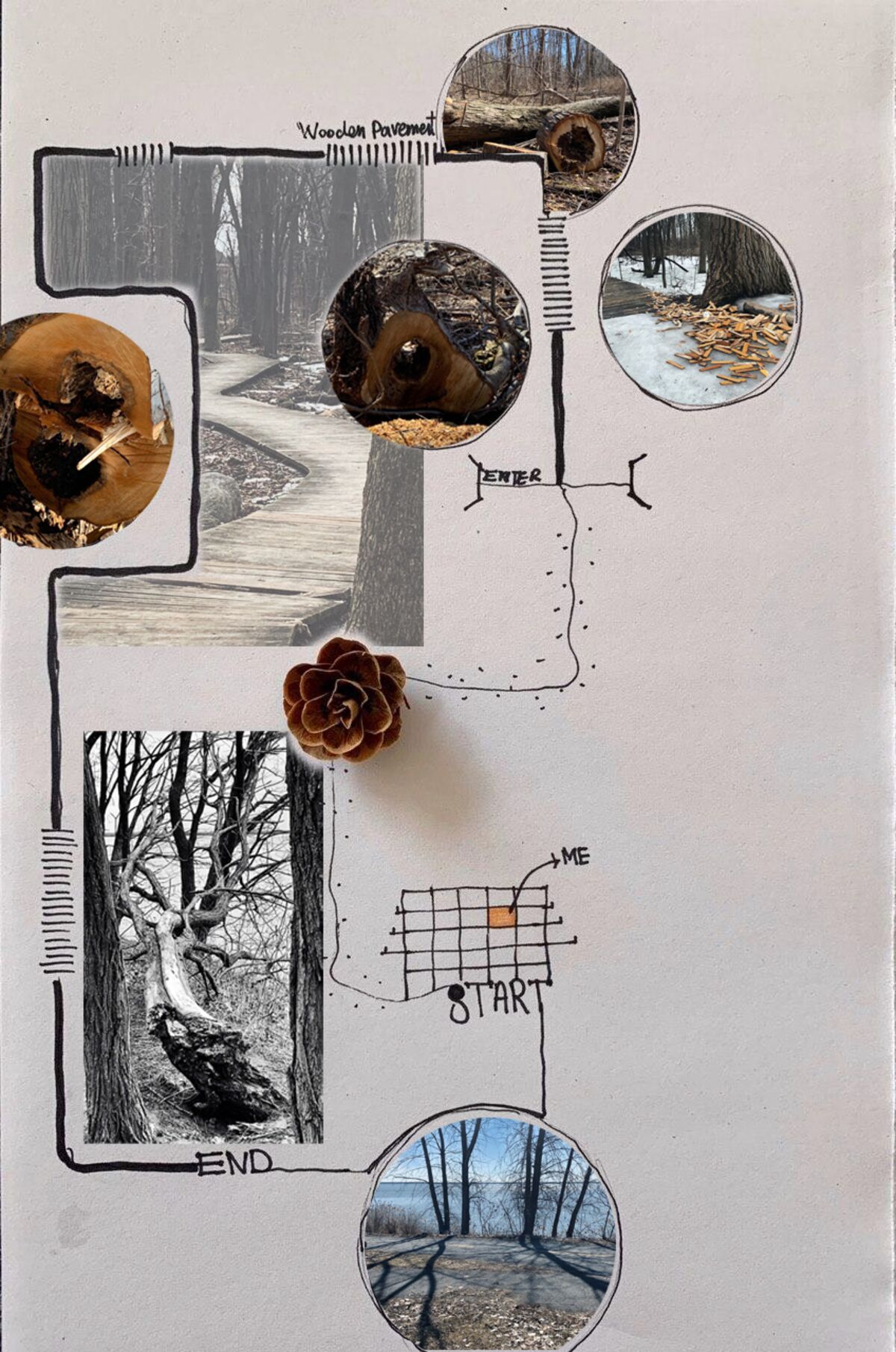 I have never had the chance to explore my neighborhood as I now do. It's amazing, since it offers me an opportunity to look around attentively, particularly at the trees. Although I've never labelled myself a dendrophile, there is something novel in trees that has changed my senses with everyday walking. In addition to their diverse shapes, locations, types, and blossoms that reappeared quickly at this time of year, their hollows and gestures of falling caught my attention, like a story behind their emptiness.
Arthur Beaubois-Jude
Calais, France
Category:
Redefined boundaries
5/4/2020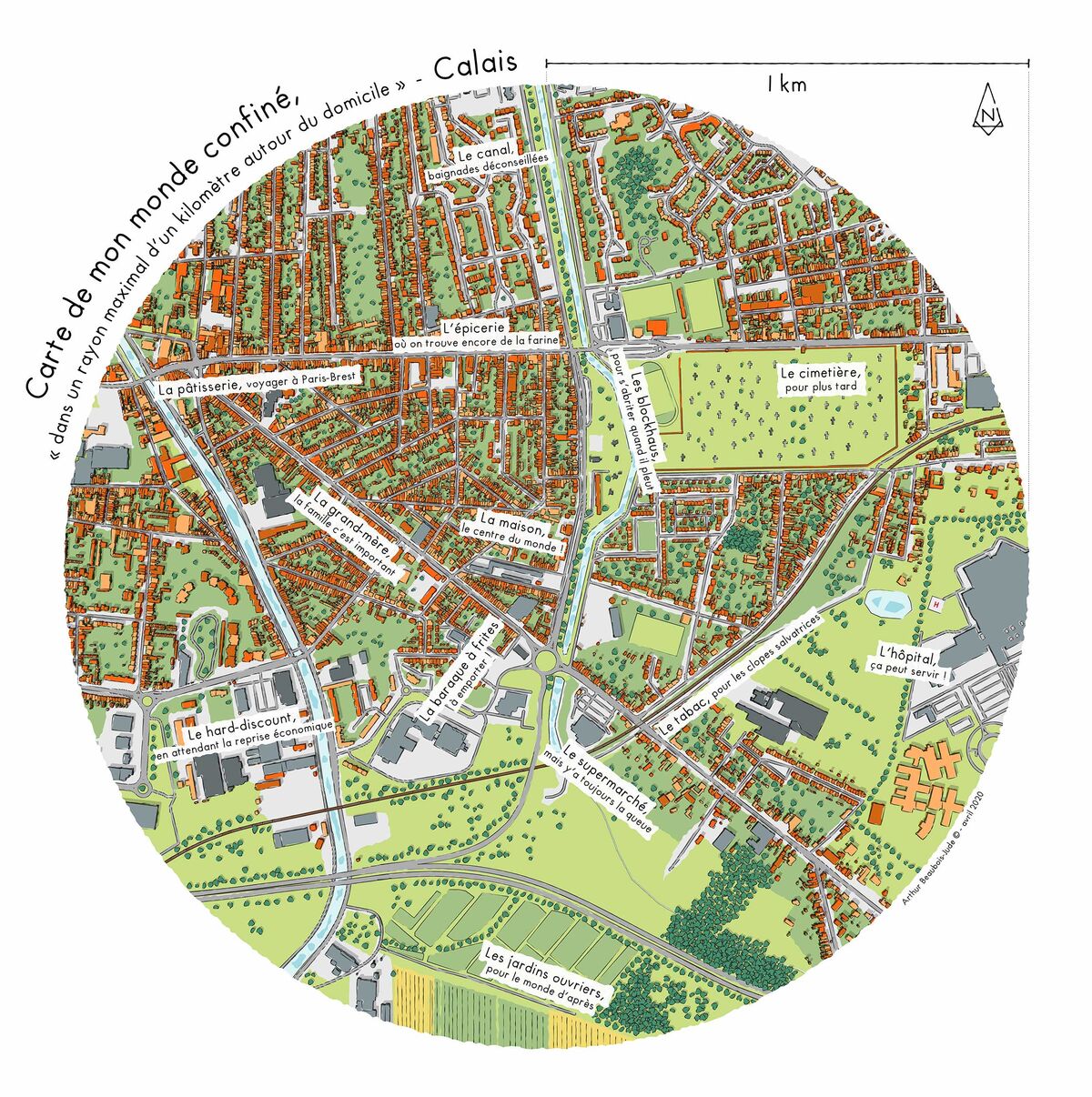 I like maps, and I do maps as a freelancer — I'm a cartographe, as we say. In France, if you have no professional or emergency reasons to go out, you have to stay at home, or you can take a walk within a one-kilometer radius. Because I'm very bored, and because nobody needs my maps during these times, I've done a map of my authorized living perimeter, and indicated the places of interest inside this little world. The center of my world? My home! I'm usually a stay-at-home person. But now, I just want to get out of this perimeter.
Augusto Javier León Peralta
Santa Cruz de la Sierra, Bolivia
Category:
Natural callings
4/19/2020
Within the blink of an eye, Covid-19 has changed our habits, reducing our sphere of action. The map shows the way I make a "ring" around my neighborhood for going shopping and, if necessary, to the bank and then back home. There is no dangerous traffic, no disturbing noises, no pollution. We can even see some animals in the city that were not seen before. Birds sing, they come to our balconies, the streets look clean. Of course, I am speaking only of my small neighborhood ring. I think this situation will serve to wipe away old habits which maybe were not the right ones, in order to raise awareness about protecting our world and through this taking care of ourselves.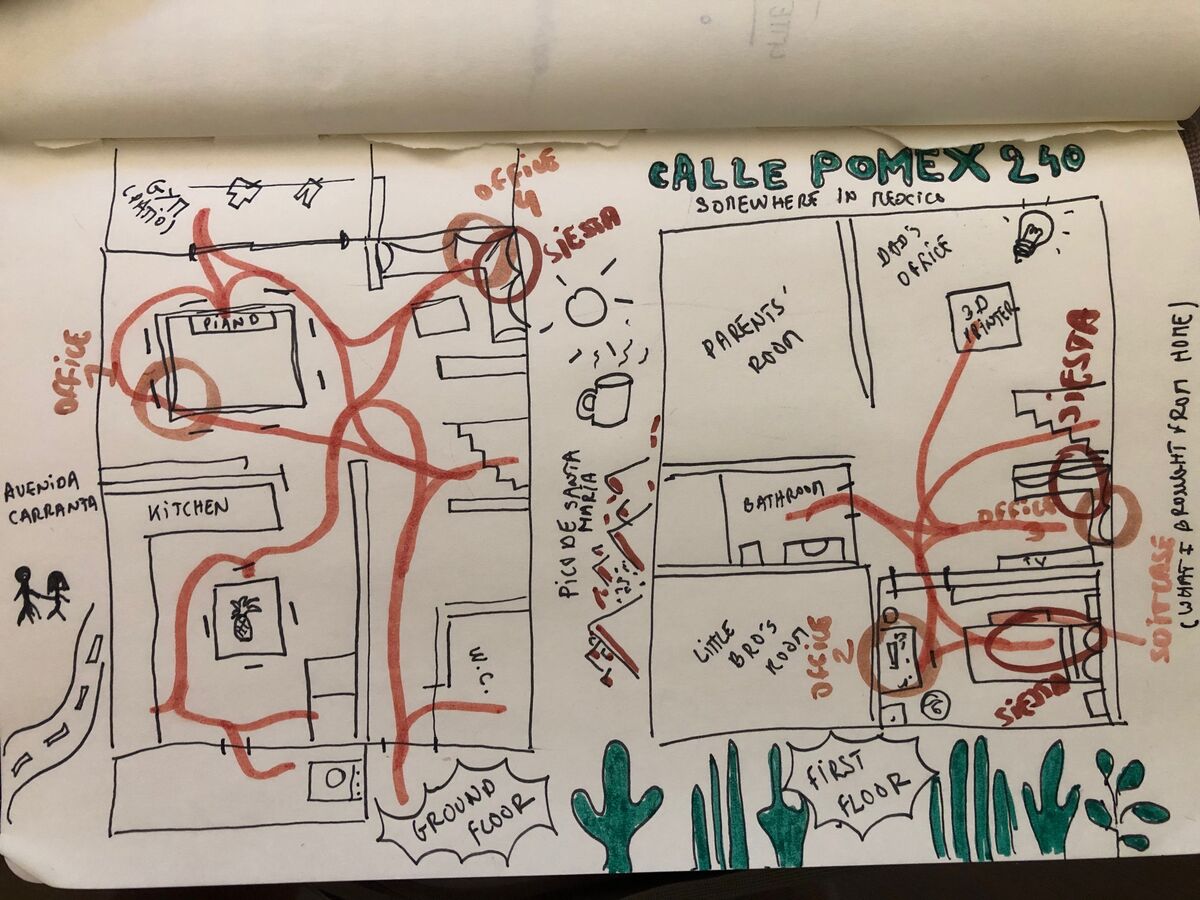 Aurelie Knecht
San Luis Potosi, Mexico
Category:
Domestic rearrangements
4/9/2020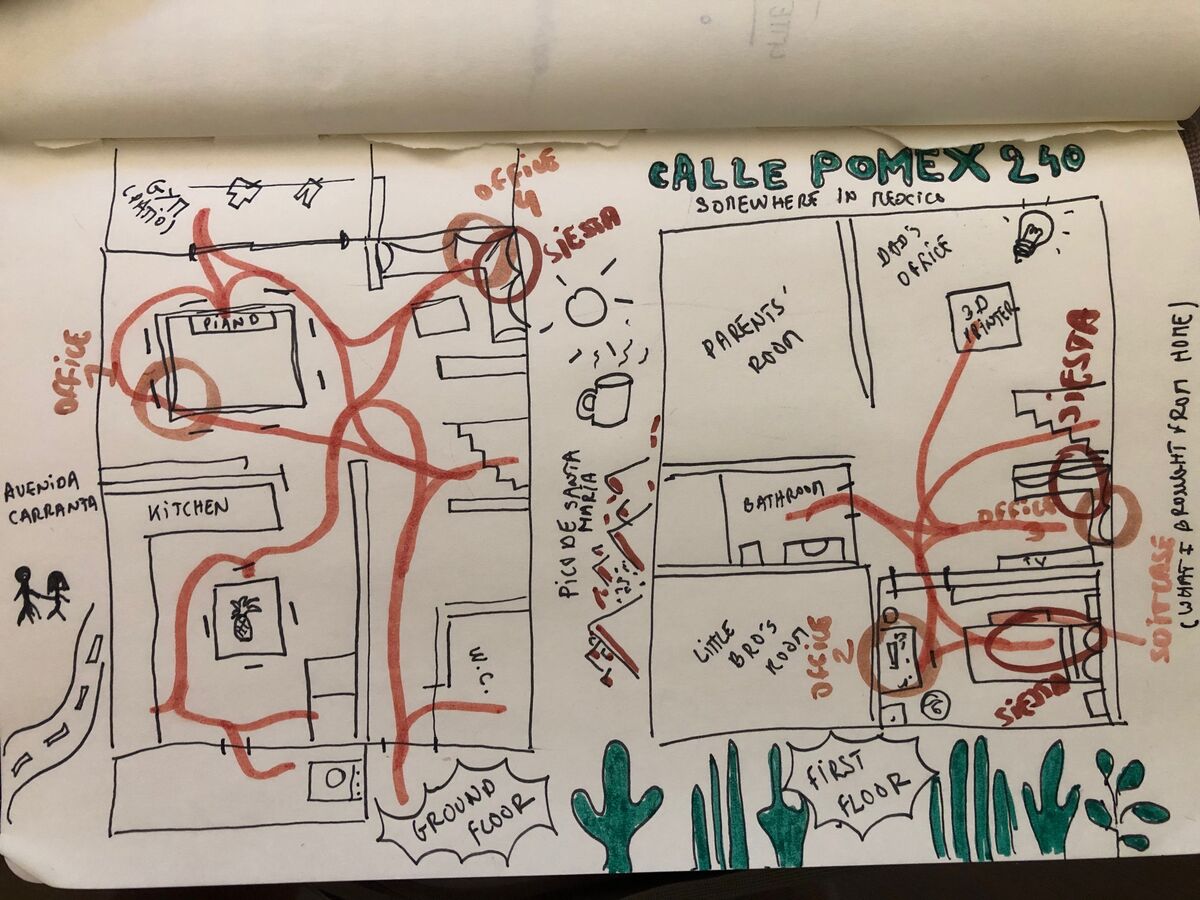 I escaped London for my boyfriend's family house, which has transformed into a microcosm of our lives. Doing work, studying, exercising daily, eating a lot of tacos, drinking agua de piña to forget about the heat, and trying to go out for walks and hikes as soon as we can is now our new daily routine. It is not easy to be enclosed in a house that is not mine, but it is full of love and new experiences. It has become a sort of bubble we only rarely escape, and that we are happy to escape. The neighboring shops are the new attractions, whereas before we used to ignore them.
Axel Forrester
St. Leonards-on-Sea, East Sussex, United Kingdom
Category:
Psychic landscapes
4/30/2020

We discovered a beautiful old canyon near our house that looks like a lost world. My husband has been doing research on the history of the area and discovered that it was sold to the local council at cost for the public to enjoy in 1933 by a man named Herbert Povey. I wanted to make a fancy map for my grandson to discover it too when this lockdown is over. We moved here in November and we've certainly been discovering every inch of it, walking it every day. We love being close to Alexandra Park and these lovely hills, but this hidden valley is our favorite. It even has several waterfalls. We call it the Lost World Trail.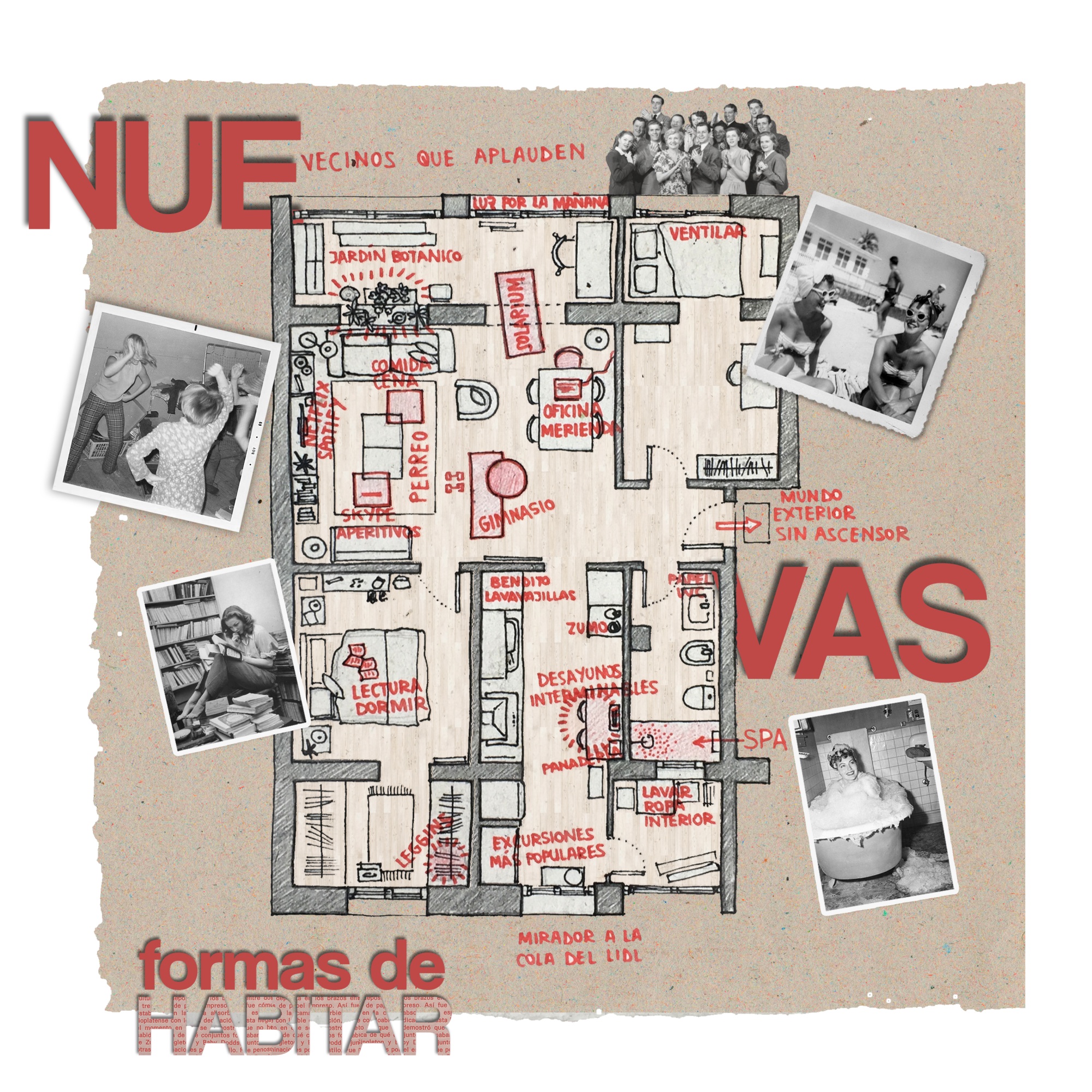 Blanca Juan García
Madrid, Spain
Category:
Neighborhood bonds
5/15/2020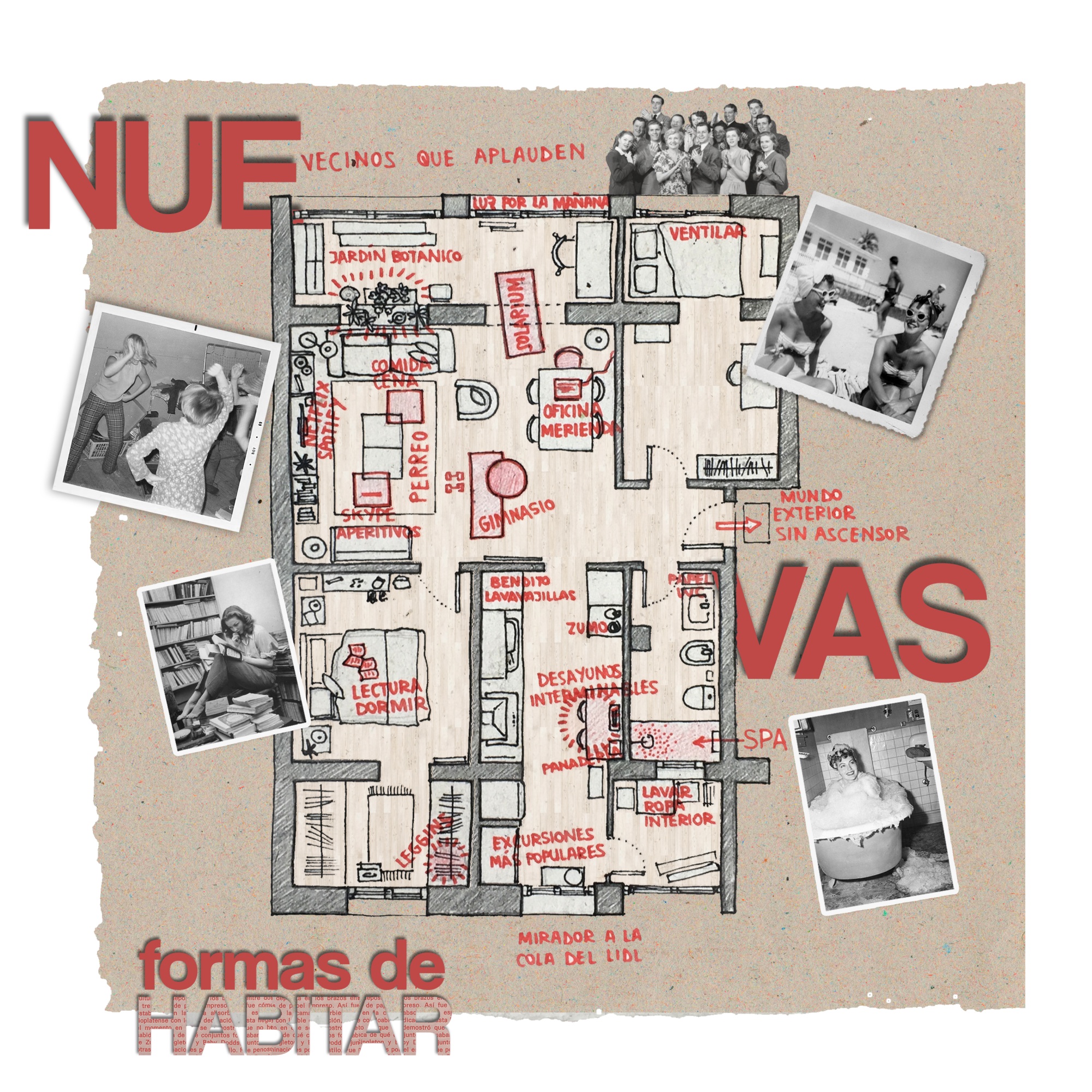 During lockdown, I've been mostly confined to my home. I have no dog, and I live alone. My walks to the supermarket have been every 10 days, more or less. Before the government loosened the rules, my home had become my neighborhood and world in general. But now I can go outside for a walk, and I've been exploring my neighborhood. I moved to this part of the city in September, and due to my work, I couldn't explore it as I can do now. I'm discovering new shops, looking at people, and walking through a wood that is near my house. I've been very grateful.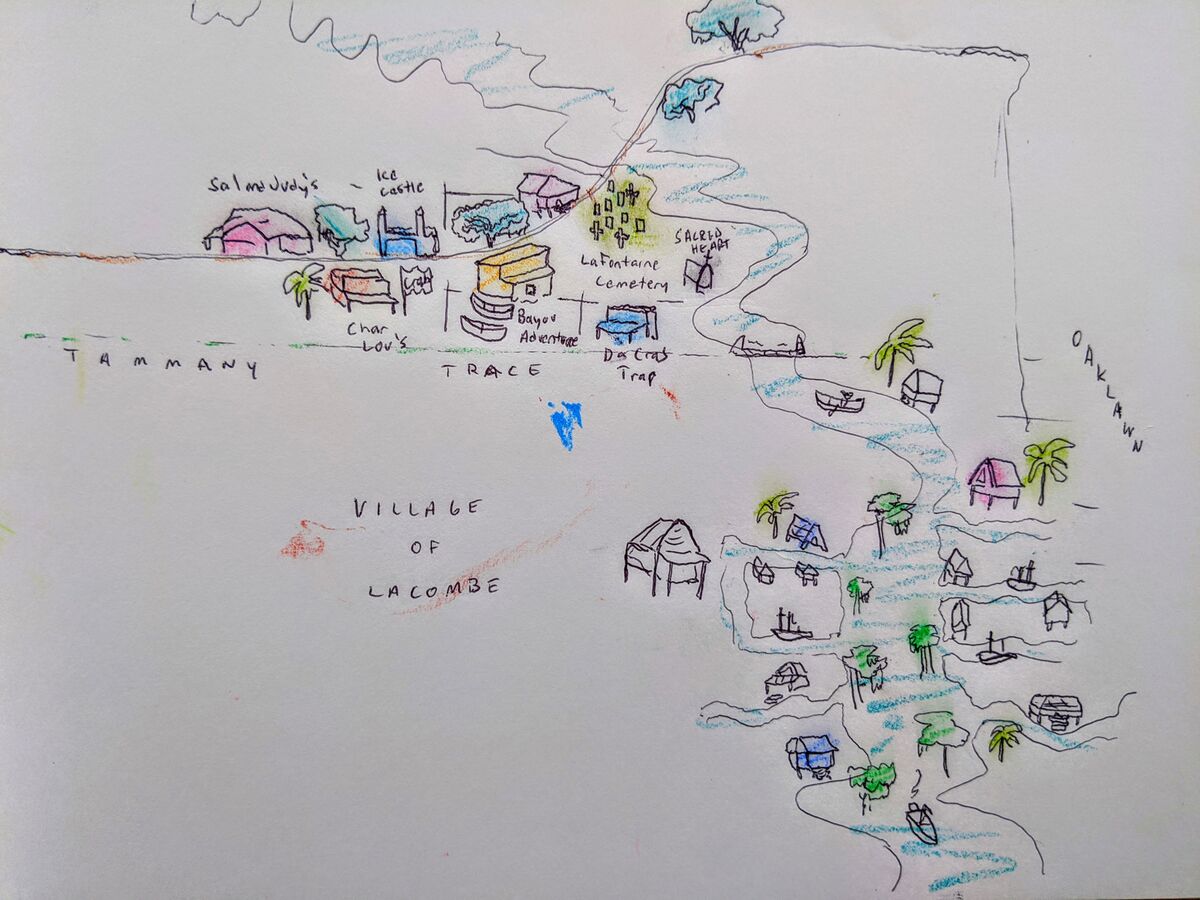 Brennan Walters
Lacombe, Louisiana
Category:
Neighborhood bonds
4/4/2020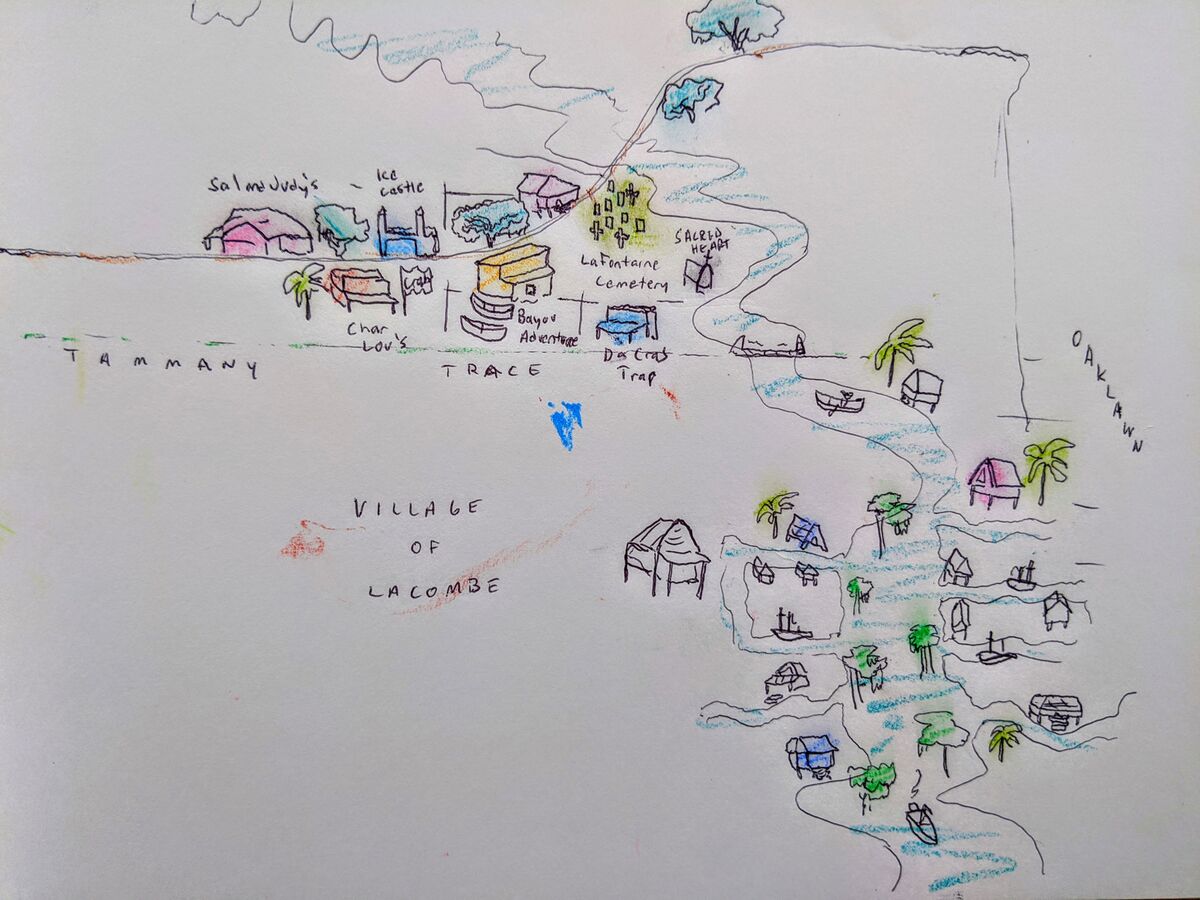 Just a quick sketch of Lacombe. Most residents here live along a bayou that feeds into Lake Pontchartrain, but there is a small "downtown" near a bend on Highway 190. We're fortunate that much of life here revolves around the bayou, and that's still open. It's easy to maintain a six-foot distance, but Lacombe is a small town and you miss those little conversations after work stopping in Bayou Adventure or Da Crab Trap.
Brian Palmer
Cape Town, South Africa
Category:
Neighborhood bonds
5/5/2020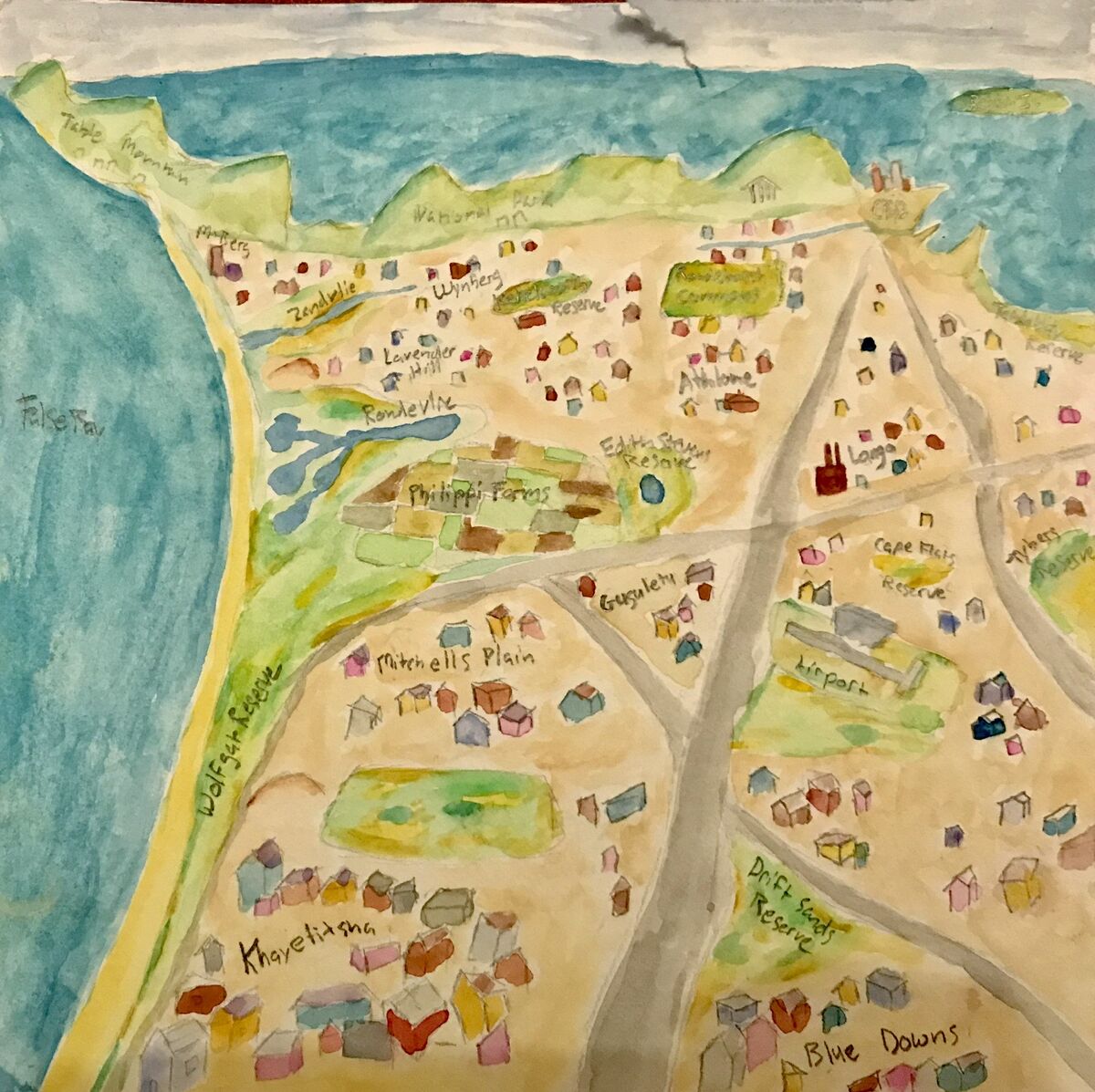 My map is a spin on the low perspective, pictorial maps that are often used for tourism. Instead of focusing on downtown Cape Town, Table Mountain National Park, and the waterfront, I shifted the perspective to the areas that tourists typically miss, namely the Cape Flats. These communities are home to some of the most vulnerable neighborhoods in the city as well as the most critically endangered sand fynbos nature preserves. While plenty of well-written policy is on the books to protect these at-risk people and ecosystems, attention still flows in the same direction as the art and media of the city. This map, watercolored into the wee hours of the morning, is my way of shifting these values by changing how we look at the cityscape of beautiful Cape Town.
C.X. Hua
Cambridge, Massachusetts
Category:
Natural callings
4/13/2020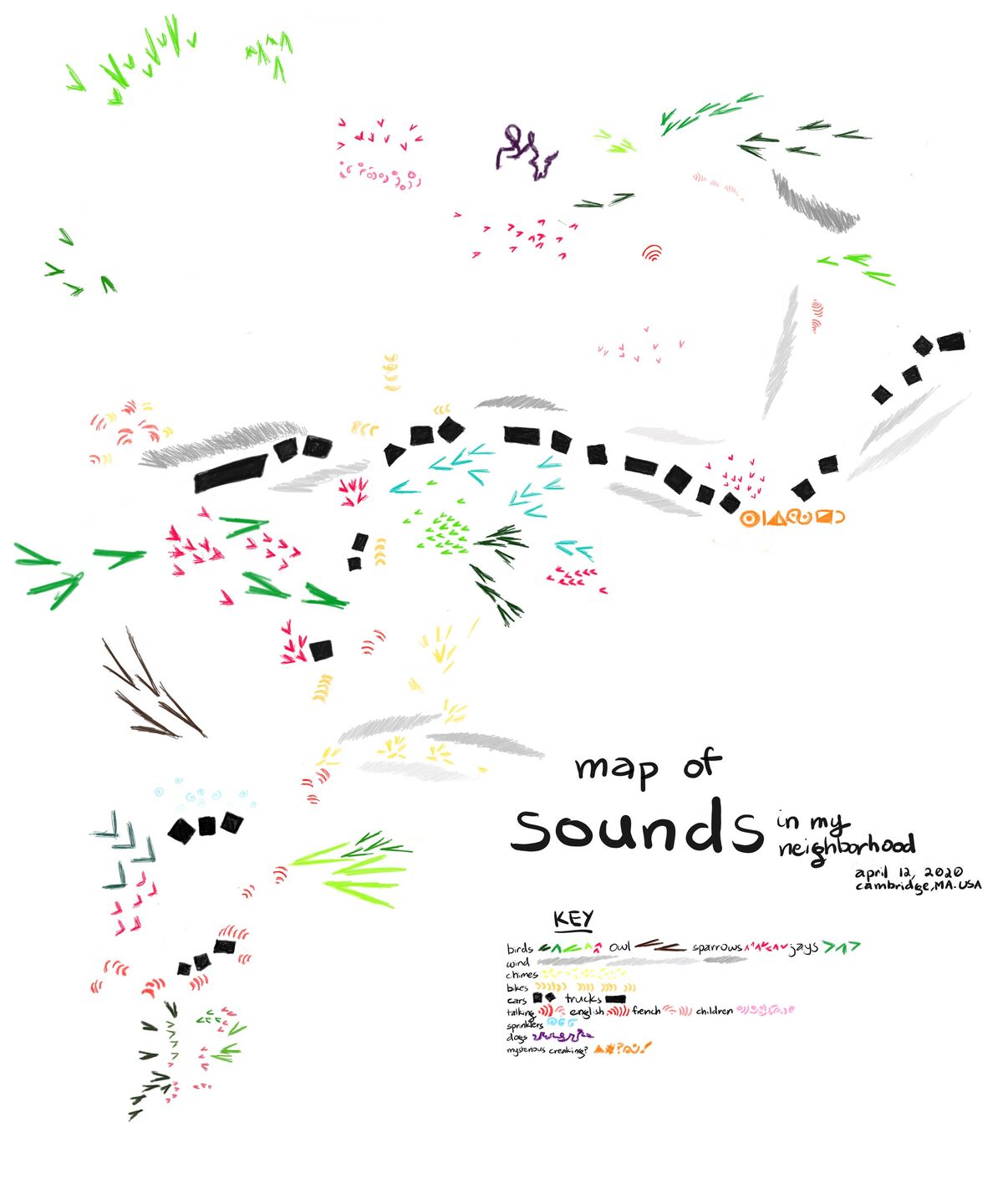 I drew a map of all the sounds I heard on a long walk through my neighborhood. My small neighborhood has become my entire world! So things that used to seem small now seem much bigger. Birds seem louder. I drew this map because I found myself listening more intently as I walked and forming new dictionaries of sound in my head.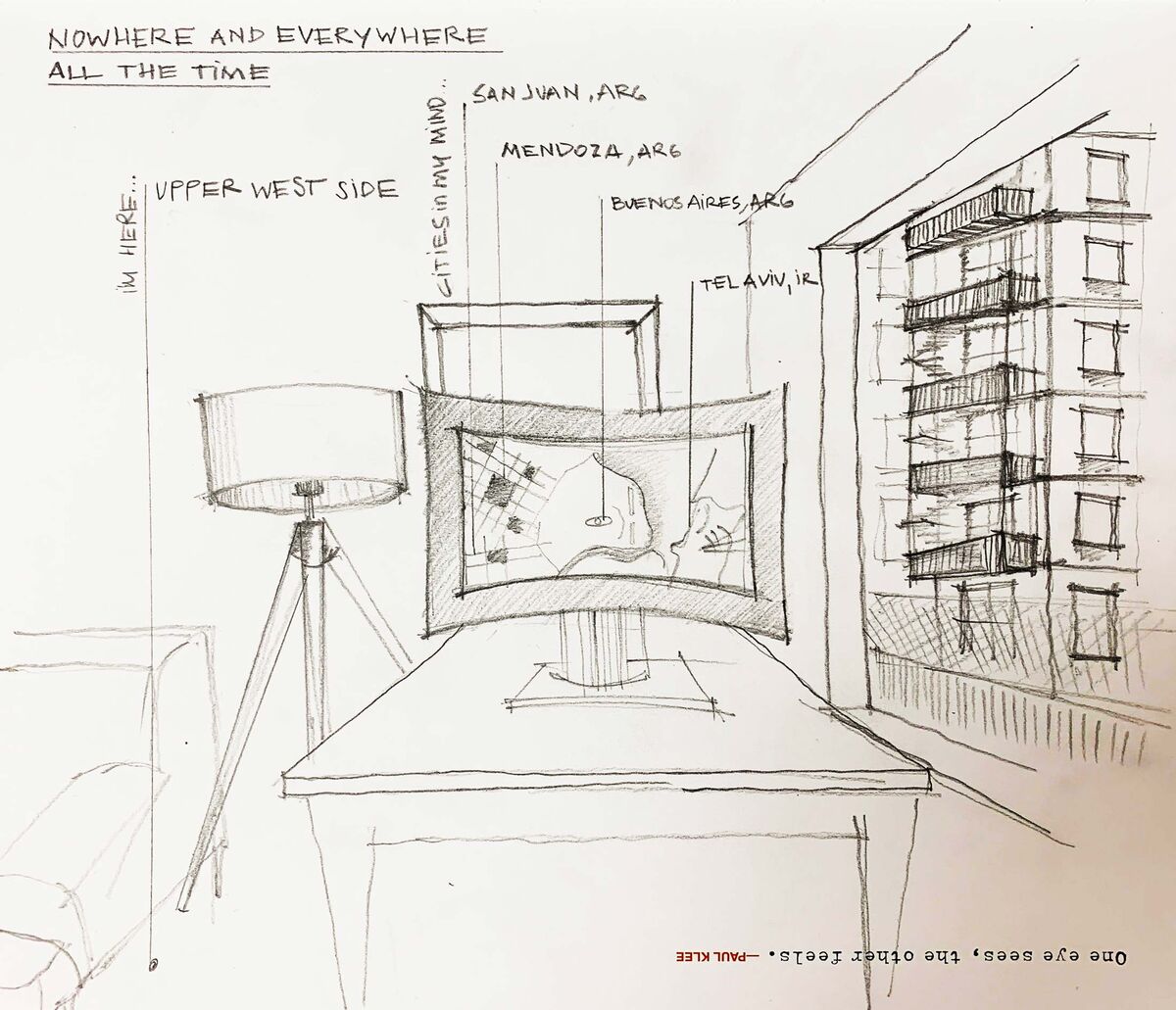 Candelaria Mas Pohmajevic
New York, New York
Category:
Virtual connections
4/22/2020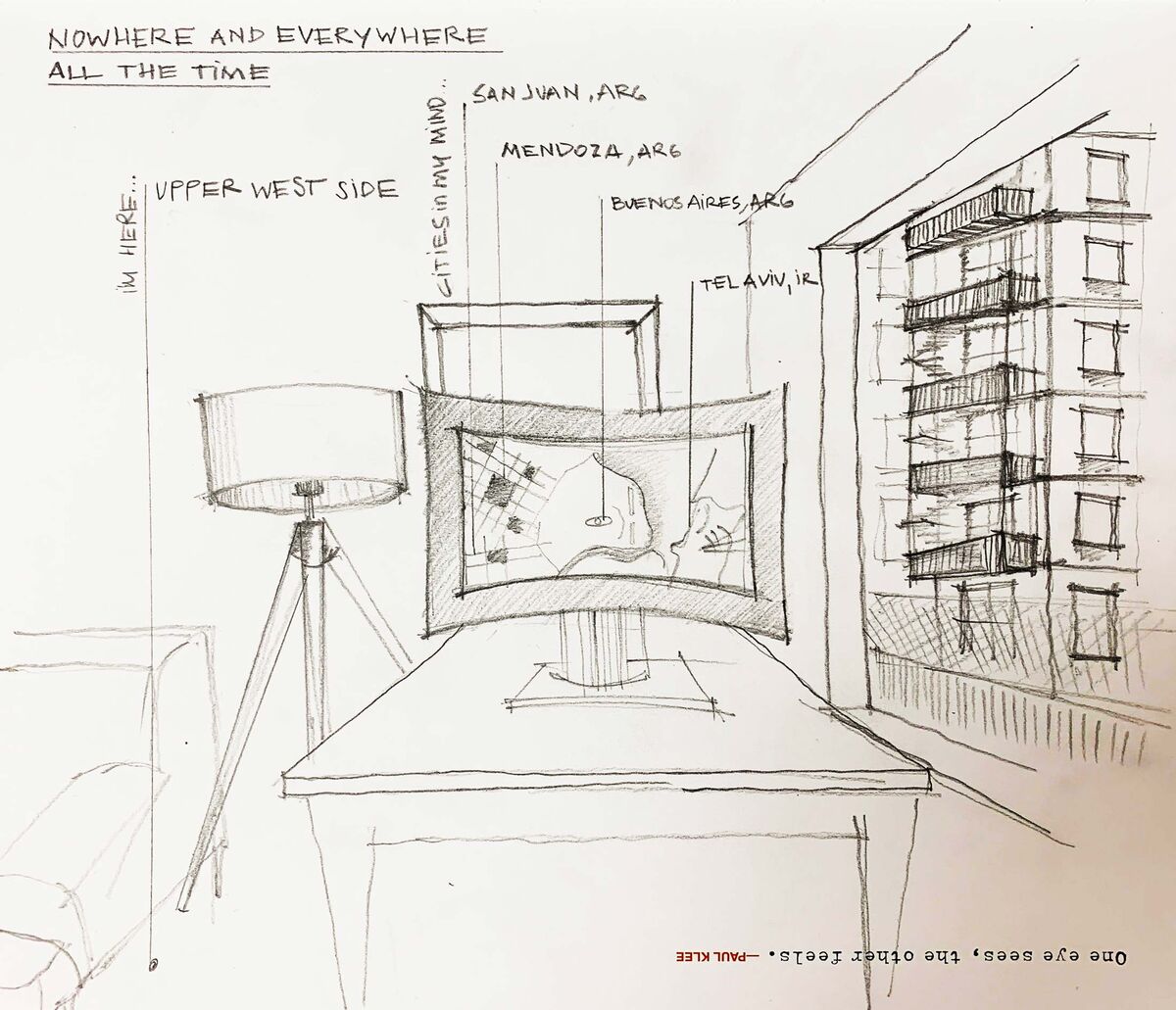 This is a map of my spot at home every day. I'm an urban design student and being in many cities at the same time is usual for me. But this time is unique because I'm nowhere and everywhere all the time. That computer connects me to the outside world. The only reminder I get from where I am is the window to the right, a glimpse to the characteristic New York City fire-escape stairs and the beautiful and changing shadows in a quarantined spring.
Carla Ximena Carrillo Quintanilla
Santa Cruz de la Sierra, Bolivia
Category:
Psychic landscapes
4/20/2020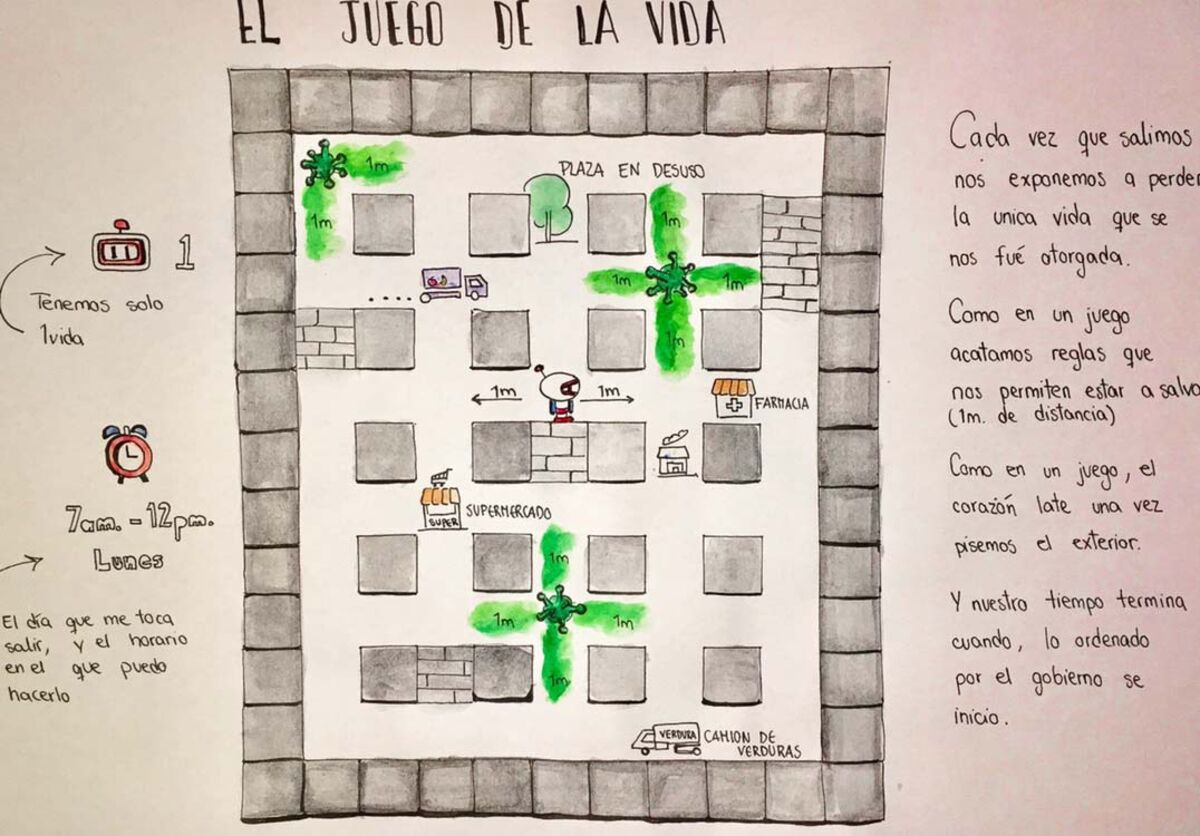 The map is based on a video game named Bomberman. Like in the game, we carry a weapon, in this case the Covid-19 virus, which can kill us. The map is based on the path I must follow to reach different supply points without being caught by the enemy porting the virus. For this reason, social distancing has become our shield in this game of life. (Translated from Spanish by Erick Ruiz de Chavez)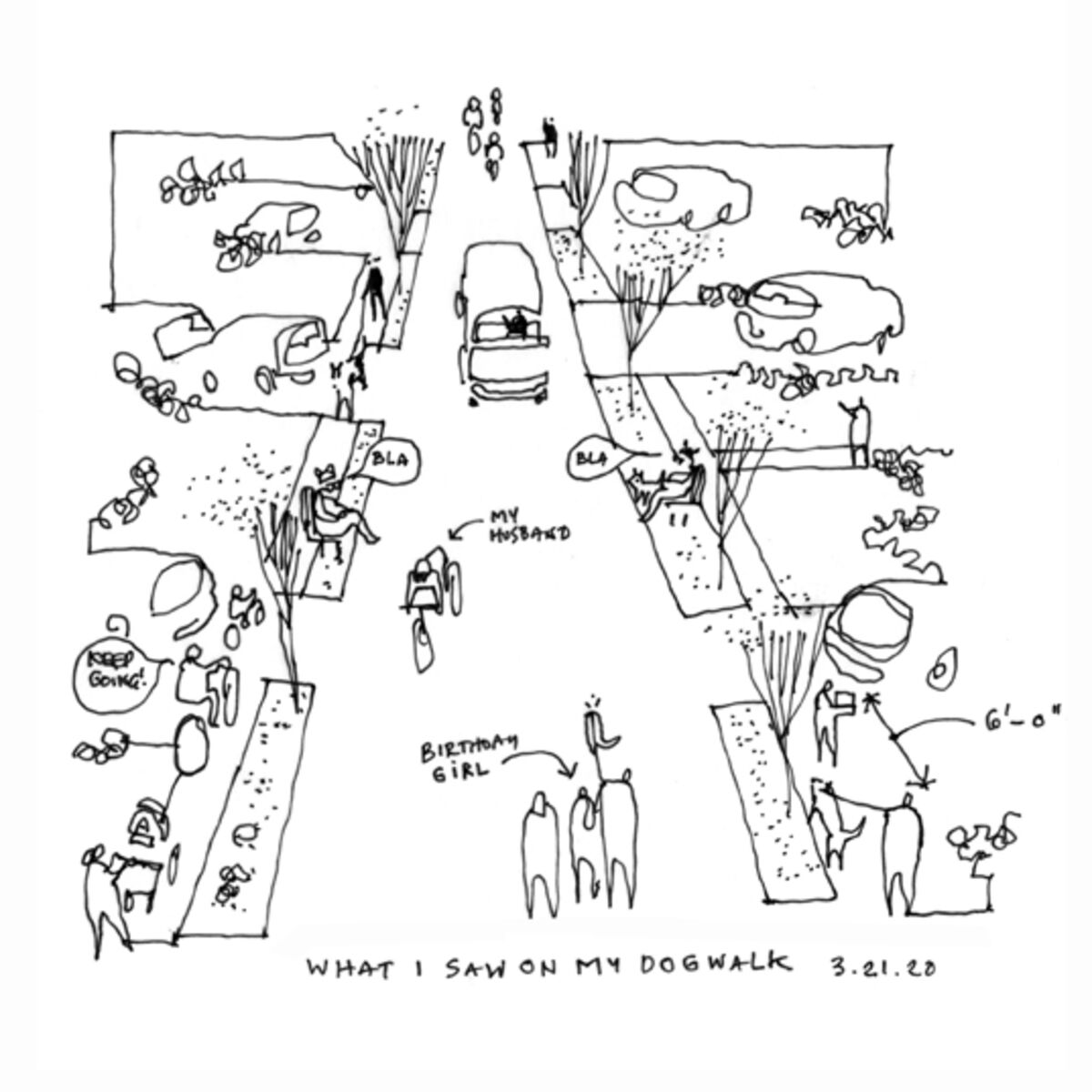 Carol Hsiung
Millburn, New Jersey
Category:
Neighborhood bonds
5/5/2020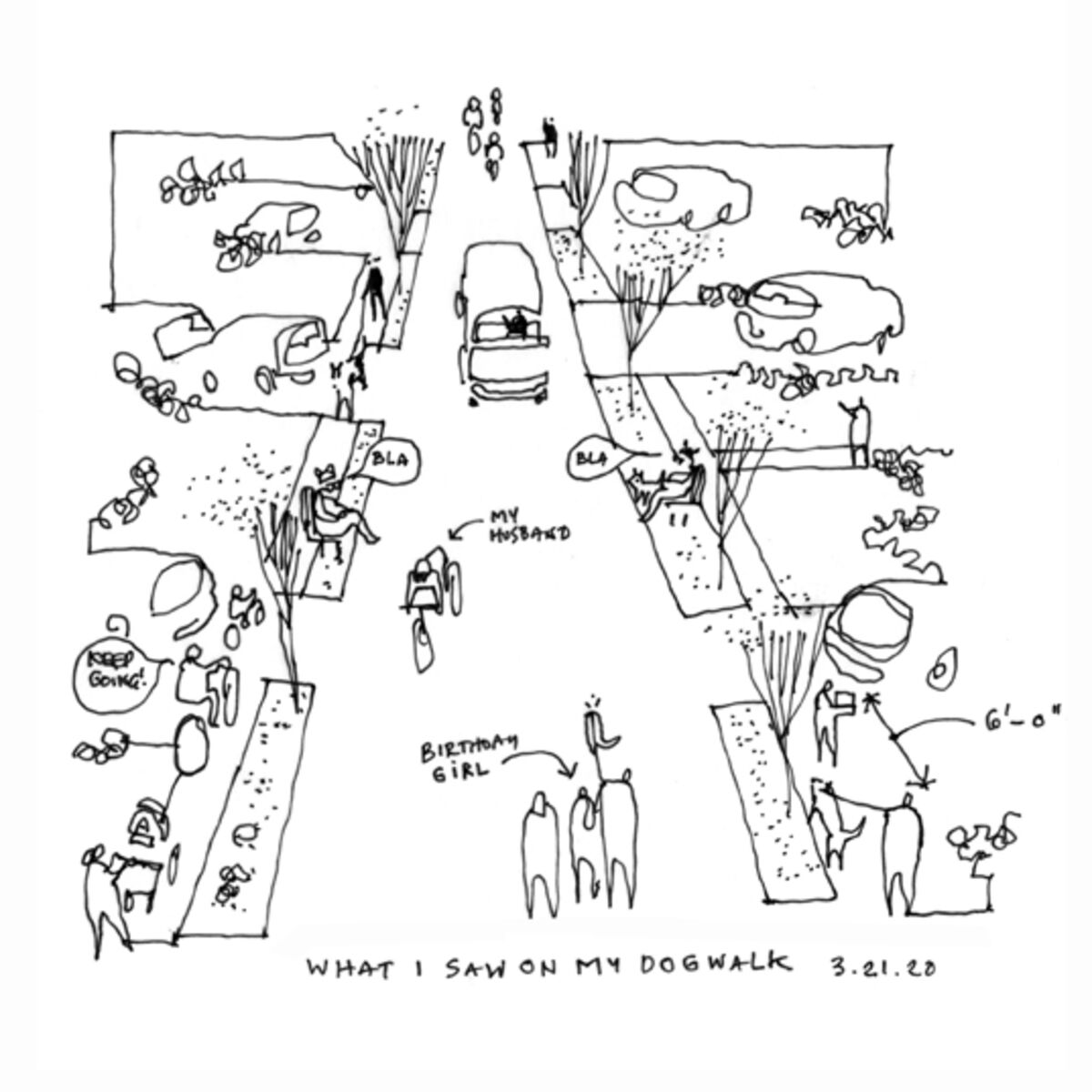 I drew this sketch reflecting what I saw and encountered on my dog walk down my street in Millburn, New Jersey, on one of those perfect sunny afternoons on a weekend when "everyone" seemed to be out — six feet apart. It made me feel nostalgic, remembering when I was a kid when kids played on the streets and neighbors talked with each other. I have been living here for 15 years and never saw so many families out walking and biking together — I even saw my husband ride by. I do not take my neighbors and neighborhood for granted anymore. I feel so lucky for living here.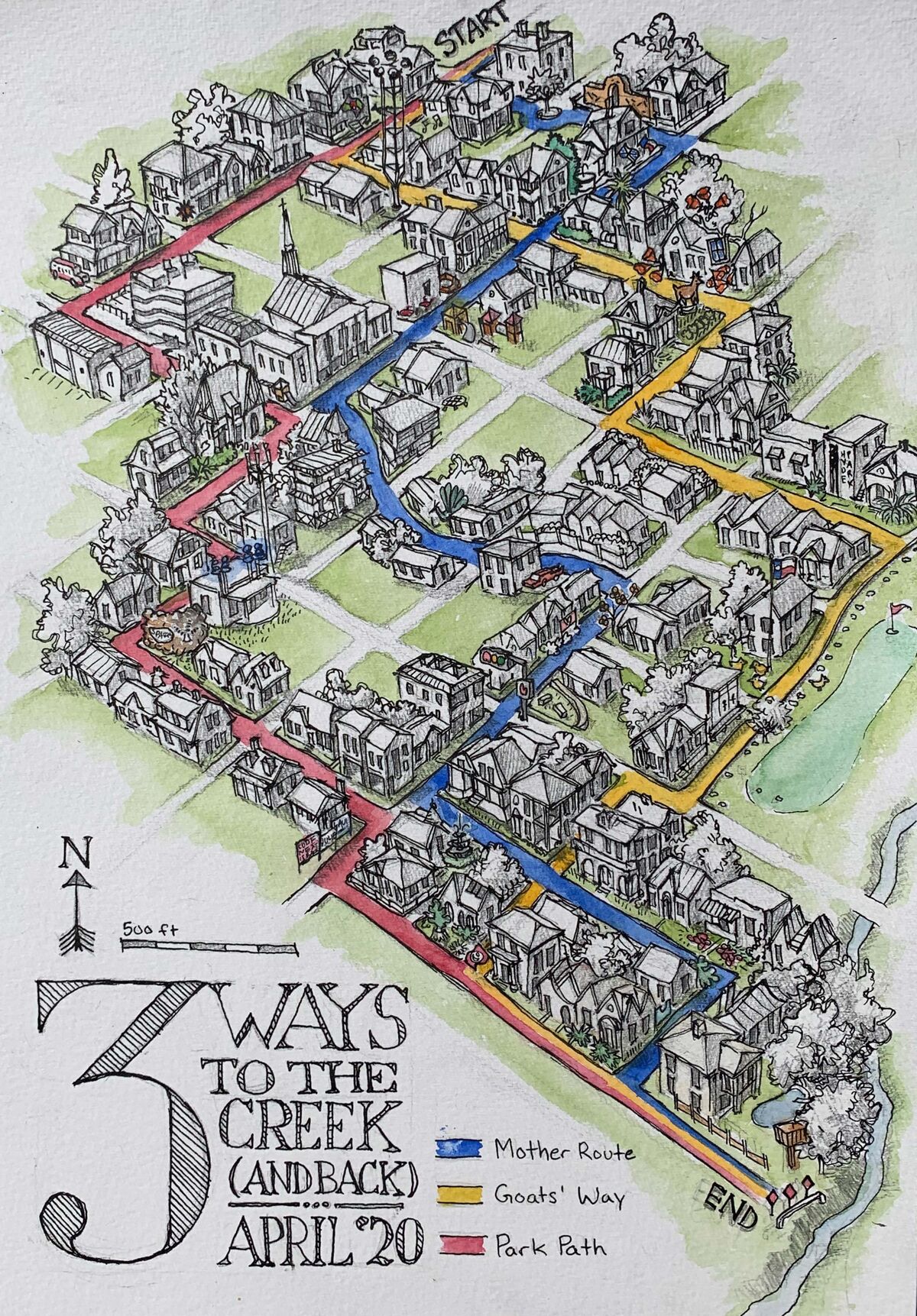 Champ Turner
Austin, Texas
Category:
Neighborhood bonds
4/19/2020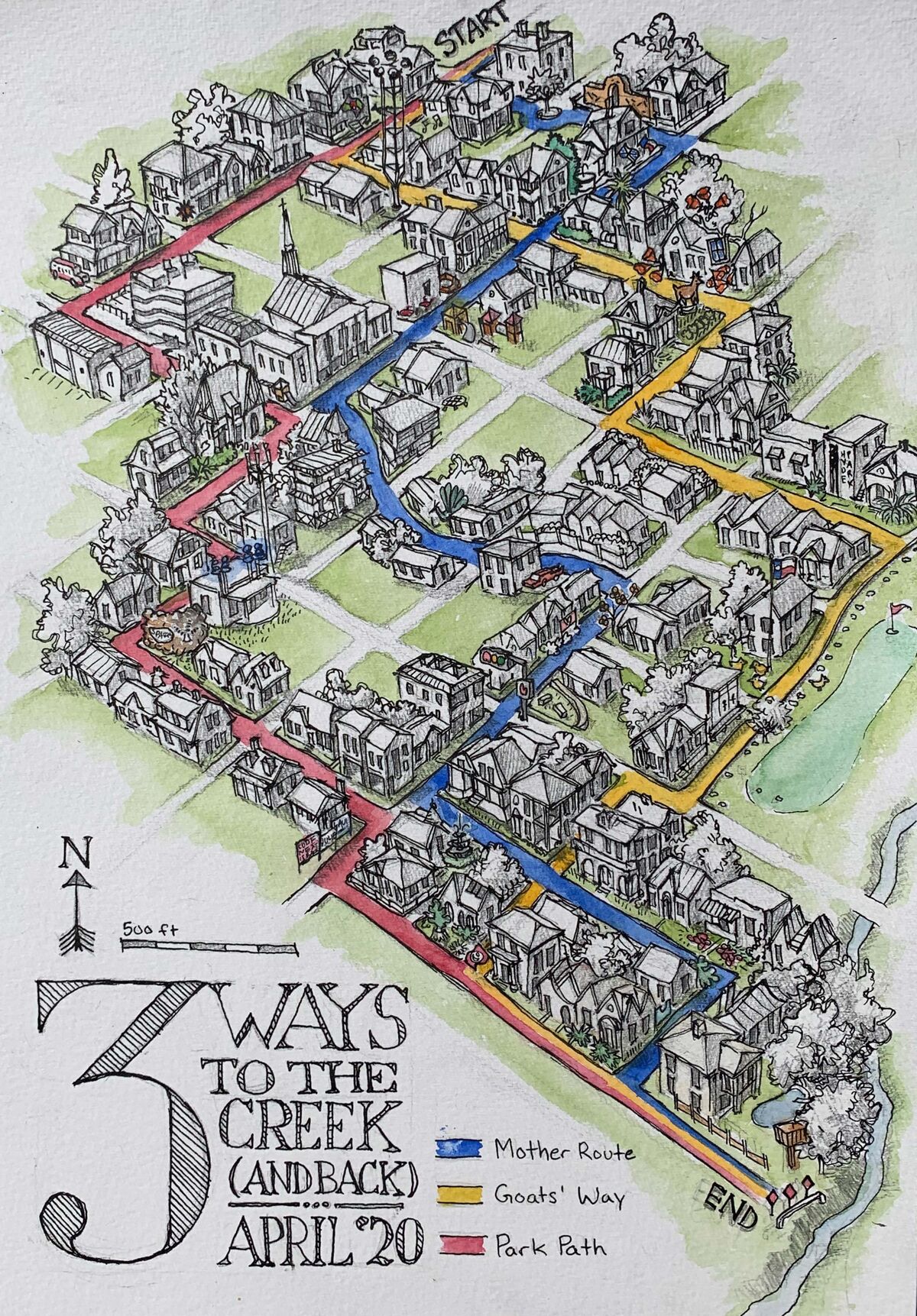 My map shows a mile-long route through my neighborhood that I travel frequently. There are dozens of possible paths, but I selected the three I take most often. I've become more aware of the geography of my neighborhood, both on a macro and micro scale. I've become cognizant of the layout of streets, locations of specific landmarks, and the tiny details in people's yards that reveal things about their lives.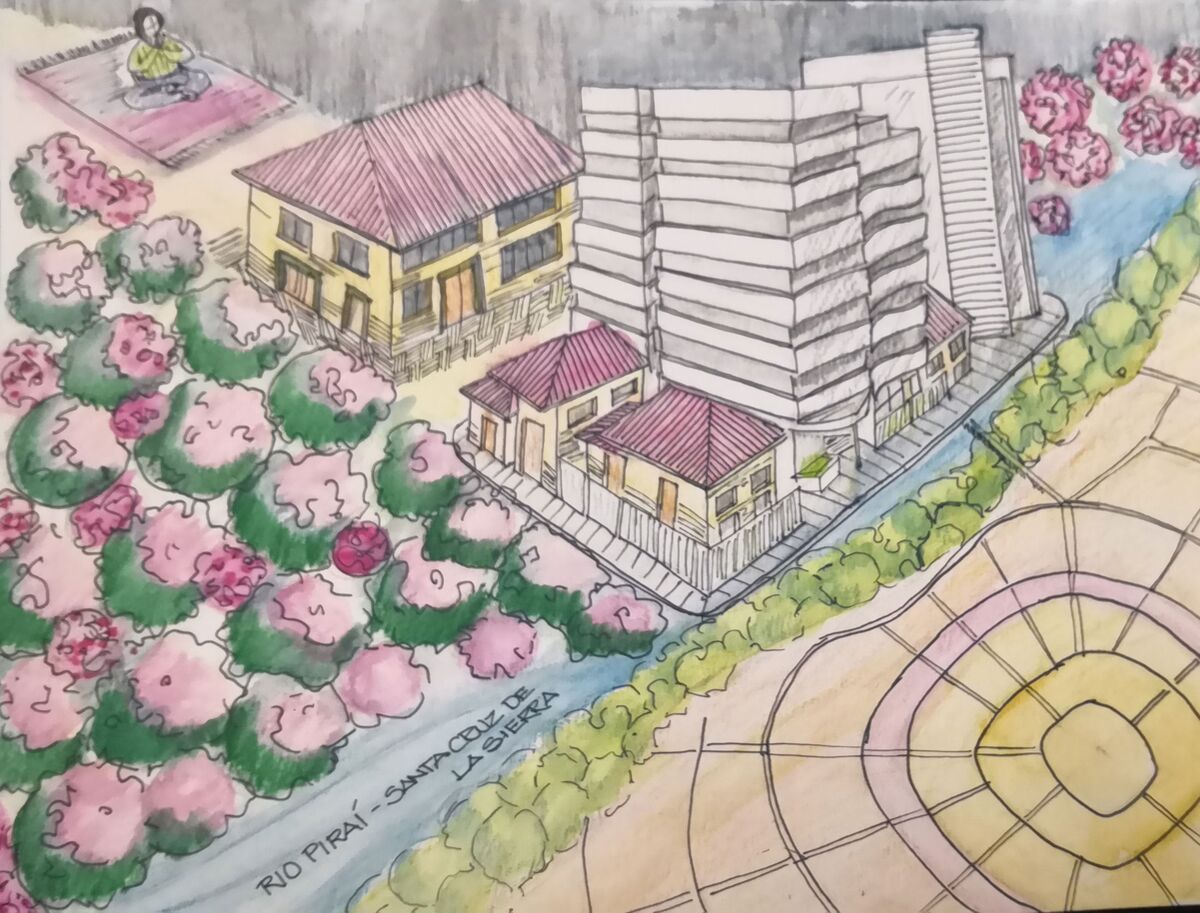 Claudia Canedo Velasco
Santa Cruz de la Sierra, Bolivia
Category:
Psychic landscapes
4/8/2020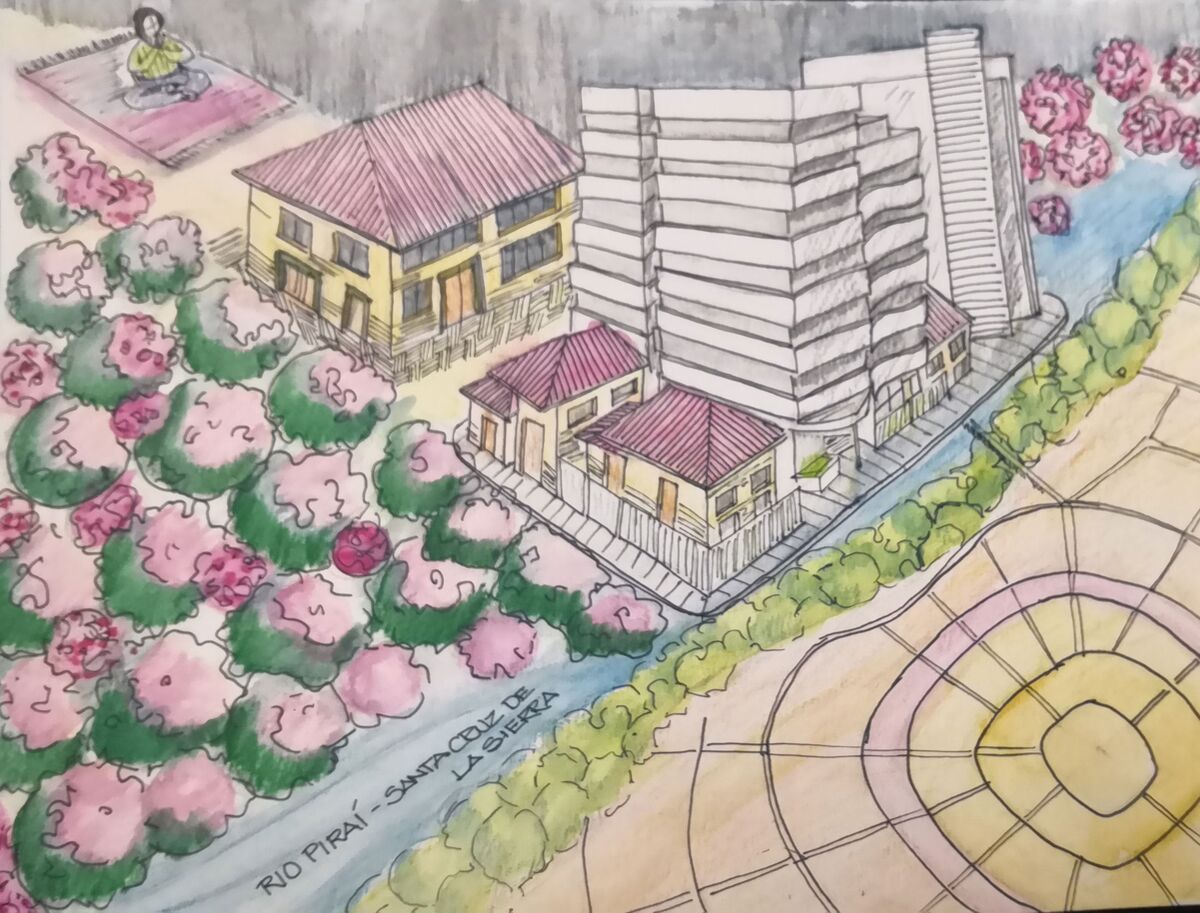 From my place of peace, I imagine that the southern trees absorb the virus that comes from the north. A lot has changed: We communicate more, we collaborate for food purchases and we are in solidarity with each other.
Constance Brown
New Haven, Connecticut
Category:
Psychic landscapes
5/17/2020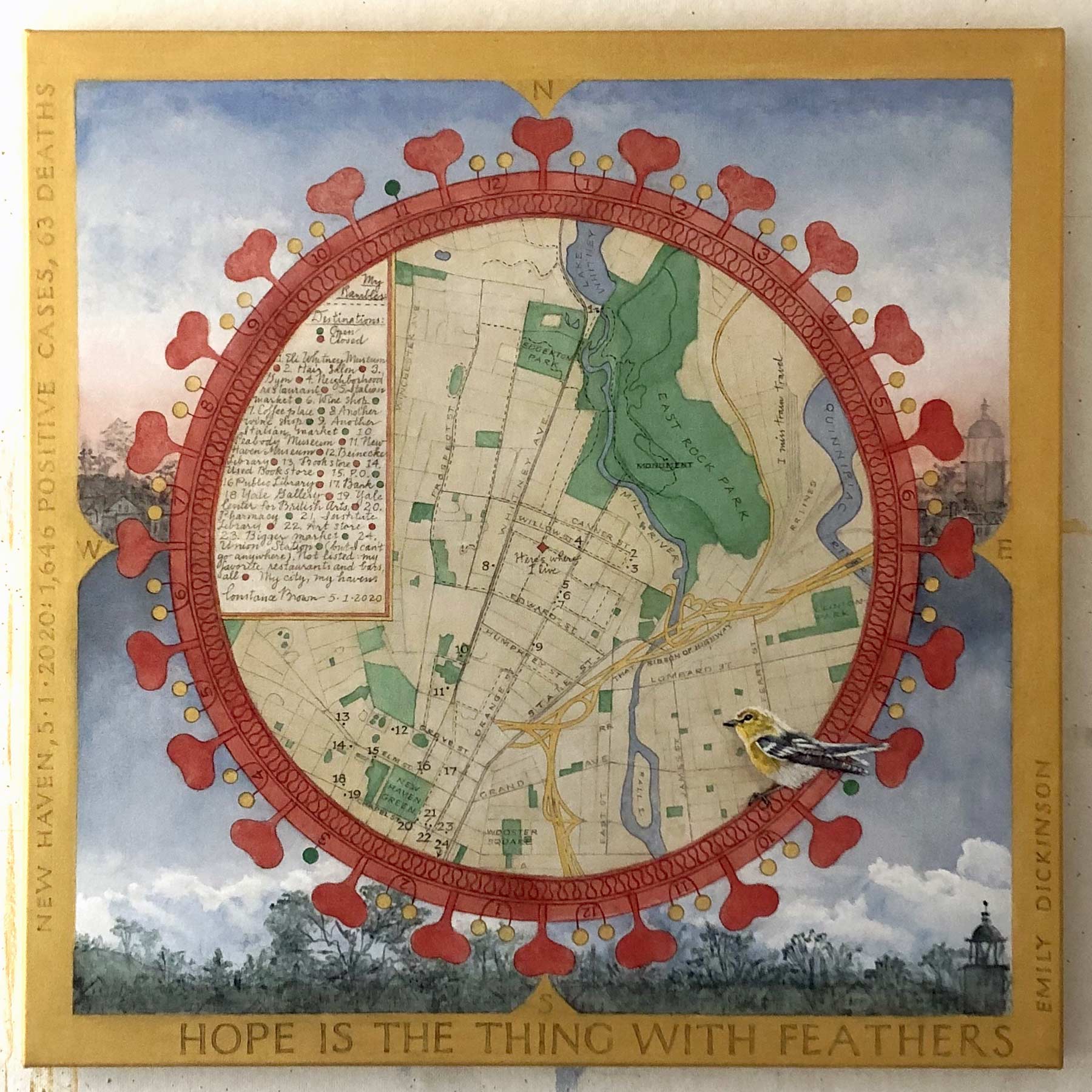 My apartment is located smack in the middle of the map; my New Haven perambulations radiate out from it. Behind the map I've depicted dawn and dusk from my east-facing window; perched on the edge of the corona-frame is a local songbird, the Yellow-throated Vireo. I work at home as a mapmaker, so my work life is the same. Aside from occasional socially-distanced walks with friends and telecommunication, my social life is suspended, and I miss it. I miss our local restaurants, and worry about their fates. I'm grateful for our neighborhood markets and wine stores, which have stayed open. Always a lively pedestrian neighborhood, East Rock is even livelier, with walkers and runners out all the time. I'm more conscious of nature, and the new soundscape, which birds dominate. Strange to think that less than two miles away, Yale New Haven Hospital is a battleground.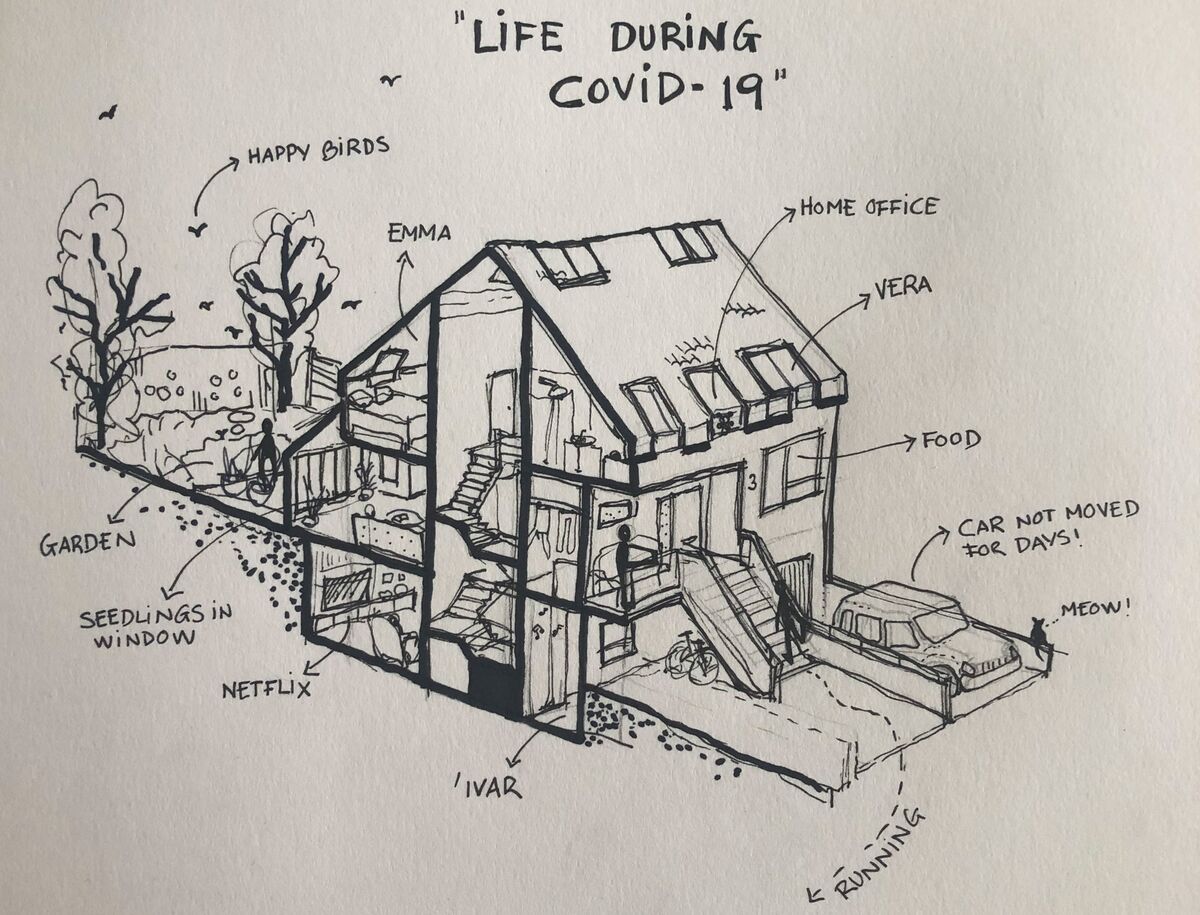 Edda Ívarsdóttir
Iceland
Category:
Domestic rearrangements
4/5/2020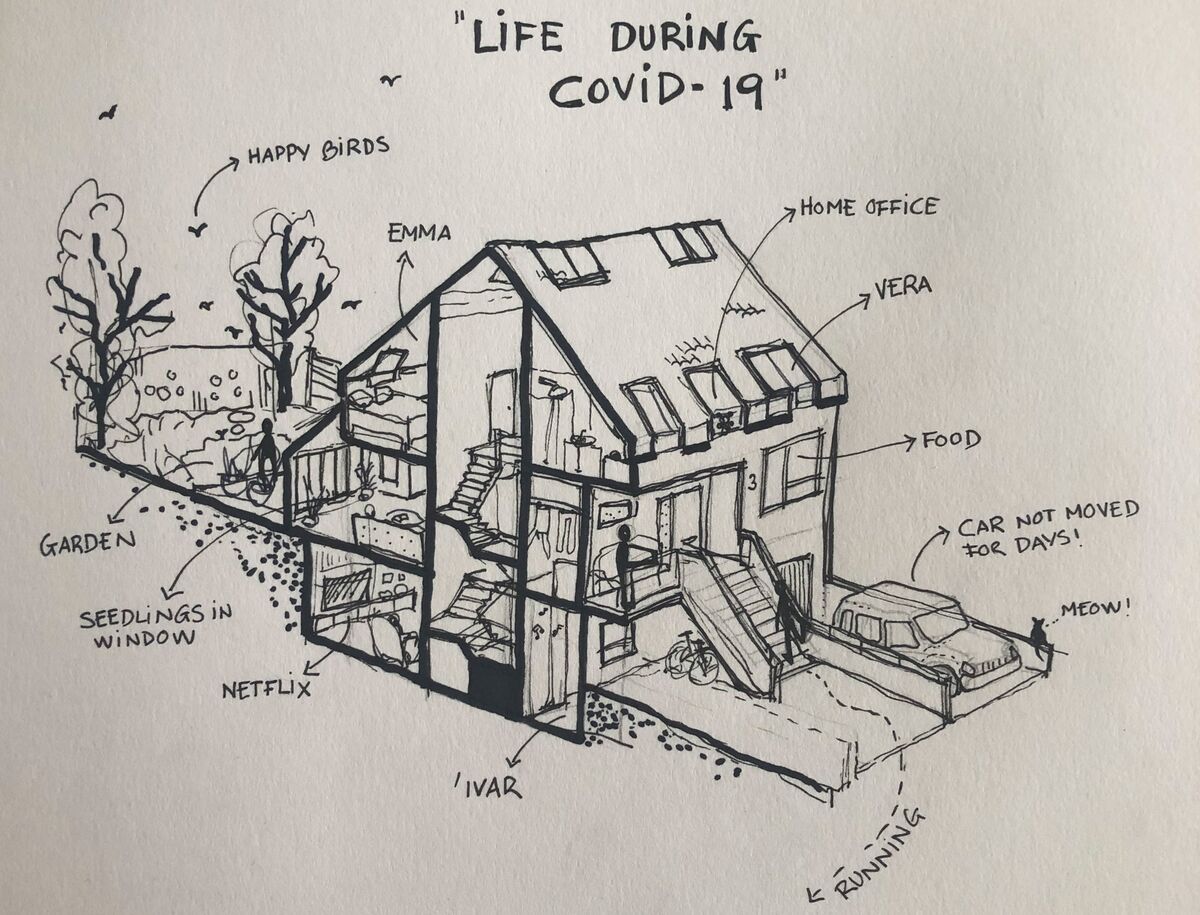 My map shows my house. After spending weeks staying at home working and learning there, it's like our world has shrunk into it. Only leaving for running and occasional shopping. The city seems so quiet and tranquil, the birds and the cats seem to like it. All the cars are parked in the driveways, which is a nice change. We live close by a busy street and we feel there is a big difference in noise during rush hours. We see people going out more for biking and running than before. It's overall a positive change. I hope we don't go back to the way it was before, at least not all the way.
Ele Denne
Brussels, Belgium
Category:
Redefined boundaries
4/19/2020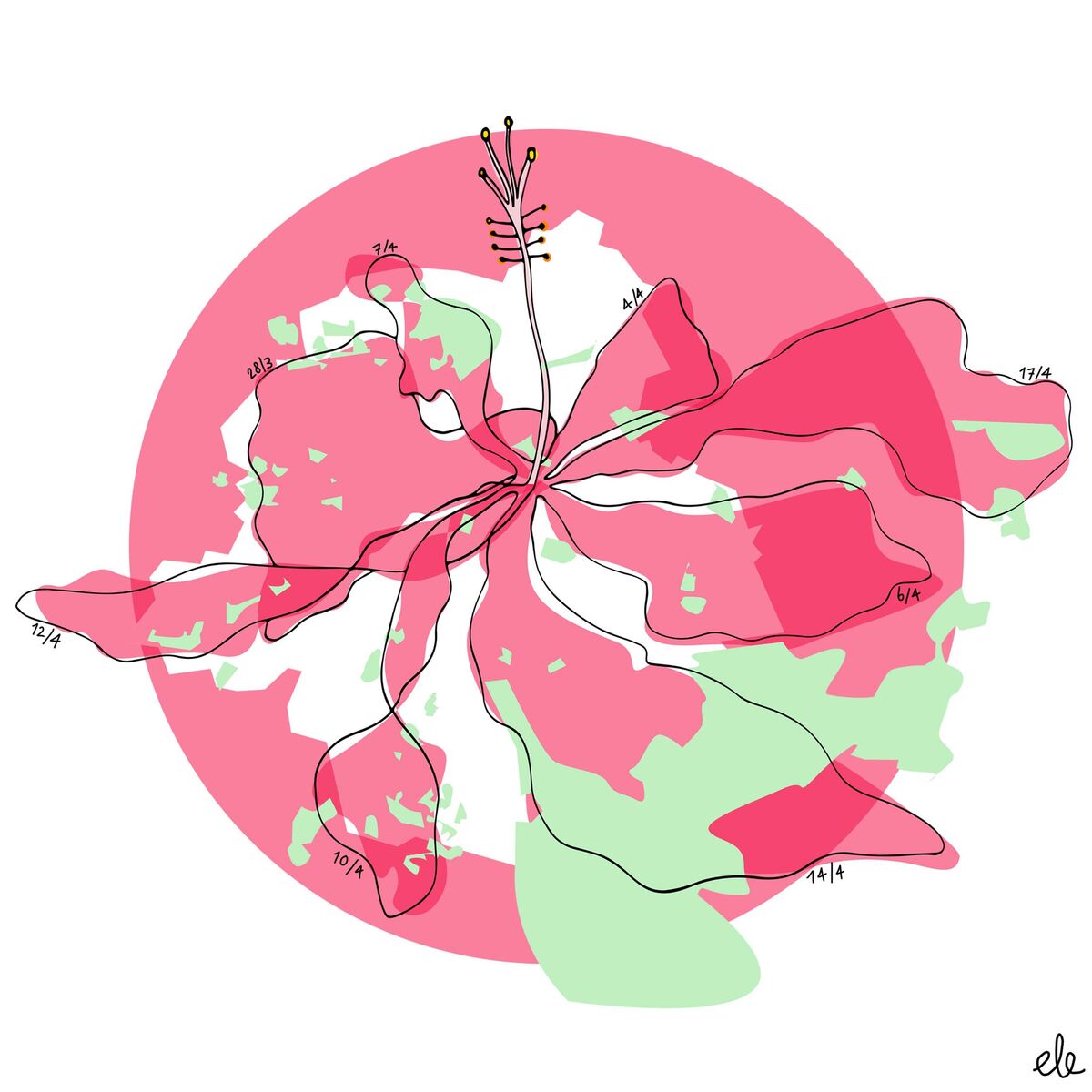 This hibiscus flower, representing the blossoming trees here, is made up of the different bike routes I have taken over the past weeks around Brussels. In Brussels (the white area), the dominant language is French, but once you exit Brussels and enter Flanders (the surrounding pink area), everything is in Flemish Dutch. There are even some supermarkets from the Netherlands, with products that remind me of home. I also included some parks of the area to show the unequal spatial distribution of green spaces. This inequality became more acknowledged as an issue during the first weeks of quarantine, when the police sent someone who was taking a walk back to their neighborhood without many green spaces, even though there were no official distance limits. The size of my neighborhood is increasing and decreasing at the same time. It has decreased, because I have probably walked every single street around here right now, many of them full with blossoming cherry trees, and increased, because I have been biking in all possible directions to places I have never been before. Public transport is now only allowed for essential trips, but fortunately there is no distance limit on bike rides, and the streets are very calm, so I have been exploring the city and the countryside for the past weeks.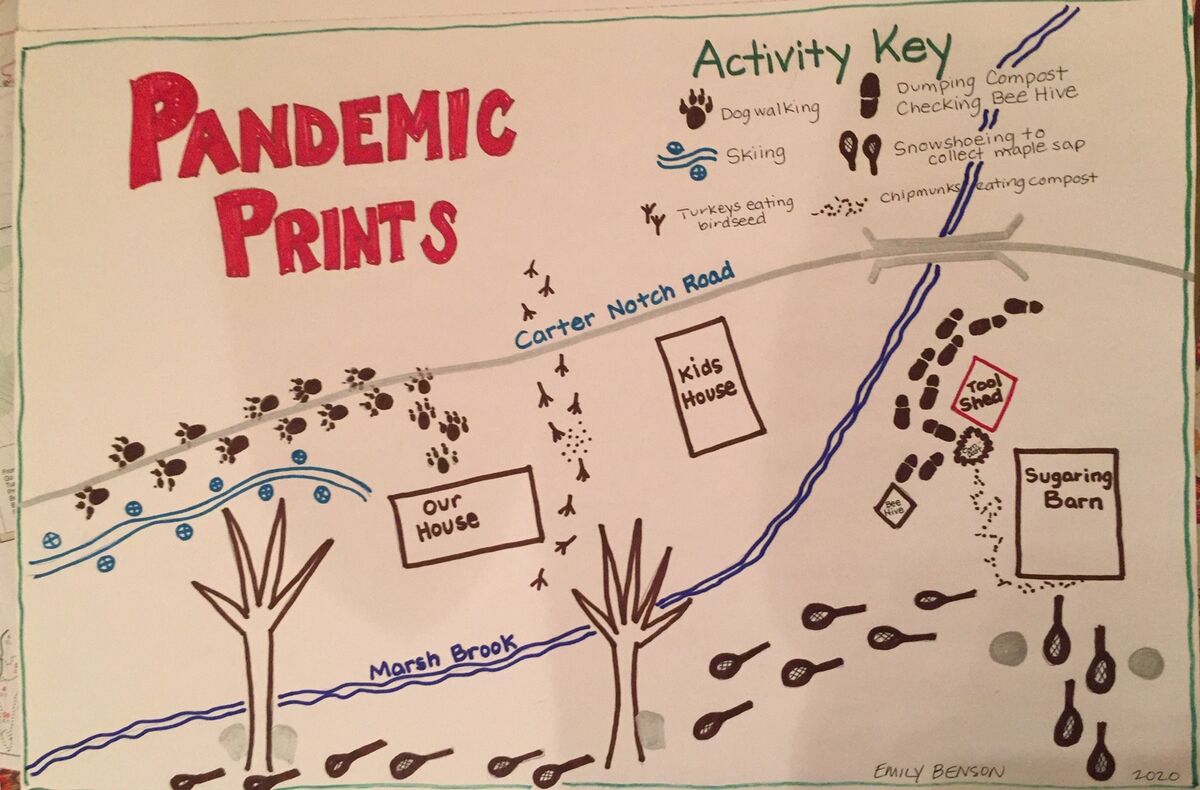 Emily Benson
Jackson, New Hampshire
Category:
Natural callings
5/2/2020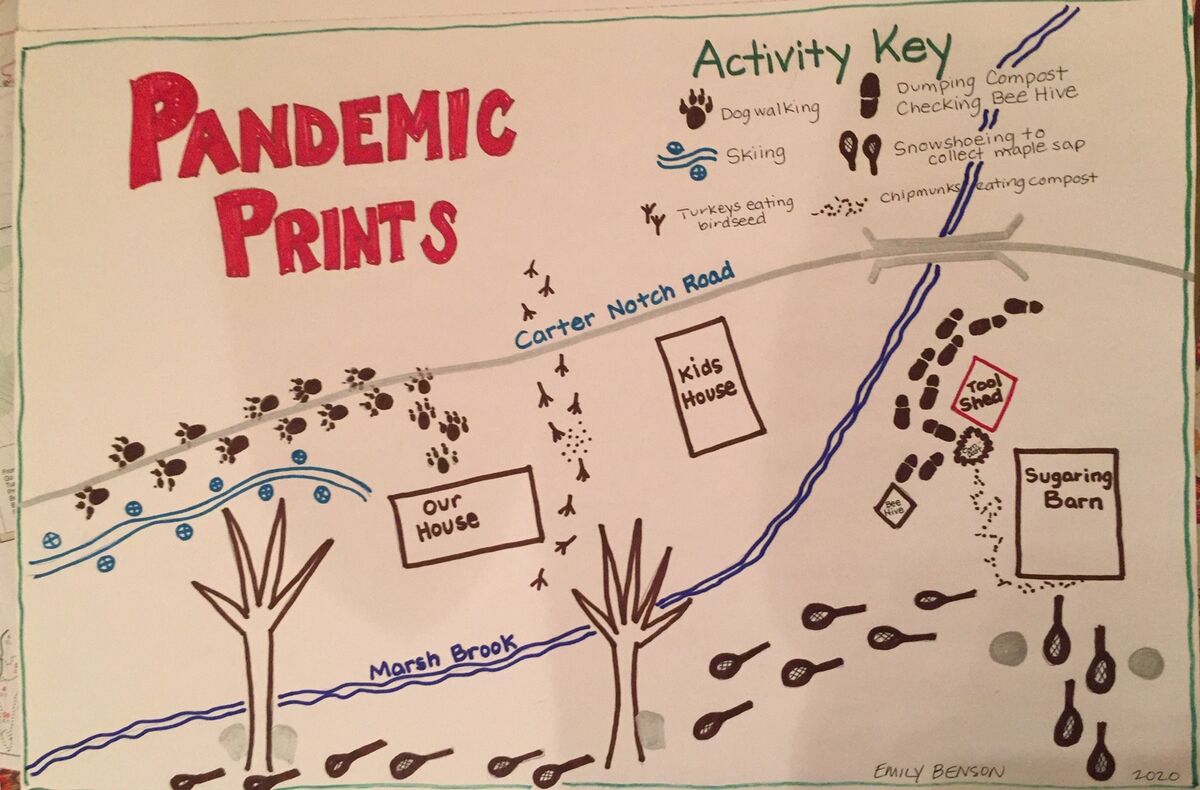 While we do not live in an urban setting, this map shows how "busy" our rural neighborhood is in the midst of the White Mountain National Forest. Staying at home during the height of the maple sugaring season in New Hampshire allowed us to have plenty of time to collect and process our maple sap, resulting in a record-breaking production of over 26 gallons of syrup this year. We have always been very close with our neighbors, which has proven to be a vital source of strength and support during these challenging times.
Eric Hoke
Nashville, Tennessee
Category:
Neighborhood bonds
4/13/2020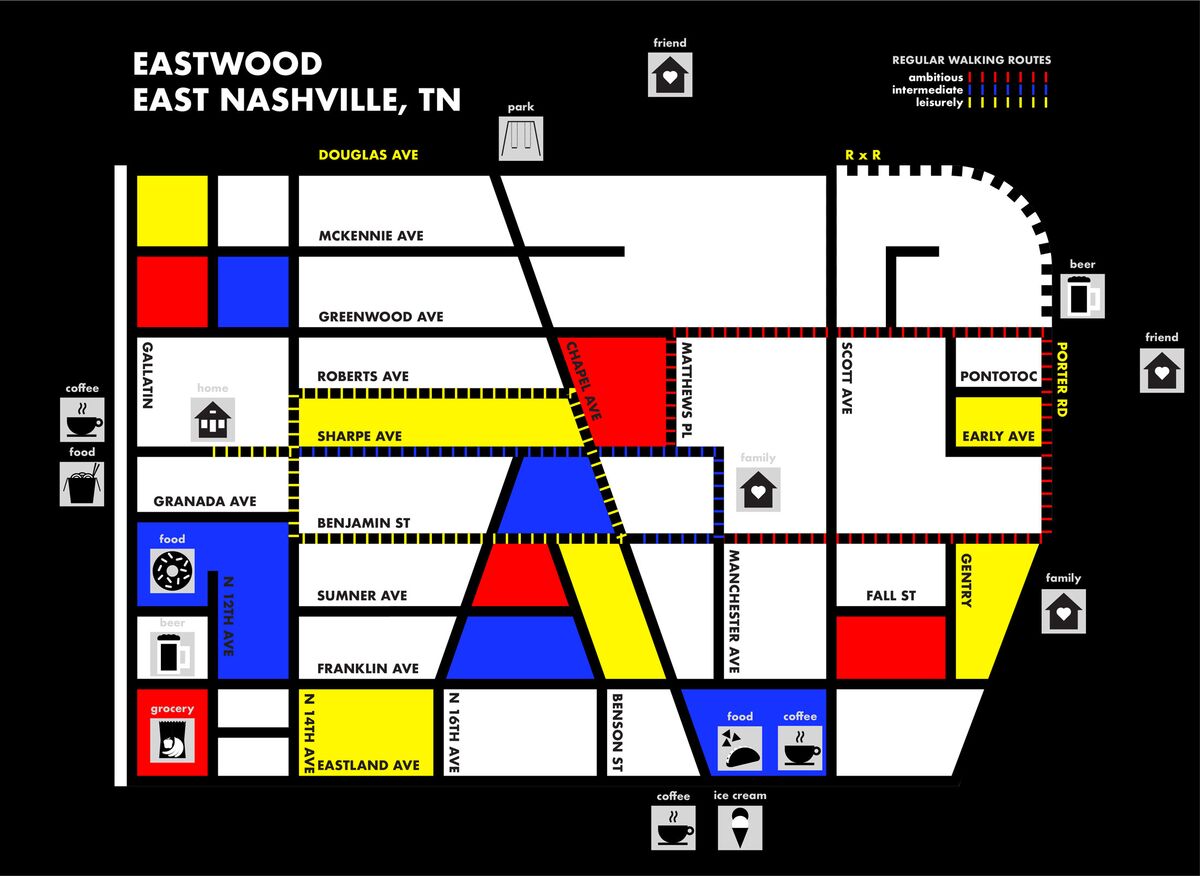 My map is focused around regular walking routes in our neighborhood. It shows the actual boundaries of Eastwood, a neighborhood within East Nashville, but the focus is the landmarks that my family has been frequently visiting during the pandemic. During recent walks, we have developed much better relationships with our neighbors because everyone is outside more.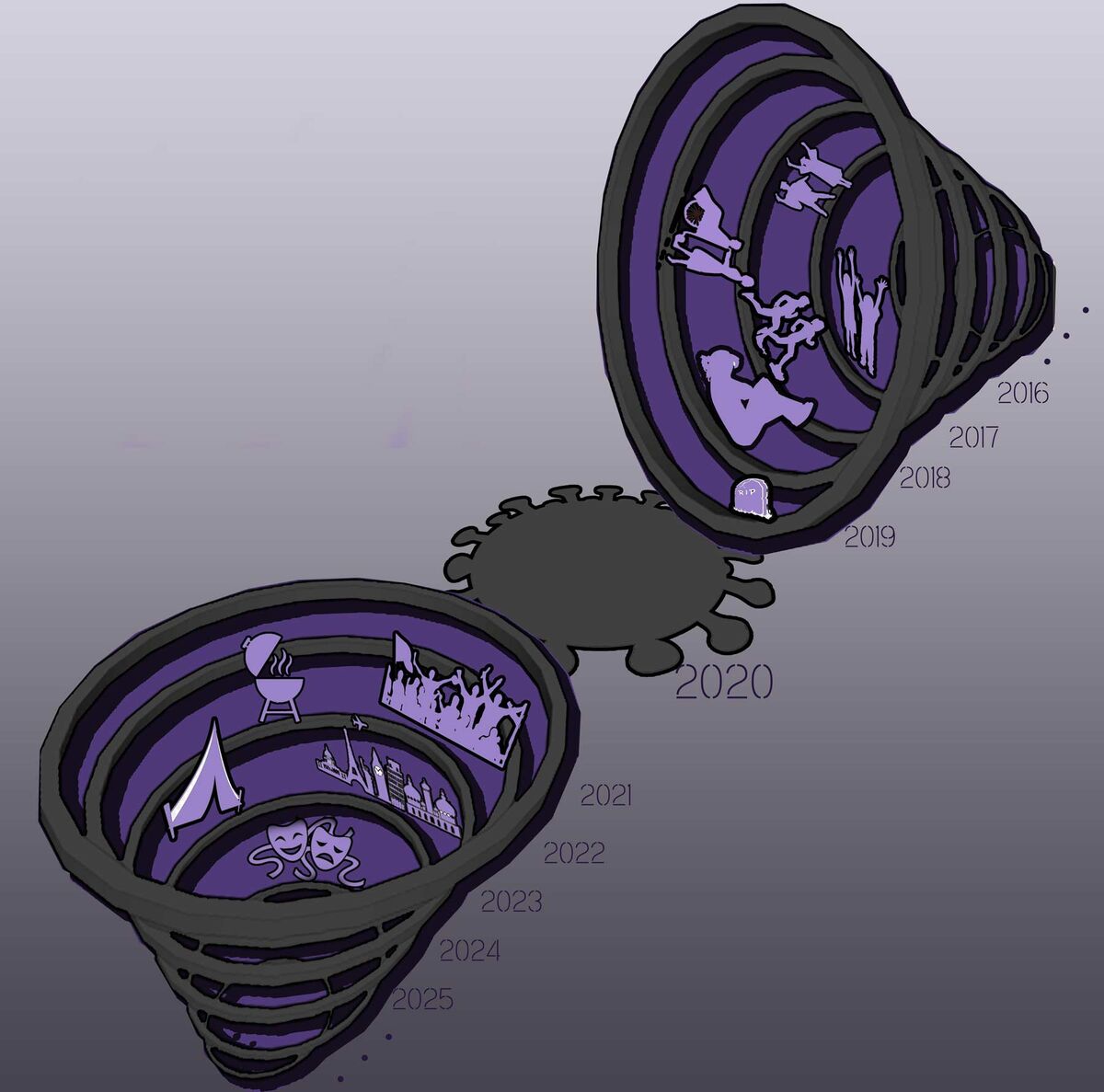 Esra Alim
Samsun, Turkey
Category:
Psychic landscapes
5/28/2020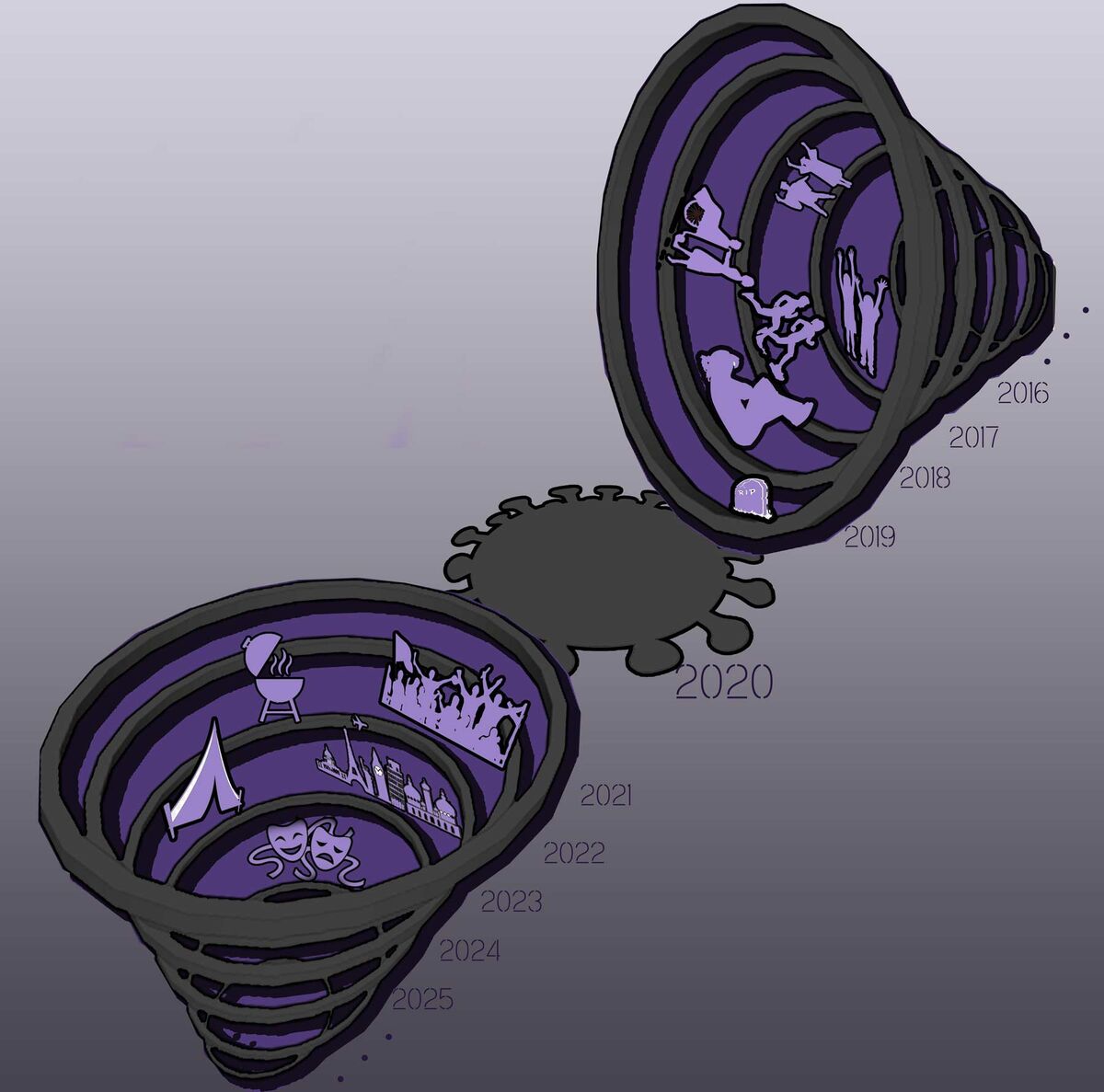 We are in quarantine nowadays, and this situation forces us to think about the mistakes we have made, our past and regrets. We are also thinking about our dreams, plans (travels, get-togethers, and so on). So I designed this mind map. I can travel to my past and future, with the help of this portal.
Eva Spear
Amsterdam, the Netherlands
Category:
Psychic landscapes
4/23/2020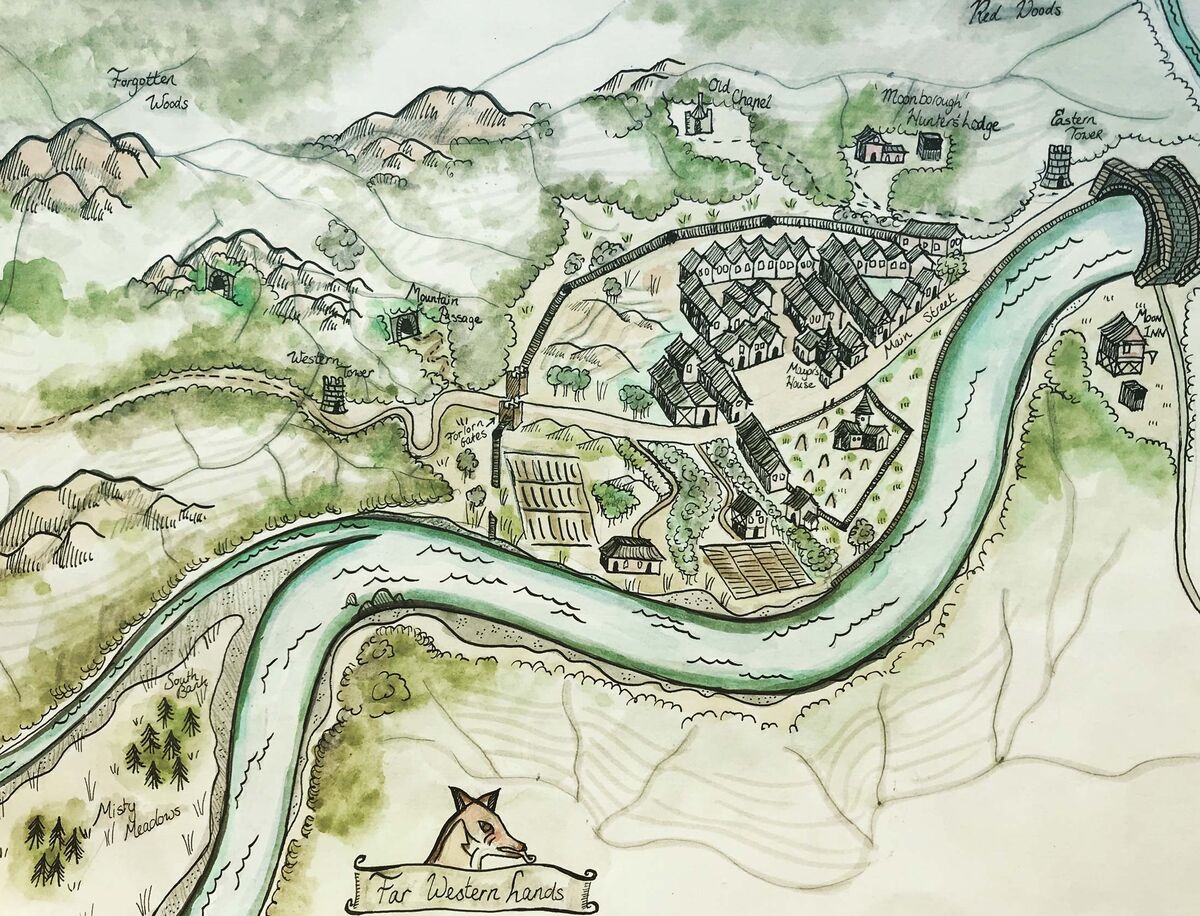 I've retreated into my own world and drawn a map of the place I go to. My life has become more humane. More relaxed. It seems to me people tend to notice each other more, greet each other more. They seem more chilled out and interested in social contact, slowing down in the moment. Maybe I'm just speaking for myself. But the whole vibe sparks my creativity and lets my imagination run wild.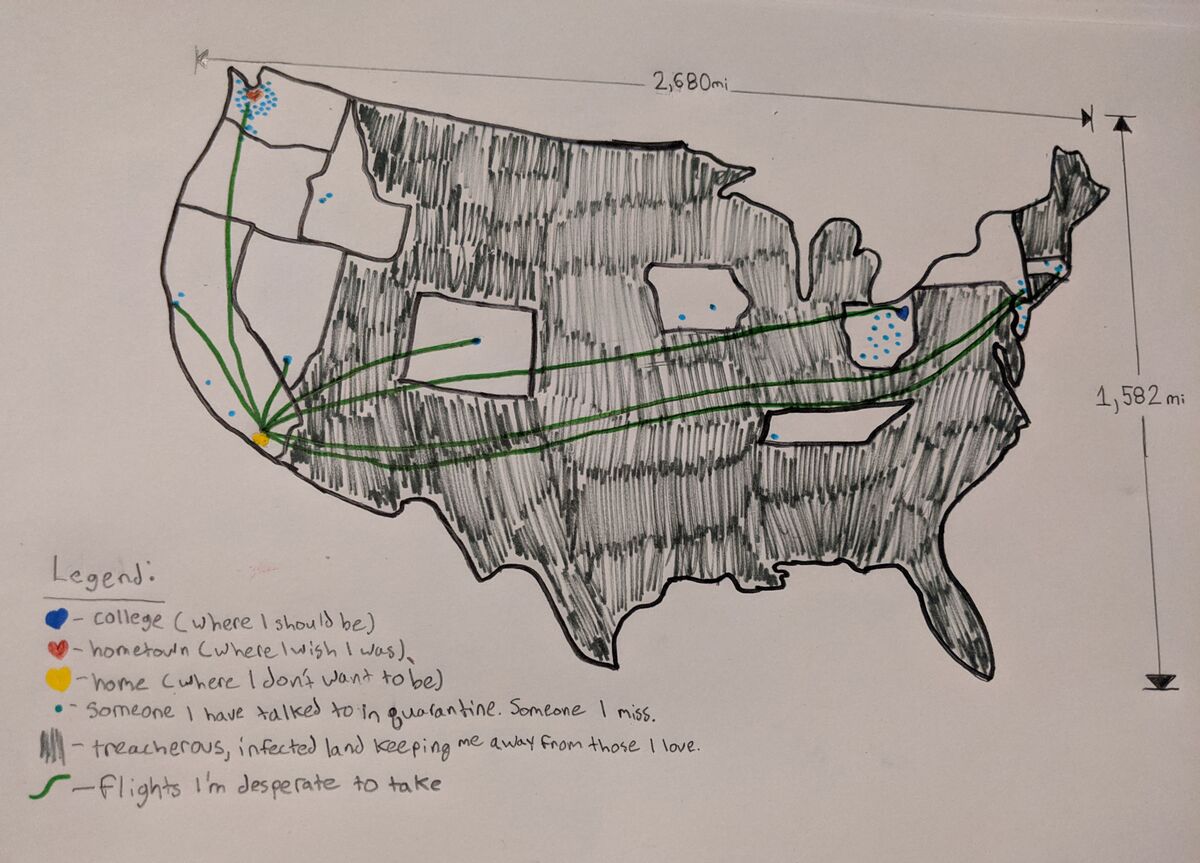 Ezra Silkes
San Diego, California
Category:
Redefined boundaries
4/7/2020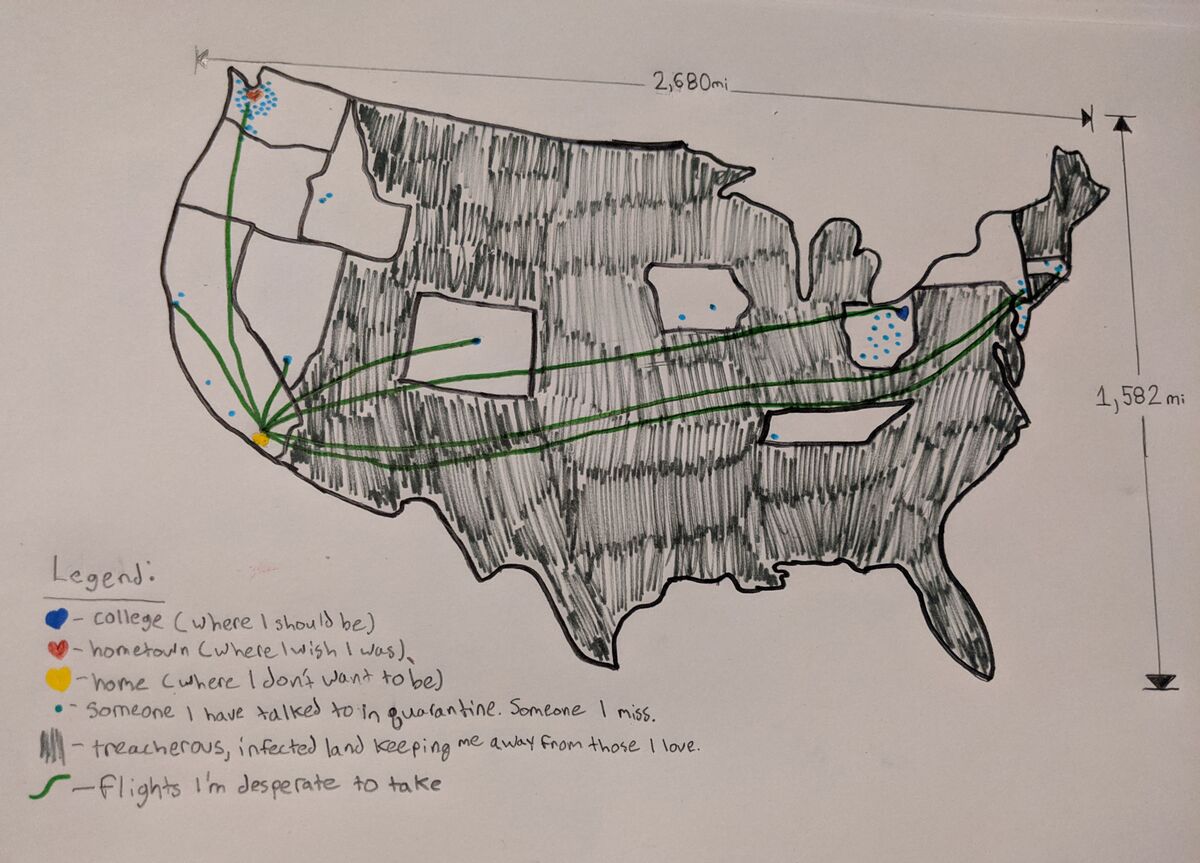 This is a map of the United States, as defined by where my friendships are. I just moved to San Diego, and have no attachment to it as a city. The cities I'm attached to are thousands of miles away from me, and I dearly miss the people in those cities. Quarantine has shrunk my world to just my house, but at the same time has reminded me that my world is much, much wider, and my connections span not only the country but the globe. Now, due to self-isolation, I will not have the chance to explore the neighborhood or surrounding areas. I will not get to know the people. I will stay inside and talk to the people I already know. As such, my neighborhood has grown to ignore all state borders and has become the people I loved before this crisis.
Farah Makki
Italy
Category:
Redefined boundaries
4/5/2020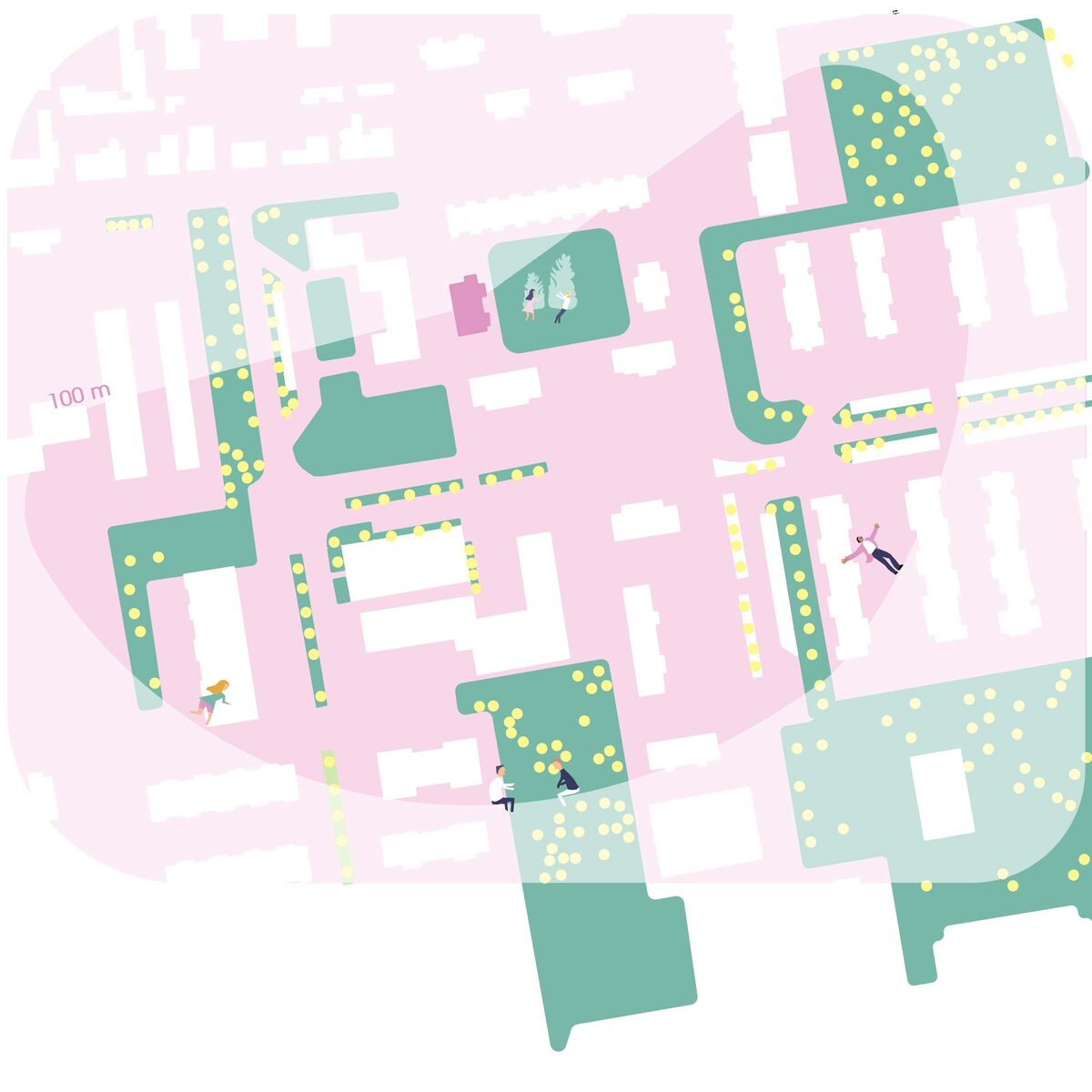 I've been much more aware of the attractions and features around me and more appreciative of the available green areas.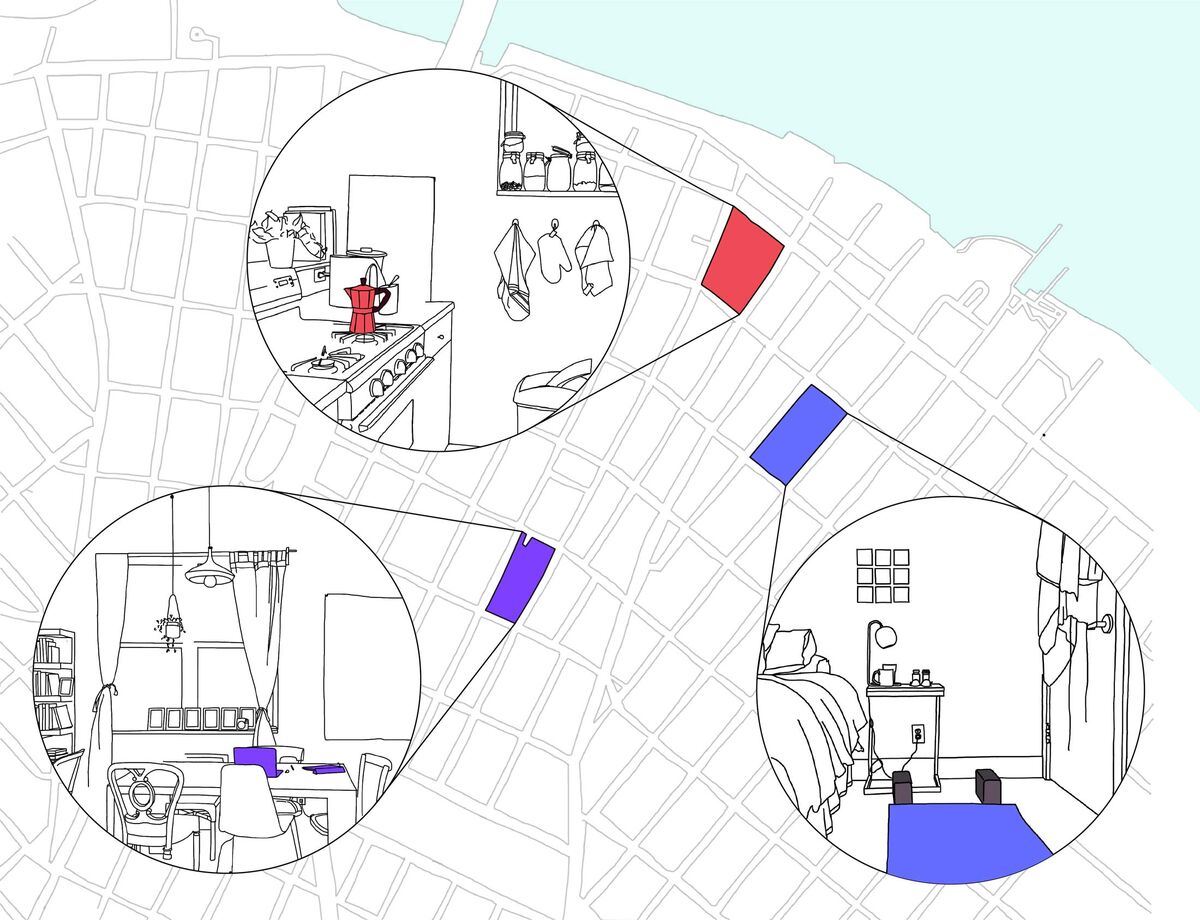 Francisca Benítez B.
Brooklyn, New York
Category:
Redefined boundaries
4/24/2020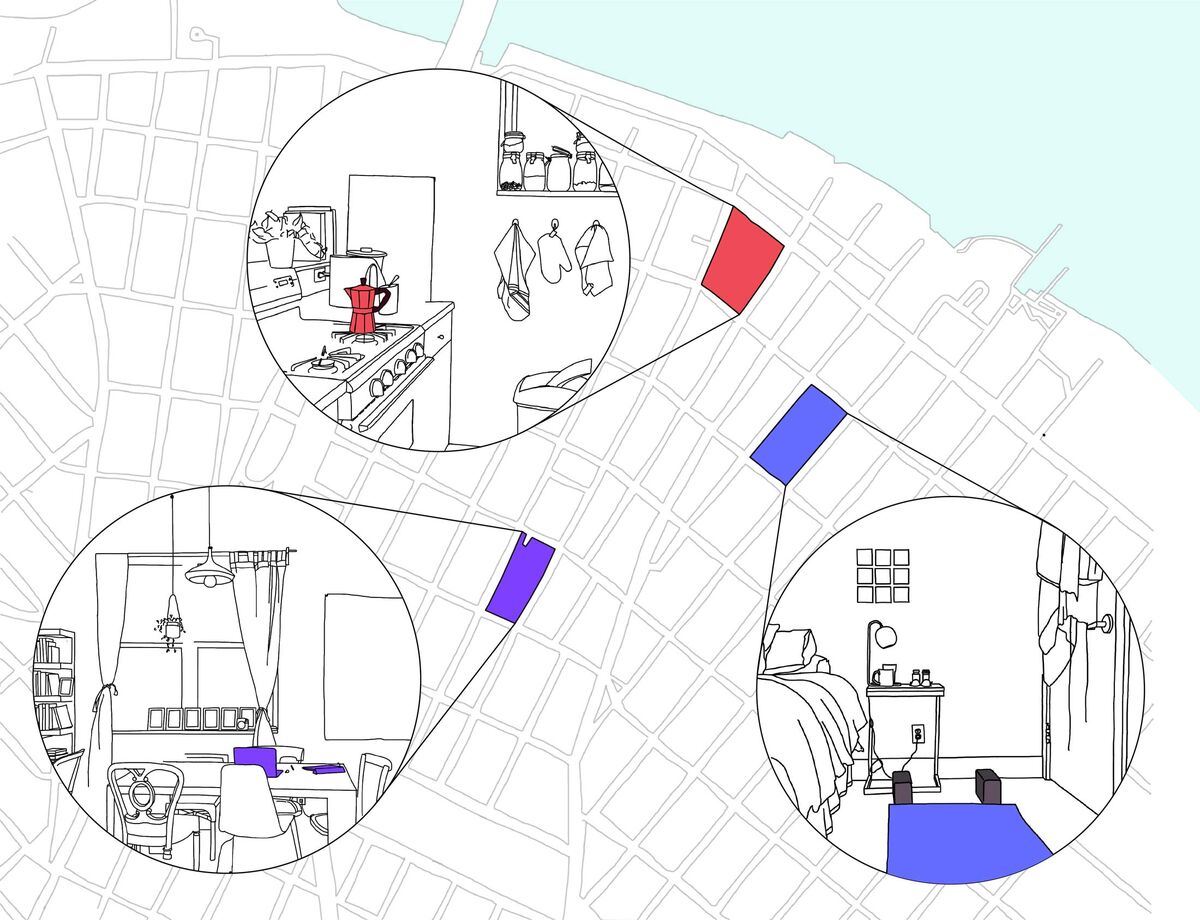 I yearn for my past places and communities. Now I walk more to the waterfront. By finding moments at home that mirror the outside world, the new routine could wash away the frustrations.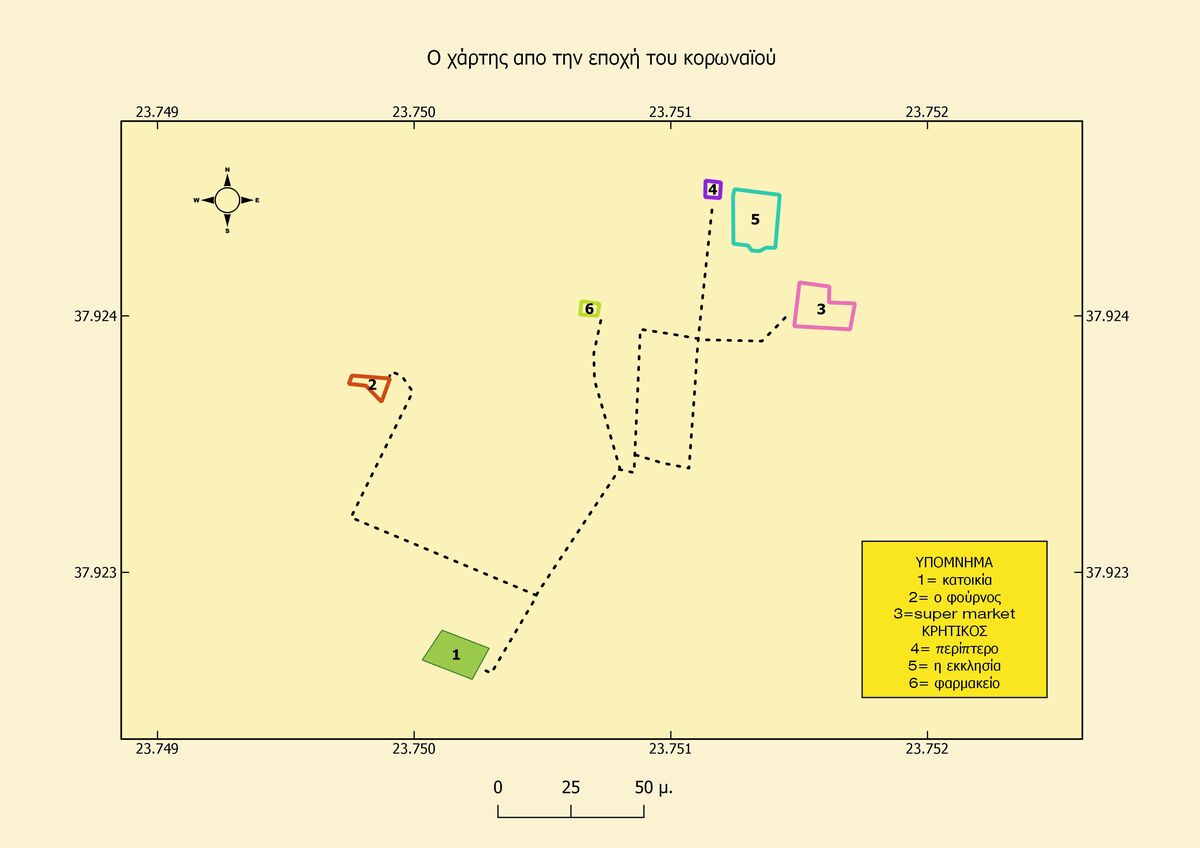 Giannis Vlaxos
Athens, Hlioupolis, Greece
Category:
Neighborhood bonds
5/24/2020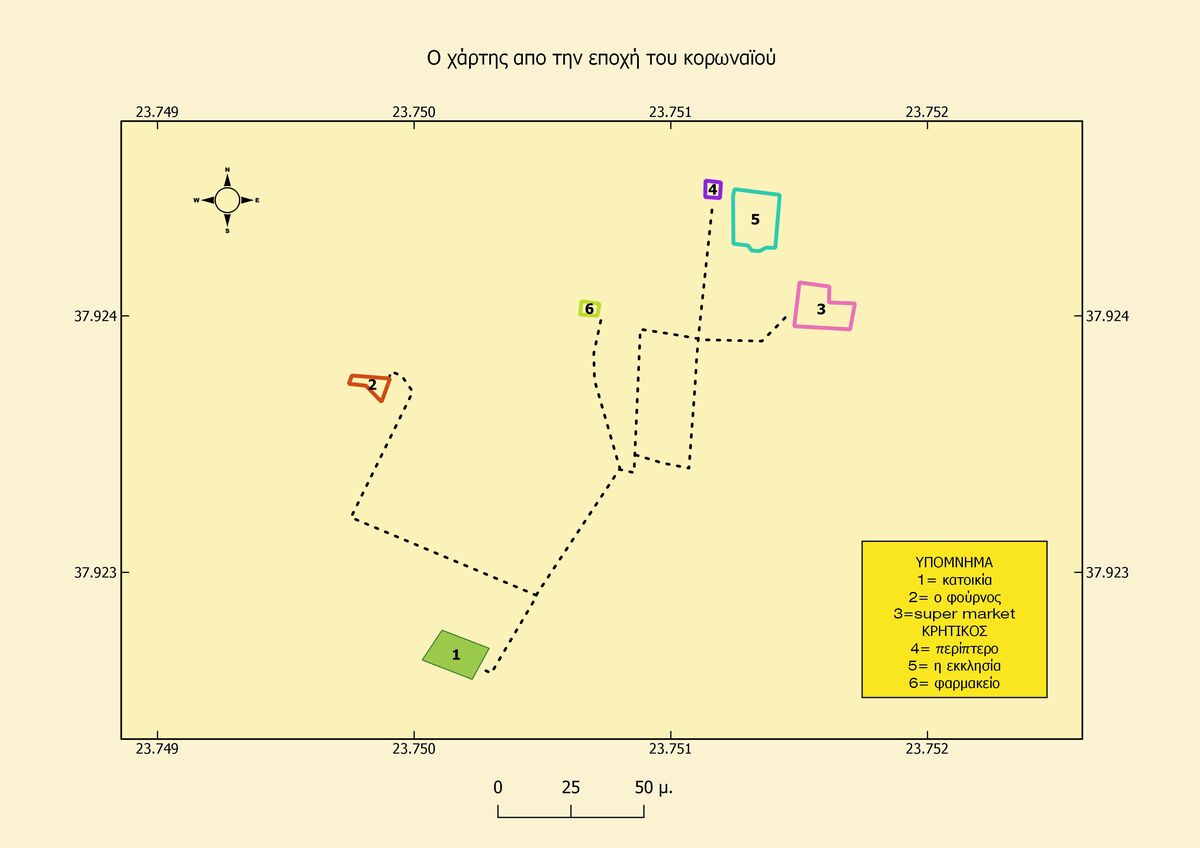 I live in a suburb of the prefecture of Attica in Greece. I stayed at home for more than two months — from March 11 until the end of May almost — avoiding contact and safely following only the necessary routes:
1 = home
2 = bakery
3 = supermarket
4 = newsstand
5 = church
6 = pharmacy
I designed and edited this map on Google Earth. The coordinates and scale are accurate.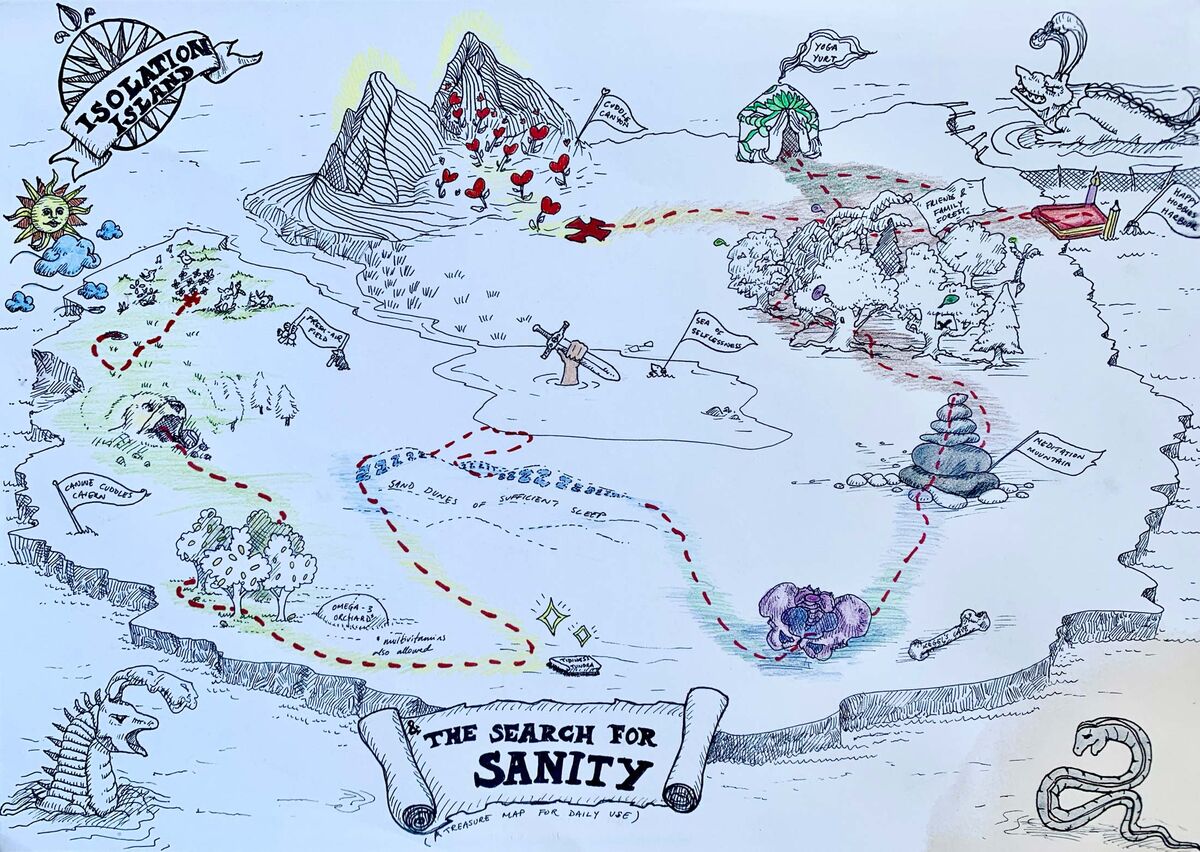 Gro Slotsvik
Bristol, United Kingdom
Category:
Psychic landscapes
4/19/2020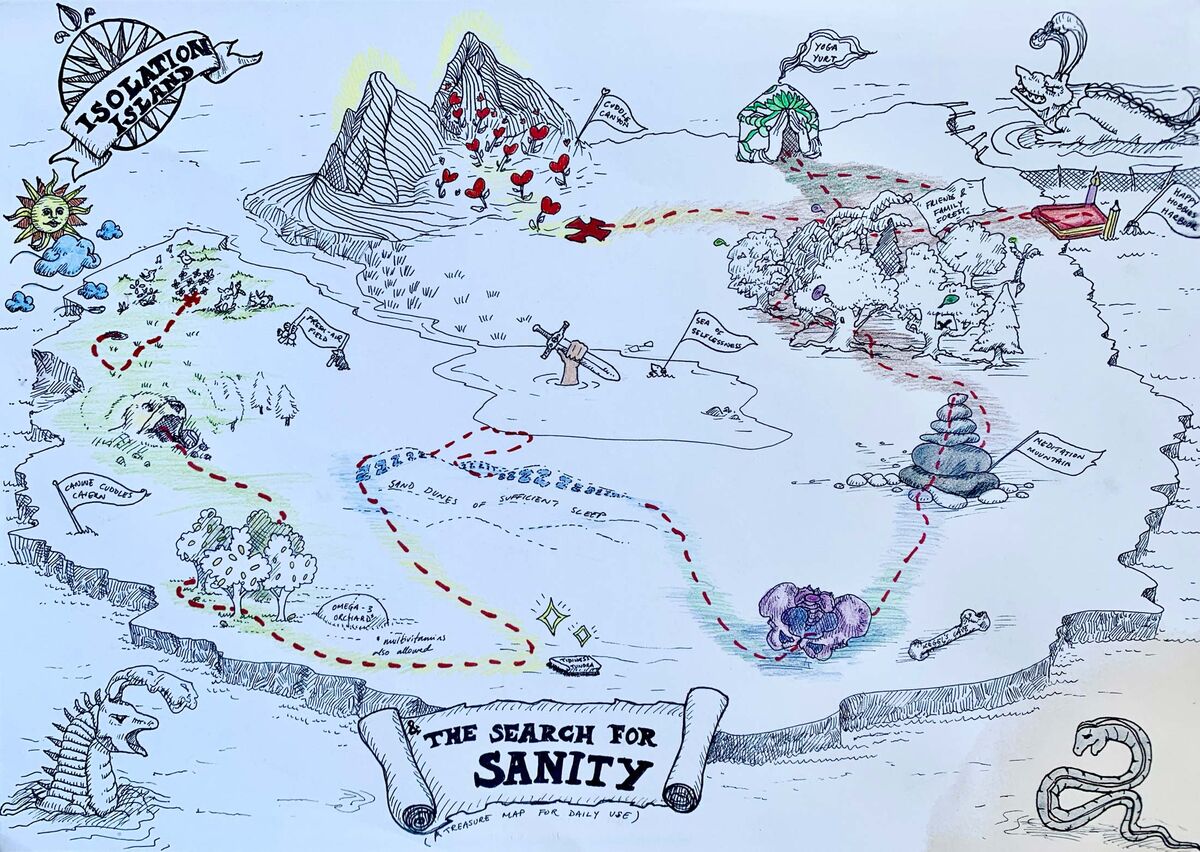 The author and illustrator Carson Ellis suggested drawing a "treasure map" as one of her daily Quarantine Art Club assignments and this was mine: a reminder to myself of what to do to stay happy during isolation. The mountains are based on the wonderful works of Christa Rijneveld and the sea monsters are from the Carta Marina (a brilliant 16th century map of the Nordic countries). My 11-month-old son also tried to help, by knocking over a cup of cold coffee onto the corner. Just in case you were wondering about the poor sea snake living in a darker bit of sea!
Irene Palko
Glasgow, Scotland
Category:
Redefined boundaries
4/29/2020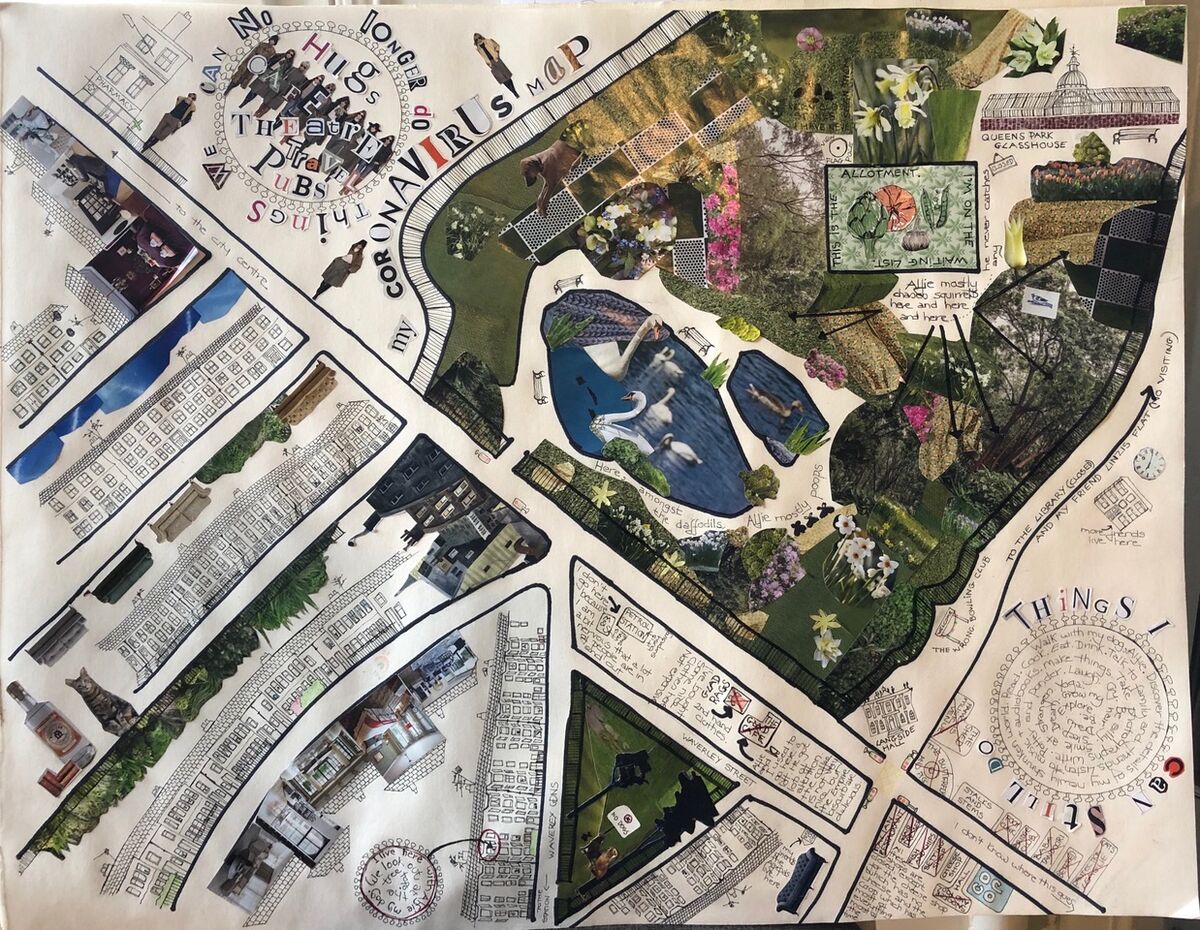 I arrived in Glasgow a few months ahead of the coronavirus pandemic at 63 years old, to a new home in a new city. It was also a totally new life: As the world shut down around me, I stared out of my window at the tree tops and the rain, afraid and disappointed. But I realized I was one of the lucky ones. The trees may be bare again before I can once more hug a friend or stranger, or simply stand next to another human being. In the meantime, the street will be my gallery, the park my theatre, and the world wide web my cafe, bar, and meeting place.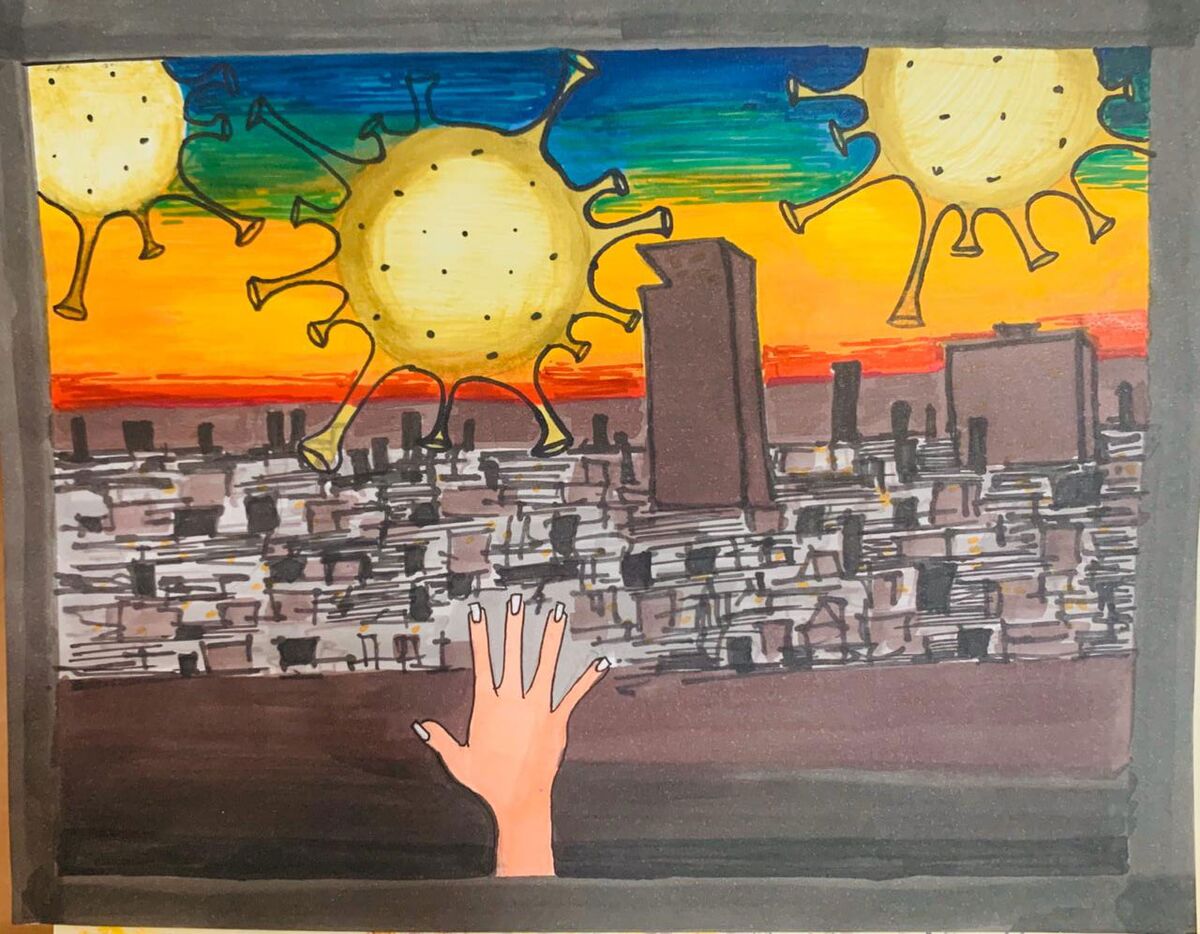 Itzel Taboada
Bolivia
Category:
Psychic landscapes
4/19/2020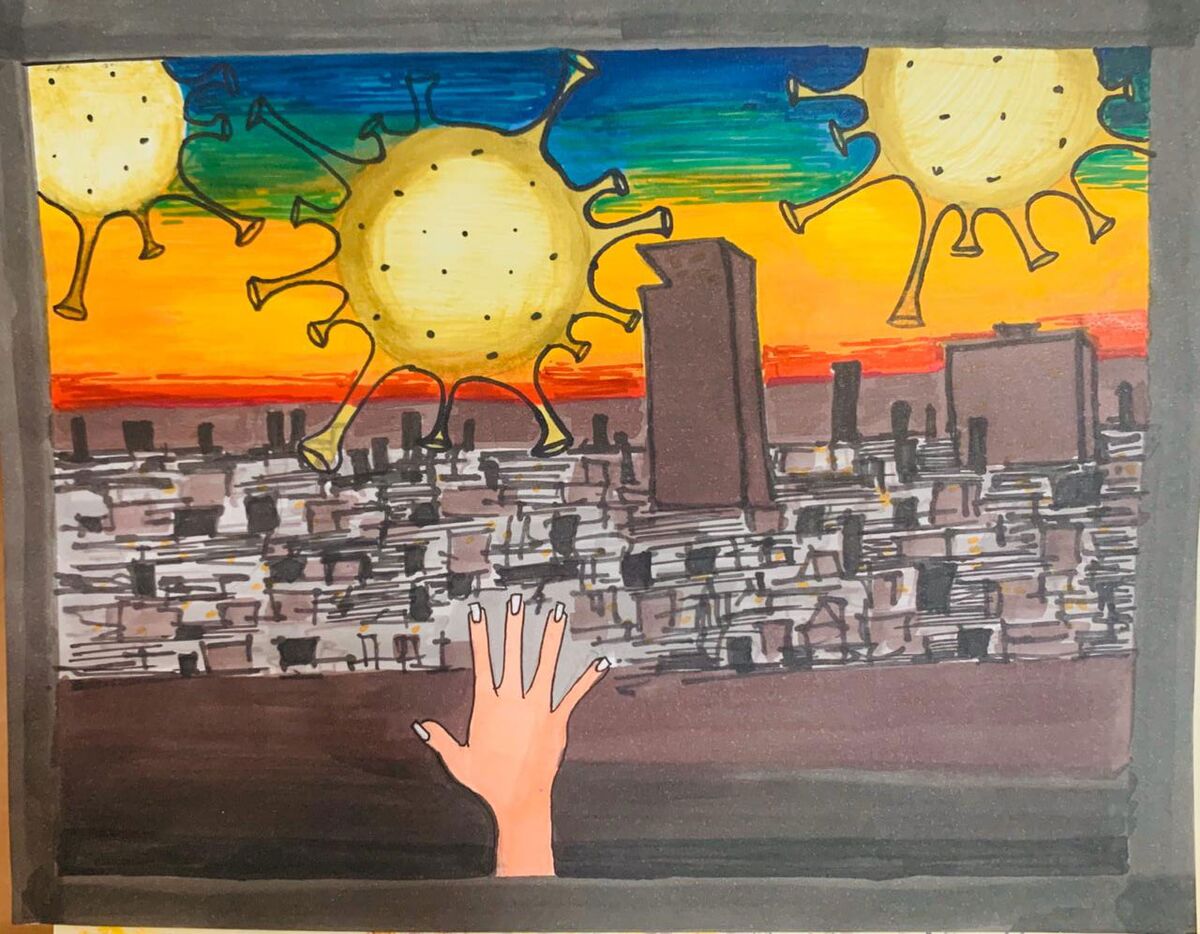 This is the sunset that I see from my window, and the fresh air that only the virus gets to enjoy.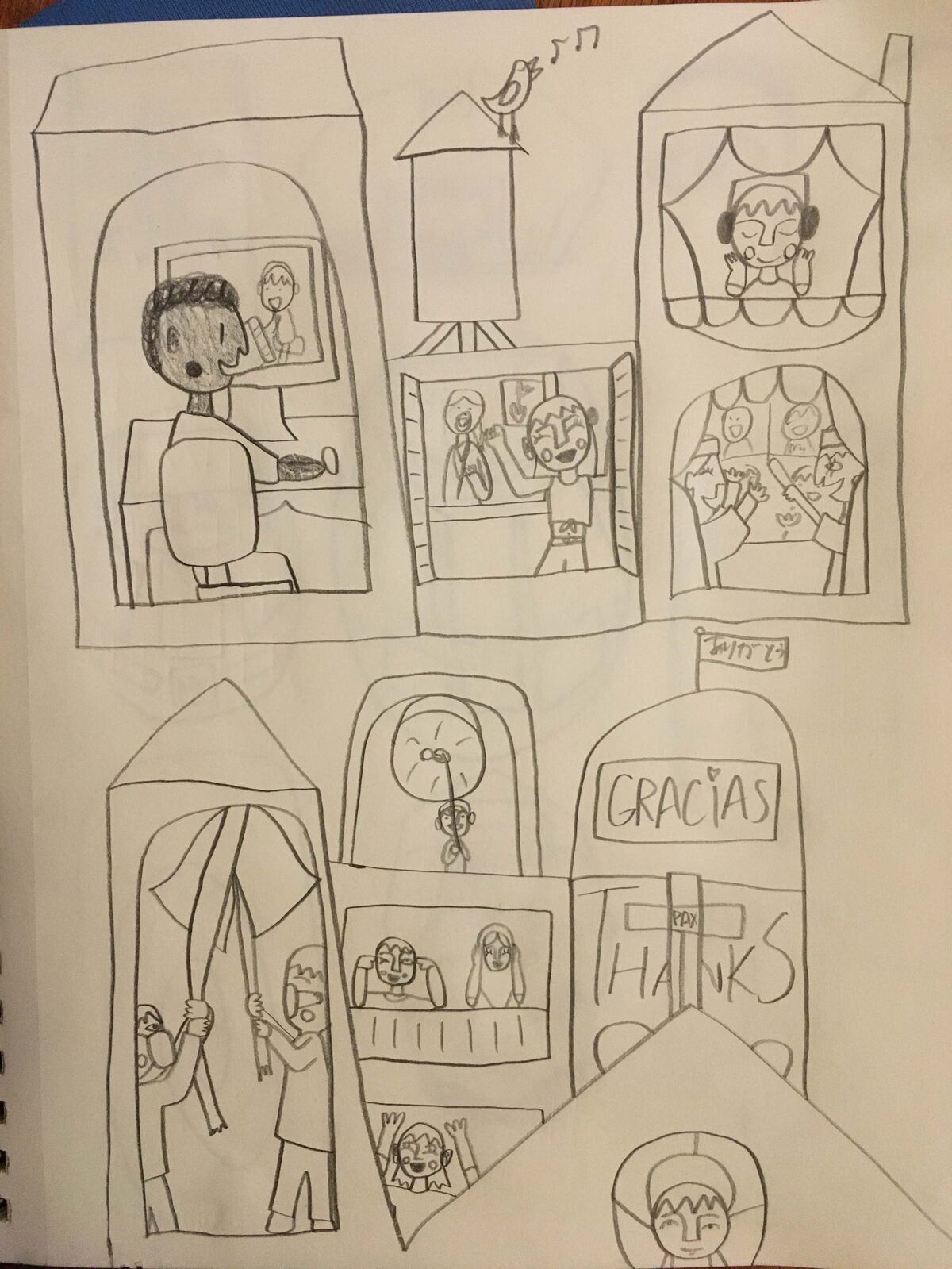 Jackson S.
Austin, Texas
Category:
Domestic rearrangements
4/18/2020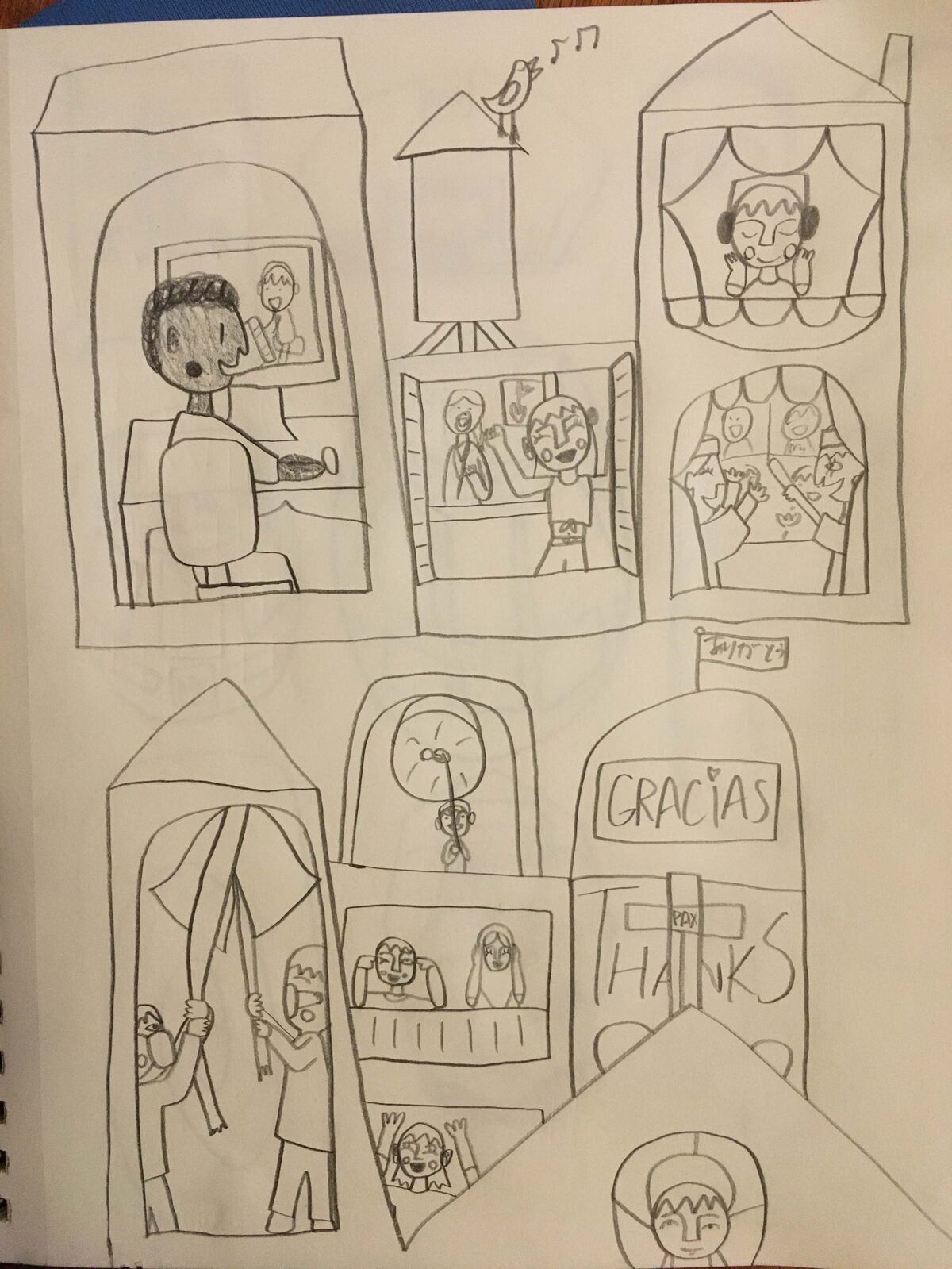 "This is a drawing about people who are finding ways to live positively during the lockdown. It's really weird that we're having to stay home for quite a long time. Everything is closed, we're not as busy as we once were. It's just an interesting time for all of us," says Jackson about his map. Jackson has autism and I'm typing his thoughts for him. I'm his mom.
James Hennessey
Northern Ireland
Category:
Psychic landscapes
4/7/2020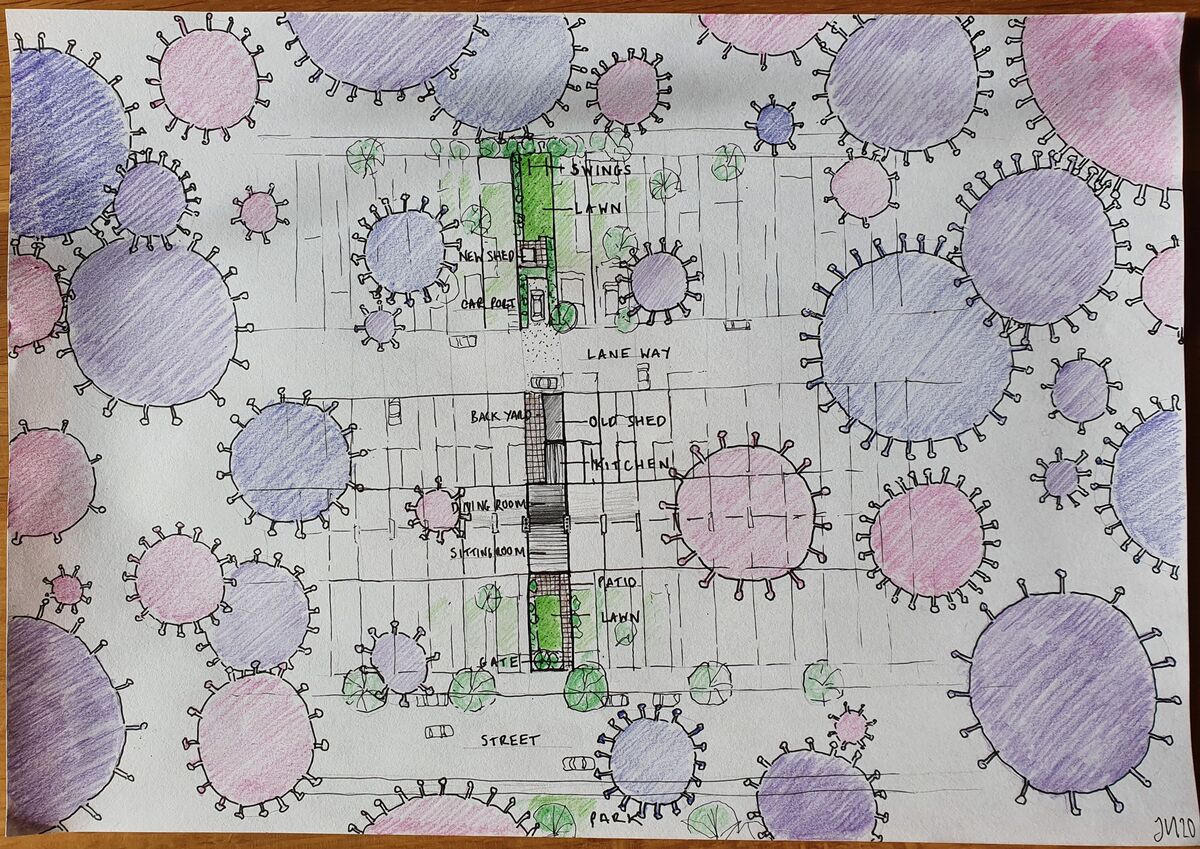 More than ever, our little terraced house and garden have become a special sanctuary as we try to keep our family and those around us safe. On the one hand, [there is] an element of fear as we venture out for necessities, yet on the other, a heightened feeling of compassion with our neighbors and with strangers, as we jointly face this challenge.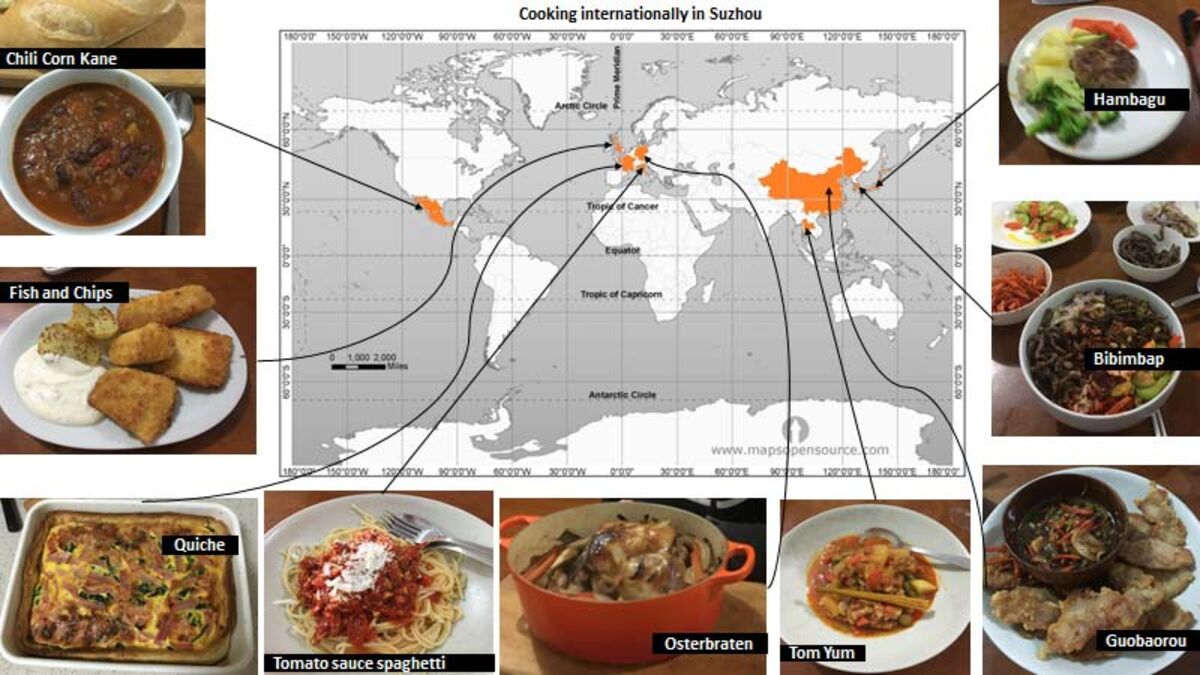 Jin Meiling
Suzhou, China
Category:
Virtual connections
4/30/2020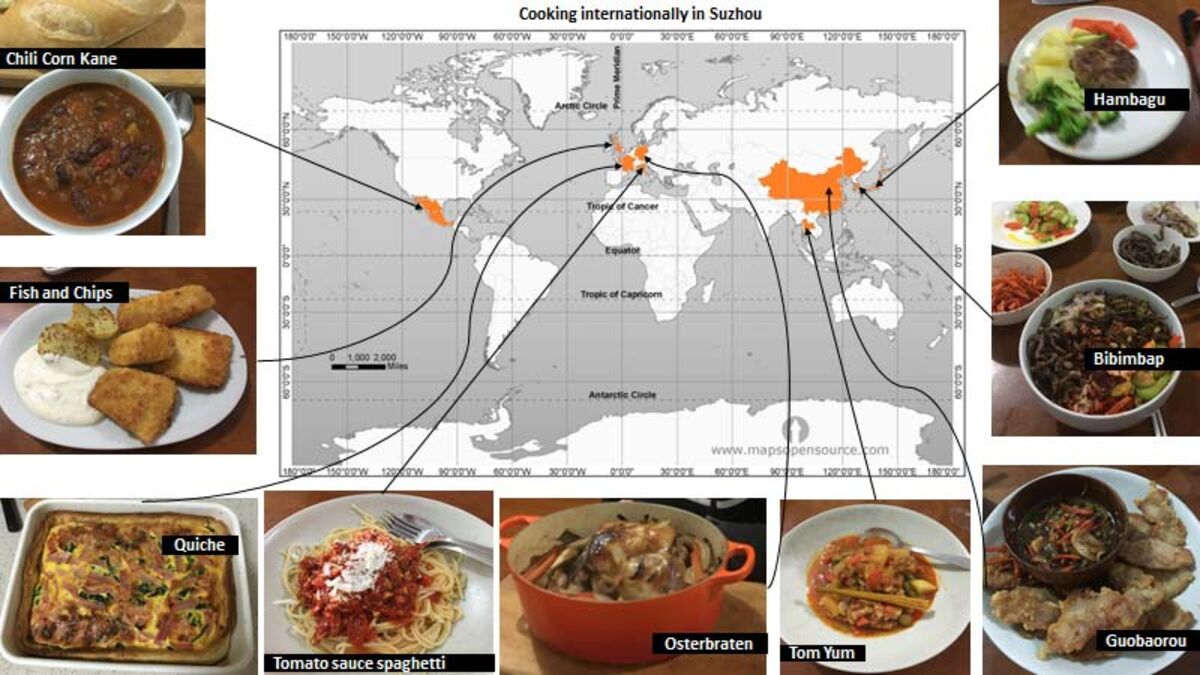 My husband is German and I am Chinese. We met in Japan, and now are going through lockdown at our home in Suzhou, China. We both like cooking. Since lockdown started, we have cooked every day and I have learned several new dishes from different countries, as shown in my map. Sometimes, I get the cooking ideas from WeChat shared by friends and relatives. Chinese Guobaorou, a type of deep fried pork, is among them. It tastes good after several trials. But if I could choose, I would like to order in a restaurant.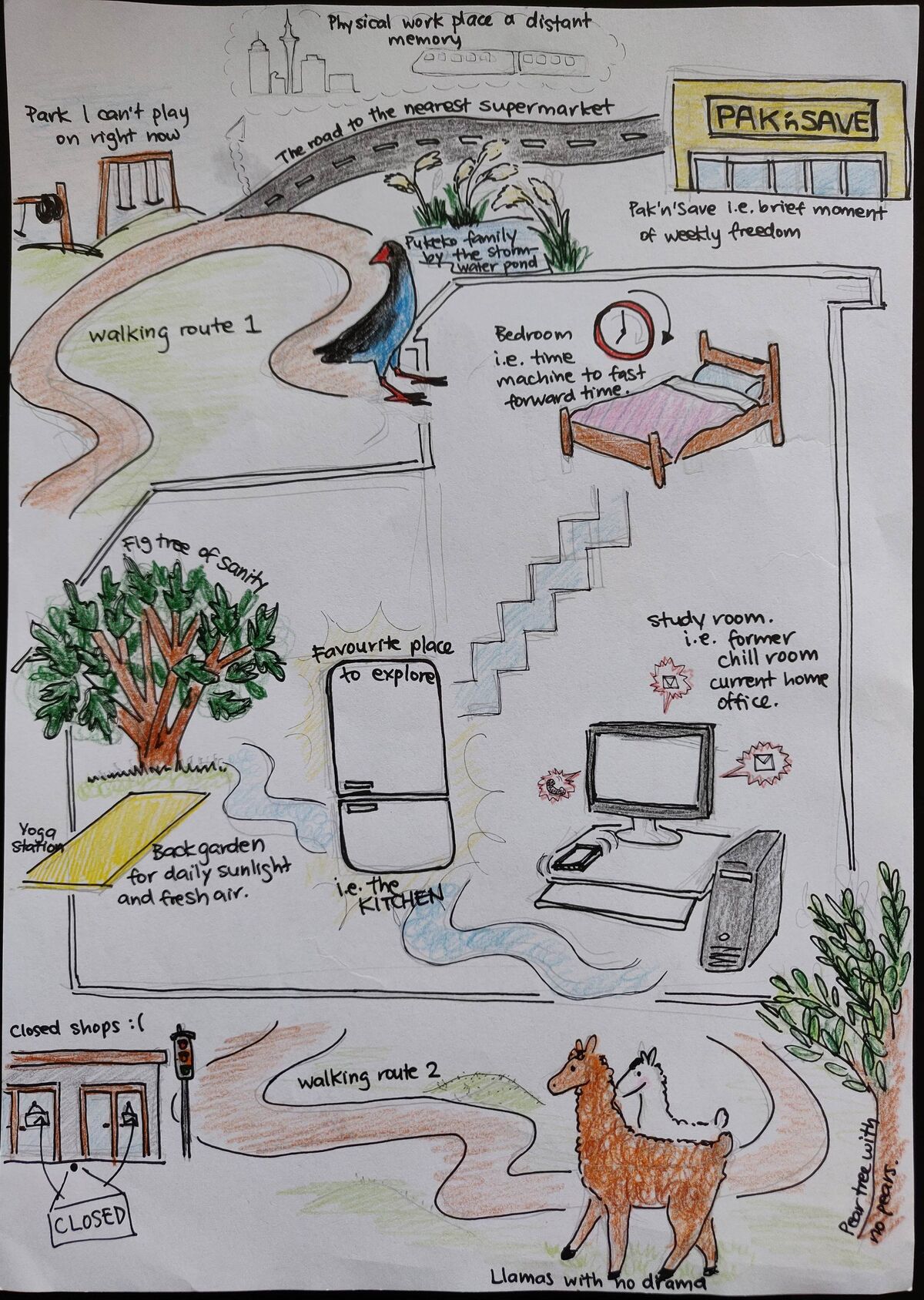 Joanna Chow
Auckland, New Zealand
Category:
Neighborhood bonds
4/15/2020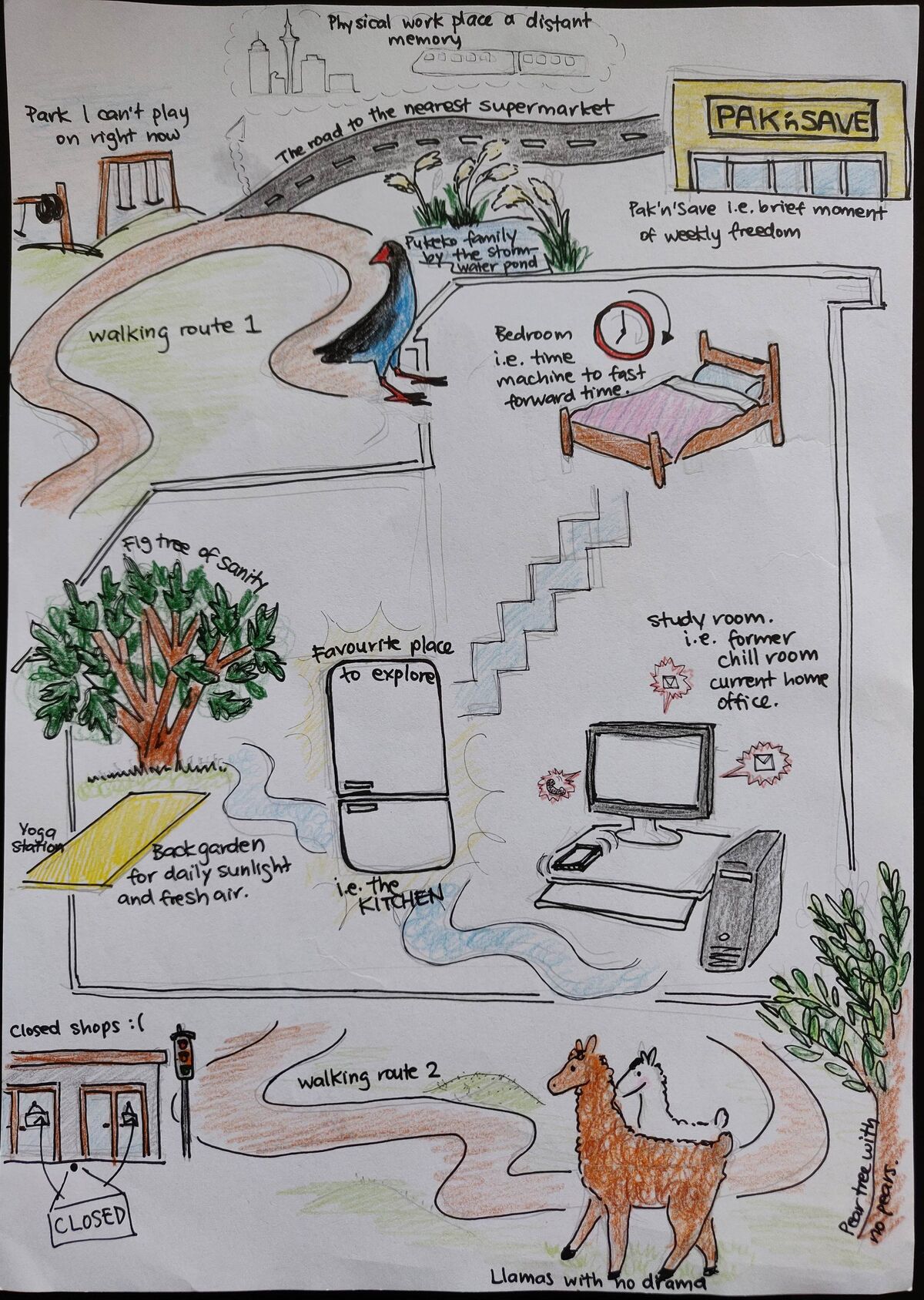 We are in full lockdown for a minimum of four weeks. We have three adults working from home (and one more as an essential worker). Our entire neighborhood (or should I say world) has been shrunk down into just our home, and on the periphery are the nearest supermarket and our preferred walking routes around our home. Rather than waving and greeting each other as we leave and return home, we just wave to each other through the windows, if we happen to see each other.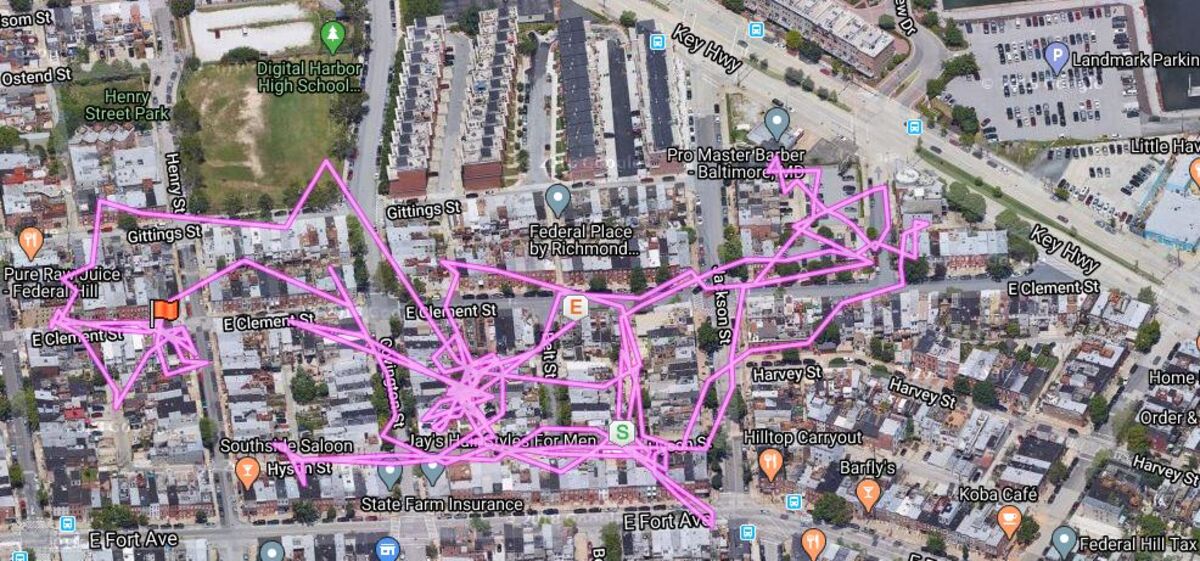 John Palumbi
Baltimore, Maryland
Category:
Redefined boundaries
4/17/2020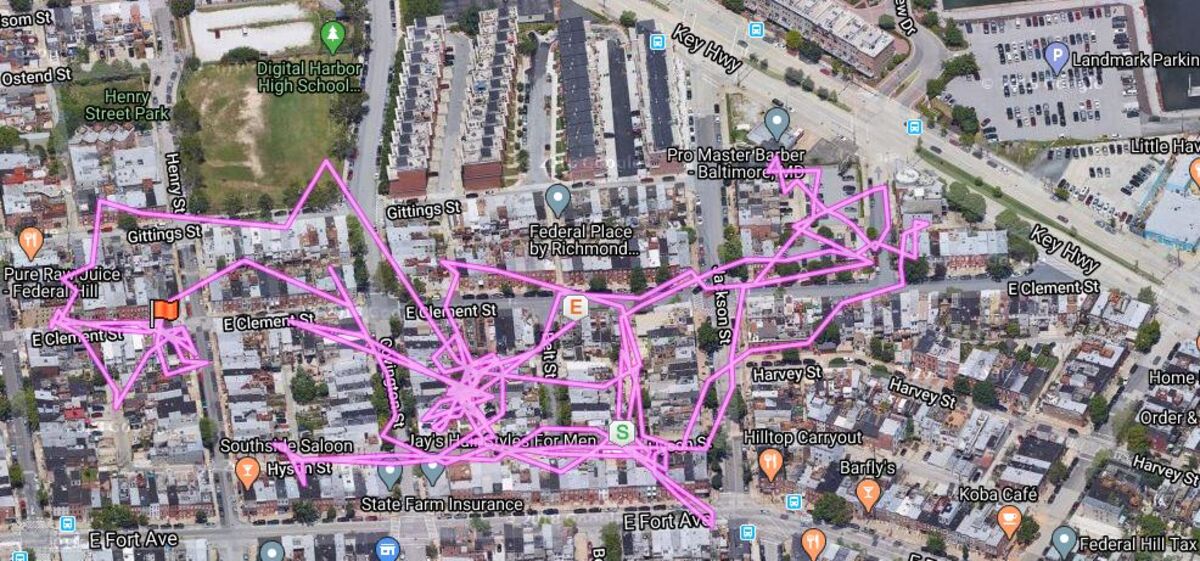 This is a map of our cat's nocturnal outdoor adventures during Covid-19. Ace is a 9-year-old indoor-outdoor cat who sometimes wears a collar with a GPS sports tracker. During the pandemic, he gets out a lot more than we do. As the map shows, we are experiencing our neighborhood through his eyes. Ace's range is much larger than we would have ever imagined. He "patrols" alleys; snoops in people's yards; pokes around near the waterfront; and (with fewer cars on the road) even crosses the street. While our personal "orbits" have severely contracted, our cat's has enlarged. He walks a few miles around South Baltimore every night. Ace's Adventure Map is something we look forward to each day as an antidote to our frustration and isolation. He still has the freedom to roam the city and we don't. We envy him.
Jonas Vagnoux
Bonneville, France
Category:
Redefined boundaries
4/16/2020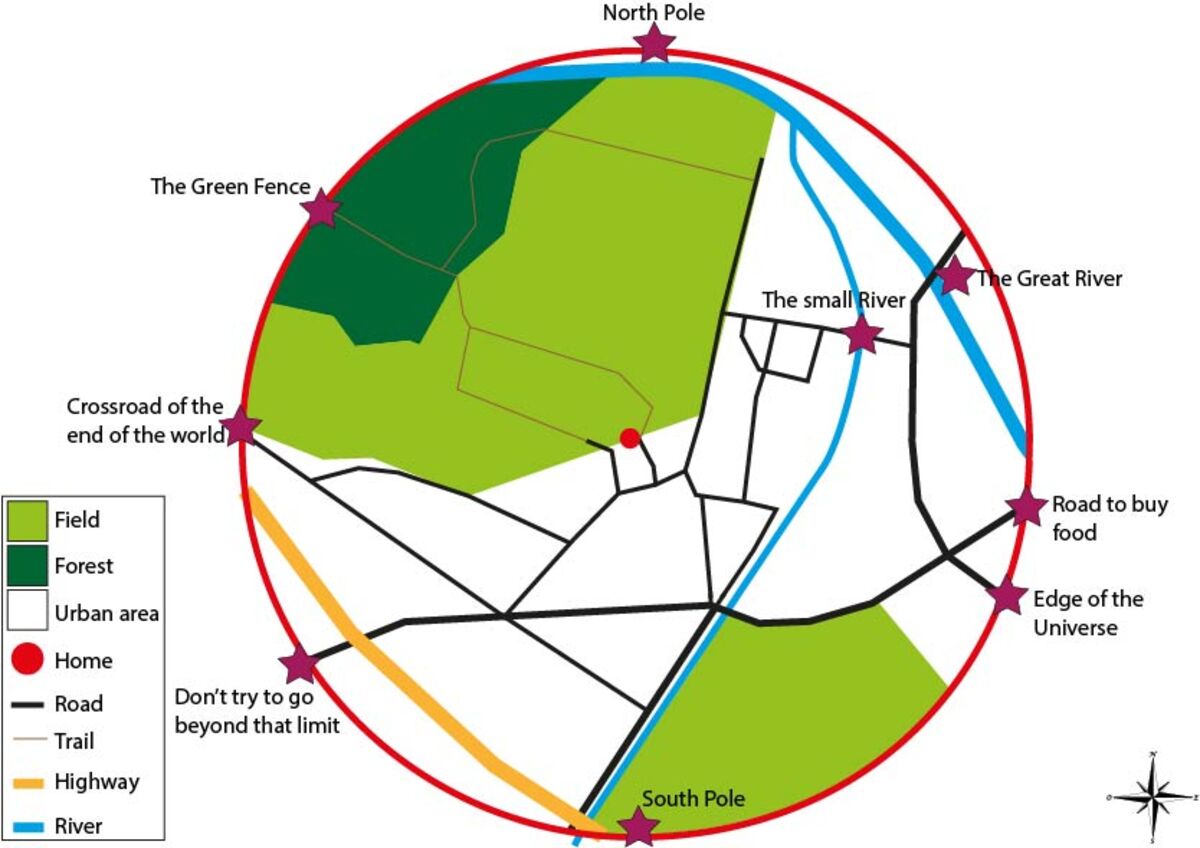 My map shows how my new relationship with space is transformed. The earth is not round anymore. I represented the single kilometer around my house where I can walk, run, ride my bike. Beyond this limit is the unknown. It is forbidden. I feel like I am in the Middle Ages, and I have to fight against a pioneer mindset that wants to explore what is beyond. Concerning time, my perception is also altered. We cannot spend more than one hour outside. So when I go for a walk, I savor every 3,600 seconds at my disposal.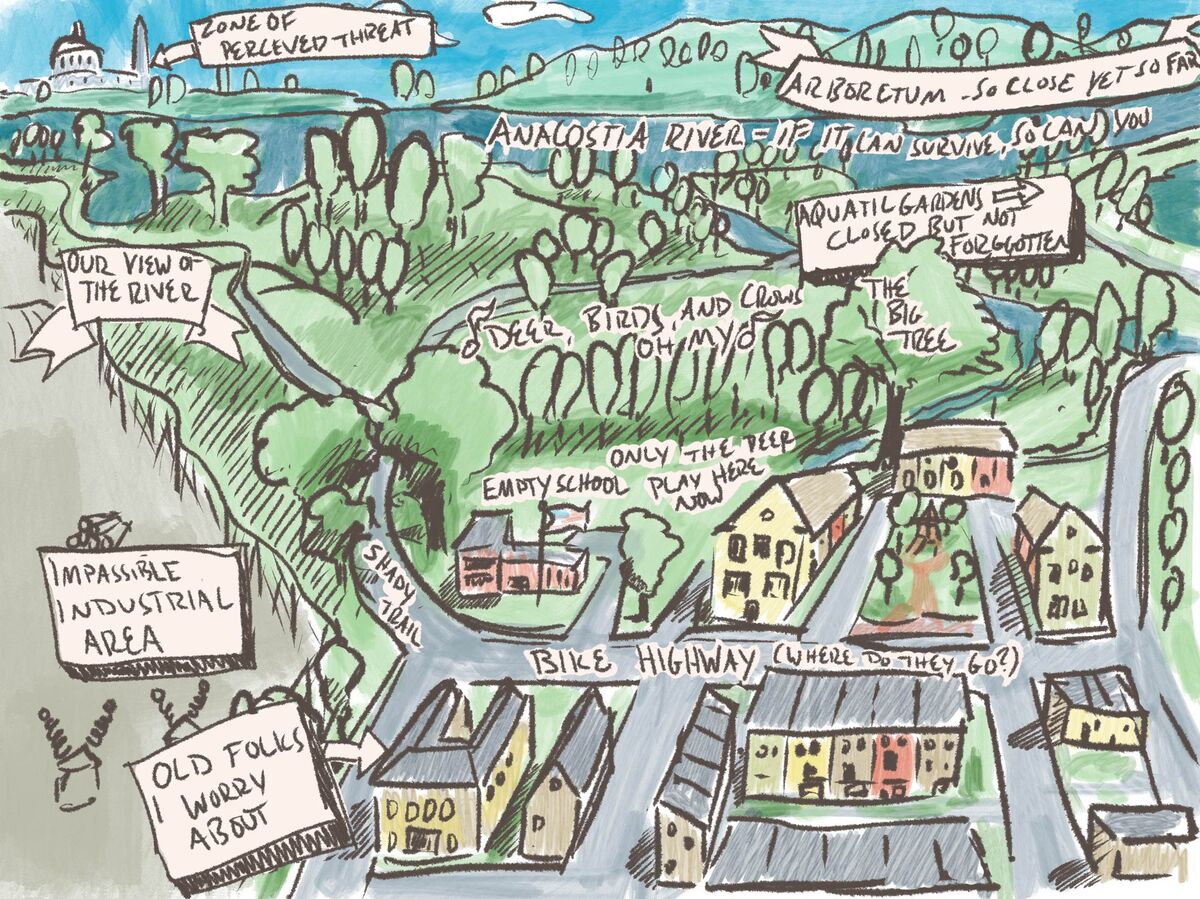 Justin Lini
Washington, D.C.
Category:
Redefined boundaries
4/15/2020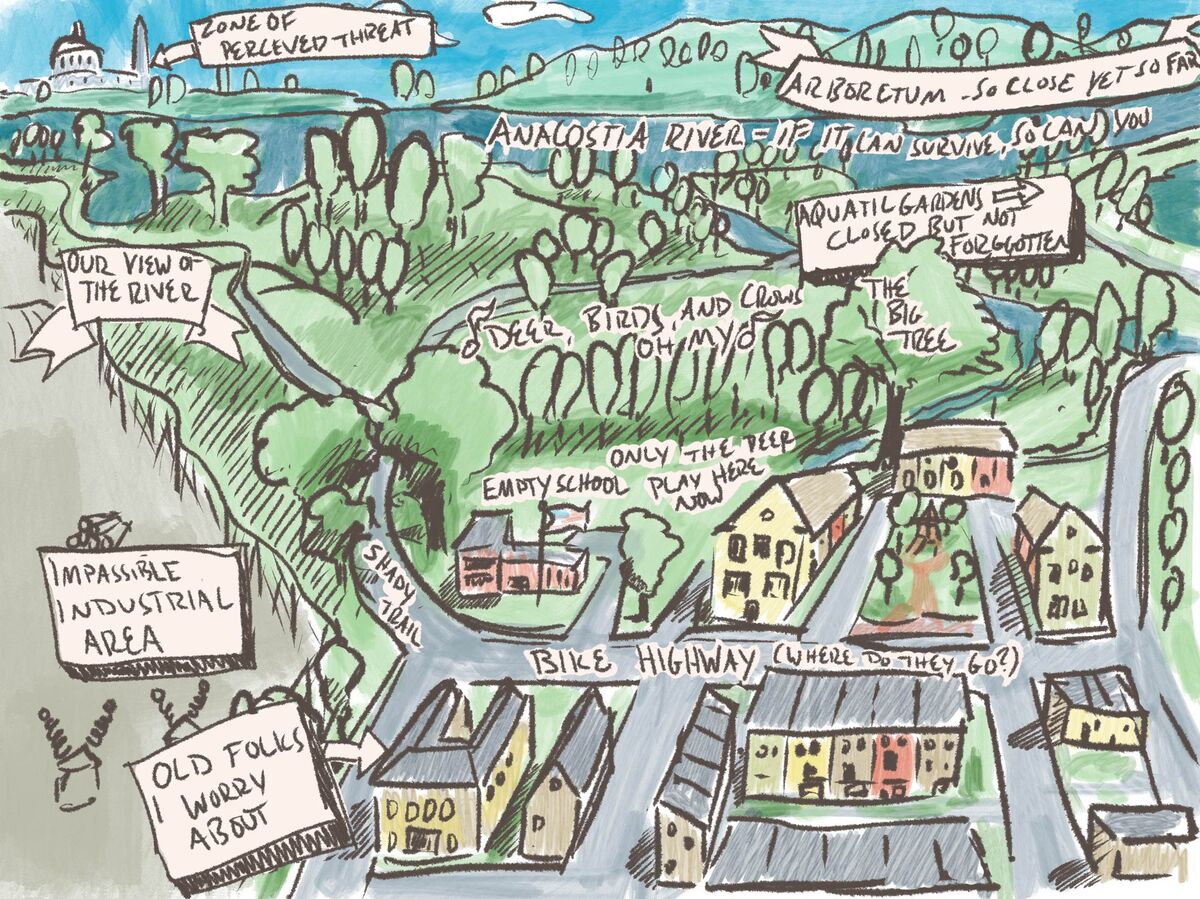 My map shows how our view of the city has become oriented along the Anacostia River. Since social isolation began in March, my wife and I have been taking many walks around our neighborhood, but also to nearby Kenilworth Park. Normally people in the community don't spend much time in Kenilworth Park. There's not much in the way of things to do there, and it's a little wild and overgrown. However, it has become an oasis to us in recent weeks, as it is a good way to go for a long stroll without running into a lot of people. One thing that I've really noticed, since I'm not driving and taking the metro everywhere, is that the natural and man-made barriers in the neighborhood have come to define the boundaries of this strange world.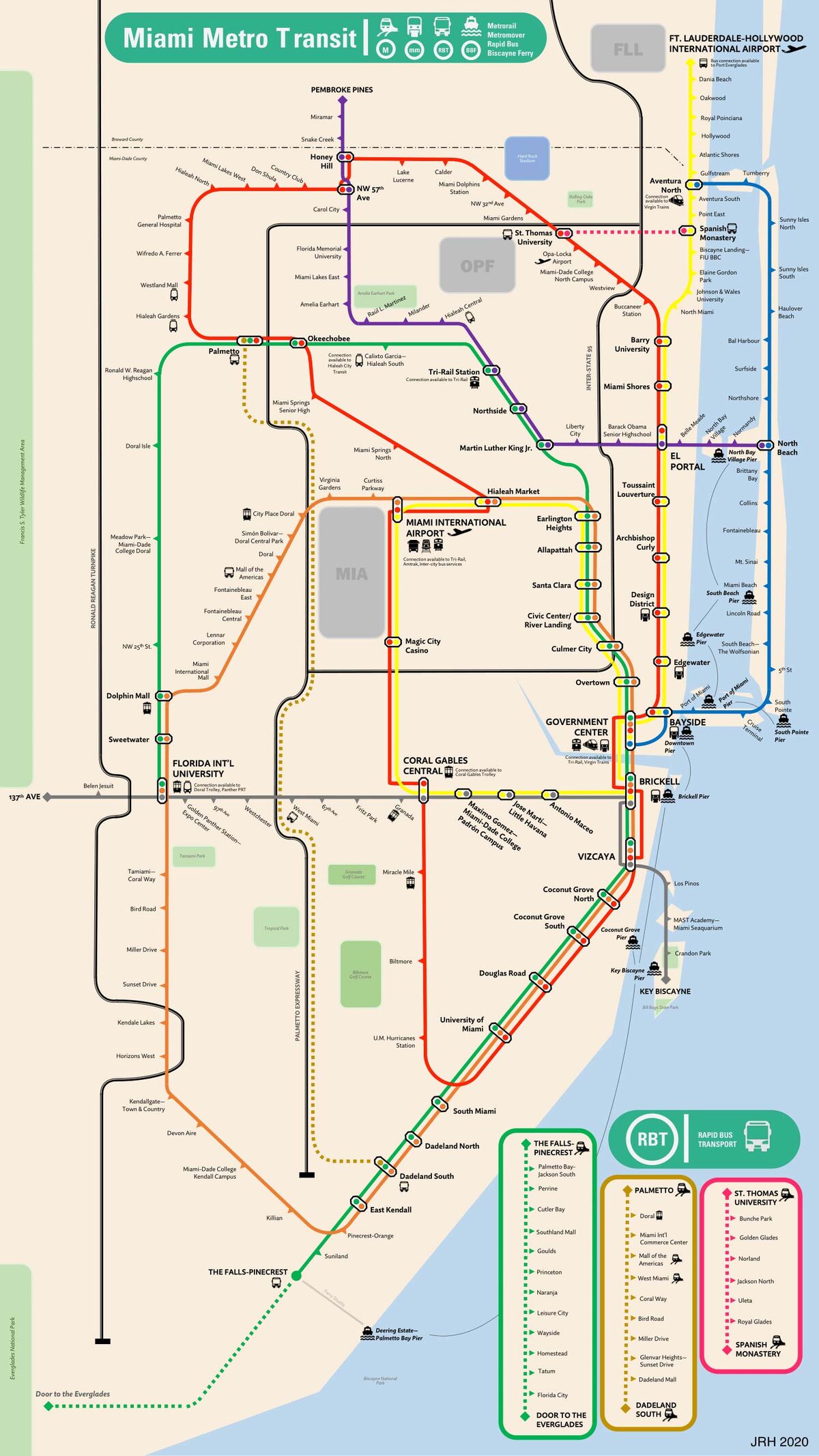 Justin Raymond Hernandez
Miami
Category:
Psychic landscapes
4/18/2020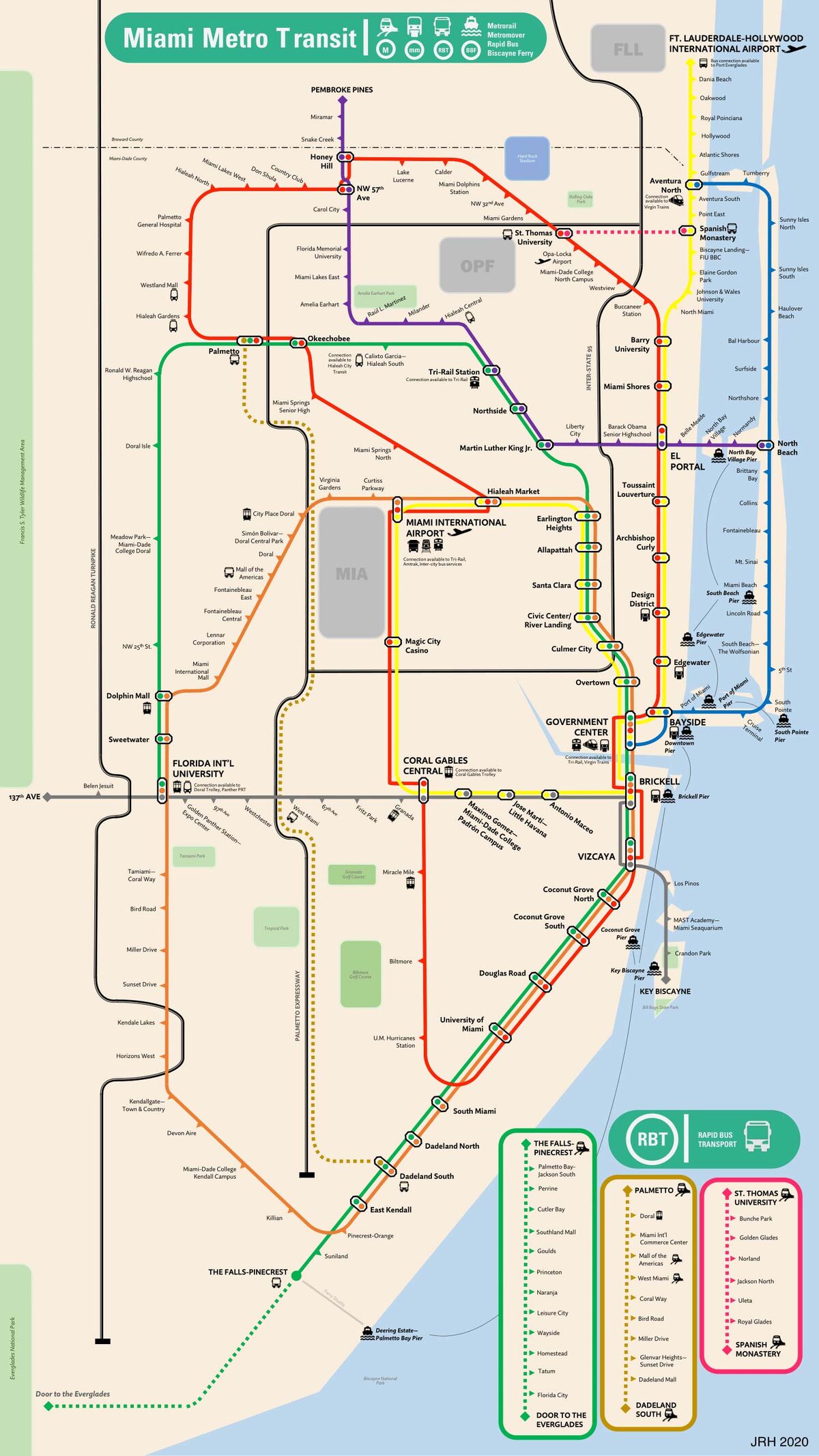 Like many people, quarantine has made me greatly miss seeing my friends and family. This got me thinking about how even under normal circumstances, I still remain physically distant from them because I don't have my own car. I created this fantasy transit map to highlight a hopeful future in which I'd be able to see them with ease and without having to drive. With no traffic and big-city rush, I've been able to bike around and appreciate the city's green landscape and wonderful tropical weather. Often a community which comes across as being filled with self-obsessed individuals, I feel that Miami has always had issues with civic identity. But it has been wonderful seeing people supporting their neighbors at the moment.
Karen Leu
New York, New York
Category:
Domestic rearrangements
4/30/2020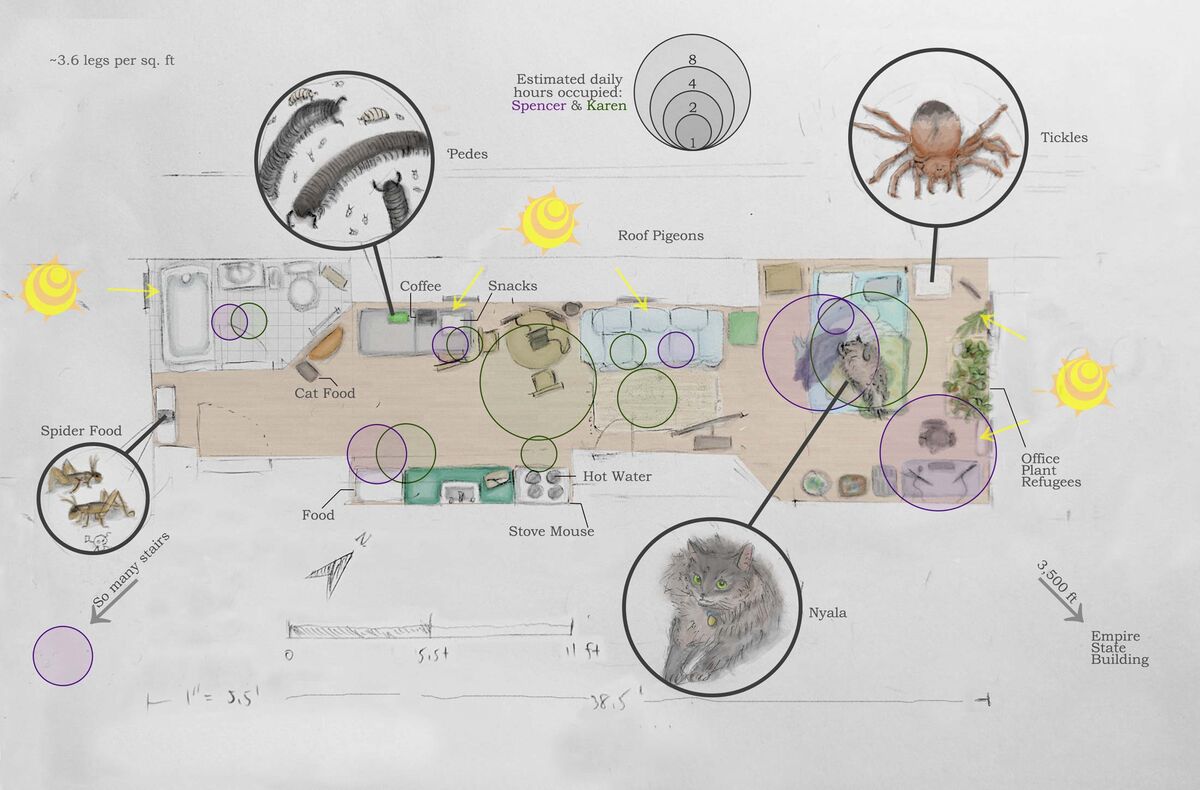 Since New York has been on pause, I've been staying in my partner's studio. My world has shrunk but there has been a marked increase of legs in my living space. I miss my friends and family and being outside, but am grateful for sunlight and critters and comfort. I'm a relative newcomer to NYC. My car, which I'd drive every day before the lockdown, has been sitting in the same street spot. I'd adopted mask-wearing early and in the beginning would feel self-conscious going outside with one on. Now, those without are the ones being avoided.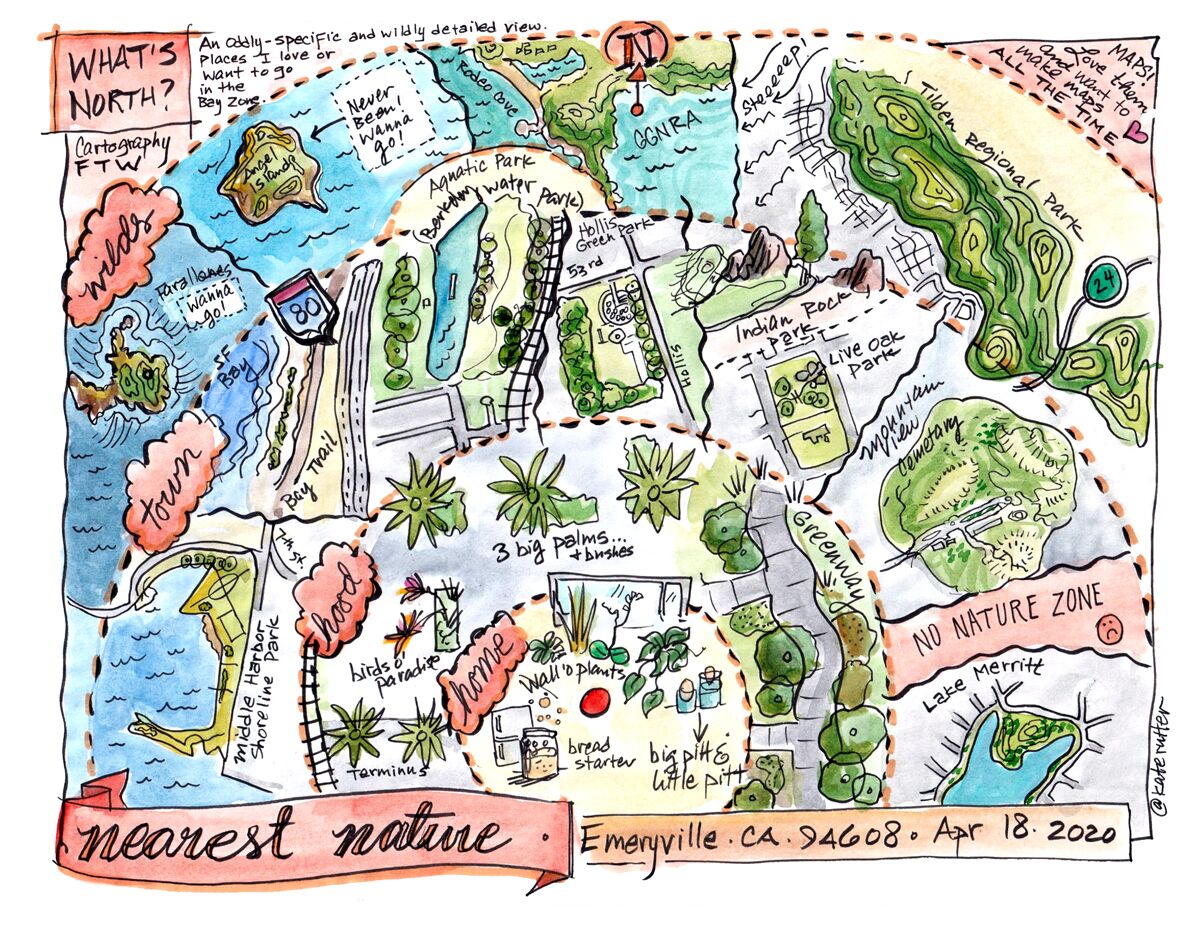 Kate Rutter
Emeryville, California
Category:
Psychic landscapes
4/21/2020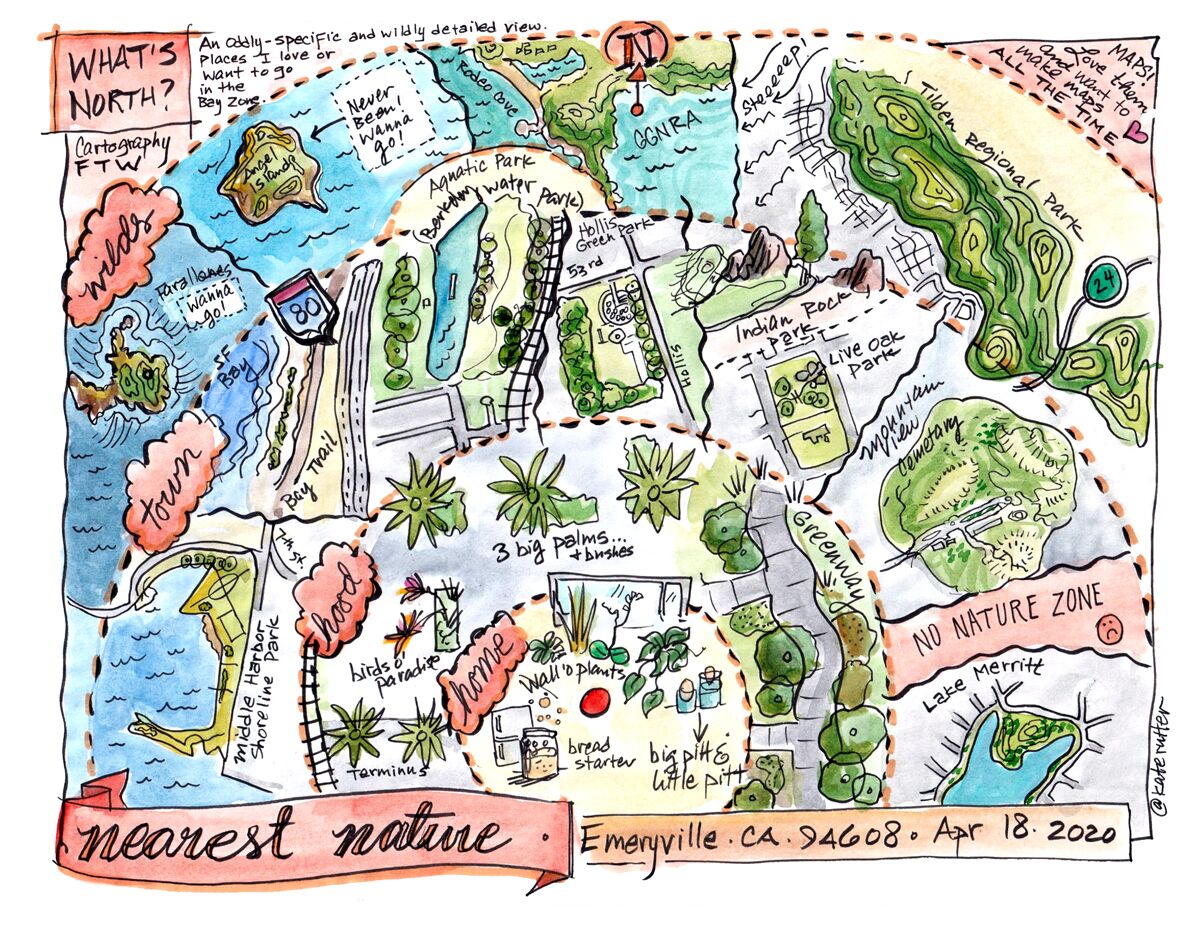 Seeing nature up close and observing it with pen and paint is my most relaxing and rejuvenating activity. Usually I'm out in the world of nature. But now I must imagine my favorite places in my mind. This map was done in my home office as I captured some of my favorite nature spots from memory, starting at home and looking north. Each zone (home, neighborhood, town, and wilds) helped me revisit these places and appreciate them in a new way.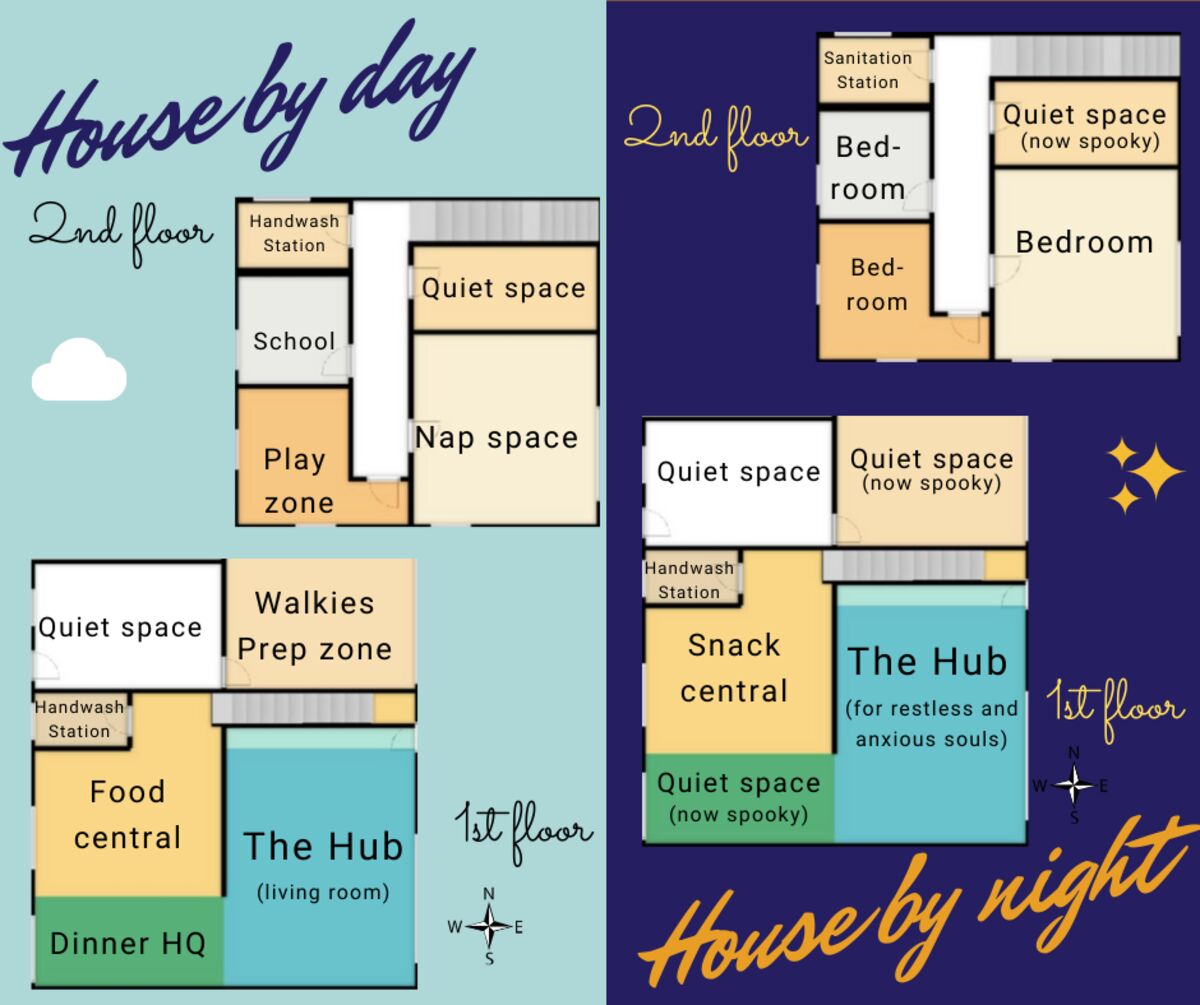 Kayla Adolph
Toledo, Ohio
Category:
Domestic rearrangements
4/21/2020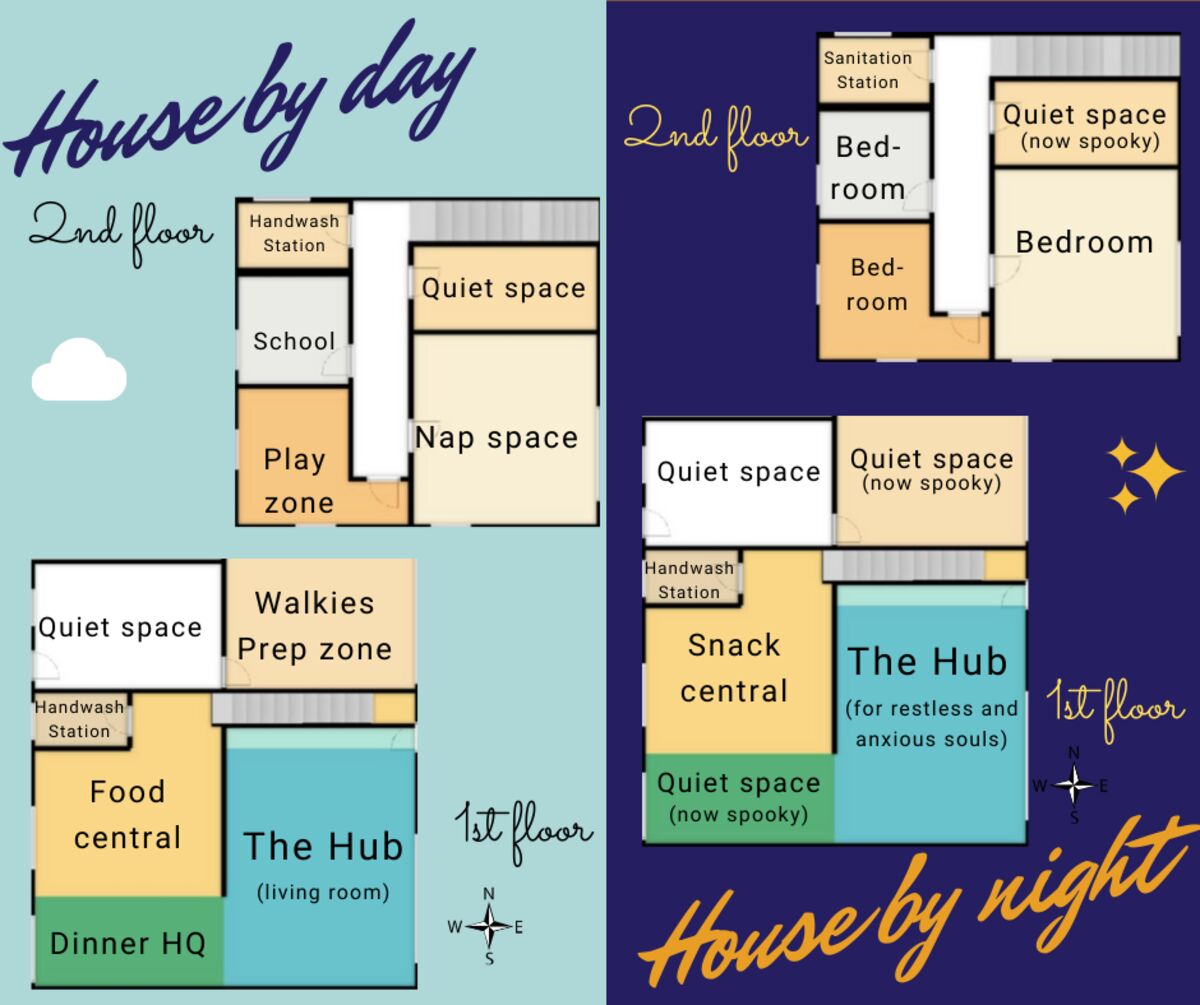 This map shows how our space changes by day and night based on our new routine. What once was just our living room is now a place of refuge at night when we're anxious. The neighborhood is both friendlier, scarier, and much smaller than it was before. We're becoming intimately aware of how interconnected the world is and it's intimidating at times.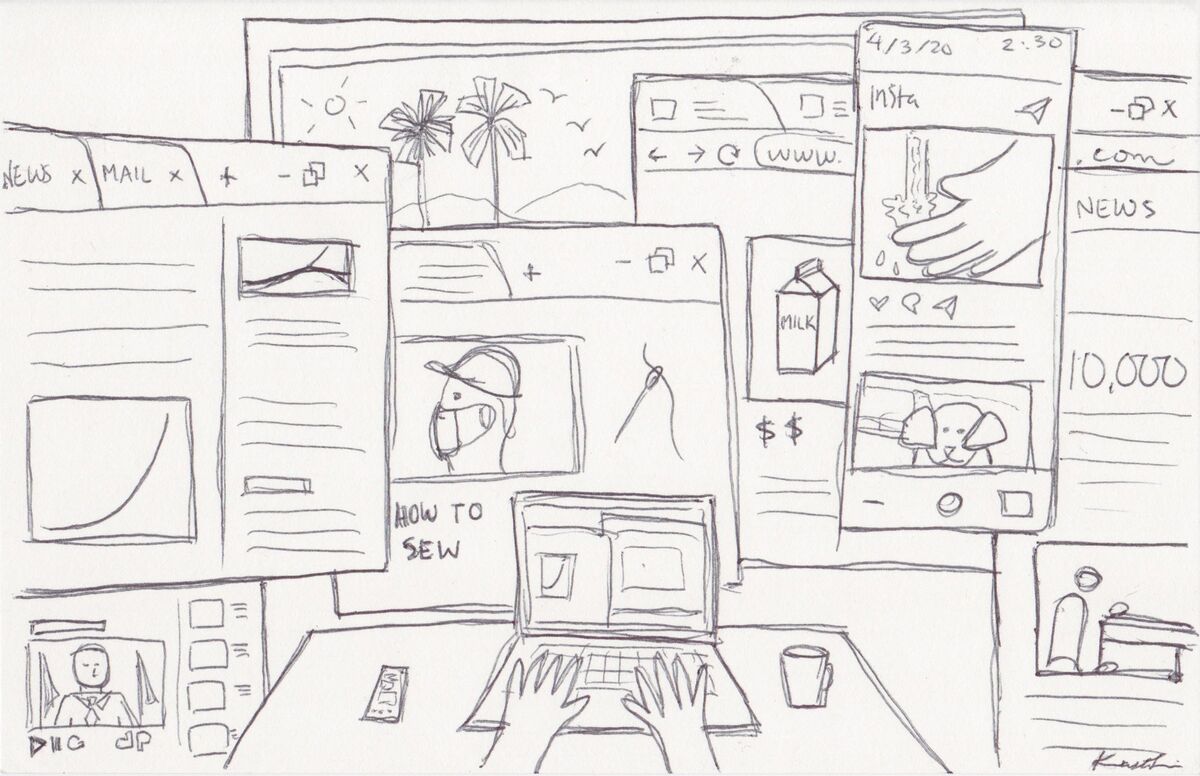 Kristi Lin
San Diego, California
Category:
Virtual connections
4/14/2020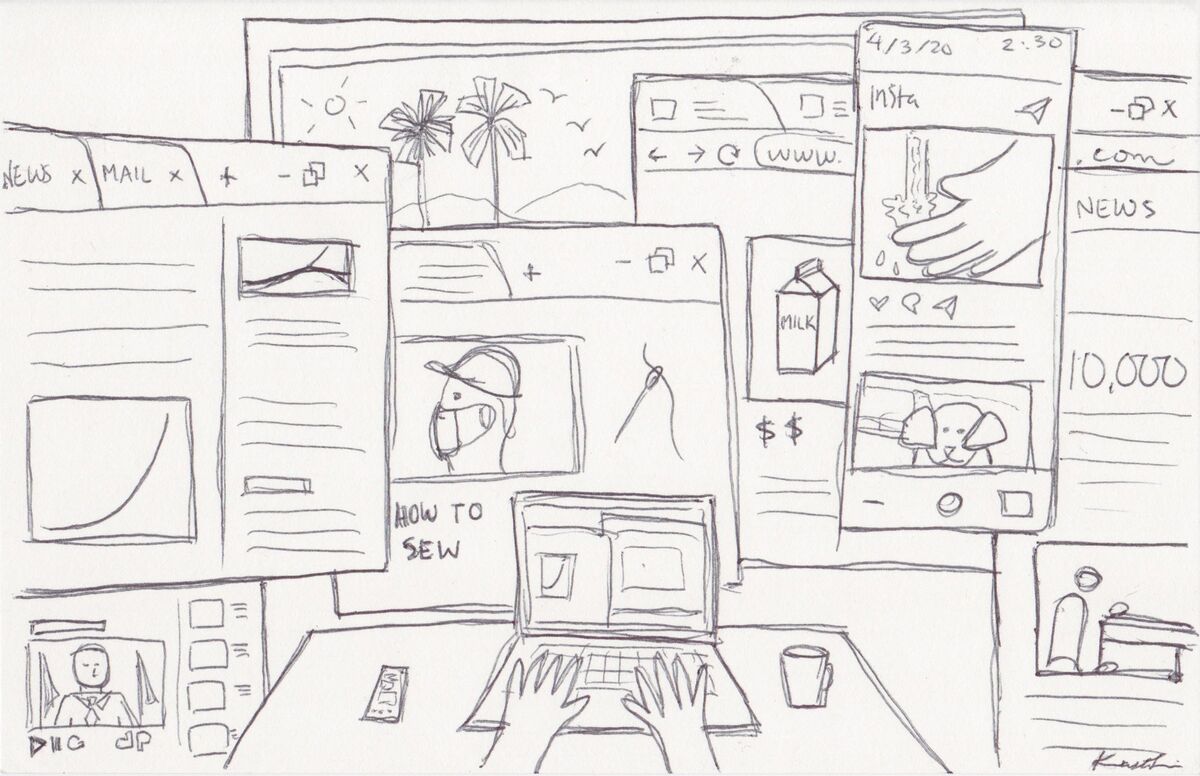 In my neighborhood, screens and windows open and close to different cities and countries. My neighborhood is vast yet cluttered, connected yet broken, behind my computer screen yet at the tip of my fingers. As a residential landscape designer, I am keenly aware of what my five senses can tell me about a neighborhood. Every site is unique, every place has a story. Working online has been difficult. Whereas I used to visiting neighborhoods that I design for in person, now I'm visiting them online, next to windows of breaking news. The visual bombardment has been overwhelming. A new neighborhood landscape of tabbed windows and collages of screen doors is taking shape.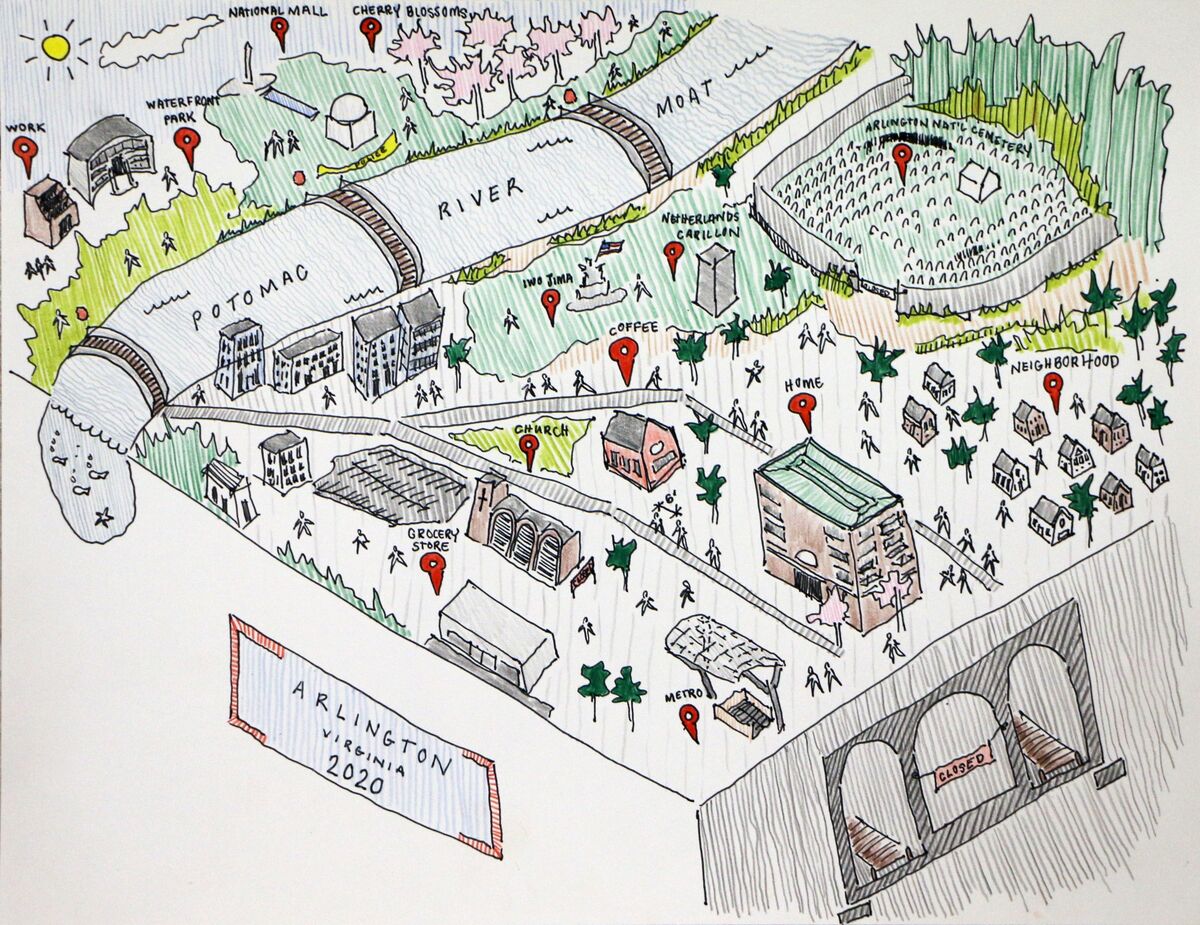 Lauren Nelson
Arlington, Virginia
Category:
Redefined boundaries
4/11/2020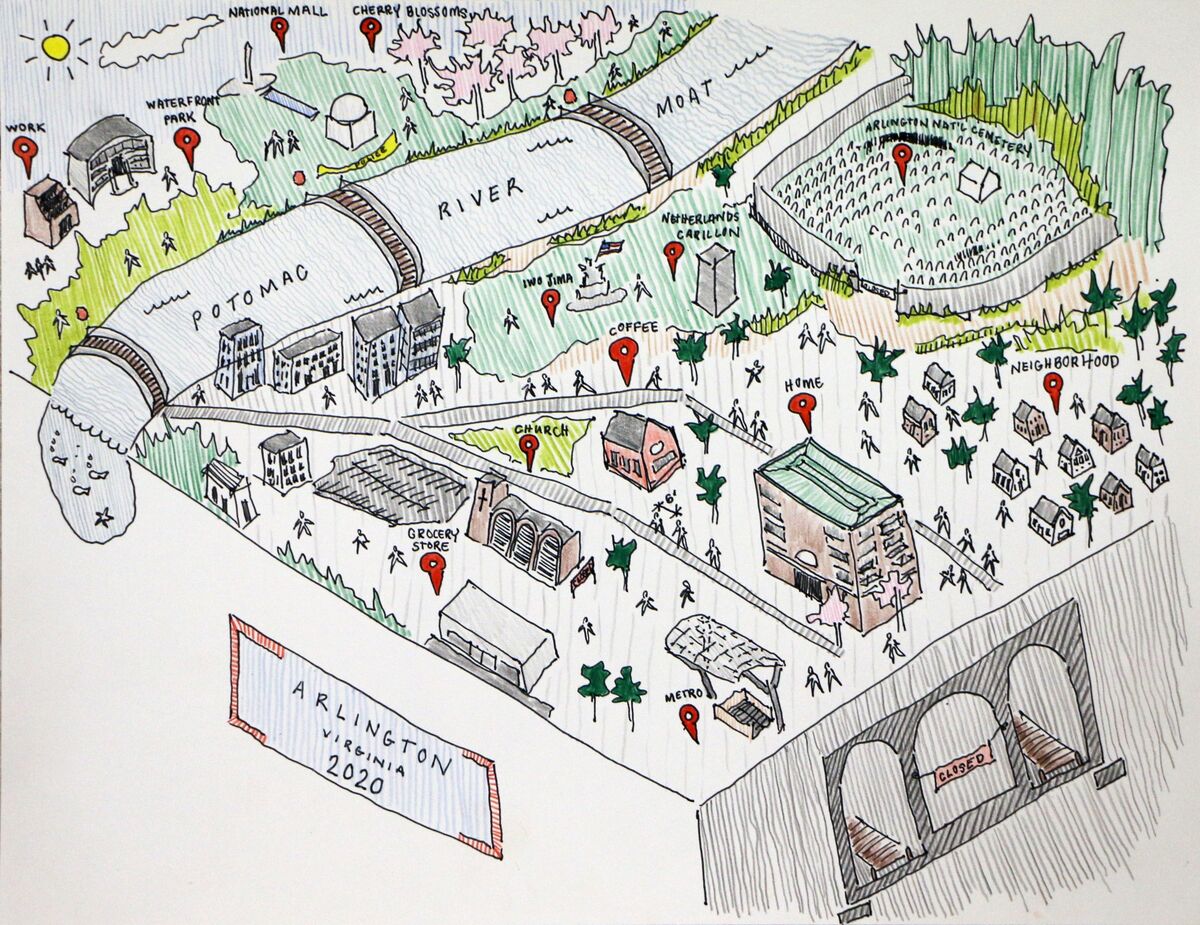 Now that public transit is closed except for essential travel, my wanderings are limited to walking and running within about a five-mile radius from my home. On foot, the Potomac River seems more pronounced as a physical barrier, separating Washington, D.C., from me in Arlington, Virginia. Although my neighborhood has always been walkable, the coronavirus emergency has changed my relationship to my neighborhood because most of the places I used to frequent are now closed. Having so many places close by and yet nowhere to go feels very paradoxical.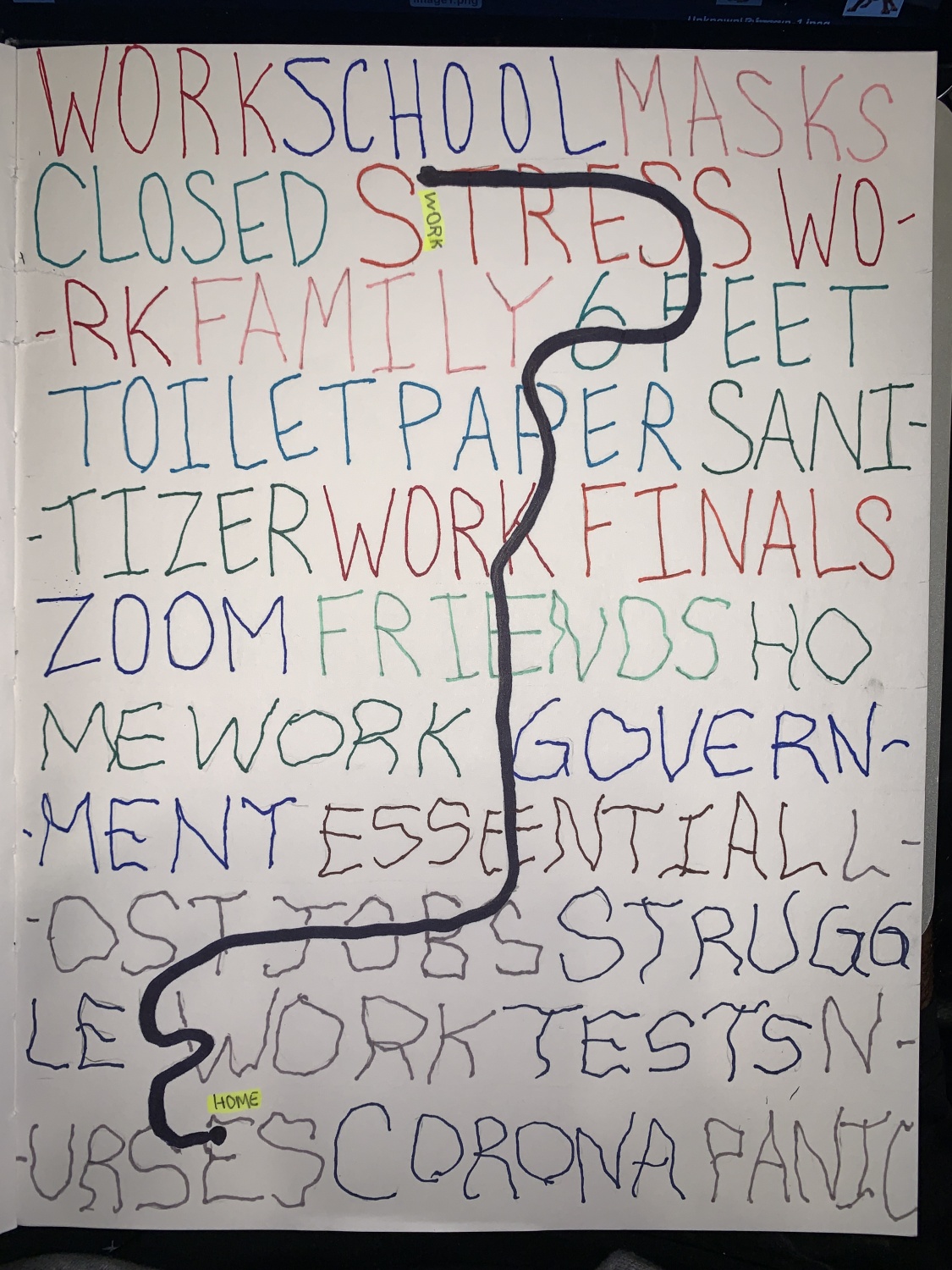 Louis McNair
Carlsbad, California
Category:
Psychic landscapes
5/15/2020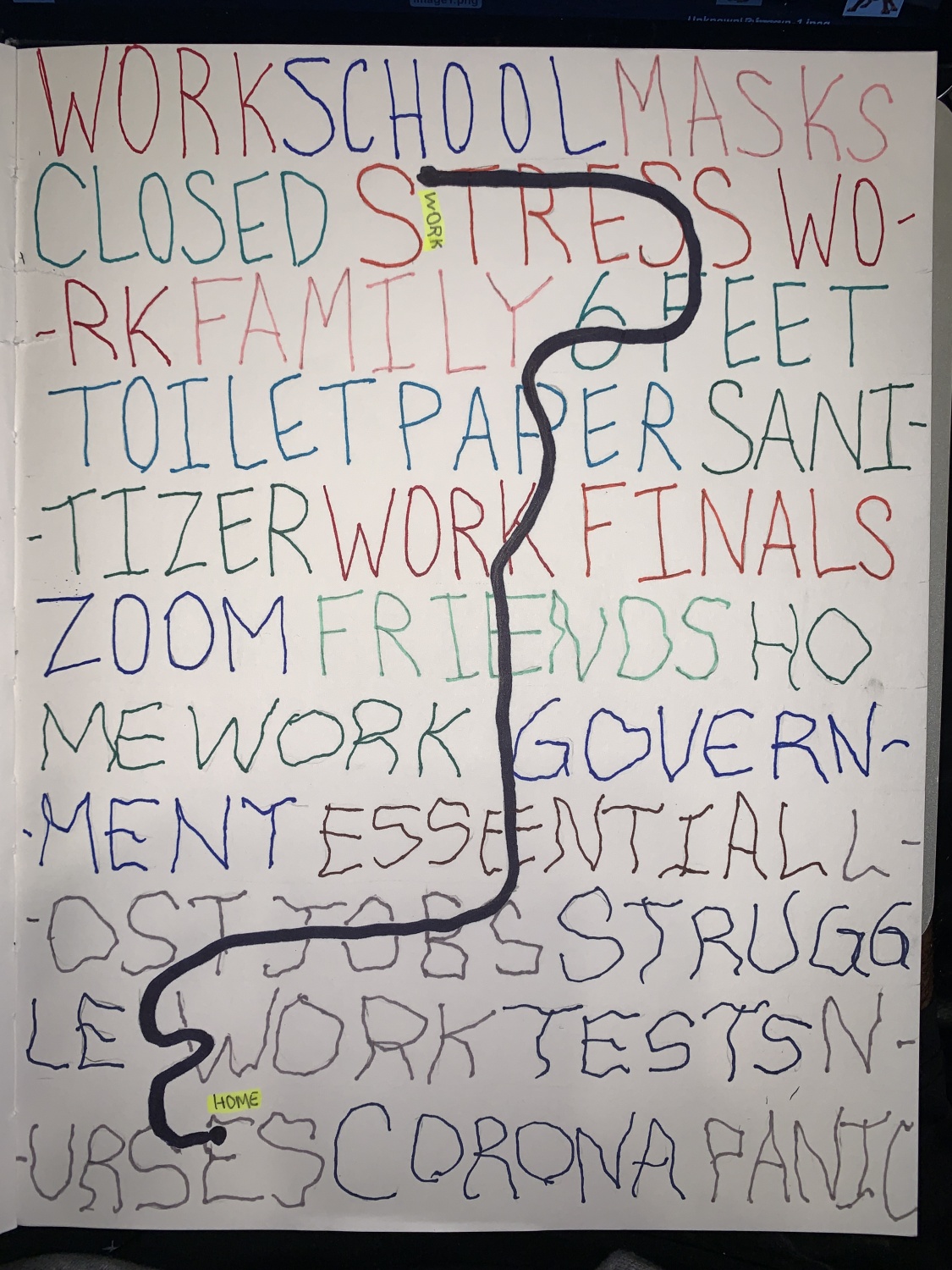 My map is interpretive of my feelings about our lockdown. It begins with my almost daily drive to work in a grocery store, shown in the thick black line. There are words, feelings, topics all over that represent what has gone through my mind during these times. As the words descend they go from color to black and grey, and the colorful neat words slowly transitions into grey messy words.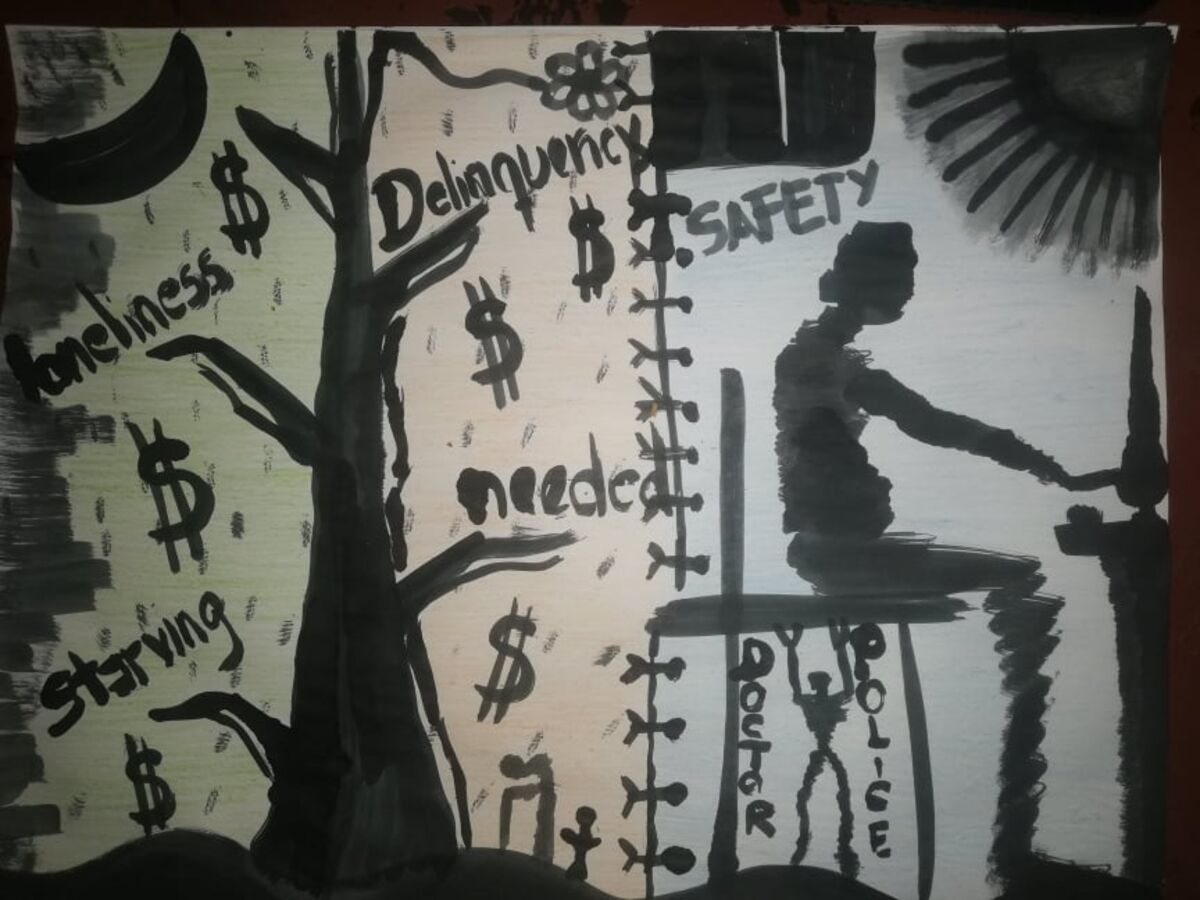 María Liliana Solares Moreno
Santa Cruz, Bolivia
Category:
Domestic rearrangements
4/19/2020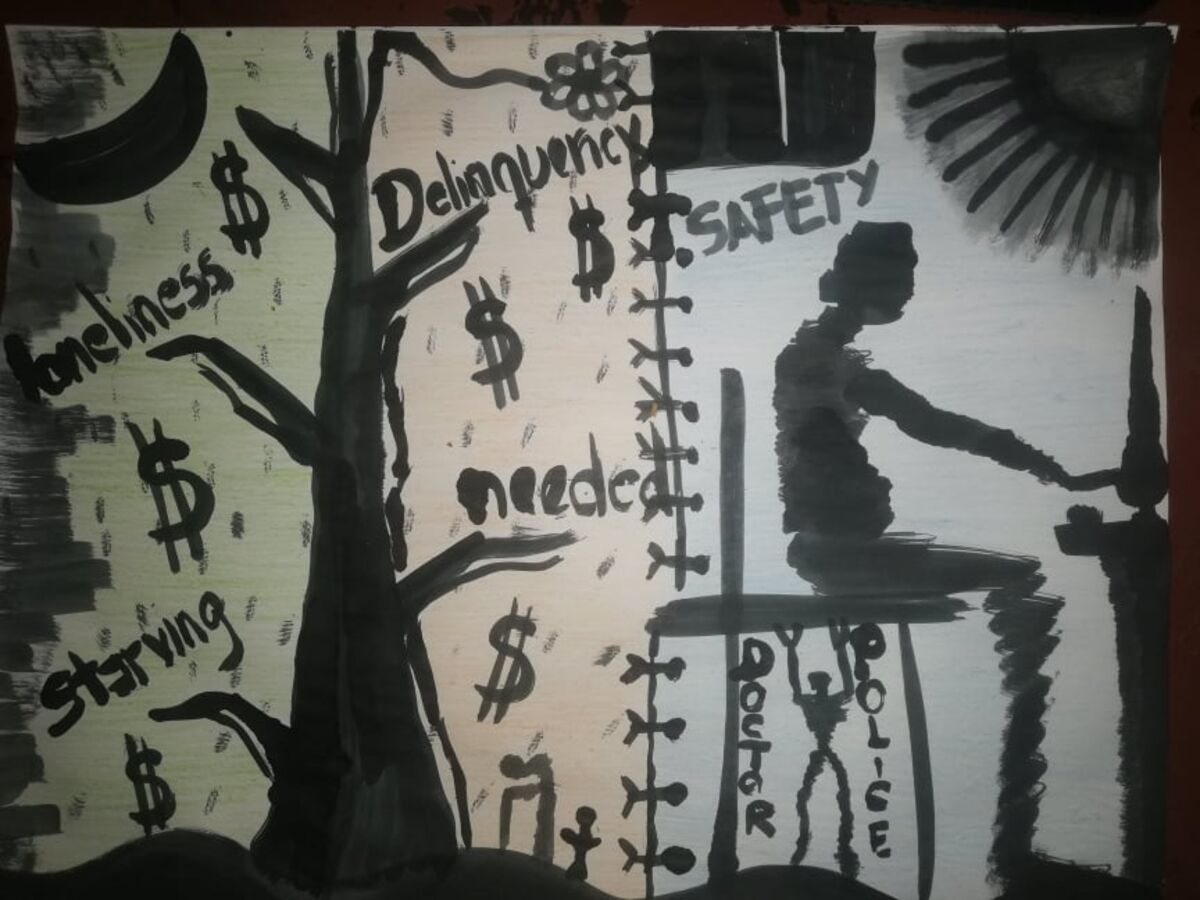 My map is about the difference between being at home and outside. Inside, we have the possibility to stay safe. But for this to happen, other people have to risk their lives — for example, police and doctors. They support our days in quarantine. In quarantine, I pay more attention to things like noises that are uncomfortable to me, such as kids screaming or the sounds of television.
Marta Petteni
Portland, Oregon
Category:
Psychic landscapes
4/26/2020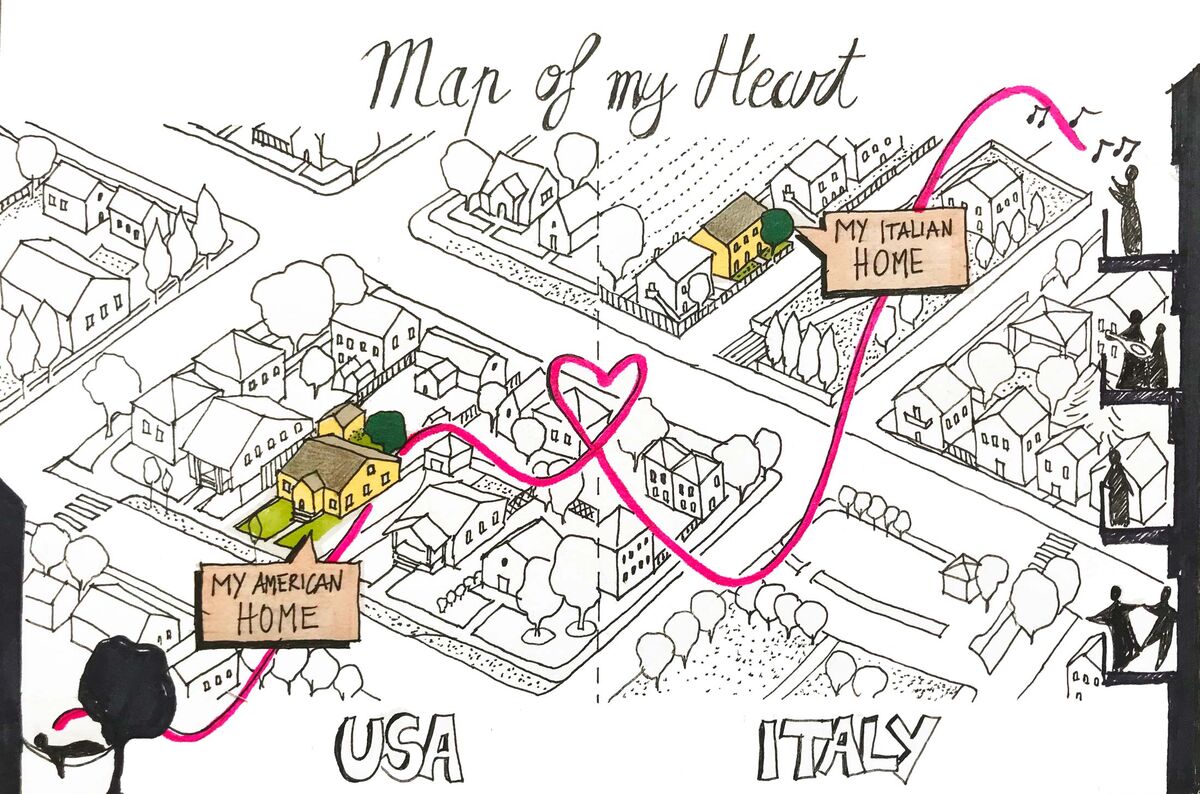 I am an Italian who has lived in Portland, Oregon, since 2017. My hometown, Bergamo, has been devastated by Covid-19, while in Portland, the situation is (or at least seems) better. My family and friends in Italy often share with me the ways that they are suffering from enclosure and the outdoors that they are missing. So I have started to more deeply enjoy the simple things of life, like reading under a tree, listening to the birds, or exploring my bizarre neighborhood. Often, while walking towards the park, I dream that I might turn the corner and find my Italian home there. It is a small yellow house with a grassy garden, an olive tree, and big windows. My parents are reading in the sun and my sister is waving at me, ready to join the walk. Even if the pandemic has made physical distances more painful, in my heart, my beloved worlds are even closer.
Michele Tranquillini
Milan, Italy
Category:
Neighborhood bonds
5/27/2020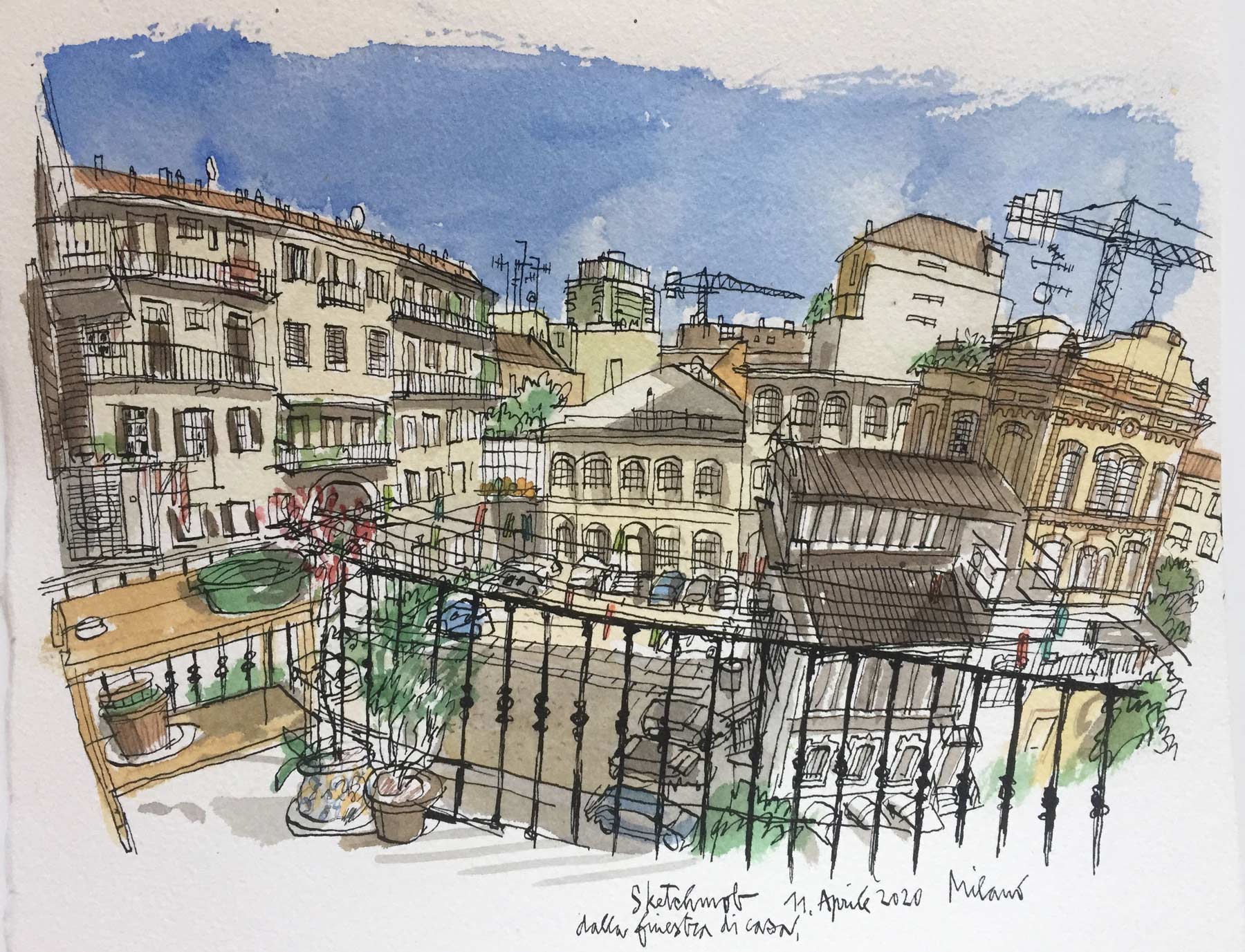 During the quarantine I've felt gratitude for a lot of reasons every day, including having a safe and comfortable place to stay, loving people around me, a ukulele to play, and a tiny terrace with some plants. One day I decided to draw what I was seeing from my balcony — not exactly a map, but more a visual list or a postcard. I've felt a strong sense of connection to my neighbors: Singing, smiling, chatting, exchanging food (we are Italians!) from our windows and balconies was (and is) so important. As we rediscover a sense of community, I hope we won't forget what we've learned in these difficult days.
Nawaf Al Mushayt
Lisbon, Portugal
Category:
Neighborhood bonds
4/4/2020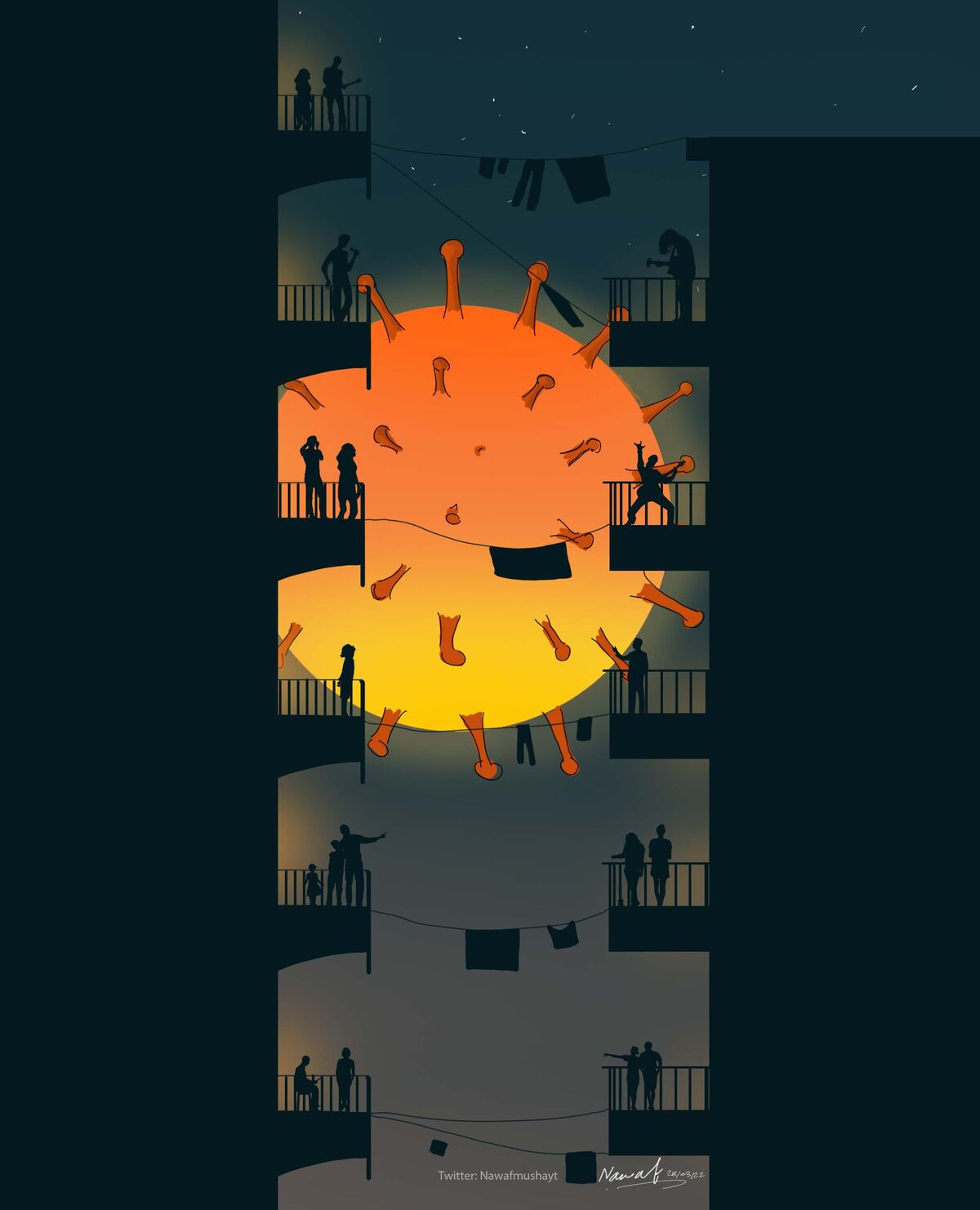 Famous streets, cafes, beaches, and train stations [show the changing] relationship to public space during the pandemic. Milan's cafes, Times Square, the Champs-Élysées, and even mosques, temples, and churches are free of humans. The global pandemic has made society united in humanity's survival. But it has also disrupted the most essential element of city life: public life.
Nicholas Gutierrez
Houston, Texas
Category:
Neighborhood bonds
5/8/2020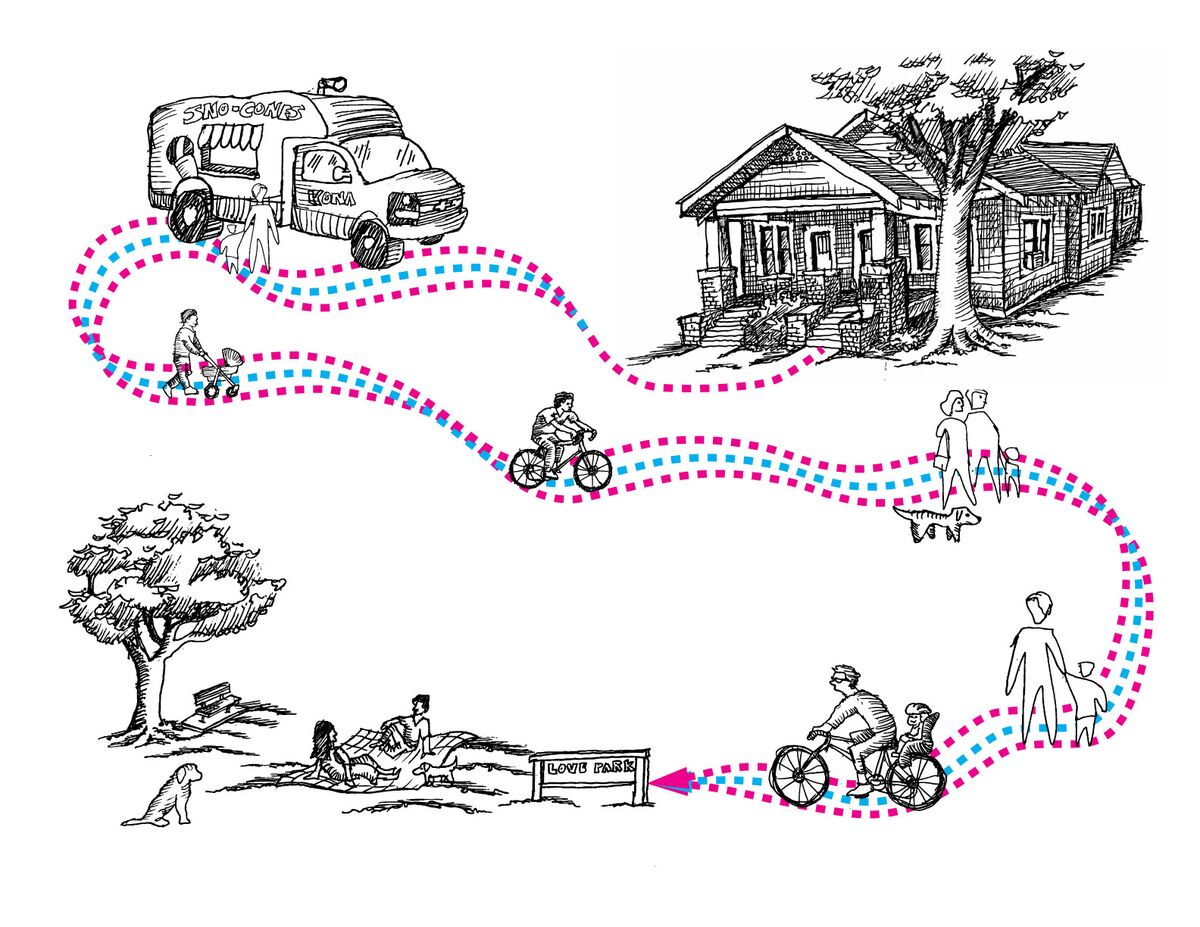 My sketch shows the route to the park from my bungalow duplex in the Houston Heights West historic district. My wife and I enjoy the brief and distant interactions with the countless people (and dogs) who have taken over the streets of Houston during this time of quarantine. It's a reminder not to forget that the journey is just as important as the destination.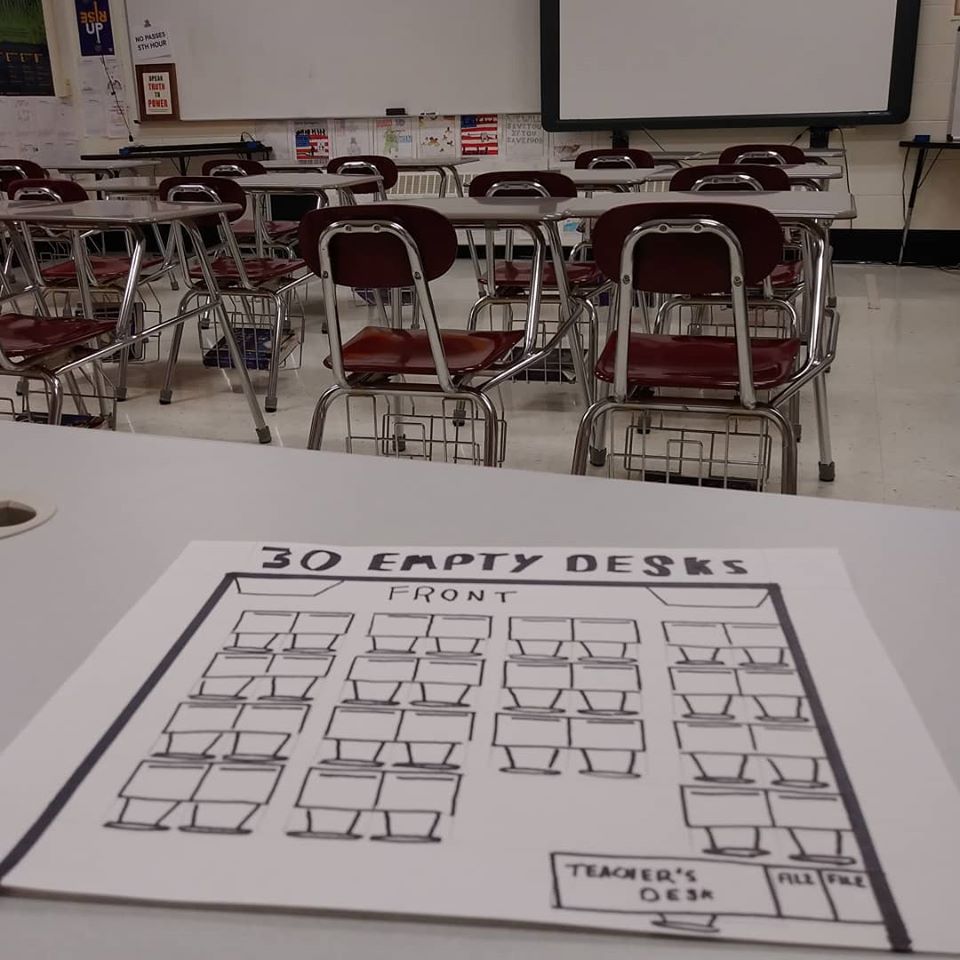 Noah Tang
Bloomington, Illinois
Category:
Virtual connections
5/10/2020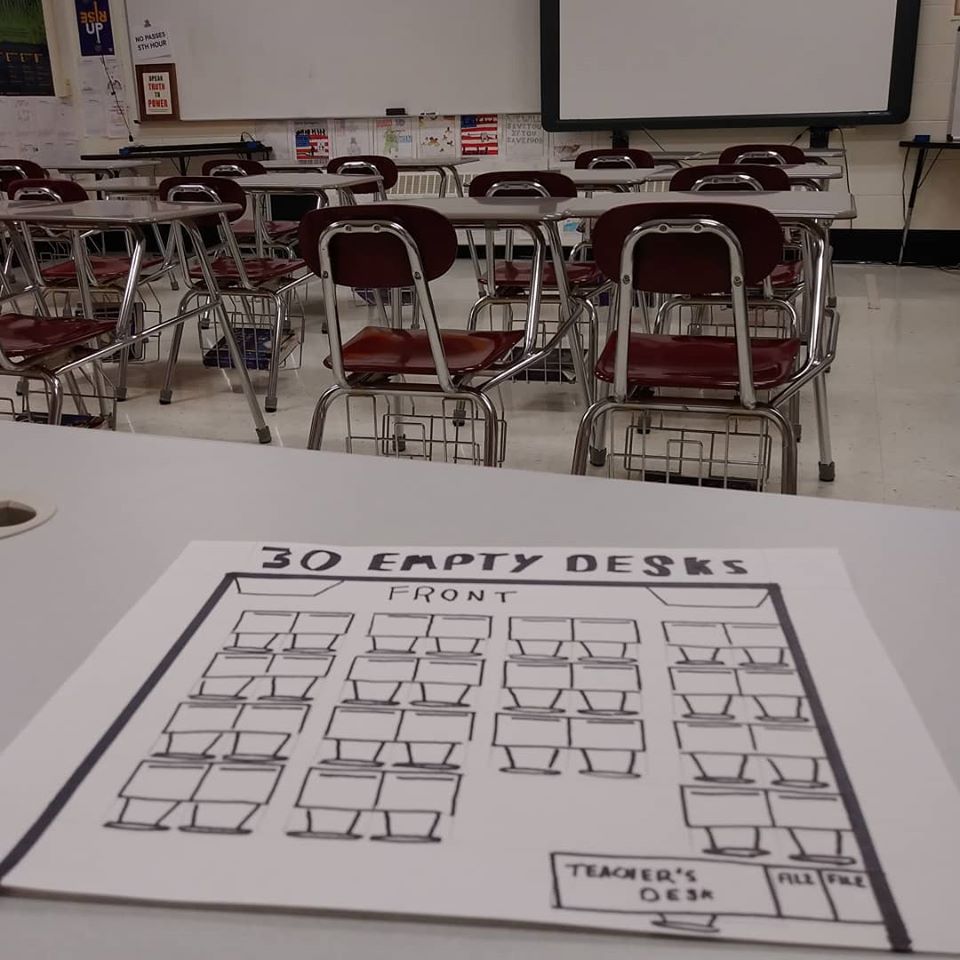 This is a map of my currently empty high school classroom. It is for the custodians who need to know where the desks are placed when cleaning the floors over the summer. Usually I would have to draw this map at the end of May, but with school closures, it happened earlier this year. I cannot say a proper good bye to my kids this year. No matter how stressful teaching in person was, I really cherished the human and face-to-face interactions. Watching them in their "aha" moments makes teaching worth it for me. Since March 13, we have been teaching classes online. It is not the same at all. I became a teacher for the constant contact with people, so this quarantine has been damaging for my mental health. However, as a history teacher, my students and I now truly feel how it is to live through a massively historic event.
Patty Heyda
St. Louis, Missouri
Category:
Redefined boundaries
5/28/2020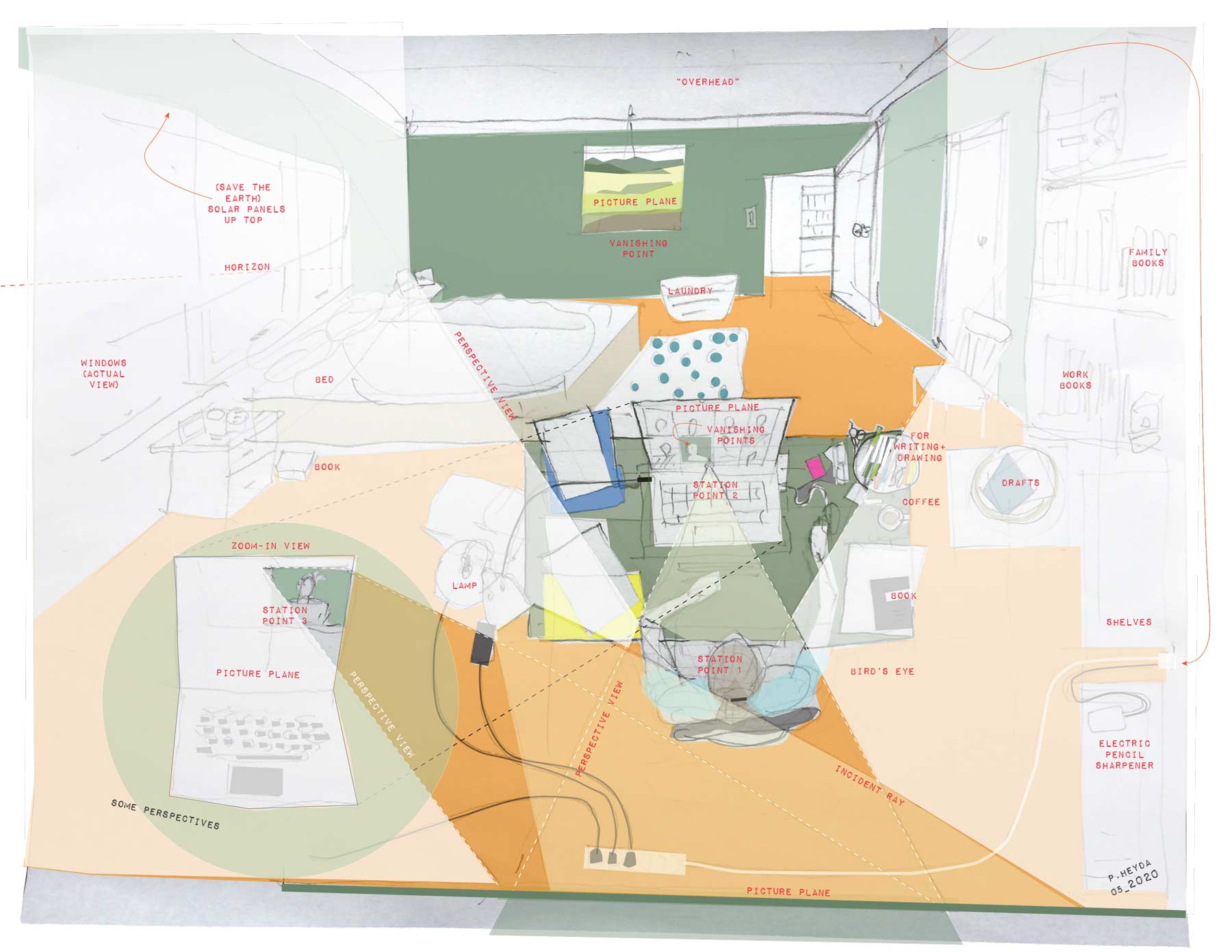 There's always more than one perspective. I mapped my bedroom where the spaces and views of pandemic life, family and work collide. My map charts the spaces now collapsed into one: my private personal space — kind of messy but vital; my ad-hoc office work space — cramped but creative, family stuff mixed with work affairs; and the Zoom stage set, a corporate professional publicly-oriented space ' which, fittingly, is more fabricated facade than actual space. I drew my map in a blended plan, perspective and close-up view, the way life now compresses how we see things. I highlight each view angle to show the perspective drawing-construction lines, with the associated terminology. Except now there are several superimposed sight lines, incident rays and angles, picture planes, station points and vanishing points. There is still one horizon-line — outside! My relationship with my family and the spaces in my house changed more during the coronavirus emergency than my relationship to my work or my neighborhood did — even though those things were technically the most 'rearranged.' My work-life shifted location dramatically, but work continued almost seamlessly on computers from home. What was jarred and impacted were my own precious spaces and relationships in my house. Drawing these multiple perspectives helps me, well, put things in perspective. I see how much we do to prop up work so seamlessly, but I also see how family perspectives become overlaid. Maybe someday our work spaces will accommodate our personal spaces as seamlessly and strategically as we accommodate them.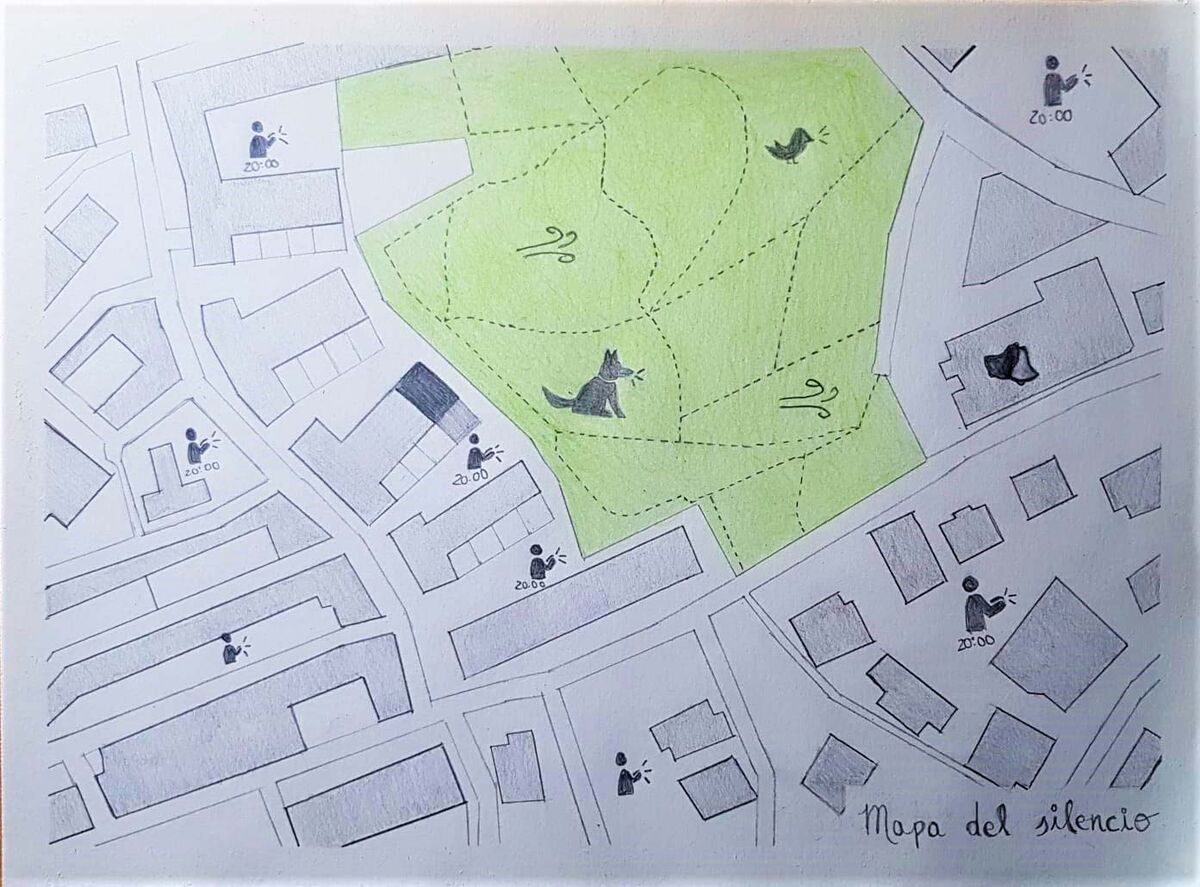 Paula Ugarriza
Bilbao, Spain
Category:
Natural callings
4/19/2020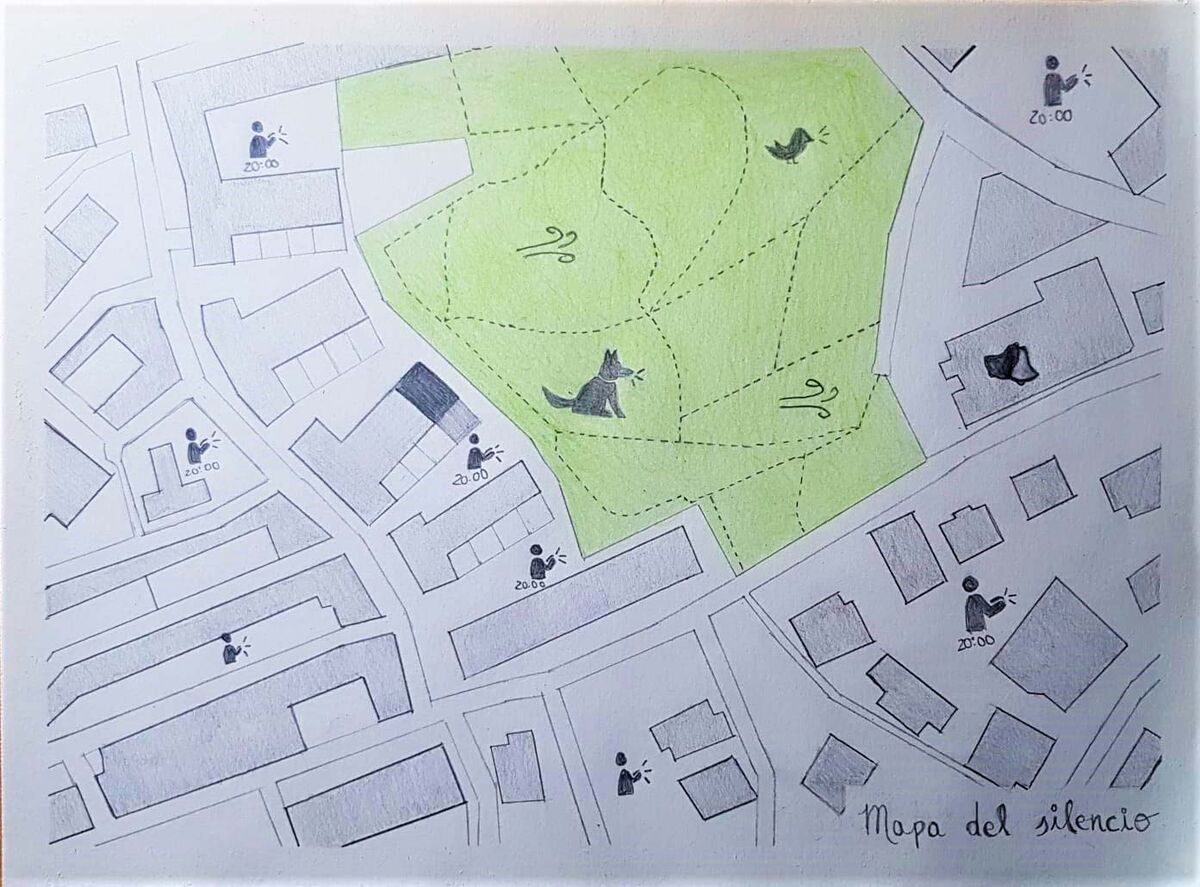 The lockdown has made people scatter from the streets, and with them cars and noise. The map of silence shows how now only the dogs and birds, the wind and the church bells are heard from home, as well as the collective applause at 8 p.m. to thank the health workers for their work.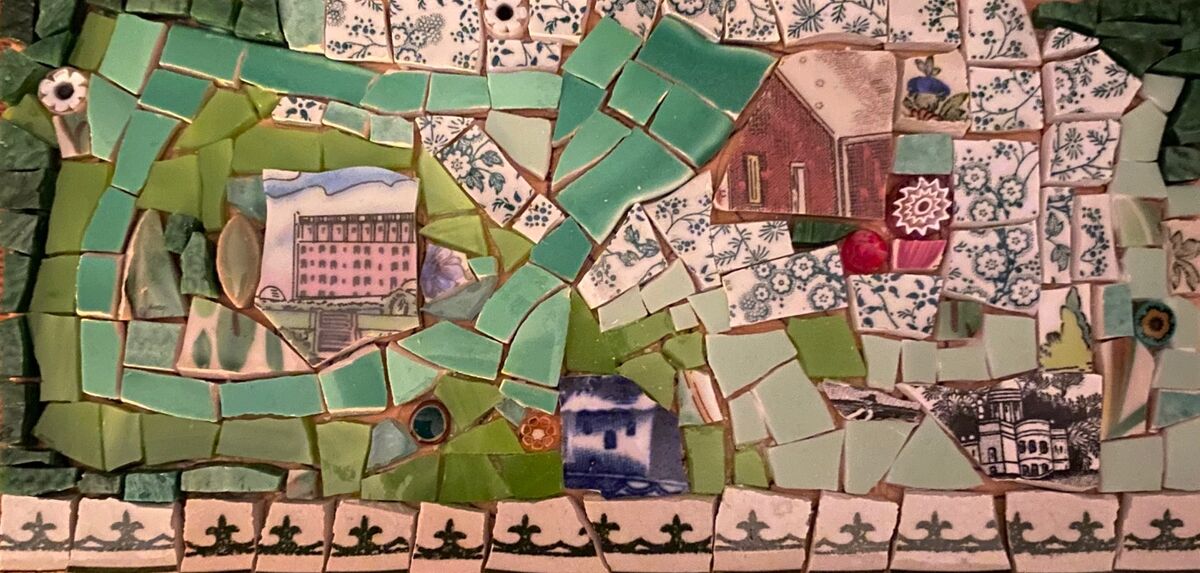 Peggy Curran
Montreal, Quebec
Category:
Redefined boundaries
4/27/2020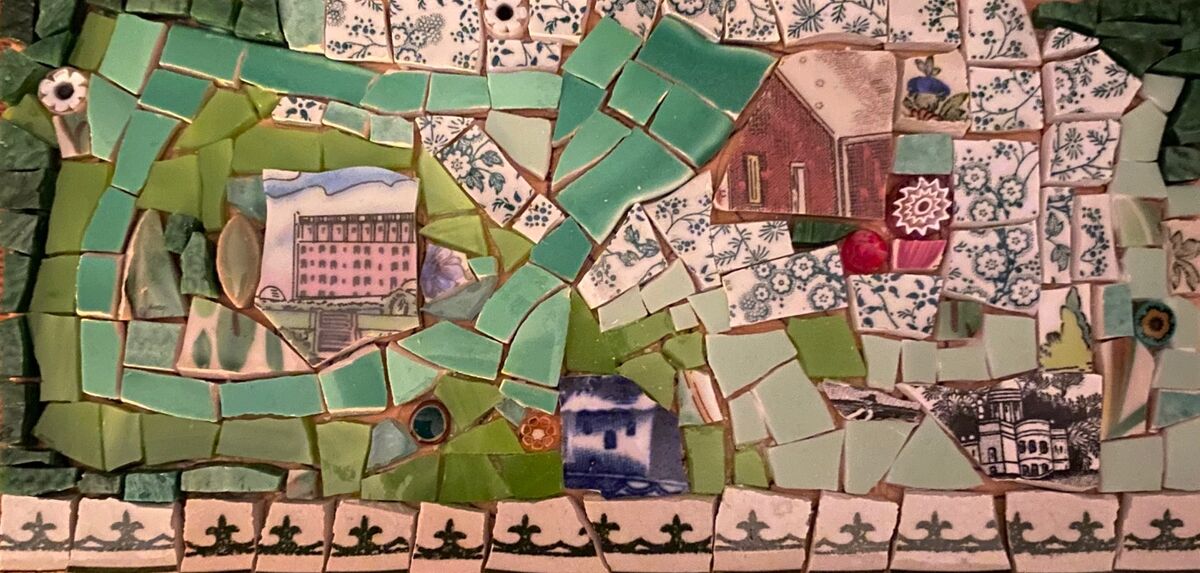 My map is a mosaic imagining our daily sanity walks. We are all living in our own gated communities these days, breaking out to walk or run errands and get a little air. I am ordinarily a destination walker — groceries, library, swimming pool, coffee. With most of the destinations now closed, I find myself walking in circles just to see the neighborhood and maybe catch a glimpse of something interesting.
Peter Conrad
California
Category:
Domestic rearrangements
4/29/2020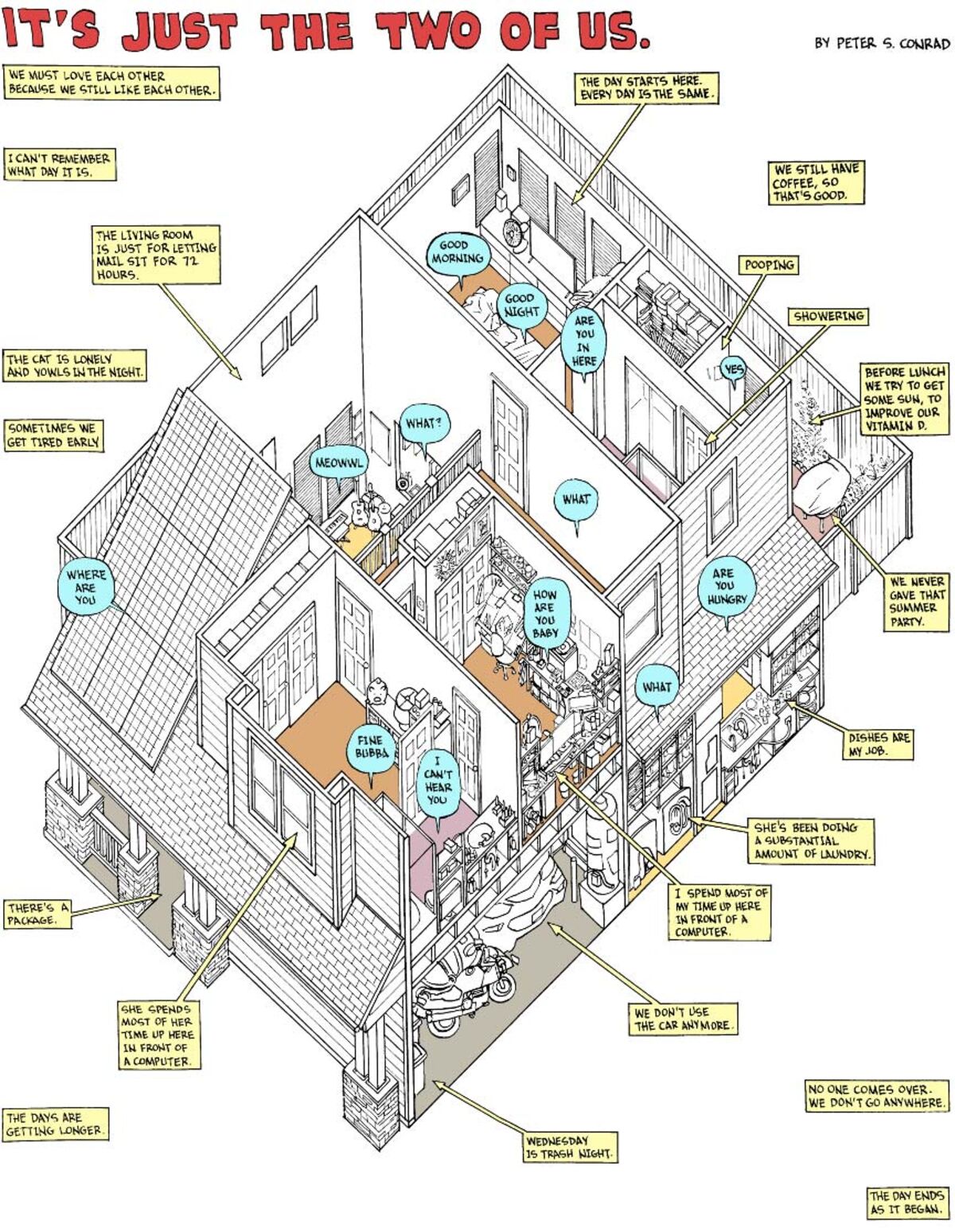 We don't go outside at all except to clap with our neighbors, so this home is the whole world now. We talk to our neighbors more, but we see the neighborhood less.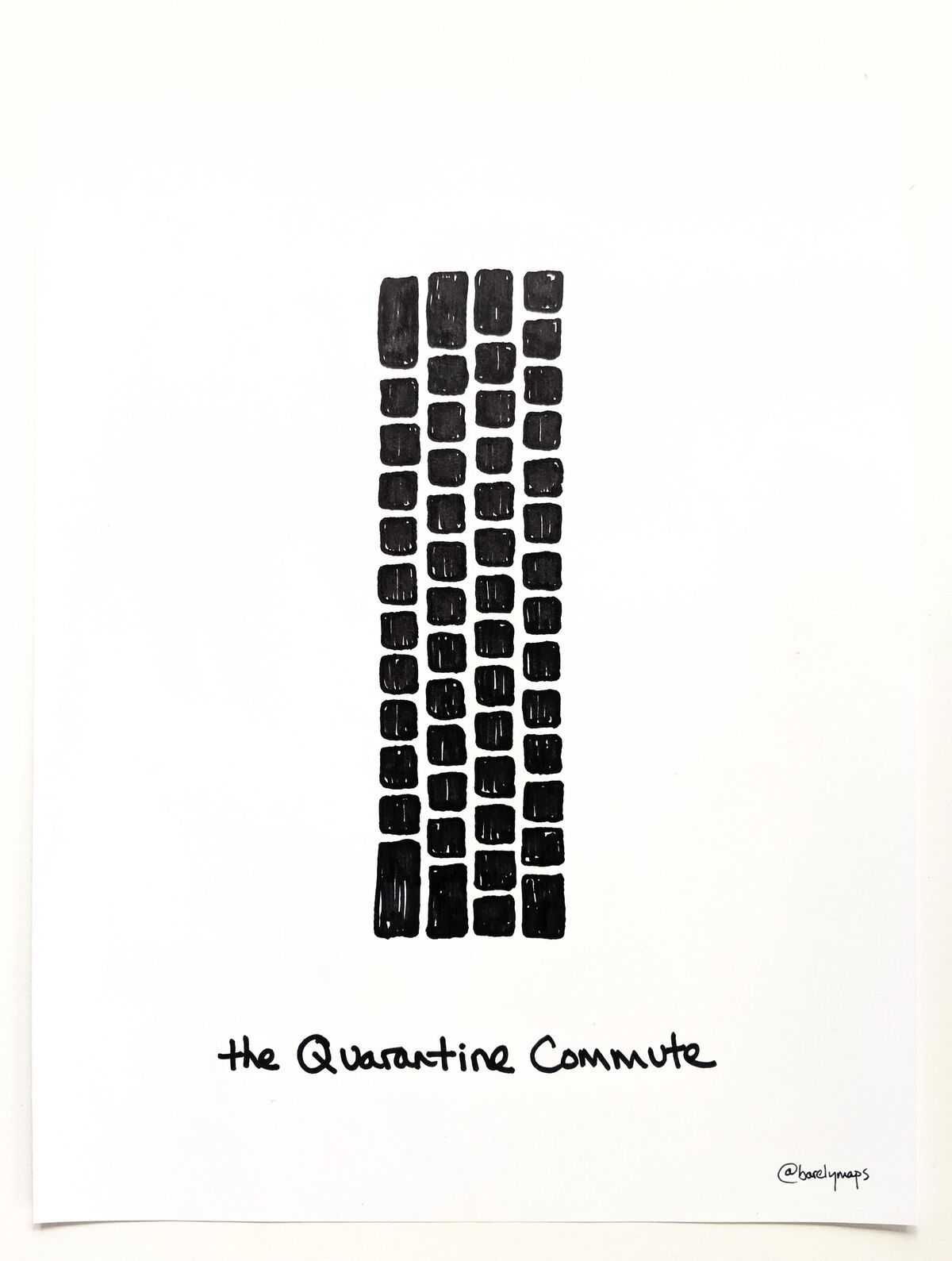 Peter Gorman
Waikoloa, Hawaii
Category:
Virtual connections
4/15/2020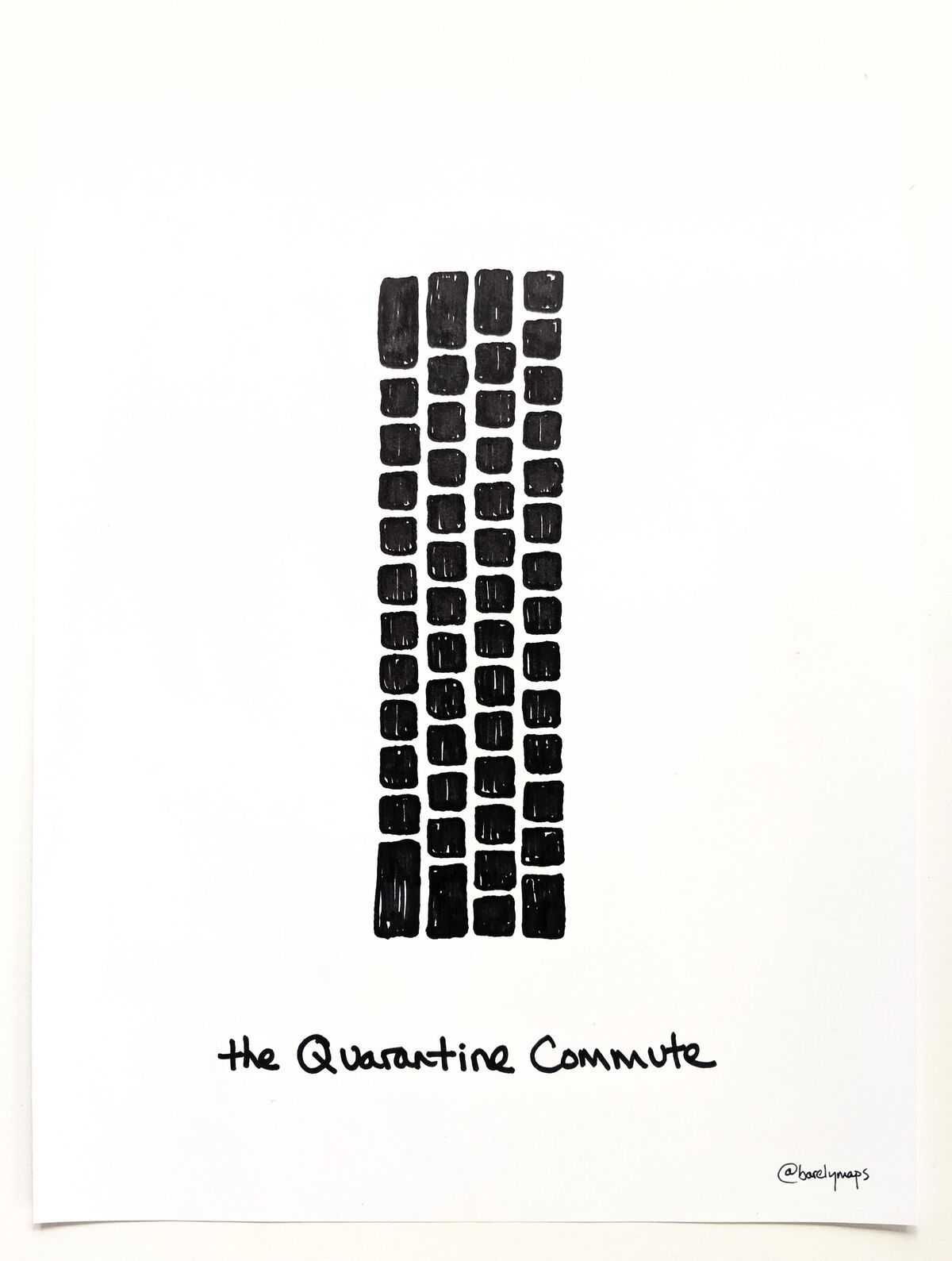 During quarantine, all of the ways I interact with the world — commuting to work, going to the store, interacting with friends and family — have been compressed into a digital space. Getting from "place" to "place" is now based around my laptop keyboard. This map is a representation of my current life. Although it's frustrating to feel disconnected from my immediate surroundings, one silver lining is connecting with family and friends back home on the mainland (and all across the world).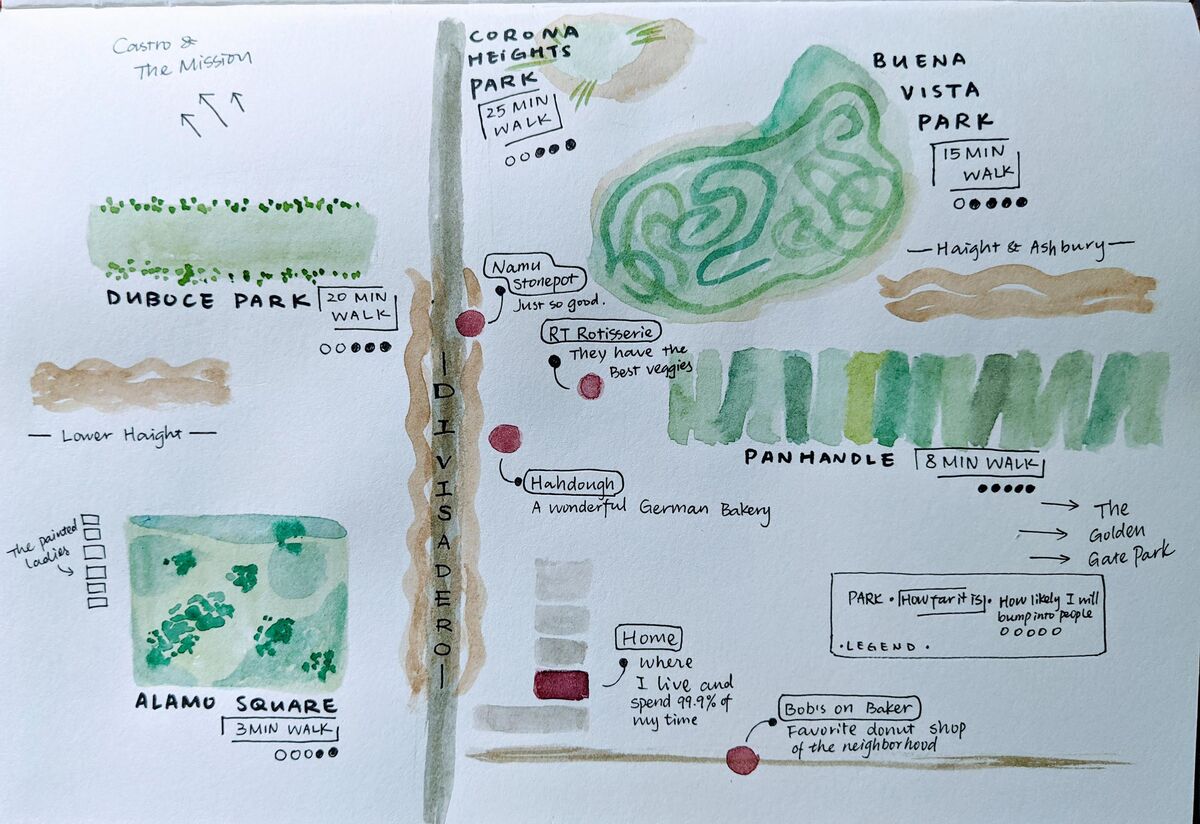 Qiqi Xu
San Francisco, California
Category:
Redefined boundaries
4/5/2020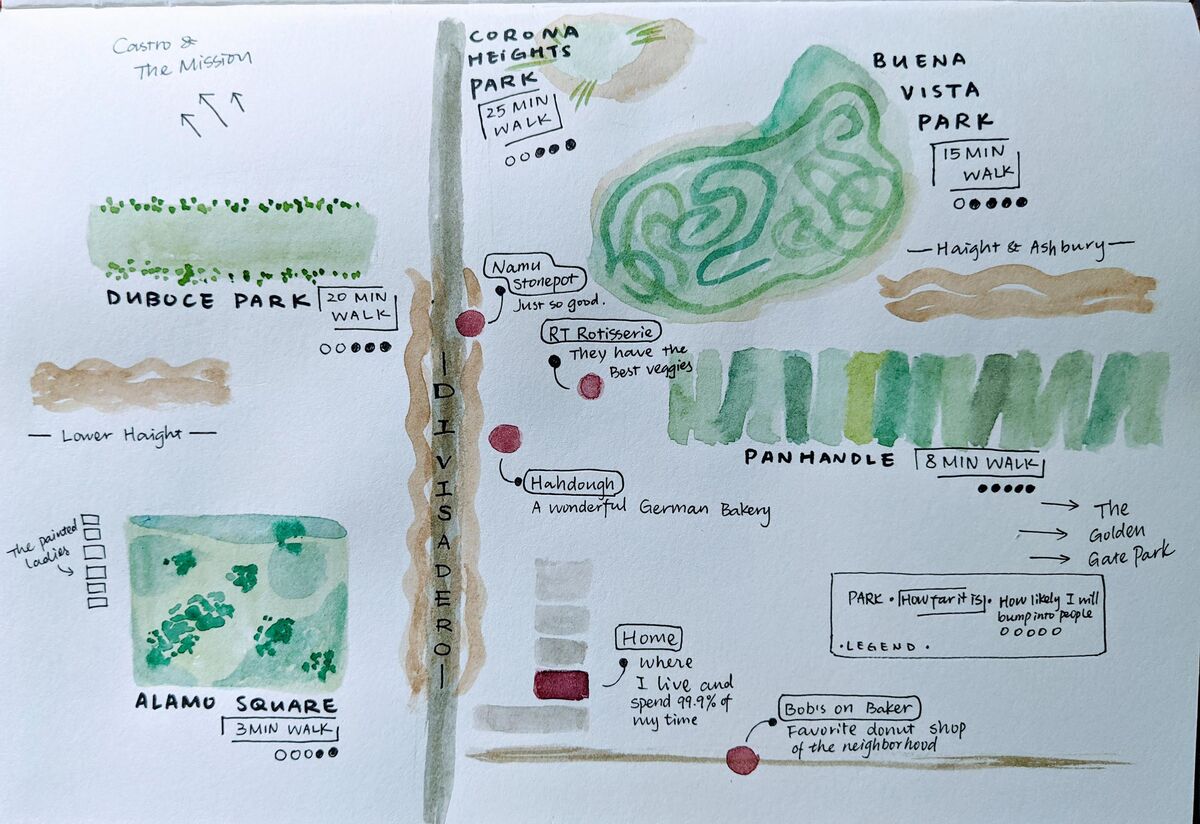 This is an abstracted map of the places I have been to since the shelter-in-place order started in San Francisco. Now I think of the outside world as parks and places where I can get takeout from time to time. I notice myself thinking through what streets I should take to the parks because some streets have a lot more runners. The pandemic has made me much more conscious of my surroundings, constantly assessing risks while I am outside. I am saddened by a lot of the local shops and restaurants having a hard time sustaining themselves, and I fear that the neighborhood will never have the same hustle and bustle. Being Asian, I also had never felt unsafe in this neighborhood, until the pandemic triggered racial tension and hatred towards people of East Asian ethnicities.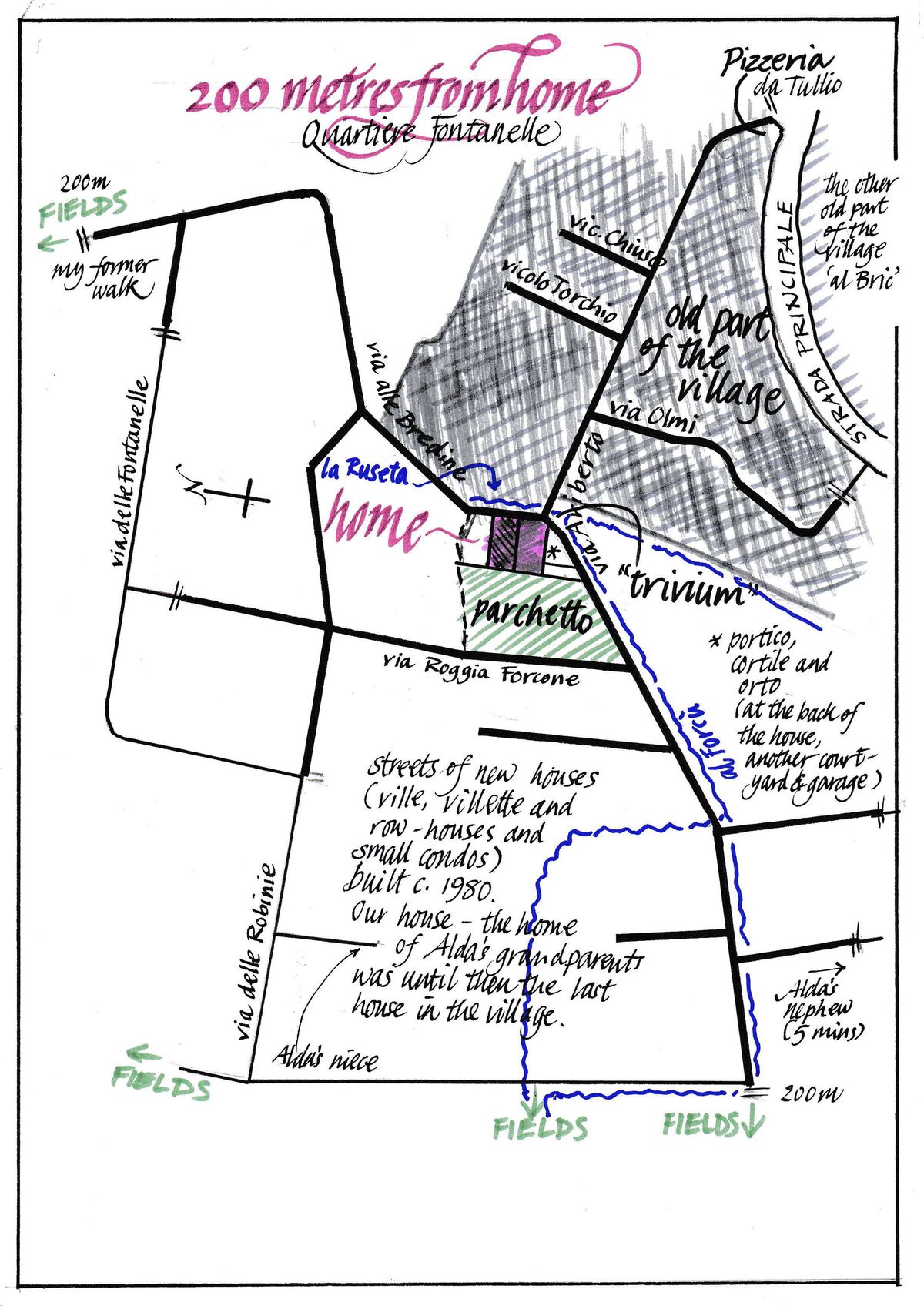 Richard Dury
Bergamo, Italy
Category:
Neighborhood bonds
4/13/2020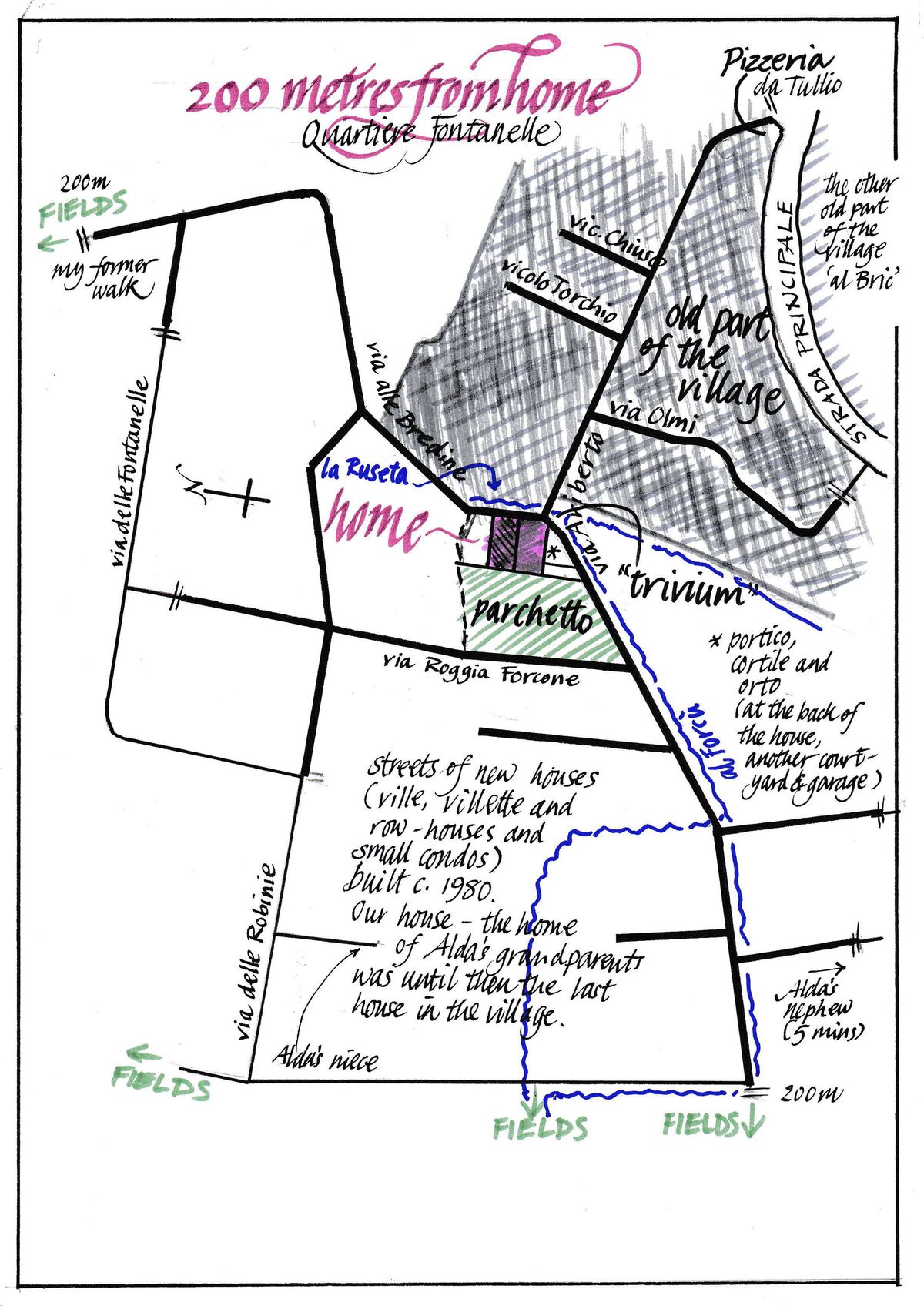 After being restricted to taking walks no longer than 200 metres from home, I decided to map this area, counting in paces and measuring angles with a carpenter's ruler. This way, I began to get familiar with the little world to which I was confined but did not know in detail. My experienced world is now that of a four-year-old child — it's interesting to go back there again.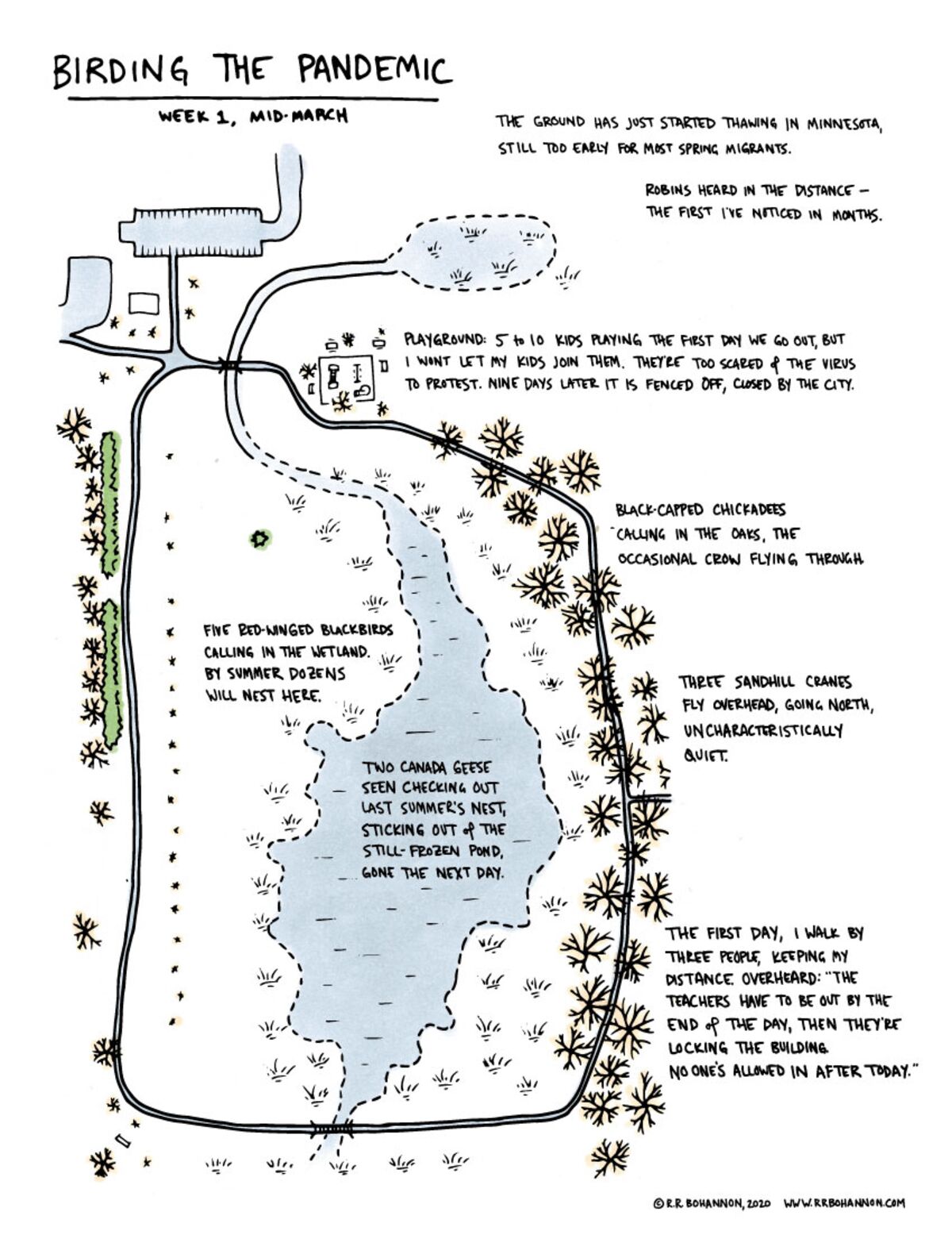 Rick Bohannon
Minnesota
Category:
Natural callings
4/16/2020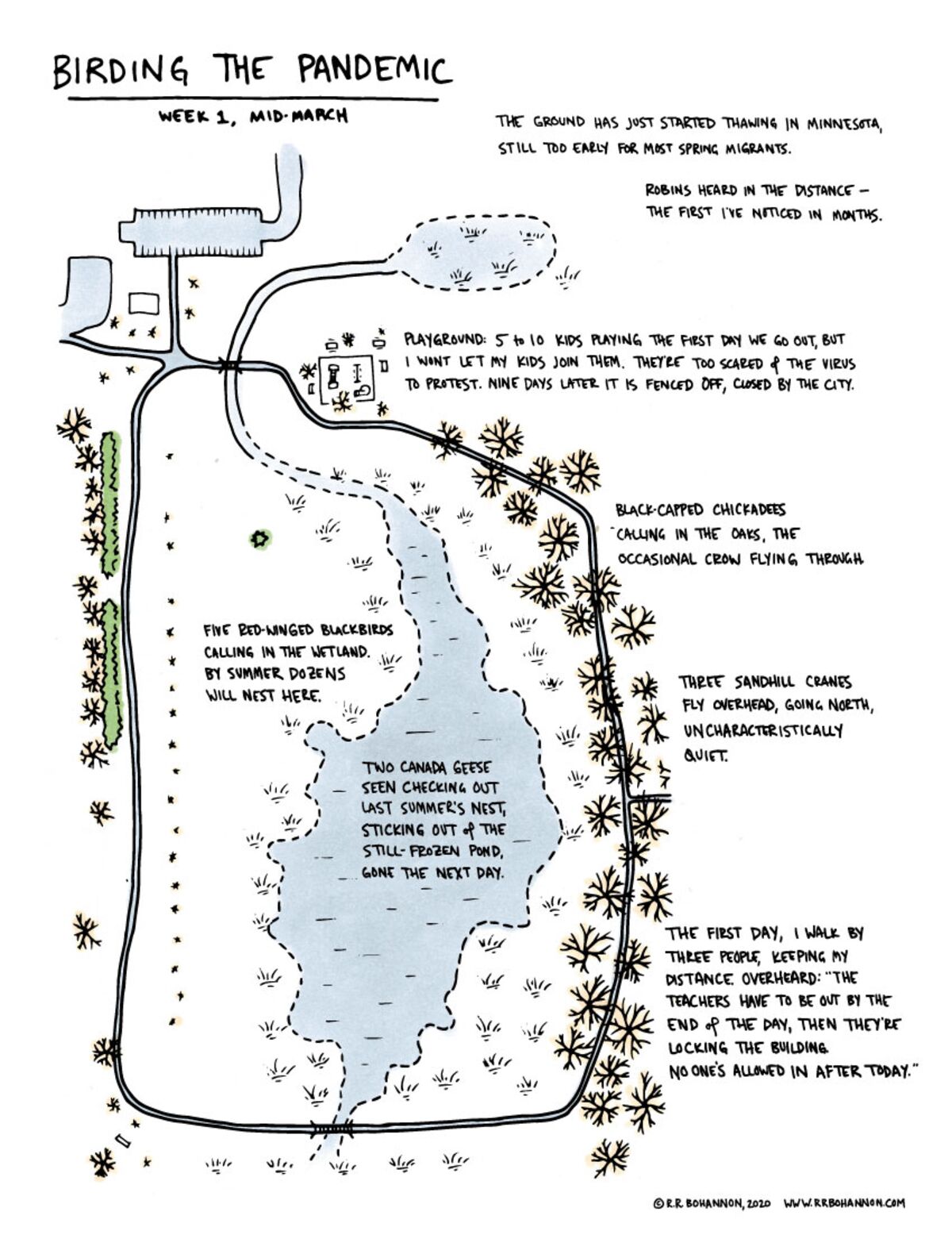 Birding is being talked about as a great activity for this moment — easy to do while social distancing, gets you outside, connects you with the natural environment. This map is of my local neighborhood park, the first of a series of birding maps I'm making as a kind of diary of the pandemic. I'm going on more walks with my kids, and wondering why I didn't go on more before.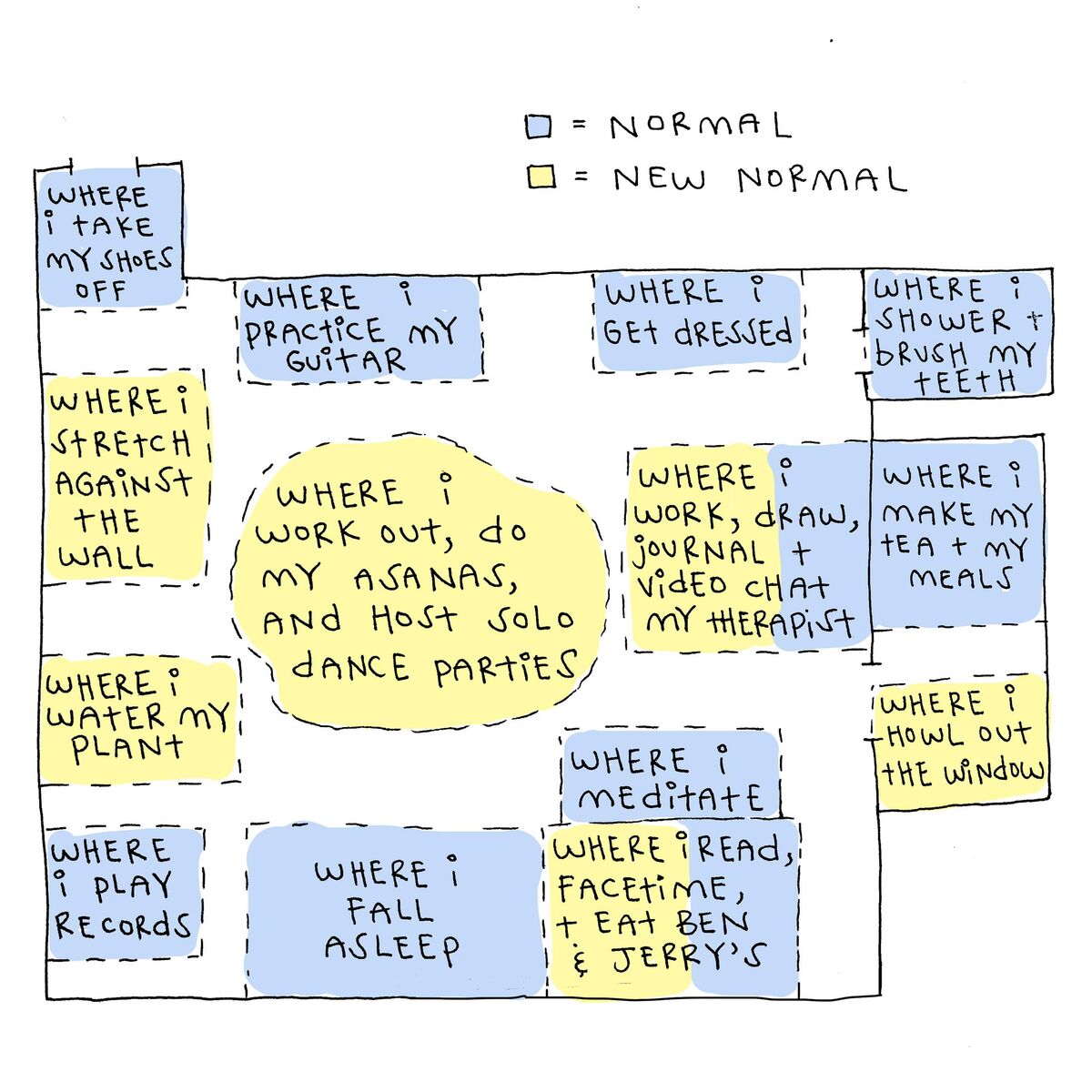 Sam Emrich
Denver, Colorado
Category:
Domestic rearrangements
5/8/2020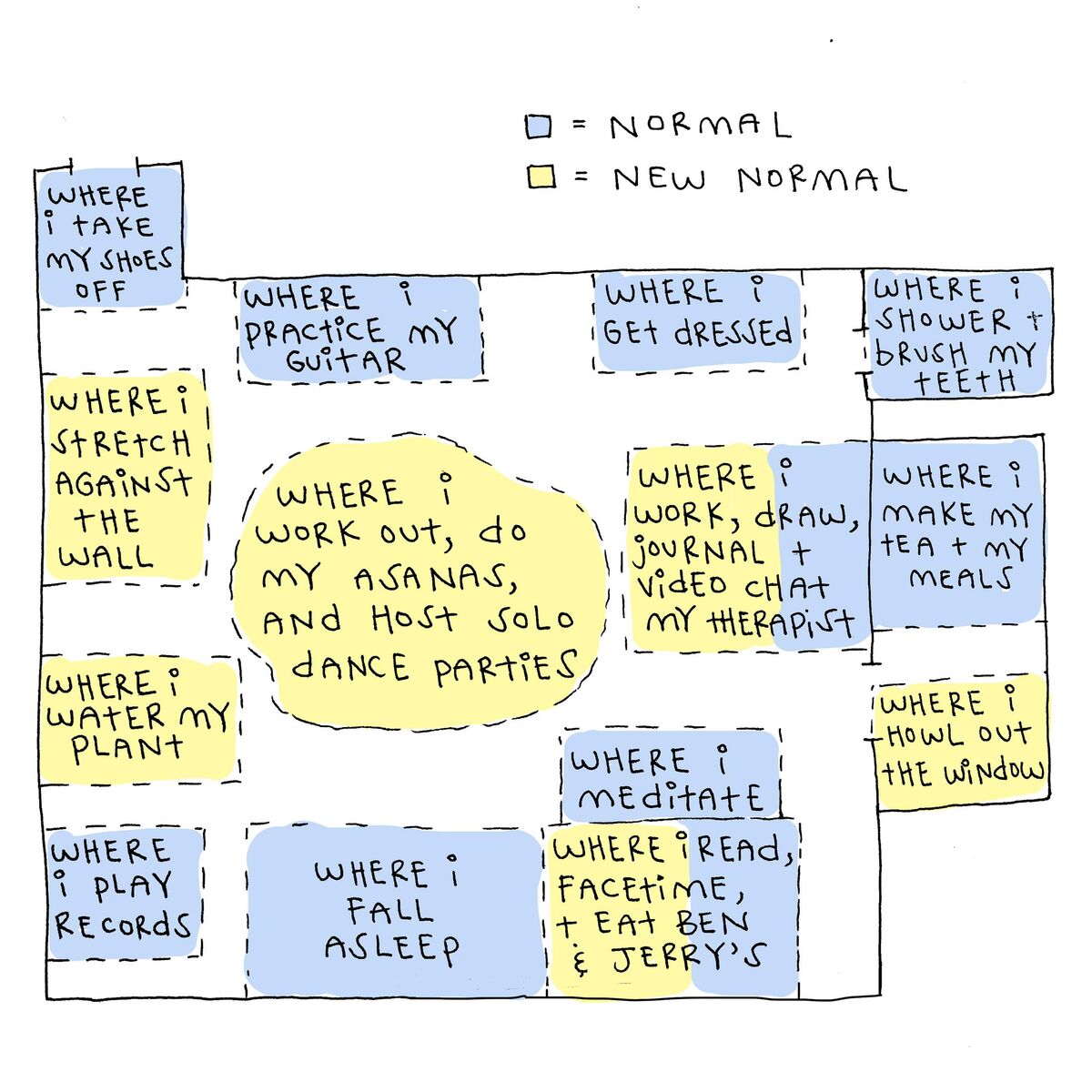 This is a drawing of my studio apartment, highlighting activities that were my former "normal" and the ones that are my "new normal" during quarantine, from yoga asanas to solo dance parties to howling out the window every evening at 8 p.m. in solidarity. We do it to say, "We can't see each other, but we can hear each other. We're all still here. We're not alone."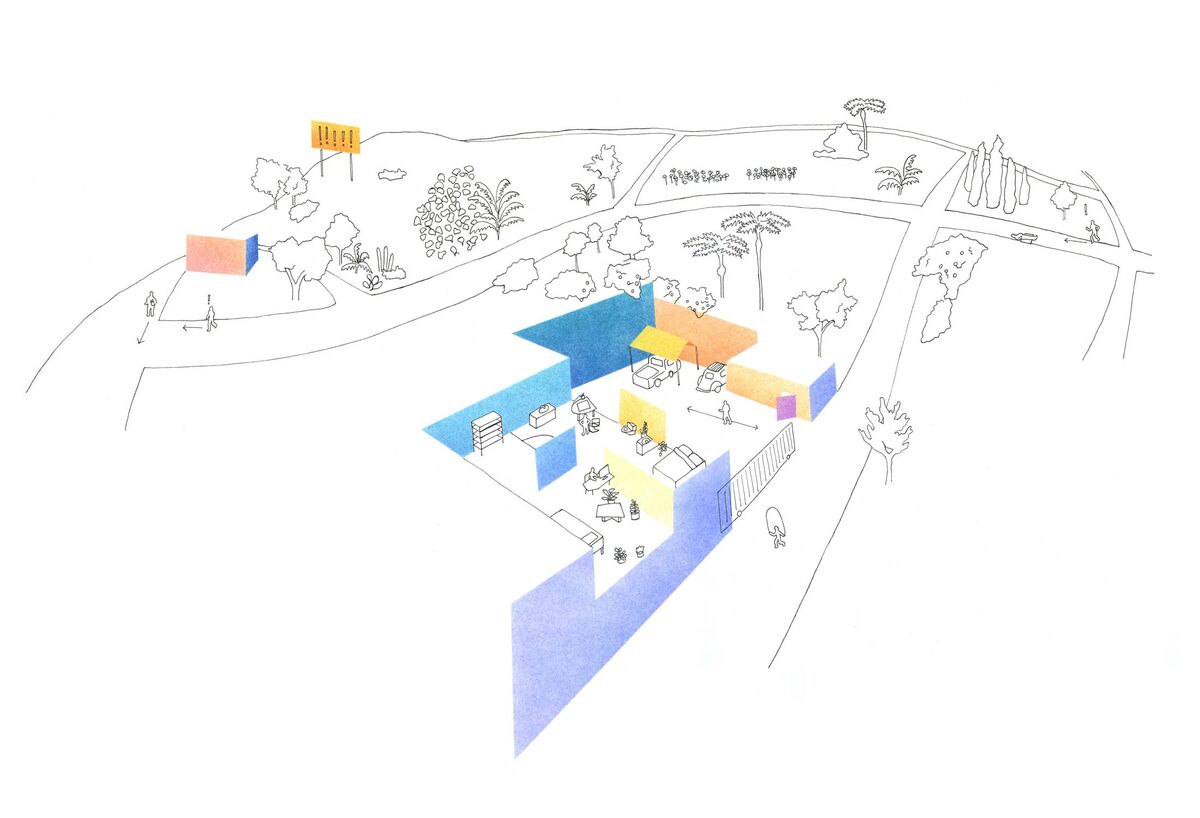 Sarah Stancik
Los Angeles, California
Category:
Redefined boundaries
4/20/2020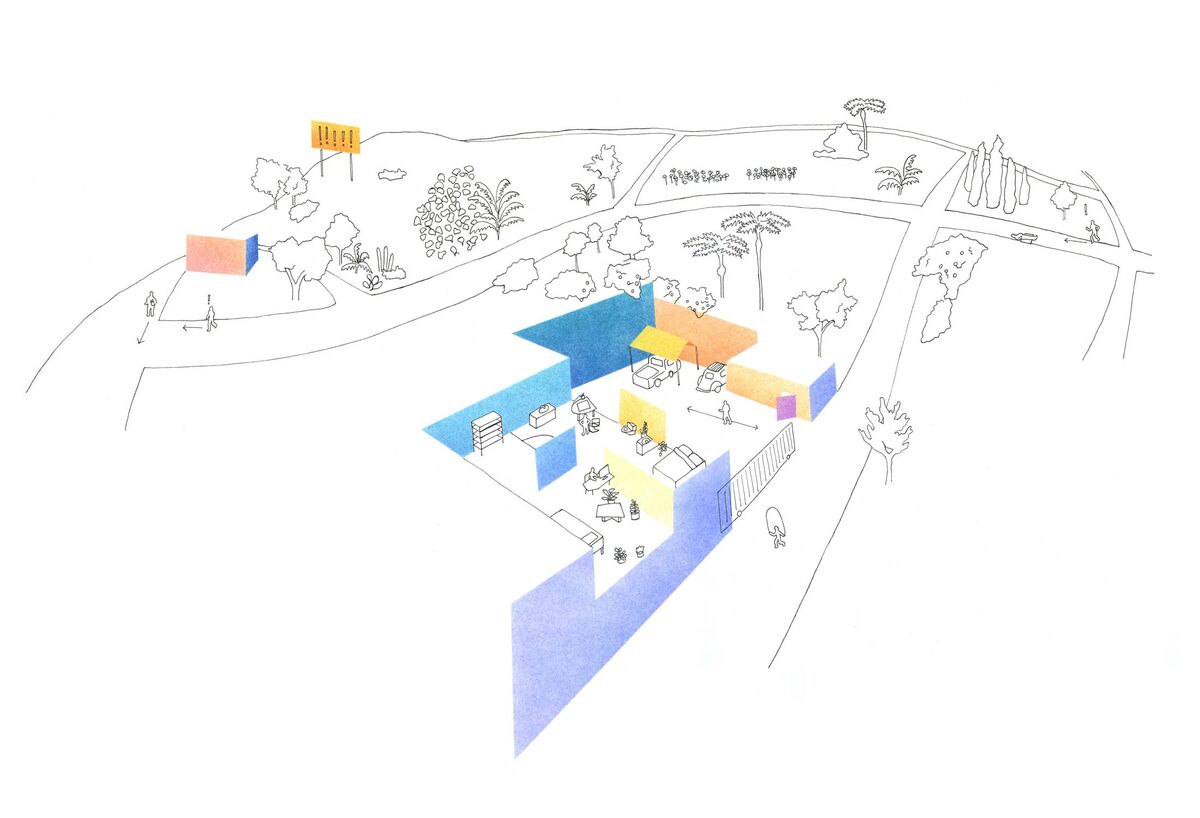 I've mapped a few common almost-interactions that happen within a block of my apartment: watching the mechanic work downstairs, picking up bread from the bakery, and walking and running around a small part of the neighborhood. Since the order to stay at home took effect, I spend most of the day inside working next to the windows. Usually I would leave for the park, but I've restricted any outdoor activity to residential areas. The orange trees and palms in my neighbor's yards have become more familiar landmarks and my own garden of sorts.
Sharmaine Montealegre
Philippines
Category:
Psychic landscapes
4/27/2020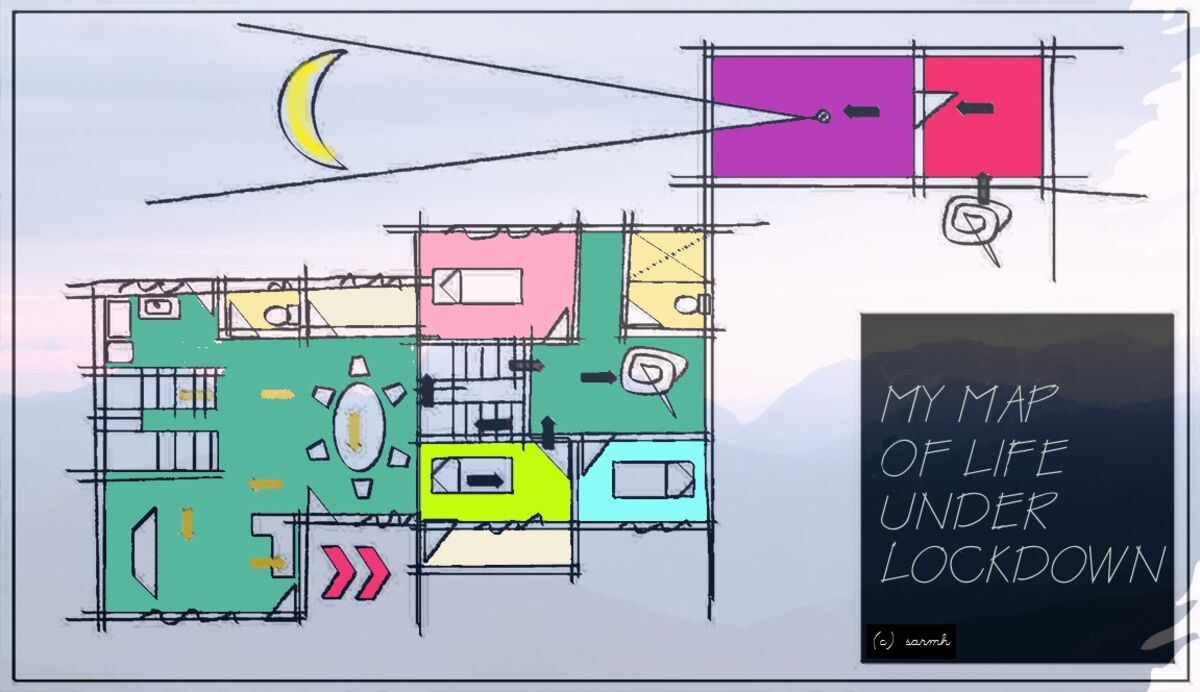 My map shows my daily destination ever since the lockdown started. It's kind of looking like an emergency exit plan, even though since this lockdown began I never step out of our home. My only true emergency exit is to look at the moon, and admire how each of its scars make it more even beautiful.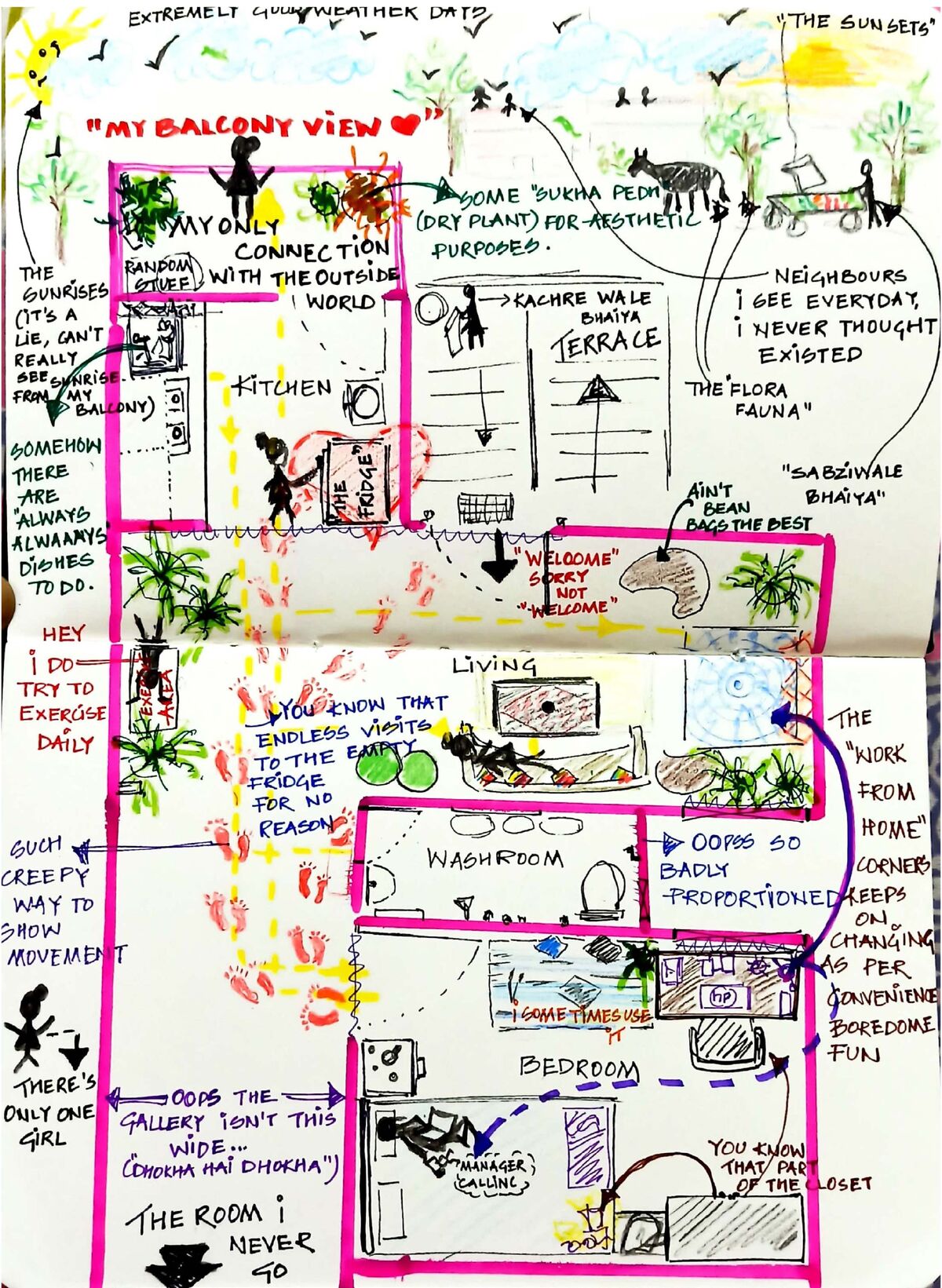 Shivani
New Delhi, India
Category:
Natural callings
4/25/2020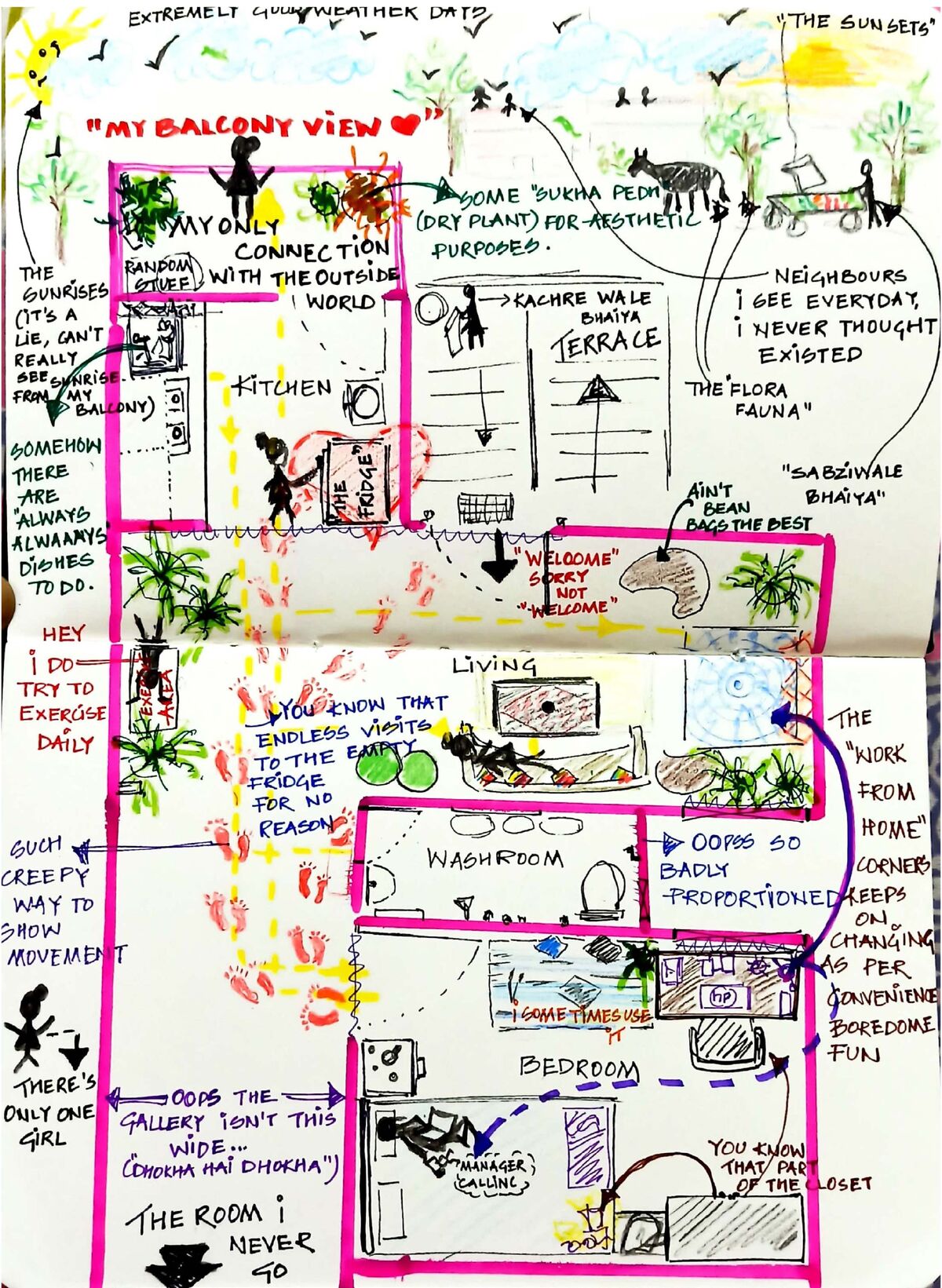 I have made a map that shows my minimal neighborhood activities with a zoomed-in version of my actual routine during lockdown. I am staying completely alone in my flat and my only connection with the outside world most of the days is my little balcony. Being an outdoor enthusiast, it has been pretty difficult for me, but my balcony gives me hope and life. This lockdown has made me appreciate the simplest of things. I appreciate sunrises and sunsets, blue skies, clouds, even more now. The sound of stray animals, the moving trees, the birds chirping makes everything so beautiful and alive.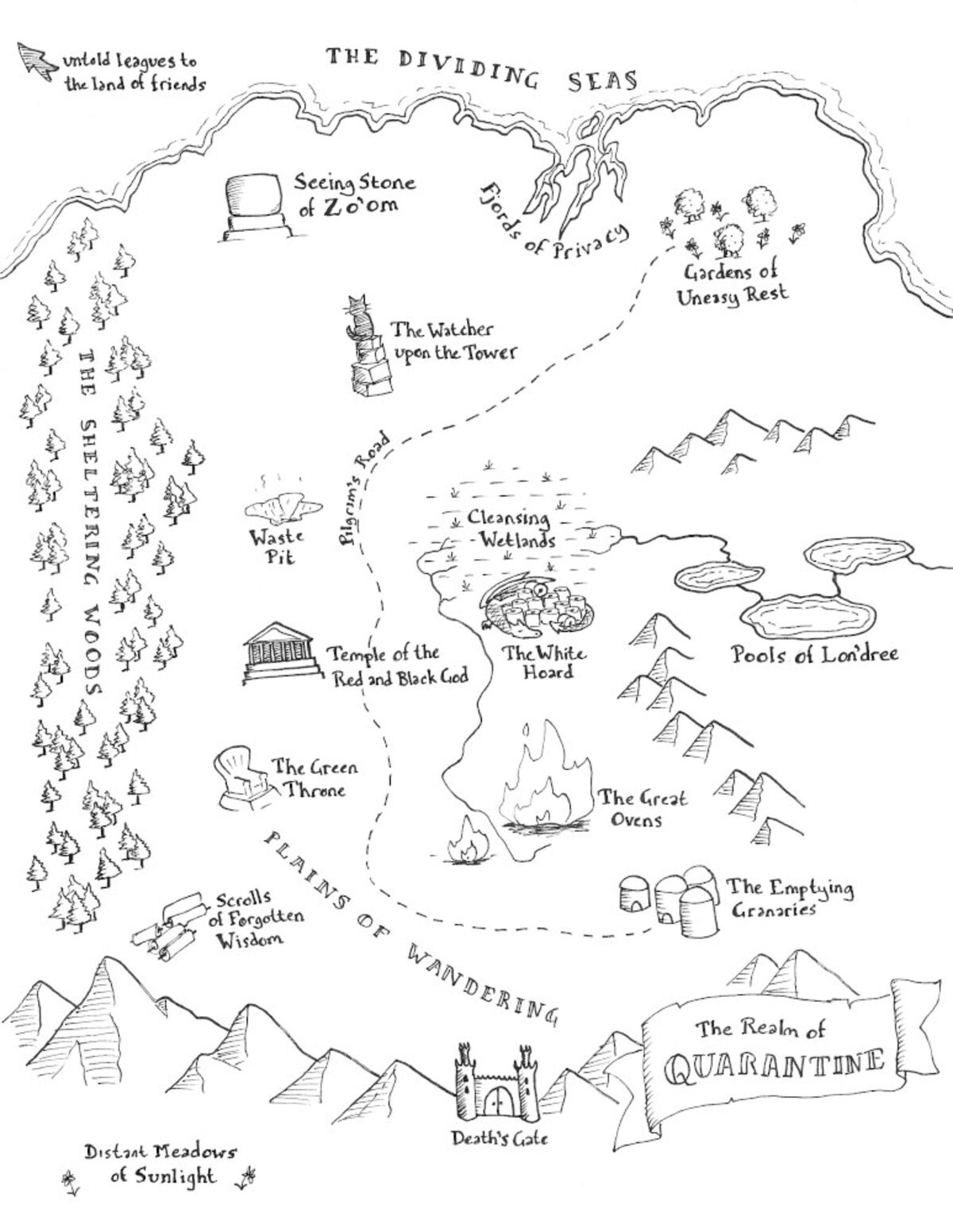 Stentor Danielson
Bellevue, Pennsylvania
Category:
Psychic landscapes
4/7/2020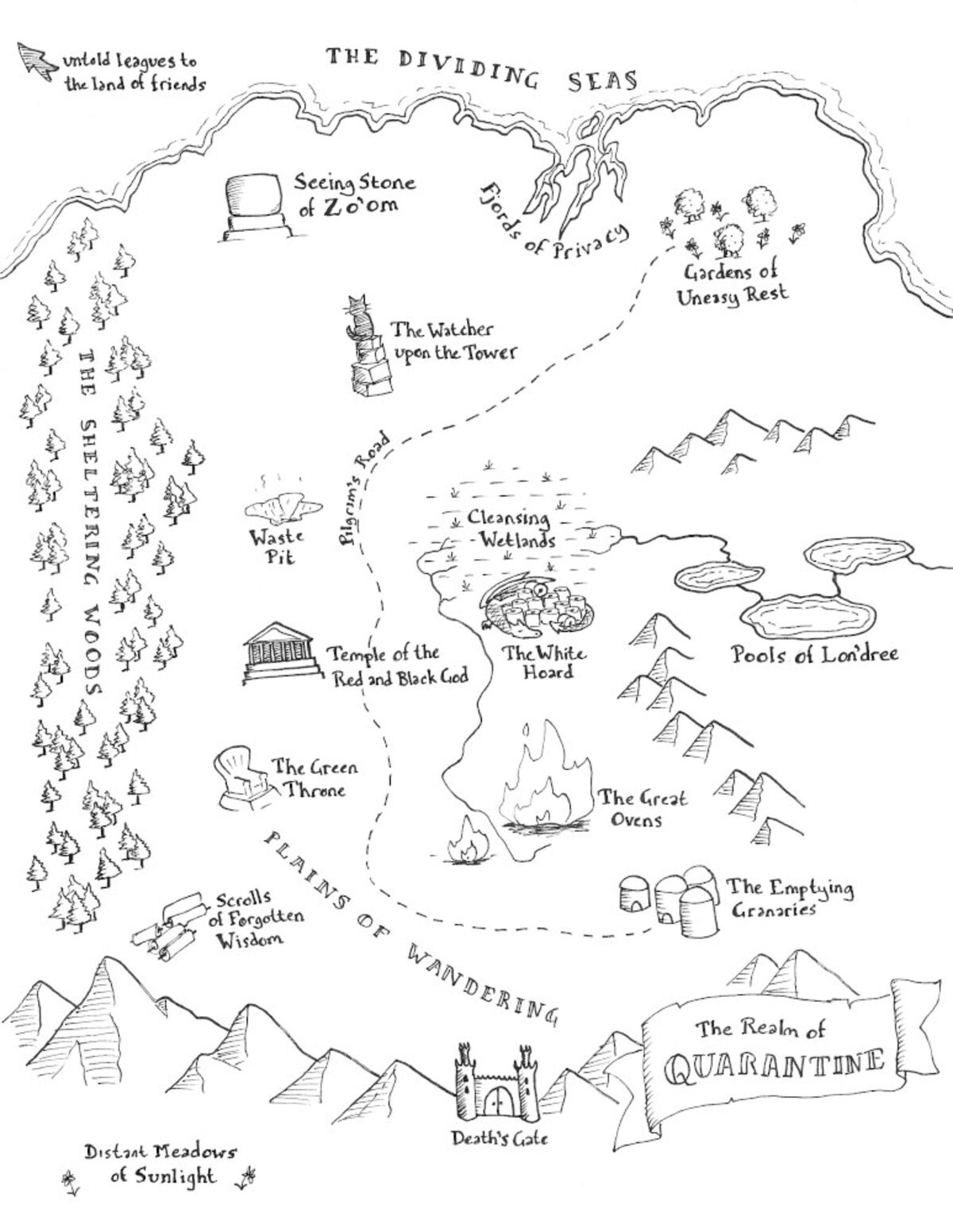 Being stuck in my apartment for the last few weeks, any adventures or grand journeys I go on have to be scaled down to match. (And since some of my friends were confused, the Red and Black God is Netflix.) Everything seems so much farther away. Even the post office a few blocks away feels like a dangerous journey now.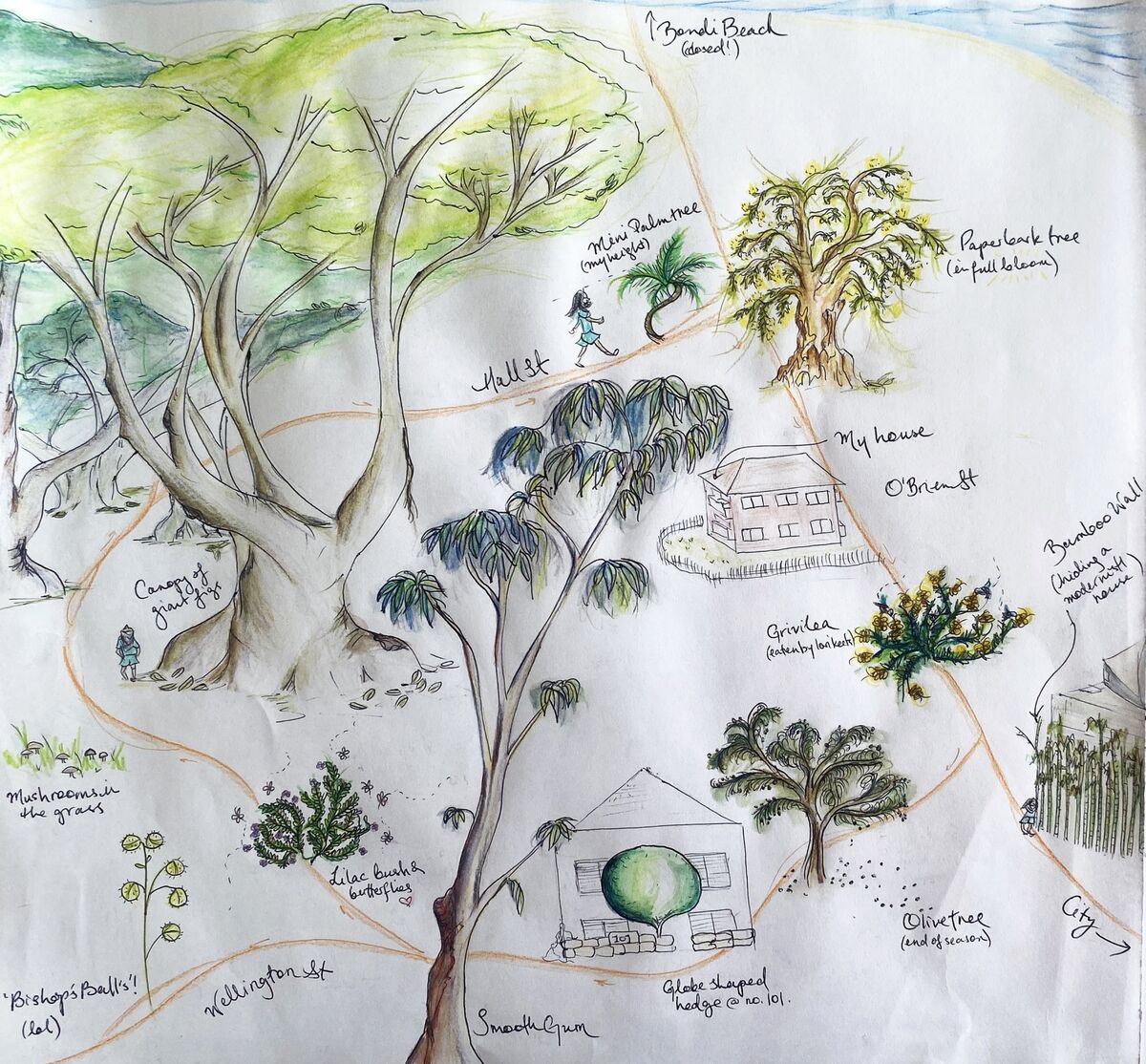 Stephanie Bhim
Bondi Beach, Sydney, Australia
Category:
Natural callings
4/12/2020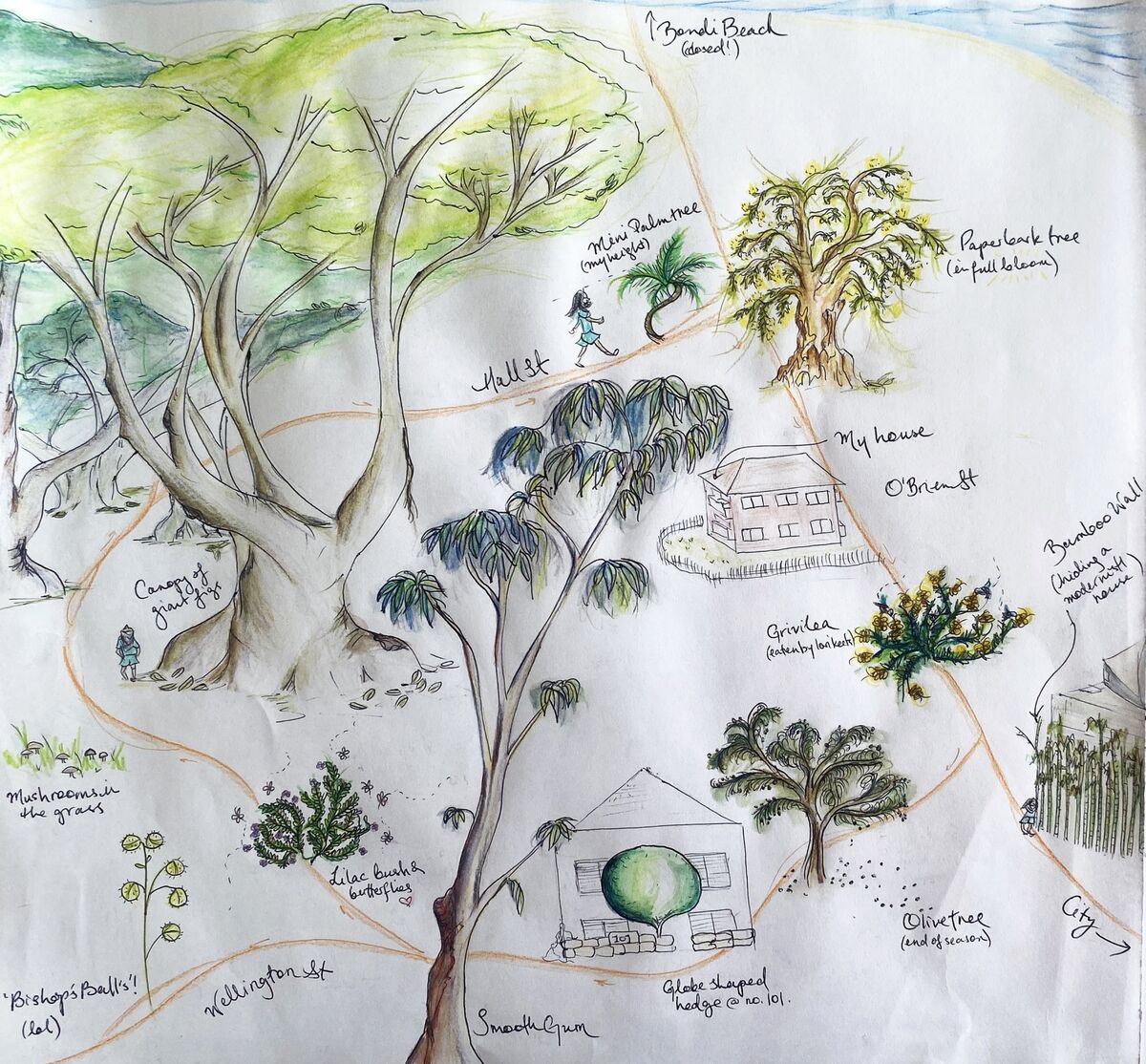 My map presents the magnificent trees on my walk around the block, all different in their shape, size, blooms and fauna they attract. I am dwarfed by enormous gum and fig trees, delighted by butterflies, enchanted by mushrooms in the sidewalk grass. The olive trees hearken to folk tales. Working from home, I take these walks around the block and quiet backstreets. I enjoy the scent of jasmine, lorikeets squawking, butterflies in lilac hedges. With less cars and people around, nature is more apparent to me.
Suzette Smith
Portland, Oregon
Category:
Neighborhood bonds
4/22/2020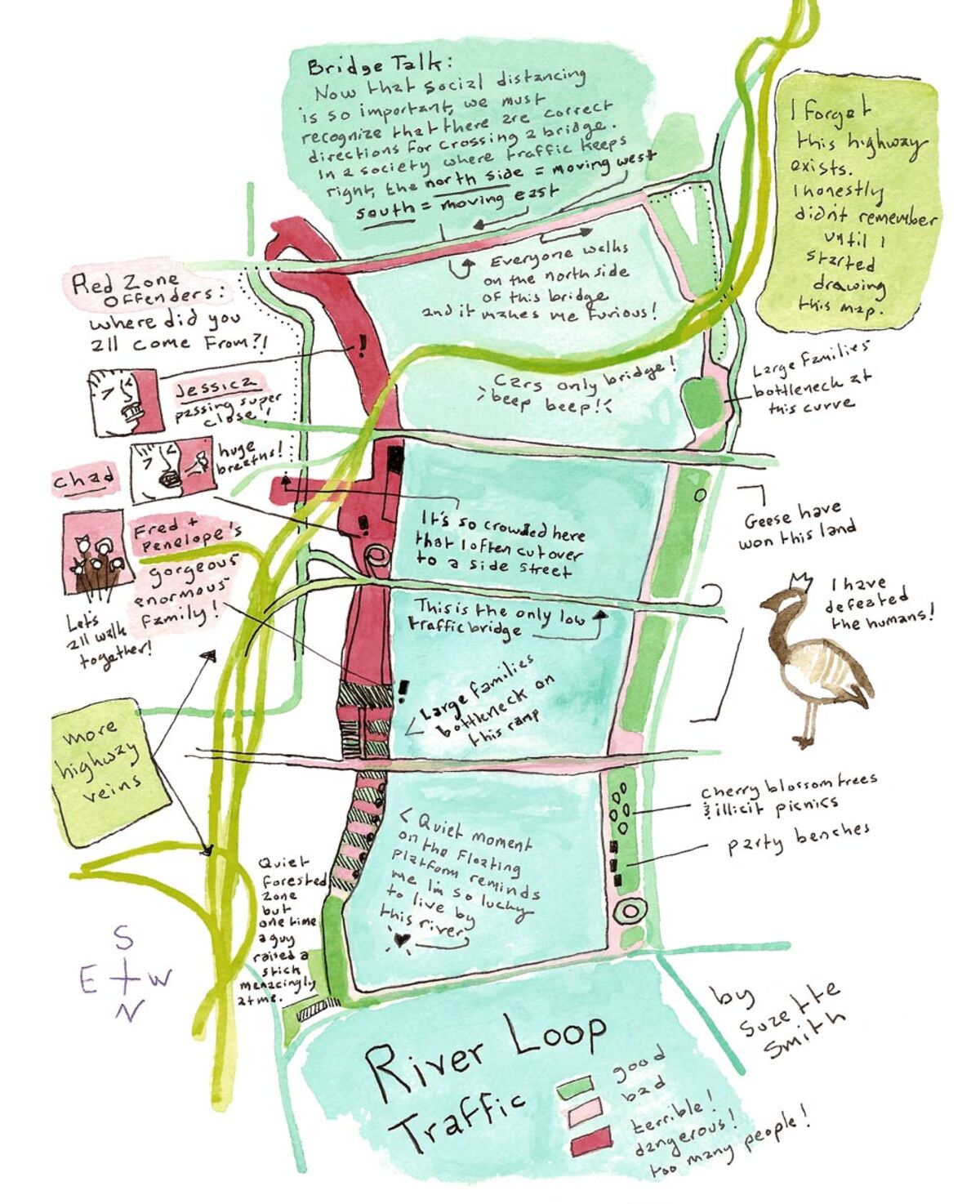 Portland has a lovely river loop, which stretches around four miles and which I'm fortunate to have in my neighborhood. Since the "Stay Home" order went into effect, I've hit the loop at different times throughout the day, trying to find that sweet spot where people stay an appropriate distance from me. But runners turn stupid from exertion (I have sympathy for this), and two-parent households with children can't seem to imagine splitting into teams. On the bright side, I enjoy the smug expressions of the riverfront geese — they seem pretty sure they've won the great goose/human conflict. I live in Portland's curious night club/social services corridor. By day, the makeup of the neighborhood streets has shifted to an undiluted representation of people seeking transitional housing and other support services. Party people still seem to feel drawn here on weekend nights. They yell at one another from their cars, and I find it kind of charming. So I thought my relationship with my neighborhood had changed, but now that I wrote this, I realize it really hasn't.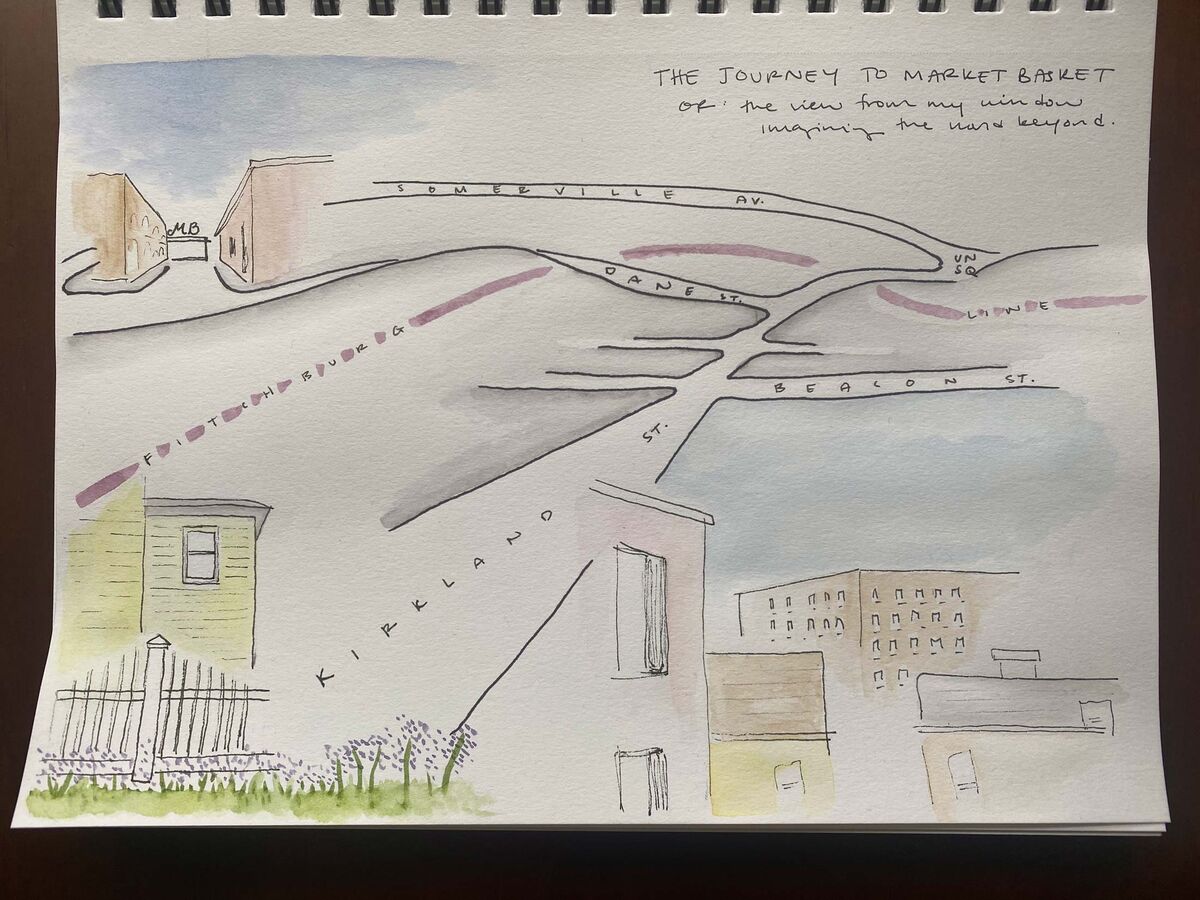 Tess McCann
Cambridge, Massachusetts
Category:
Redefined boundaries
4/24/2020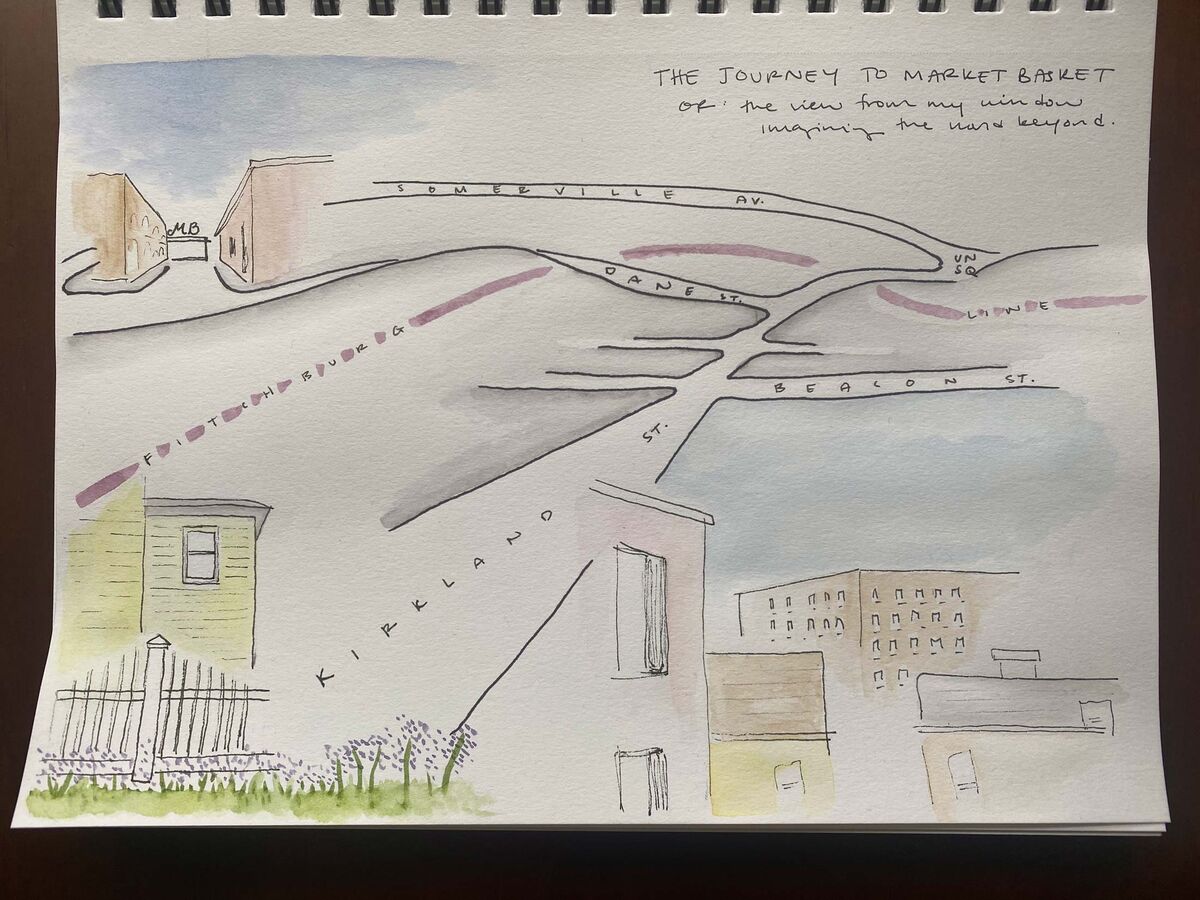 This map shows our weekly path to the grocery store (Market Basket in Somerville). That journey happens to be in the same direction as the view out of my living room window, where my desk is. I catch myself thinking about the places beyond Market Basket where we don't go anymore. I remind myself that they're still there, connected by things that I do see on my walk to the grocery store.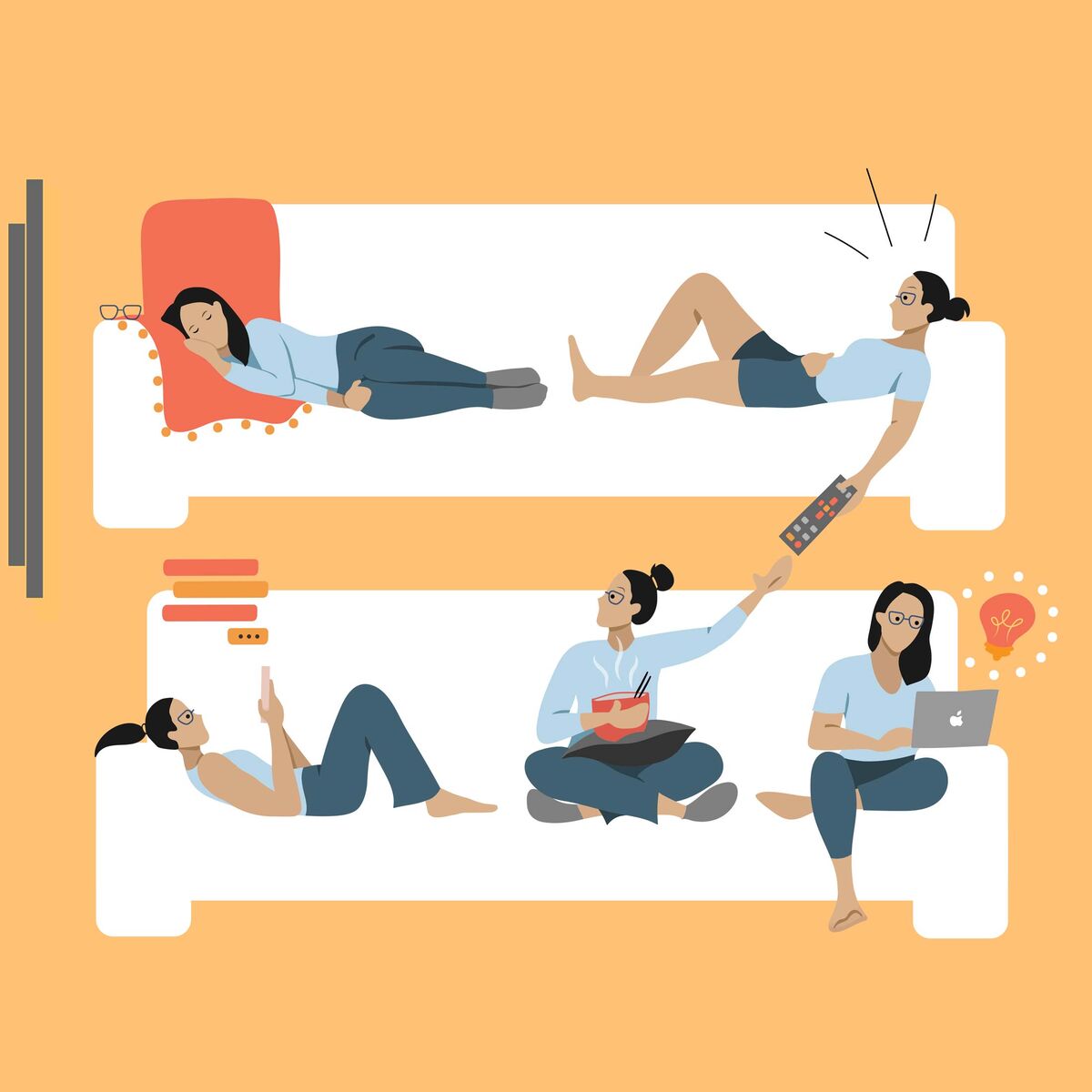 Ti Dinh
Seattle, Washington
Category:
Domestic rearrangements
4/24/2020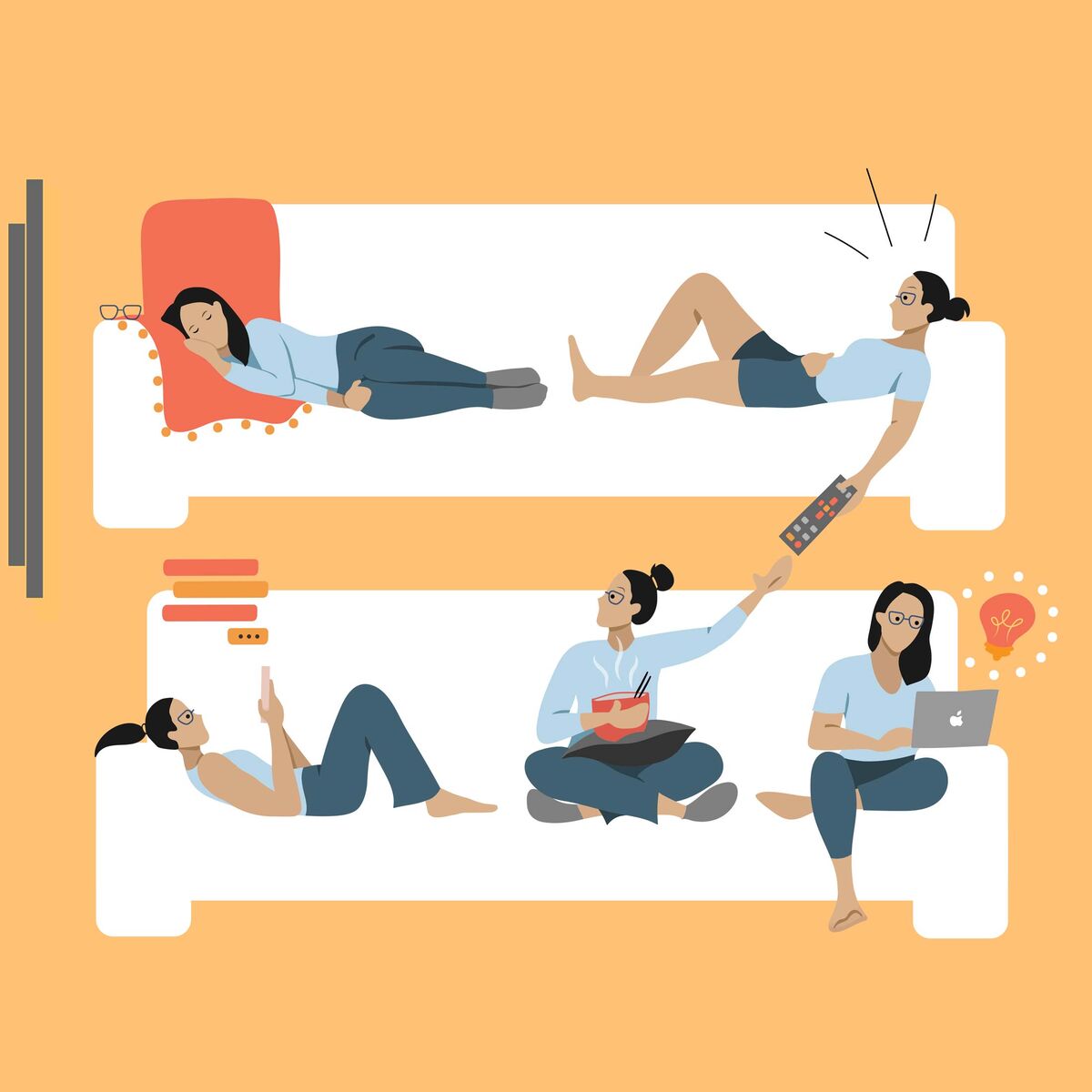 My map lays out the many places you will find me each day, all from my couch. From here, I spend time with myself doing work (I'm a teacher), creating digital and fiber art, connecting with friends and neighbors over the Marco Polo app, and eating dinner, including the least couch-friendly meals. As a homebody and introvert, I love the little world afforded to me during this time.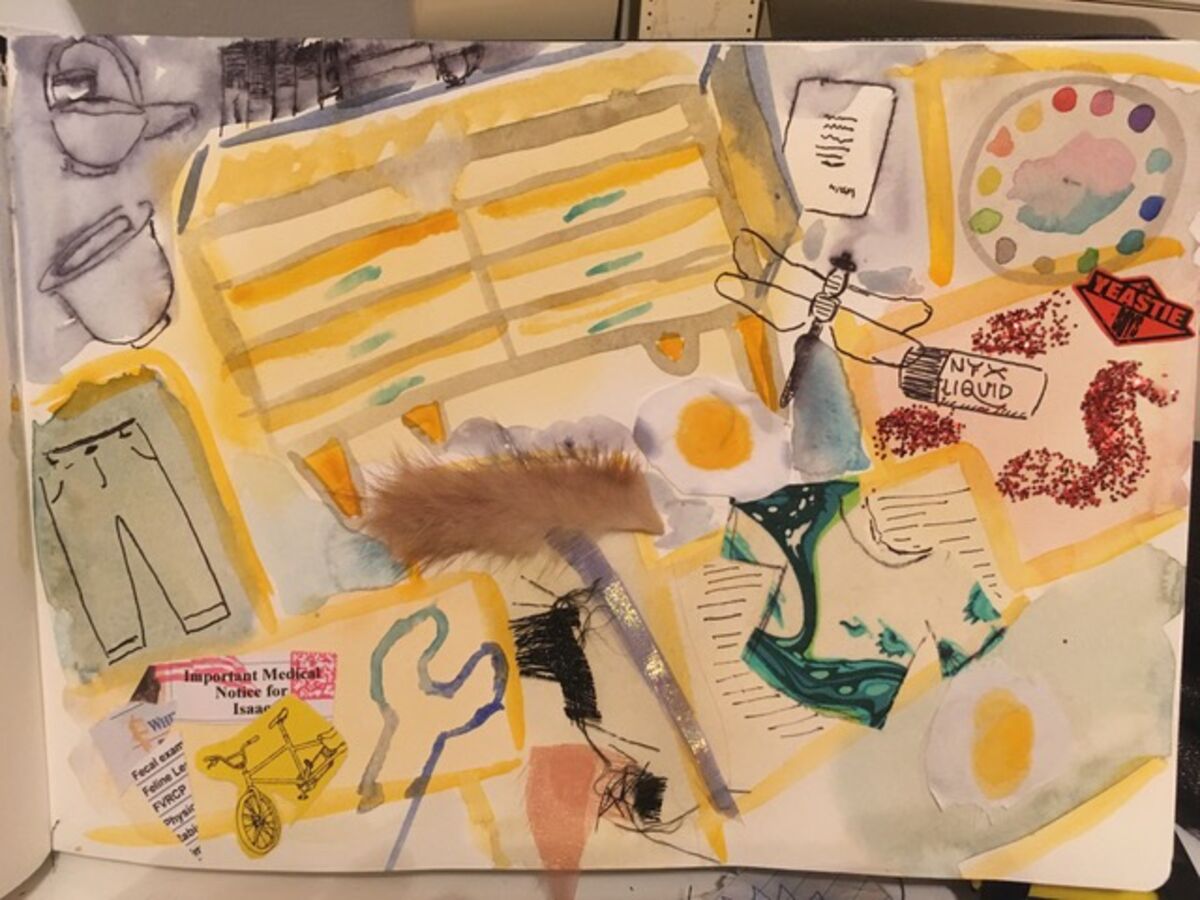 Zoe Swartz
New Orleans, Louisiana
Category:
Neighborhood bonds
5/3/2020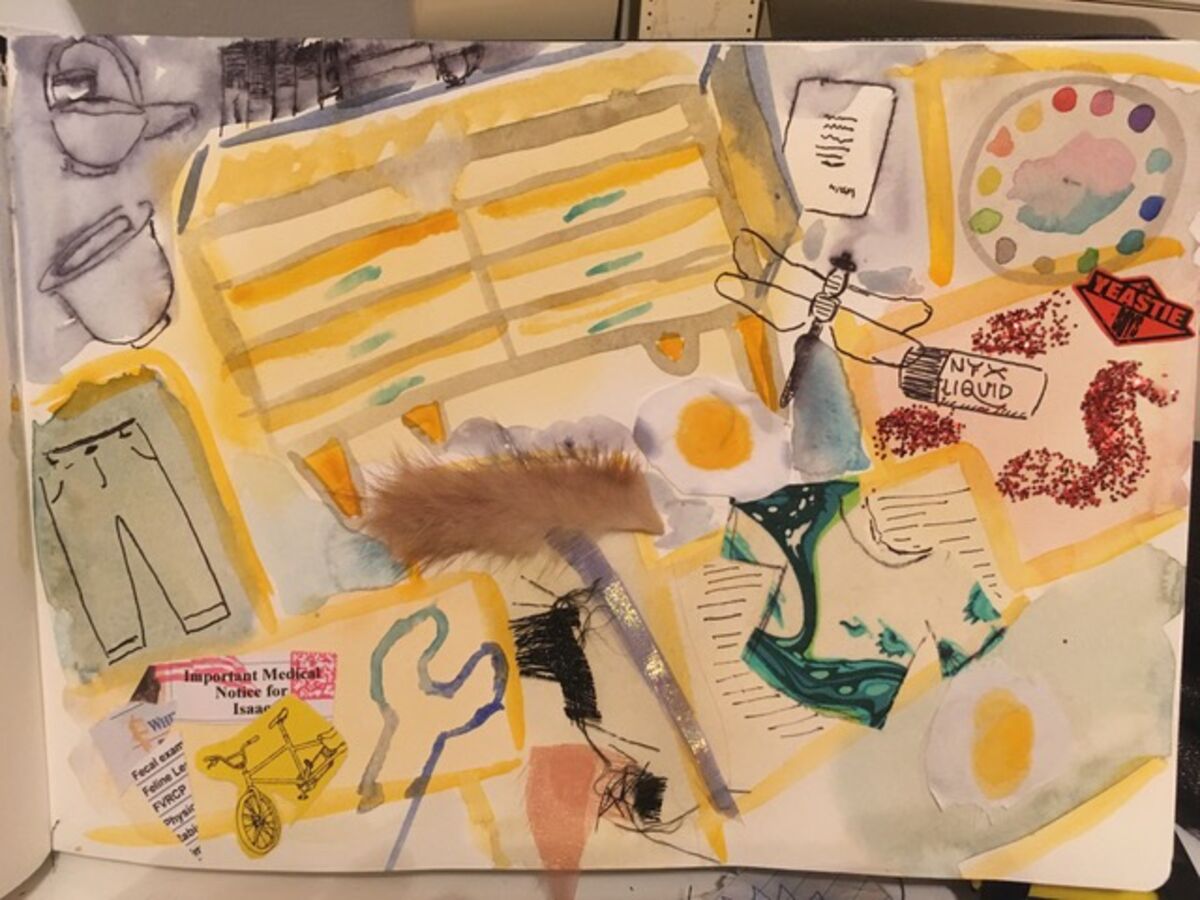 This dresser houses the miscellaneous objects that tell the story of my life now, confined mostly to my house, and of my life before, which took place all over the city. Each rectangle represents a drawer filled with objects like scraps of fabric from Mardi Gras costumes, bike tools, mail that I don't want to deal with, my t-shirt collection, and art supplies. These odds and ends used to feel pretty insignificant, but now feel like an intimate bridge to the life that I was leading before coronavirus. Now they matter greatly to me. Lately I've been feeling okay with this calmer life. But sometimes I bike through the deserted French Quarter and feel a pang of loss for all of the interactions and spontaneous adventure that would be happening in the spring.