▲ The siege phase of the water wars has begun, and LaCroix is behind the castle walls.
Photographer: Sarah Anne Ward for Bloomberg Businessweek
The early darling of fizzy water is losing ground to big soda, and shareholders are questioning its management.
When the value of Nick Caporella's company, National Beverage Corp., reached $2 billion in the spring of 2016, its top executives raised a congratulatory toast not with Champagne, but with cans of LaCroix, its marquee brand of flavored sparkling water. That summer, Caporella wrote a press release attributing the recent success to "Genius innovation!" By April 2017, the company was worth $4.1 billion.
It's been a thrilling ride for LaCroix, which for more than two decades languished in obscurity on the bottom shelf of the water aisle, in the shadows of Perrier's and S.Pellegrino's green glass bottles. Around 2013 the brand began rising from the dust that had been collecting on its 12-packs as consumers collectively shunned sugary sodas. Over the next five years, LaCroix's sales jumped almost eightfold, accelerated by a social media machine that excited young people with its Instagrammable rainbow of cans and zero-additive innocence. "They were really the first large brand to go after millennials that way and target their health and wellness concerns," says Alexander Esposito, a research analyst at Euromonitor International.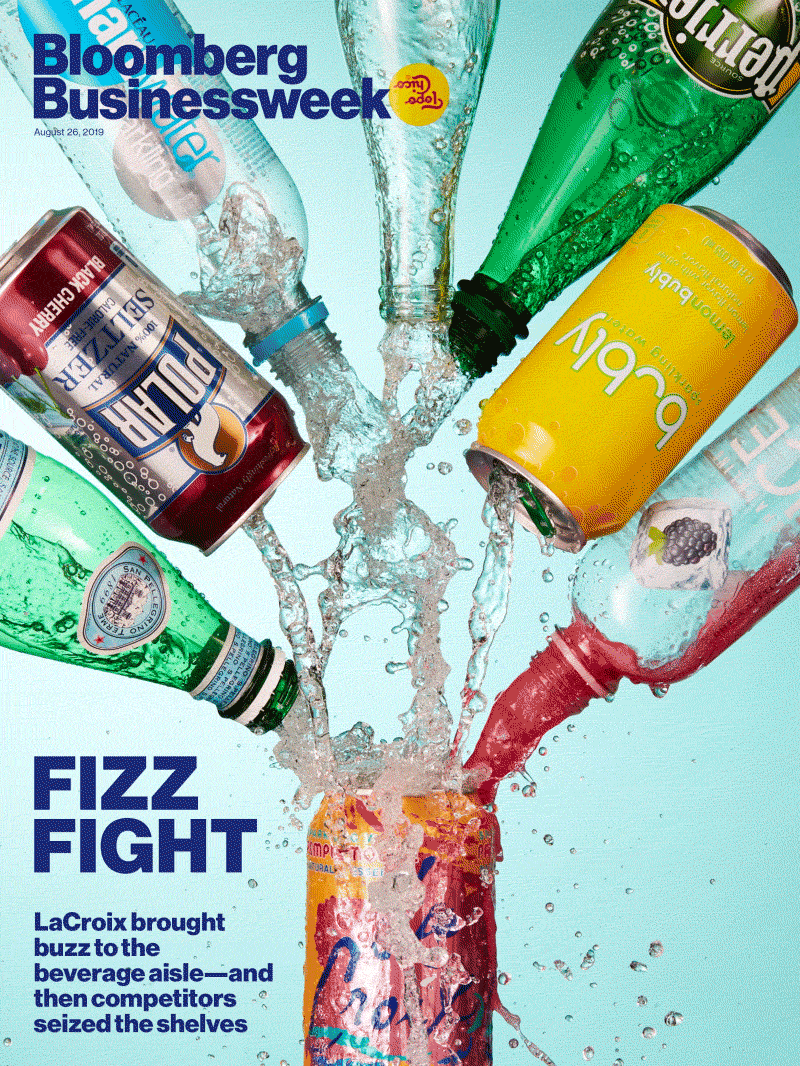 LaCroix is still the king of the sparkling water aisle, but the competition is crowding in. Last year, PepsiCo Inc. released Bubly, a sparkling water backed by a marketing arsenal that LaCroix has struggled to match. In 2017, Coca-Cola Co. paid $220 million for Topo Chico, a Mexican mineral water with a cult following. Meanwhile, a legion of startups has rolled out "craft" sparkling water brands that promote artisanal ingredients, antioxidant boosts, and cannabidiol infusions. LaCroix's sales for the four weeks ended July 14 fell more than 15% from the prior-year period, even as its main competitor, Bubly, saw sales surge 96%, according to Bloomberg Intelligence.
Then things only got more combative for National Beverage. It's been sued by shareholders and former employees, and reports of internal strife and personality clashes suggest deeper problems. Interviews with a dozen current and former employees, executives, and business associates describe Caporella as a hard-driving, idiosyncratic boss. Even though National Beverage is publicly traded (its ticker is FIZZ), he retains ultimate control. He's chairman and chief executive officer, owns almost 74% of the company's shares, and even pilots his own corporate jet. As the stock has plummeted, his net worth has fallen from $4.7 billion to about $1.9 billion. The siege phase of the water wars has begun, and LaCroix is behind the castle walls.
Over 35 years, Caporella turned a family construction business into a sparkling water dynasty. Born in the western Pennsylvania town of Connellsville to Italian immigrant parents, he was raised in a home built above a coal-ash dump. As a boy he earned money by selling scrap metal and coal pieces he'd collected alongside the railroad tracks. His father, a miner, later moved the family to South Florida and began working in construction. In the 1960s, Nick founded his own construction company, Caporella & Sons, which was later purchased by a telecommunications conglomerate called Burnup & Sims Inc. Within 10 years, he was named CEO.
Caporella got into the soda industry in 1978, when he sought to diversify Burnup's business by purchasing a chain of drive-in movie theaters and a soft-drink bottling plant. He defended the company fiercely through the 1980s, as the corporate raider Victor Posner acquired shares and incited a shareholder revolt, a saga that appeared regularly in the New York Times and the Miami Herald. In 1985, Caporella created National Beverage, headquartered in Fort Lauderdale, to purchase Sara Lee's Shasta soda brand. He also used the new company to buy enough Burnup shares to dilute Posner's stake and effectively end the takeover attempt. National Beverage also added Faygo, Big Shot, and other sodas.
Meanwhile, in 1992, WinterBrook Beverage Group in Seattle purchased a sparkling water called LaCroix from G. Heileman Brewing Co., a bankrupt beermaker in La Crosse, Wis. When WinterBrook too filed for bankruptcy four years later, National Beverage swooped in to acquire the company's assets, including LaCroix, which at the time was sold in bottles and came in three flavors—pure, lemon, and lime.
"We're LaCroix.
They need us
more than
we need them."
Caporella became entirely devoted to his beverage business, a transformation he once described as "being reborn." National Beverage's portfolio grew to include Creepy Coolers soda and VooDoo Rain, an herbal drink with flavors called Moon Glow and Lucky Devil that's packaged in psychedelic colors. Caporella added juices such as Mr. Pure and rolled out Rip It energy shots. In the early 2000s, the company expanded distribution of LaCroix in cans. It also unveiled a new logo with a calligraphic font and brushstroked waves, which Caporella personally helped design, according to two longtime business associates. He also boosted the carbonation so the fizz would retain its "bite." This served to contrast LaCroix with the more lightly carbonated mineral waters on the market, says Bill Phillips, a former president at National Beverage who began working with Caporella in 1985 and remains an adviser to the company.
In 2006, Beverage Digest released a report showing that soda sales in the U.S. had declined for the first time in two decades, as consumers grew concerned about obesity and Type 2 diabetes. That year, LaCroix staked out an early position as a health-conscious alternative to soda, becoming a sponsor of the Susan G. Komen Breast Cancer Foundation. Still, the brand languished amid National Beverage's syrupy bacchanal. In 2010 the company's annual report described Shasta and Faygo as its "flagship brands" and barely mentioned LaCroix. Even as LaCroix gained steam, longtime executives reminded Caporella not to forsake the company's roots. "I would say to him, 'It's great to be behind it a hundred percent, but we should remember to dance with the one who brung us,' " says Dennis Thompson, another former longtime National Beverage executive. "This company was built on soft drinks."
In the meantime, a small team of executives quietly began working to revitalize LaCroix. They decided to market it as different from both elegant mineral waters and sugary sodas, aiming squarely at diet soda drinkers. The company expanded LaCroix's distribution outside its traditional regional markets and into major retailers such as Target and upscale national grocers like Whole Foods that would prominently feature the product. By 2013, National Beverage was touting "double-digit volume gains" for LaCroix.
Even though Caporella had largely stepped back from daily duties and handed over operations to his son Joe, he remained intensely focused on LaCroix, which one former employee describes as "his baby." He took classes in graphic design and flavor development, worked on package designs, visited the flavor lab in California, and conceived of marketing the iconic grapefruit flavor as "pamplemousse," according to his associates. In 2014 he oversaw the release of LaCroix's first major spinoff, Cúrate, which was packaged in taller, slimmer cans and featured flavors like "cerise limón" and "pomme bayá."
The brand relied on Instagram, Twitter, and recipe blogs instead of traditional advertising. Brides posted pictures of themselves with LaCroix on Instagram, and hashtags such as #LaCroixLove and #LiveLaCroix started trending. Fans posted locations of where to buy the newest flavor, sending consumers on treasure hunts. Whole Foods bakeries made cakes shaped like LaCroix boxes. A turning point was 2015, when the New York Times Magazine published a "Letter of Recommendation" for LaCroix. "Aside from the can, everything about LaCroix is gentle," it read. "Even the bubbles are small and frothy rather than spiky—a Vinho Verde, not a cava—making it easy to put away a couple in one sitting, totally guilt-free."
Over the years, LaCroix rolled out a rainbow of flavors—cola, passion fruit, key lime, hibiscus—to keep consumers' attention and excitement high. Soon cases of LaCroix were bursting from the endcap towers of supermarkets, which became Instagram-worthy tourist attractions in their own right—one was formed in the shape of the Empire State Building.
As LaCroix took off, so did Caporella's personal wealth. The taste of victory drew him deeper into the fray. "The faster it grew, the more excited he got," Thompson says. Caporella became more hands-on with the marketing of the brand, to the point where every decision—from the testing of new flavors to the timing of product releases—had to be approved by him, according to former employees. His domination rubbed some the wrong way—and led to intense personality clashes. Around the same time, top LaCroix executives began leaving. In 2016, BevNet, an industry publication, printed a story with the headline "National Exodus" that described how two LaCroix executives left for a competitor, prompting Caporella to sue. A third, Vanessa Walker, LaCroix's longtime marketing executive, who was instrumental to building the brand, left and ultimately started Millennial Brands Consulting, Inc.
National Beverage executives in Florida treated LaCroix as a delicacy. Company meetings included "tasting ceremonies" complete with unsalted crackers to cleanse the palate, bottles of still water to swish, and coffee beans to sniff. Caporella often referred to LaCroix as "the Tiffany of sparkling water." Breathlessness is his trademark style, and he writes most of National Beverage's annual reports and press releases himself. In one from 2015, he wrote that the company was in a stage of "metamorphic" transition. "Ultimately, this evolution will generate our true value while significantly improving the health of our society! What a gratifying bouquet of goodness for everyone."
Caporella was so confident in his ability to transform water into money that he'd made a personal investment in Smuttynose Brewing Co., a famed New Hampshire craft brewer, according to four people familiar with the transaction. In 2017, with Smuttynose and other craft brewers facing a downturn in the market and LaCroix enjoying some of its headiest days, Caporella dispatched George Bracken and Rod Liddle, two National Beverage executives, to the brewery. A spokesman for National Beverage says Bracken and Liddle are technically employed by a separate entity, called Corporate Management Advisors Inc., a management services company Caporella owns. The pair helped Smuttynose with its financial statements and hammered out financial models they hoped would save the brewery—and Caporella's personal investment. Ultimately the brewery fell into foreclosure. That same summer, LaCroix competitors began circling.
For all the genius Caporella once attributed to LaCroix, it turns out that just about anyone can inject carbon dioxide into water, flavor it, and package it. By 2017, Coca-Cola had introduced its sparkling varieties of Dasani and Smartwater. PepsiCo's Bubly generated serious social media buzz, and was featured in a Super Bowl ad with Michael Bublé. (Get it?) A little more than a year in, Bubly has surpassed $170 million in sales, and its share of the sparkling water market has jumped about 3 percentage points, to 7.7%. What's more, LaCroix can't match the distribution heft of the beverage giants like Coke and Pepsi, which send convoys of trucks directly to stores and restaurants in the U.S. National Beverage depends largely on picking up the product from warehouses. That limits LaCroix's reach, analysts say.
A flood of private equity money has backed other competition, including Spindrift, the Boston-area startup that lured away National Beverage executives. It touts "farm to bubble" flavors extracted from real fruit juices. Waterloo Sparkling Water Corp., from Texas, promises "a bigger, brighter bubble." Pep Talk, out of Minneapolis, has "energetic bubbles" (i.e., caffeine). Mountjoy Sparkling, from Petaluma, Calif., boasts no carbs, no sugars, and "fast-acting" CBD.
With so much money sloshing around, another, bigger bubble could be forming, but until it pops, LaCroix has a bull's-eye on its back. "There's more share to be taken from LaCroix because they've had the top spot for the longest time," says Brandon Cason, Waterloo's co-founder and chief marketing officer. His company is seeking to compete primarily on flavor. "If you're drinking a LaCroix, there's a hint of a flavor, but it's very tinny, it's very thin. There's not a lot there," Cason says. A Waterloo in-house food scientist has helped develop flavors that Cason calls more "realistic" and "delightful," such as a grape modeled after the grape soda of his youth and a watermelon he says is "playful, almost like a Jolly Rancher."
"What's said in
Ft Lauderdale,
stays in here!"
With all this competition, LaCroix's market share in the four weeks ended June 16 had dropped by almost 4 percentage points from the same period in 2018, to 14.5%, while Bubly, Spindrift, and Waterloo saw their market share increase, according to data from Bloomberg Intelligence. And whereas analysts once viewed National Beverage's sugary soda brands as a drag on the company, LaCroix has become the cause for worry. Based on Nielsen data, sales are now falling faster than those of the company's soda categories, says Sean King, a U.S. beverage analyst at UBS.
The 83-year-old Caporella rarely discusses details of his life, even with his closest advisers; he declined multiple interview requests for this story. A number of former employees, executives, and business associates agreed to speak about him only on condition of anonymity, citing fear of retribution. These people say he almost never shakes hands; upon greeting people, he clenches his fist and offers a "pinkie shake." Employees preparing to meet him for the first time are coached not to speak to him unless spoken to first. Multiple people describe a man who could explode at any moment, berate anyone who crossed his path, and veer into what some describe as verbal abuse. "If somebody made a mistake, it would be 'you're a good-for-nothing' or 'you're an expletive this and an expletive that,' " says a former employee.
In meetings, Caporella often speaks for the duration, regaling managers with tales of his battles and successes, to the point that they're known internally as "Nick Parables." Top managers are urged to write "letters to the chairman" congratulating Caporella whenever the company achieves something big, such as a stock price high. They're also expected to write apology letters if, say, they come unprepared to a meeting. Few dare incur Caporella's wrath or that of his son by challenging them. Anything short of adoration for one of Caporella's new package designs could result in being excluded from future meetings. Disagreement could be met with a stern reminder that LaCroix was "M-I-N-E," according to a person who heard him say it.
With National Beverage's resurgence, some employees began to feel that the celebration of LaCroix, at least internally, had become more like worshipping in the Cult of Caporella. They recall a Thanksgiving event that turned into a "Nick love fest." It was "This is Nick's brainchild, this is Nick who's gotten us to where we are," one former employee says. "It was all about Nick and the money that was being generated because of Nick." The company, which employs 1,640 people, disputes this characterization, as do some current and former associates. "I've seen Nick not happy with outcomes of things," Phillips says. "But I've never heard him raise his voice." He and Thompson say in meetings Caporella can be critical and "harsh" toward his son Joe, but the tough love doesn't extend to others. "Nick is passionate and can be demanding of himself and others, but is always fair and level-headed in dealing with people," Bracken said in an email. Even some of Caporella's strongest critics acknowledge his generosity. Every Christmas, he hands out gift bags to employees containing a honey-baked ham. He recently sat on a fundraising board for St. Jude Children's Research Hospital.
In late 2017, the biggest sparkling water brands began flooding the market with heavily discounted products. Retailers in turn asked for discounts on LaCroix and more in-store spending to continue prominently displaying the brand. National Beverage instead raised prices of LaCroix and in some cases reduced spending on promotions, befuddling employees and retail partners, according to three people familiar with the strategy. As LaCroix's biggest rivals dipped into their massive marketing budgets, National Beverage's historically spare marketing spending slipped as a percentage of sales, according to company filings. The Caporellas maintained that LaCroix was beyond reproach. "The arrogance level reached an all-time high," says a former employee. "They'd say, 'We're LaCroix. They need us more than we need them.' "
In 2018 top managers at Whole Foods, a major LaCroix customer, called their bluff. They'd implored the Caporellas to provide concessions to the retailer as a way to secure prominent positioning in the stores, according to three people familiar with the negotiations. In particular, the company wanted LaCroix to be more aggressive with matching discounts and promotions being offered by the new brands. When the company didn't yield, Whole Foods eventually decided to reduce the number of prominent in-store LaCroix displays and replace them with its competitors', according to people familiar with the decision. A Whole Foods spokesman declined to comment.
Phillips says he didn't have firsthand knowledge of the Whole Foods incident, but noted that Caporella has long had an aversion to making concessions for even his biggest retail customers if it requires taking a hit on margins. "One of the things that helped save the company before LaCroix is that Nick is first and foremost a businessman," he says. "The overwhelming philosophy in the past has been that you really can't start taking an individual retail customer and cutting them a sweetheart deal."
As Caporella worked internally to maintain a grasp on the brand, outside problems mounted. In July 2018 the Wall Street Journal reported on two lawsuits previously filed by former co-pilots of Caporella's who sued him for sexual harassment and an alleged "hostile work environment" in the cockpit of his Falcon 2000EX airplane. One of the pilots claimed that Caporella slapped him in the face and subjected him to "angry tirades," and that after complaining about it he was told by Caporella and others that he'd have to write a "letter of apology" to retain his job, according to the lawsuit. The company denied the claims. National Beverage settled the lawsuits, without admitting liability, and the pilots retracted their allegations and said they were "factually unsupportable." Despite that, shareholders have sued Caporella and National Beverage, arguing among other things that the company failed to tell investors about alleged workplace misconduct, including the conduct reported by the pilots. The company has called these claims "nonsense" based on unadjudicated and retracted allegations.
In October 2018, National Beverage was sued by a consumer whose lawyers argued the "all-natural" claim printed on LaCroix's cans was misleading because it allegedly contains synthetic "chemical compounds," including an ingredient "used in cockroach insecticide." After the lawsuit was filed, the stock dropped, and by the end of the year it had fallen 32%. Then, this January, a second lawsuit was filed, on grounds similar to those of the first. The company responded in court that the claims were "nothing more than a vicious attack" and reiterated that "National Beverage properly labels LaCroix sparkling water, and LaCroix sparkling water is created from natural ingredients."
By the spring of 2019, National Beverage executives were referring internally to the situation as a crisis, according to documents Bloomberg Businessweek reviewed. In March, the quarterly earnings report showed revenue had fallen for the first time since 2014, leading Caporella to issue one of his most unconventional statements yet. "We are truly sorry for these results," he wrote. "Negligence nor mismanagement nor woeful acts of God were not the reasons—much of this was the result of injustice!" His missive did little to assuage the concerns of traders, who sent the shares spiraling once again. Currently, more than half of the company's available shares are in the hands of short sellers, according to Bloomberg Intelligence.
In June a former LaCroix executive, Albert Dejewski, sued National Beverage for wrongful termination. A former senior director at Pepsi and marketing vice president at Chobani, Dejewski alleged that he'd been fired in retaliation for raising concerns earlier this year about the company's plans to publicize its transition to cans free of the liner containing the chemical bisphenol A, or BPA. The lawsuit said that Joe Caporella, under pressure to "drive positive buzz and awareness for the suffering brand," had planned to "prematurely announce that LaCroix cans would be BPA-free going forward" despite the company being "months away" from replacing the cans. This was because National Beverage had a "large stockpile" of LaCroix in cans with the BPA liners, "which the company planned to use," according to the suit. The filing detailed that on April 10, Dejewski had written an email to Joe saying he was concerned about the impending announcement. In response he received an angry email from Joe saying, "Don't know how you heard about BPA, but tell your source if they want to stay with the company, what's said in Ft Lauderdale, stays in here!" Dejewski was fired the following day. Today, National Beverage states on its website that "as of April 2019, all cans produced for LaCroix products were produced without BPA liners."
National Beverage has taken steps to contain the damage. In March the company named Joy Bauer, a well-known dietitian and expert on the Today show, an ambassador for the brand. The following month the company announced it was introducing LaCroix in the U.K. But Kenneth Shea, a senior food and beverage analyst at Bloomberg Intelligence, says he doesn't see a "quick fix" for LaCroix, largely because the company's competitors are "tougher" than they've ever been in this category and appear to be in it for the long term.
Caporella can't simply outwait his enemies. Laurent Grandet, a consumer analyst at Guggenheim Partners, says it isn't enough to roll out another flavor or a different-shaped can. The company needs to think about how it can "disrupt the market," he says, perhaps by introducing its own premium sparkling mineral water to compete with Topo Chico and Perrier, or using specialty ingredients such as real fruit juice. Caporella once wrote in an annual report that innovation "runs as liquid miracle through the arteries of Team National." For LaCroix, another liquid miracle can't come soon enough.