Supplements
Bloomberg's sustainability reporting efforts showcase our thought leadership, progress towards our 2020 goals, and are in accordance with key industry standards.
Investing in
Market Infrastructure
Spotlight:
TCFD
2020
Progress
Report
Downloads
Reporting
Frameworks
Awards
Case Study: Investing in Market Infrastructure
Bloomberg partners with the Sustainability Accounting Standards Board (SASB) and the Task Force for Climate Related Disclosures (TCFD) to lead the way on standardizing and driving adoption of sustainability reporting for investors.
Read more
Bloomberg has always believed that bringing transparency to financial markets through access to information can increase capital flows, produce economic growth and create efficiencies for businesses. This idea revolutionized the bond markets in 1981, and, since then, we have expanded our efforts across asset classes to equities, derivatives, commodities and the broader financial markets.
Under the chairmanship of Mike Bloomberg, both the Sustainability Accounting Standards Board (SASB) and the Financial Stability Board (FSB) Task Force on Climate-related Financial Disclosures (TCFD) aim to bring market quality transparency on material environmental, social and governance (ESG) data to financial market participants.
Disclosure Frameworks
Bloomberg supports a number of different, multi-stakeholder sustainability reporting initiatives that cast a wide light on ESG performance and on an organization's impacts on the environment and society. SASB and the TCFD are market-driven initiatives, targeting investors as the primary audience by focusing on how ESG factors impact an organization's financial performance. The frameworks are interconnected; SASB focuses on a range of sustainability issues, whereas the TCFD concentrates specifically on climate-related risks and opportunities. They share the common goal of providing market-relevant, quality, consistent, comparable and forward looking sustainability-related data in mainstream financial filings. The data allows market participants to better assess and price sustainability related risks and opportunities. By leading these two complementary efforts, Bloomberg hopes to accelerate the adoption of ESG factors into mainstream investment decisions.
Sustainability Accounting Standards Board
The Sustainability Accounting Standards Board seeks to create industry-specific standards to help companies provide high-quality, comparable and decision-useful information on environmental, social and governance (ESG) performance data so that investors may appropriately evaluate companies on their long-term strategies to manage sustainability issues. Bloomberg has been a steady partner since SASB's founding in 2011, providing crucial expertise from Bloomberg specialist and significant grant support through Bloomberg Philanthropies.
The FSB Task Force on Climate-related Financial Disclosures
Established in 2015, the TCFD was asked to develop recommendations for more effective, voluntary climate-related disclosures that could promote more informed investment, credit, and insurance underwriting decisions. The TCFD developed four widely adoptable recommendations that are applicable to organizations across sectors (financial and non-financial) and jurisdictions. The four recommendations are focused on a company's governance, strategy, risk management and metrics and targets.
Alignment: from theory to practice
Bloomberg operates as a neutral intermediary between issuers and the investors who utilize the data to inform their decision-making.
From this vantage point, we are uniquely positioned to help align the myriad of reporting frameworks and help address three core challenges:
Issuer perspective: What can be done to streamline reporting and relieve some reporting fatigue?
Investor perspective: How can we move towards generating information that is investment-decision useful?
Market perspective: How can we minimize "market confusion" around different reporting-frameworks?
By aligning the TCFD framework and SASB standards on climate specific disclosure, we are developing a roadmap for further alignment on broader ESG issues and reporting frameworks.
Spotlight: TCFD
Established in 2015, the TCFD was asked to develop voluntary, consistent climate-related financial disclosures that are useful to investors, lenders, and insurance underwriters in understanding companies' material climate-related risks and opportunities.
Read more
The Financial Stability Board Chair and Bank of England Governor Mark Carney, in response to a request from the G20 to better understand climate-related financial risks, established the industry-led Task Force on Climate-related Financial Disclosures (TCFD) in late 2015 and appointed Michael Bloomberg as Chair. The voluntary TCFD recommendations are designed to help companies identify and disclose the potential financial impacts of climate-related risks and opportunities and help lenders, insurers, and investors better assess and price them. Over time the integration of this information into the capital markets will promote a smoother transition towards a lower-carbon economy.
Key Objectives of TCFD Disclosures 1
The primary purpose of the Task Force is to develop climate-related financial disclosures that will:
Support more informed investment, credit, and insurance underwriting decisions about (reporting) companies
Enable stakeholders to better understand the concentrations of carbon-related assets in the financial sector and the financial system's exposures to climate-related risks
The FSB asked the TCFD to consider the following as they develop the recommendations:
Incorporate characteristics of effective disclosures—consistency, comparability, reliability, clarity, efficiency, accessibility, and usefulness
Be voluntary
Incorporate the principle of materiality and clarify what may constitute material climaterelated risks
Be cost-effective
Leverage existing disclosure frameworks and international principles and address identified gaps
Incorporate the experience of the implementation of existing initiatives and of users of disclosures
Conduct a coordinated assessment of what constitutes efficient and effective disclosure for financial markets and for other stakeholders
Reflect a consensus view of leading practices and examples of those practices
Devise a principle-based framework that is responsive to and aligns with the needs of the users of disclosures by tying recommendations to financial impacts
Develop disclosures pertaining to near-, medium-, and long-term physical and nonphysical impacts faced by both non-financial companies and the financial sector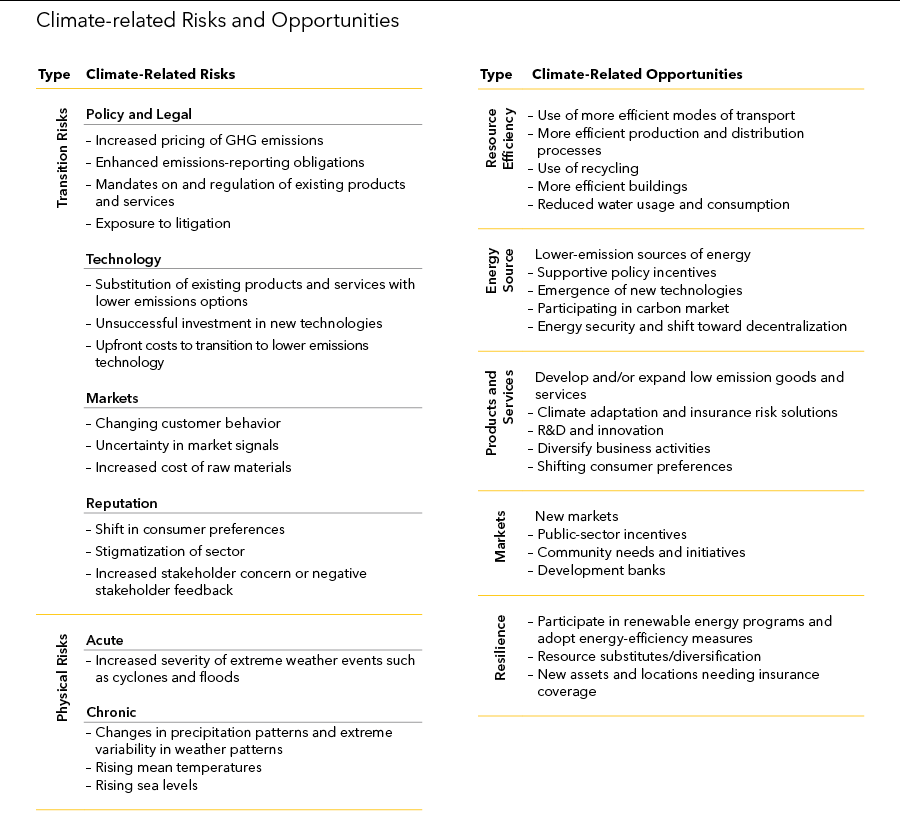 2020 Progress
View our progress towards our 2020 goals in the areas of engagement, leadership, product development, and operations.
Read more
Measure the impact—accelerate the results
Our founder's ethos of "If you can't measure it, you can't manage it" is at the core of everything we do. In 2013, we announced 2020 Targets; we summarize our progress over the past four years.
Highlights from 2016
We have significant participation across our employee engagement and social impact programs "BCause," which includes Philanthropy & Engagement, Diversity & Inclusion, Sustainable Business & Finance, and Wellness initiatives. Ninety percent of our employees engaged with at least one BCause group and 49% with two or more. In 2016, more than 11,000 employees dedicated over 128,000 hours of volunteer service in 74 cities around the world.
We continue to embed sustainable finance deeper into our products and services, industry vertical groups and media outlets. In 2016, Bloomberg introduced new transparency into green bonds issuers' disclosures and Bloomberg Intelligence launched ESG industry and topic primers to provide analyses of key sustainability trends.
Bloomberg Impact Accelerator
The Impact Accelerator provides an avenue for our employees to use their skills to work with nonprofits and other partners to address social and environmental challenges.
In 2016, 144 employees dedicated more than 1,400 hours to complete five Accelerator projects involving nine nonprofit partners. Since its launch in 2014, 437 employees from 20 Bloomberg offices globally have participated in an Impact Accelerator project—completing 30 projects with 21 nonprofit partners and giving nearly 4,500 hours of service.
The Impact Accelerator taps into our employees' skill sets to work on social and environmental issues that Bloomberg, as a media,technology and financial data company, is uniquely positioned to address. For example, in 2016, Bloomberg, in collaboration with several nonprofit partners, launched the Bloomberg Financial Services Gender-Equality Index (BFGEI) in May 2016, providing investors with valuable reference data on gender equality in the financial services industry, measuring internal company statistics, employee policies, gender-conscious product offerings and external community engagement. Another example is our work with Goldman Sachs' 10,000 Small Businesses program; our employees shared their expertise to refine strategies and address challenges for small growing businesses.
Challenges on the way to 2020
We are making significant progress toward our goals, but not without some challenges along the way. Some goals we set back in 2013 aren't practical in the current environment, and others are just more challenging to track and report on.
Engagement: When we set out to establish a BCause Ambassador program, our Diversity & Inclusion Communities didn't have the membership and global reach that they have today. Leaders and participants in the eight Communities gain exposure to and help ingrain BCause values and programs into our culture. The other BCause pillars also have champions that emerged organically over time. With that, we question whether it makes sense to change or overly formalize a structure that seems to be working.
Operations: We have not directly pursued renewable energy projects with our partners to reach the 10MW target that we had set. Rather, we have focused on influencing the renewable market through actively working with various industry groups—the Renewable Energy Buyers Alliance (REBA), Rocky Mountain Institute (RMI), Business Renewables Center (BRC) and Corporate Renewable Energy Buyers' Principles—to share best practices around the corporate renewable landscape.
How we judge the impact of our efforts
Beyond Bloomberg, we recognize the impact that our leadership can have on our industry and society. These are areas where we can meaningfully contribute to broader sustainability goals.
$500 billion in new, global clean energy investment annually
Global clean energy investment, according to BNEF, was at $287.5 billion in 2016, 57.5% of what is needed annually to address the worst effects of climate change and to meet the minimum objectives of the Paris Agreement.
50% of all Global Assets Under Management managed sustainably
26% of Global Assets Under Management have sustainability considerations, according to the Global Sustainable Investment Alliance (GSIA) report.
Develop the next generation of global service-oriented leaders to address complex societal issues using the power of data, innovation & technology
The Impact Accelerator is a leadership opportunity for Bloomberg employees, while also enabling them to make an impact that far exceeds the boundaries of our day-today business efforts. To date, 437 employees have participated in the program.
15 partners committed to an absolute emissions reduction of 20%. Contribute to healthier, cleaner, and more diverse inclusive communities.
In 2015, Bloomberg committed to the American Business Act on Climate Pledge, furthering our commitment to reducing emissions 20% by 2020. Ninety-one partners (vendors, customers) joined the pledge and 24 committed to at least a 20% reduction by 2020. In 2016, Bloomberg joined the RE100, an initiative of the Climate Group in conjunction with CDP, and committed, along with the world's most influential companies, to 100% renewable power. Sixty-one of the 83 companies that have joined the RE100 are Bloomberg partners.
Report Downloads
Download the 2016 Impact Report Update, highlights from our Product, People, and Planet areas, and sustainability reports dating back to 2009.
Read more
In the past, Bloomberg's approach to Sustainability reporting was to alternate annually between a full report and a more abbreviated update report. As of 2016, we are taking a different approach and aim to include the most robust and detailed content on this Impact Website. We will augment the website content with an update report and supplements annually, which will summarize our efforts with a focus on that years accomplishments.
Current Report
Past Reports
Reporting Frameworks
We report against the GRI and SASB frameworks. These efforts include a full materiality assessment and numerous supporting documentation in the appendices.
Read more
We report against the GRI and SASB frameworks. These efforts include a full materiality assessment and numerous supporting documentation in the appendices and operating guidelines.
Awards
Our sustainability efforts have earned us several awards for our corporate leadership, reporting, operations, products, and more.
Read more
Our sustainability efforts have earned us several awards for our corporate leadership, reporting, operations, products, and more.