Planet
Our sustainability strategy's primary objective is to decouple the company's growth from environmental impact, while proving the business case for sustainable operations.
By the Numbers
Energy
Business Travel
& Logistics
Paper
Waste
& Water
Supply Chain
By the Numbers
Performance by the Numbers
A detailed look at Bloomberg's performance over the past five years against our 2007 baseline. We measure our progress across all areas of our operations and between departments.
See more
Environmental impact management have resulted in reduced CO₂e and significant operating cost reductions vs. business as usual (BAU).
CO₂e intensity reduction 41%
Avoided CO₂e from BAU (2008–2016) 685,489MT
Cumulative net avoided costs (2008–2016) $95M*
*Net avoided costs includes additional savings of $14.9M and expenses of $16.2M not represented in individual department savings.
By the Numbers
Key Performance Submetrics
Bloomberg set specific targets across energy, publishing, travel, supply chain and waste to get us to our 2020 goal of reducing emissions by 20% from our 2007 baseline.
See more
By the Numbers
Emissions by Scope
Bloomberg provides a calculation of our carbon footprint based on the Greenhouse Gas (GHG) Protocol, which categorizes emissions into three broad scopes—including all direct and indirect GHG emissions.
See more
Energy
Energy Overview
Our energy strategy includes reducing overall energy consumption, implementing energy-efficiency projects, developing both on- and off-site renewable energy projects and building our facilities to environmental standards.
See more
GRI: 305-5
In 2016, Bloomberg's total energy emissions were 107,043 metric tonnes. As a company with more than 18,000 employees located in 200 offices globally, including data centers, reducing our energy-related carbon emissions is critical to reducing our total environmental impact. Bloomberg's energy strategy is comprehensive, focusing on reducing overall energy consumption, implementing energy-efficiency projects at our facilities, developing both on- and off-site renewable energy projects and building our facilities to LEED, BREEAM or Energy Star environmental standards.
Energy
Renewable Energy
To date, Bloomberg has completed five renewable energy projects. A new solar array at our New Jersey maintenance building generates 200,000 kWh of clean energy per year.
See more
Bloomberg has been pursuing renewable energy projects since 2009, with our first installation in New Jersey in 2012. Since then, we have completed four more projects, including an on-site roof- mount array at our New Jersey data center in early 2016, and continue to aggressively pursue opportunities where they make sense — economically, operationally and environmentally.
Renewable Energy Targets
In 2013, Bloomberg set a goal to source 35% of its electricity from renewables by 2020. To help us meet this goal, in 2014, Bloomberg signed the Corporate Renewable Energy Buyers' Principles with the Renewable Energy Buyers Alliance. These principles were developed by a group of large energy buyers to spur progress on renewable energy and to add their perspective to the future of the U.S. energy and electricity system. Bloomberg also joined the Business Renewables Center (BRC), a member-based platform that streamlines and accelerates corporate purchasing of off-site, large-scale wind and solar energy. In 2016, Bloomberg expanded its commitment to renewable energy by joining RE100 and committed to using 100% clean energy by 2025.
Completed Projects
To date, Bloomberg has completed five renewable energy projects:
Projects Under Development
The Arkwright Summit Wind Project is a 20MW installation expected to produce approximately 61,000 megawatt hours annually starting in 2018. The project is located less than 30 miles from the BPU Jamestown Coal Plant that was retired as part of the Sierra Club's Beyond Coal campaign (in partnership with Bloomberg Philanthropies). The project demonstrates the important role corporations play in bringing more clean energy onto the grid and contributing to the retirement of dirty coal plants, while generating a positive return on investment.
Renewable Energy Certificates
To supplement sourcing renewable energy, Bloomberg purchases Renewable Energy Credits (RECs). While we view voluntary REC purchases as tertiary to our demand reduction, infrastructure investment and renewable energy sourcing efforts, we see RECs as an opportunity to send an important demand signal to the clean energy market. Bloomberg was recognized again in 2016 by the U.S. Environmental Protection Agency (EPA) for Green Power Leadership, as we purchased 88,612 MWh of RECs in 2016 to satisfy LEED requirements and to backfill Solar Renewable Energy Certificates produced and sold for our New Jersey Solar Power Purchase Agreements.
READ OUR CASE STUDY: PATH TO 100% RENEWABLE ENERGY
Energy
Case Study: Path to 100% Renewable Energy
In 2016, Bloomberg joined RE100, a global initiative by influential businesses committed to 100% renewable electricity. We have pledged to obtain 100% of our electricity from renewable sources by 2025. Our initial target continues to be 35% electricity from renewables by 2020. To date, our completed solar projects have generated more than 15,000 megawatt hours and saved Bloomberg more than $1 million.

These transactions demonstrate Bloomberg's commitment to finding creative means of meeting our renewable energy goals and reducing our emissions. Bloomberg continues to actively support the Renewable Energy Buyers Alliance (REBA). Specifically, we were an original signatory of the Renewable Energy Buyers' Principles and actively work with the Rocky Mountain Institutes Business Renewable Center on its mission to help streamline and accelerate corporate purchasing of off-site, large-scale wind and solar energy.
Read more about our completed projects
Energy
Data Centers
Bloomberg aggressively pursues creative solutions to save energy at our data centers. After one full year of operations, our LEED v4 Data Center is 15% more efficient than the data center it replaced.
See more
SASB: TC0401-03
Our data centers handle the large volume of data and analytics we provide to our more than 325,000 customers through the Bloomberg Professional® service. These centers are critical assets and require significant amounts of energy to function. While our objective is to minimize our energy usage, we cannot compromise the quantities of data stored, Terminal functionality, complexity of routinely performed calculations and uninterrupted service to our customers.
To evaluate our data centers, we created the Bloomberg Average Data Center Efficiency (BADE) analysis tool. This tool compiles data on a number of IT-related metrics, including memory, processor speed and disk utilization, as well as building power usage to determine a monthly efficiency score.
Data center efficiency is a clear priority for Bloomberg, and we have aggressively pursued creative solutions to save energy at our data centers, including:
Managing underfloor airflow to optimize air conditioning
Implementing variable frequency drives on mechanical equipment
Using "free cooling" to reduce mechanical loads when outside conditions allow
Organizing equipment along hot and cold aisles
Replacing older servers with more efficient equipment
In 2014, we built our Leadership in Energy and Environmental Design (LEED) New Construction data center. This new data center in Upstate New York, when fully operational, is projected to be 25% more efficient than standard data centers and has proven to be 15% more efficient than the previous Bloomberg facility—saving approximately 7 million kWh in 2016.
Energy
Buildings & IT
Three new offices achieved LEED certification in 2016, raising the total number of LEED-certified projects to 29 across our real estate portfolio.
See more
Facilities have always been, and continue to be, a prime focus of our environmental efforts, as well as an area in which we have had significant success. In 2016, Bloomberg utilized 197 non- data-center locations globally, representing 3.6 million square feet, which consumed 148 million kWh and generated 54,383 metric tonnes of CO₂e. By year-end 2016, our current and historical reduction efforts, for both buildings and technology, have resulted in savings/avoidance of  more than 91,000 metric tonnes of CO₂e, the equivalent of approximately 242 million kWh and a project-based cost savings of more than $40 million since 2008.
We've accomplished this through a number of projects since 2008, including:
A global program to significantly reduce lighting during non-working hours
More than 50 lighting-efficiency upgrades globally
Implementation and upgrades of HVAC controls in key offices
Just as important to our progress in this area is Bloomberg's commitment to a portfolio of environmentally certified office space. Building our offices to these standards ensures that we are limiting the environmental impact during both construction and occupancy phases. Components of this process include:
Incorporating sustainability considerations into our search criteria when seeking new office
Long-standing policy (since 2008) for all new office developments, refurbishments and expansions to be certified or built to LEED (Leadership in Energy and Environmental Design)
By the end of 2016, Bloomberg had a total of 29 certified LEED projects on six continents, with 10 more in progress. In 2016, we completed projects in London, Johannesburg and our BNA building in Arlington, Virginia. We have attained the highest rating of LEED Platinum for 15 projects and LEED Gold for 14 projects.
Science-Based Targets
As the issue of science-based targets becomes more prominent, Bloomberg is in agreement with the need to align ourselves with those goals that have the best opportunity to lead our environment toward a 2° scenario. While Bloomberg has not set a "stand-alone" science-based target, we have set numerous reduction targets, including our commitment to RE100 to be 100% renewable by 2025. Achieving this target will result in an approximately 75% reduction in Scope 1 and 2 emissions (market-based) vs. 2010 Scope 1 and 2 market-based baseline, which is in line with science-based targets for Bloomberg's sector (Service Buildings) set out in the Sectoral Decarbonization Approach (SDA) formulated by CDP, WRI and WWF.
Business Travel & Logistics
Business Travel & Logistics Overview
In 2016, BLP emissions from employee business travel and non-publishing-related logistics were 52,947 metric tonnes, a 89% increase from 2007 levels but a 1.3% reduction on a per-headcount basis.
See more
In 2016, BLP emissions from employee business travel and non-publishing-related logistics were 52,947 metric tonnes, a 89% increase from 2007 levels but a 1.3% reduction on a per-headcount basis. Travel and transport are two areas where our environmental efforts are more challenging— as we work to find pockets of reduction opportunity while not compromising business results or the level of service we provide to our customers.
Business Travel & Logistics
Employee Travel
Employee travel is one of our biggest challenges for reducing our emissions. However, we have been able to increase rail travel and reduce emissions associated with car service transportation.
See more
Employee travel is a key component of our business model and one of our biggest challenges in terms of reducing our emissions. Bloomberg customer service is high-touch, requiring in-person visits to our current customers and potential clients. Face-to-face customer support and training are often cited as a distinct advantage we have over our competitors. Our sales teams therefore travel regularly to see clients and generate new business. Moreover, our extensive news bureaus and "hub-and-spoke" office model add to the challenges we face in reducing business travel. As we have added significant customer-facing headcount in recent years, overall miles traveled have increased accordingly. However, we have been able to increase the use of rail service and slow the growth of emissions associated with car service by utilizing the following targeted reduction opportunities:
95% of travel between London and Paris/Brussels and 55% of travel between New York City and Washington, D.C., were via rail
Use of car services was down 76% in the UK and 24% in the U.S. vs. respective 2007 baselines
Business Travel & Logistics
Magazine Transportation
We focus on local printing and ground transport, along with co-mailing our magazines and the expansion of our alternate delivery program to ensure efficient transport of our magazines.
See more
Bloomberg Markets and Pursuits have been producing EMEA and APAC issues in Europe since 2012. This has reduced distribution emissions, because copies for destinations in Europe now travel by ground transport rather than air and Asia copies travel shorter distances.
In the United States, Bloomberg Markets co-mails its magazine with up to 30 other magazines, thus achieving full pallets and efficient transportation to postal facilities. Large volumes of magazines in the New York Metro area destined for large users of the Bloomberg Professional® service bypass the Postal Service and are delivered directly to the client mailrooms.
Bloomberg Businessweek currently participates in a truck-sharing program with two independent weekly magazines that have similar production schedules, and it prints and distributes from the same manufacturing sites. By so doing, Businessweek is able to leverage a greater and more granular distribution footprint, reduce costs and enhance customer service by earlier delivery to subscribers. Currently, 75% of the weekly print order is distributed via truck share.
In 2017, Businessweek will begin regional printing and distribution in Europe and Asia, which will result in significant reduction of distribution emissions.
Business Travel & Logistics
Product Transportation
The key to decreasing our product transport emissions has been reducing average shipment weight and transport distance.
See more
GRI: 102-9
For our products, both customer-facing and for internal use, we have more than 300 stocking locations globally, with three major distribution centers in New York, London and Tokyo. Bloomberg prides itself on providing best-in-class customer service, and we ensure our customers get the equipment they need to maximize the use of our products and services.
In 2016, we clocked more than 700,000 shipments, both outbound and inbound, which resulted in 2,639 metric tonnes of CO₂e (compared with 3,337 metric tonnes in 2007). Almost 93% of shipping activity in 2016 was via ground or sea, a 4.5% improvement over 2007. Shipment weight and transport distance have had the most significant impact on our transport emissions. Our engineering group continuously looks for opportunities to reduce the weight of our products and packaging. For example, the shipping weight of our keyboards has decreased by more than 5 lbs. (58%) since 2007. As a result of these efforts, the average shipment weight decreased 35% from 2007 to 2016. Our Purchasing department focuses on local sourcing whenever possible. As a result, the average shipment distance in 2016 was 13% shorter than in 2007; the average air- shipment distance was down 29% over the same interval.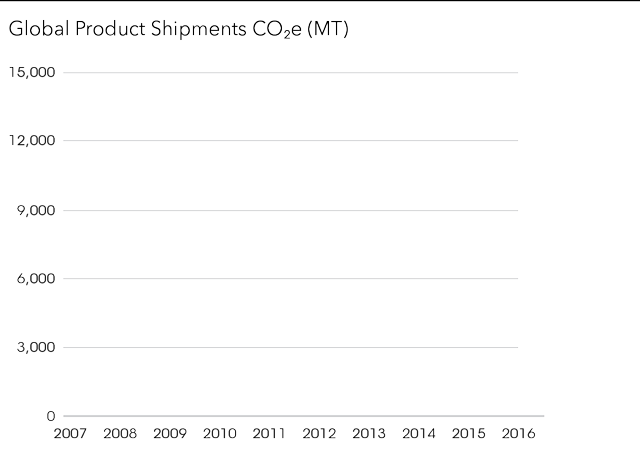 Concurrently, Bloomberg has been addressing the issue of packaging waste associated with the transport of our products. We have reduced this waste by implementing reusable packaging and eliminating Bloomberg-generated Styrofoam from our waste stream. Supply Chain has implemented numerous packaging-reduction initiatives, including a multi-component reusable packaging system and a policy that encourages reuse of packaging as often as possible. Despite increased shipping activity, we have reduced packaging usage by 20% since 2008 (the year before implementation), achieving an annual savings in excess of $100,000.
Paper
Paper Overview
Paper represents 12% of Bloomberg's carbon emissions—responsible sourcing of paper and printing services is critical to mitigating our environmental impact in this area.
See more
Bloomberg's paper usage includes its three magazines, in-house print facilities in New Jersey, London and Hong Kong, Bloomberg BNA publishing at its printing company in Maryland and office paper for standard business operations. Paper represents 12% of Bloomberg's carbon emissions—responsible sourcing of paper and printing services and utilization of recycled content when possible are critical to mitigating our environmental impact in this area.
To that end, our guiding principles for paper use are to:
Maximize recycled content in the paper we use, so long as the quality meets our requirements and costs are comparable to paper with virgin It is our preference for post-consumer recycled (PCW) paper, but we will incorporate pre-consumer recycled content when post-consumer is unavailable, thus reducing use of virgin fiber from forests and reducing emissions.
Maximize FSC certification for any virgin fiber
Employ credible life-cycle analysis (LCA) where feasible to determine choices with the least environmental
Support and encourage cleaner and more efficient manufacturing processes that strive to eliminate
Ensure that our practices and those of our vendors meet and/or exceed legal
Using paper made from post-consumer and pre-consumer recycled content and FSC-certified fiber is the cornerstone of our paper purchasing policy. This strategy not only helps us reduce the consumption of virgin fiber from natural forests and their ecosystems but also creates demand for "waste paper" that would otherwise go to landfills. Using recycled and FSC paper from paper mills closer to the source of printing also reduces the energy, water and chemicals consumed during manufacture. In the end, the FSC-certification program best meets our criteria for forest protection because of its inclusive and transparent decision-making processes and its fairness, as reflected in the equal weight the certification gives to environmental, economic and social considerations.
Paper
Magazine Publishing
Bloomberg continually evaluates our processes to ensure that we get our product to market in a
environmentally conscious manner. Our emissions associated with paper from magazines have been reduced by 10% since 2015.
See more
We recognize that significant environmental and financial impacts are associated with our paper consumption. As a publisher with a global distribution of almost 50 million magazines and consumption of more than 16 million pounds of paper per year, our paper choices have a very direct impact on the environment. Bloomberg is making efforts to transition to digital subscriptions wherever possible, but paper remains the communication vehicle of choice for a majority of our readers and our advertisers. Digital publishing is gaining, and, while it is not an entirely environmentally benign solution as it relies on servers that contain extensive mineral materials and use substantial amounts of energy, it is preferable.
To the extent that we must use a significant amount of physical paper and distribute products to nearly every country in the world, it is crucial that we base our decisions on the best information available and take the most sustainable action without compromising quality or cost. This includes encouraging recycling of our products, partnering with vendors on projects that achieve sustainability goals, using soy-based inks, purchasing Forest Stewardship Council (FSC)-certified paper and using paper with recycled fiber when it meets quality and cost requirements.
Because we are responsible for getting our product to market in an environmentally and socially conscious manner, we will continue to improve our processes to ensure that we lead by example. We use printing plants that have implemented sustainable practices, use rail for paper transportation whenever feasible, consolidate magazine shipments to reduce carbon emissions and use regional printing plants to reduce transportation distance to customers. Maintaining clear communication with our customers, employees, vendors, communities, colleagues, governments, nonprofits and others will encourage them to follow our lead in meeting their environmental goals. Through vigilance, collaboration and transparency, we can reduce our carbon emissions and consumption of virgin materials.
Bloomberg Businessweek
Bloomberg Businessweek is a weekly publication with an average circulation of 996,000, the creation and distribution of which contributed 21,824 metric tonnes of CO₂e to Bloomberg's emissions. Since we acquired the magazine in 2009, Bloomberg has been focused on increasing the magazine's circulation through improved content and editorial design while improving the quality of its paper, including exclusively utilizing FSC-certified paper. In 2016, Bloomberg Businessweek reduced printed copies by 1.2 million (including the elimination of 1.1 million newsstand issues) and increased digital copies by 906,000.
Bloomberg Markets and Pursuits
In an effort to streamline publishing operations for Bloomberg Markets, we reduced the number of issues from 11 in 2015 to six in 2016. Bloomberg Markets issues were coupled with five issues of Pursuits in 2016. With an average circulation of approximately 325,000, Markets and Pursuits still represent significant resource consumption, but the combined 2016 usage of 2.8 million pounds of paper and generation of 6,246 metric tonnes of carbon emissions are down 23% and 17%, respectively, vs. 2015. In addition to the 17% reduction in the number of issues, Markets publishing operations found savings by:
Streamlining operations to use less paper (i.e., fewer "free copies") and generating a 60% reduction in production waste (i.e., "spoilage"). 2016 Markets paper consumption was down 41% since 2007 despite 2016 circulation being 8% higher than in *
Improvements in paper-production processes resulted in lower carbon factors associated with paper usage since
* Bloomberg Pursuits was introduced in 2012 and discontinued as a printed magazine after December 2016. It will continue as a digital publication in 2017.
Paper
Office Printing
Bloomberg rolled out "follow-me printing" technology in both offices in New York City, with further rollouts planned in 2017. Early results show a savings of 10% in print jobs and 20% in physical printers located on floors.
See more
In addition to our efforts in publishing, Bloomberg continues to pursue reductions in the environmental impact of our office paper usage by reducing demand and increasing the use of recycled content and sustainably sourced paper. Overall, office paper printing activity has seen a 52% per-headcount decrease, and total office paper purchased has decreased 18% since 2007. Globally, Bloomberg offices use an average recycled content in office paper of 67%, while 66% of office paper is Forest Stewardship Council (FSC)-certified.
It is challenging to further reduce our office paper consumption, especially in News-and Broadcast-related business operations and during annual global business planning periods. To address these ongoing challenges, double-sided printing has been our global printer default since 2009. In 2016, we introduced "Follow-Me Printing" technology in our New York City offices, with a global rollout planned for 2017. With "Follow Me Printing," our printers are equipped with badge readers and employees scan their badges to access their print jobs from any printer within our print environment. Any jobs that have not been scanned for pickup within three hours of printing are deleted from the print server. Early results show a savings of 10% in print jobs and 20% in physical printers located on floors.
Paper
Bloomberg Ink & FSC Certification
Bloomberg Ink printed 43,587 jobs in 2016, utilizing 98% FSC-certified paper.
See more
Bloomberg Ink is the Company's in-house print facility (locations in New Jersey, London and Hong Kong). The department completed 43,587 print jobs in 2016, representing 17.4 million printed impressions in 2016, including business cards, nameplates, notebooks, stationery and brochures. A range of suppliers produce additional printed customer marketing material, but it is an ongoing Bloomberg initiative to maximize Bloomberg Ink's output and minimize our reliance on third-party printing. Since 2008, we have reduced our annual spend on third-party print services by 84% and achieved cost savings of $11.6 million.
In 2016, Bloomberg Ink's environmental achievements include:
Using upwards of 98% FSC-certified paper and, on average, 32% recycled-content paper
Producing zero hazardous waste
Printing only with low- or no-VOC and soy- or vegetable-based inks
We are working to improve the sustainability of our printed materials by reducing paper use, increasing the use of recycled and FSC paper and encouraging the use of environmentally preferable inks. We expect our vendors to follow suit. All major Bloomberg Ink suppliers are required to submit a complete "materials list" prior to order approval. The list includes: materials used, amount of recycled content, inks, any toxic materials in the product and type of waste associated with manufacturing the product for Bloomberg.
Bloomberg's corporate style guide stresses the importance of environmentally benign inks; designers are strongly discouraged from using fluorescent or metallic inks.
The New Jersey location is Bloomberg's central office— a multi-site facility that has been FSC- certified since October 2008. It has ultimate management responsibility for maintaining the certification contract, upholding the Chain-of-Custody (CoC) system and ensuring that CoC standards are met at participating sites. It is also responsible for the following:
Documenting procedures and training
Adding, removing and internal auditing of sites
Coordination with Rainforest Alliance for annual audits
Record-keeping
Trademark control
Bloomberg Ink London, added in October 2013, and Bloomberg Ink Hong Kong, added in January 2014, are participating sites. They are included in the scope of a multi-site certificate. They do not hold individual FSC certificates, but as long as they comply with requirements established by the central office, they are covered by the multi-site certificate. Participating sites are responsible for:
Following Chain-of-Custody system
Recording annual volume summary data for site
Keeping samples of FSC-certified items
Attending training sessions
Participating in annual audits
Collaborating with the Forest Stewardship Council helps Bloomberg more effectively communicate our sustainability efforts to our customers, employees and other partners.
Waste & Water
Waste & Water Overview
Aggressive recycling, composting and waste-to-energy programs have driven our waste reduction/diversion success. Similarly, water-reduction measures have been implemented globally as part of our LEED portfolio.
See more
Aggressive recycling and composting, along with utilization of waste-to-energy, have driven our waste reduction/diversion success. Bloomberg currently diverts 75% of its total waste away from landfills and is targeting 90% diversion by 2020. We continue to educate our employees and build awareness surrounding our waste-reduction efforts globally. In addition, as part of the expansion of our LEED portfolio, water-reduction measures have been implemented in numerous key offices.
Waste & Water
Waste & Recycling
Our waste sent to landfills increased 5% over 2015, but is still 67% less than our 2007 baseline, which can be attributed to zero-landfill, waste-to-energy disposal and composting programs in key locations.
See more
When waste is sent to landfills, the breakdown process produces methane, a powerful greenhouse gas. Our waste sent to landfills resulted in 1,633 metric tonnes of CO₂e. On a per-headcount basis, this represents an 5% increase over 2015, but still a 67% reduction from 2007, attributable primarily to a move to zero-landfill, waste-to-energy disposal of all our waste in both New York City and London and composting programs in 19 cities globally. We calculate CO₂e emissions from waste using the methodology and conversion factors provided by the U.S. Environmental Protection Agency.
The main types of waste produced by Bloomberg are:
General office waste, consisting mostly of paper and cardboard, ink and toner cartridges, cans and plastic containers
Electronic equipment waste from our offices, returns from customers, redundant PCs, monitors, servers, broadcast equipment and mobile phones
In-house printing waste, including paper, ink and press-cleaning liquid
Pantry waste, specifically food waste, cans, plastic and glass containers, cutlery and bowls made from compostable material
Compost
Bloomberg currently has compost programs in 19 offices* engaging 74% of our employees in our composting efforts. Our New York City offices are two of very few commercial office buildings in Manhattan with full composting programs. Globally, we composted 695 metric tonnes of waste in 2016.
Recycling
We have placed recycling bins for paper, cans and plastic in all of our offices and pantries. Many of our employees have had individual wastebaskets removed from under their desks, which provides a unique opportunity to engage and educate them about waste segregation that we hope translates into their everyday lives.
Waste-to-Energy
Many offices are located in municipalities that rely on waste-to-energy. For example, the London office sends nothing to the landfill. Trash is either recycled, composted or converted into energy. The office recycled and composted 482 metric tonnes of waste and sent 33 metric tonnes to waste-to-energy.
The waste process is as follows:
Dry, unsoiled waste is sent to a MRF (Materials Recovery Facility) that separates it out—it is either recycled (plastic bottles, spoons, ) or, if non-recyclable, goes to waste-to-energy.
Dirty or soiled trash goes to a dirty MRF that then sends it to waste-to-energy.
While waste-to-energy is preferable to landfill, recycling and reusing are better solutions. Therefore, it is still useful for employees to sort their trash so that we can recycle the maximum amount.
* Composting in 731 Lexington Avenue, 120 Park Avenue, Queens and Upstate NY; Dayton and Princeton, NJ; San Francisco, CA; 1399 New York Avenue, Washington, C.; Arlington, VA; City Gatehouse, 38 & 50 Finsbury and Canningtown Warehouse, London; Capetown and Johannnesburg, South Africa: Milan, Italy; Bogota, Colombia; Mexico City, Mexico; Tokyo, Japan
Waste & Water
Sustainable Pantries
Bloomberg provides free drinks, fruits and vegetables, and other snacks to employees and visitors, including a selection of local and bulk foods for sustainable consumption.
See more
Bloomberg's pantries are the hearts of our offices and serve as informal gathering places for employees. They provide free drinks, fruits and vegetables, and other snacks. Bloomberg sets targets to increase our offerings of local and bulk foods for sustainable consumption. We also source cups, cutlery and plates made from fully compostable materials in markets where composting is available (currently New York, New Jersey, DC Metro Area, Boston, Chicago, Los Angeles and San Francisco). In 2016, 93% of all pantry waste was divertible from landfills—72% compostable and 21% recyclable. We've partnered with TerraCycle to address individual snack wrappers from consumer goods companies and are aggressively expanding this program globally. Since implementing TerraCycle, we have diverted 251,670 snack wrappers from landfills.
Waste & Water
Sustainable Events
Bloomberg organizes more than 10,000 events across 300+ countries hosting 240,000+ attendees annually. The complexity varies, but sustainability is at the forefront of all Bloomberg events.
See more
Bloomberg organizes and hosts more than 10,000 events across 300+ countries welcoming 240,000+ attendees annually. The complexity varies, but sustainability is at the forefront of all Bloomberg events.
We strive to have minimal impact on the environment by complying with the first and only comprehensive standards developed by APEX (the Convention Industry Council's Accepted Practices Exchange)/ASTM (American Society for Testing Materials). Bloomberg has been able to achieve compliance with the standards in the following ways:
85% of our events are hosted in our own buildings, which are LEED-certified with a minimum Gold standard and many Platinum
Off-site venues are selected based on LEED certification and proximity to public
25%+ of the food sourced for an event is a combination of local (grown within 100 miles) or All food and beverage offerings are served on compostable wares or china whenever possible.
Signage is produced on latex large-format equipment using water-based inks and FSC- certified papers and
We encourage e-literature, but, when printing is required, all literature is printed on recycled paper using water-based
From decor to signage to furniture, Bloomberg makes every effort to reduce, reuse or recycle elements from event to
One of our largest employee events is the first of its kind to follow and achieve the ASTM/ APEX Environmentally Sustainable Event
Waste & Water
Sustainable Packaging
Our goal is to reduce waste from our products, which includes significant efforts around our product packaging and the reusing and recycling of Bloomberg equipment that is returned at the end-of-use.
See more
Product packaging is an impactful segment of Bloomberg's waste stream. In 2016, our global distribution network completed more than 370,000 outbound and 282,000 inbound shipments of customer hardware and materials. Since 2008, Bloomberg has constantly reviewed its product packaging solutions to reduce their environmental impact. To do so, we have the ongoing goals of improving the sustainability of our product packaging by:
Reusing packaging from inbound shipments whenever possible
Reducing the amount and weight of materials used
Replacing petroleum-based materials with recyclable or compostable packaging materials
Redesigning packaging so more equipment can be transported in each load, thus reducing fuel use
Achievements to date include:
Introducing lightweight, reusable, air-filled transport packaging
Removing Styrofoam from standard packaging for outbound shipments
Reducing the weight of our keyboards
Using biodegradable materials for packaging on keyboard boxes
Reducing size of 23″ dual flat panel packaging
Designing packaging for 27″ monitor that is modular and less bulky than previous 17″/19″ packaging materials
Whenever possible, these materials are obtained from recycled sources and are fully recyclable.
Waste & Water
Water Use
We consistently capitalize on opportunities to improve water-consumption efficiencies in our facilities. For example, rainwater capture at one of our data centers collected approximately 5 million gallons of water in 2016.
See more
SASB: TC0401-03
Limiting and reducing water use is a constant consideration throughout our organization. While accurately quantifying the scale of our global consumption has proven challenging, that has not impaired the implementation of our global water-reduction strategy.
We consumed an estimated 122 million gallons of water in 2016. Given the nature of our operations (i.e., non-manufacturing), our consumption is largely driven by our employees and facilities. We recognize the importance of water conservation, particularly in areas facing water scarcity, and have consistently capitalized on opportunities to improve water-consumption efficiencies in our facilities:
Our new data center has a rainwater capture system that utilizes rainwater for the This project is projected to save more than 5 million gallons of water annually.
Each of our data centers is designed to use the minimum amount of water necessary to provide cooling for our operations through demand
We have installed low-flow fixtures in our LEED offices that provide a projected 35% reduction in water usage. This equates to a current estimated savings of more than 3 million gallons of water annually. To date, we estimate that these projects have saved nearly 19.2 million gallons of water.
Supply Chain
Supply Chain Overview
Our goal is to source from suppliers that maintain high labor and environmental standards. We leverage our Sustainable Operating and Purchasing Guidelines to help us achieve this goal.
See more
While our calculated supply chain emissions comprise all shipment logistics, including those from our print shops and magazine distribution, we consider our supply chain to be a much broader entity.
Maintaining consistent quality in our suppliers requires close coordination between multiple departments, including Purchasing, Asset Management, Operations, Facilities and our various business units. These different processes provide the structure necessary to effectively coordinate our internal efforts.
Supply Chain
Supplier Requirements
Bloomberg includes sustainability requirements — such as complying with all applicable health, safety, labor and environmental regulations — in supplier requests for proposals (RFPs) and in master service contracts.
See more
Globalization and sourcing diversification create unique opportunities and challenges for supply- chain management. As part of our overarching Sustainable Purchasing Guidelines, Bloomberg has established sustainability requirements in supplier requests for proposals (RFPs) and in master service contracts. Our suppliers are expected to comply with all applicable health, safety, labor and environmental regulations, not discriminate against groups of employees, maintain adequate safety standards and abide by local laws and regulations pertaining to child labor minimum age limits. Bloomberg defines "child" as any person under the age of 15 years old (or 14 where the law of the country permits), or under the age for completing compulsory education, or under the minimum age for employment in the country, whichever is greatest.
We communicate our sustainability expectations and standards to our vendors through our Supplier Code of Conduct and Operating Guidelines. Additionally, Bloomberg encourages suppliers to outline their environmental initiatives, including policies, procedures and information on what makes their goods and services environmentally and socially preferable. We define "environmentally preferable" as products that contain recycled material and are also recyclable and/or reusable, have reduced embedded energy and carbon emissions or that help Bloomberg and its customers reduce energy use and carbon emissions. We seek products with reduced amounts of harmful chemicals and that are certified to a recognized environmental standard. Our supplier guidelines are informed by guidance and standards of the following: Electronic Industry Citizenship Coalition (EICC), the International Labor Organization Code of Practice in Safety and Health, the Universal Declaration of Human Rights, Social Accountability International, the Ethical Trading Initiative and the UN Global Compact.
Bloomberg is committed to working with our suppliers to:
Operate an efficient and sustainable supply chain that supports our corporate responsibility programs
Develop sourcing solutions aligned with customer, regulatory and wider stakeholder needs and expectations
Highlight and track the chain-of-custody for all precious and conflict minerals as well as other high-impact items
Ensure, to the greatest extent possible, that all precious and conflict minerals have been responsibly sourced in accordance with local, federal and international laws and regulations, as well as our guidelines
Prohibit child, convict/prison or slave labor while ensuring that Bloomberg and our suppliers abide by globally recognized, UN-mandated human rights policies
Create long-term value and reduce risk for our business, our suppliers and our stakeholders
Upstream collaboration and compliance with our expectations by our suppliers—especially those that manufacture our branded products—are a significant focus for Supply Chain and the Sustainability teams. We worked with the nonprofit BSR (Business for Social Responsibility) on revising our electronic equipment guidelines to be in line with the Electronic Industry Citizenship Coalition® (EICC). Alignment with the EICC principles enables Bloomberg to leverage the power of larger electronics companies that are using their considerable spend to influence manufacturers to comply with best-in-class environmental, social and governance policies.
Supply Chain
Vendor Risk Management
Environmental, Social and Governance (ESG) risks and opportunities are actively being incorporated into our vendor risk management assessments.
See more
The Vendor Risk Management (VRM) program at Bloomberg was established to identify, assess, quantify and mitigate risk exposure from third-party vendors. The VRM program enables informed, risk-based business decisions across the organization through vendor risk intelligence and analytics that support our own and our clients' regulatory requirements. Risk transparency, business resiliency and operational stability are the pillars of Bloomberg's VRM program and underlie a comprehensive approach and commitment to vendor relations.
Bloomberg manages several thousand active suppliers globally. Our Vendor Risk Management program (VRM)-in place to ensure that we conduct the appropriate level of vendor due diligence-is a key component of our supplier management process. We have established a risk model that allows us to quickly identify vendor engagements with direct and material impact on clients, products and services, revenue, and business operations; and identify whether a vendor will will have access to Bloomberg facilities or data internally classified as high-risk.
As part of our vendor management process, the Quality Assurance team, supported by qualified third-party organizations that specialize in audits of manufacturing facilities, may audit Bloomberg manufacturing suppliers with respect to their working conditions, safety and worker compensation.
We use a risk-based approach to selecting suppliers that considers the following:
Location of the supplier
Any indication of high-risk or substandard manufacturing conditions
Volume of product they supply to Bloomberg
The audits assess compliance in accordance with local labor and health and safety laws. Specifically, living accommodations, machine safety and anything associated with worker safety, ventilation, eye wash and first aid availability, fire safety, accessibility to exits, working hours, overtime, wages and minimum health-related benefits, age of employee, and working conditions in the workplace such as cleanliness and exposure to hazardous substances, health and safety considerations and separate areas for eating and washrooms. Where necessary, we indicate corrective actions that suppliers must take.
Supply Chain
Greener Equipment
In conjunction with performing life-cycle assessments of our equipment, we've developed engineering
product guidelines to reduce the environmental impact of our equipment, including design, durability, recyclability and water use.
See more
GRI: 102-11; 302-2; 302-5
Bloomberg conducts life-cycle assessments (LCAs) of our customer-facing equipment for three main reasons:
Understand the impact of our equipment inputs: What components of our equipment have the largest environmental impact? Once identified, can the offending components be replaced with something more environmentally benign?
Recognize the environmental impact our products have on our customers: The Bloomberg Professional® service is used by thousands of organizations globally to access critical financial information. It is important for us to understand how having our equipment on site will impact our customers' energy We always look for opportunities to reduce that impact.
Maintain a policy of cradle-to-grave electronic equipment management: All customer equipment is returned to Bloomberg for reuse, refurbishment or end-of-life disposal. Our equipment is our
Bloomberg conducted LCAs of its customer hardware in 2011 and 2015; we plan to do so again in 2017.
In conjunction with performing these LCAs, we developed engineering product guidelines to reduce the environmental impact of our equipment, including design, durability, recyclability and water use. The guidelines are centered around these four directives:
Minimize the use of hazardous materials and achieve compliance with the EU's Restriction of Hazardous Substances
Improve energy efficiency and meet EPA Energy Star
Extend the useful life of the hardware on the Terminal and design it for
Take full responsibility for our equipment and ensure that it is recycled in an environmentally benign We are commited to taking back our products from countries even if the local or federal laws of that country do not require us to do so.
As defined in our engineering guidelines, all Bloomberg equipment at customer sites is returned—at which time the equipment is refurbished and used by other customers, repurposed within the Company or recovered for useful parts before the remaining materials are sent out to be reused or recycled in some other form. In 2016, customers returned 216,241 products to Bloomberg, including PCs, flat panel monitors, keyboards and biometric devices (B-Units). All the equipment was reused or recycled. Bloomberg is an e-Stewards enterprise, committed to the use of downstream recycling and disposal partners that meet the e-Stewards' certification requirements. Bloomberg also considers R2 certification when choosing end-of-life vendors and is compliant with the Waste of Electrical and Electronic Equipment (WEEE) directive. This market remains a challenge for the electronics industry