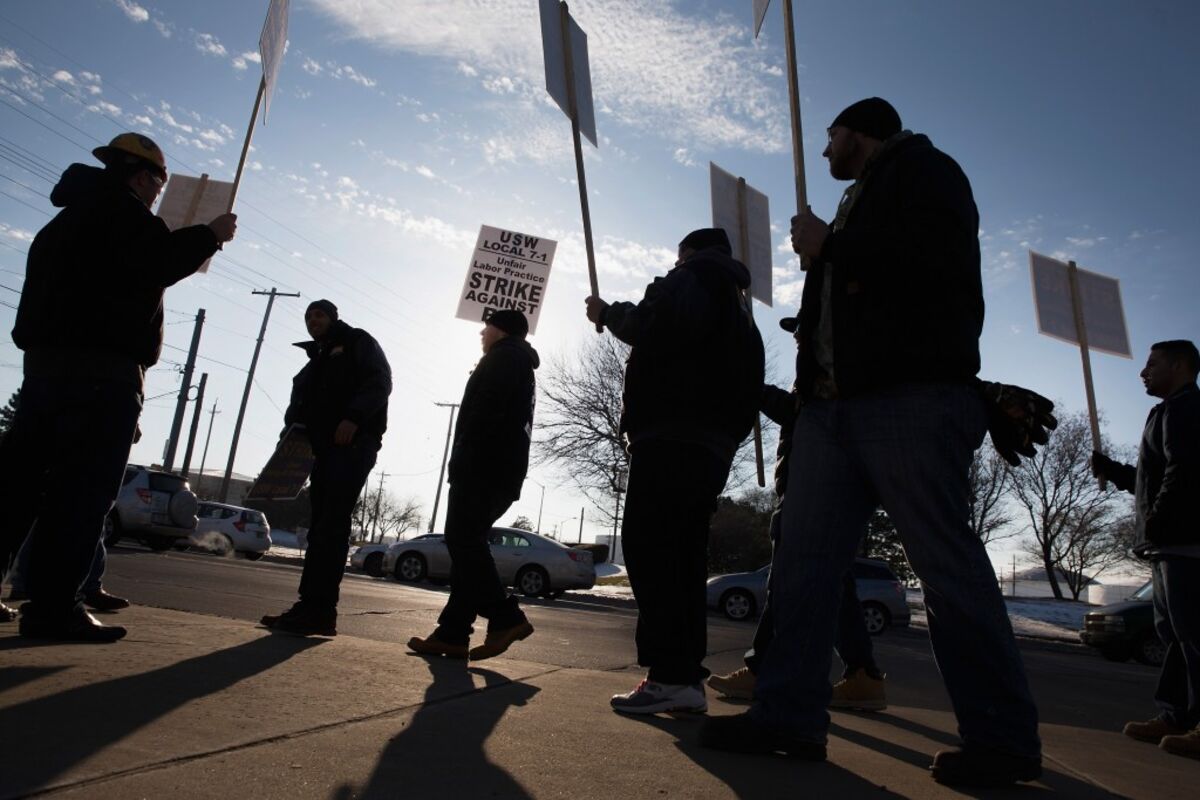 U.S. Labor Unions
By
|
Updated Aug 23, 2016 9:22 PM UTC
Their influence is felt from factory floors to major ports and modern newsrooms. Politicians either condemn their demands or crave their endorsements. And their membership today sits at a historic low. Ever since the U.S. industrialized in the late 1800s, unions have been organizing workers in search of better wages, benefits and employment conditions, and scholars have been arguing about their social and economic impact. Do they enhance or impede productivity? Strengthen or distort labor markets? Improve state and local governments, or saddle them with debt? As American workers face stagnant wages and widening income inequality, those debates are intensifying.
The Situation
In 2015, 11 percent of wage and salary workers in the U.S. belonged to a union. That's half the rate in 1983. It's also low compared with peers: Among 31 OECD countries reporting union membership rates in 2012, the U.S. ranked 27th. So-called right-to-work laws, which ban any requirement for employees to pay union dues or fees, are in place in half the states, including the traditional union strongholds of Michigan, Indiana and Wisconsin. In the public sector, where the membership rate has held steady at about 35 percent, unions are feeling pressure to agree to pay, pension and health-care cuts. Yet U.S. unions have managed to remain a potent political and economic force. In March, the Supreme Court deadlocked over whether government workers should be compelled to pay union fees even if they aren't members, leaving intact a previous ruling that lets more than 20 states continue to require public-sector workers to help fund union representation. In August, the California Supreme Court upheld a ruling that preserves the state's tenure law and other job protections for unionized teachers. And there have been a string of successful unionization campaigns by digital journalists at Vice, Salon, Gawker Media and the Huffington Post.
The Background
Mass production technology transformed American workplaces, widening the power gap between labor and management and inciting workers to unify in their push for shorter working hours, safer workplaces and higher pay. At steel mills, coal mines and rail yards, strikes devolved into bloody riots, drawing meager, if any, gains for workers. It wasn't until 1935 that the National Labor Relations Act codified workers' rights to unionize and engage in collective bargaining. As the U.S. emerged from the Great Depression, unions grew in strength and number. By the time the American Federation of Labor, established in 1886, merged with the Congress of Industrial Organizations to form the AFL-CIO in 1955, more than 1 in 3 American workers had union jobs. But as the U.S. economy shifted from manufacturing to services, unions gradually lost ground. Their membership took a blow in 1981 after President Ronald Reagan fired more than 11,000 air traffic controllers for violating federal laws against striking. That began a slump in workplace walkouts. From 1970 to 1980, there were an average of 280 work stoppages per year in the U.S. involving 1,000 workers or more; in 2015, there were 12.

The Argument
Union workers earn about $200 more per week on average than non-union workers, and have better retirement pay and health insurance. These compensation premiums hold up even after controlling for factors like age and education. Studies have shown that unions also help raise pay for non-union workers by setting a higher prevailing wage. This has caused some economists to link today's wage stagnation, broadening income inequality and lack of economic mobility to the decline in unions. Critics of unionization say that the inflated salaries of union members come at the expense of fewer overall jobs, and that the outsized pensions and benefits of public-sector union employees have drained state budgets. They say that seniority-based raises and work rules often outlined in union contracts hamper productivity and protect incompetent employees. Supporters counter that unions build workplace trust and transparency to reduce employee turnover and enhance performance. And unions help shrink the gender wage gap. In 2014, women who were union members made an average of 89 percent of men's earnings, while women not represented by a union made 82 percent. 
The Reference Shelf
First published Oct. 5, 2015
To contact the writer of this QuickTake:
Jordan Yadoo in Washington at jyadoo@bloomberg.net
To contact the editor responsible for this QuickTake:
Anne Cronin at acronin14@bloomberg.net