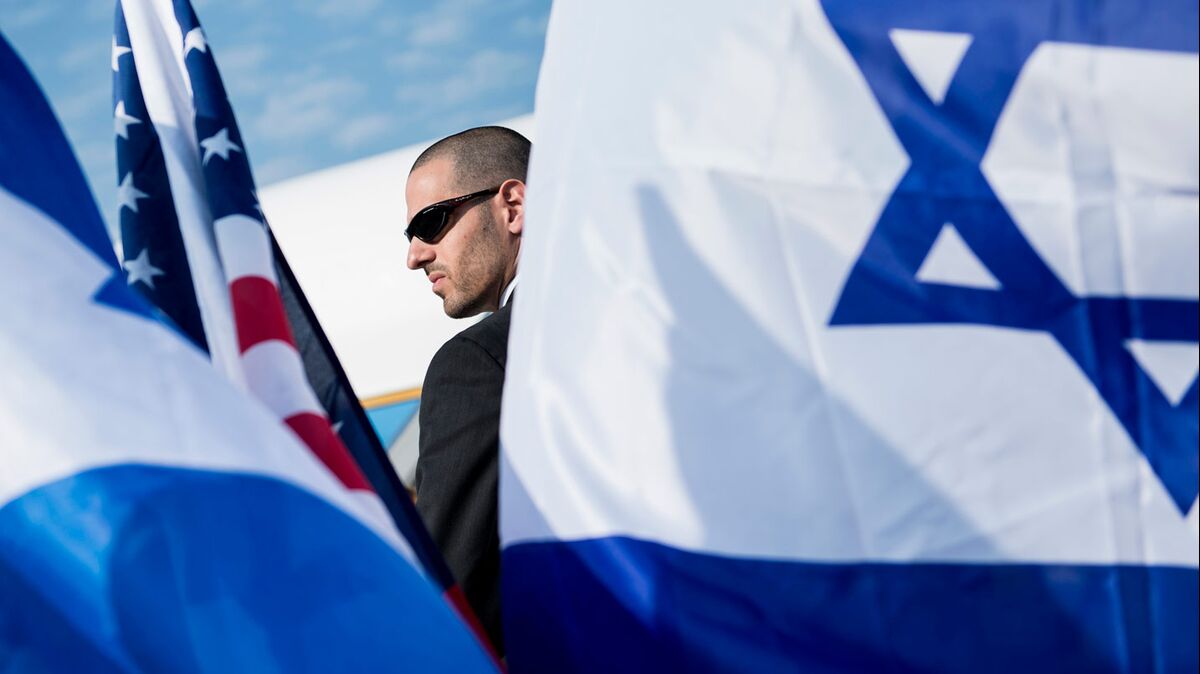 U.S.-Israel Relations
By
|
Updated Oct 10, 2016 7:35 PM UTC
A continent-sized superpower with hundreds of millions of citizens steeped in Christian tradition. A speck on a map half a world away with 8 million people, mostly Jews. They make for an unlikely friendship. Yet the U.S. and Israel are as close as any two countries. Advocates of the relationship see two societies built by immigrants immersed in democratic principles and refreshing informality. Skeptics see a lion held hostage by a mouse. U.S. patronage has clearly benefited Israel, where the relationship has long been viewed as sacrosanct. In the U.S., Israel is popular but there is disagreement over whether the closeness advances U.S. strategic goals.
The Situation
The relationship between leaders has been strained under U.S. President Barack Obama and Israeli Prime Minister Benjamin Netanyahu.  It reached a low point in 2015, when Netanyahu encouraged the U.S. Congress to kill a deal the U.S. and other world powers eventually signed with Iran over its nuclear program. U.S. officials have been unusually harsh in their criticism of Israeli settlement in the West Bank, which the Palestinians hope to make the heart of an independent state. In 2016 Netanyahu sought to broaden Israel's strategic relations, reaching out to Sunni Arab states, repairing relations with Turkey, and increasing ties with India and China. Nevertheless, U.S. support for Israel has grown steadily. In 2016, the U.S. agreed to provide a record $38 billion in military aid over ten years. The U.S. shares intelligence with Israel, conducts military exercises with its forces and has regularly opposed anti-Israel resolutions in the United Nations.
The Background
For the first two decades after its birth in 1948, Israel wasn't an especially close ally of the U.S., which declined to sell it arms. U.S. Jews were a relatively timid minority, and American companies built relations with oil-producing Arab states. France, in conflict with its North African colony Algeria, was Israel's original patron, helping it develop nuclear weapons. The U.S. drew Israel close partly as a result of Cold War calculations. The Soviet Union supported Israel's Arab enemies in the 1960s and 1970s. The U.S. airlifted supplies to Israel during the 1973 Arab-Israeli war, engaged in Mideast diplomacy and committed to maintaining Israel's military superiority over its foes. By the time the Soviet Union collapsed in 1991, the special U.S.-Israel relationship had developed vast new underpinnings. The two democracies see themselves as pioneering societies that are God-blessed and as refuges for the oppressed, so Israel has long had strong popular support in the U.S. American Jews, who became successful and outspoken as anti-Semitism declined, lobbied Congress and the White House to keep Israel close. So did evangelical Christians, who believe Israel's creation foretells the second coming of Christ. Their Republican leanings made support for Israel — originally a Democratic cause due to Jews' links to the party and Israel's early leftist orientation — bipartisan. The Iranian revolution and Arab terrorism, including the Sept. 11 attacks, tended to make Americans unsympathetic to Israel's enemies.
The Argument
U.S. critics of the close relationship argue that the pro-Israel lobby skews U.S. foreign policy away from the national interest. By reducing Israel's need to make compromises with Palestinians and others in the region, they say, U.S. support breeds anti-Americanism and militancy in the Mideast. Israeli settlement building in the West Bank is a prime example. It deprives the Palestinians of land for a state and infuriates the Arab world. Fans of the relationship respond that it has achieved the major U.S. goal of ensuring relative stability in the oil-rich region by preventing the outbreak of a major war. Israel's U.S.-aided strength persuaded Egypt and Jordan to make peace with it. The hostility of Israel's enemies, they say, is due more to their intransigence than to any Israeli or U.S. policy. The region is volatile and unpredictable, they say, whereas Israel is uniquely transparent, accountable and reliable.
The Reference Shelf
Political scientists John Mearsheimer and Stephen Walt argue that support for Israel distorts U.S. foreign policy in a 2006 essay and 2008 book.
Michael Oren, then Israel's ambassador to the U.S., defends the relationship in a 2011 article in Foreign Policy.
The Congressional Research Service report, "Israel: Background and U.S. Relations."
First published March 17, 2015
To contact the writer of this QuickTake:
Ethan Bronner in New York at ebronner@bloomberg.net
To contact the editor responsible for this QuickTake:
Lisa Beyer at lbeyer3@bloomberg.net