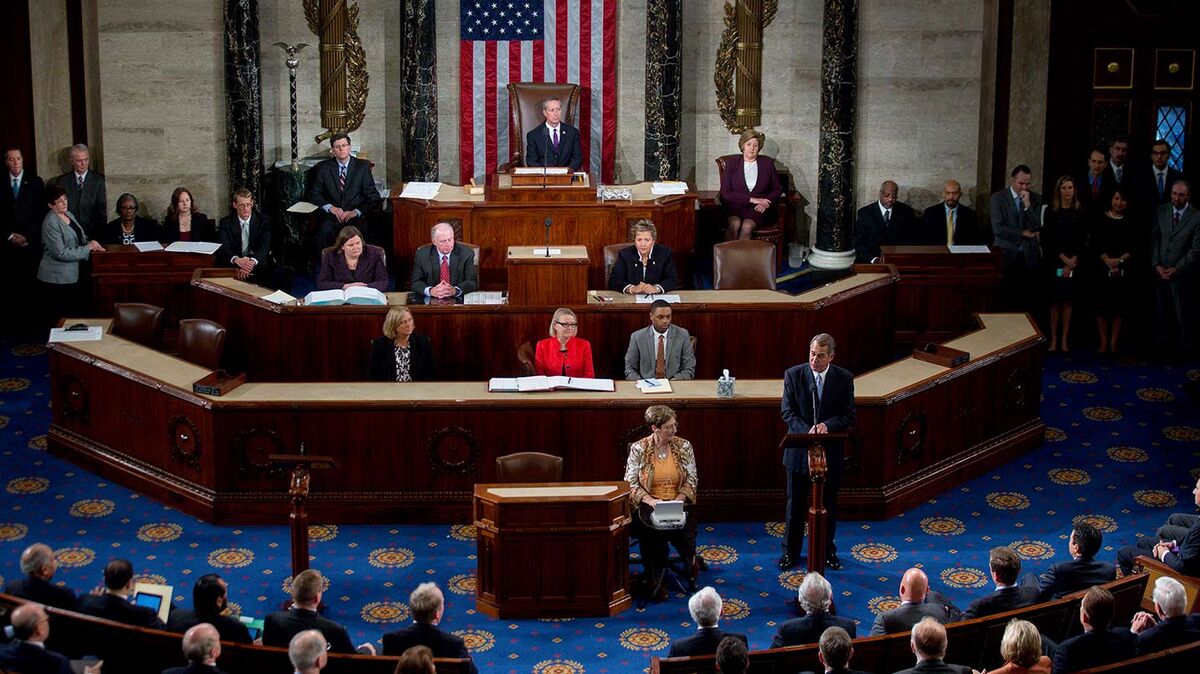 U.S. Budget Battles
By
|
Updated Feb 9, 2016 4:10 PM UTC
The budget battles between President Barack Obama and Congress have entered their final round. After Republican lawmakers forced one government shutdown and several near-misses, both sides split the difference on cuts in spending, which helped pare the deficit for six straight years. Yet lawmakers lost their nerves when it came time to make mandatory reductions in areas like defense and U.S. public benefit programs, and tax breaks remained largely untouched. The government faces growing bills as the ranks of retirees swell by 10,000 a day. Big threats lie ahead.
The Situation
Obama's $4.1 trillion budget request for fiscal year 2017 calls for spending additional billions for highways, cancer research and drug treatment. He shouldn't expect much cooperation from Congress. It can afford to ignore Obama's proposals because it forged a two-year budget deal in November intended to shelve fiscal fights for the rest of his term. This was a tactical decision — there'll be a new president with new priorities next year, while representatives will spend this year more focused on their re-elections than on sweeping policy changes. Last year's budget deal left total spending levels for agencies just $20 billion shy of what Obama requested for 2016. The gap was managed in part through gimmicks, such as assuming Washington will be able to sell 58 billion barrels of oil out of the Strategic Petroleum Reserve at $70 per barrel, more than twice the going price.
The Background
After the 2008 financial crisis, Obama signed a $830 billion stimulus package and this, along with a decline in tax revenue from high unemployment, triggered explosive growth in the budget deficit. The following year, Republicans captured the House of Representatives running on a platform of fiscal restraint. In 2011, they used the fact that the government was about to hit the debt ceiling, a limit Congress sets on the amount that can be borrowed, to threaten a debt default. They'd only provide money to keep things running if Obama agreed to big spending cuts. The resulting Budget Control Act put limits on projected discretionary spending, the money spent by the Pentagon and other cabinet departments. These caps, expected to save $1 trillion over a decade, were combined with higher revenues from the economic recovery and a tax increase on the wealthiest earners to help shrink the annual deficit to $439 billion in 2015. But in 2011 Obama and John Boehner, then Speaker of the House, failed to seal what was dubbed a grand bargain to cut long-term Medicare (health care for senior citizens) and Social Security spending and raise taxes. The Budget Control Act contained a second feature that would cut another $1 trillion — half from defense and half from domestic spending — unless a 2012 "supercommittee" came up with a similar deal. That group failed but the threatened cuts — called "the sequester" in Washington-speak — that were supposed to kick in by 2013 have been mostly turned off every year through Congressional votes.
The Argument
The next president and Congress will face plenty of pressures to forge a budget deal. Federal debt has reached 74 percent of gross domestic product, near the highest in U.S. history; and is forecast to climb to 100 percent of GDP by the mid-2030s. One way to deal with this could be through rewriting the tax code. Lawmakers from both parties agree that the system is too complicated and has fostered a wave of corporate takeovers designed to skirt taxes called inversions. But they've shied away from naming which popular tax breaks, such as deductions for home mortgage interest, they might eliminate. Republicans want to use all the revenue from ending these breaks to lower tax rates; most Democrats want to use the money for new spending on areas such as highway construction. Meanwhile, lawmakers have attached so-called policy riders to annual appropriation bills, needed to avoid government shutdowns. These riders are designed to make political points on separate debates, such as those on abortion and environmental regulation. Republicans, led by presidential contender Ted Cruz, actually did shut the federal government down briefly in 2013 over opposition to funding the health program known as Obamacare. While these efforts generally don't achieve their policy goals (Obamacare is still up and running), they've provided ways for Republicans to dramatically show their opposition to the president.
The Reference Shelf
First published Feb. 9, 2016
To contact the writer of this QuickTake:
Erik Wasson in Washington at ewasson@bloomberg.net
To contact the editor responsible for this QuickTake:
Anne Cronin at acronin14@bloomberg.net